I may earn from purchases through links in this post.
Orgeat is a funny word.
I remember seeing it for the first time in a row of bottles of flavored syrups available to add to lattes and cappuccinos and Italian sodas at an independent coffee shop in the 90s, the kind of place that had lumpy couches and open-mic nights and a patina of patchouli-scented dinge.
This was back when we were all still learning how to order coffee drinks with Italian names, and when I, as a high school student, was thrilled to be able to spend a few dollars and feel like I was participating in sophisticated European cafe culture.
Though I ordered my share of syrupy sweet hazelnut lattes with skim milk, I would have been far too intimidated to order anything I couldn't comfortably pronounce.
Now that I am older and infinitely more sophisticated and Google has been invented, I can tell you it's pronounced or-zhat (in English, the French leave off the t at the end). And while it sounds so mysterious, it's really just an almond syrup with a hint of orange flower water and sometimes rosewater.
I went down the rabbit-hole on etymology, and learned that orgeat (like horchata, orzo and tisane) comes from the Latin hordeum, which means barley. Apparently the earliest versions of orgeat were barley-based milk substitutes that were common before refrigeration was available and milk was hard to keep for long.
Later, almonds were used in place of barley, in what sounds much like an unsweetened almond milk, and eventually it became the almond syrup used in cocktails and coffee drinks today.
I love orgeat. And good orgeat (rather than the artificially flavored commercial stuff) makes all the difference in drinks like the Mai Tai, the Japanese Cocktail, and the Momisette. I also love it when I'm looking to add something sweet to iced coffee.
And, like grenadine, it's so incredibly easy to make. You can make it with just almonds, water, and sugar, though a verrry small amount of orange flower water (also called orange blossom water) gives it a haunting complexity I just love.
As with any floral flavor, I recommend using it judiciously because it easily goes from lovely to mouthful-of-old-lady-perfume. Some people also use rosewater, and you could certainly add a few drops if you like. I tend to leave it out.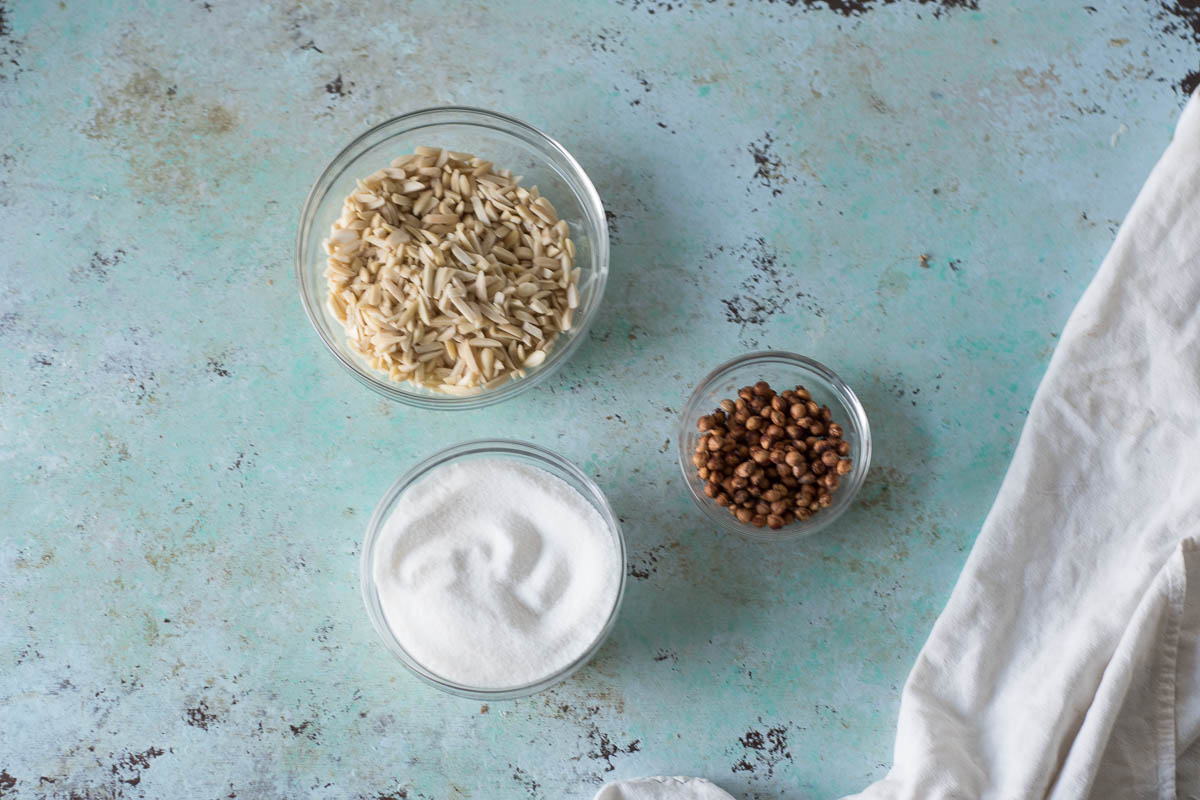 The most intensely flavored orgeat from boutique makers like Small Hand Foods contain apricot kernels to bring in the bitter almond notes that flavor amaretto and marzipan and almond extract. But cracking open apricot kernels is a major pain, and then you have to cook them to neutralize the amygdalin, which the body converts to cyanide.
But, if you've been pitting cherries and saved the pits, you can steep those in a sugar syrup along with the almonds to get a hint of that bitter almond flavor.
As far as I can tell, if you steep them whole you won't release the amygdalin that's in the kernels in the middle, so there shouldn't be a risk of cyanide poisoning (plus they get cooked anyway, so the cyanide should be neutralized). But I'm not a scientist, so I'm going to let you make your own call on that one.
For my part, I think the flavor is something special and I love using something that would otherwise go to waste, so I'll continue to use them if I have them around.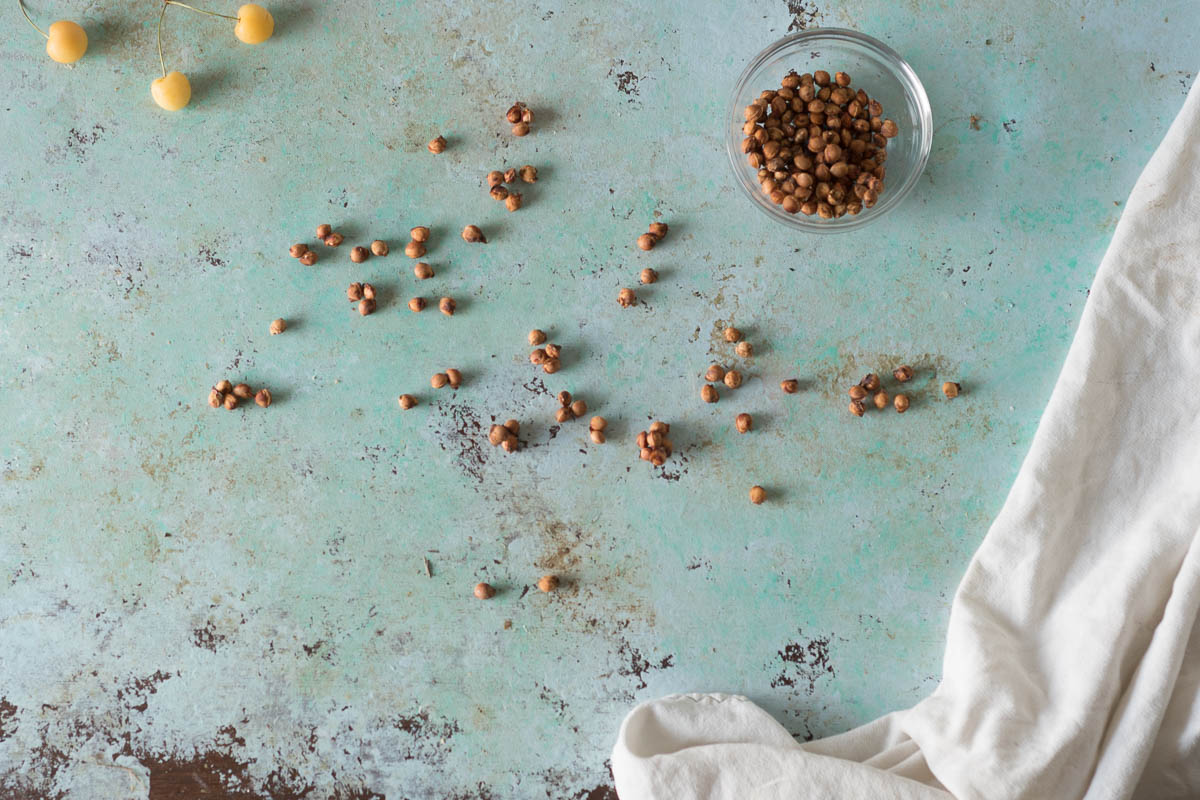 The only other thing left is adding a small amount of alcohol to act as a preservative.
Some recipes call for vodka, others for brandy. I've tried it both ways, and I prefer the richness that brandy brings, but you can certainly use vodka if you have it on hand.
You can leave out the alcohol entirely if it's not your thing, but it won't keep as long.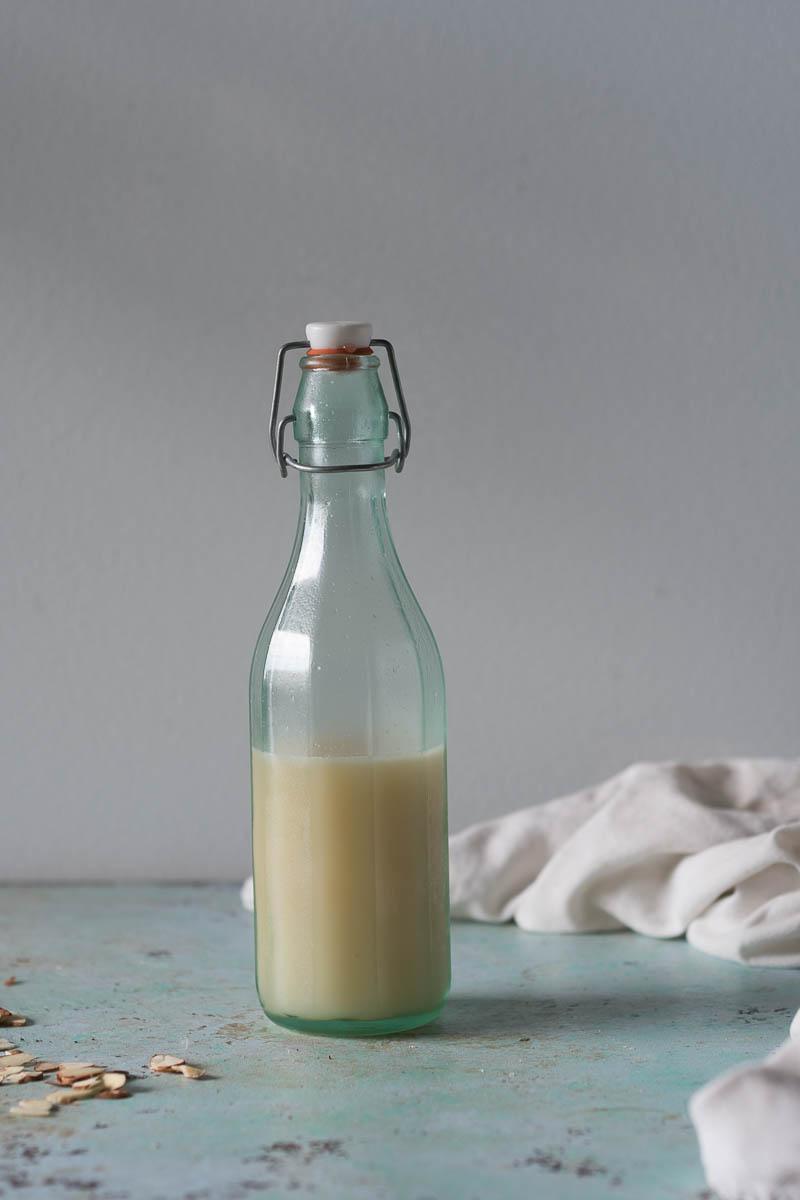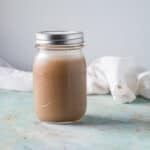 Quick and Easy Orgeat, almond syrup for cocktails
Short on time? Here's a quicker way to make orgeat starting with almond milk.
Yield: about 2 1/2 cups
Orgeat (Almond Syrup with Orange Flower)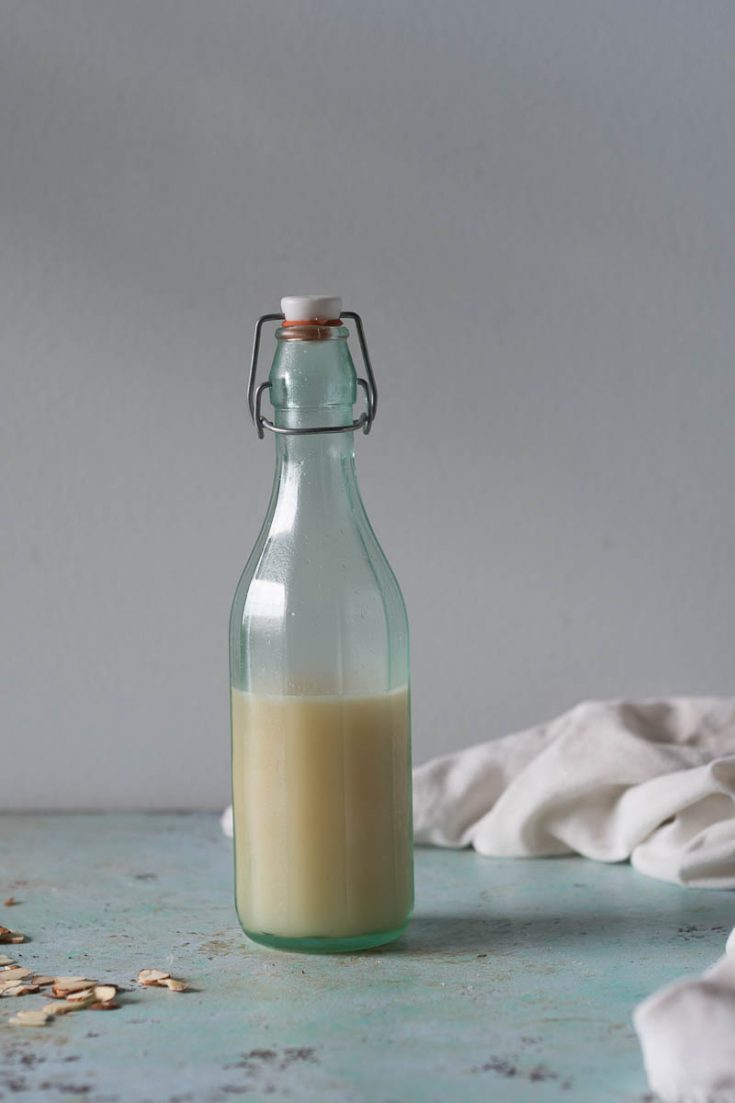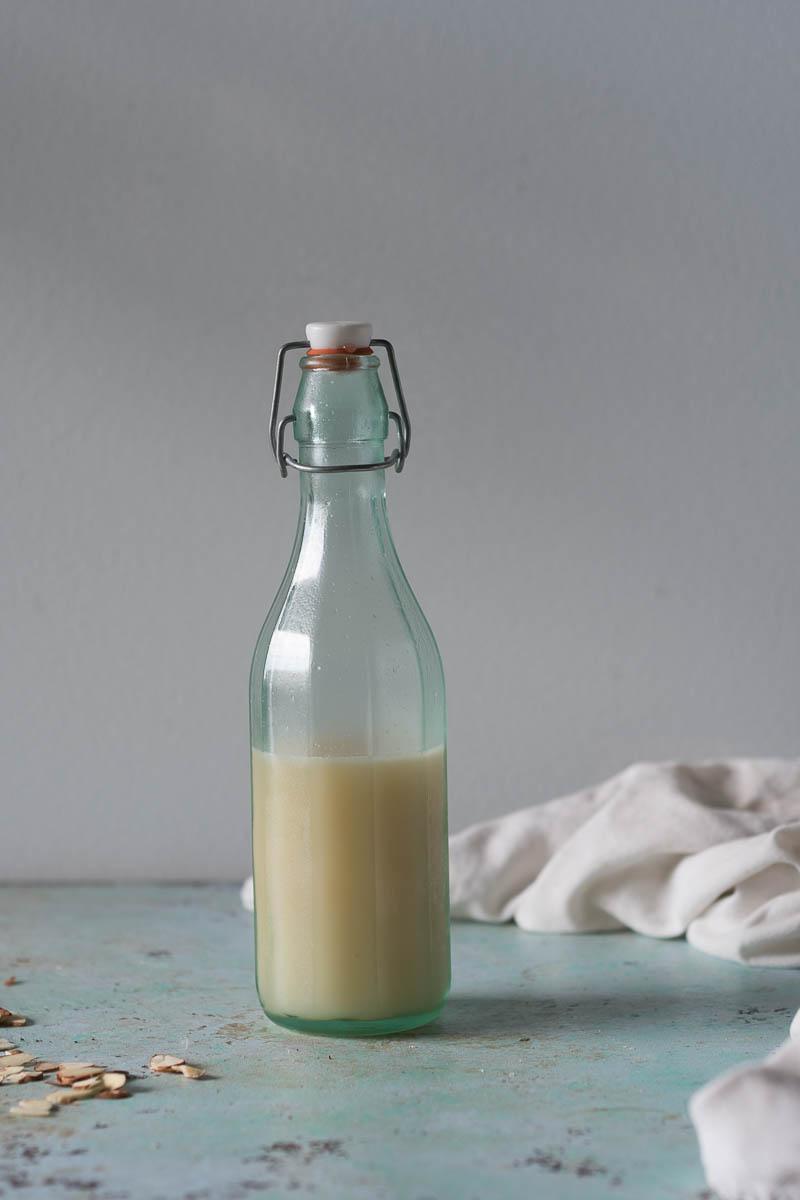 Orgeat is really just a simple almond syrup with a small splash of orange flower water (also called orange blossom water), which you can find at Middle Eastern groceries and places like Whole Foods, as well as on Amazon. I like to use blanched slivered almonds here, but you can use slice or whole almonds as well as long as you measure by weight. Blanched almonds (which have the skin removed) make a milky colored syrup, while skin-on almonds make a syrup with a browner color but still a nice flavor.
I like to use whole cherry pits here for a whiff of that bitter almond flavor. They are entirely optional, but I think they give the syrup a nice depth of flavor that would otherwise be absent. (See above for more on the risks of amygdalin and cyanide.) You could also add a little bit of almond extract if you'd like more intense almond flavor.
This will last longer if you add alcohol. I like it better with brandy, but vodka works well too. You can leave it out if you want to keep it free of alcohol, but be sure to use it quickly.
Be very careful when pouring in the orange flower water. If you add too much it can easily overpower the syrup.
Total Time
3 hours
10 minutes
Ingredients
300 grams (1 1/2 cups) sugar
300 grams (1 1/4 cups) water
50 grams (1/2 cup) whole cherry pits, optional
230 grams (2 cups) blanched slivered almonds
1/4 teaspoon orange flower water
30 grams (1 ounce, 2 tablespoons) brandy or vodka
Instructions
Add the sugar, water, and cherry pits (if using) to a medium saucepan and bring to a boil. Simmer on low for about five minutes until the sugar is dissolved.
Roughly crush the almonds in a blender or food processor and add to the syrup.
Remove from the heat, cover, and let steep for at least 3 hours and up to 12.
Strain through cheesecloth and discard the almonds.
Add the orange flower water and brandy or vodka and transfer to an airtight bottle or jar.
Notes
Stored in the refrigerator, this will keep for about a month.
Recommended Products
As an Amazon Associate and member of other affiliate programs, I earn from qualifying purchases.
Nutrition Information:
Yield:
30
Serving Size:
1
Amount Per Serving:
Calories:

55
Total Fat:

4g
Saturated Fat:

0g
Trans Fat:

0g
Unsaturated Fat:

3g
Cholesterol:

0mg
Sodium:

1mg
Carbohydrates:

2g
Fiber:

1g
Sugar:

1g
Protein:

2g