I may earn from purchases through links in this post.
January has been a month of getting back into the ordinary and the routine. Since we packed up our old apartment, moved into our new condo in October, travelled to both ends of the country in November, and enjoyed the usual rumble of holiday frivolity in December and the beginning of the new year, we haven't had much slow and quiet time to get into our new groove until now.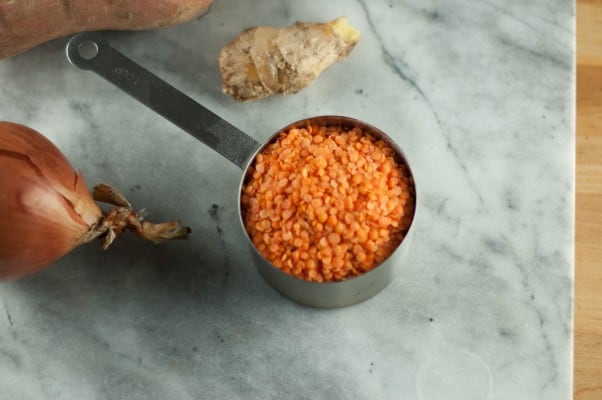 Now is a time when I turn to the pantry, the freezer, and reach into the back of the drawer where an onion has been rolling around for weeks to figure out what's for dinner.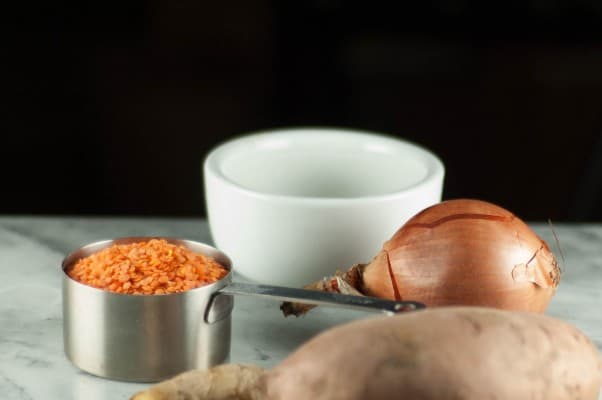 This sweet potato, red lentil, and green pea curry is one of those mostly-from-the-pantry meals.
It is solid, filling, vegetable-heavy, and totally manageable on weeknight. It's the sort of thing that gets better the longer it sits, which means you can make it ahead of time and reheat it whenever you're ready.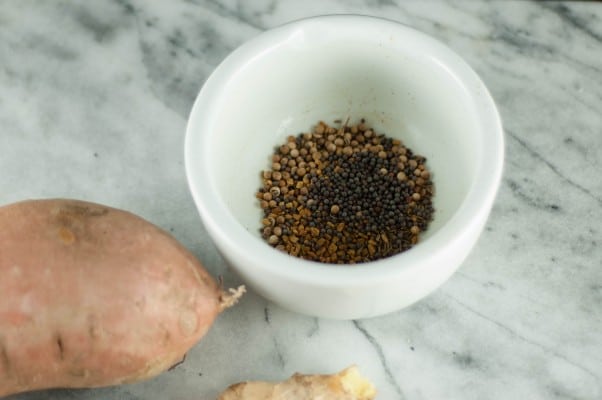 It's healthy by most definitions of the word (I sometimes feel like that's a trap word, where I'm waiting for someone from the latest dietary craze to jump in and explain why I'm wrong).
It's vegan, gluten free, dairy free, soy free with plenty of vegetable-based protein and very little fat.
The carbs are complex and come loaded with all of the vitamins and nutrients that are in sweet potatoes.
It has ginger, which is supposed to help with digestion, and depending on the curry powder, turmeric, which is supposed to be anti-inflammatory.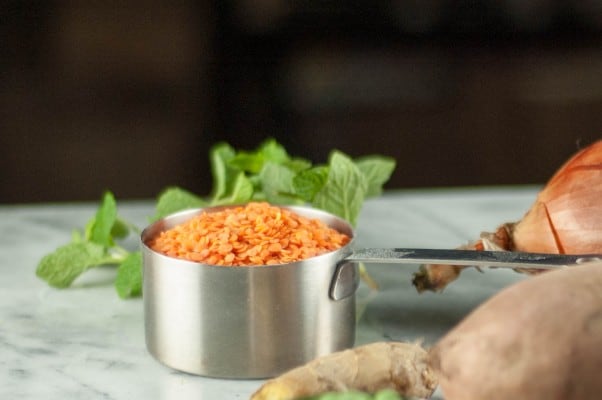 It's something I've been making variations on for years. I found the original recipe in Peter Berley's Fresh Food Fast, a cookbook that focuses on quick, seasonal, vegetable-based meals. It's a book I've had for at least a decade, and was a little ahead of the bigger trend toward eating in a seasonal way.
It's a friendly, manageable cookbook. I find the recipes there to be a great launching point for playing around.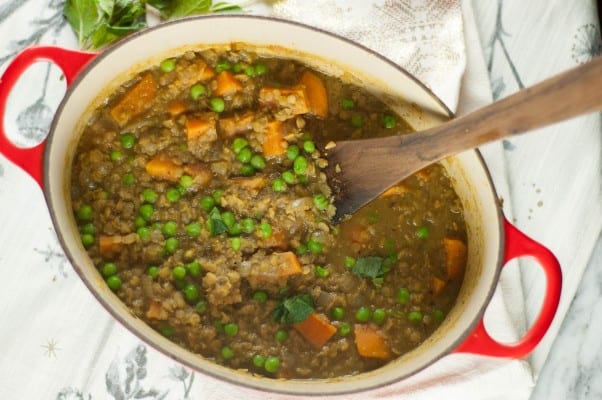 I up the ginger, throw in a handful of extra spices, cut down the amount of lentils, and have taken to adding some (usually frozen) peas to bring some much needed green to break up the monotony of orange.
I top it with fresh herbs like mint or cilantro if I have them. I sometimes squeeze lemon over it or add a dollop of plain yogurt. I sometimes serve it over rice, sometimes have it with some naan or pita, and sometimes have it completely unadorned.
It isn't the most authentic Indian meal ever. It's a meal for a weeknight in January when you're finding your groove. (And if you love these flavors, you'll also like these curried sweet potato latkes.)
It's a template meal. A feel-free-to-tweak meal. It isn't going to set the world on fire, but it's a good way to answer the question, "What are we going to have for dinner?" And that's plenty good enough for me on most nights.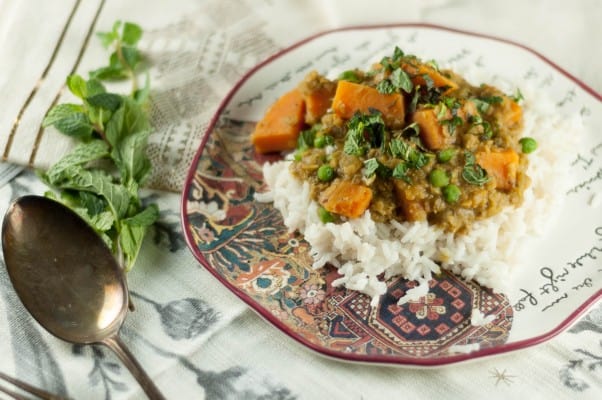 Yield: 6 servings
Sweet Potato, Red Lentil, and Green Pea Curry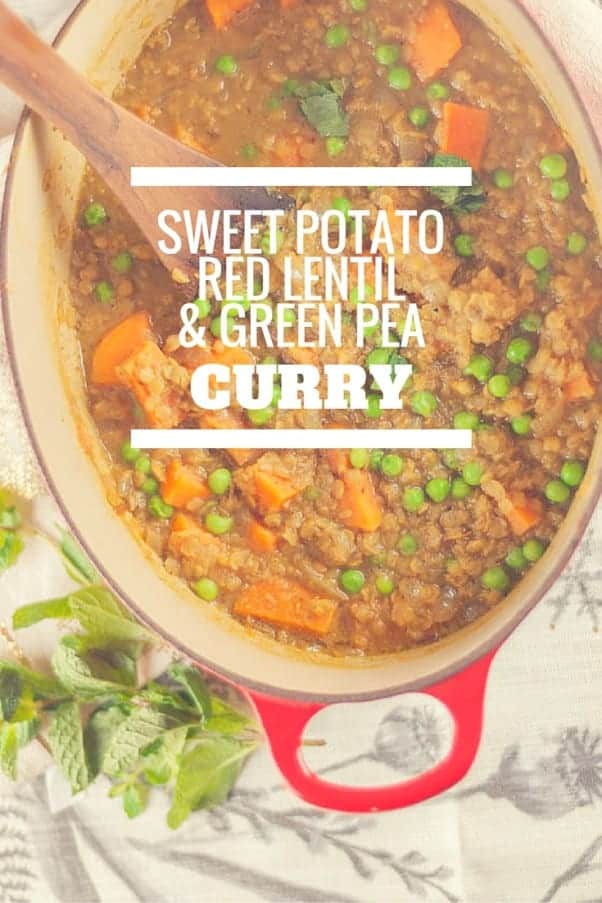 This is a reliable, warming, easy-to-make, mostly-from-the-pantry meal. You can adjust the spices to your preference. I start with whole spices and grind them in an inexpensive coffee grinder that I dedicate to spice grinding (you probably don't want cumin and brown mustard seed powder in your coffee). You can use pre-ground spices if you prefer, but cut the amounts in half because whole spices take up more volume in a measuring spoon. You can make it with any Indian curry powder you like. I usually make this with coconut oil because I love the subtle added coconut fragrance when I'm cooking with Indian flavors, but you can use a neutral oil or ghee if you prefer. I use frozen peas because I usually make this dish in colder months when fresh peas are scarce. I usually serve this over basmati rice (either white or brown), but it's also good with naan or pita or on its own. You can top with a dollop of plain yogurt if you want to add some creaminess. This is a great make-ahead meal–it keeps well and the flavor deepens as it sits.
Ingredients
2 tablespoons coconut oil, or ghee or neutral oil
1 yellow onion, diced
1 in medium sweet potato, peeled and cut 1-inch cubes
2 cloves garlic, minced
2- inch piece of ginger, peeled and grated on a microplane
1 teaspoon cumin seed
1 teaspoon coriander seed
1 teaspoon brown mustard seed
1/2 teaspoon whole fenugreek
2 teaspoons curry powder, any Indian variety is fine
1 cup red lentils
3 cups water
1/2 teaspoon salt
1/2 cup green peas, frozen
Garnish: mint, cilantro, plain yogurt, optional
Instructions
Grind the whole spices in a spice grinder or with a mortar and pestle, set aside. In a large saucepan, heat the oil over medium-high heat. Add the onion and cook until the edges are turning brown, about 5 minutes. Add the spices, curry powder, ginger, and garlic and saute for about a minute, until very fragrant.
Add the sweet potato, lentils, water, and salt and bring to a boil. Reduce to a simmer, cover, a cook until the sweet potatoes are tender and the lentils have absorbed much of the liquid, about 18-20 minutes. Stir in the green peas and cook until warmed through, about 2 minutes.
Serve, if desired, over basmati rice or with naan or pita. Add mint, cilantro, or yogurt, if using (or let anyone add or adjust to their preference).
Recommended Products
As an Amazon Associate and member of other affiliate programs, I earn from qualifying purchases.
Nutrition Information:
Yield:
6
Serving Size:
1
Amount Per Serving:
Calories:

183
Total Fat:

10g
Saturated Fat:

6g
Trans Fat:

0g
Unsaturated Fat:

4g
Cholesterol:

7mg
Sodium:

299mg
Carbohydrates:

19g
Fiber:

5g
Sugar:

6g
Protein:

6g