It's summer. And as of Friday, we finally, FINALLY, got access to our deck, which has been under construction since March. I think our entire condo association is relieved that this project that took so much longer than anticipated is, at long last, over.
I'm relieved that we no longer need to keep our grill indoors and that our outdoor furniture is no longer taking up space inside. I'm excited to have regular access to a working grill for the first time in my adult life, and I'm thrilled to be able to open the back door and step outside onto a little private space and enjoy being outside without having to put my shoes on. It's a little thing, but in the city, it feels like a luxury.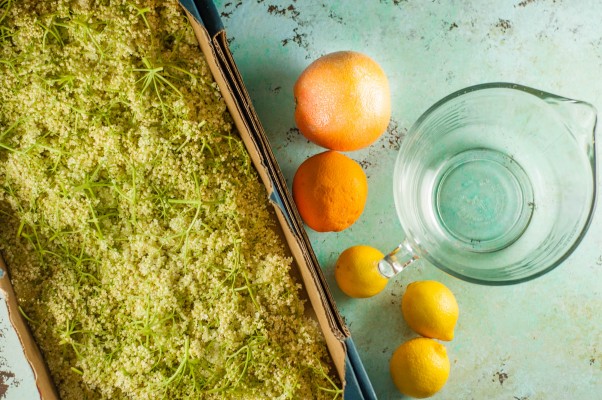 Of course, today it's one of those sticky, humid, rainy summer days where I don't much want to be outdoors. The sort of day when I'd rather be in an air conditioned space than lounging out on the deck.
Ah, summer in Chicago.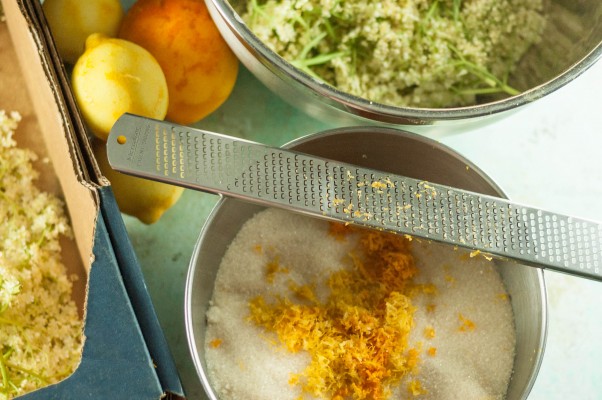 Still, despite the weather, I got to enjoy a real summer treat. I poured myself some of this elderflower cordial, which is really a concentrated elderflower and citrus syrup, and topped it with ice and some sparkling water.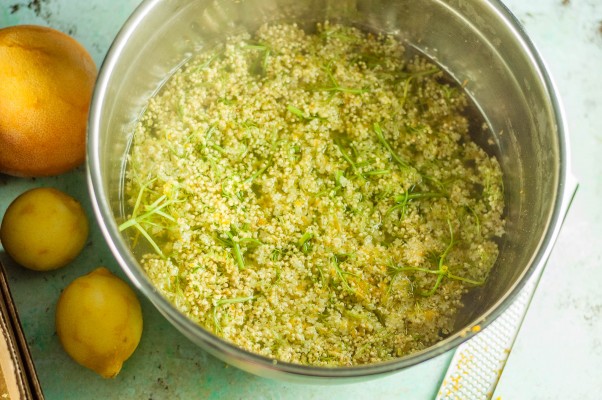 I love elderflowers. When I saw that Seedling Farm was selling them at the Green City Market last week, I immediately bought a flat of them. They are delicate tiny flowers that have a brief season and a big heady fragrance. They are mildly floral, slightly anise-y, and they pair beautifully with citrus flavors. They're the main flavor in the popular liqueur St. Germain, and they're easy to like. They grow all over the place, and if you're lucky enough to come across some, snip a few bunches and bring them home.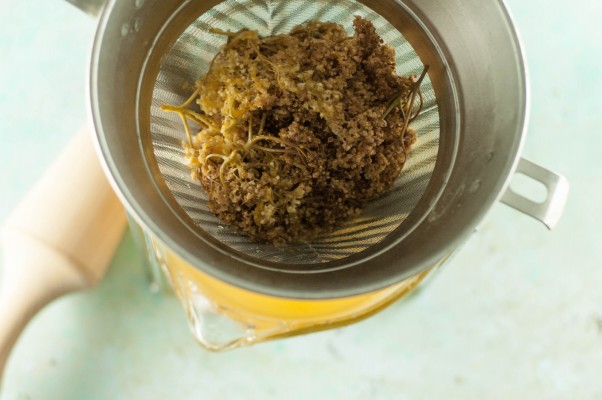 My favorite thing to do with them is to make some kind of syrup to preserve their delicate fragrance and flavor. This particular syrup is based on the traditional British elderflower cordial and is adapted from Pam Corbin's always reliable The River Cottage Preserves Handbook
.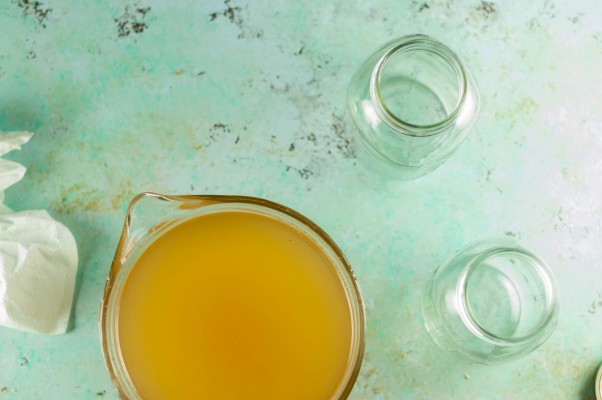 It's incredibly easy to make. It just requires zesting some citrus, heating some water and sugar and pouring it all over a pile of flowers. Then everything steeps for 24 hours or so and gets strained and bottled. The only slightly unusual part is that a teaspoon of citric acid
 goes in for some preserving power and a bit of sour flavor. (You should be able to find citric acid in the canning area of any grocery store. It's sometimes called lemon salt.)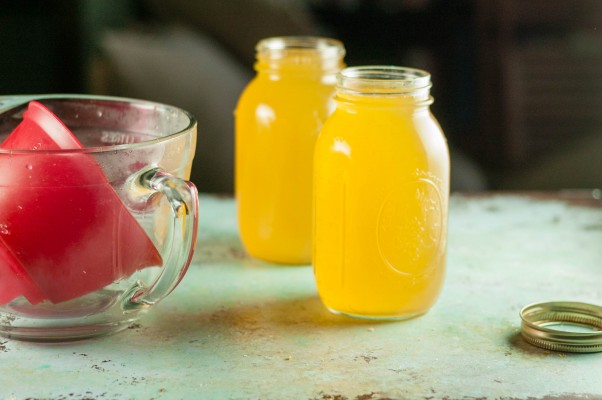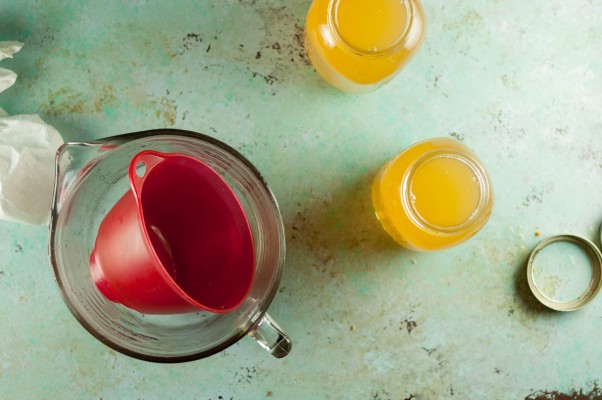 This syrup is a bit too sweet and, well, syrupy to drink on its own. But when mixed with sparkling water it makes a lovely soda. It would be lovely with lemon juice for an elderflower lemonade and it also goes well with gin if you're a fan of cocktails. It's nice to pour a little over fresh berries for a simple glaze. And it would be great in a white sangria with berries or stone fruits.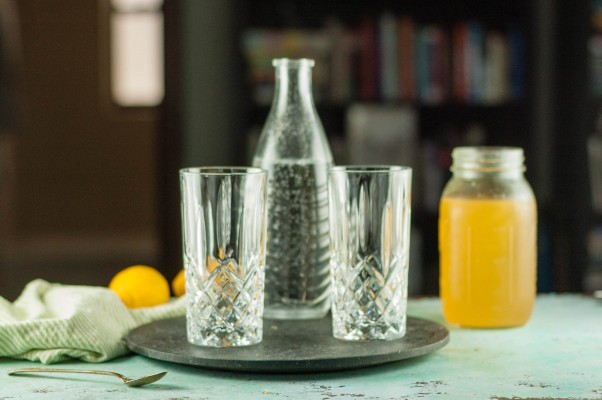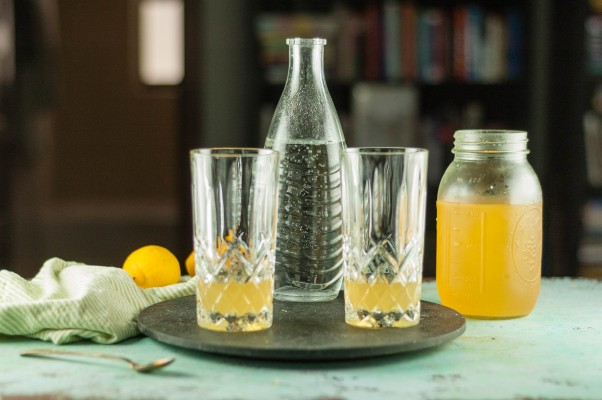 I'm pretty thrilled to know I'll have some around for the rest of the summer.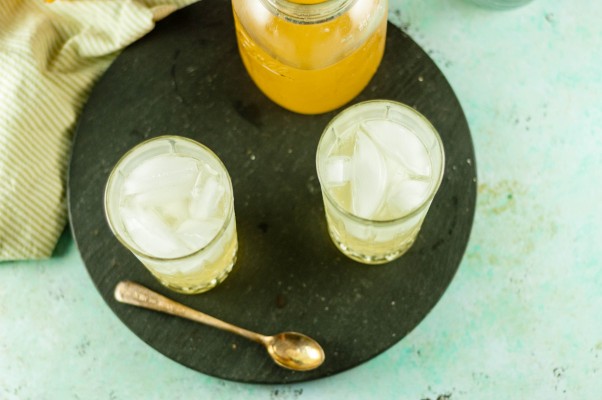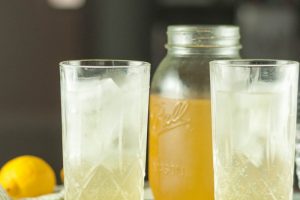 Print
Elderflower Cordial
If you have elderflowers, this cordial is incredibly easy to make. It's also incredibly adaptable. I use lemon, orange, and grapefruit zest, but you could use just lemon or any combination of citrus you like. The
citric acid
is optional, but I recommend it if you'd like to keep this around for a while as it will really extend the life of the syrup.
Ingredients
25

elderflower heads

(approximate)

7

cups

water

about 1.5 liters

5

cups

sugar

(1 kg)

Zest of 2 lemons, 1 orange, 1/2 grapefruit

1

teaspoon

citric acid

optional
Instructions
Place the elderflowers in a large heat safe bowl. In a large saucepan, add the sugar and the citrus zest and stir well. Add the water and heat over medium heat, stirring frequently, until the sugar is dissolved. Remove from heat and pour over the elderflowers. Stir in the citric acid. Let sit at room temperature overnight or for around 24 hours. Strain through a fine mesh strainer and store in sterilized bottles or jars in the refrigerator.