I may earn from purchases through links in this post.
Sometimes, there's nothing better than sitting outside on the deck with your husband and your dog with a refreshing popsicle in your hand and a sticky drip running down your arm.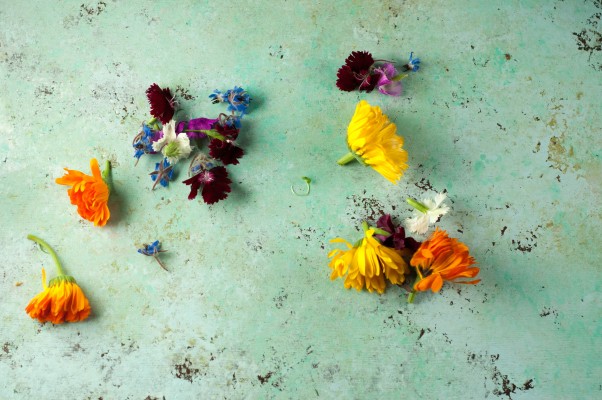 Like watermelon, I think popsicles are meant to be eaten outdoors in the open air on a hot and sunny summer day.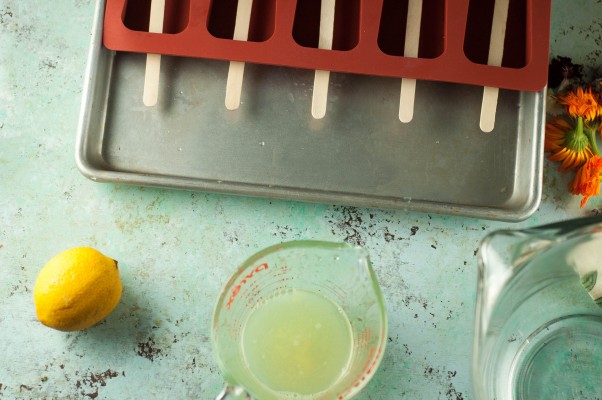 These lemon elderflower popsicles are studded with edible flowers that I got from Growing Power at the Green City Market, and they're easily some of the prettiest ice pops I've ever made.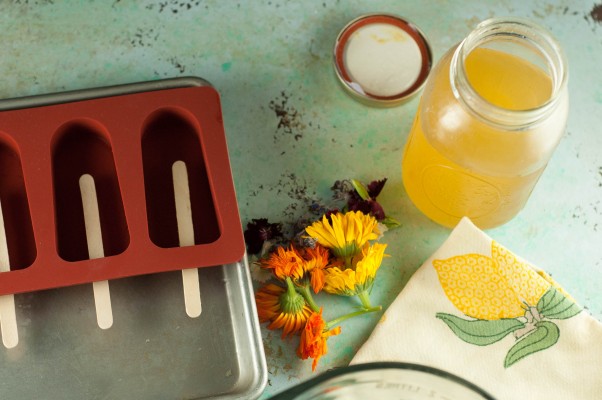 It's easy to forget about floral flavors or to dismiss them as tasting like a grandmother's perfume. And if you overuse them, they can quickly cross over into that territory (in my experience, I'd recommend being especially conservative with rose water and Creme de Violette). But let's not forget that vanilla comes from orchids.
Elderflower, especially when mixed with citrus like lemon, is, I think, a floral flavor that's easy to love. And these popsicles remind me, again, why I was so eager to bring home a flat of elderflowers when I saw them at the market.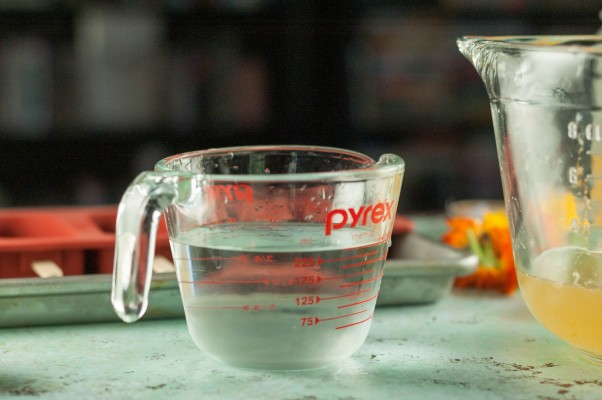 I think the lemon and elderflower flavors make a fitting backdrop for this colorful bunch of edible flowers.
These particular edible flowers are a mix of sweet william, borage, and calendula blossoms, and they add vibrant color and contrasting textures to these ice pops.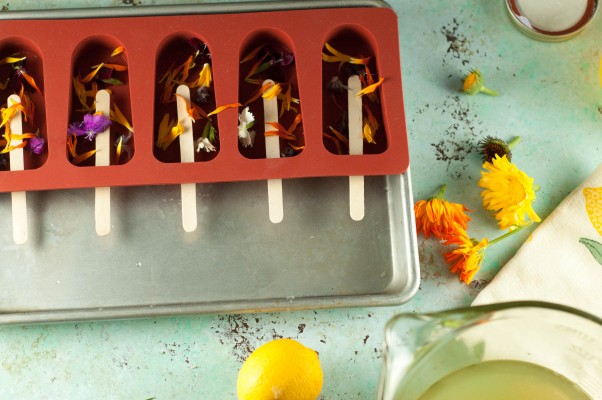 Like most popsicles, these delicate, citrusy beauties are a cinch to make. Just mix some elderflower cordial (either homemade or a commercial variety) with some water and lemon juice, scatter some edible flowers into molds, pour the liquid mixture over them and carefully transfer to the freezer until they're frozen solid.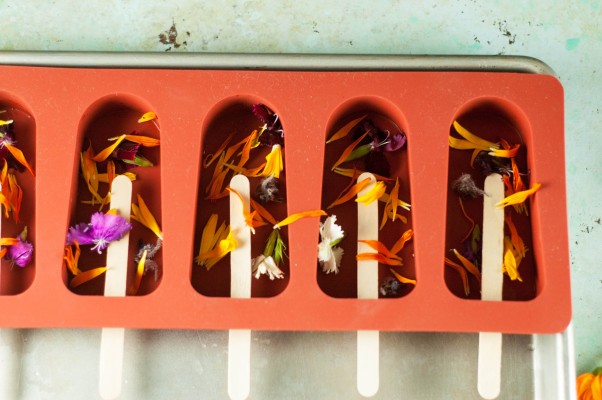 You can always skip the extra flowers if you don't want to bother. Really they're mostly just showing off.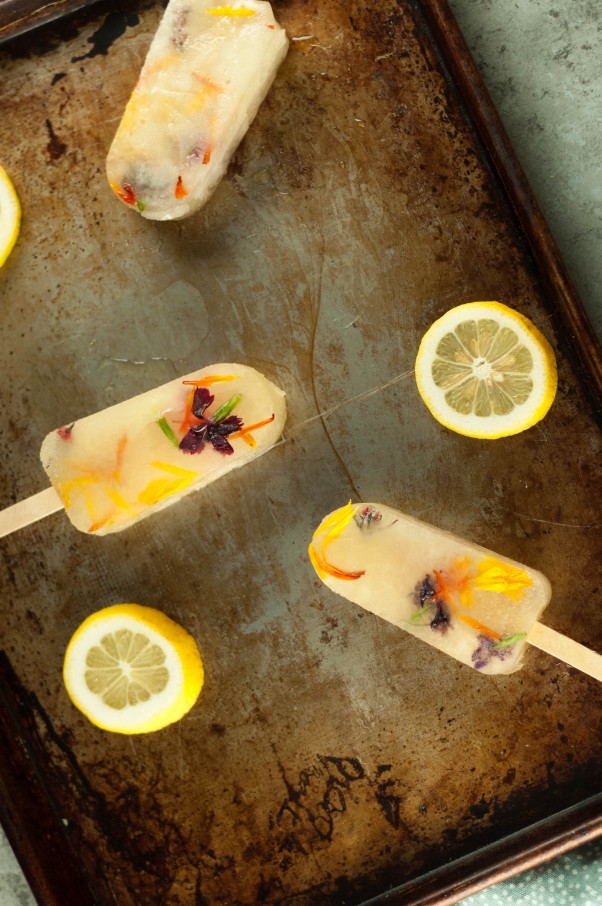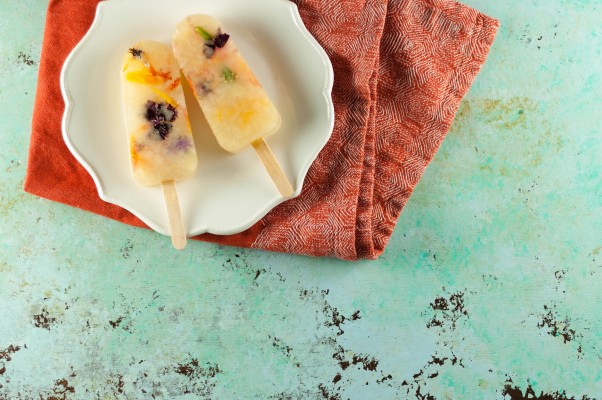 Yield: 5 4-ounce popsicles
Lemon Elderflower Popsicles with Edible Flowers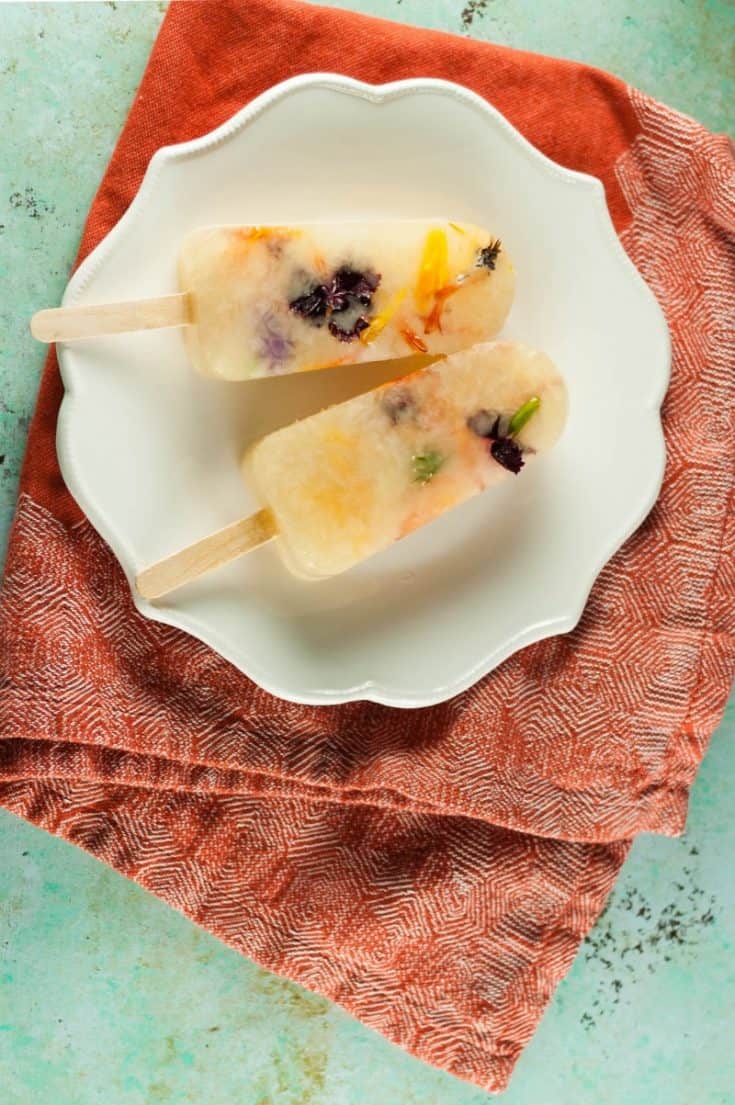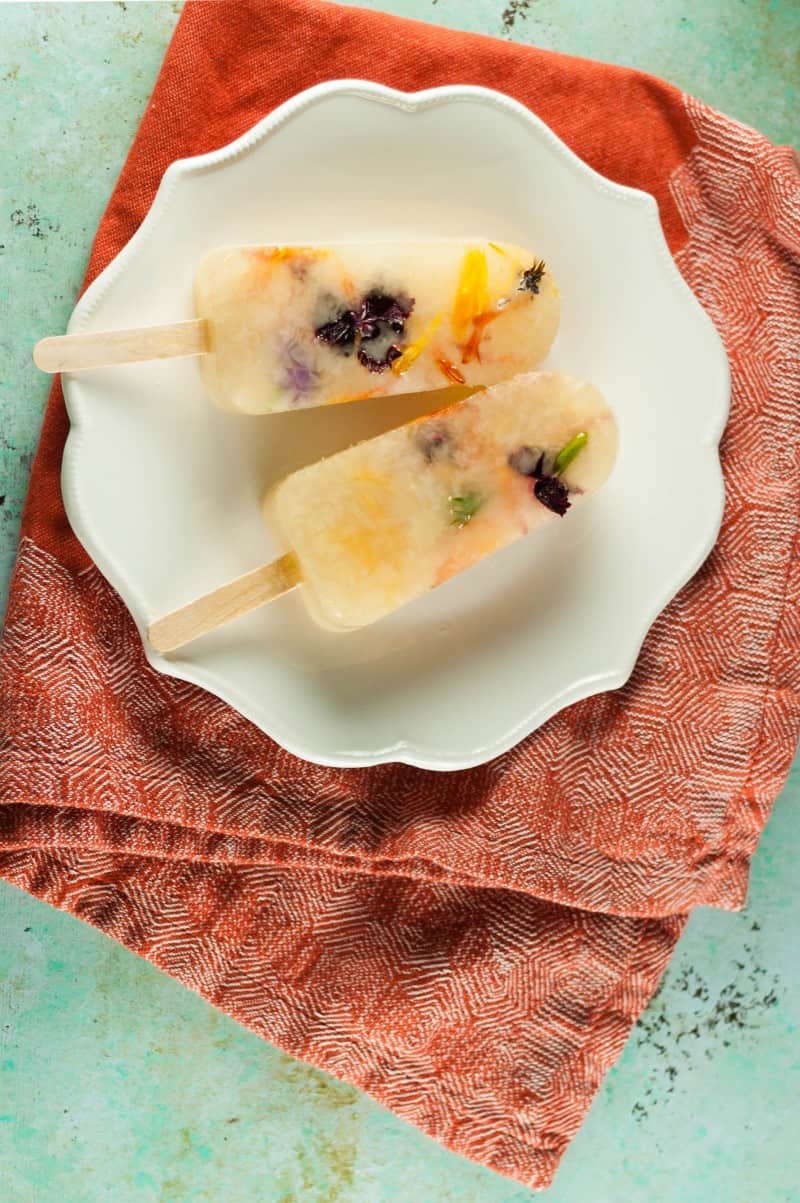 The hardest part of making these ice pops is tracking down elderflower cordial and edible flowers. The elderflower cordial is easy to find online, but the fresh edible flowers may be trickier. I sometimes see nasturtium flowers in those little plastic packs of fresh herbs at grocery stores, but nasturtiums have a distinct peppery flavor that wouldn't be quite right here. You want flowers with a mild flavor and you want to be sure that they're safe for eating and haven't been sprayed with pesticides. I used borage, calendula, and sweet william, but you could just use a few calendula blossoms or a handful of sweet william in your favorite color if you want. You could also skip the flowers altogether and still enjoy the delicate, citrusy flavor of these summery popsicles. I used these molds. (If you're using the same ones, be sure to secure the popsicle sticks in the molds and place the molds on something flat, sturdy, and portable like baking sheet before adding the liquid.)
Total Time
6 hours
5 minutes
Ingredients
1 cup elderflower cordial
1 cup water
1/4 cup freshly squeezed lemon juice
a small handful of edible flowers, tough stems removed
Instructions
In a mixing bowl combine the elderflower cordial, water, and lemon juice and stir. Scatter the edible flowers over the popsicle molds and pour the liquid into the molds. Transfer to the freezer and freeze until solid, about 4-6 hours or overnight.
Nutrition Information:
Yield:
5
Serving Size:
1
Amount Per Serving:
Calories:

189
Total Fat:

0g
Saturated Fat:

0g
Trans Fat:

0g
Unsaturated Fat:

0g
Cholesterol:

0mg
Sodium:

5mg
Carbohydrates:

1g
Fiber:

0g
Sugar:

0g
Protein:

0g