I may earn from purchases through links in this post.
When it comes to springtime foraged vegetables, ramps (also known as wild leeks), have gotten the bulk of the chef and food world attention.
I like ramps as much as the next tedious food geek droning on about the pungent wonders of spring's first local seasonal edible green thing, but there's some concern that the increased demand for ramps in recent years have led to overharvesting in some areas.
So far the midwest continues to have ample ramp patches. Still, I think it's wise to balance our enthusiasm for them with an eye toward sustainability.
Which brings me to a different early wild spring green with a bold flavor, wild garlic mustard.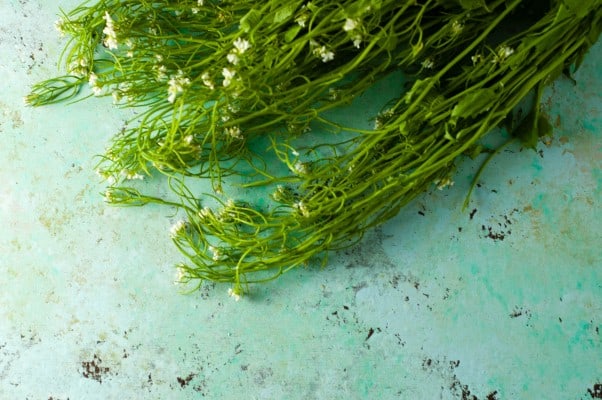 Wild garlic mustard is an invasive plant, so abundantly proliferative that it grows almost everywhere in the northern hemisphere and is a weedy nuisance for many farmers. It's sort of the Asian carp of the plant world.
But it's also delicious. It has a garlicky fragrance with a kicky heat along the lines of horseradish. They're members of the brassica family (like broccoli and kale and cultivated mustard greens) and like their brethren are nutritional powerhouses.
It seems that if we're going to be pulling these weeds anyway, we might as well bring them into the kitchen and take advantage of their flavor potential.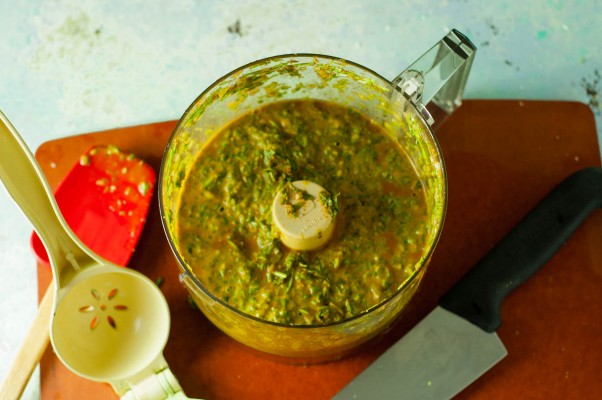 This wild garlic mustard green chimichurri comes together in about a minute. It comes from Chicago chef Paul Virant's excellent cookbook, The Preservation Kitchen.
It's a vibrant, punchy sauce with a healthy splash of acidity from the red wine vinegar and lemon juice. It gets a smoky depth from the smoked paprika and rounded out with a generous amount of olive oil.
It's great paired with pork, chicken or steak or a fish like salmon that can stand up to bold flavors. I could also see it playing well with eggs and black beans and avocados (maybe along with quinoa cakes) for a vegetarian meal.
Whatever you pair it with, it's a great way to eat your weeds.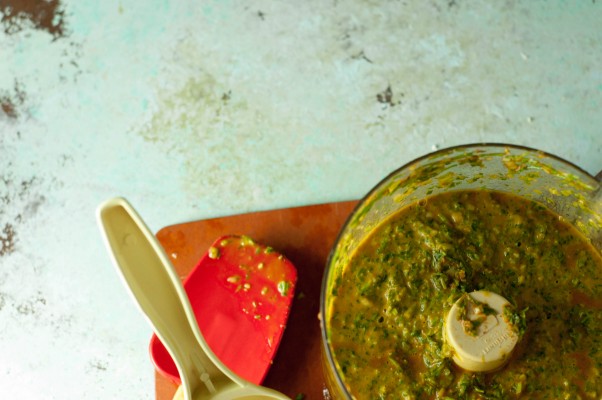 Yield: 1 cup
Wild Garlic Mustard Green Chimichurri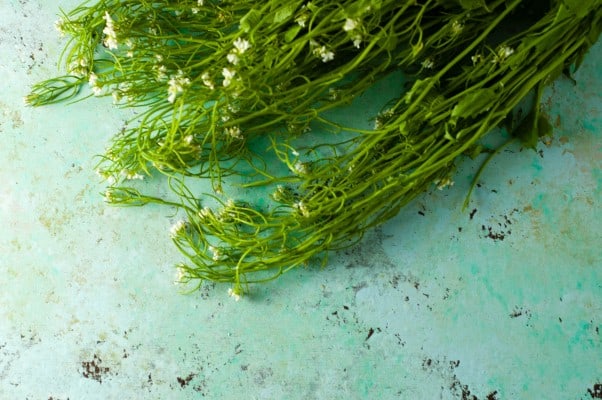 This chimichurri is a snap to make, and it's a great way to make use of a weed that's otherwise a nuisance. It comes together in seconds in the food processor. The color is brightest within a few hours of making it, but it keeps well in the refrigerator for about a week. It goes well with just about any meat you could think of and would also be lovely with salmon or any fish that can handle potent condiments. It's best paired with something with a bit of fat and richness–it would be a bit overpowering on most vegetables but would work with eggs or avocados. It has a kick a bit like horseradish but milder. If you can't find wild garlic mustard, you can make this with a combination of mustard greens and flat leaf parsley instead. You can also substitute cloves of garlic for the spring garlic if you have trouble finding it.
Ingredients
2 cups wild garlic mustard green tops and leaves, remove the woody ends (but keep the flowers if they're present)
2 sprigs spring garlic, roughly chopped
Juice and finely grated zest of 1 lemon
2 tablespoons red wine vinegar
1 teaspoon smoked paprika, works well with either sweet or hot
1/2 teaspoon kosher salt
3/4 cup extra-virgin olive oil
Instructions
Add everything except the olive oil to the bowl of a food processor and pulse a few times to combine. With the food processor running, slowly pour in the olive oil and process until just combined.
Store in an airtight container in the refrigerator if not using within a couple of hours.
Recommended Products
As an Amazon Associate and member of other affiliate programs, I earn from qualifying purchases.
Nutrition Information:
Yield:
12
Serving Size:
1
Amount Per Serving:
Calories:

168
Total Fat:

14g
Saturated Fat:

2g
Trans Fat:

0g
Unsaturated Fat:

11g
Cholesterol:

0mg
Sodium:

109mg
Carbohydrates:

11g
Fiber:

1g
Sugar:

3g
Protein:

2g