I may earn from purchases through links in this post.
For the last few months, more of my life than I would like to admit has been consumed with managing our dog, Inka. She's a sweet pup, but so many little things common to city living scare her.
Construction season has started, along with lawn-mowing season, motorcycle season, thunderstorm season, and kids-running-around-outside season. (And we haven't even gotten to fireworks season.)
The very friendly neighbor girl who lives above us called her a scaredy-dog because Inka shrinks in fear and tries to run away every time she gets close.
And she's right, Inka is a scaredy-dog.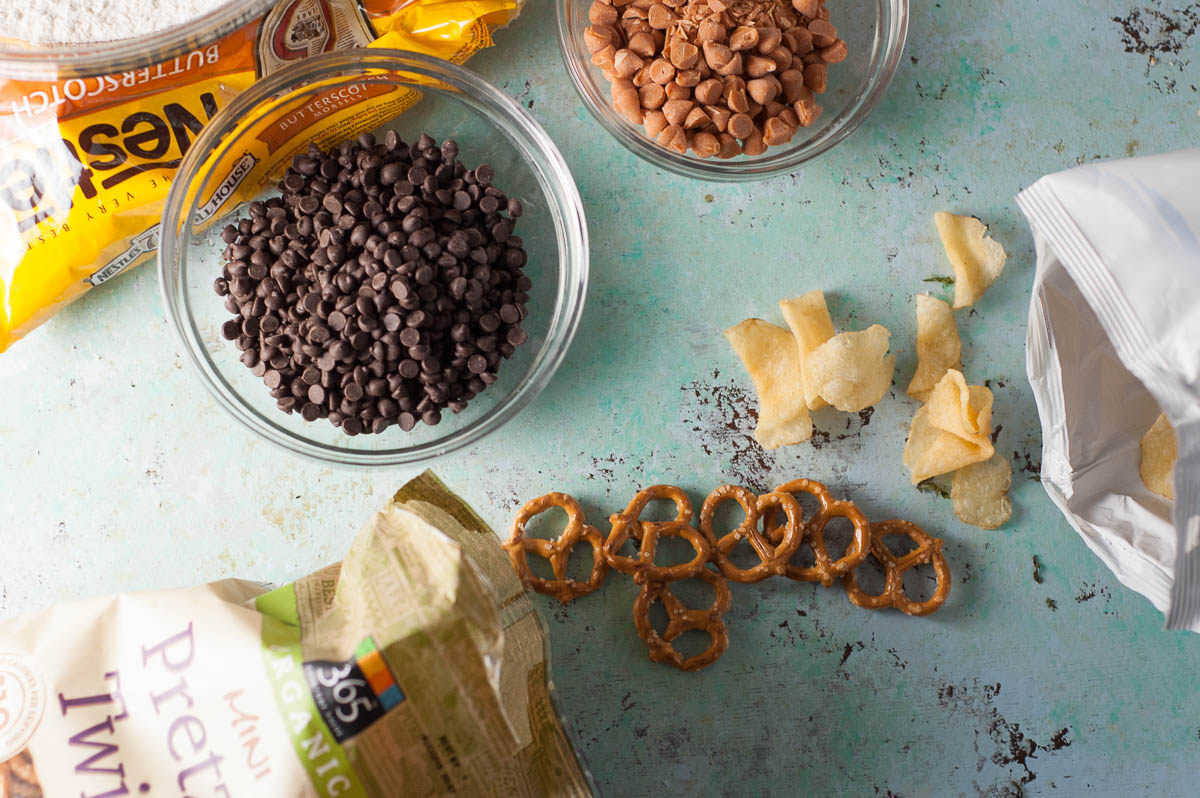 It's funny how much having a dog has reattuned my attention to sound and motion in the environment.
There's so much that I've learned to filter out: the beeps of a truck backing up, the atmospheric churn of planes overhead, the abrupt rumble and hum of a parked car starting, the taut thwap of an automatic umbrella opening, the unpredictable direction and pace changes of small children on the sidewalk.
So much of this world must still feel incomprehensible to a year-and-a-handful-of-months-old dog who until January was a stray in eastern Kentucky.
Even the shutter click and flash of the camera that the trainer used to photograph our final obedience class was enough to make Inka crouch under my chair, quaking in fear, too frazzled to be able to demonstrate for the class her much improved ability to walk attentively on a loose leash and sit and stay.
Life with her has taken more adjusting than I expected. It is slowly getting easier, except for the part where she's started pulling books off the shelves to chew on them, and the part where she just, as I attempt to write this, enthusiastically denuded a corner of our brand new bedroom rug of pile. Sigh.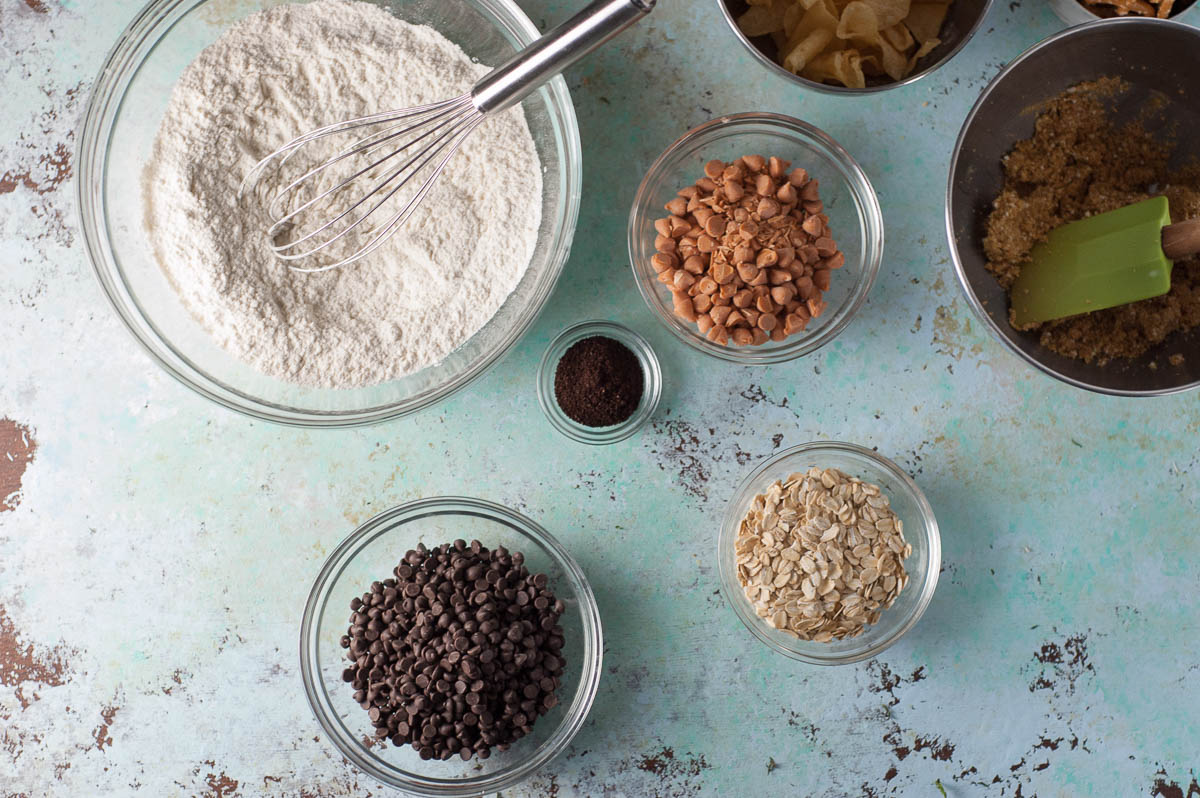 Dan and I have been, of late, exhausted. And we've been a little more impulsive when it comes to eating.
We've found ourselves reaching, more than we probably should, for easy hits of salt and fat and sweet.
These compost cookies from Momofuku Milk Bar push all of those buttons at once.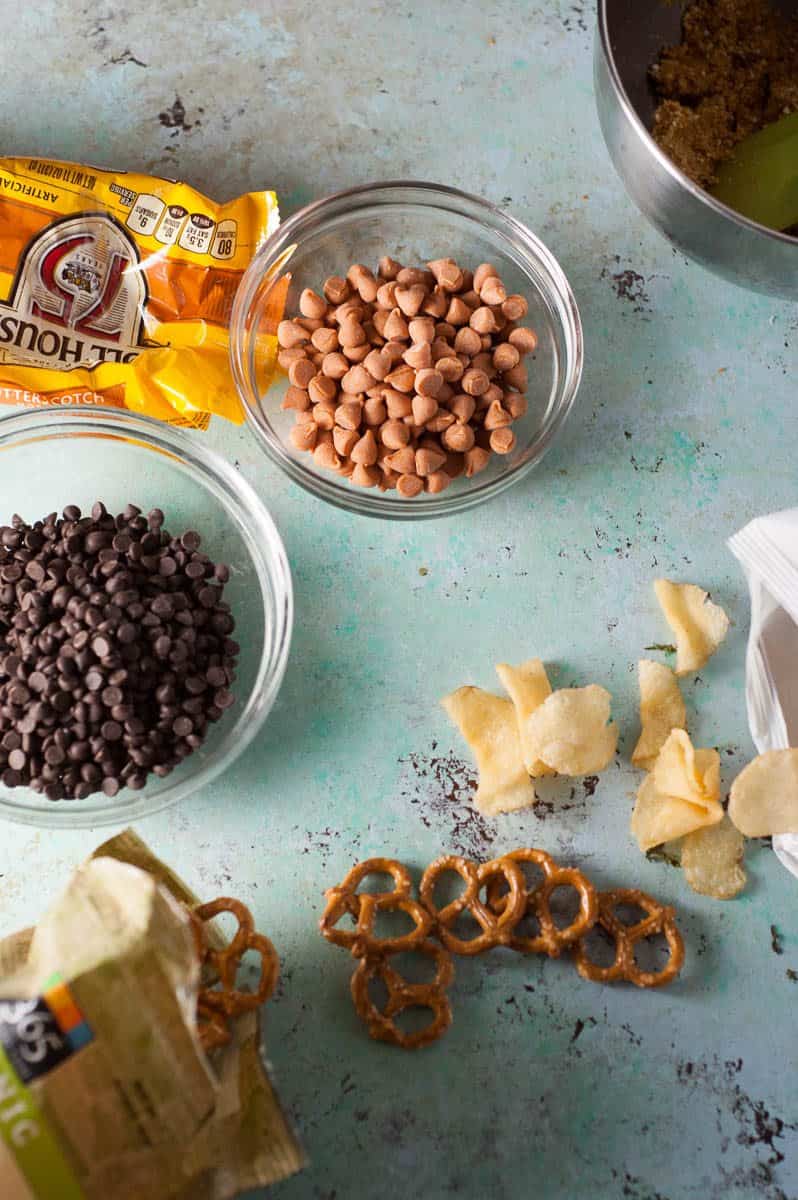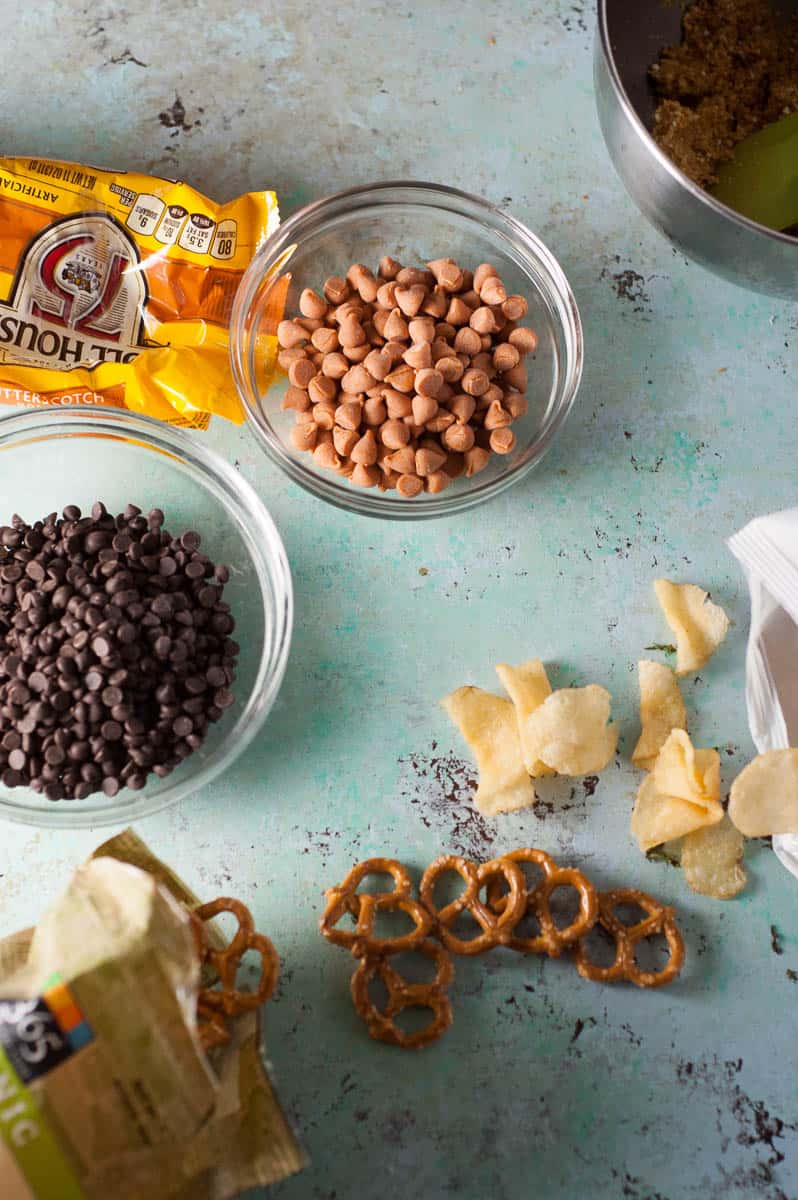 It's a bit like a handful of everything in the grocery store snack aisle jumped into a bowl of rich cookie dough.
They sport not just usual cookie add-ins like oats and chocolate and butterscotch chips, but also coffee grounds, potato chips, pretzels, and bits of graham cracker crust.
They're big bakery sized cookies, thin and crispy around the edges with a texture that softens and turns chewy as you get toward the middle.
There is nothing subtle about these cookies. They are unabashedly indulgent. And despite the smattering of whole grains in the form of oatmeal, don't think for a moment that they have a whiff of "health" around them.
They're a buttery embrace of junk food, and they're easy to love.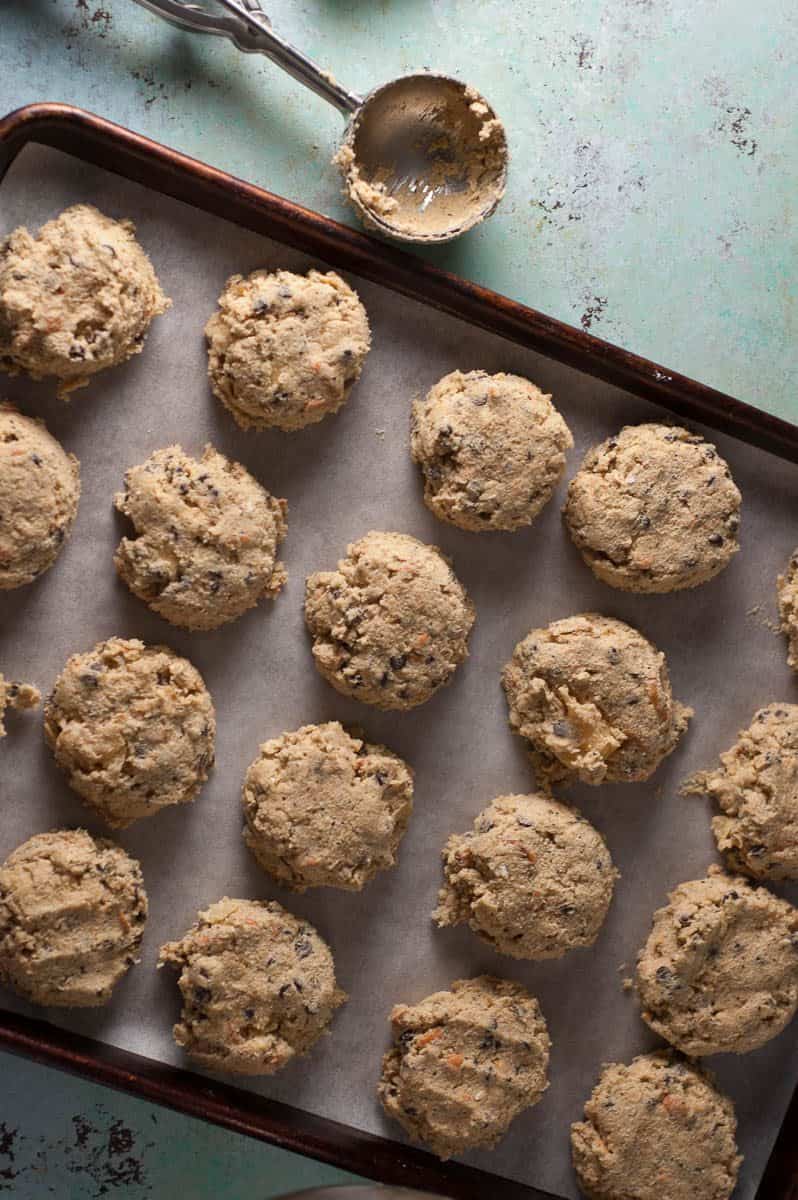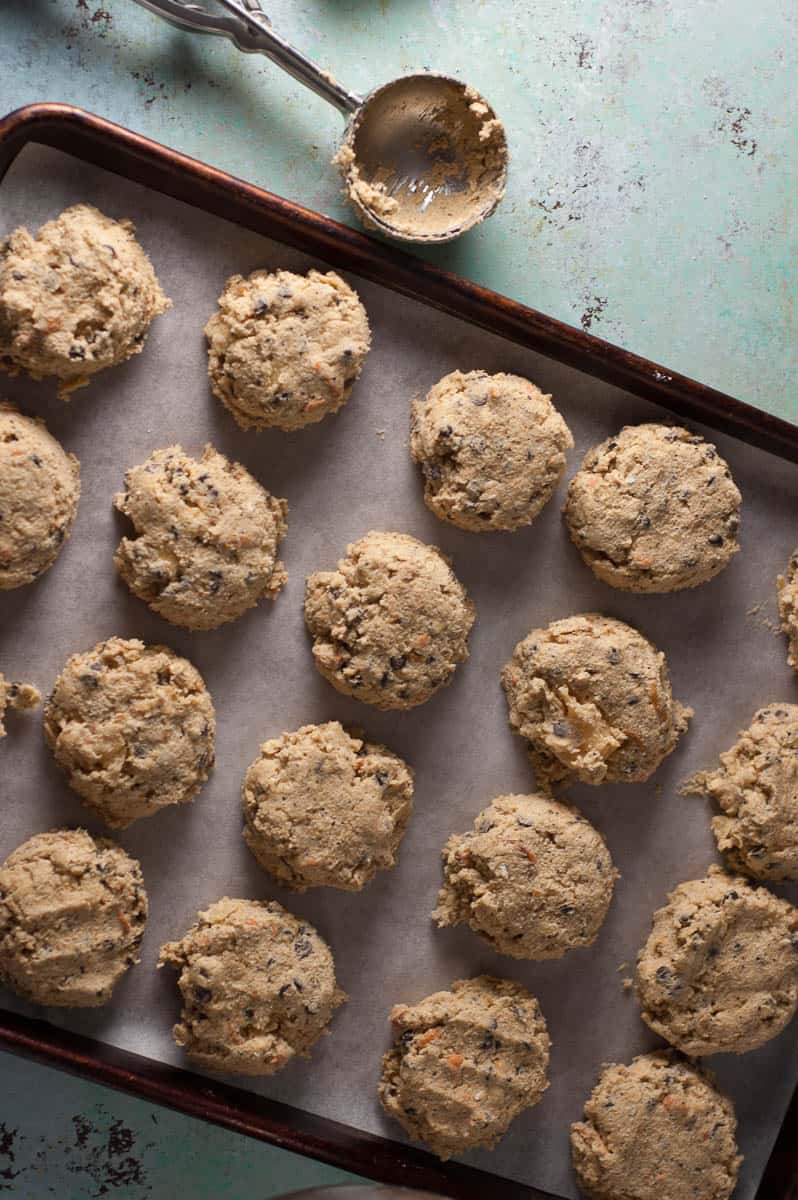 I think my favorite thing about them is the combination of coffee and butterscotch flavors, which is something I imagine playing with in other desserts in the future. [Update: these blondies use some of the same flavors and they are so good.]
These are cookies you'll want to share, as keeping too many of them around would be, for obvious reasons, dangerous to the waistline. I brought them with me to the annual Momofuku-themed garden party at our friends Traci and Dan's house where the were quite the hit.
Just make them already.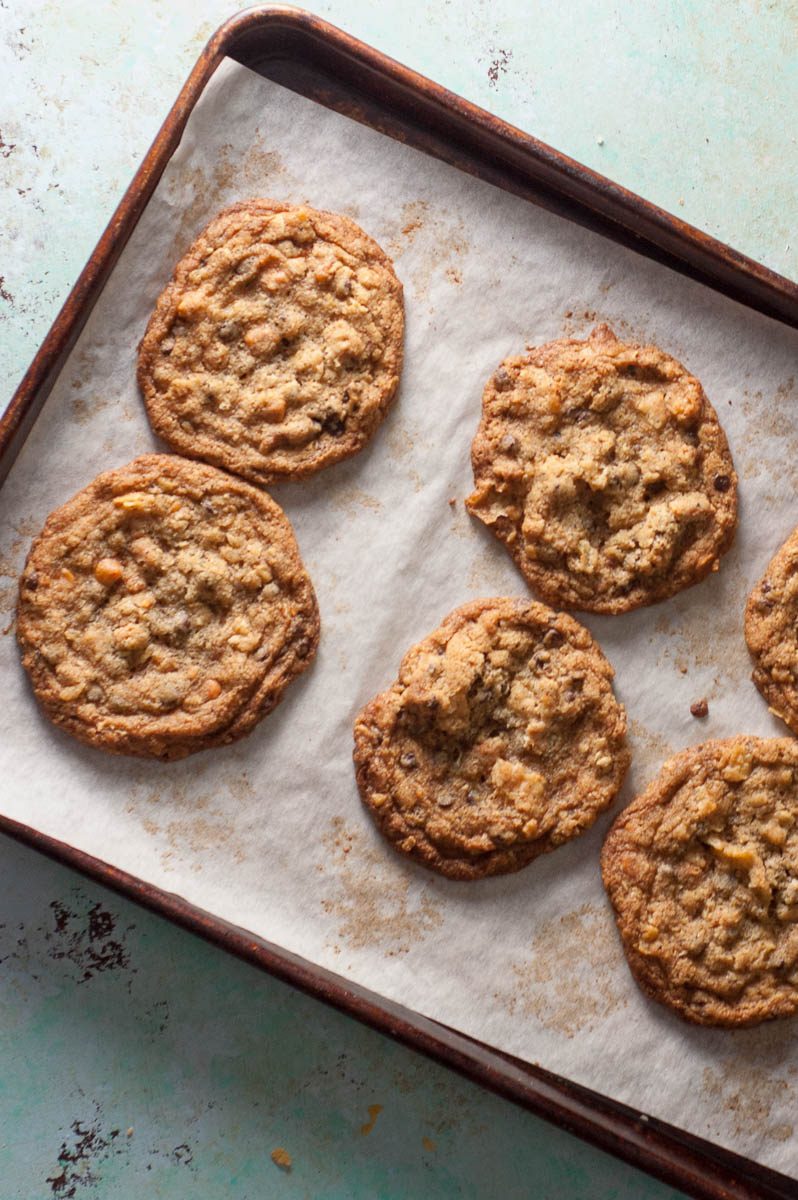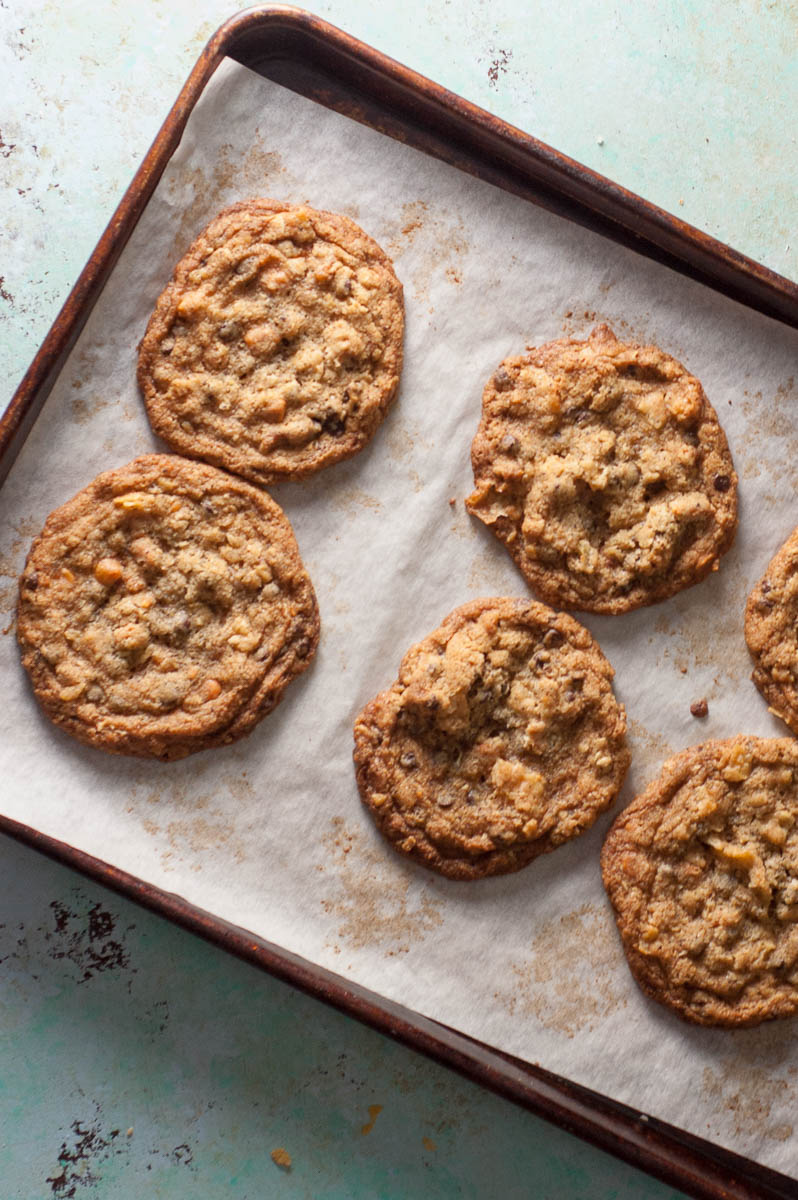 Yield: 15 -20 cookies
Compost Cookies from Momofuku Milk Bar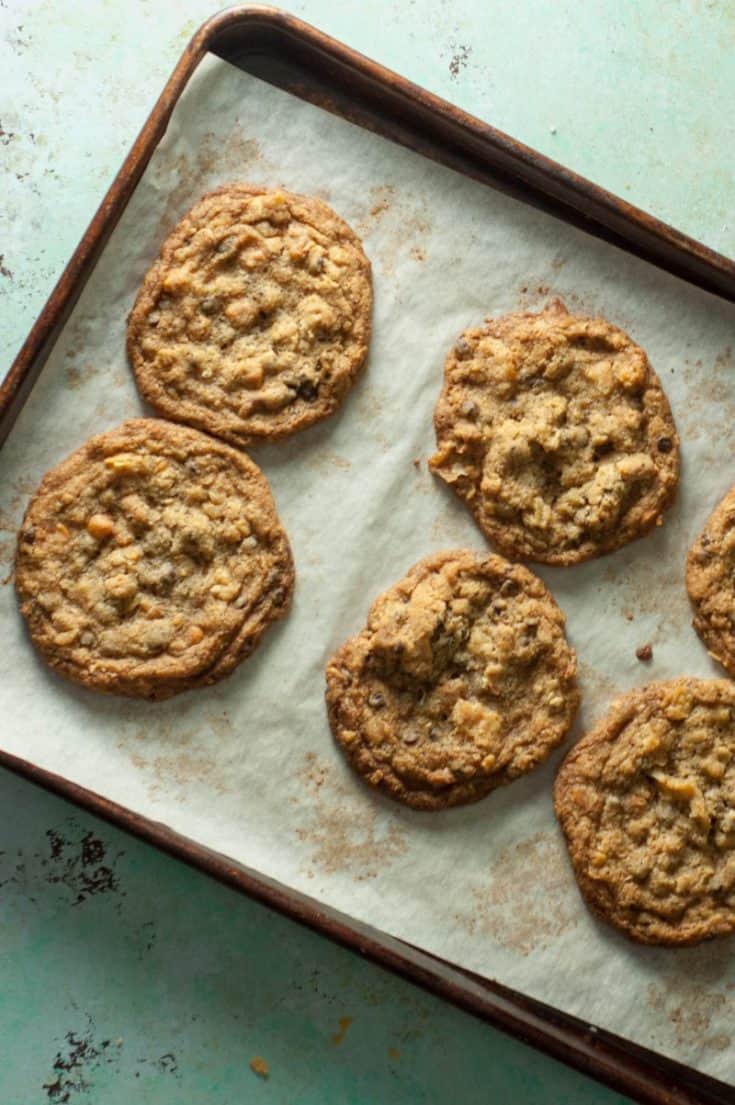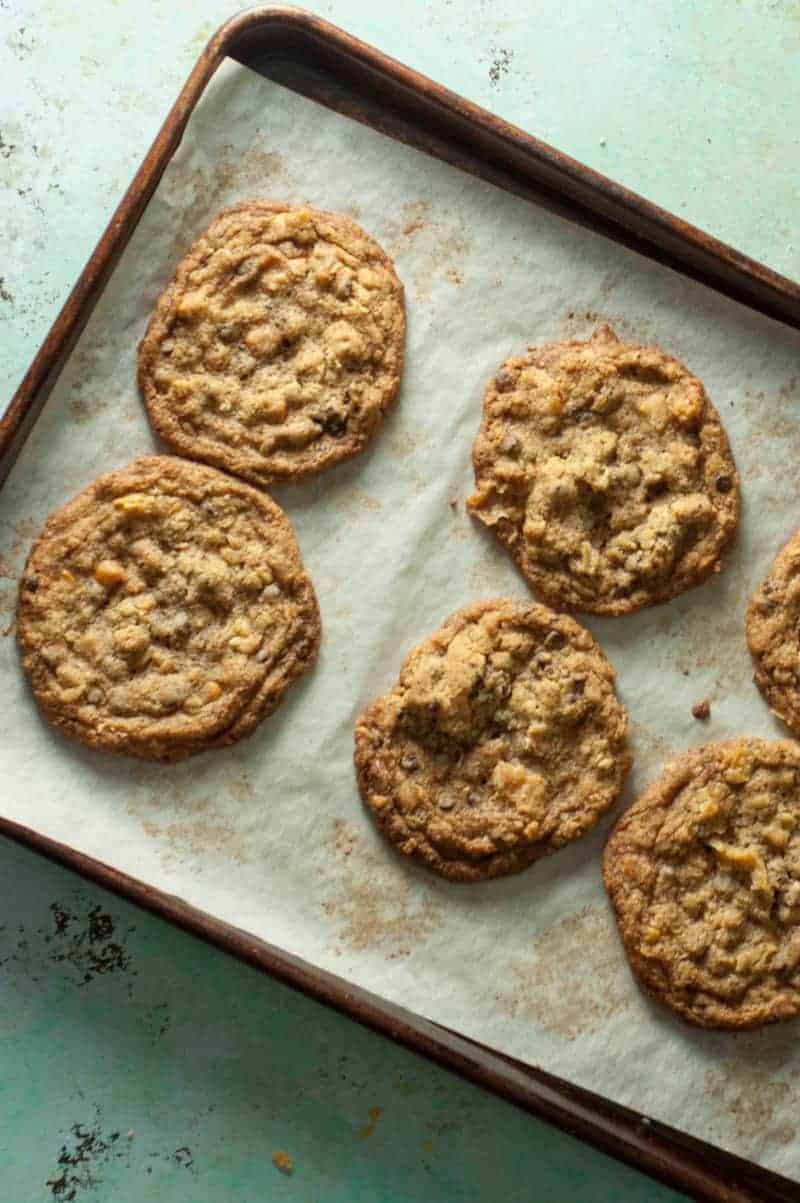 These are a worthy entry into the broad category of cookies with a hodge podge of add-ins sometimes called "kitchen sink cookies" or "garbage cookies." The add-ins are flexible and can be adjusted to suit your tastes. These cookies need to chill at least an hour before baking, so plan ahead. I prefer to chill them overnight. These are big cookies, more along the lines of the size of cookies you often find at bakeries than those that usually come out of home ovens. Be sure to give them plenty of room to spread in the oven–only 6 cookies fit on a half sheet pan. These make amazing ice cream sandwiches.
Ingredients
225 grams (1 1/3 cups) all-purpose flour
1/2 teaspoon baking powder
1/4 teaspoon baking soda
1 teaspoon kosher salt
225 grams (1 cup, 2 sticks) unsalted butter at room temperature
200 grams (1 cup) sugar
150 grams ( 2/3 cup tightly packed) light brown sugar
50 grams (2 tablespoons) glucose or corn syrup
1 large egg
1 teaspoon vanilla extract
150 grams ( 3/4 cup) mini semisweet chocolate chips
100 grams (1/2 cup) butterscotch chips
85 grams (1/2 cup) graham crust, see below
40 grams (1/3 cup) old fashioned rolled oats
5 grams (2 1/2 teaspoons) ground coffee
50 grams (about 2 cups) sturdy potato chips, such as Cape Cod brand
50 grams (about 1 cup) mini pretzels
For the graham crust:
50 grams (a heaping 1/3 cup) graham cracker crumbs
5 grams (1 tablespoon) nonfat dry milk powder
6 grams (1 1/2 teaspoons) sugar
1/4 teaspoon kosher salt
14 grams (1 tablespoon) unsalted butter, melted
14 grams (1 tablespoon) heavy cream
Instructions
Make the graham crust. Add the graham cracker crumbs, milk powder, sugar, and salt to a small mixing bowl and whisk to combine.
In a separate bowl, whisk together the butter and heavy cream. Add the dry ingredients and mix all of the ingredients together with your hands until the bits hold together in small clusters when you squeeze them.
Make the cookie dough. In a medium mixing bowl, whisk together the flour, baking powder, baking soda, and salt. Set aside.
In the bowl of a stand mixer fitted with the paddle attachment, add the butter, sugars and glucose or corn syrup and beat on medium-high speed for about 3 minutes. Scrape down the sides of the bowl, add the vanilla extract and egg, and mix on medium-high speed for another 8 minutes. The mixture should look pale and fluffy.
Turn the mixer to the lowest speed and slowly add the flour mixture. Mix just until combined, no more than a minute. Be careful not to overmix or the cookies will be tough.
Scrape down the sides and bowl of the mixer. Add the chocolate chips, butterscotch chips, graham crust, oats, and coffee and mix on low speed until just incorporated. Add the potato chips and pretzels and mix again on low speed for about 30 seconds. Don't worry if there are large pieces of potato chip or pretzel in the dough–these cookies can handle that.
Line a baking sheet with parchment paper, and clear a space for it in the refrigerator. With a 2 3/4-ounce ice cream scoop or a 1/3 cup measure, portion the dough onto the parchment-lined sheet pan. The dough mounds can be right next to each other–you'll spread them out onto different sheet pans before baking. Gently flatten the rounded tops of the dough with your hand. Wrap with plastic wrap and refrigerate for at least an hour or overnight (don't bake them unchilled, they'll spread like mad).
Preheat oven to 375°F. Line a few sheet pans with parchment paper. Place the chilled dough portions a good 4 inches apart on the parchment-lined sheet pans to allow for spreading. (Don't attempt to crowd more cookies onto the pan–I could only fit 6 on a standard half sheet pan.)
Bake until the cookies are browned on the edges but still yellow in the middle, about 18 minutes.
Allow the cookies to cool completely on the sheet pans before attempting to transfer them to a plate or container.
They'll keep in an airtight container at room temperature for about 5 days.
Recommended Products
As an Amazon Associate and member of other affiliate programs, I earn from qualifying purchases.
Nutrition Information:
Yield:
15
Serving Size:
1
Amount Per Serving:
Calories:

288
Total Fat:

10g
Saturated Fat:

5g
Trans Fat:

0g
Unsaturated Fat:

4g
Cholesterol:

26mg
Sodium:

314mg
Carbohydrates:

47g
Fiber:

1g
Sugar:

35g
Protein:

5g