I may earn from purchases through links in this post.
This chocolate peanut butter tart is basically a giant peanut butter cup.
One with a crisp chocolate shortbread crust, filled with a peanut butter mousse made with a bit of crème fraîche for a subtle tang to lift the peanut butter flavor, and topped with a bittersweet chocolate ganache.
It's rich, and there's nothing subtle about it.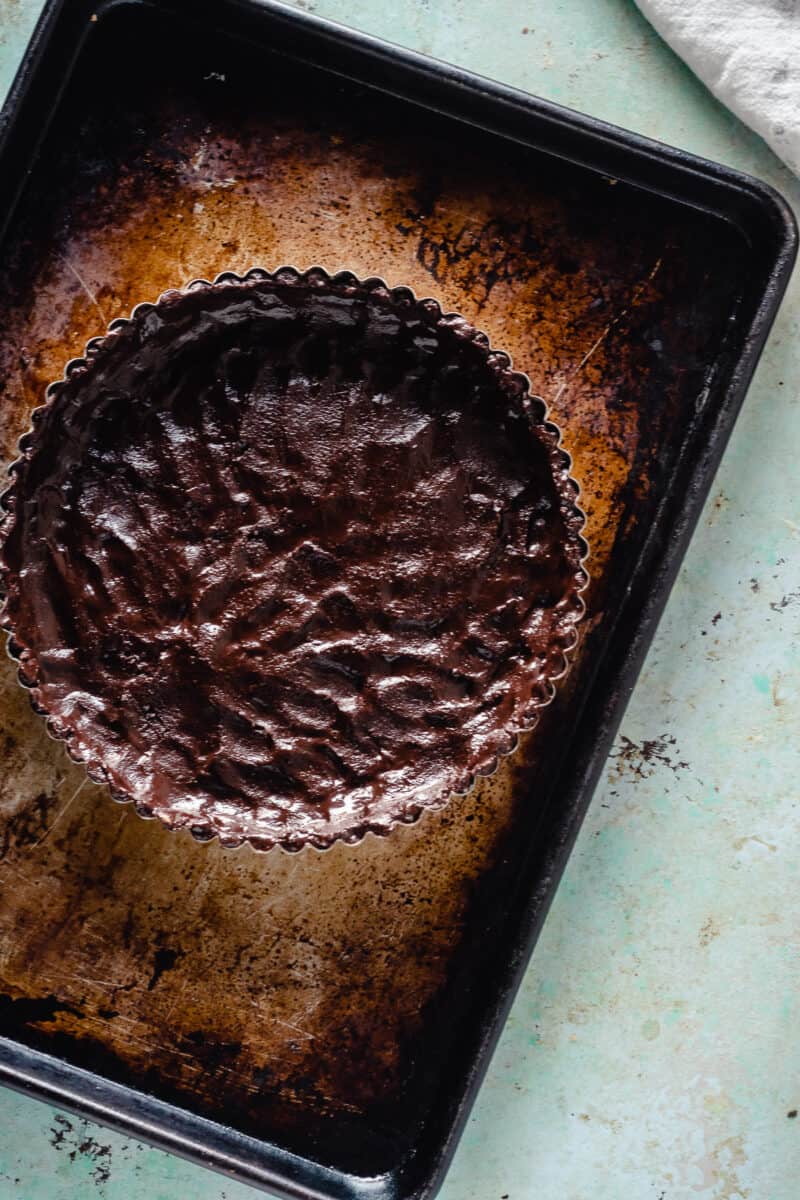 And while it looks fancy, it's actually pretty easy to make.
The crust is a variation on the trusty shortbread crust I use in my almond shortbread brownies–a thing I learned from Alice Medrich. It's the easiest way to make a shortbread crust: just pour melted butter over the dry ingredients, give it a stir, and press it into the pan.
The peanut butter mousse is inspired by one in Rose Levy Beranbaum's excellent Pie and Pastry Bible, but I swap out cream cheese for crème fraîche because I prefer the flavor and use a ratio of more peanut butter to dairy overall.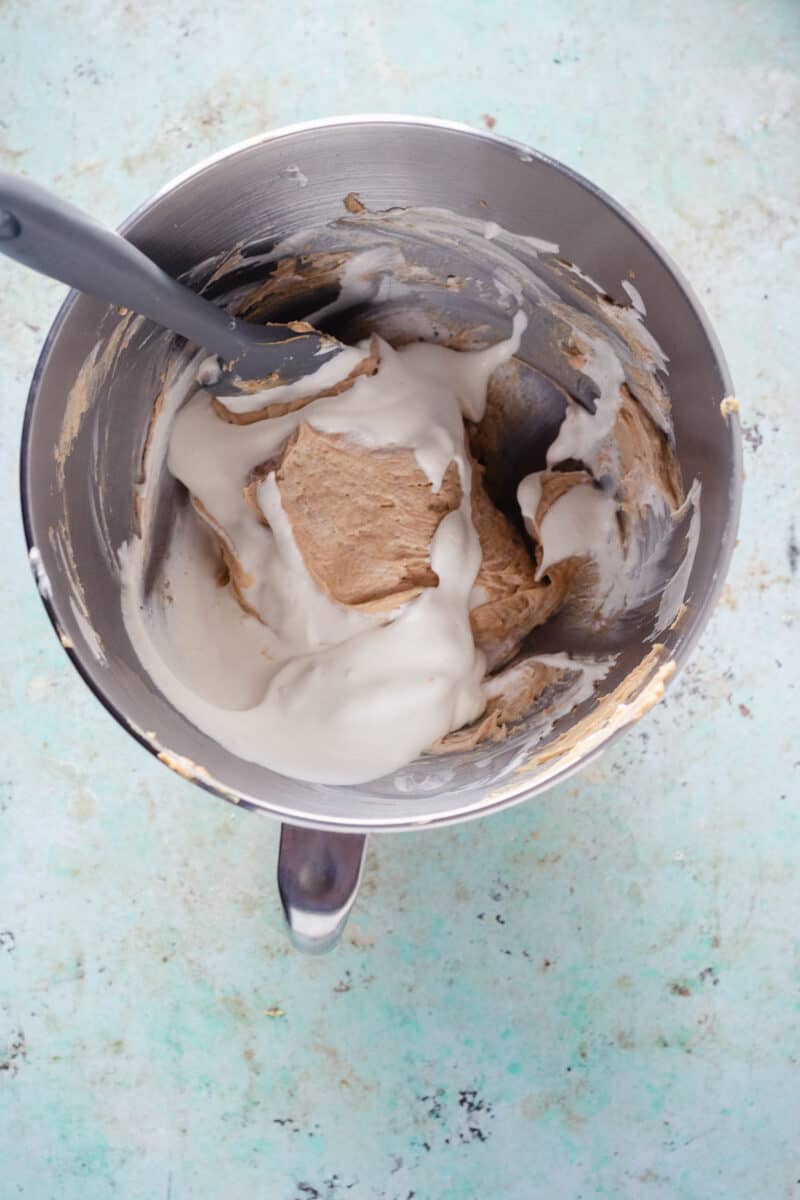 But the method is the same: whip some cream and fold it into a dense mixture of sweetened peanut butter to make it lighter and airier.
Then the peanut butter mousse gets spread into the baked tart crust and chilled for at least an hour so it firms up enough to hold up being topped with warm ganache.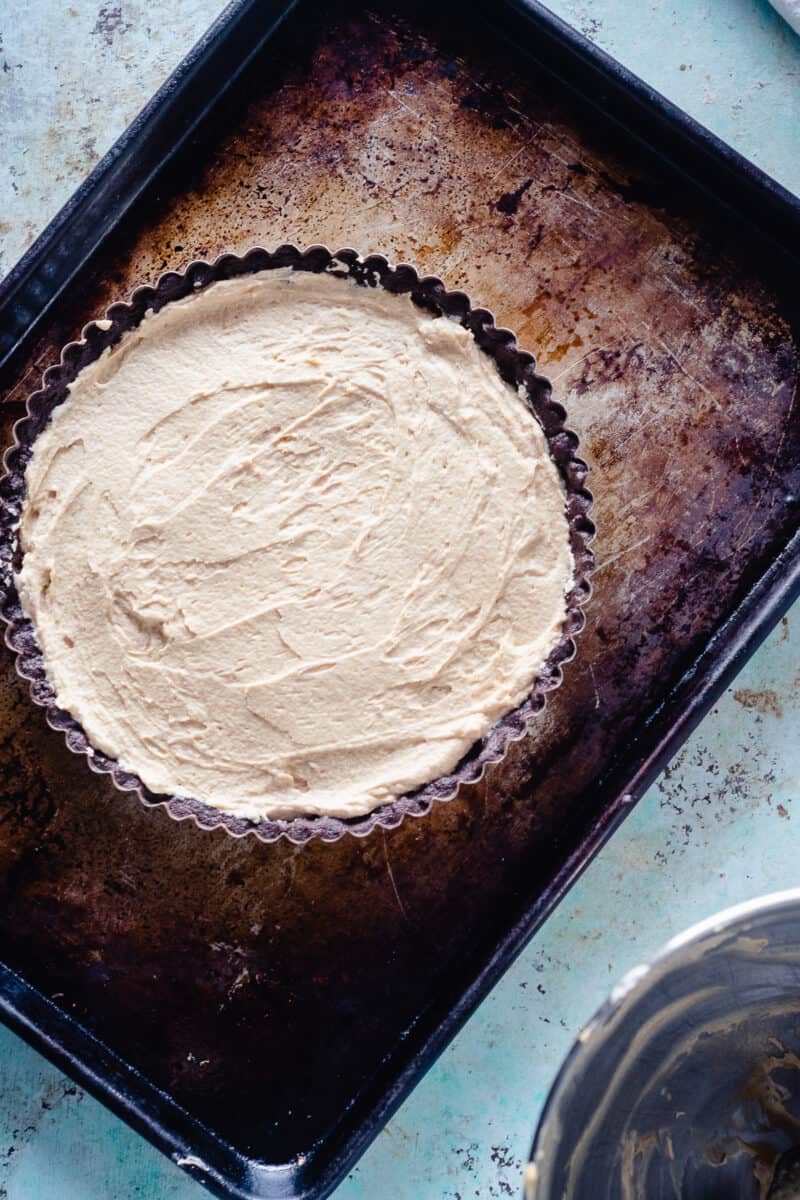 I like to use bittersweet chocolate in the ganache here in the 60-65% range, because it's basically my favorite chocolate to eat, but there's no reason you couldn't swap in milk chocolate if you prefer that.
I dotted the top with crispy chocolate covered pearls similar to these. They're totally optional, but they're pretty and add extra bits of textural contrast.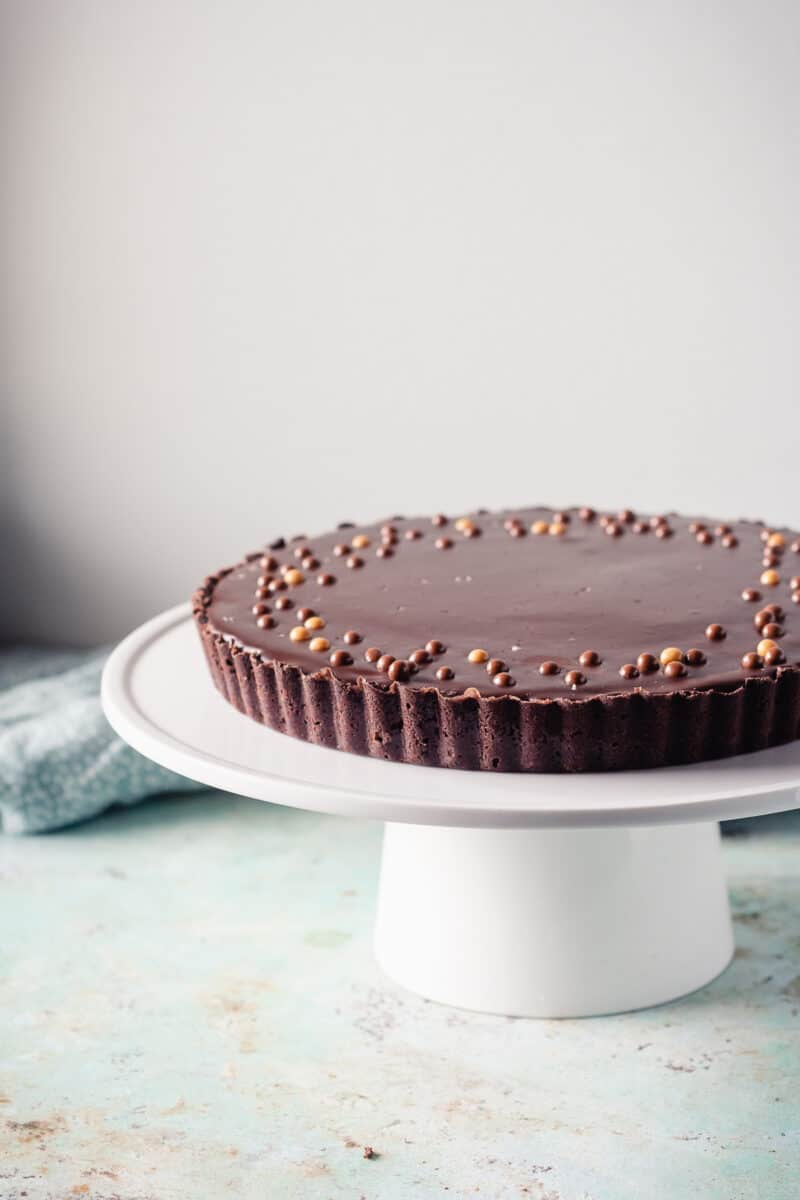 I also like to sprinkle the top with flaky sea salt, because, well, flaky sea salt makes pretty much everything better.
The hardest part is waiting for it to chill long enough to set so you can slice it and dig in.
Yield: 1 9-inch tart
Chocolate Peanut Butter Tart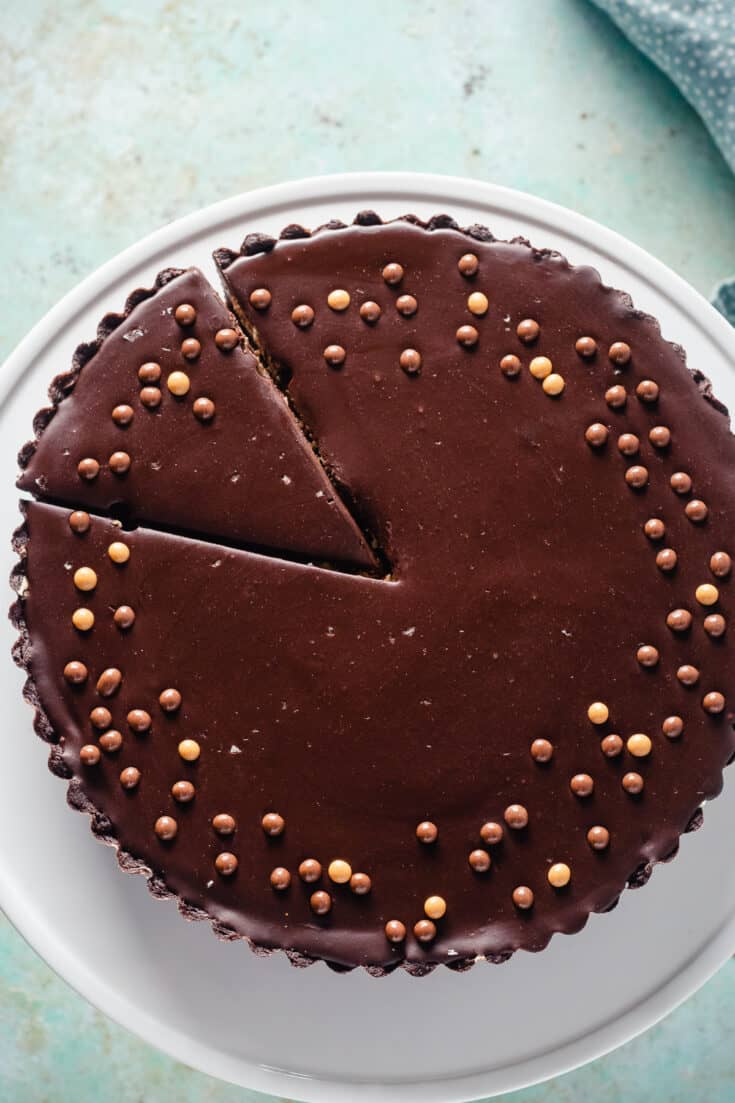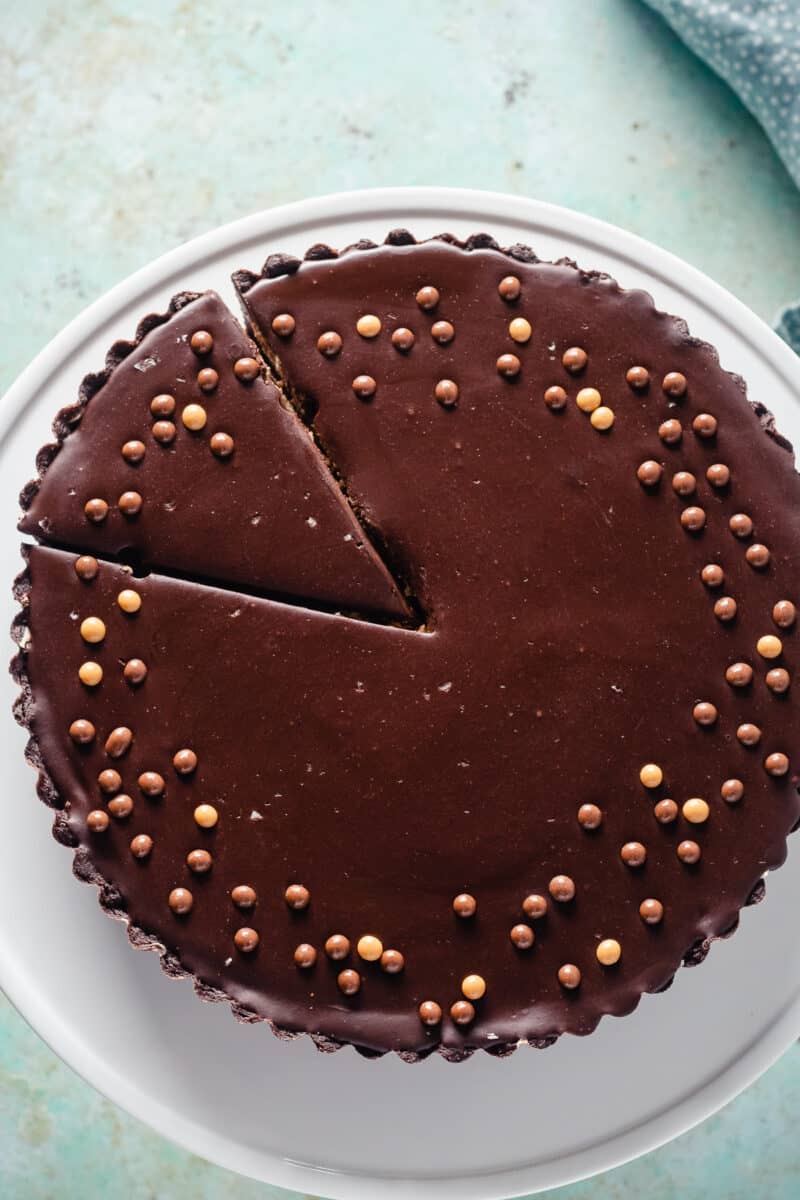 This chocolate peanut butter tart is like a giant peanut butter cup with a crisp chocolate shortbread crust, a light peanut butter mousse filling with whipped cream and crème fraîche (that I could eat with a spoon on it's own). I like to use Skippy (or a similar style) creamy peanut butter rather than an all natural peanut butter because I find it blends better. I recommend using a high quality cocoa powder in the crust like Valrhona or Droste rather than the really cheap stuff (it's a place where splurging a little makes a big difference). I go for a chocolate in the 60-60% cacao range in the ganache, but it will work with any percentage of milk or dark chocolate you like (but I'd avoid chocolate chips which are made with additives that prevent melting smoothly). This tart is rich, so I like to serve it in small slices (10-12 slices per tart) but you do you.
Total Time
3 hours
40 minutes
Ingredients
For the crust
1 cup all-purpose flour
1/4 cup Dutch process cocoa powder
1/3 cup confectioners' sugar
1/4 teaspoon kosher salt
1/2 cup (1 stick, 113 grams) unsalted butter, melted
1 teaspoon vanilla extract
Peanut Butter Mousse Filling
1/2 cup heavy cream
1/2 cup (130 grams) peanut butter
1/2 cup crème fraîche
1/4 cup sugar
1 teaspoon vanilla extract
1/8 teaspoon kosher salt
Chocolate Ganache Topping
Instructions
Make the crust
Preheat oven to 350°F. Set a 9-inch tart pan with a removable bottom on a sheet pan. Add the flour, cocoa powder, confectioners' sugar and salt to a medium mixing bowl and whisk together. Pour the melted butter and vanilla extract and stir until well mixed. Press the dough into the tart pan along the bottom and up the sides in an even layer.
Bake until the crust goes from looking very wet to looking fairly dry, about 20 minutes. (Cocoa powder makes it hard to see when it's done--if your oven tends to run slow, give it a few more minutes, but not more than 25 or it's likely to burn.)
Let cool to room temperature before filling. (Usually takes 20-30 minutes.)
Make the Peanut Butter Mousse Filling
In the bowl of a stand mixer fitted with a whisk attachment (or a large mixing bowl if using a hand mixer) add the heavy cream and beat on medium high speed until it holds soft peaks, about 2-3 minutes. If using a stand mixer, transfer the cream to another mixing bowl, but no need to wash the mixer bowl.
Add the peanut butter, crème fraîche, sugar, vanilla, and salt to the bowl of your stand mixer (or another large mixing bowl if using a hand blender), and beat on medium speed until the mixture is uniform in color. Add a quarter cup of the whipped cream and beat on medium speed until it is just incorporated. Then remove the bowl from mixer, add the rest of the whipped cream and gently fold it into the peanut butter mixture with a rubber spatula until the mixture is all the same color.
Spread the peanut butter mousse into the chocolate tart crust in an even layer all the way to the edges. Refrigerate for at least an hour before adding the ganache.
Make the chocolate ganache topping
Add the chopped chocolate to a large heat-safe mixing bowl. Heat the heavy cream in a small saucepan just until it boils. Remove from the heat and immediately pour over the chocolate. Let sit for 30 seconds, then stir with a rubber spatula until the mixture is smooth.
Remove the tart from the refrigerator and carefully pour the ganache over the peanut butter filling in a circular motion to spread the ganache evenly over the top. Then carefully spread the ganache to the edges of the tart with a small offset spatula. Sprinkle with flaky sea salt (and decorate with chocolate pearls, if desired). Refrigerate until set, at least 2 hours or up to 3 days. Remove from the refrigerator, unmold the tart, and slice with a sharp knife. Serve cold.
Recommended Products
As an Amazon Associate and member of other affiliate programs, I earn from qualifying purchases.
Nutrition Information:
Yield:
10
Serving Size:
1
Amount Per Serving:
Calories:

483
Total Fat:

38g
Saturated Fat:

21g
Trans Fat:

0g
Unsaturated Fat:

14g
Cholesterol:

66mg
Sodium:

228mg
Carbohydrates:

28g
Fiber:

4g
Sugar:

11g
Protein:

8g