I may earn from purchases through links in this post.
These mini skillet cookies are what you want for dessert tonight.
Or at least they're what I want for dessert tonight.
They're like the simple, warm, melty, gooey chocolate chip skillet cookies that you find at so many restaurants, usually topped with a scoop of ice cream.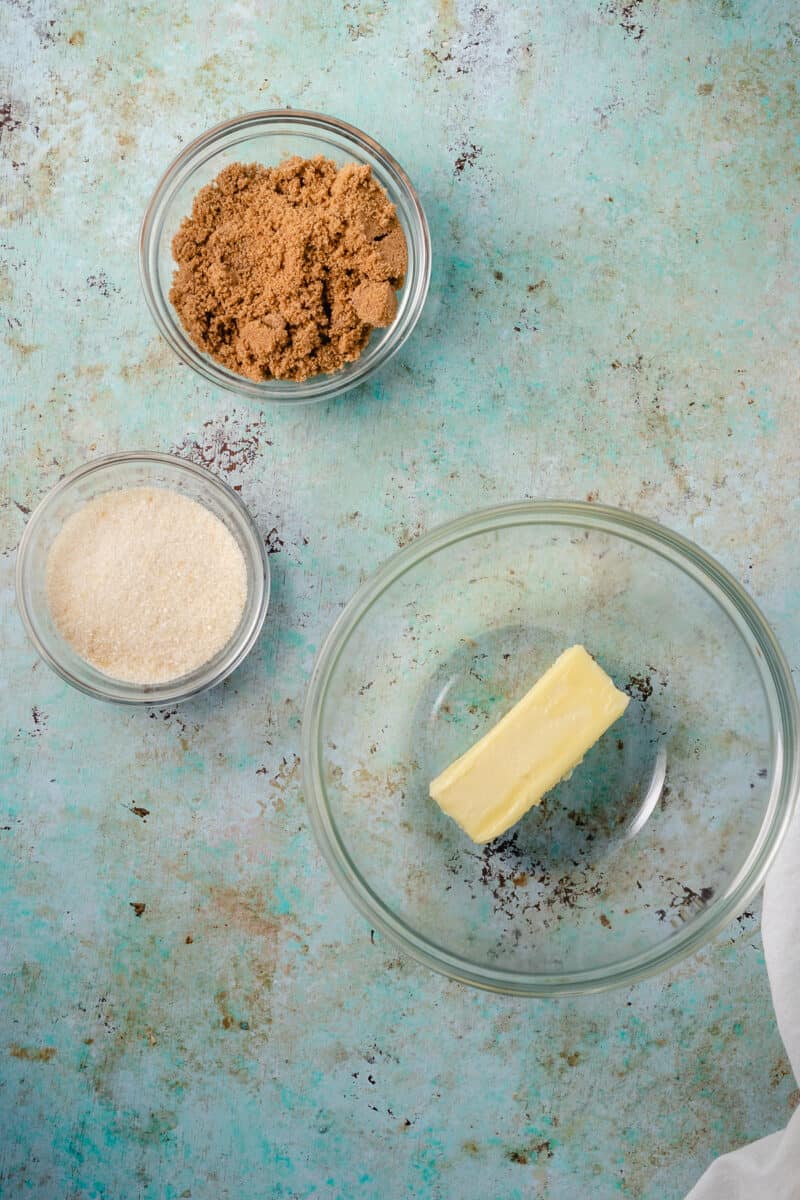 But these ones are better than what you'll find at the average restaurant, where they're usually pulling mass-produced pucks of cookie dough from the freezer.
And I'll totally admit that those are still pretty good!
But these are rich with brown sugar to keep them soft and bring in molasses notes to the flavor.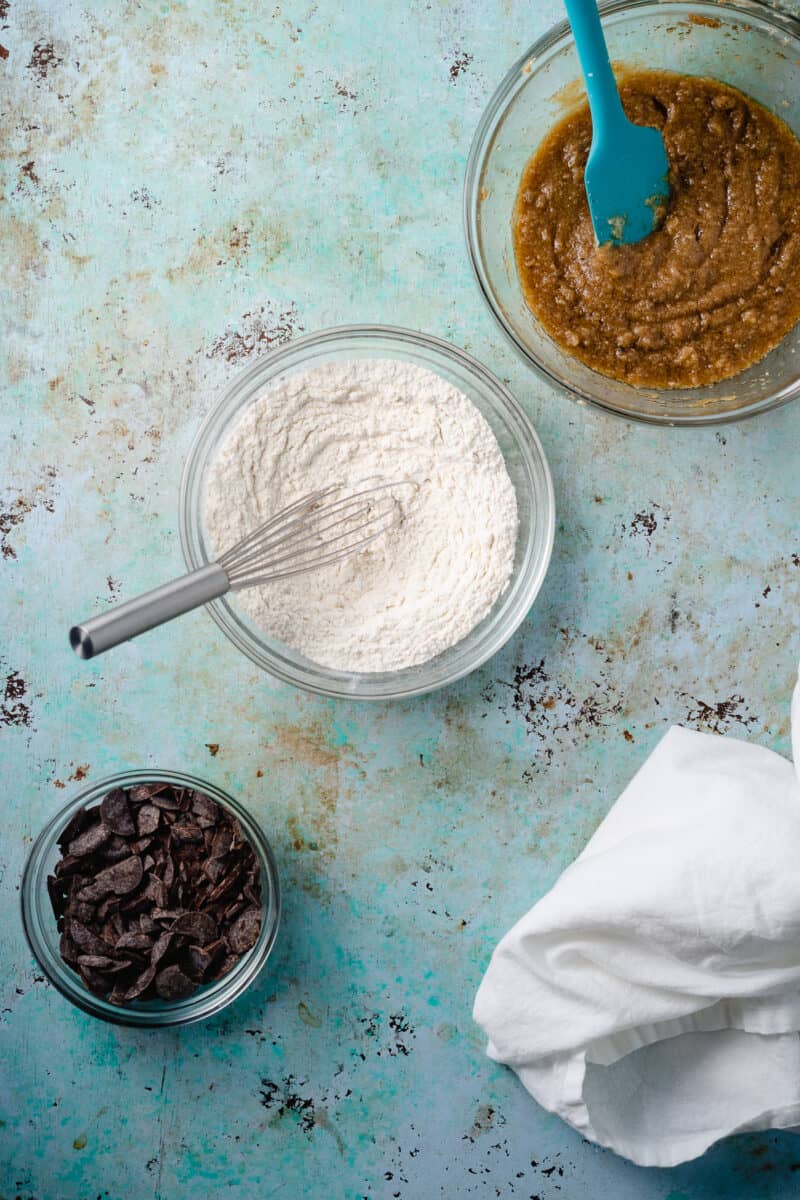 They have an extra splash of vanilla extract to give them extra depth of flavor.
And best of all, they have a generous amount of bittersweet chocolate.
While these will be good with whatever chocolate chips you have hanging around the house, they'll be even better if you splurge a little on the chocolate. It's a place where you can taste the difference.
I like Guittard and Ghirardelli for widely distributed chocolate chips, feves, and choppable chocolate bars.
(If you have extra chocolate leftover, you can always make these oatmeal chocolate chip cookies, these amazing blondies, or these chocolate butterscotch chip cookies.)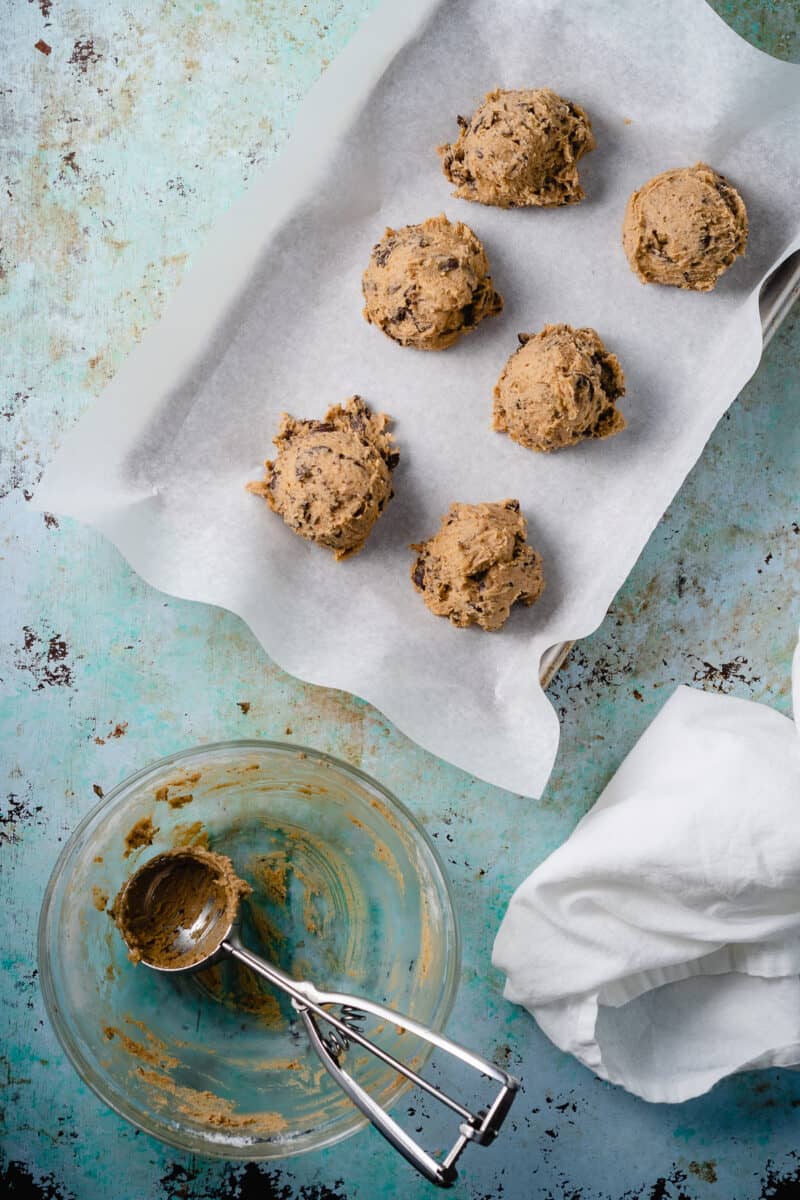 The thing that really makes these skillet cookies sing, though, is the flaky sea salt that gets sprinkled on top.
It gives them an extra salty edge to cut through the sweetness and keep you diving back into the warm skillet for another bite of gooey cookie.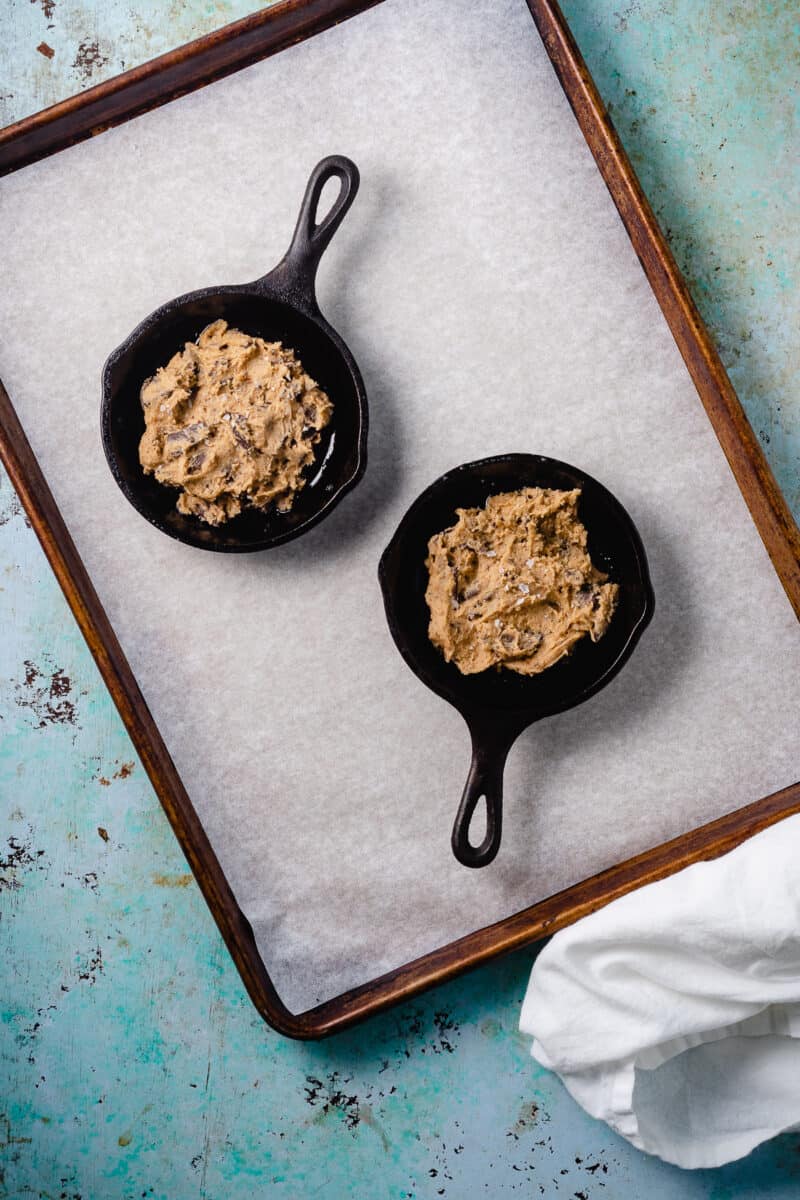 There's another great trick with these.
If you portion the dough, you can bake one or two of them right now, and stick the rest in the freezer so you can have a skillet cookie again tomorrow (or next week or whenever the craving hits).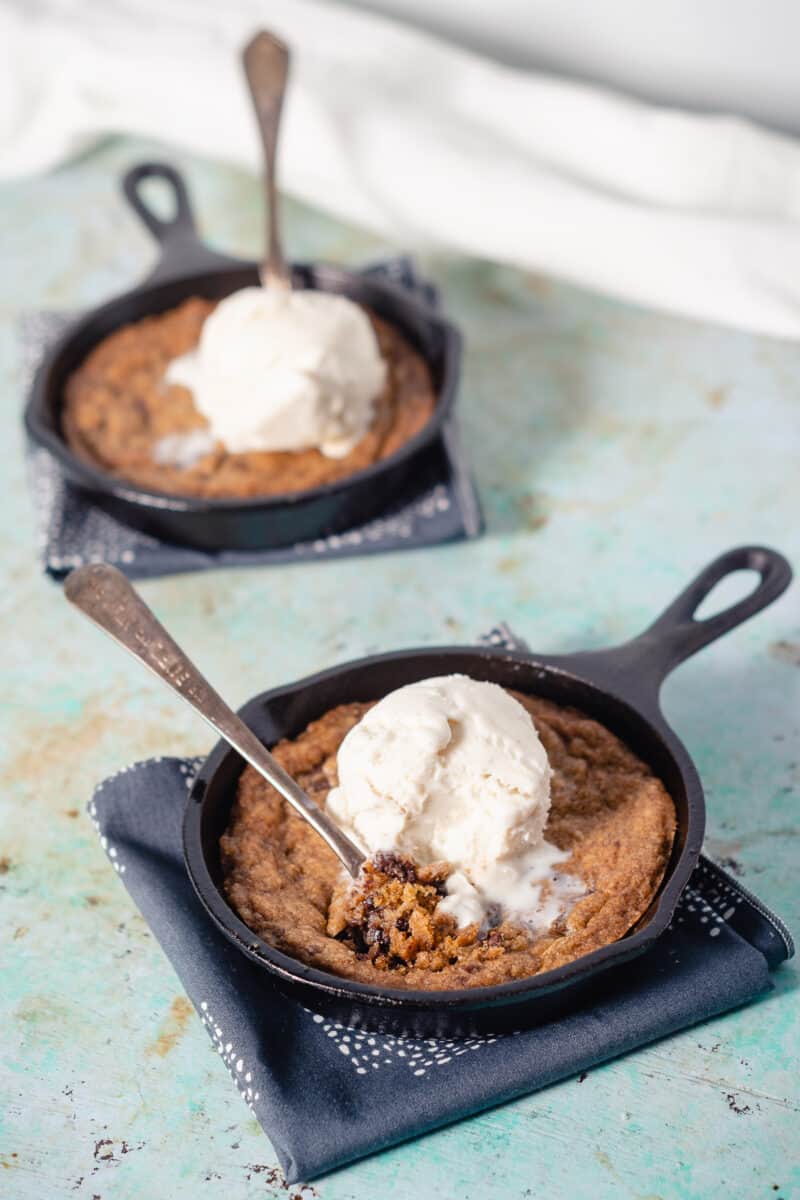 Then you just need to make sure there's enough ice cream left to top them.
Enjoy!
Yield: 6-8 skillet cookies
Mini Chocolate Chip Skillet Cookies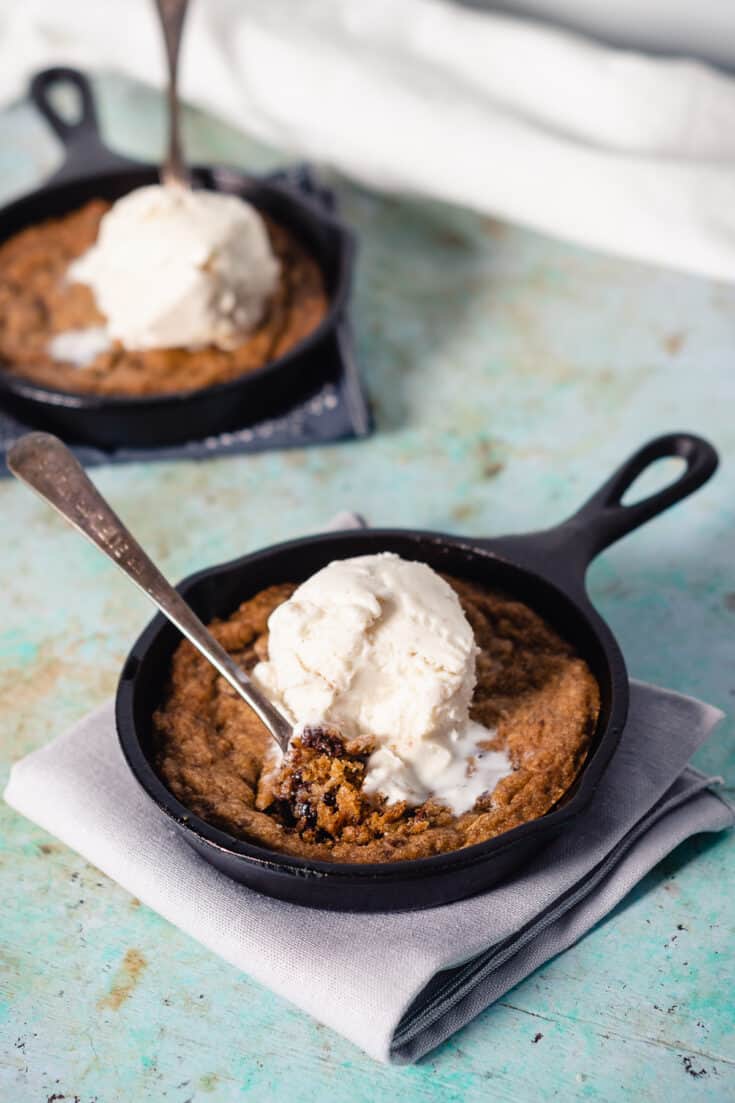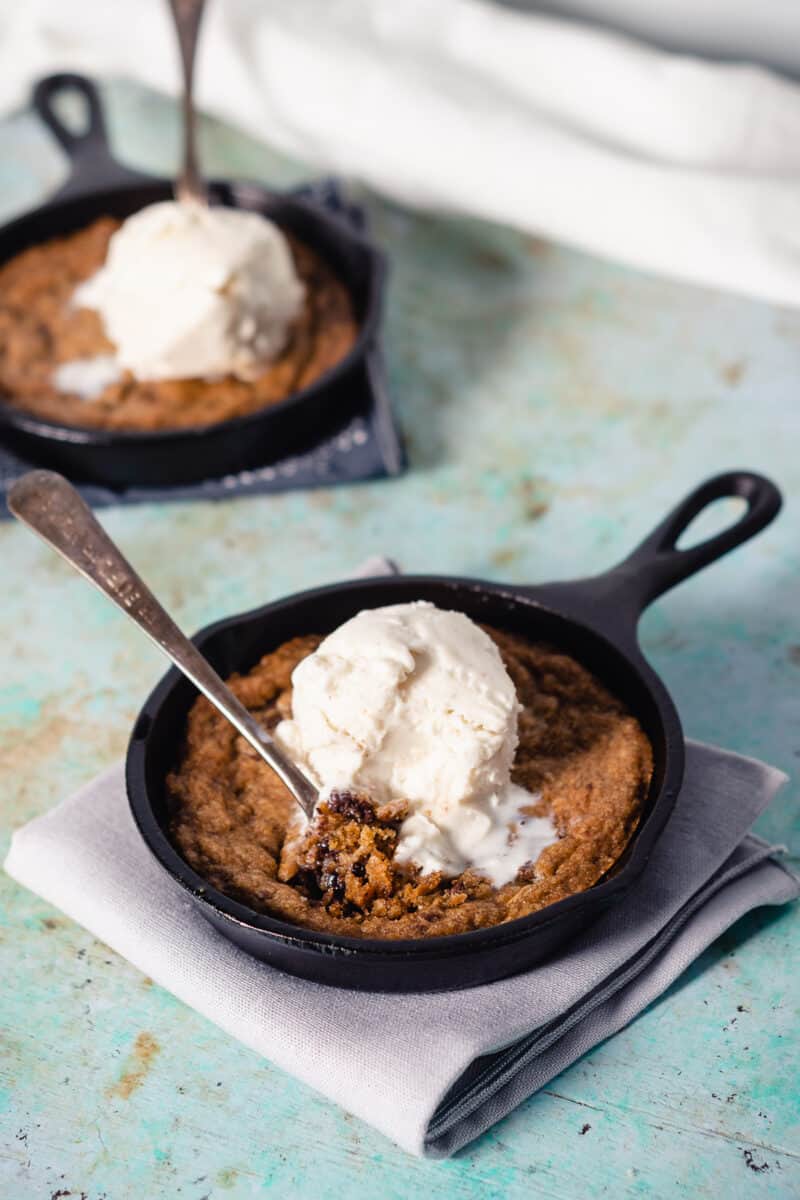 These skillet cookies are rich with brown sugar, an extra splash of vanilla, and studded with chunks of bittersweet chocolate. You can use chocolate chips or chop your own for little flecks of chocolate spread throughout the dough.
The tops are sprinkled with flaky sea salt before they go into the oven to give them a salty edge to cut through the sweetness.
It's worth noting that there are two common sizes of mini cast iron skillets. These are shown in 5-inch skillets. This makes six skillet cookies of that size.
You can also make them in 3.5-inch cast iron skillets. In that case, divide the dough into 8 portions and proceed as directed.
You can make these all at once if you have enough skillets, but you can also bake one or two of them and portion and freeze the dough to bake later.
To bake from frozen, add an additional 2 minutes to the bake time. (Don't thaw first.)
Ingredients
6 tablespoons unsalted butter at room temperature
1/2 cup brown sugar, dark or light
1/3 cup granulated sugar
1 large egg
1 1/2 teaspoons vanilla extract
1 cup all-purpose flour
1/2 teaspoon baking soda
1/2 teaspoon kosher salt
1 cup chopped bittersweet chocolate or chocolate chips
flaky sea salt, for topping
Instructions
Preheat oven to 350°F. Spray 1–6 5-inch cast iron skillets (depending on how many cookies you want to bake) with nonstick spray and place on a baking sheet.
Add the softened butter, brown sugar, and granulated sugar to a large mixing bowl and stir until combined.
Add the egg and vanilla to the butter mixture and stir again until combined.
Add the flour, baking soda, and kosher salt to a separate mixing bowl and whisk together.
Add the dry ingredients to the wet ingredients and stir until just incorporated.
Add the chocolate and stir until distributed throughout the dough.
Divide the dough into six portions, approximately 1/4 cup each.
Add one dough portion to each skillet (freeze any you are not baking right now for later). Sprinkle the top of the dough with flaky sea salt.
Bake until the edges look wrinkly and the top is a deep golden brown, about 15-17 minutes. Let cool for about 10 minutes before serving, preferably with a scoop of vanilla ice cream.
Nutrition Information:
Yield:
8
Serving Size:
1
Amount Per Serving:
Calories:

351
Total Fat:

20g
Saturated Fat:

12g
Trans Fat:

0g
Unsaturated Fat:

7g
Cholesterol:

46mg
Sodium:

302mg
Carbohydrates:

40g
Fiber:

3g
Sugar:

22g
Protein:

5g