I may earn from purchases through links in this post.
Cookies. You wanted cookies.
Cookies with milk chocolate and semisweet chocolate and butterscotch chips. Cookies that are generous with butter and vanilla and salt.
Cookies made with three kinds of sugar to make them chewy and crisp with a hint of caramel and molasses notes lingering in the background.
Or maybe that's just me. (I might be getting us confused again.)
These chocolate butterscotch chip cookies are a slight twist on the usual chocolate chip cookie.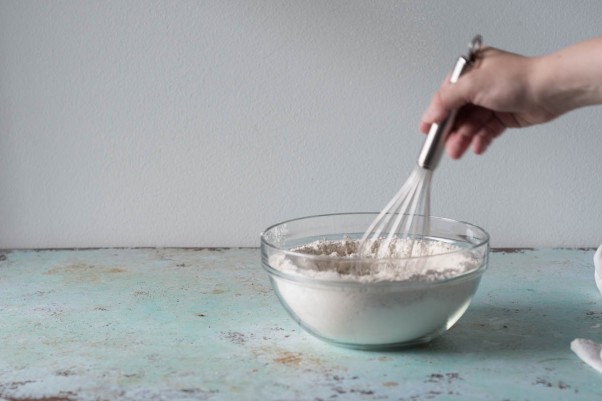 They skew a little sweeter than many of my favorite desserts, but I was making them with my niece, Melina, who just turned 6, in mind. I sent a supply of them off to Vermont in her birthday package last week.
They have a generous sprinkle of salt to balance the sweetness from the butterscotch and milk chocolate.
And I think they're just lovely in a kid-friendly-but-still-totally-delicious-for-adults kind of way.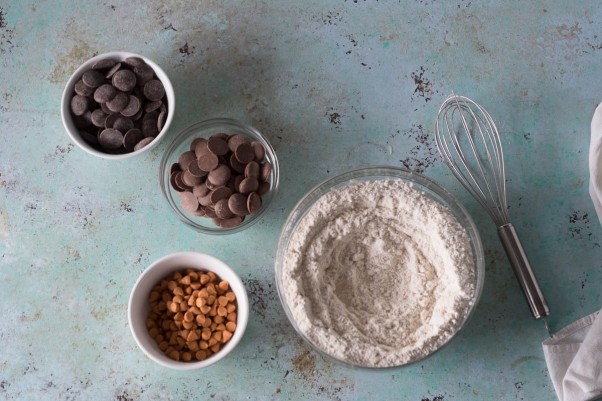 They're a little bit like compost cookies without the potato chips and pretzels and graham cracker crumbles, which makes for a shorter shopping list.
And you could easily simplify them further by using just one kind of chocolate chips and using extra brown sugar in place of the turbinado.
I like to use some oat flour in these because I have a soft spot for oatmeal cookies, and I love the way it tenderizes the cookies and the toasty oat flavor it brings.
You can easily make oat flour from rolled oats by pulverizing them in a food processor. It's pretty much the easiest flour to make at home.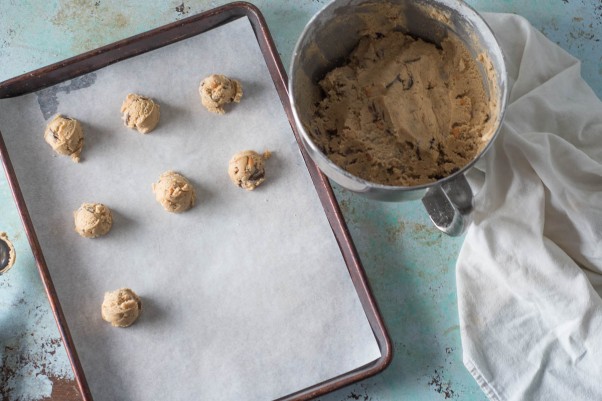 These are adapted from Ashley Rodriguez's book, Date Night In (which was also the inspiration for these salty peanut butter brownies), and Rodriguez, a former pastry chef with a blog I love, is pretty much a genius when it comes to cookies.
I also think they happen to be just the right size and texture for making ice cream sandwiches, which is how Dan and I have been eating them.
I particularly love these with coffee ice cream (I have a particular weakness for anything with butterscotch and coffee), but they'd be great sandwiched around vanilla or chocolate or salty caramel ice cream as well.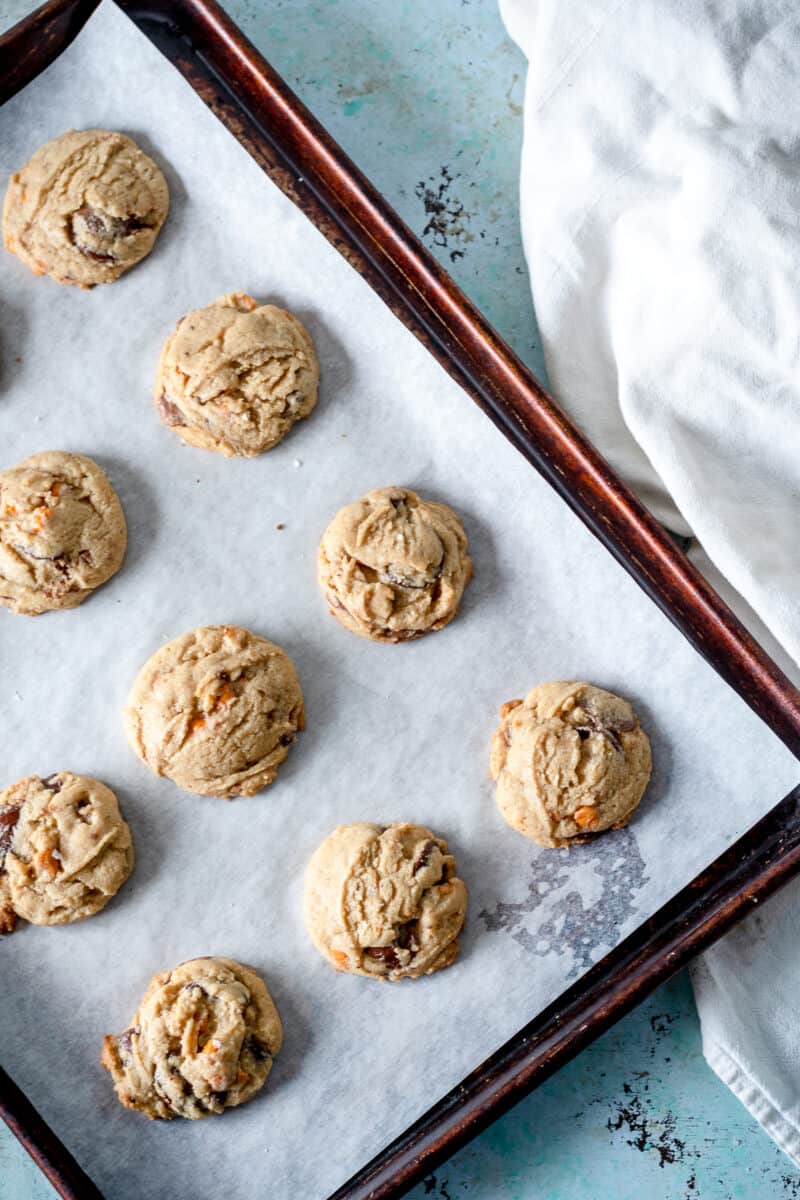 Just make them already.
Yield: 48 cookies
Chocolate Butterscotch Chip Cookies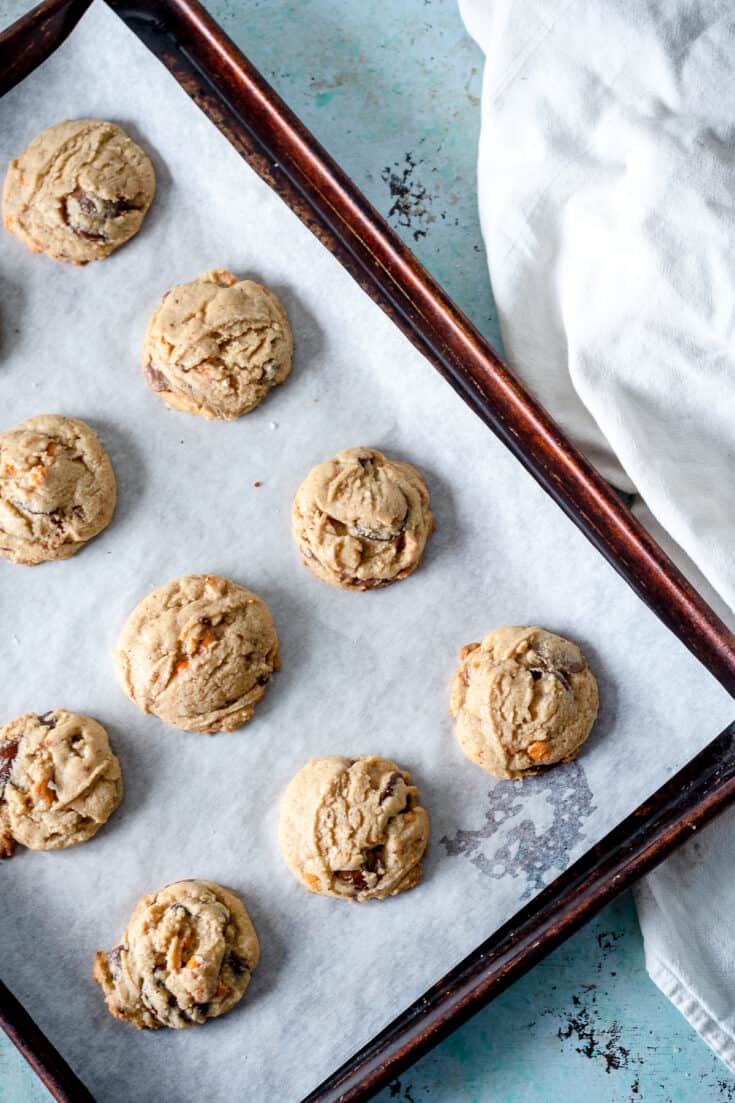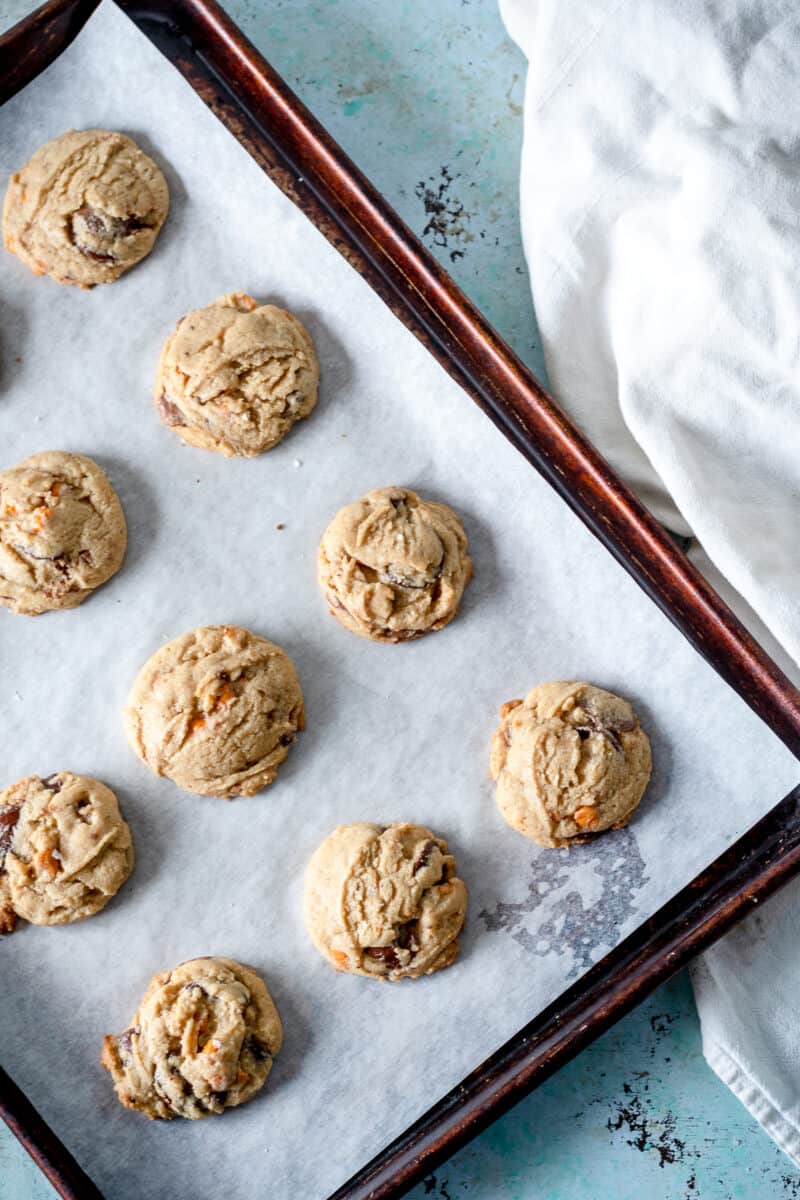 I love these cookies. They call for three kinds of sugar: light brown sugar, turbinado, and granulated sugar, but you can skip the turbinado if you don't have it and just use more brown sugar in its place. I love the toasty oat flavor that oat flour brings, but you can use all all-purpose if you don't want to bother. You can make these with all chocolate chips or any mix of chocolate and butterscotch chips you like, just use a pound total (I recommend looking for good quality chocolate chips like Guittard or Ghirardelli, but use whatever you like). So I'm saying these are incredibly flexible. They get even better if you let the dough rest overnight, but if you want cookies right now (and who doesn't) you can go ahead and scoop them and bake them right away. They really benefit from a generous sprinkle of flaky sea salt on top before they go into the oven (I'm partial to Maldon). Also, your life will be easier and your cookies will all be the same size (and pair up easily for ice cream sandwiches) if you use a medium cookie scoop (aka #40 disher).
Ingredients
230 grams (1/2 cup, 2 sticks) unsalted butter, softened
340 grams (1 3/4 cups packed) light brown sugar
50 grams (1/4 cup) granulated sugar
50 grams (1/4 cup) turbinado sugar
2 large eggs
2 teaspoons vanilla extract
300 grams (2 1/2 cups) all-purpose flour
200 grams (1 1/2 cups) oat flour
1 1/2 teaspoons baking powder
1 teaspoon kosher salt
185 grams (6 ounces) semisweet chocolate chips
185 grams (6 ounces) milk chocolate chips
130 grams (4 ounces) butterscotch chips
flaky sea salt for sprinkling
Instructions
Preheat the oven to 350°F. Line two baking sheets with parchment paper.
Add the butter and all of the sugars into the bowl of a stand mixer fitted with the paddle attachment. Mix on medium-high speed until the mixture looks pale and almost fluffy, about 5 minutes (don't skimp on this).
Add the eggs and vanilla and mix until combined.
In a separate bowl, whisk together the all-purpose flour, oat flour, baking powder, and kosher salt.
With the mixer running on the lowest speed, add the flour, a third at a time, and mix until just combined.
Add the chocolate and butterscotch chips and mix on low speed until well distributed throughout the dough. (At this point you can cover the bowl and refrigerate the dough for up to two days.)
Scoop the dough into 1 1/2 tablespoon mounds (a medium cookie scoop/#40 disher makes this easy) onto the prepared baking sheet, leaving a good inch on all sides. Sprinkle the tops with flaky sea salt, and bake until the cookies are golden brown, about 11-13 minutes. Let them rest on the baking sheet for at least 5 minutes before transferring to a cooling rack.
Notes
If making ice cream sandwiches, let the cookies cool completely. Have some aluminum foil ready. Let the ice cream soften at room temperature for a couple of minutes while you arrange the cookies in evenly-sized pairs, bottom side up. Scoop a small mound of ice cream onto the bottom of one cookie, add the other cookie and press down gently to distribute the ice cream, wrap in aluminum foil and freeze immediately.
Nutrition Information:
Yield:
48
Serving Size:
1
Amount Per Serving:
Calories:

153
Total Fat:

11g
Saturated Fat:

7g
Trans Fat:

0g
Unsaturated Fat:

4g
Cholesterol:

29mg
Sodium:

82mg
Carbohydrates:

13g
Fiber:

0g
Sugar:

11g
Protein:

1g