I may earn from purchases through links in this post.
April Bloomfield's first book, A Girl and Her Pig, was a big deal in the food world when it came out a couple of years ago. I heard plenty about it, but because I was vegetarian at the time, I mentally added it to the stack of meat-centric books that just weren't for me and ignored it.
To be honest, Bloomfield fell off my radar until I saw her on the second season of the PBS series The Mind of a Chef when she utterly charmed me.
She was so unpretentious, so funny, and her food, it turned out was, strongly influenced by Mediterranean and particularly Italian cuisine, and replete with vegetables and olive oil and the sorts of things I want to cook and eat all of the time.
(Also, I got a little bit of a friend crush on her when she described a Bloody Mary as a sort of alcoholic gazpacho and when talking about nuts she quoted a Christopher Guest run from Best in Show.)
So when I learned that she was coming out with a vegetable-focused cookbook, I couldn't wait to get my hands on it.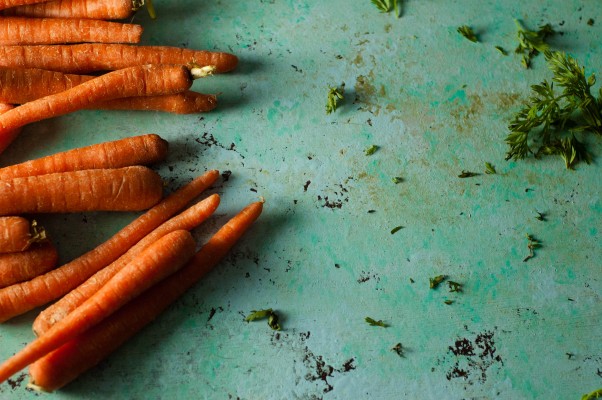 A Girl and Her Greens is a book I'll cook from all the time, especially now that it's getting to be farmers market season around here. It's full of recipes that feature humble, familiar vegetables like carrots and turnips and potatoes but feel fresh and interesting.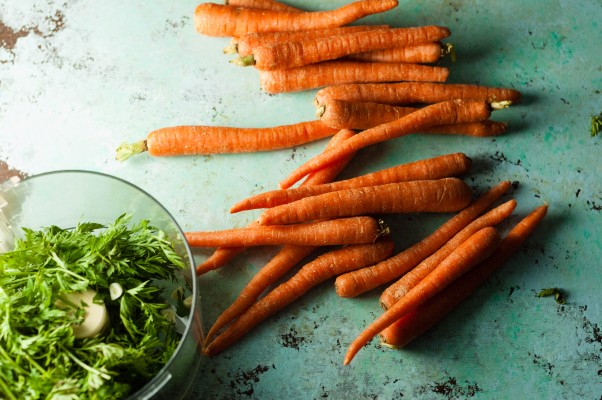 This book got me out of my roasting rut and remember that I actually like the succulence of boiled asparagus (as long as it isn't boiled to death), especially if it is paired with something as creamy and kicky as her ramp bearnaise sauce.
It inspired me to pick up a bunch of Hakurei turnips, a vegetable I've had before but tend to forget what to do with, at the market this week. It reminded me that carrots are extraordinarily dynamic and not just a staple of a crudite platter.
They can play well with middle eastern flavors like cumin, cardamom and coriander or with Italian flavors like in this dish with roasted carrots with creamy burrata and a lovely carrot-top pesto.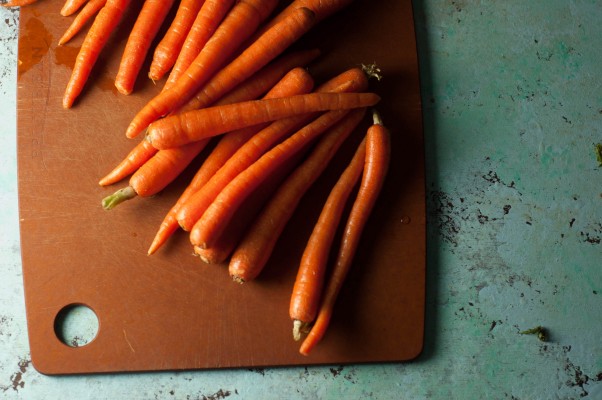 It would never have occurred to me to use roasted carrots almost like tomatoes in a caprese salad, but the combination of flavors just sings.
I also love that she frequently uses parts of vegetables that we often throw away, like carrot tops and turnip greens, and that she often forgoes peeling vegetables like beets to retain more textural variation.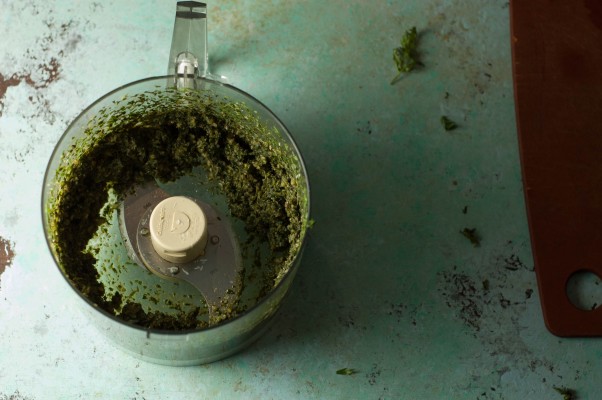 Her recipes are simple and straightforward, but also incredibly detailed and precise when it comes to technique.
She offers specific instructions on how to cut the vegetables for each dish: she doesn't just say chop or dice, but rather she says things like "starting at the tapered end of each carrot, cut a piece on the diagonal that's about 1 inch long, roll the carrot a quarter turn, cut another piece at the same angle, and so on."
And she offers similarly detailed instructions for plating in her rustic style.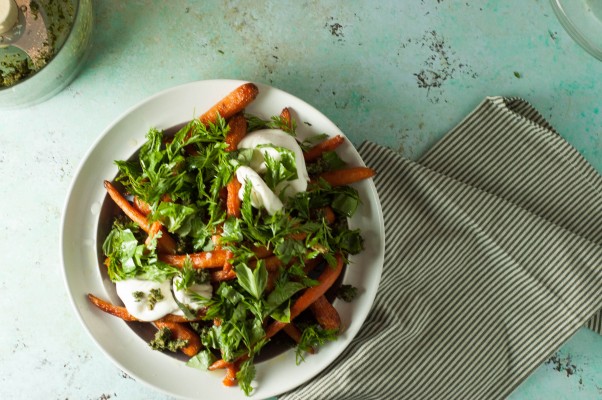 In addition to the winning recipes–everything I've tried so far has been delicious–the book itself is lovely to look at. It features charming illustrations from Sun Young Park and photographs from David Loftus. And the writing, which was done with the help of co-writer J.J. Goode, feels both breezy and clear.
I should note that this isn't a strictly vegetarian book. Bloomfield sometimes uses anchovies or meaty bits as seasoning, but it certainly has plenty to offer vegetarians and omnivores alike.
This particular dish, roasted carrots with burrata and carrot-top pesto, is going into my regular rotation.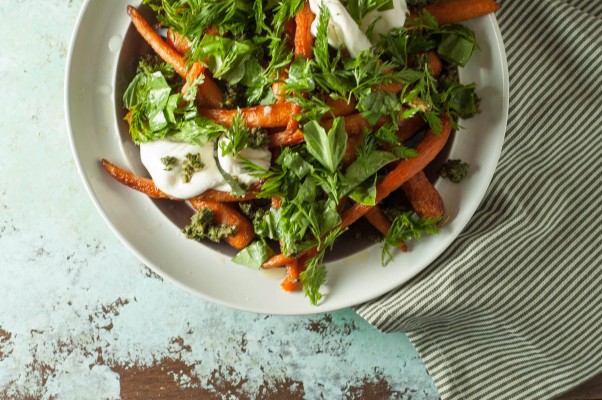 Yield: 4 servings
Roasted Carrots with Burrata and Carrot-Top Pesto and a Review of A Girl and Her Greens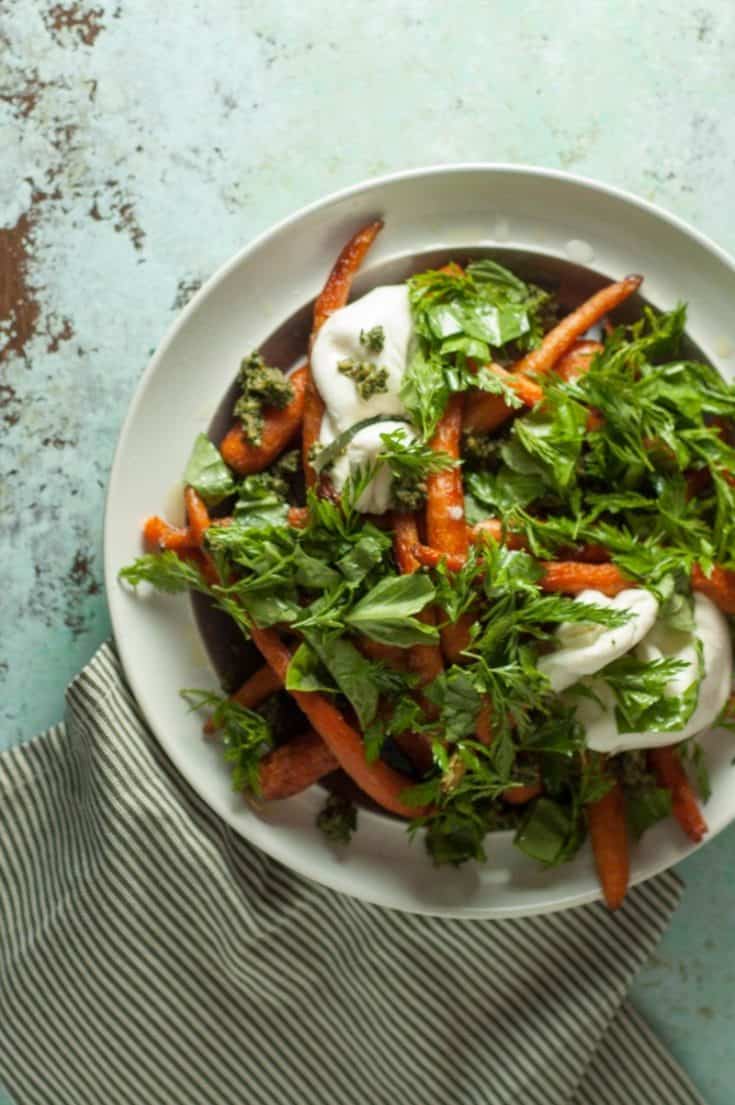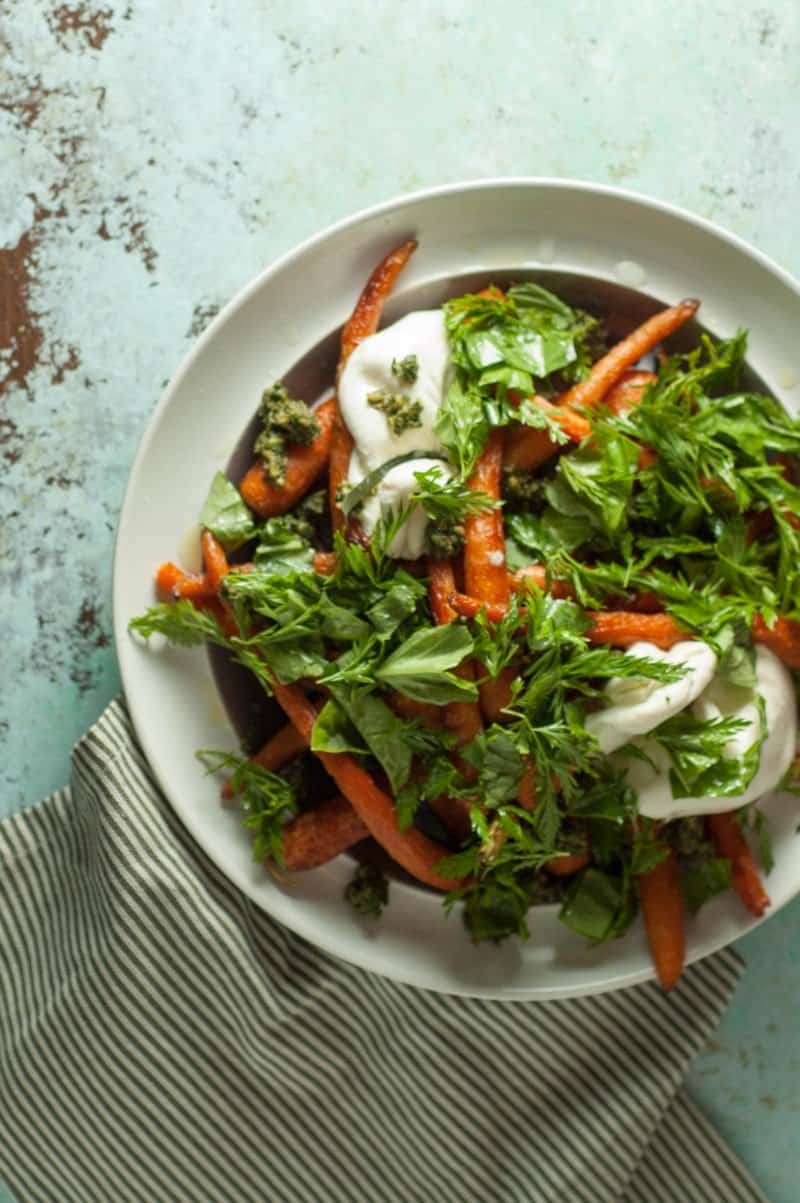 If you can get your hands on burrata—a really special cheese, like delicate mozzarella with a creamy center—then you're already most of the way toward a great dish. In the spring, I'll serve burrata with Snap Pea Salad (page 23); in high summer, I'll pair it with slices of ripe tomato, good olive oil, and flaky salt. When summer fades, I crave burrata with roasted carrots, a pairing that's less common but no less worthy of your attention. The two are like good mates, each helping the other along: the sweetness of the carrots sets off the tanginess of the cheese; the cheese's tanginess makes the carrots tastes even sweeter. Pesto made from the carrot tops adds color and salty, herbaceous wallops throughout the dish.
Ingredients
20 inch small carrots, scrubbed well but not peeled, all but ½- of the tops removed and reserved, the size of pointer fingers
4 tablespoons extra-virgin olive oil
1 teaspoon plus a few pinches of Maldon or another flaky sea salt
½ pound room-temperature burrata, drained
3 tablespoons Carrot Top Pesto [included below], page 234
A five-finger pinch of basil leaves, torn at the last minute if large
1 tablespoon lemon juice
Instructions
Position a rack in the center of the oven and preheat to 500˚F.
Pour 2 tablespoons of the oil into a heavy ovenproof pan big enough to hold the carrots in a single layer. Set the pan over high heat and bring the oil to a light smoke. Add the carrots, sprinkle on 1 teaspoon of the salt, and turn the carrots to coat them in the oil. Cook, turning over the carrots occasionally, until they're browned in spots, 6 to 8 minutes. Pop the pan in the oven and roast, shaking the pan occasionally, until the carrots are evenly tender, 8 to 12 minutes, depending on the size of your carrots. Let the carrots cool slightly. Halve the burrata and arrange the halves on a platter. Arrange the carrots on the platter so they're pointing this way and that. Add the pesto here and there in little dollops.
Pluck enough 2-to 3-inch delicate sprigs from the reserved carrot tops to make about 1½ lightly packed cups and toss them in a bowl with the basil. Whisk together the remaining 2 tablespoons of the oil with the lemon juice and a good pinch of salt in a small bowl until the mixture looks creamy. Use a little of the lemon dressing to lightly dress the carrot top–basil mixture, sprinkle on a little more salt, and toss well. Arrange the mixture on top of the carrots and burrata. Drizzle everything with the remaining lemon dressing and serve.
Nutrition Information:
Yield:
4
Serving Size:
1
Amount Per Serving:
Calories:

375
Total Fat:

34g
Saturated Fat:

11g
Trans Fat:

0g
Unsaturated Fat:

21g
Cholesterol:

49mg
Sodium:

972mg
Carbohydrates:

4g
Fiber:

1g
Sugar:

1g
Protein:

14g
Yield: 2 cups
Carrot-Top Pesto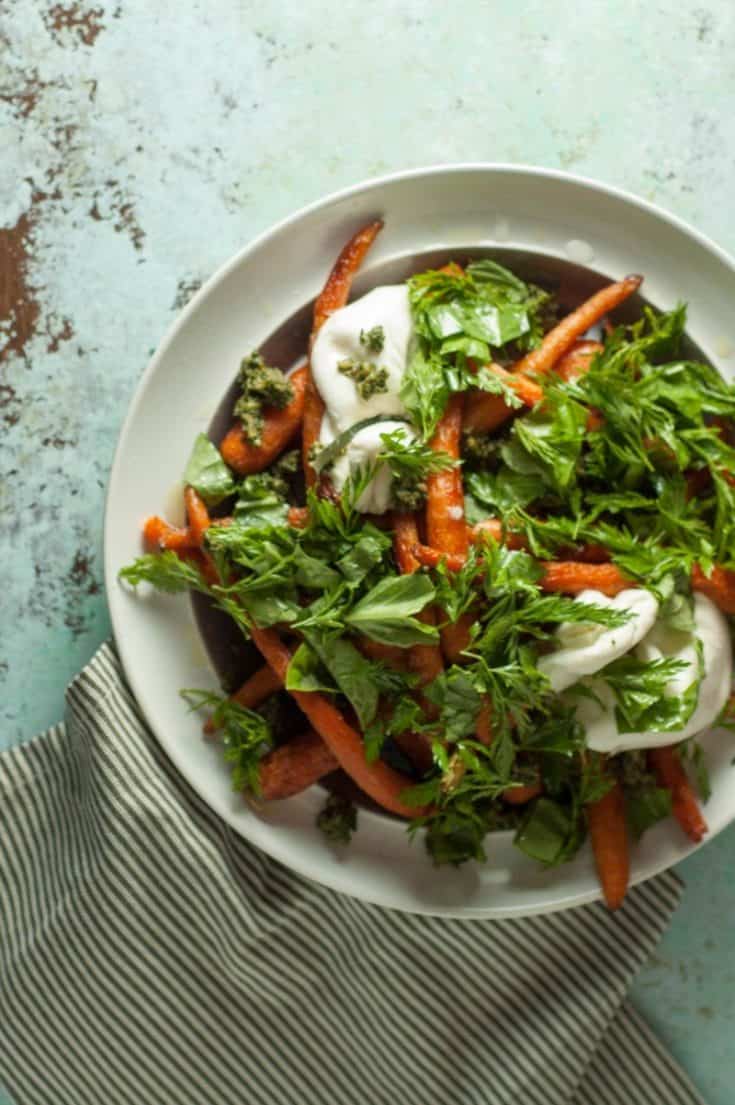 If you've never nibbled a carrot top, you have a happy surprise waiting for you. The greens are delicious: a little less carroty than the roots, and almost briny, like heartier borage. Arriving home from the market with not only a collection of sweet, colorful roots but also a big old tuft of bushy tops is like ordering pork shoulder and finding out that the kind butcher has snuck a couple of trotters into your bag. I treat the tops as I would a tender herb, adding little sprigs to salads as I might parsley or dill. And because each bunch of carrots can bring twice the volume in tops, I make pesto. As much as I like the particular flavor of the tops themselves, I also like how they carry the flavor of basil, which comes through quite a bit considering how few leaves you use.
Ingredients
4 cups lightly packed delicate carrot tops, roughly chopped, stems discarded
leaves A small handful of basil
½ cup walnut halves
1 ounce Parmesan cheese, finely grated
1 clove medium garlic, halved lengthwise
1 teaspoon Maldon or another flaky sea salt
½ cup extra-virgin olive oil
Instructions
Combine the carrot tops and basil in a small food processor, pulse several times, then add the walnuts, Parmesan, garlic, and salt. Pulse several more times, add the oil, then process full-on,
Stopping and scraping down the sides of the processor or stirring gently if need be, until the mixture is well combined but still a bit chunky. Taste and season with more salt, if you fancy.
Nutrition Information:
Yield:
24
Serving Size:
1
Amount Per Serving:
Calories:

69
Total Fat:

6g
Saturated Fat:

1g
Trans Fat:

0g
Unsaturated Fat:

5g
Cholesterol:

1mg
Sodium:

125mg
Carbohydrates:

3g
Fiber:

1g
Sugar:

1g
Protein:

1g