I may earn from purchases through links in this post.
I have this theory that people tend to dress for yesterday's weather.
The day after a 90°F day, I see so many people in tank tops and shorts and sandals and sun dresses, even if it's a high of 70°F and raining.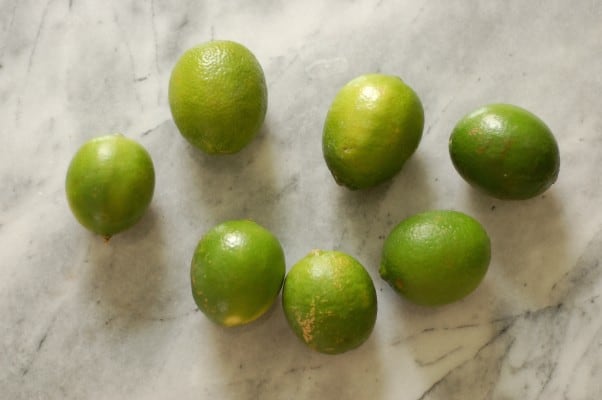 The day after a cold snap, I see so many people carrying around jackets and sweaters even when temperatures have rebounded and the extra clothing is no longer necessary.
In Chicago, where the temperatures tend to bounce around from one day to the next, that can leave us woefully under or over dressed when we get it wrong.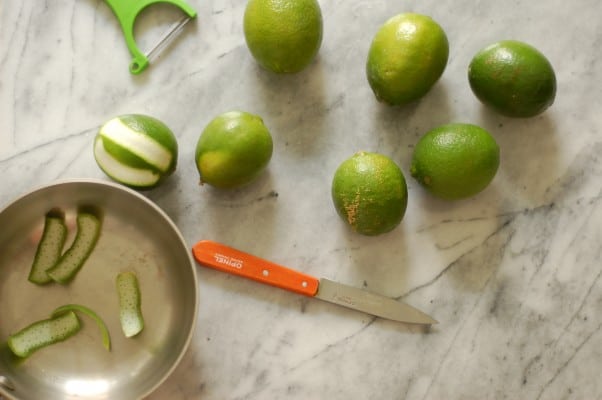 Especially for any of us who live or work or have reason to visit a building with overly exuberant climate control.
Ah, hindsight is a powerful corrective.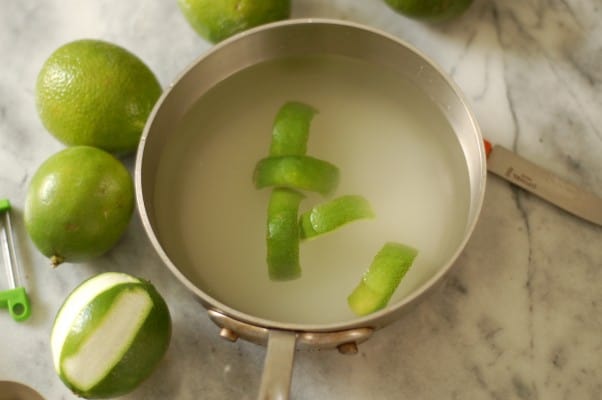 Which is why I recommend dressing in layers. Even if I don't always follow my own advice.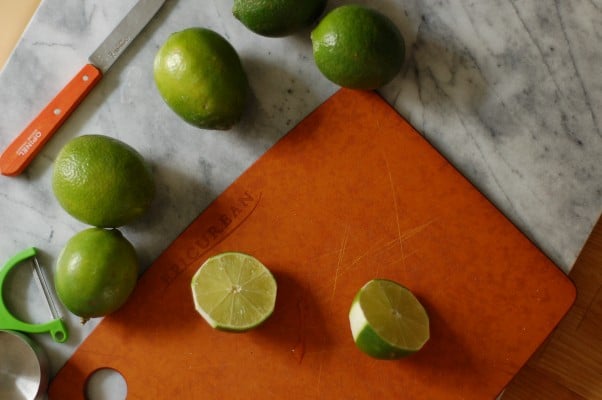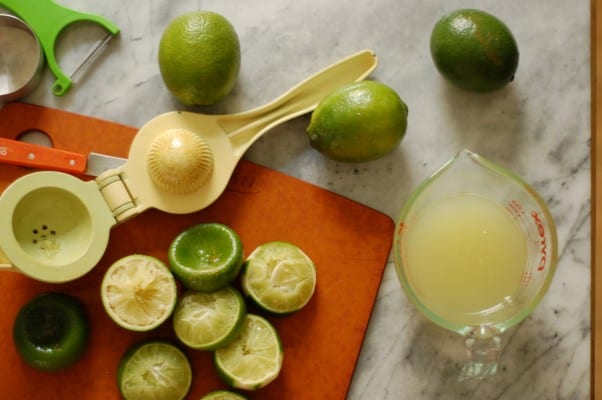 All of which is an incredibly circuitous way of saying, I kinda did the cooking equivalent of dressing for yesterday when I made these popsicles.
They're pretty much the food equivalent of a tank top or a sundress.
The absolute perfect thing on a hot summer day. But on any other day, you can't fully appreciate them.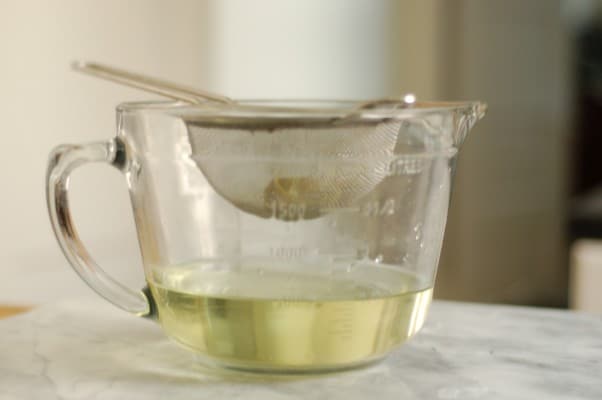 I made these intensely puckery, refreshing, limey popsicles on a 90+°F day.
And I didn't get around to eating one until the next day, which had a high of, maybe, 72°F.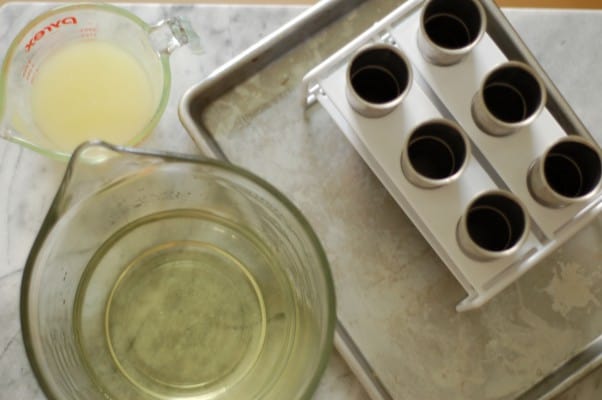 And all I could think while eating them was just how much I wanted one of these yesterday.
How I couldn't think of anything I'd want more on a really hot sticky day.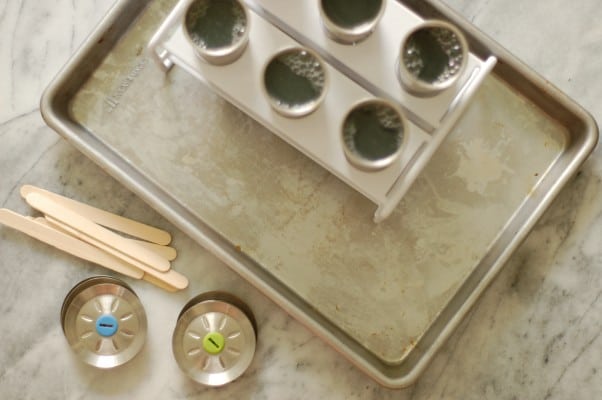 But eating them on a mild summer day, even though they were good, felt a little bit wrong, like I was wasting their refreshing super powers.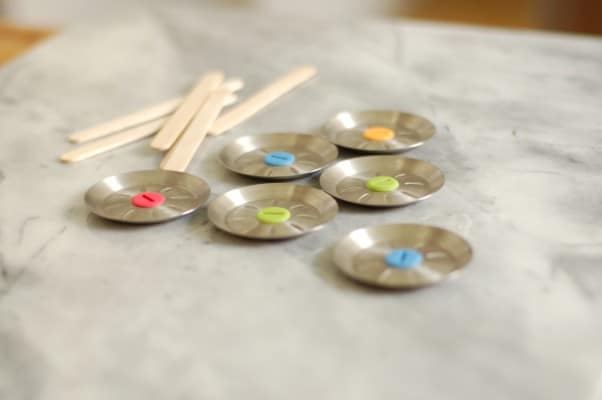 These popsicles, which come from Fany Gerson's Paletas: Authentic Recipes for Mexican Ice Pops, Shaved Ice & Aguas Frescas are not joking around. They are so tart that they almost have tingly heat.
They are ice pops for true lime fiends.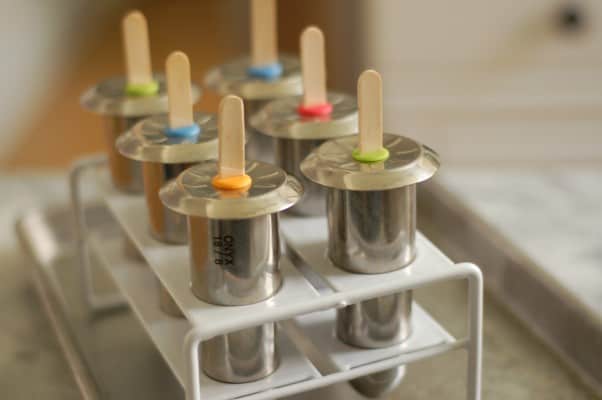 The lime flavor comes not just from lime juice, but also from strips of lime zest that get simmered in a simple syrup to bring out the concentrated flavor from the natural lime oil in the peel.
It's a great way to add depth to the citrus flavor.
The lime here doesn't feel one note. It's bright and punchy.
Oh, and when you're juicing this many limes, you'll thank yourself for spending a few bucks on citrus squeezer. They increase the yield on the juice way beyond what you'll get with a reamer, a fork, or squeezing them with your hands.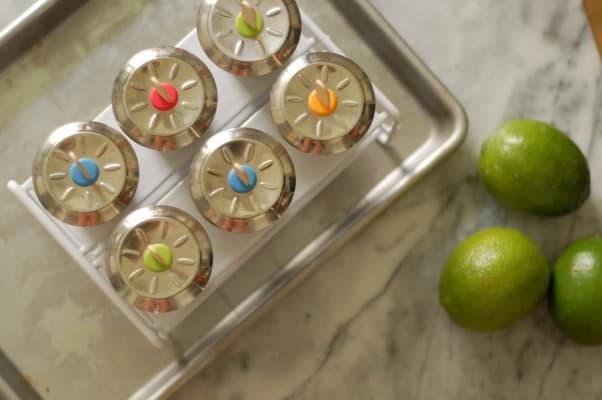 These lime popsicles seem ripe for cocktail popsicle adaptations.
Throw in a splash of gin for a gimlet popsicle, rum for a daiquiri popsicle, tequila and salt for a margarita popsicle.
(Oh, and if you're looking for a mango lime popsicle, or a coconut lime popsicle I've got you covered.)
But whatever you do with them, keep them in the freezer until a really hot summer day comes along. Then, enjoy.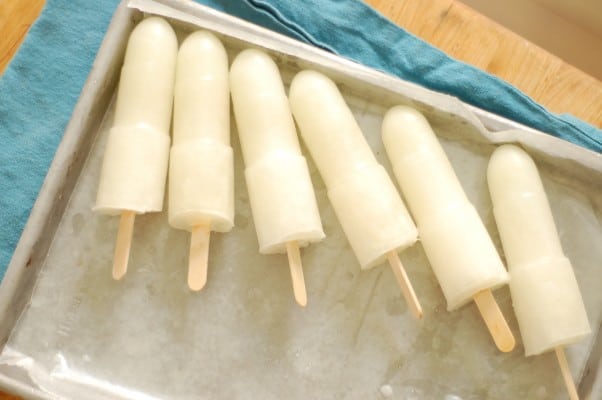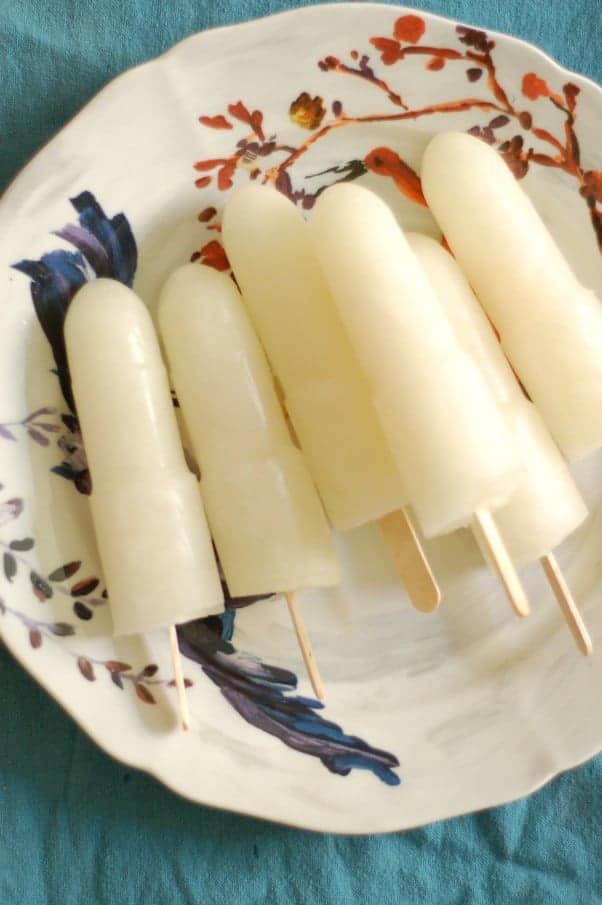 Yield: 6 popsicles, depending on your molds
Lime Popsicles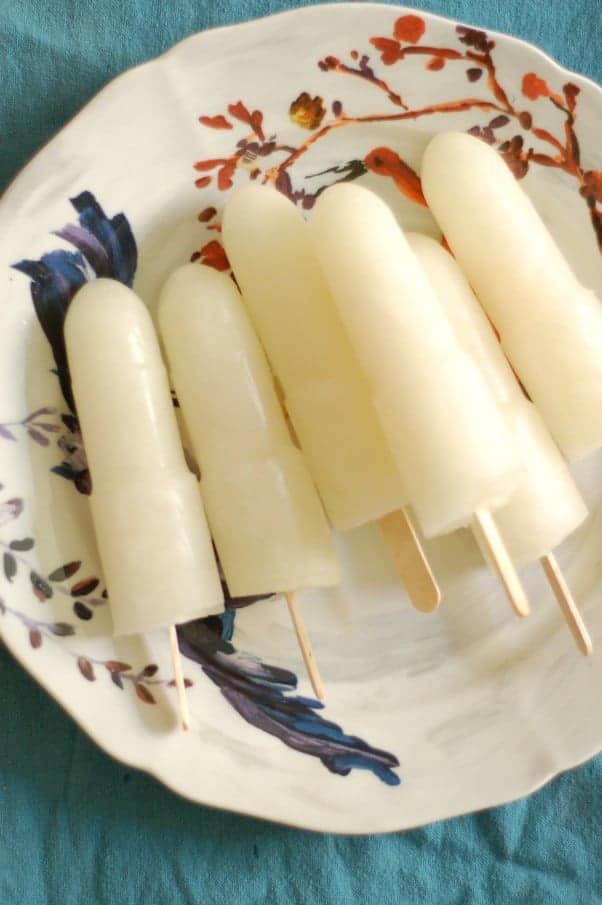 These popsicles are very tart and replete with lime flavor. For these to taste right, the lime juice should be freshly squeezed. In my experience, limes vary quite a bit in the amount of juice they produce. (They're also the peskiest citrus to juice. If you want to make the task easier and get the best yield on your juice, I recommend using a citrus squeezer like the one linked below.) I got 3/4 of a cup of juice from just 3 large limes, which were what I could find at the local Latin grocery store, but I think that's an unusually large yield per fruit. Gerson recommends using smaller limes and says it will take 10 limes to yield the desired amount of juice. If you have medium sized limes, I'm guessing you'd need 5-6 limes. I'd recommend buying an extra couple of limes beyond what you think you'll need just to be on the safe side. I've been using all-metal molds, but you can use any molds (including household items like tall shot glasses or little paper cups) you have around. If your mold doesn't have a lid to hold the popsicle stick in place, wait for about 1 1/2 to 2 hours until the popsicles are partially frozen to add the sticks.
Total Time
5 hours
10 minutes
Ingredients
2 cups water
2/3 cup sugar
4 1-inch strips of lime zest
3/4 cup freshly squeezed lime juice, from anywhere from 3 large limes to 10 small ones
Instructions
In a small saucepan, combine the water, sugar, and lime zest, and heat over medium, stirring frequently, until the sugar has dissolved. Remove from heat and let cool to room temperature.
Strain through a fine mesh strainer and discard the zest. Stir in the lime juice. Pour into popsicle molds and freeze until solid 4-5 hours, depending on the size of the mold.
Recommended Products
As an Amazon Associate and member of other affiliate programs, I earn from qualifying purchases.
Nutrition Information:
Yield:
6
Serving Size:
1
Amount Per Serving:
Calories:

105
Total Fat:

0g
Saturated Fat:

0g
Trans Fat:

0g
Unsaturated Fat:

0g
Cholesterol:

0mg
Sodium:

5mg
Carbohydrates:

29g
Fiber:

1g
Sugar:

23g
Protein:

0g