I may earn from purchases through links in this post.
One of the purest summer pleasures is sitting outside on a hot day with a popsicle in hand while you race to consume the icy treat before your fingers are covered in sticky melted drips.
These coconut lime popsicles are pretty much everything I want in a popsicle for that fleeting moment of joy.
They're rich from the coconut, but that richness is cut with the bright acidity from the limes.
And even better, they're so easy to throw together.
The fiddliest bit is making a simple syrup with a few strips of lime zest thrown in to infuse the syrup with the wonderful fragrance from the lime zest.
(It's a trick I learned from making these classic lime popsicles and these mango lime years ago.)
And even that is barely work.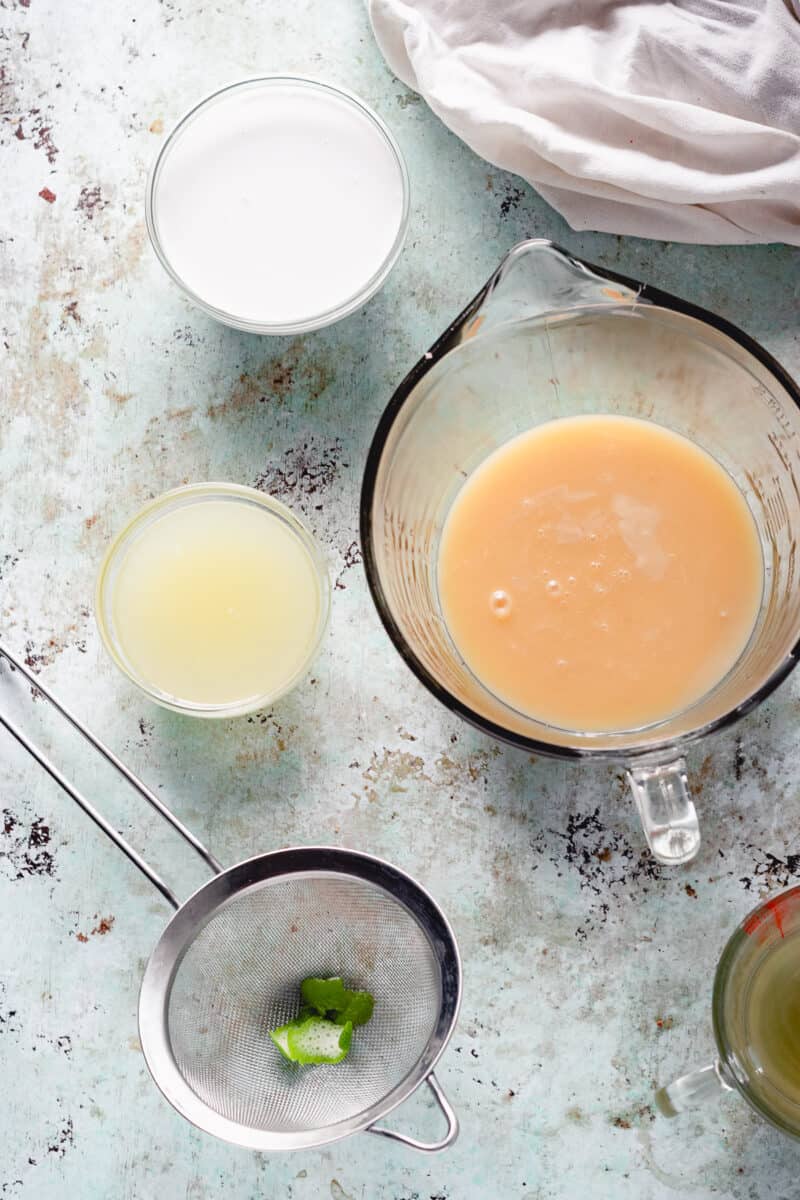 The coconut flavor comes from two sources: sweetened condensed coconut milk and regular, full-fat coconut milk.
I've been seeing sweetened condensed coconut milk at all kinds of grocery stores in recent years, and it's a delicious alternative to the standard dairy version.
It gives these coconut lime popsicles a sort of key lime pie quality that I always find welcome.
It also makes these popsicles naturally vegan and gluten free, which is a bonus for anyone navigating dietary restrictions.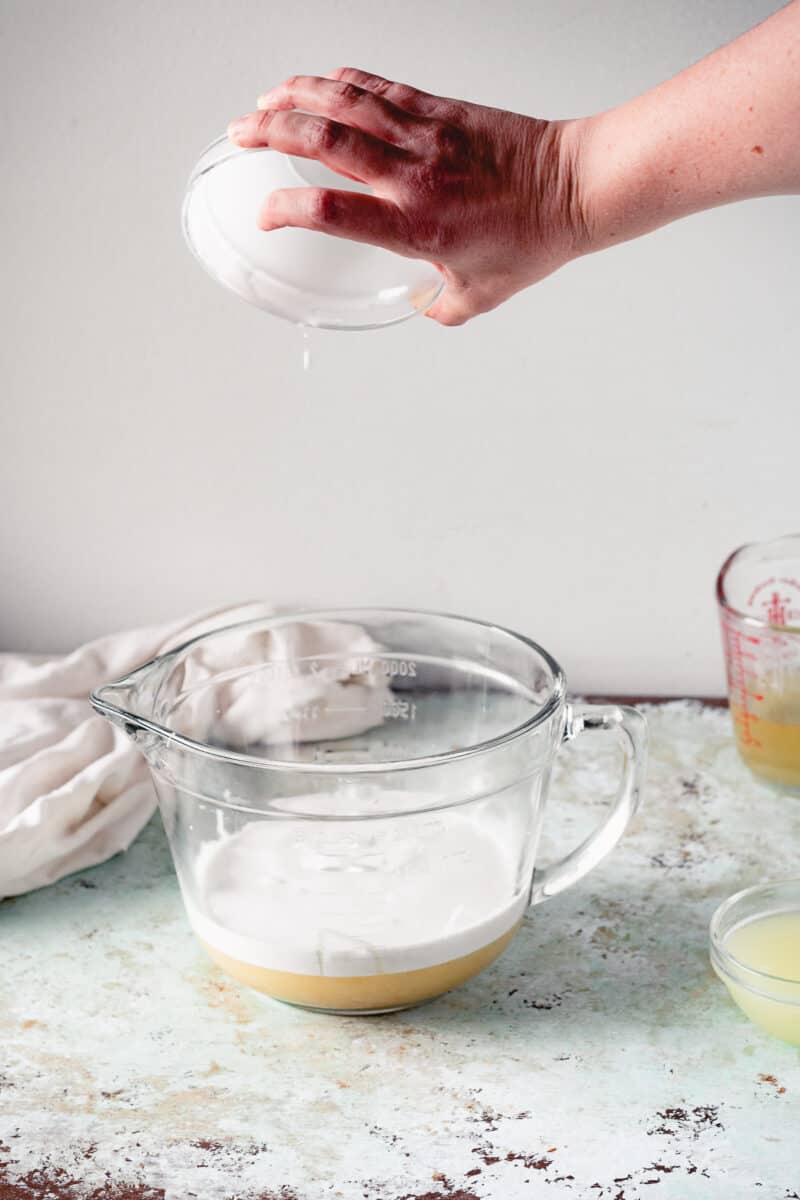 The coconut milk amplifies the coconut flavor without adding more sweetness.
And the combination of coconut milk and sweetened condensed coconut milk give these popsicles a luxurious richness.
(Which gives them something in common with these Thai iced tea popsicles and these vanilla bean coconut popsicles.)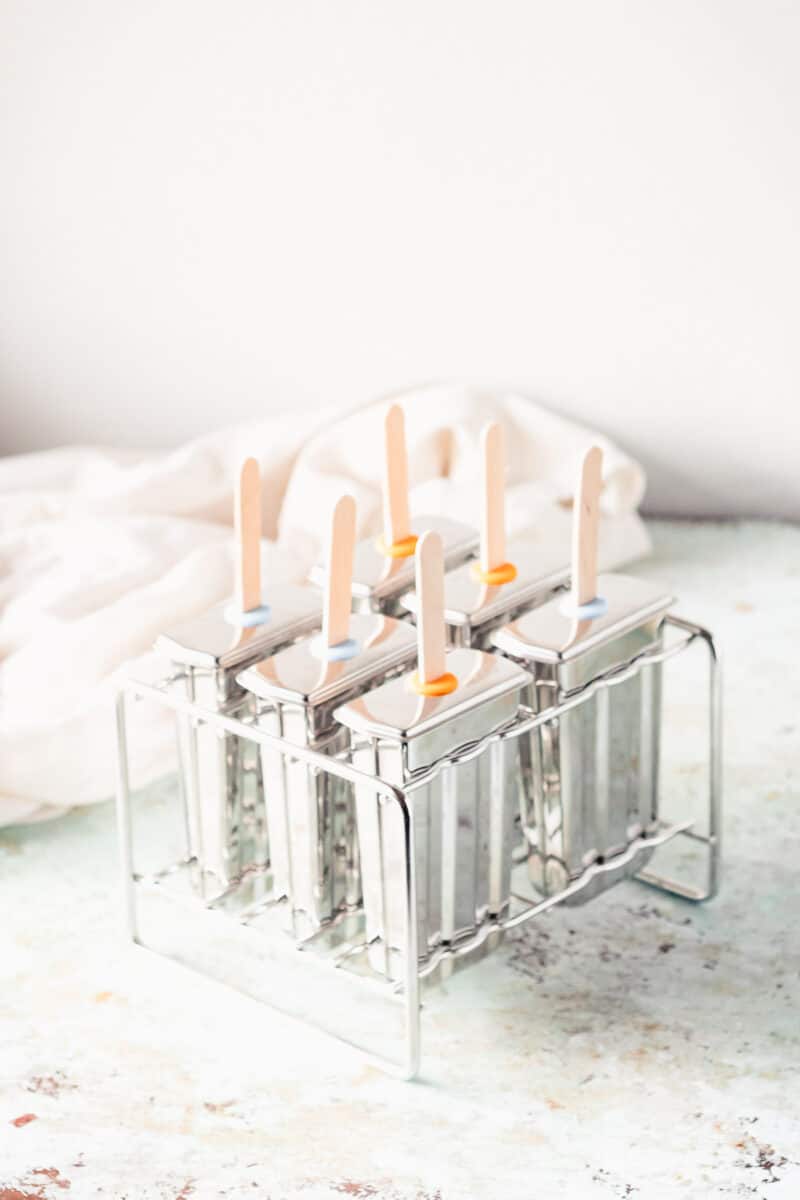 A generous pour of lime juice (preferably from freshly squeezed limes) brings a welcome sharpness to all that coconut goodness.
And the aforementioned zest-infused simple syrup brings in another layer of lime flavor.
Then everything gets dumped into a bowl, stirred together, poured into popsicle molds, and gently tucked into the freezer where they stay until they're frozen.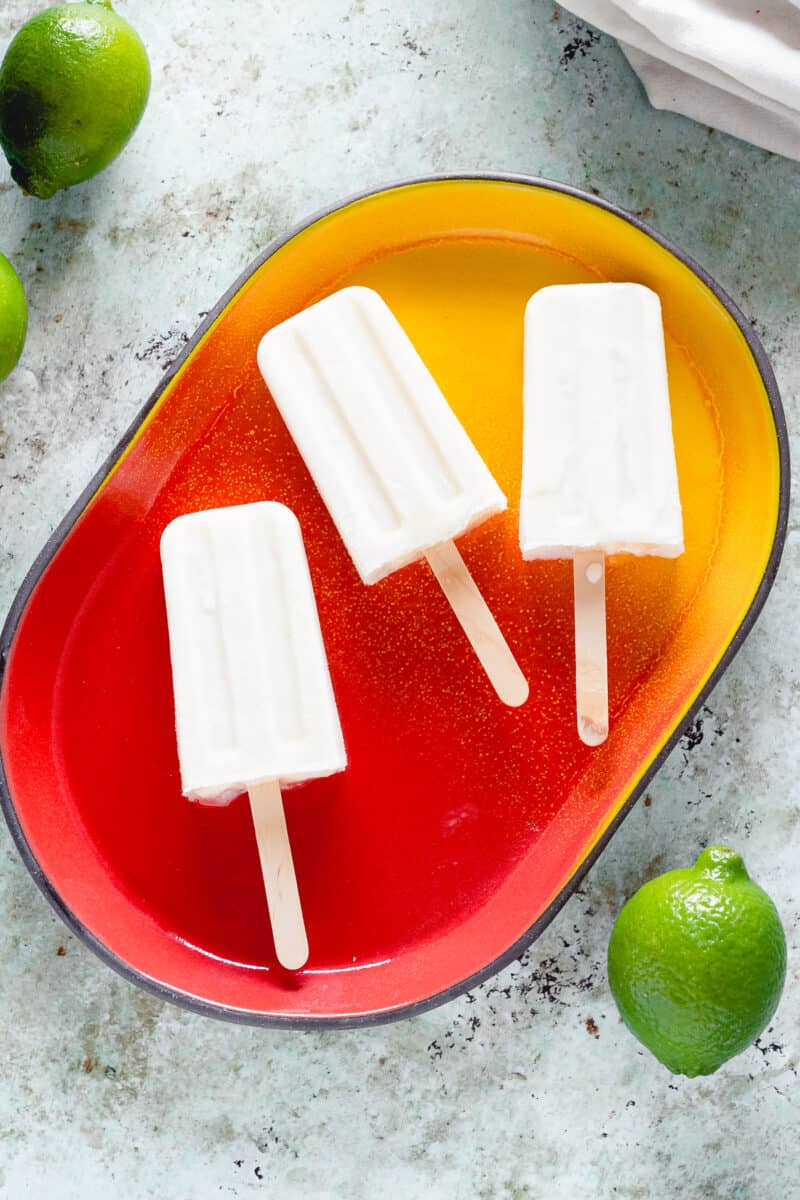 The waiting is the hardest part.
Yield: about 10 3-ounce popsicles
Coconut Lime Popsicles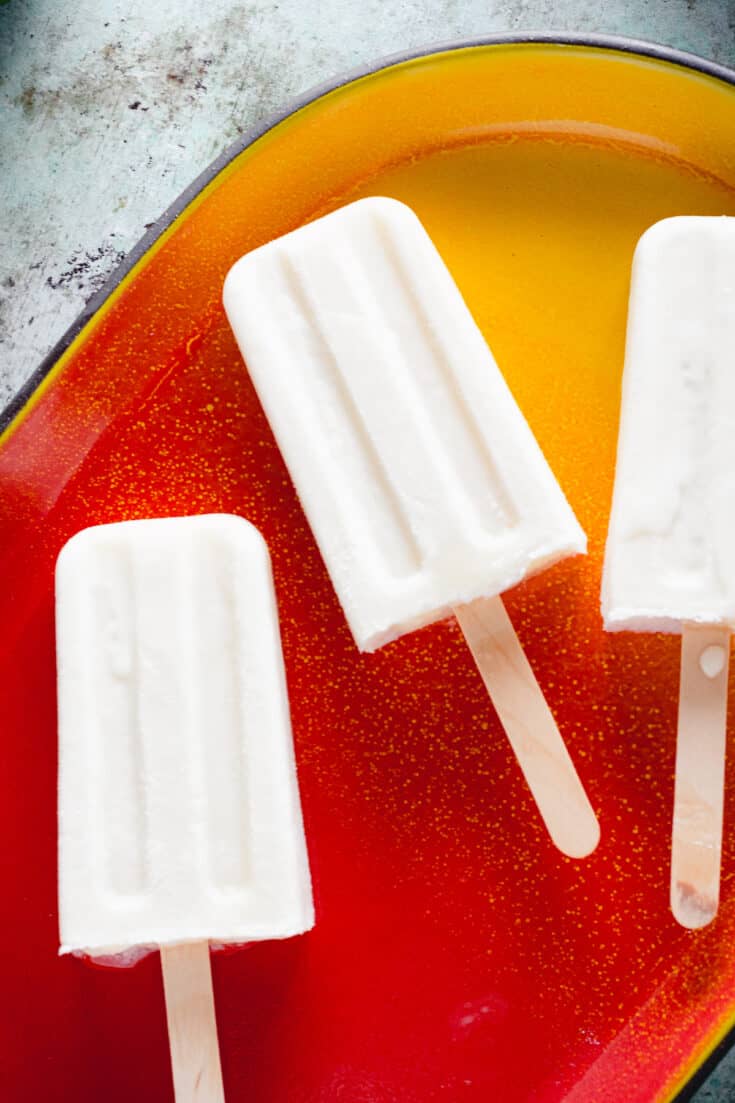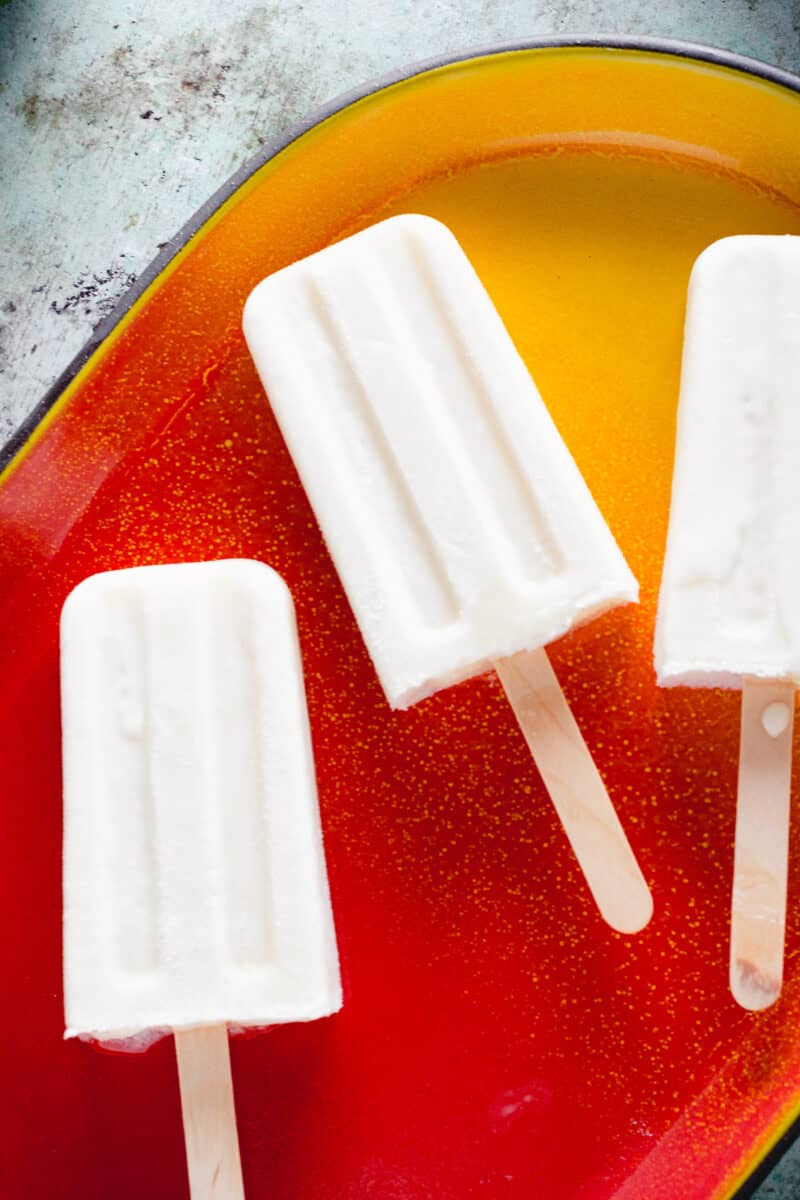 These popsicles get a double dose of coconut from sweetened condensed coconut milk and regular coconut milk and they get brightened with plenty of freshly squeezed lime juice.
There's an extra layer of lime flavor from a simple syrup that gets infused with strips of lime zest.
Sweetened condensed coconut milk is available in many grocery stores these days but be sure double check the amount on the can you buy—there isn't a clear standard size among the various brands. (This recipe is flexible enough you can probably use a little more or less and be fine.)
These are naturally vegan and gluten free.
Total Time
5 hours
10 minutes
Ingredients
1/2 cup water
1/4 cup sugar
4 1-inch strips of lime zest
1 11.25-ounce can sweetened condensed coconut milk
1 cup coconut milk
1/2 cup freshly squeezed lime juice, from anywhere from 3 large limes to 10 small ones
Instructions
In a small saucepan, combine the water, sugar, and lime zest, and heat over medium, stirring frequently, until the sugar has dissolved. Remove from heat and let cool to room temperature.
Strain through a fine mesh strainer and discard the zest.
Add the sweetened condensed coconut milk, regular coconut milk, lime juice, and zest-infused syrup to a large mixing bowl and stir until thoroughly combined.
Pour into popsicle molds and freeze until solid, around 4-5 hours, depending on the size of the mold.
Recommended Products
As an Amazon Associate and member of other affiliate programs, I earn from qualifying purchases.
Nutrition Information:
Yield:
10
Serving Size:
1
Amount Per Serving:
Calories:

79
Total Fat:

5g
Saturated Fat:

5g
Trans Fat:

0g
Unsaturated Fat:

0g
Cholesterol:

0mg
Sodium:

5mg
Carbohydrates:

9g
Fiber:

1g
Sugar:

6g
Protein:

1g