I may earn from purchases through links in this post.
Here she is, a fall treat about as basic as they come: pumpkin bread.
I mean, it's bread in the same way that banana bread is bread, which is to say that it's pretty much cake that you can get away with eating for breakfast.
There are about eleventy-billion versions of pumpkin bread out there. And most of them more or less get the job done.
But this is my favorite take on it yet. It's moist and fragrant with cinnamon and nutmeg and ginger and a bit of cardamom.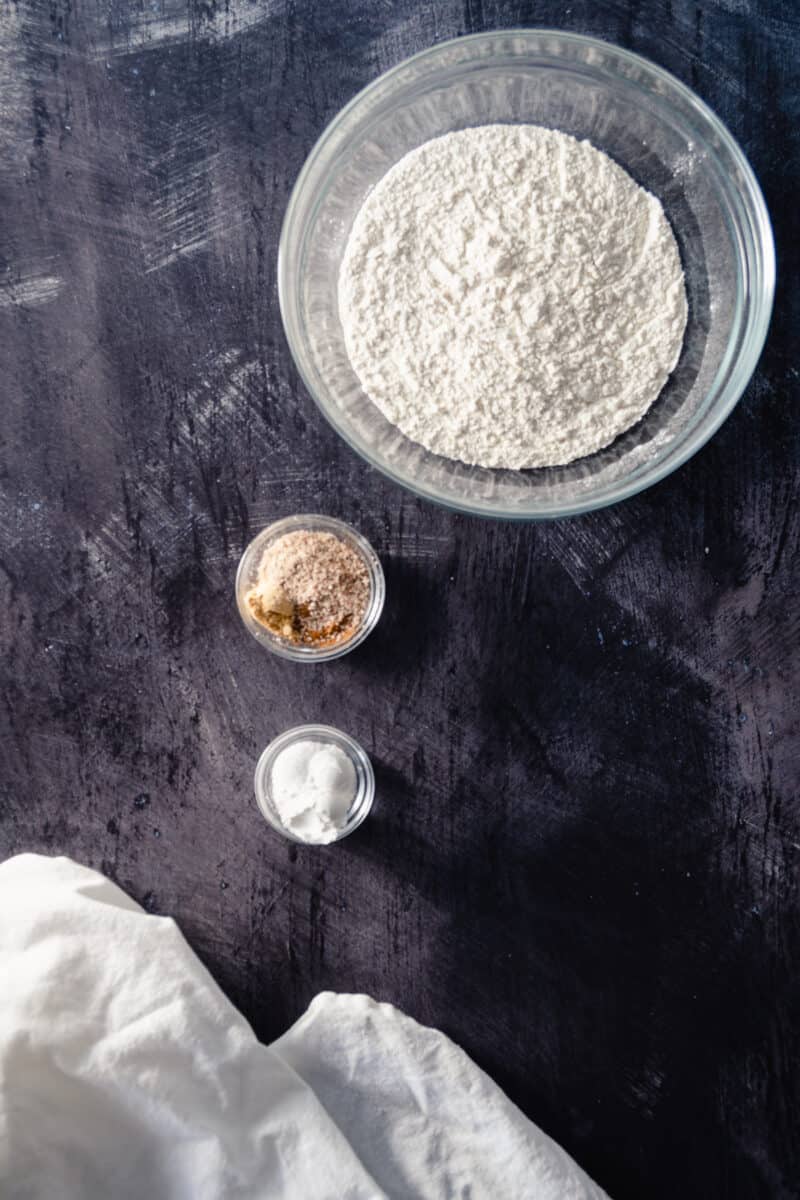 And unlike recipes that call for a cup or less of pumpkin puree (ahem, like this pumpkin cake), leaving most of us who get our pumpkin from 15-ounce cans with an awkward amount leftover, this one uses the whole container.
This isn't just a spice bread—it's definitely got pumpkin flavor.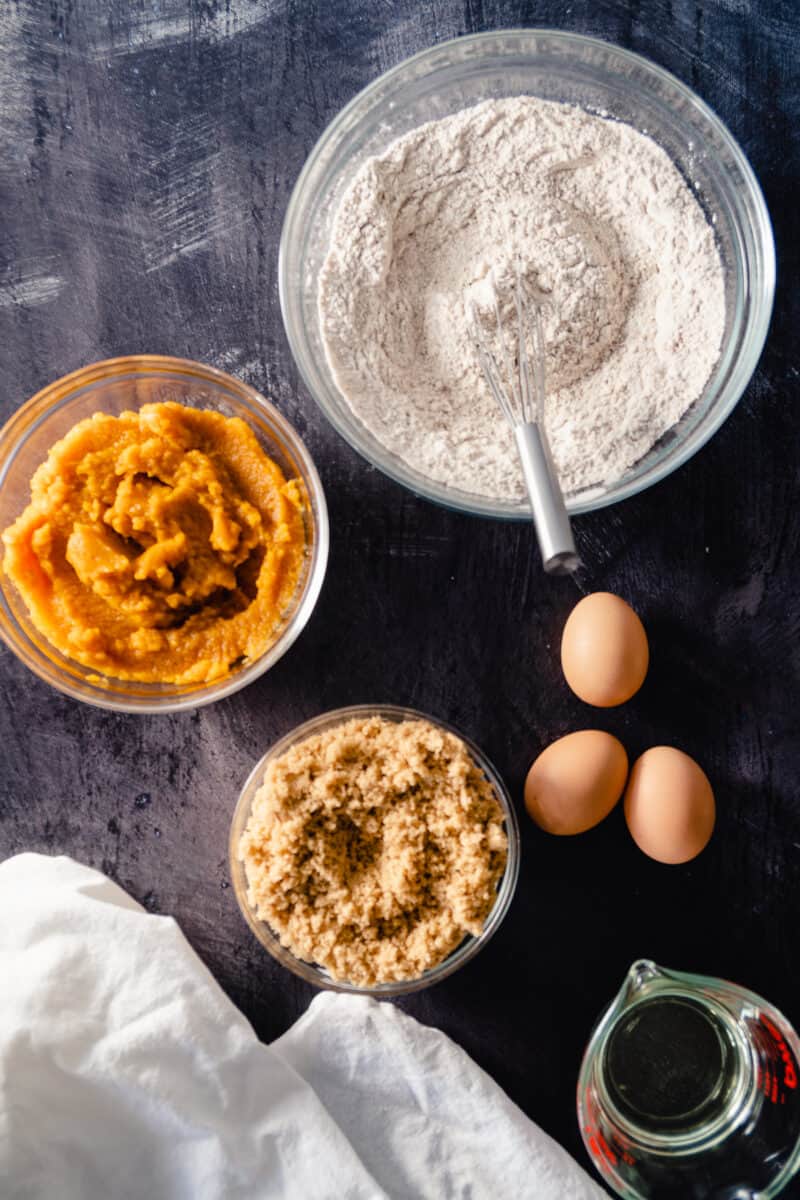 It's sweetened with brown sugar, which brings in the slightest molasses notes and keeps the interior extra tender.
And it has three whole eggs to give it richness and extra loft.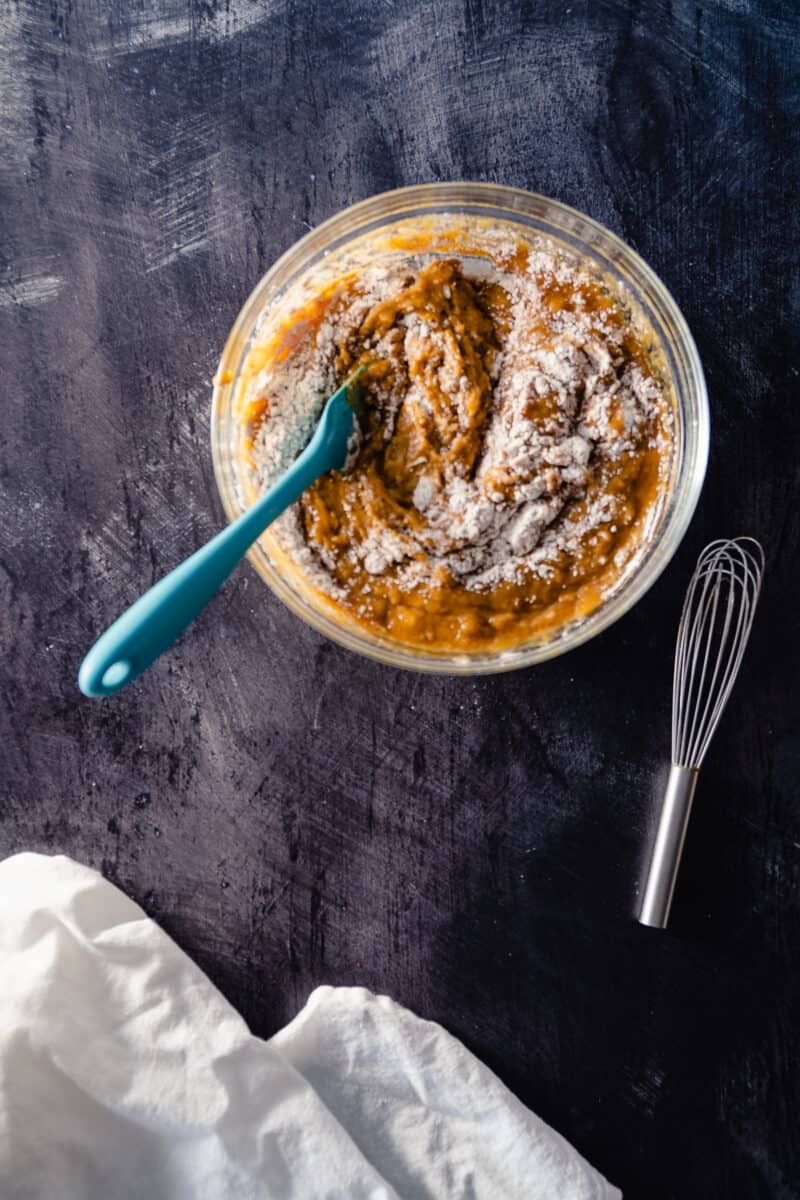 It comes together quickly. It's just a matter of dumping ingredients into a couple of mixing bowls and stirring everything together.
There's nothing particularly fussy about it. It's baking that's perfect for days when you want something delicious without putting in too much effort.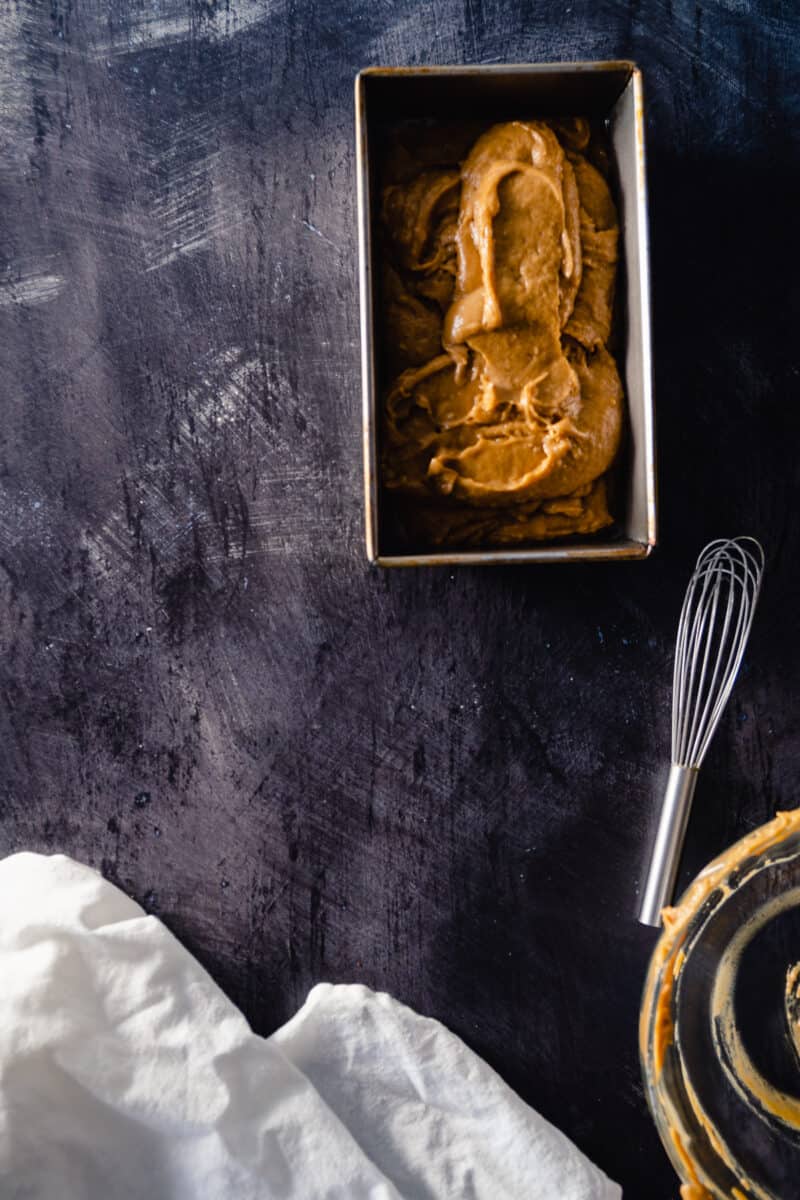 Then the batter gets tucked into a loaf pan (a 9″x5″ loaf pan, to be precise, nothing smaller) where it comes about three-quarters of the way to the top of pan.
Then it goes into the oven where it rises high over the top of the pan and emerges after a bit more than an hour with a craggy top into a kitchen that smells heavenly with all those wonderful baking spices.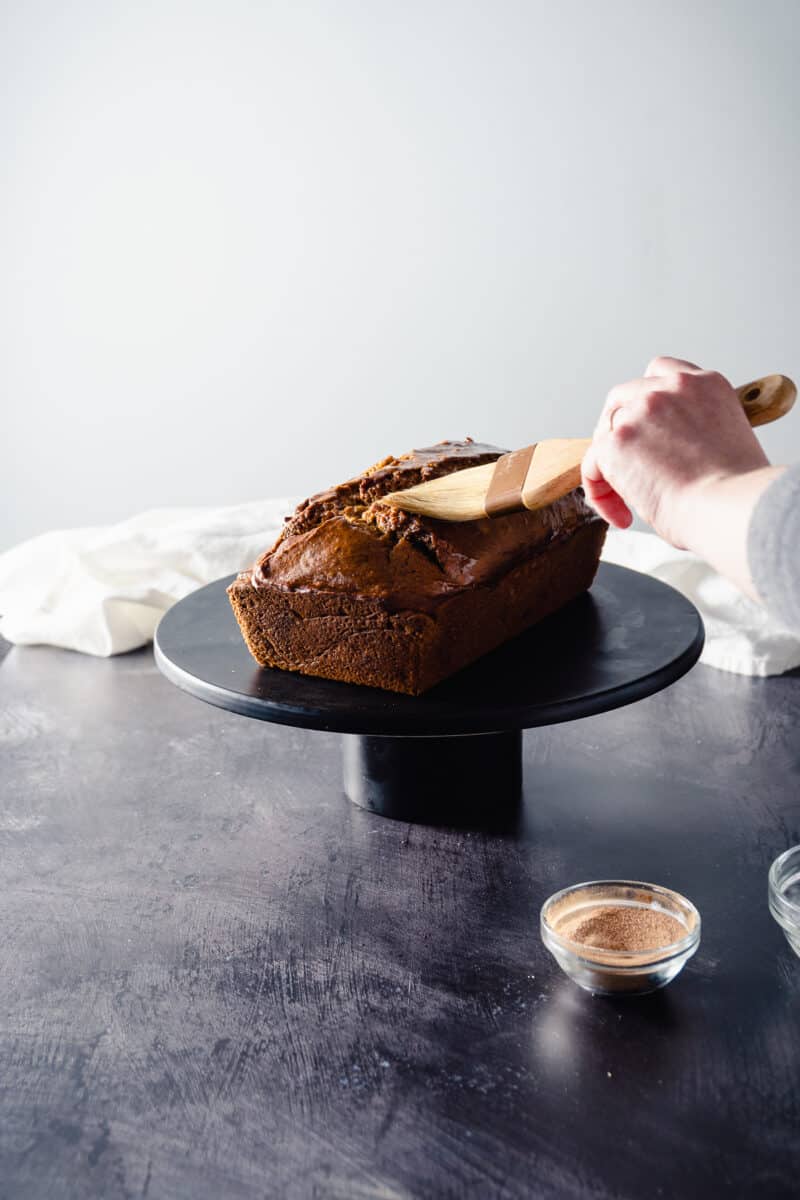 And you could stop there. But what takes this pumpkin bread over the top is the little extra step that happens after it comes out of the oven.
After about five minutes of resting, when it's still warm, it gets popped out of the loaf pan and the top gets brushed with melted butter and sprinkled with cinnamon sugar. This gives it some of the appeal of a cinnamon sugar doughnut (like these cinnamon sugar oat muffins).
It just makes it a little extra delicious.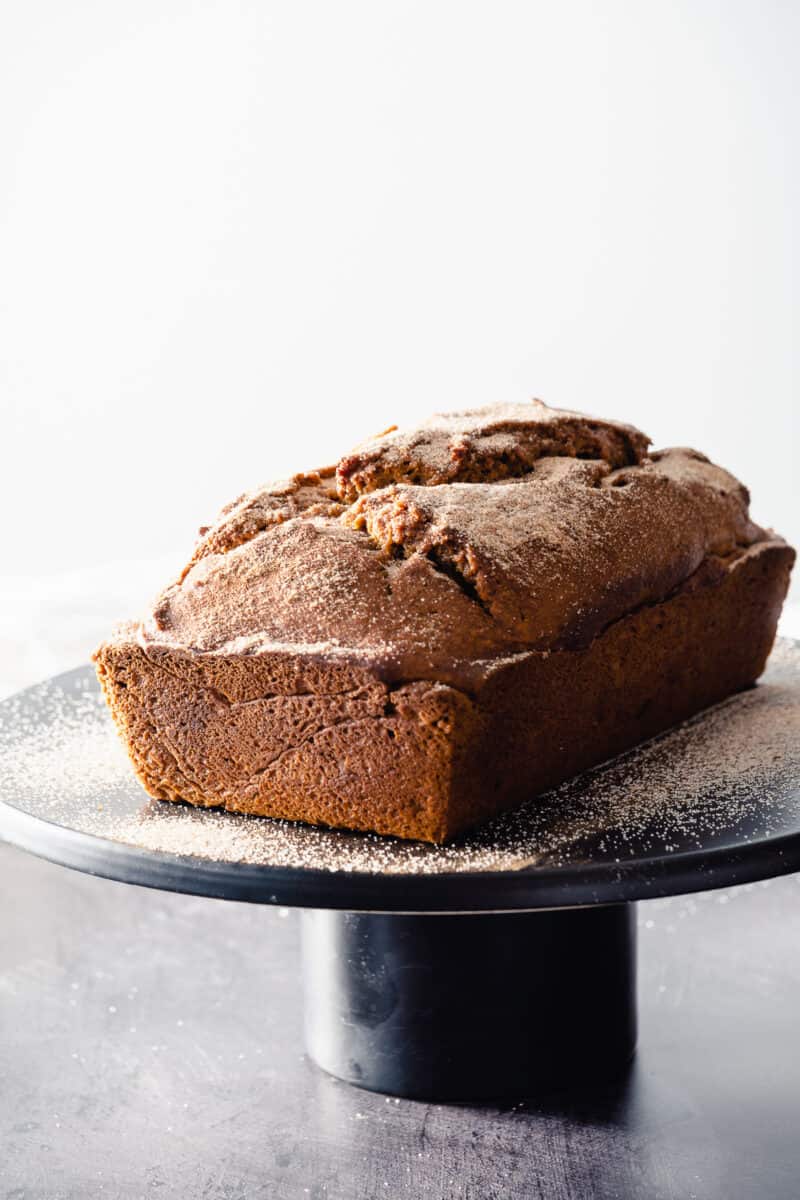 Yield: 1 tall 9x5-inch loaf
Pumpkin Bread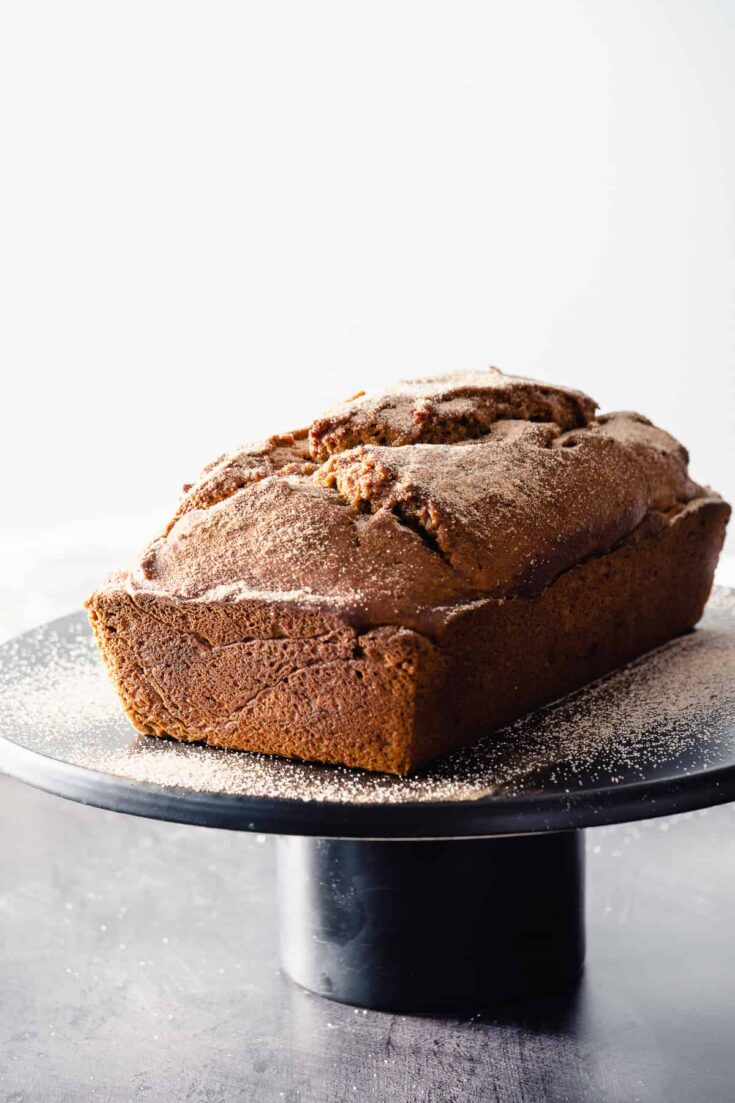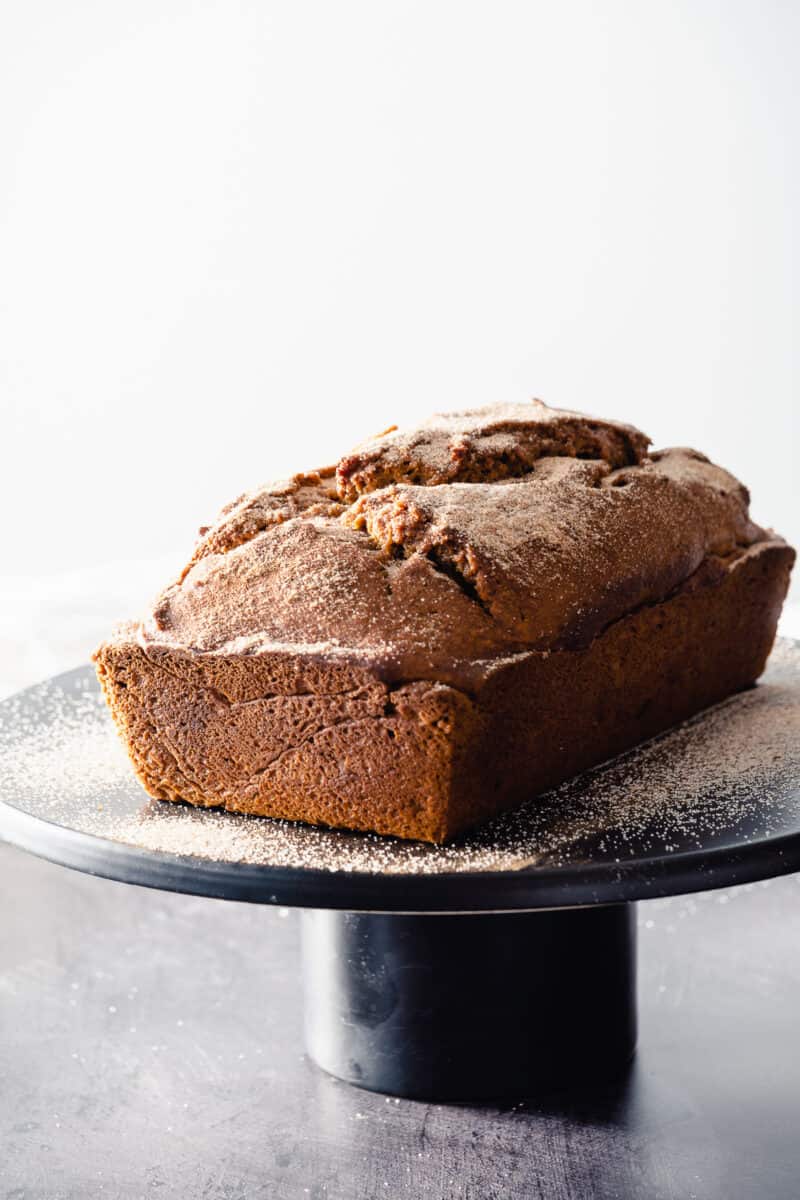 This pumpkin bread makes a generously sized loaf. Be sure to use a loaf pan that measures at least 9"x5" around the top. If your loaf pan is smaller, reserve some of the batter to bake as muffins or a mini loaf.
This is a dense, moist, craggy-topped pumpkin bread with a generous amount of spices. You can feel free to play around with the spices, depending on your preferences and what you have around. Cinnamon is the star here, but the nutmeg, ginger, and cardamom give this a wonderful complexity.
The thing that makes this pumpkin bread extra special is that it gets brushed with butter and showered with cinnamon sugar after it comes out of the oven. You can skip the step if you want, but it's hardly any work and it's delightful.
Cook Time
1 hour
20 minutes
Total Time
1 hour
25 minutes
Ingredients
2 1/2 cups (315 grams) all-purpose flour
2 teaspoons ground cinnamon
1 teaspoon ground nutmeg, preferably freshly grated
1 teaspoon ground ginger
1/2 teaspoon ground cardamom
1 teaspoon baking powder
1/2 teaspoon baking soda
3/4 teaspoon kosher salt
1 3/4 cups (1 15-ounce can) pumpkin puree
1/2 cup (125 ml) neutral oil (such as vegetable, canola, safflower)
1 1/2 cups packed (300 grams) light brown sugar
3 large eggs
2 tablespoons melted butter, for topping
1 tablespoon granulated sugar, for topping
1/2 teaspoon ground cinnamon, for topping
Instructions
Preheat the oven to 350ºF. Spray a 9×5-inch loaf pan with nonstick spray.
In a large mixing bowl, whisk together the flour, cinnamon, nutmeg, ginger, cardamom, baking powder, baking soda, and salt.
In a separate mixing bowl, stir together the pumpkin puree, oil, brown sugar, and eggs until well mixed.
Add the wet ingredients to the dry and stir until no visible bits of flour mixture remain.
Transfer the batter to the prepared loaf pan—it should come about 3/4 of the way to the top. Bake until a toothpick inserted into the cake comes out clean, about 75-85 minutes.
Meanwhile, melt the butter and mix together the granulated sugar and cinnamon.
Let the pumpkin bread cool in the pan for about 5 minutes, then transfer to a serving dish or cutting board, brush with melted butter and sprinkle with cinnamon sugar. (Some of it may not stick, that's fine.)
Notes
Keeps at room temperature for about 5 days.
Recommended Products
As an Amazon Associate and member of other affiliate programs, I earn from qualifying purchases.
Nutrition Information:
Yield:
16
Serving Size:
1
Amount Per Serving:
Calories:

172
Total Fat:

3g
Saturated Fat:

1g
Trans Fat:

0g
Unsaturated Fat:

1g
Cholesterol:

39mg
Sodium:

199mg
Carbohydrates:

33g
Fiber:

1g
Sugar:

17g
Protein:

3g