I may earn from purchases through links in this post.
We've reached an odd place with pumpkin-spice flavored products. It's a flavor that's become absurdly ubiquitous during the months of October and November. It's not just the notorious Starbucks' lattes, but also the Pringles and the beef jerky and the Peeps.
Clearly, the flavor is popular, but it has also become, in recent years, a perennial object of scorn.
And I get that, I mean, adding an orange label and a dash of cinnamon and nutmeg to everything like it's some kind of autumnal pixie dust feels like a cheap marketing ploy. But also, there's nothing really wrong with cinnamon and nutmeg.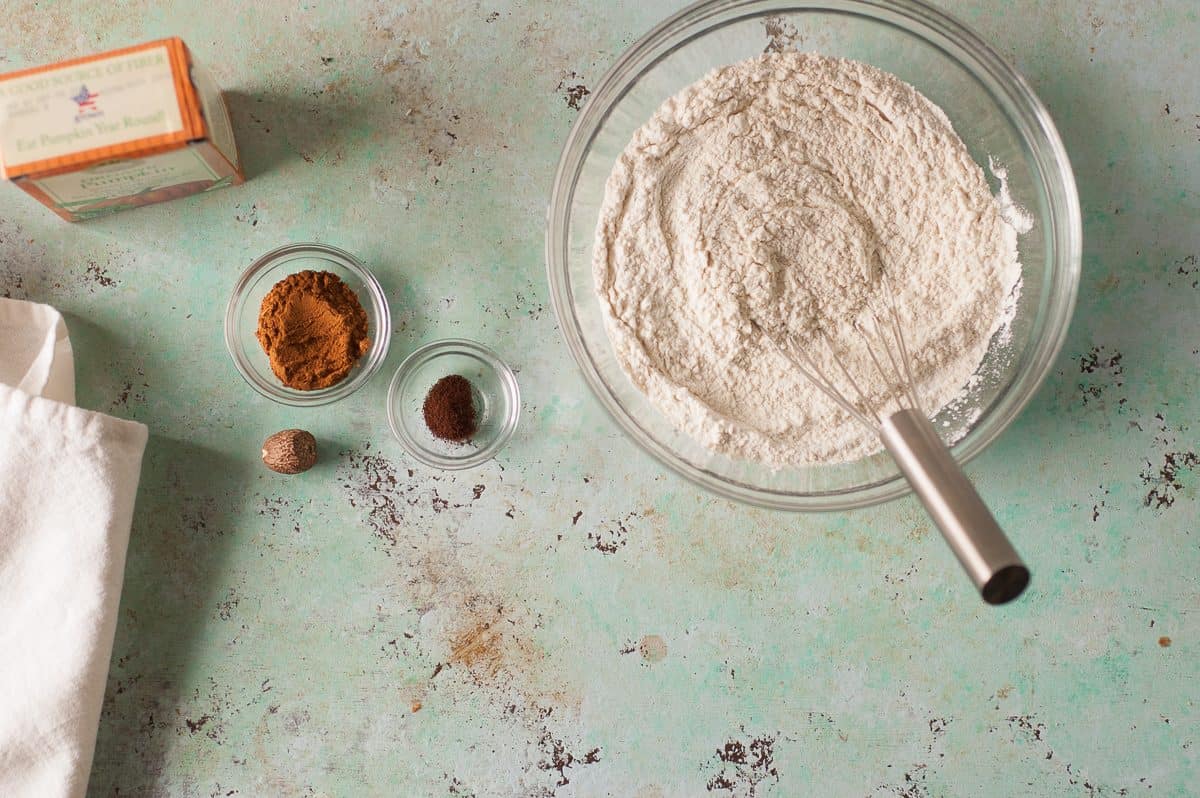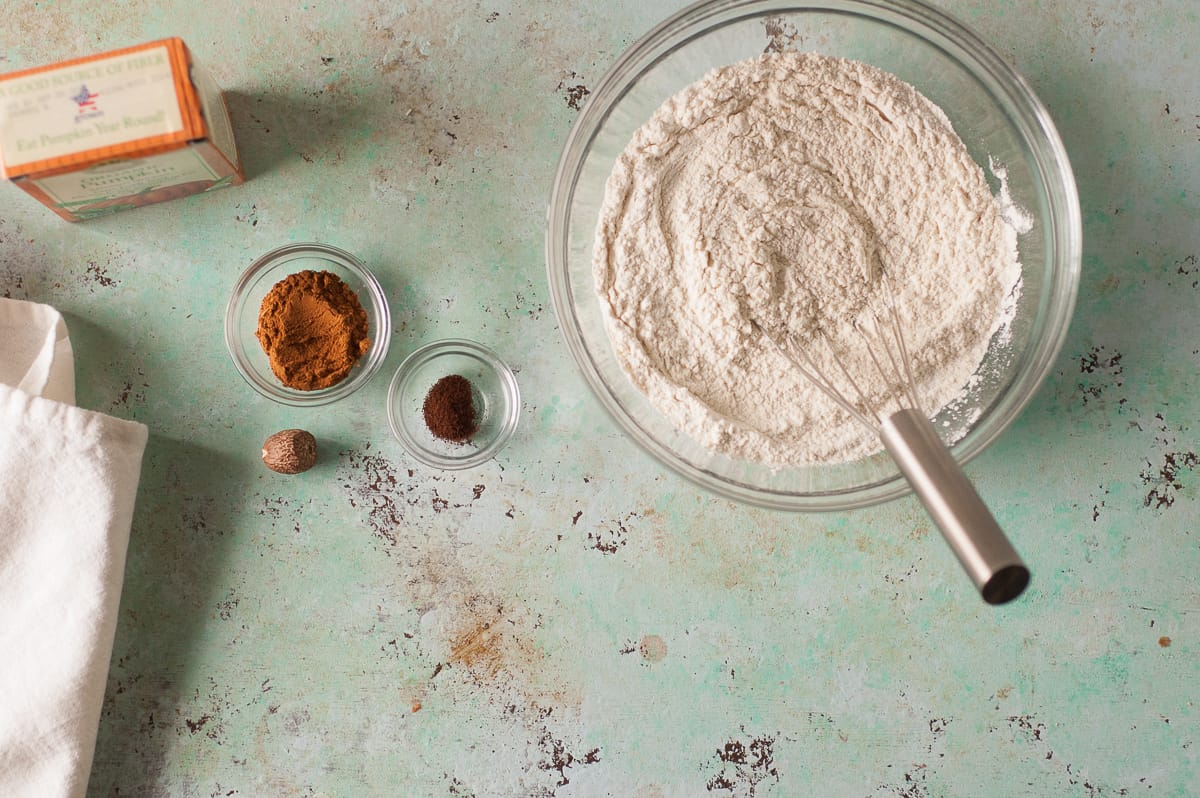 I love squash, but if I'm being honest, I have to admit that pumpkin is one of my least favorite pies.
It's not bad, I mean it's still pie, but I find it a bit dense and the crust tends to go soft so there's no textural variation to make it interesting. I'll almost always opt for apple if that's on offer at the end of a Thanksgiving dinner. And it would never occur to me to make a pumpkin pie for any other occasion.
This pumpkin tea cake, on the other hand, is a different story. It might be my favorite way of deploying those traditional pumpkin spices.
It's the kind of cake that doesn't require a special occasion, but it's also good enough for one (I recently sent some to my brother for his birthday).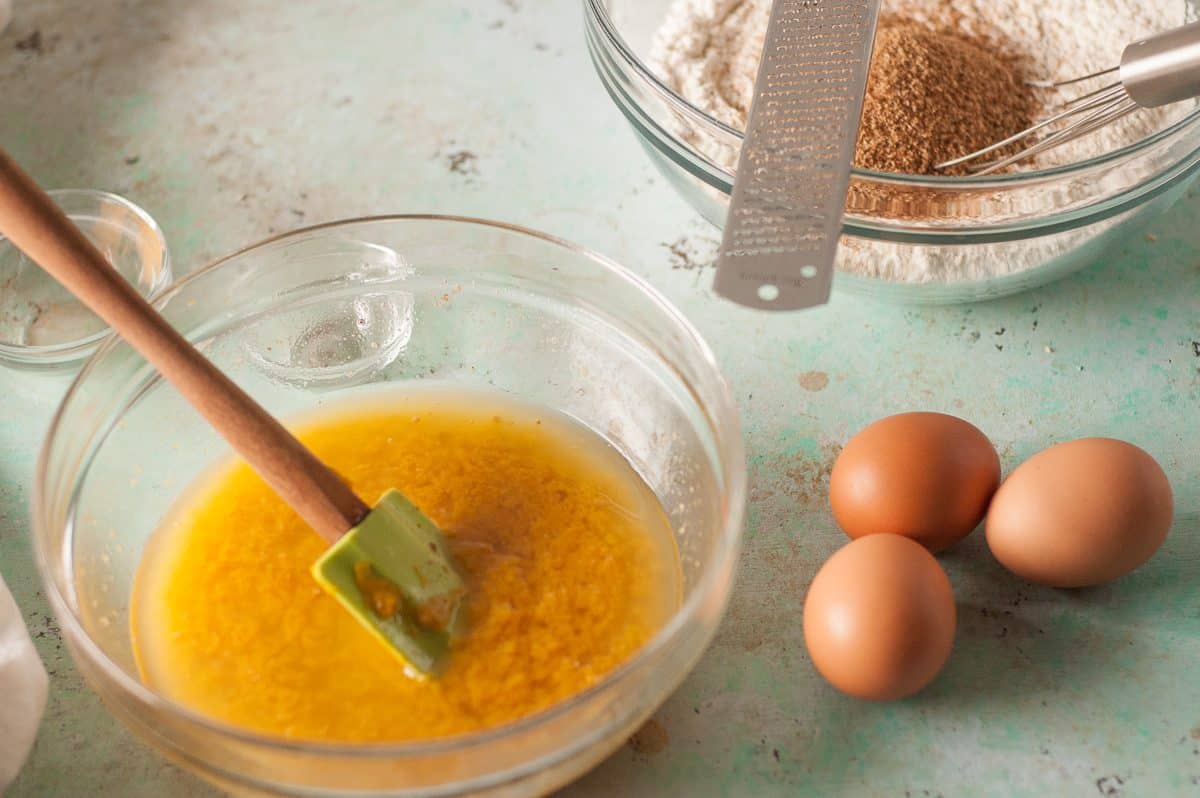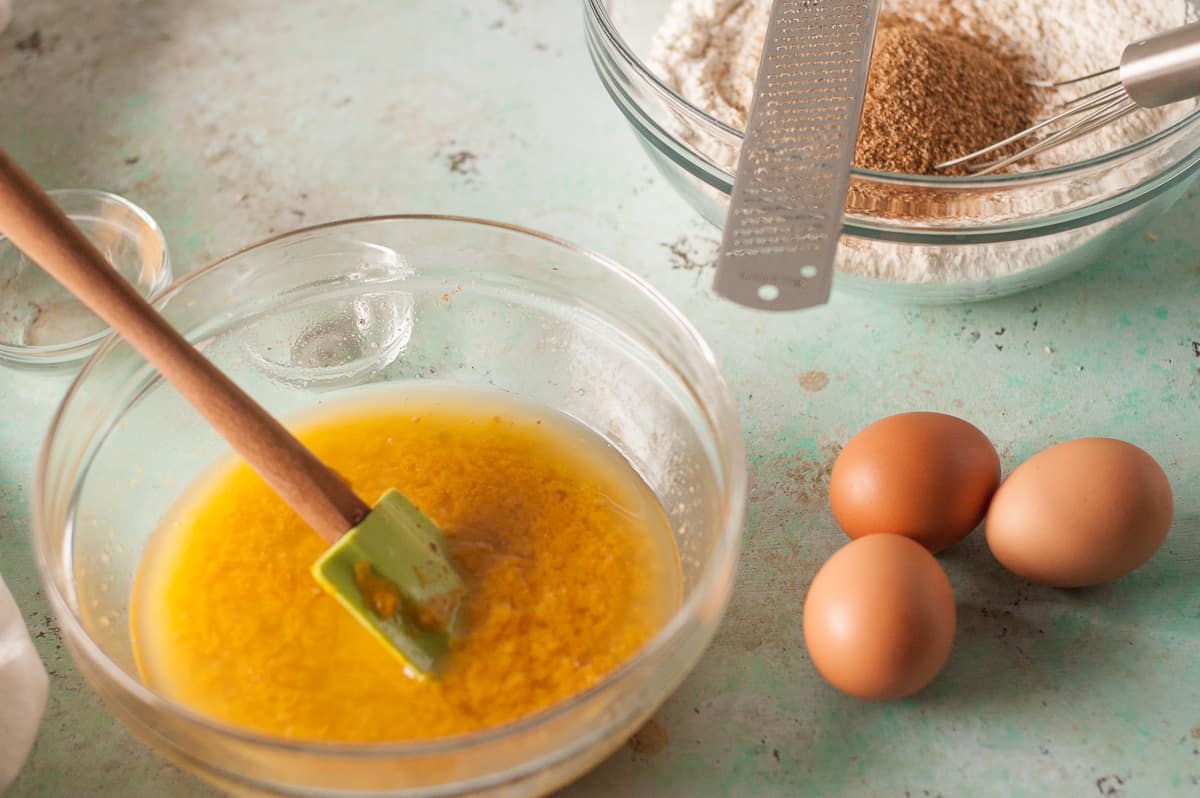 It has a generous hit of spices. A whopping tablespoon of ground cinnamon and most of a whole freshly-grated nutmeg and a couple of pinches of cloves. But I assure you, it's not too much.
It's moist and buttery with a crunchy layer of turbinado sugar on top.
It comes together quickly, and it's easily stirred by hand. There's no reason to turn on a mixer for this one. A couple of bowls and a whisk and a spatula will work just fine.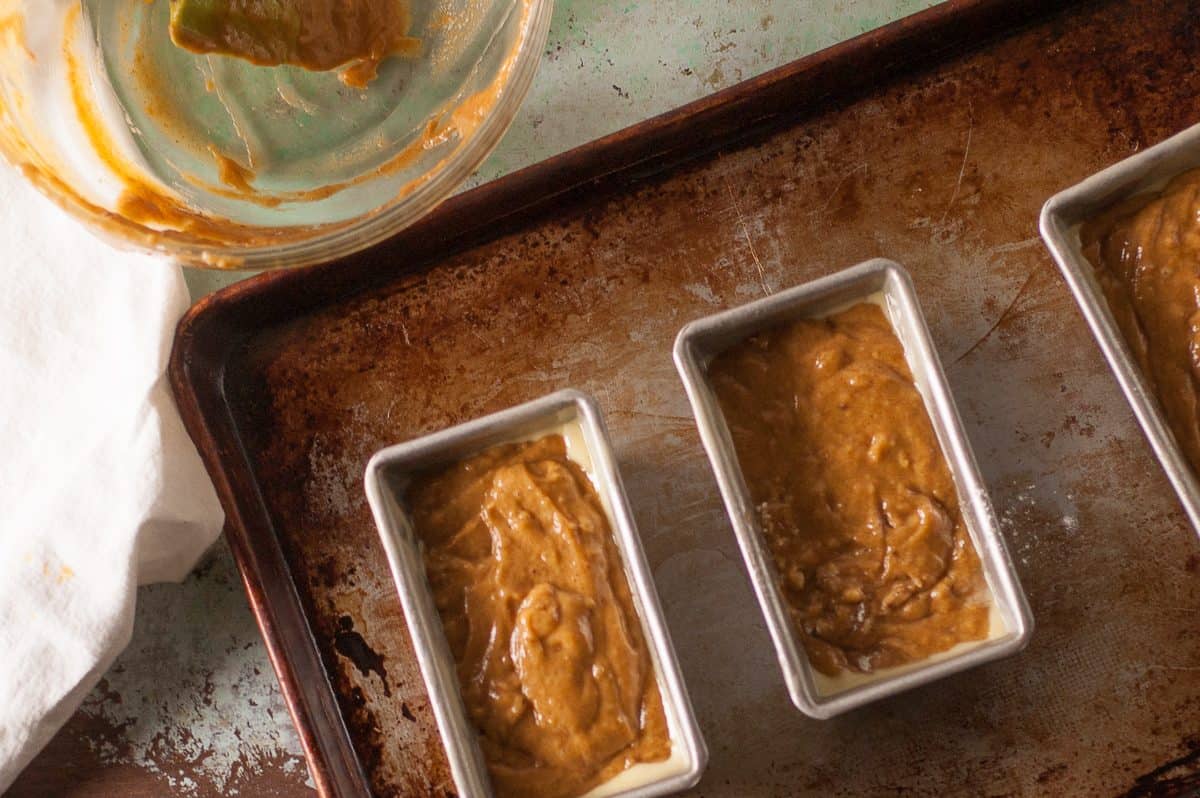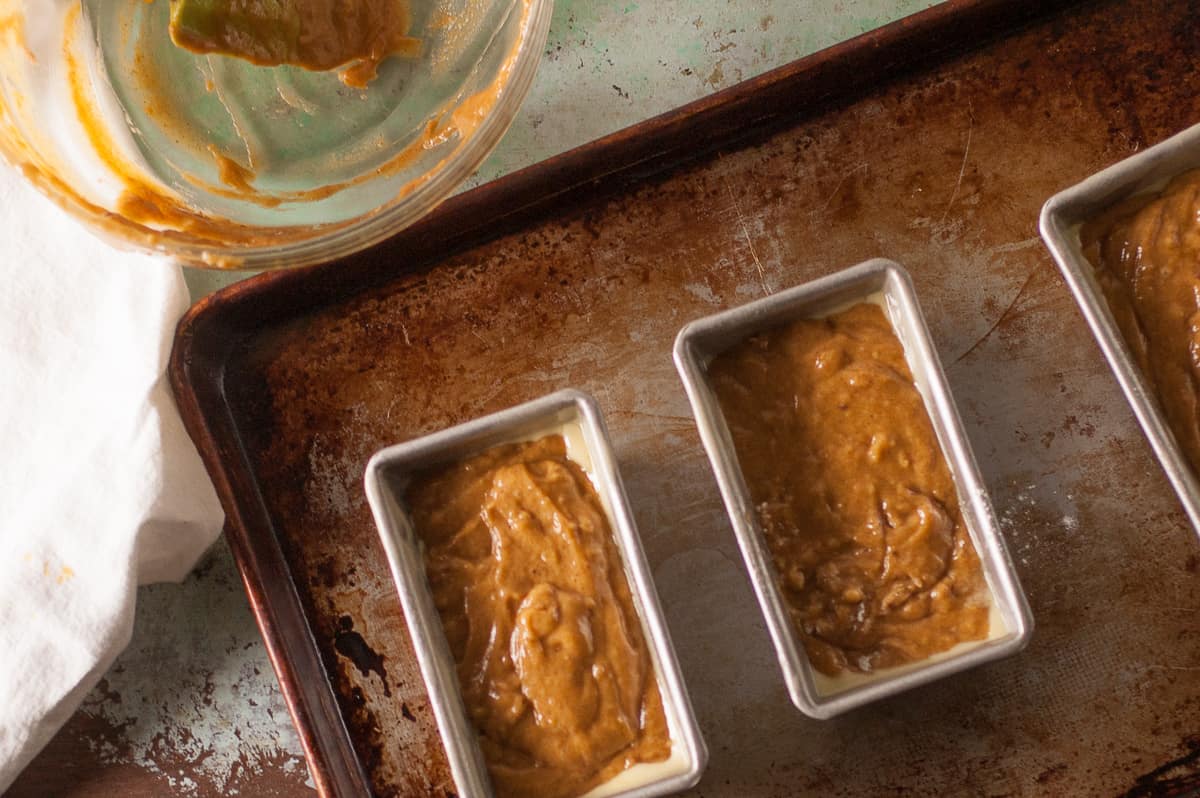 It's adapted from one of my all-time favorite baking books, Tartine, a book that never lets me down.
I swap out half the oil for butter, I add some brown sugar to the white, I tweak the amounts of spices and pumpkin to suit my preferences, and instead of simple granulated sugar for the topping I use the big-crystalled turbinado (sometimes called raw sugar) to add more textural contrast.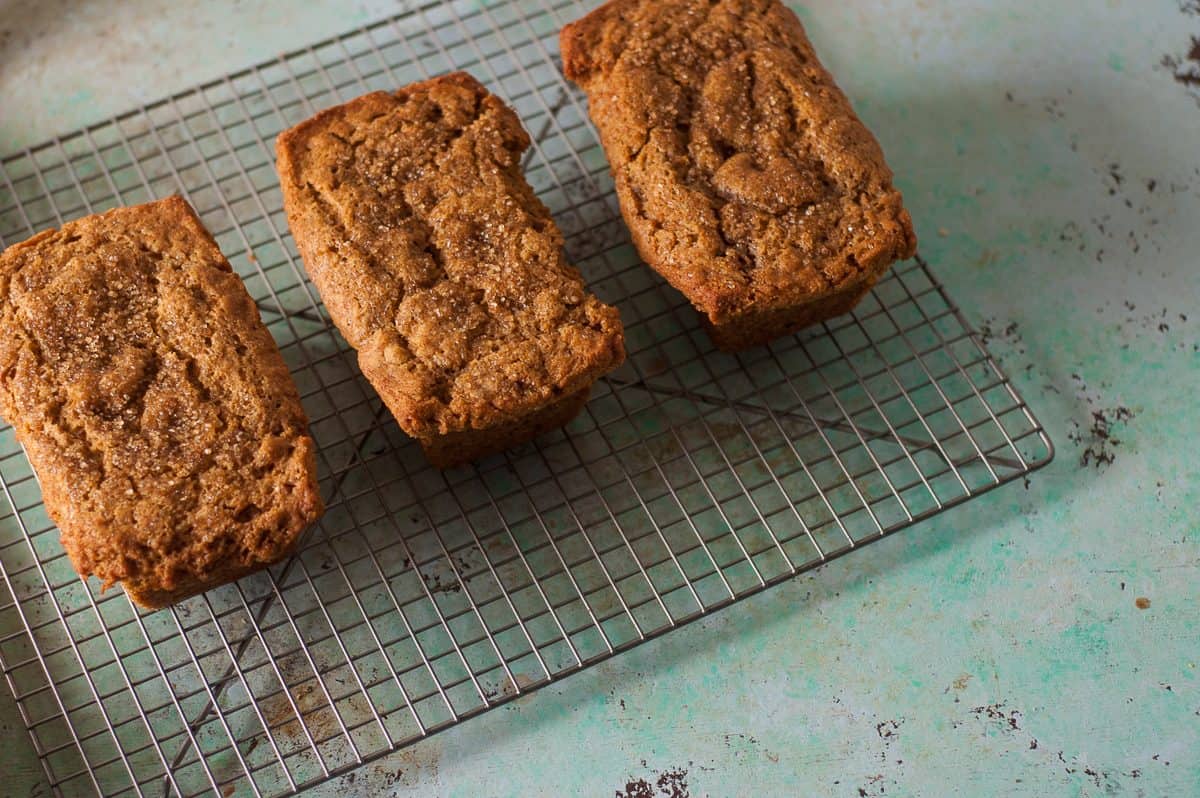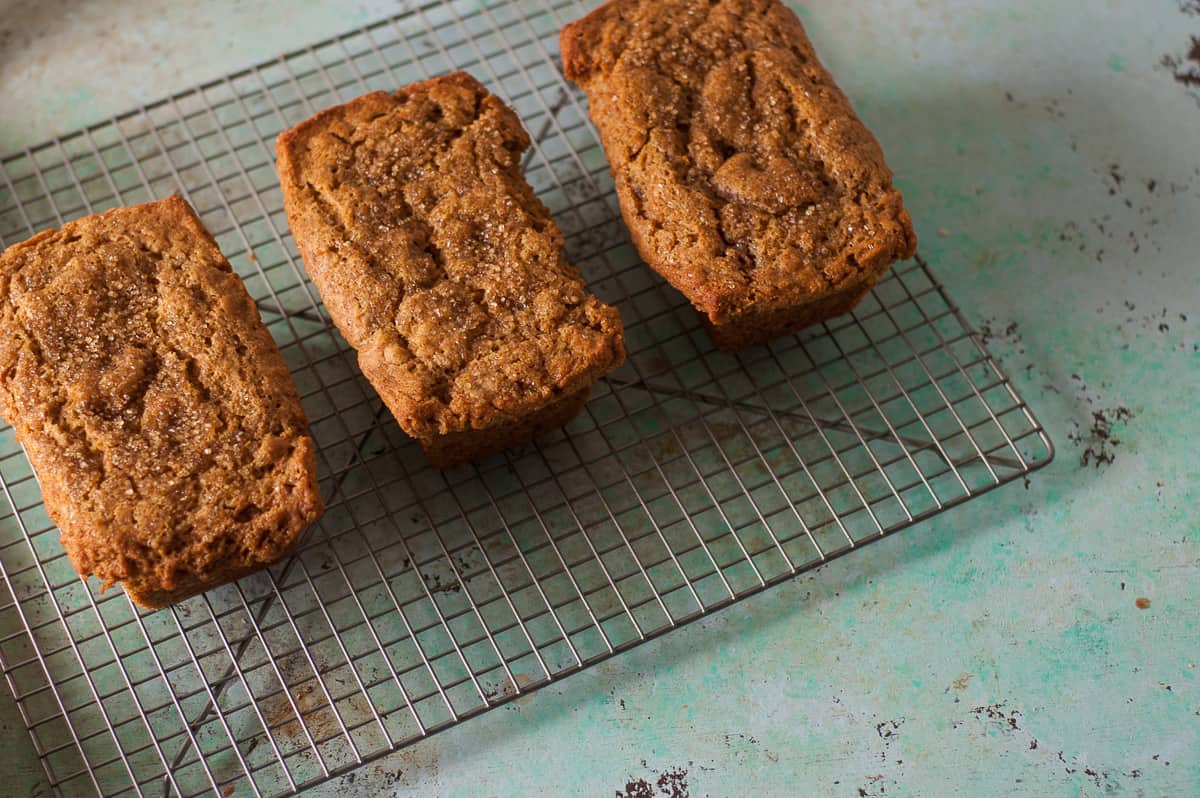 They're rustic and craggy-topped and comforting and perfect for fall.
Go forth and make your kitchen smell amazing!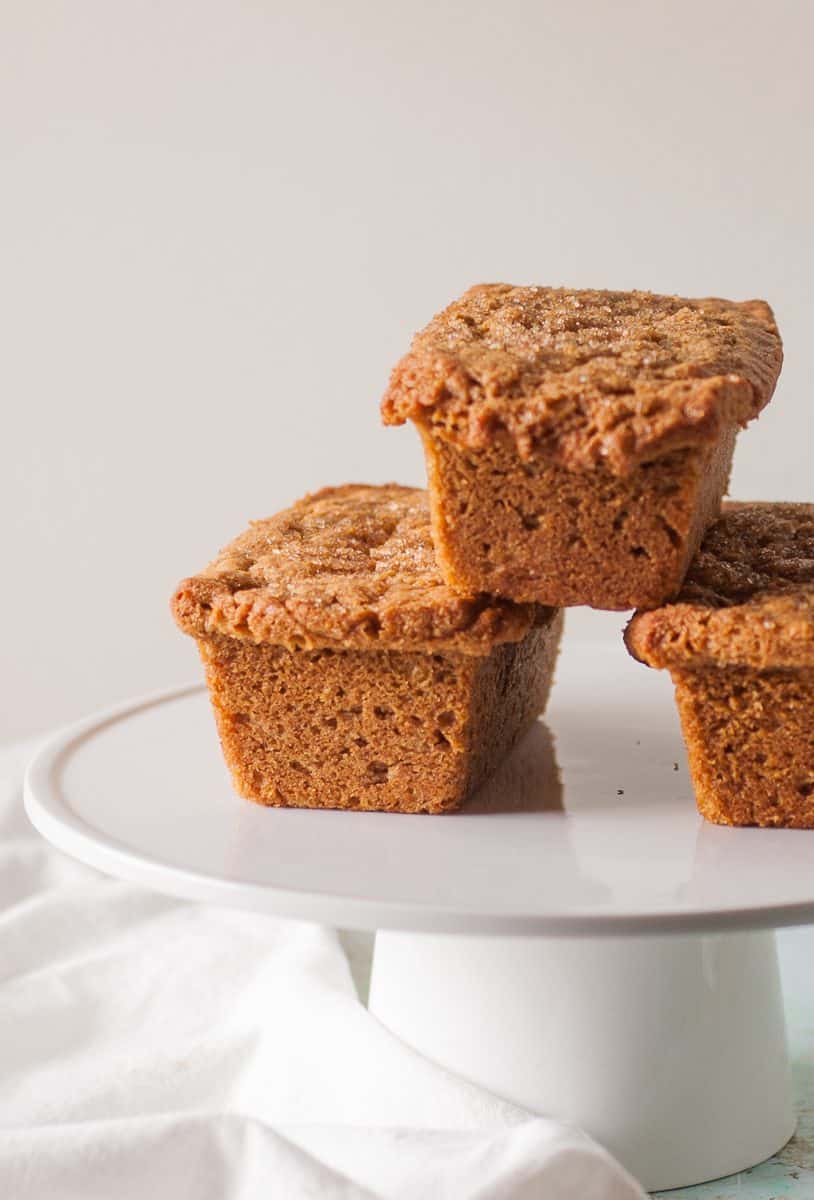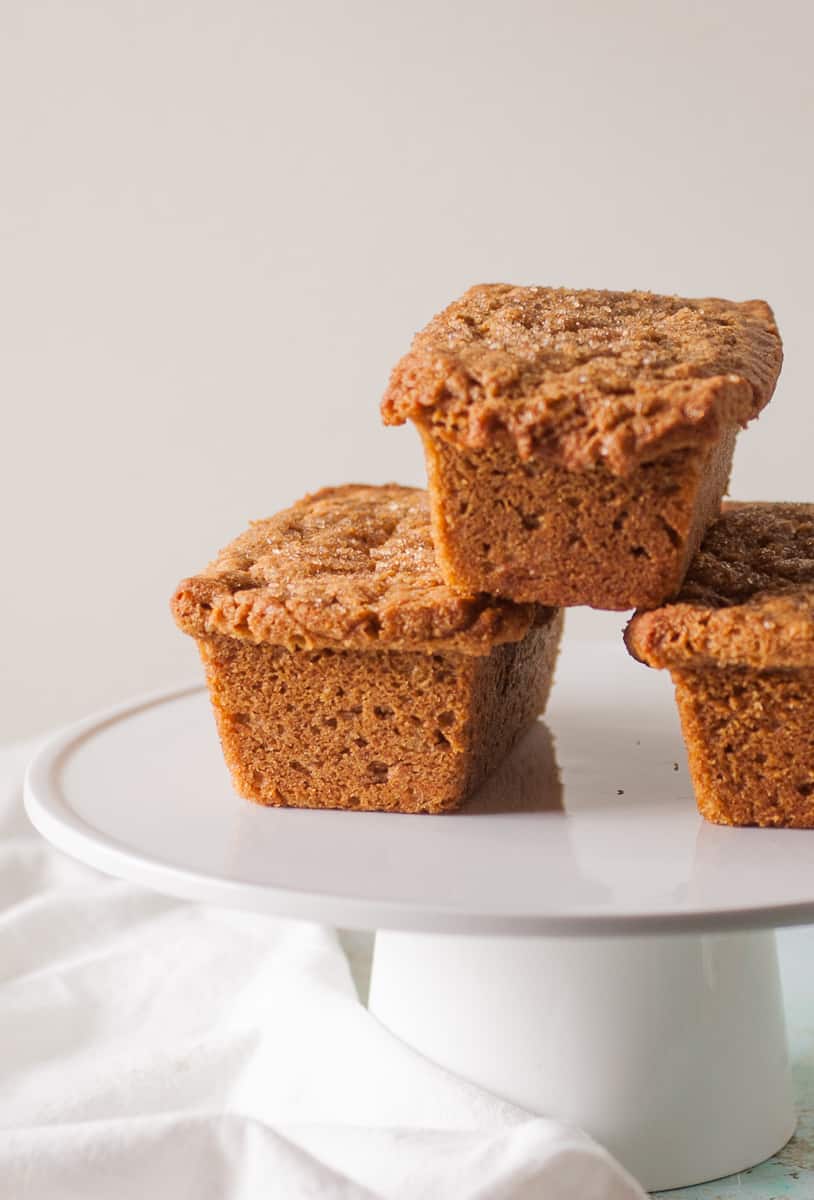 Yield: 1 9x5-inch loaf or 3 mini loaves
Pumpkin Cake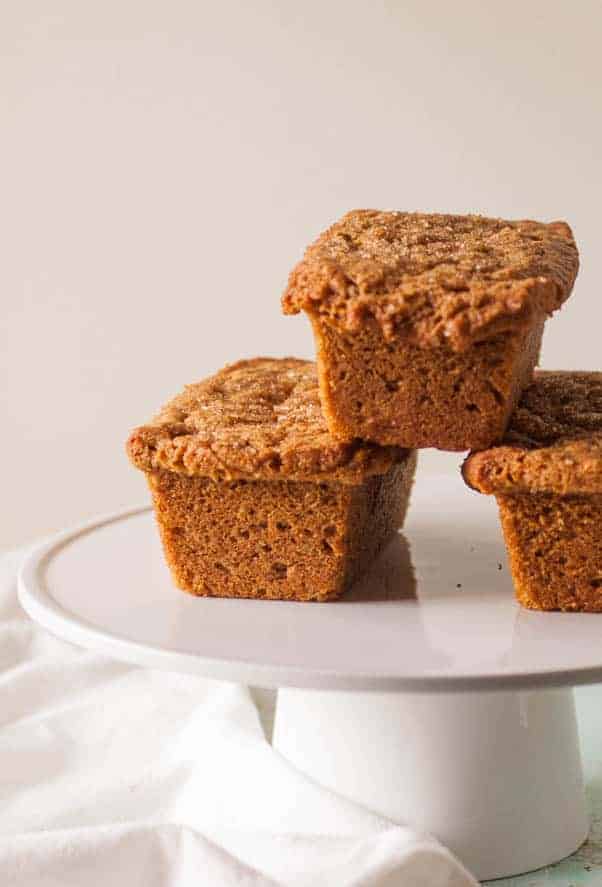 This pumpkin tea cake is generous with the spices and full of those warm baking spice flavors. I ask that you please freshly grate the nutmeg for this (get whole nutmeg and use a microplane). It makes a difference. I usually eyeball the nutmeg because grating it into any kind of measuring container is a pain and it doesn't weigh enough for most scales to accurately register. Usually, I try to use about 2/3 of a whole nutmeg. I made this batch in mini loaf pans that I got from King Arthur Flour. I usually make it in a standard loaf pan, and the instructions I'm giving will be for that. (If you use small loaf pans, they take about 45 minutes to bake.)
Cook Time
1 hour
15 minutes
Total Time
1 hour
20 minutes
Ingredients
1 2/3 cups (225 grams) all-purpose flour
1 1/2 teaspoons baking powder
1/2 teaspoon baking soda
1 tablespoon ground cinnamon
2 teaspoons freshly grated nutmeg, about 2/3 of a whole nutmeg
1/4 teaspoon ground cloves
3/4 teaspoon kosher salt
1 cup (225 grams) pumpkin puree
1/2 cup (125 ml) neutral oil, (such as vegetable, canola, safflower)
1/2 cup (113 grams) unsalted butter, melted
1 cup (200 grams) granulated sugar
1/2 cup (100 grams) brown sugar, (I like dark here, but light is good too)
3 large eggs
tablespoons about 3 turbinado sugar, for topping
Instructions
Preheat the oven to 325ºF. Spray a standard 9×5-inch loaf pan with nonstick spray.
In a large mixing bowl, whisk together the flour, baking powder, baking soda, cinnamon, nutmeg, cloves, and salt. (It will smell heavenly.)
In a separate mixing bowl, stir together the pumpkin puree, oil, butter, and the granulated and brown sugars until well mixed. Add the eggs, one at a time, mixing well between each addition.
Add the wet ingredients to the dry and stir until no visible bits of flour mixture remain.
Transfer the batter to the prepared loaf pan and sprinkle the top with an even layer of turbinado sugar. Bake until a toothpick inserted into the cake comes out clean, about 1 hour and 15 minutes.
Let cool on a rack for at least 20 minutes. Invert it onto the cooling rack, turn it right-side up, and let cool completely before serving.
Will keep in an airtight container at room temperature for about a week.
Recommended Products
As an Amazon Associate and member of other affiliate programs, I earn from qualifying purchases.
Nutrition Information:
Yield:
16
Serving Size:
1
Amount Per Serving:
Calories:

327
Total Fat:

21g
Saturated Fat:

5g
Trans Fat:

0g
Unsaturated Fat:

15g
Cholesterol:

50mg
Sodium:

204mg
Carbohydrates:

33g
Fiber:

1g
Sugar:

21g
Protein:

3g