I may earn from purchases through links in this post.
It turned cold with a vengeance here last week. My heart went out to the hardy trick-or-treaters who braved the wind, rain, snow flurries, and hail last Friday night.
It's been getting dark earlier. In the subsequent days the temperatures have rebounded a bit but it's been cloudy and overcast.
Our new place has windows on all sides, which makes me more attuned to the shifts in the weather.
The tree outside the window over the kitchen sink has lost its leaves. The still green leaves on the trees in front have been shivering and shaking on the regular.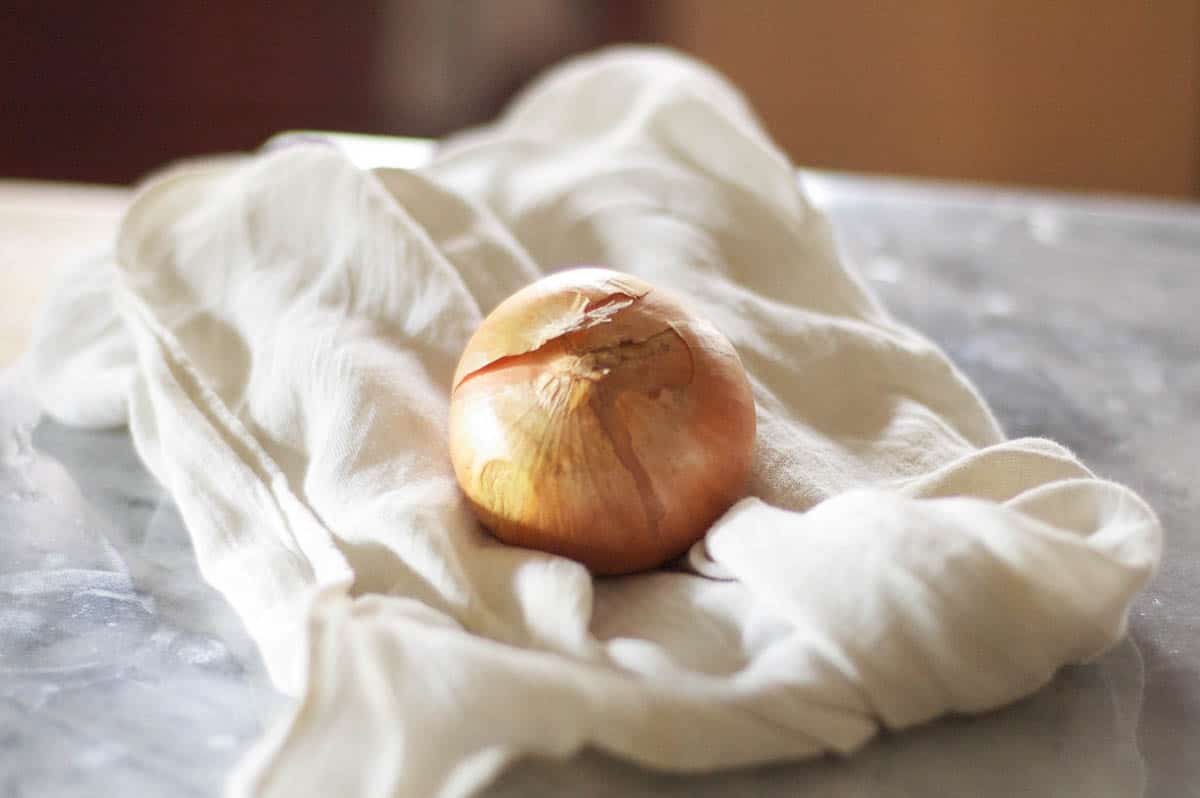 I have never considered myself a particular fan of Emily Dickinson. I discounted her probably before I had read her because I knew from my older sister that all of her poems with their identical meter could be sung to the tune of "Yellow Rose of Texas" (audio).
When I was younger, I wore my dislike for her like a badge of honor of my own idiosyncratic tastes, as though I alone could see through the canonical poet.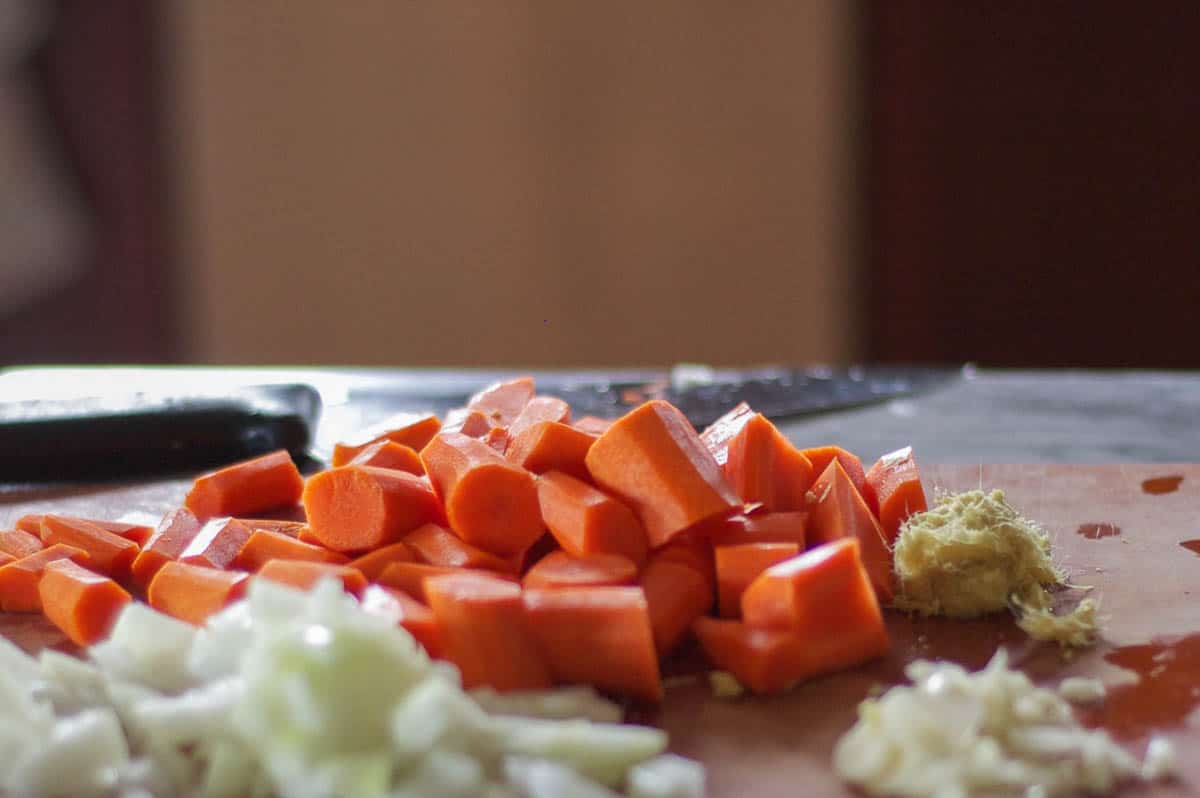 And yet there are so many of her poems that have wormed their way, stubbornly, into my brain. Phrases that bubble up unbidden. Lately, it's been her poem with the first line "There's a certain Slant of light," that I just can't shake.
In the poem, the speaker describes the quality of winter afternoon light and the way it makes her feel. There are two lines in the last stanza that keep coming back to me: "When it comes, the Landscape listens –/Shadows – hold their breath –."
It's easy to ignore the landscape in the city, to pretend it doesn't exist, that it's just buildings and pavement all the way down. But if you look you can see it, and maybe even feel it listening to the Slant of light.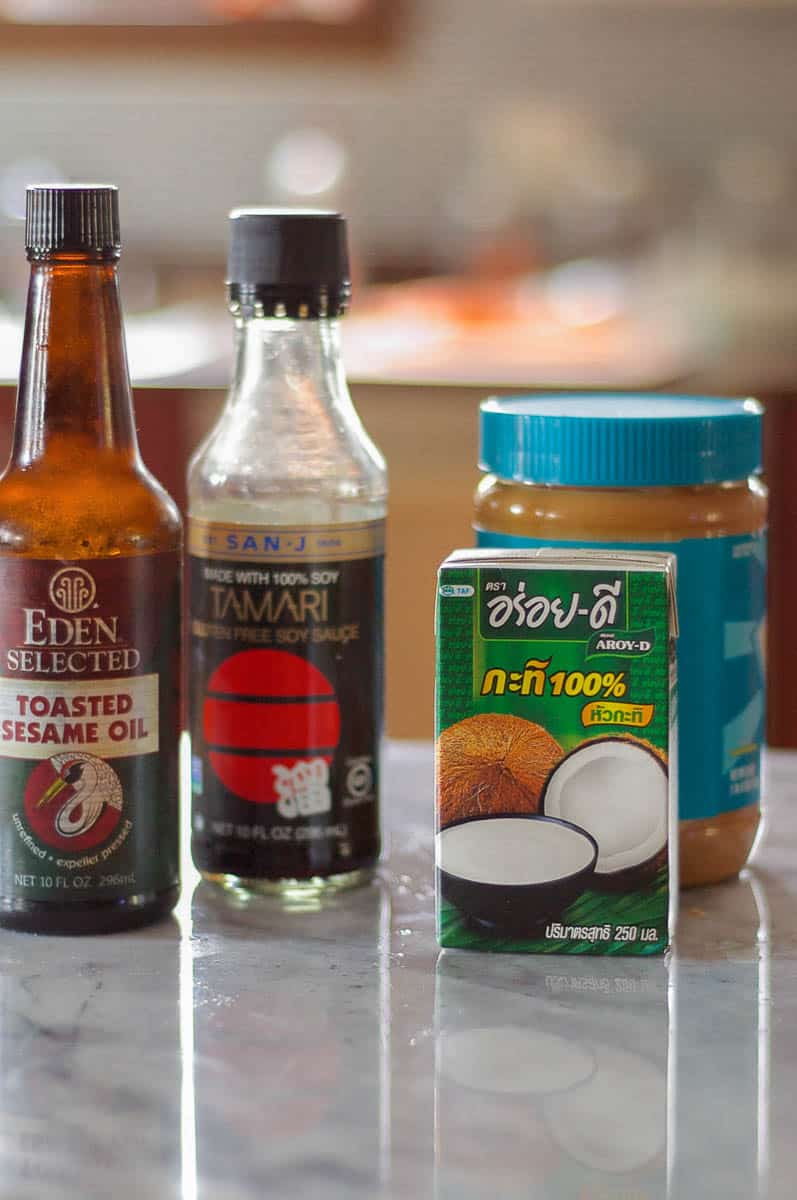 Which, I suppose, brings me to the need we have on these cold oppressive days, for soup that warms our very souls.
This carrot ginger soup does that for me. Carrots and onions and garlic and ginger and a pinch of red pepper flakes go into a pot and get sautéed until they get some caramelization.
Then stock and soy sauce and peanut butter and lime juice and brown sugar and sesame oil and a bit of sriracha (and, if you're feeling the extra umami, fish sauce) go into the pot and it simmers away until the carrots are tender.
Then everything gets pureed with a stick blender, and a modest amount of coconut milk goes in.
It has a savory depth and a subtle spicy edge. But it's the garnishes that really complete the soup. It gets topped with a drizzle of toasted sesame oil and slices of scallions and pieces of pickled ginger which really bring the ginger flavor to the fore and give the soup some much needed textural contrast.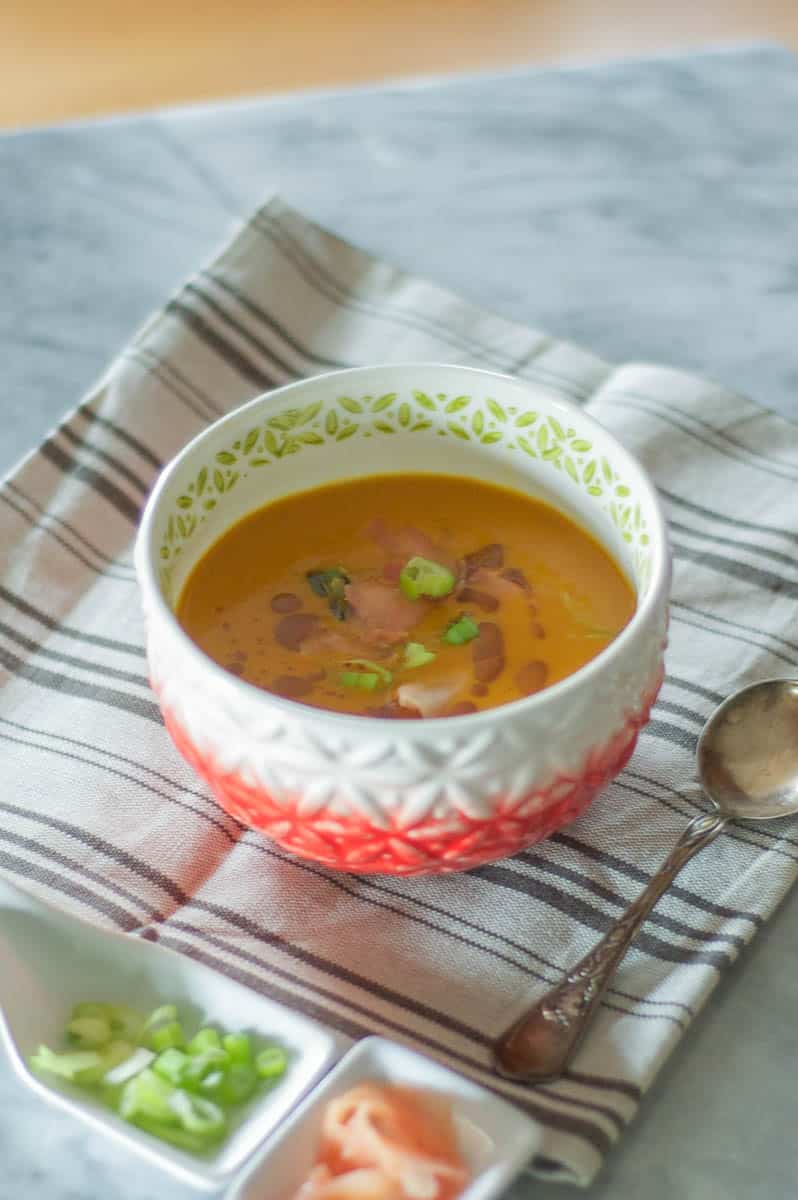 It's a warming soup for fall and winter, one that I'll turn to again and again in the cold days ahead of us.
Looking for more soups? Try this hot and sour soup, this heirloom squash and tart apple soup, or this lentil-sweet red pepper soup.
Yield: 6 servings
Carrot Ginger Soup with Scallions and Pickled Ginger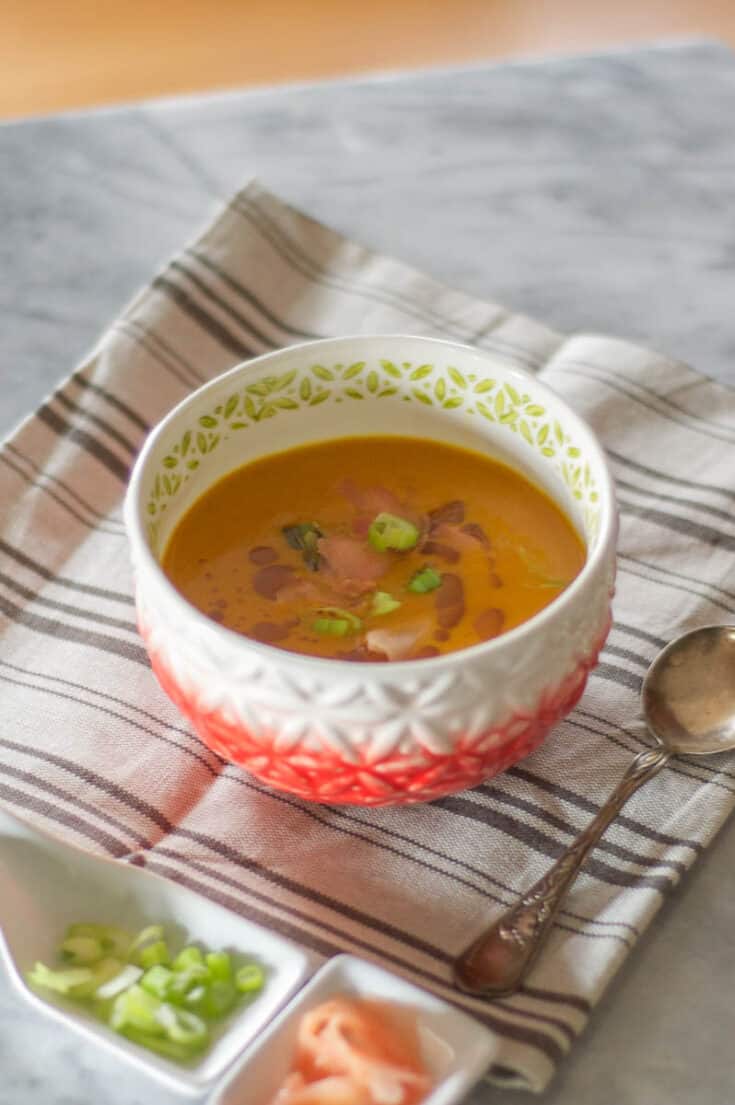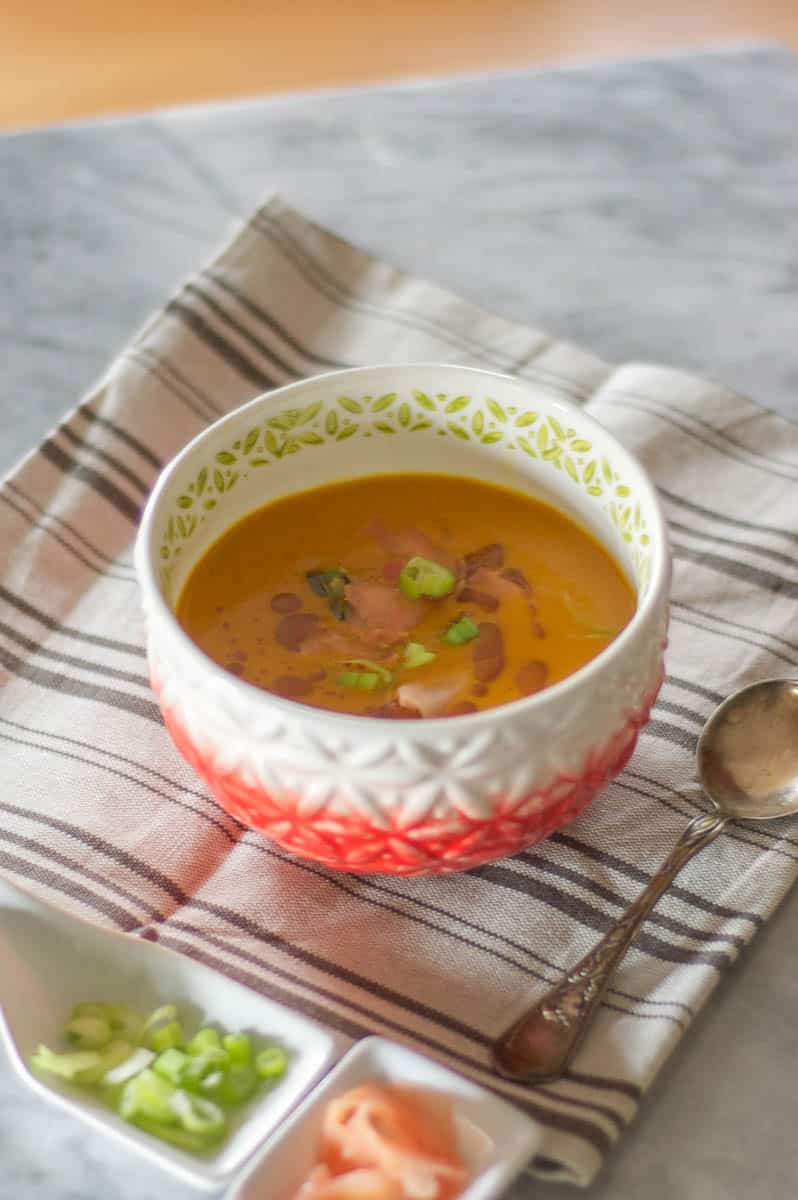 This soup has some real savory flavor from the onions, garlic, soy sauce, peanut butter, and fish sauce. It has some heat from the ginger (both the fresh and the pickled) and the red pepper flakes and sriracha, but while the heat is perceptible, I wouldn't call the soup spicy (heat fiends can add more sriracha if they want). It is a smooth soup, but it is not a heavy creamy soup. It actually feels quite light. The garnishes are essential to this soup, the bits of pickled ginger, the sesame oil, and the scallions. This soup is gluten free if made with tamari rather than soy sauce and vegetarian/vegan if made with vegetable stock and without the optional fish sauce. It is dairy free as written. If you're going with vegetable stock, I like the flavor profile of Imagine Organic's No-Chicken Broth for something like this. Because I generally avoid cans and hate having odd amounts of coconut milk leftover, I love using little boxes of coconut milk–they're the perfect size for this recipe.
Ingredients
For the soup:
1 medium yellow onion, diced
1 pound (450 grams, about 6 large) carrots, roughly chopped
2 cloves garlic, minced
2- inch piece of ginger, peeled and grated
1/2 teaspoon crushed red pepper flakes
4 cups chicken or vegetable stock
3 tablespoons soy sauce or tamari
2 tablespoons lime juice
1 tablespoon smooth peanut butter
1 tablespoon fish sauce, optional
2 tablespoons brown sugar or palm sugar
1 teaspoon toasted sesame oil, plus more for garnish
1/2 teaspoon sriracha
1 cup coconut milk
For garnish:
3 scallions, thinly sliced
pickled ginger, torn into bite sized pieces
toasted sesame oil
Instructions
In a large saucepan, heat about a tablespoon of neutral oil over medium high heat until shimmering, add the onion and turn the heat to medium and cook until the onion gets browned in spots, about 3-5 minutes. Add the carrots, garlic, ginger, and crushed red pepper flakes and cook for another 5 minutes or so, stirring frequently. Add the stock, soy sauce or tamari, lime juice, peanut butter, brown or palm sugar, sesame oil, sriracha, and fish sauce (if using) and simmer until the carrots are tender and easily pierced with a knife, 15-20 minutes.
Remove from heat, and puree the soup with a stick blender until smooth (you could also transfer to a regular blender and then return to the pan). Stir in the coconut milk and return to a simmer. Remove from heat.
To serve: ladle into bowls, drizzle each with sesame oil, sprinkle with scallions, and pickled ginger. You may want to have extra scallions and pickled ginger on the side for each person to add to taste.
Recommended Products
As an Amazon Associate and member of other affiliate programs, I earn from qualifying purchases.
Nutrition Information:
Yield:
6
Serving Size:
1
Amount Per Serving:
Calories:

374
Total Fat:

24g
Saturated Fat:

11g
Trans Fat:

0g
Unsaturated Fat:

11g
Cholesterol:

85mg
Sodium:

1092mg
Carbohydrates:

15g
Fiber:

2g
Sugar:

8g
Protein:

25g