I may earn from purchases through links in this post.
It is officially spring. But official spring never feels like the spring that exists in my imagination. The mud-luscious and puddle-wonderful spring with green shoots and sun peaking through rain and warm breezes and new beginnings.
Official spring in Chicago is something altogether different. It is one day in a series of false starts. It is a mud bath with occasional treacherous icy patches hidden below. It is overwhelmingly, relentlessly brown with ground denuded of snow but not yet covered with grass or much in the way of new growth.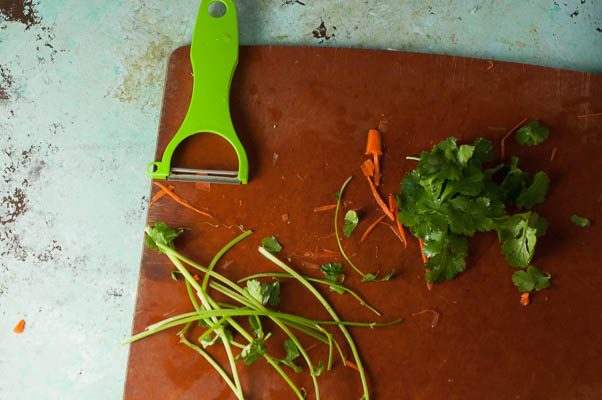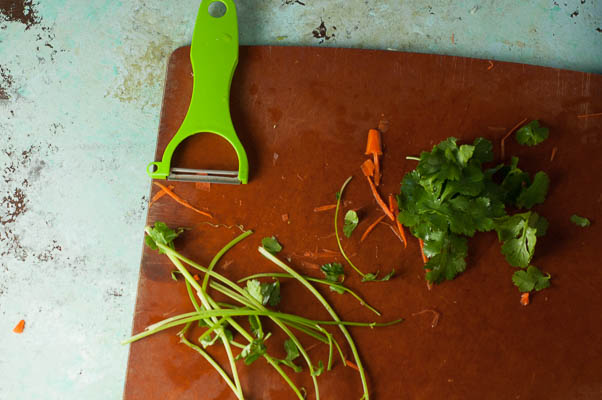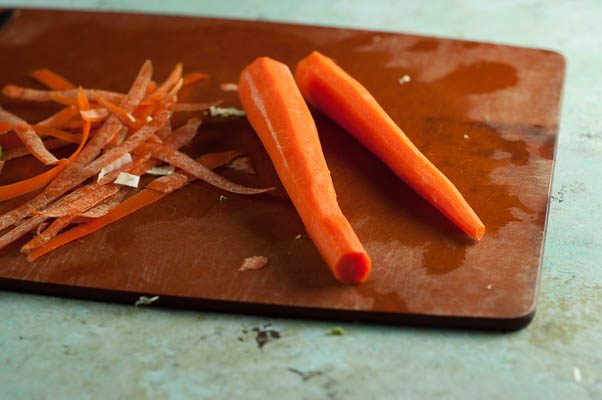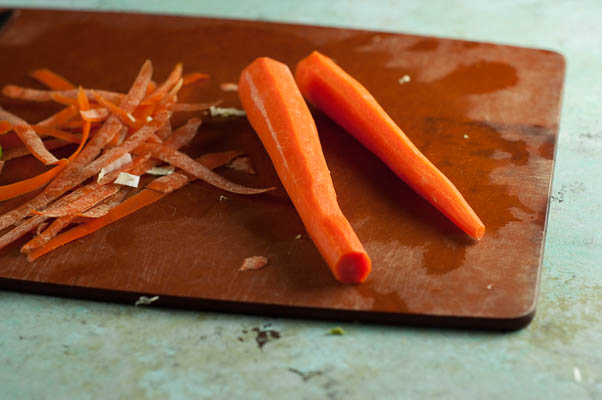 Despite the crocuses and snowdrops and the hints at daffodils, late March is a time when even early vegetables and fruits like ramps and rhubarb and asparagus feel impossibly far away.
It is a reminder that thawing from the deep winter freeze is a slow process, that new beginnings take time.
Which is where this Vietnamese flank steak with a bright and sunny citrus-mint cabbage salad comes in.
It comes from Melissa Clark's excellent book of totally-doable-but-still-special weeknight meals, Cook This Now: 120 Easy and Delectable Dishes You Can't Wait to Make, a book I just love for gems like this one.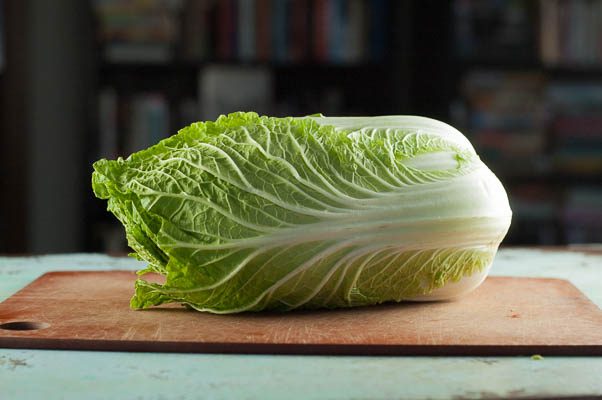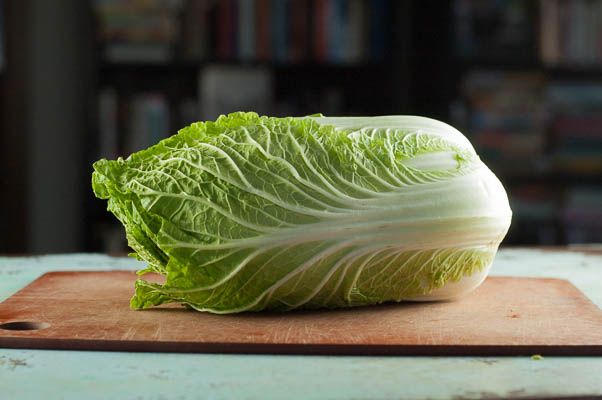 Its seasonal recipes are organized by month. This particular recipe comes from the April section, which is close enough for me.
Here, Clark offers me a solution on how to look at cabbage with new eyes when I am so tired of slow braises and stewy things by turning to Vietnam for inspiration and bringing bright lime and ginger and garlic and mint flavors to the fore.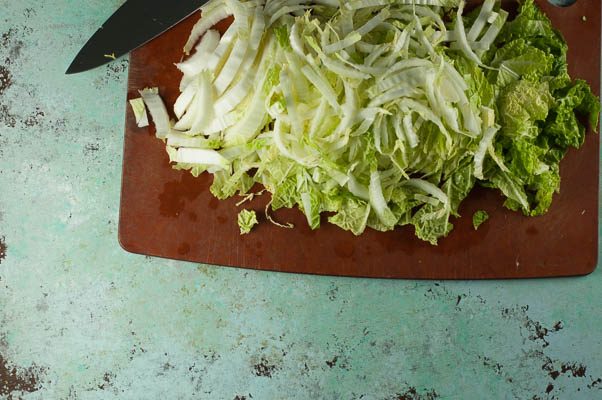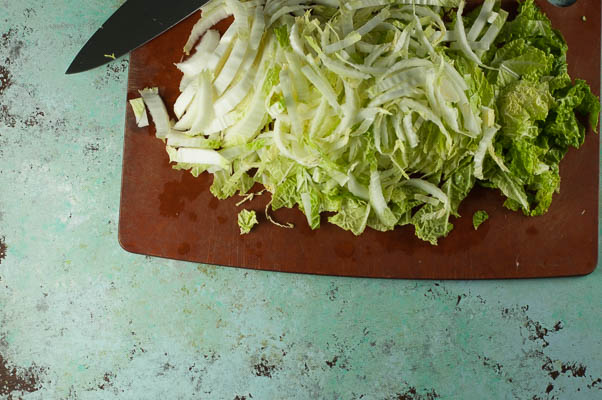 Flank steak soaks in a ginger-garlic-lime-soy-marinade and then gets broiled and thinly sliced.
Meanwhile, napa cabbage gets shredded along with a couple of carrots and tossed in a bright lime vinaigrette and sprinkled liberally with refreshing bits of fresh mint.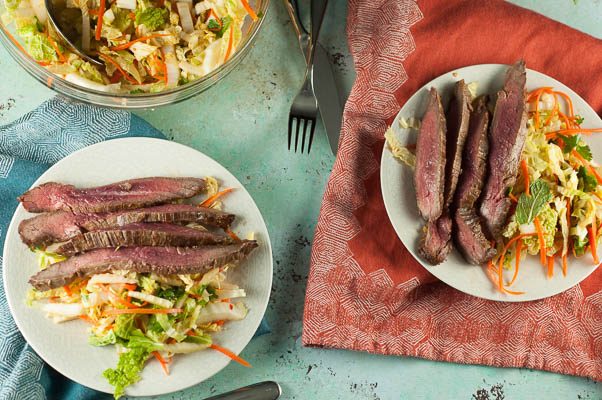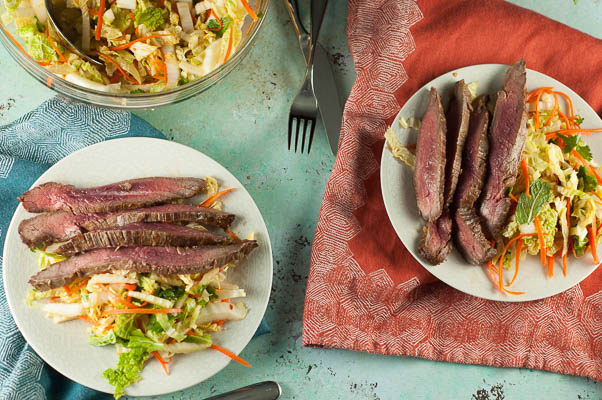 You could eat the cabbage salad on its own, but it feels much more substantial accompanied by the marinated flank steak (vegetarians could top the salad with cubes of marinated extra-firm tofu).
It's a great way to give a wintery vegetable a springtime makeover while we wait for the new crops to come into season. (And when summer rolls around we can start making this grilled cabbage salad with a similar flavor profile.)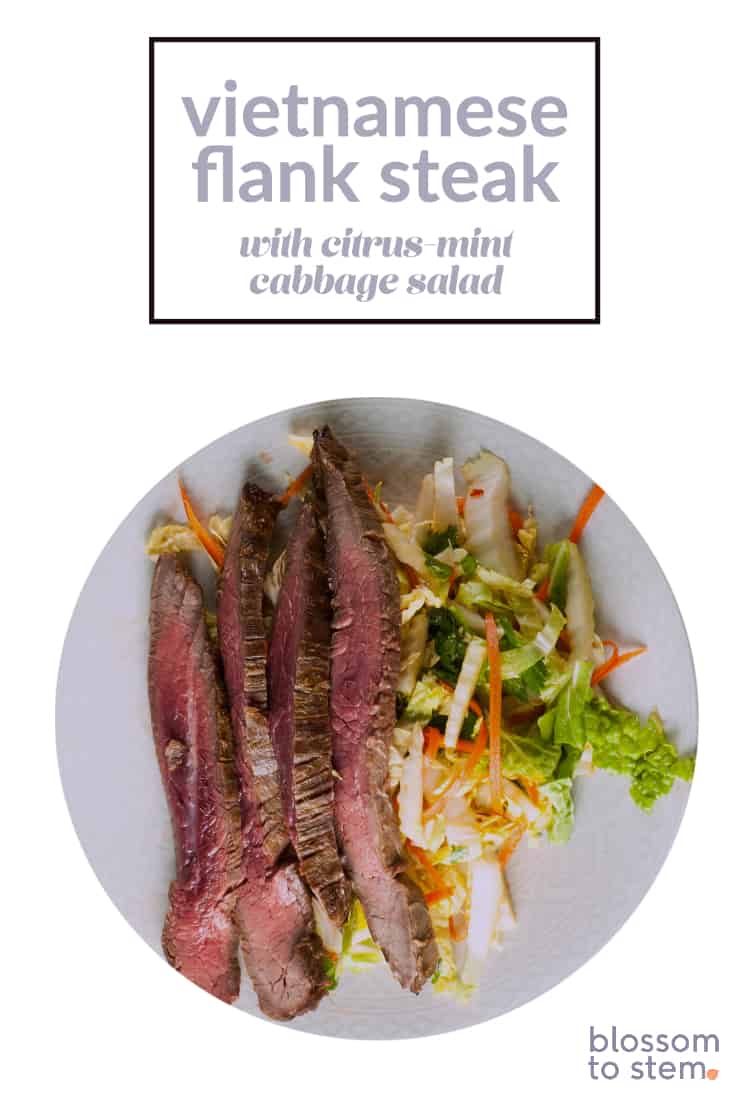 Yield: 4 servings
Vietnamese Flank Steak with Citrus Mint Cabbage Salad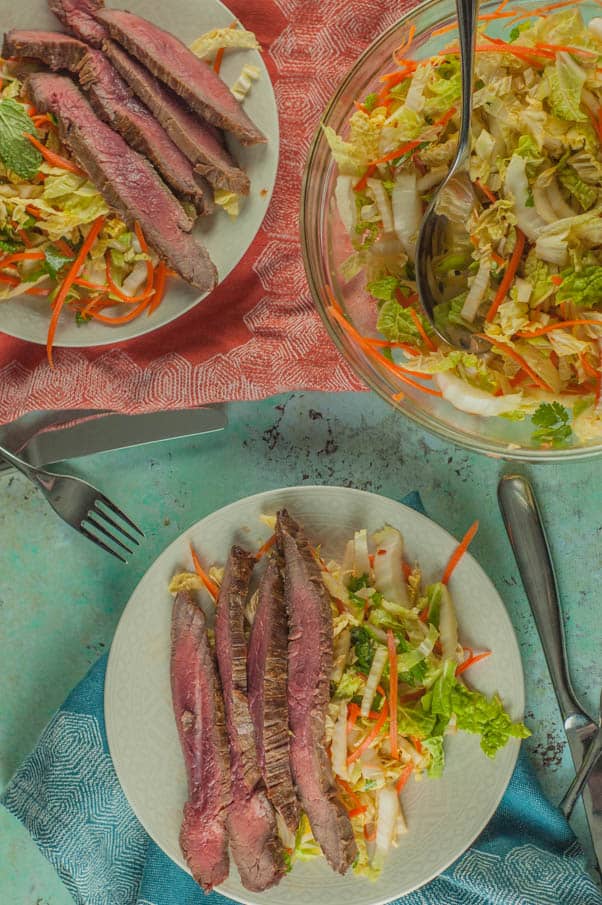 This salad is bursting with bright and refreshing flavors. It feels like warm weather food, even if cabbage is still among the few greens in season. It comes together quickly, and you could eat the salad on its own, or add cubes of marinated extra firm tofu if you'd like to do a vegetarian version. I prefer to use grass-fed beef when I can, and cuts like flank steak are more affordable than ribeye or strip steak, which makes it feel reasonable for a weeknight meal. You could use skirt steak if you can't find flank steak. To make this gluten free, be sure to use a wheat-free tamari instead of soy sauce.
Ingredients
For the steak:
1 1/4 pound flank steak
1/4 cup soy sauce or tamari
2-inch piece ginger, peeled and grated
2 cloves garlic, minced
juice and zest of 1 lime
2 teaspoons toasted sesame oil
kosher salt for seasoning
For the salad:
10 cups shredded napa cabbage or green cabbage, about half a head
2 medium carrots, peeled and grated
a small handful of mint, stems removed
a small handful of cilantro, stems removed (optional for cilantro haters)
2 tablespoons soy sauce or tamari
1 tablespoon rice vinegar
2 tablespoons extra virgin olive oil
1 teaspoon fish sauce, optional
freshly squeezed juice of 1 lime
1/2 teaspoon sambal oelek or sriracha
1 clove garlic, minced
Instructions
Make the marinade. Whisk together the soy sauce (or tamari), ginger, garlic, lime juice and zest, and sesame oil. Pat the steak dry and place it in a shallow dish, pour the marinade over the steak and flip it over to coat both sides. Cover the dish with plastic wrap and refrigerate for at least one hour or up to twelve.
Make the salad. In a large mixing bowl, toss the cabbage, carrots, mint, and cilantro until well mixed.
Make the vinaigrette. In a small bowl, whisk together the soy sauce (or tamari) rice vinegar, olive oil, fish sauce, lime juice, garlic, and sambal oelek (or sriracha).
Preheat the broiler. Scrape the solid bits of marinade off the steak (to prevent burning), season with kosher salt, and transfer to a sheet pan. Broil for 3-4 minutes per side for medium-rare or 4-5 minutes per side for medium. Transfer the steak to a cutting board and let rest for 5 minutes. Slice thinly against the grain.
Pour the vinaigrette over the salad and toss to coat. Serve heaping portions of salad with slices of steak.
Recommended Products
As an Amazon Associate and member of other affiliate programs, I earn from qualifying purchases.
Nutrition Information:
Yield:
4
Serving Size:
1
Amount Per Serving:
Calories:

465
Total Fat:

21g
Saturated Fat:

6g
Trans Fat:

0g
Unsaturated Fat:

13g
Cholesterol:

112mg
Sodium:

2384mg
Carbohydrates:

23g
Fiber:

2g
Sugar:

10g
Protein:

46g