I may earn from purchases through links in this post.
These pickled poblano peppers are the sort of thing I like to have in the refrigerator all the time.
They bring a welcome bit of acidity to so many dishes that could use a little oomph.
They're kind of a secret weapon.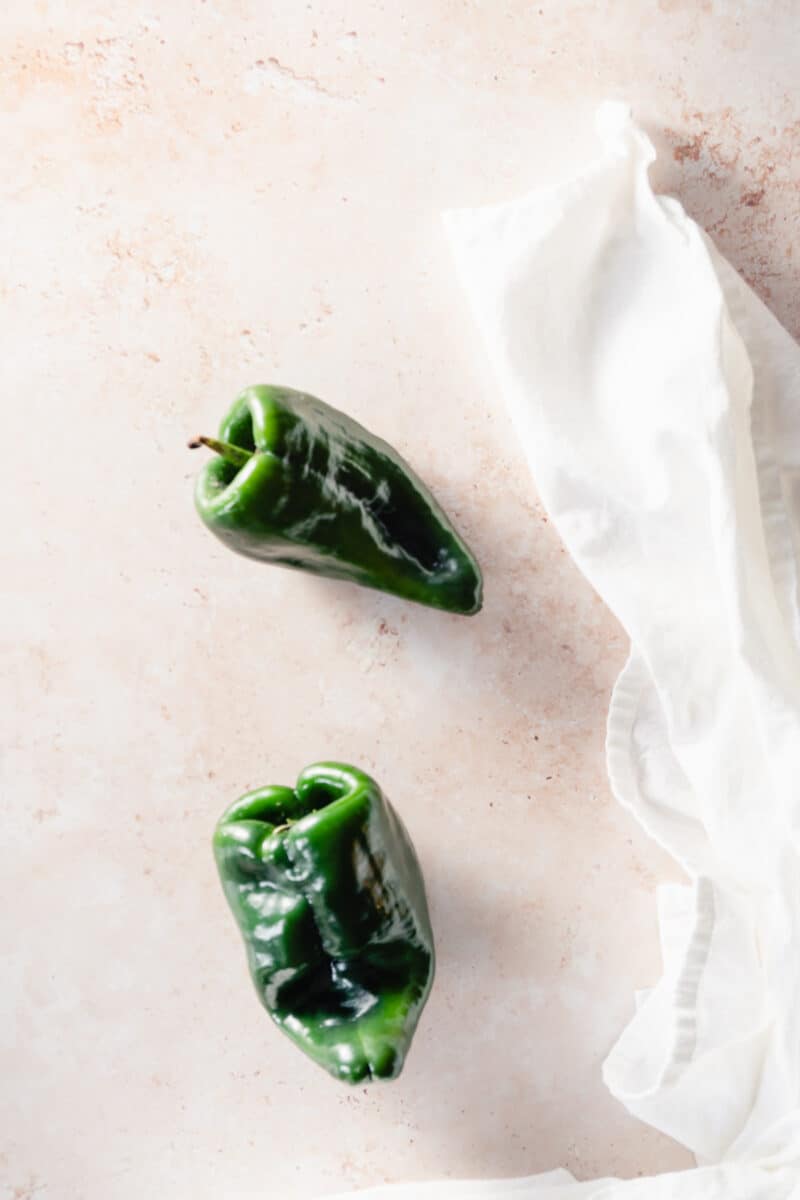 Poblano peppers are versatile. They're medium in the heat department—well below a jalapeño or serrano but significantly more than totally mild bell peppers or banana peppers.
You don't need to be a spice fiend to appreciate them, but they do have a moderate, palpable heat that can vary a bit from pepper to pepper.
They're great grilled or roasted (like in this poblano yogurt sauce), but they also take well to pickling.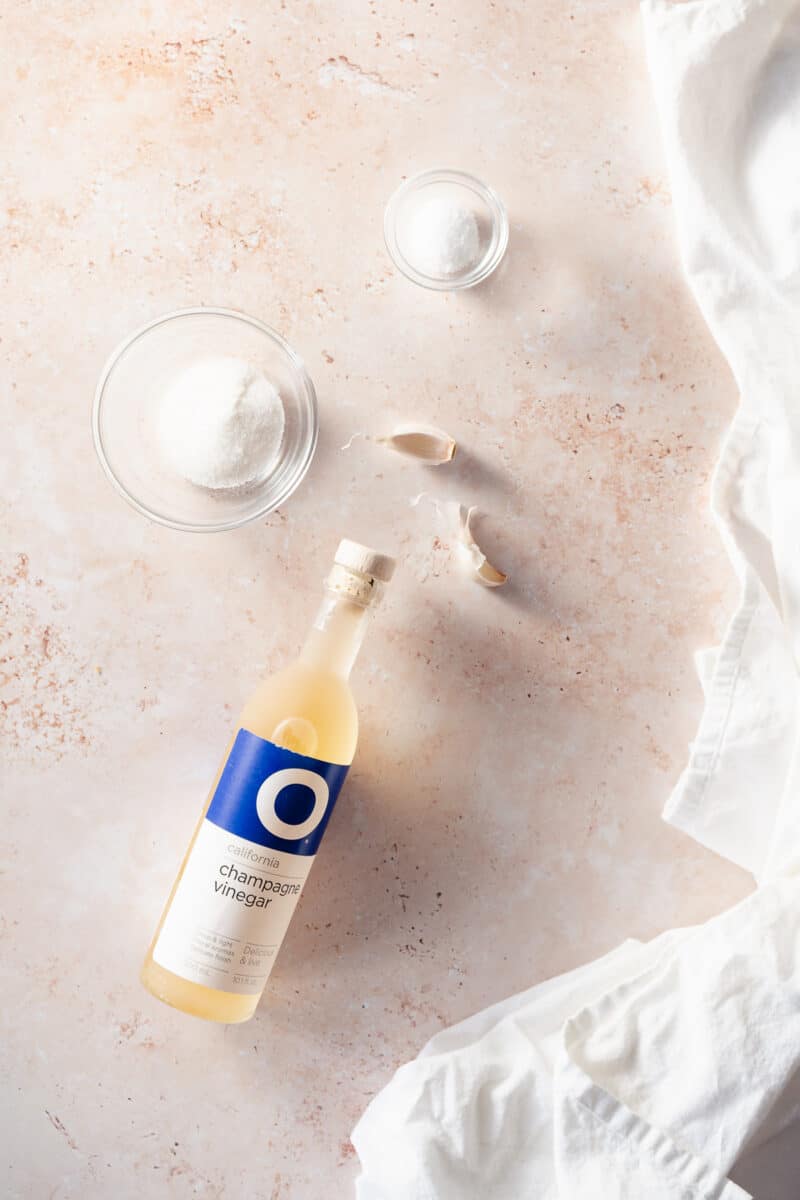 And these quick refrigerator pickled poblanos are so easy to make.
They start with a simple brine of champagne vinegar, a little sugar, salt, and a couple of cloves of garlic that get peeled and smashed.
Then that mixture goes on the stove to simmer.
It's a simple process, but be warned it can make the kitchen smell overwhelmingly vinegary. So just bring it to a simmer until the sugar dissolves and take it off the heat and the scent shouldn't get out of control.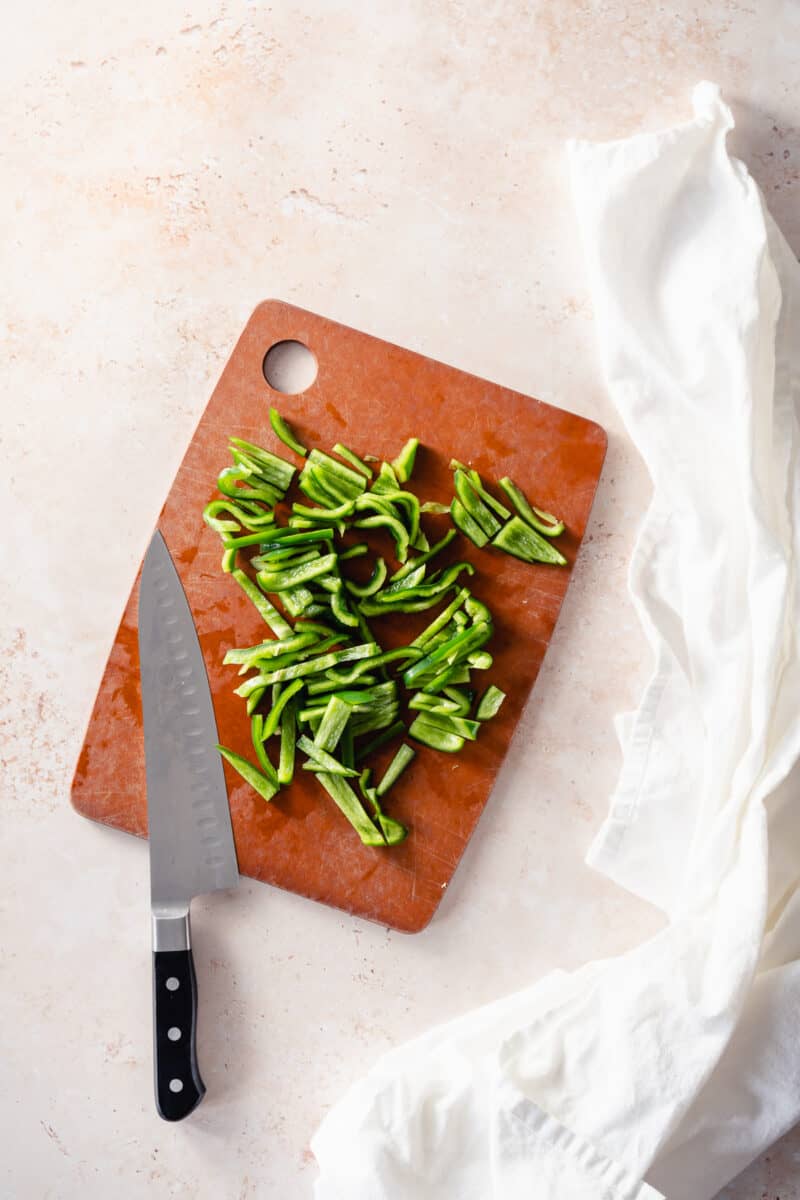 The poblanos get sliced into bit-sized pieces and tucked into a mason jar.
Then the hot brine gets poured over the peppers.
And that's it! Seriously easy.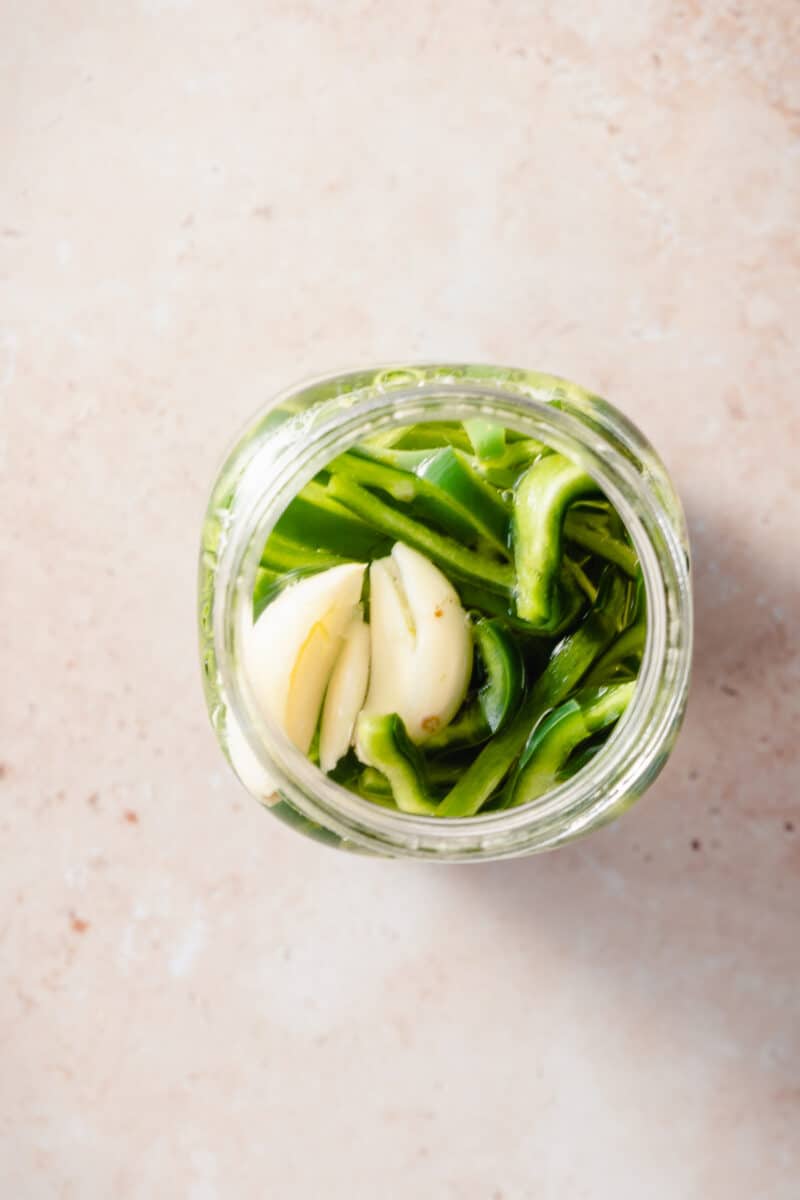 Then all there is to do is store them in the refrigerator until you want to use them. And they keep for ages.
They're great on nachos or tacos or fajitas or a simple bowl of black beans and rice and so many other dishes along those lines.
They're also a great pizza topping (like on this pizza dough). And they're great on sandwiches and in salads, and even on soups (like this corn and sweet potato bisque).
Basically, they're a great thing to use anywhere you'd like an extra splash of acidity.
Happy eating!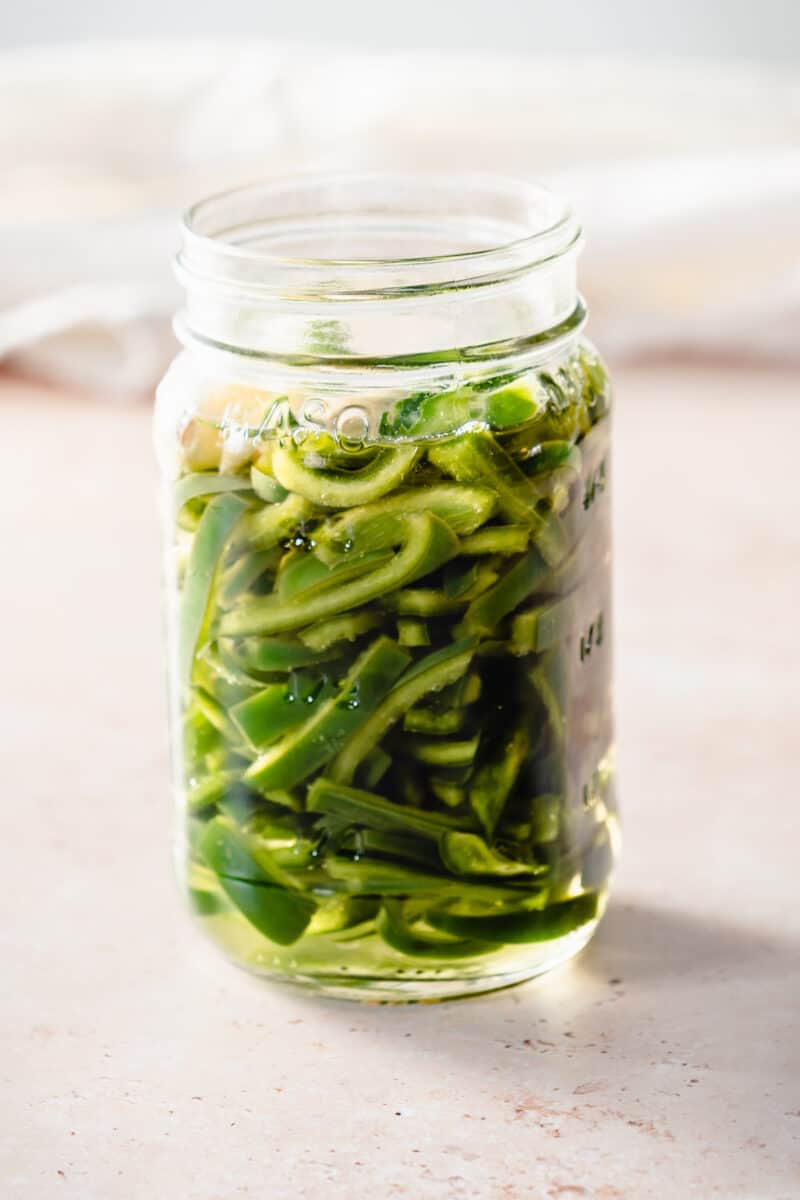 Yield: 1 pint
Quick Pickled Poblano Peppers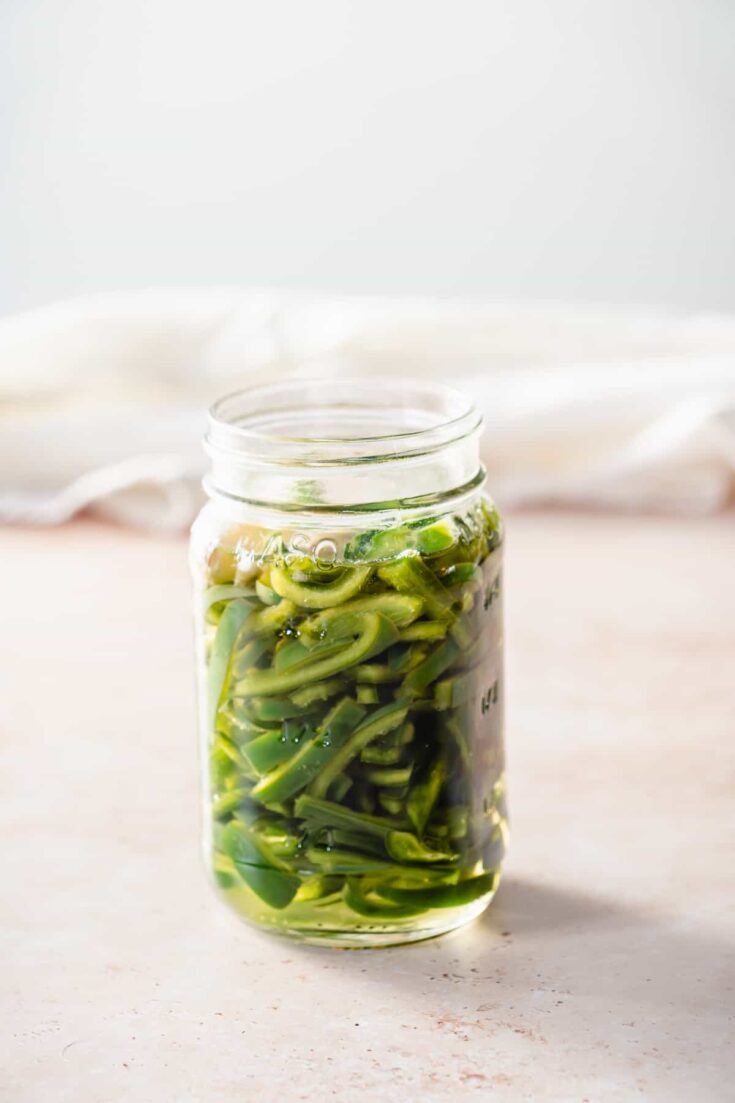 These pickled poblano peppers are great to have in your refrigerator for any dish that needs a little something more.
They can brighten up nachos or tacos or fajitas and just about any salad, sandwich, or pizza. They have a moderate heat that's welcome to most people, but maybe not if you're very sensitive to anything at all spicy.
And they're incredibly easy to make.
These are simply seasoned, with just a bit of sugar and salt and garlic. You could add other spices to the brine if you like, but I don't think it's necessary.
Don't be alarmed if the garlic cloves turn blue. It happens over time with their contact with vinegar.
Ingredients
1 3/4 cups poblano peppers (from about 2 medium peppers), deseeded and sliced about 1/4-inch thick and about 1-inch long
3/4 cup champagne vinegar
1/3 cup water
1 tablespoon sugar
1 teaspoon kosher salt
2 cloves garlic, peeled and smashed
Instructions
Add the sliced poblano peppers to a 1-pint mason jar or other sealable heat-safe container.
Add the champagne vinegar, water, sugar, salt, and garlic cloves to a small saucepan. Heat over medium heat until the sugar and salt have dissolved.
Using a funnel, pour the brine mixture over the peppers into the jar to cover.
Cover and refrigerate until ready to use.
Notes
Keeps in the refrigerator for at least a month.
Recommended Products
As an Amazon Associate and member of other affiliate programs, I earn from qualifying purchases.
Nutrition Information:
Yield:
16
Serving Size:
1
Amount Per Serving:
Calories:

8
Total Fat:

0g
Saturated Fat:

0g
Trans Fat:

0g
Unsaturated Fat:

0g
Cholesterol:

0mg
Sodium:

133mg
Carbohydrates:

2g
Fiber:

0g
Sugar:

1g
Protein:

0g