I may earn from purchases through links in this post.
When it comes to dessert, there are people who always go for rich chocolate, those who go for comforting apple, and then there are those who go for the bracing pucker of lemon.
This lemon ginger tart is for the lemon lovers among us.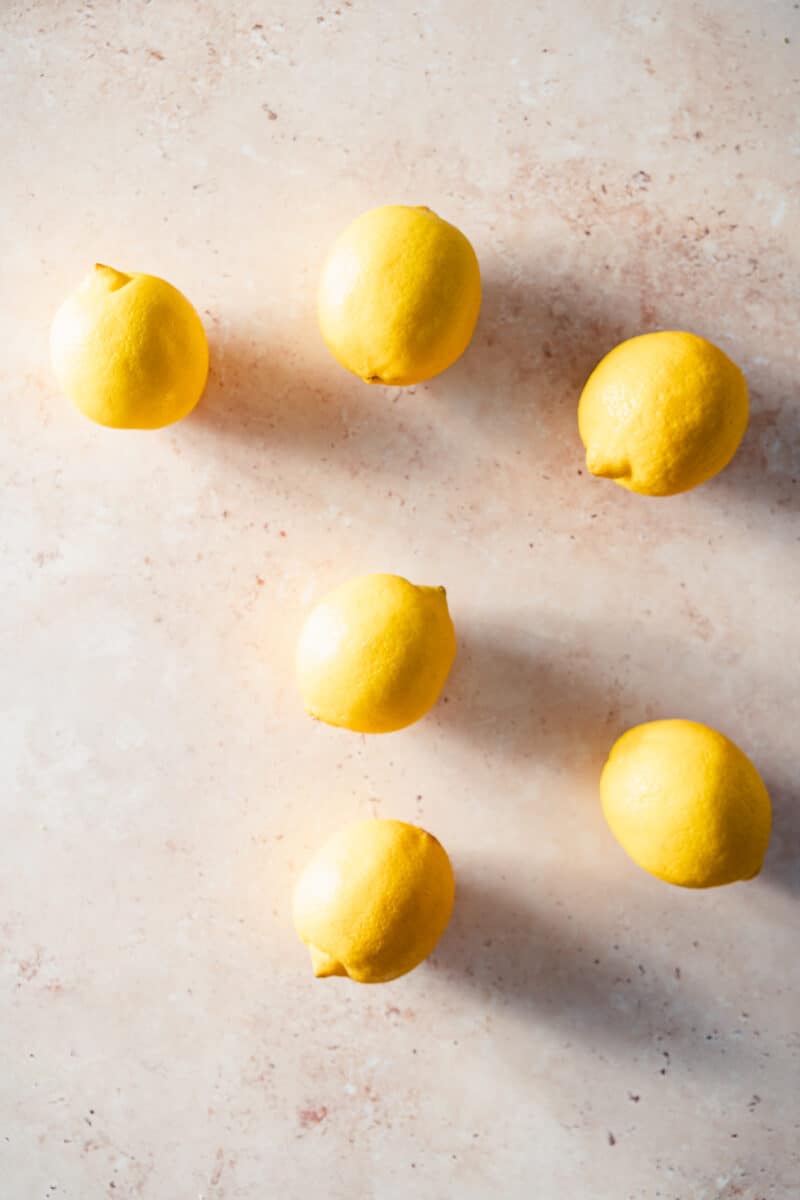 This tart has been an idea I'd kicked around ever since making this Meyer lemon ginger curd, which takes advantage of the additional sharpness and tingle of heat ginger brings to back up the puckery qualities in lemons.
I'd wanted to adjust the curd to fill a tart crust and maintain its citrus edge after baking. Something like this cranberry curd tart or this passion fruit tart, but with that lemon-ginger flavor profile.
Here I use the more commonly available Eureka lemons (what most Americans think of as regular lemons). And they work very well, though of course you could use Meyer lemons here if you have them around.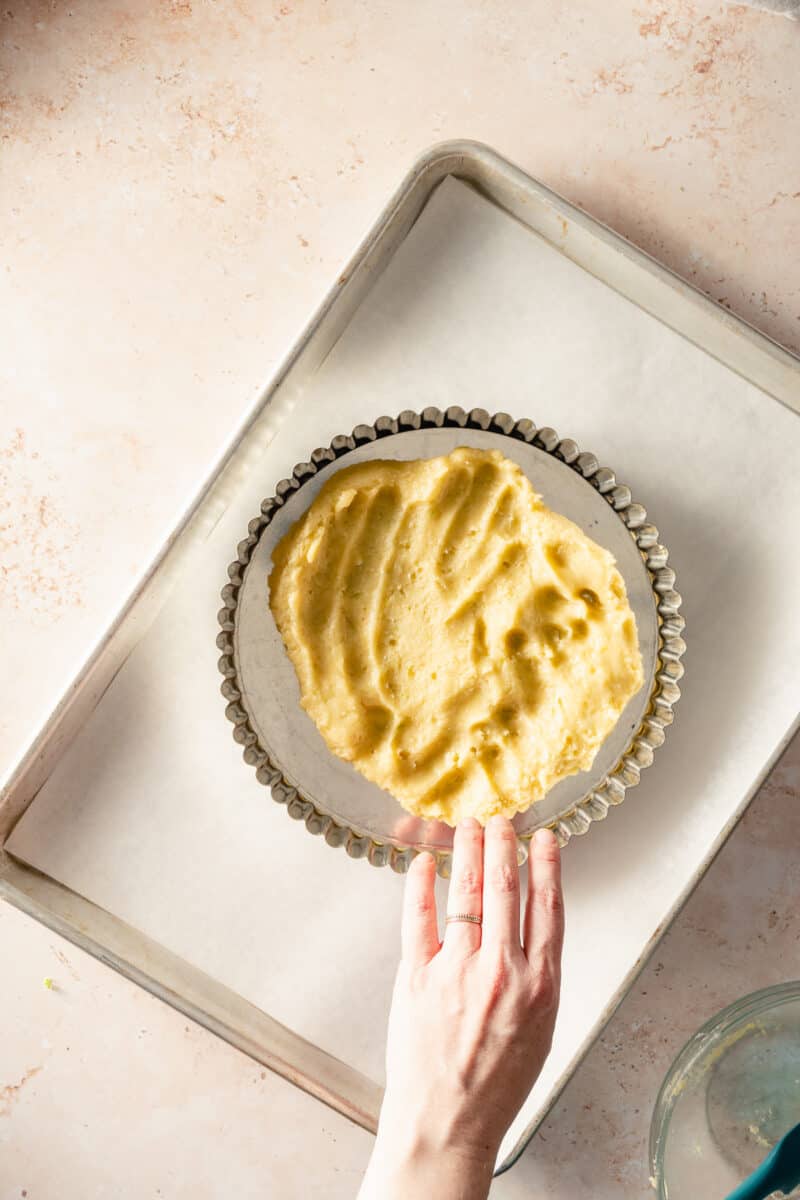 I use a version of my favorite easy shortbread tart crust here.
It's the easiest tart crust I know and it just involves stirring melted butter together with a bit of flour and powdered sugar and pressing it into the the tart pan. There's no food processor or stand mixer involved. There's no rolling or chilling.
For this tart, I add lime zest to the dough, which makes the crust smell amazing and complements the lemon and ginger flavors in the filling. I love the fragrance of the lime here, but you could use some of the lemon zest instead if you wanted to be more efficient with your citrus usage.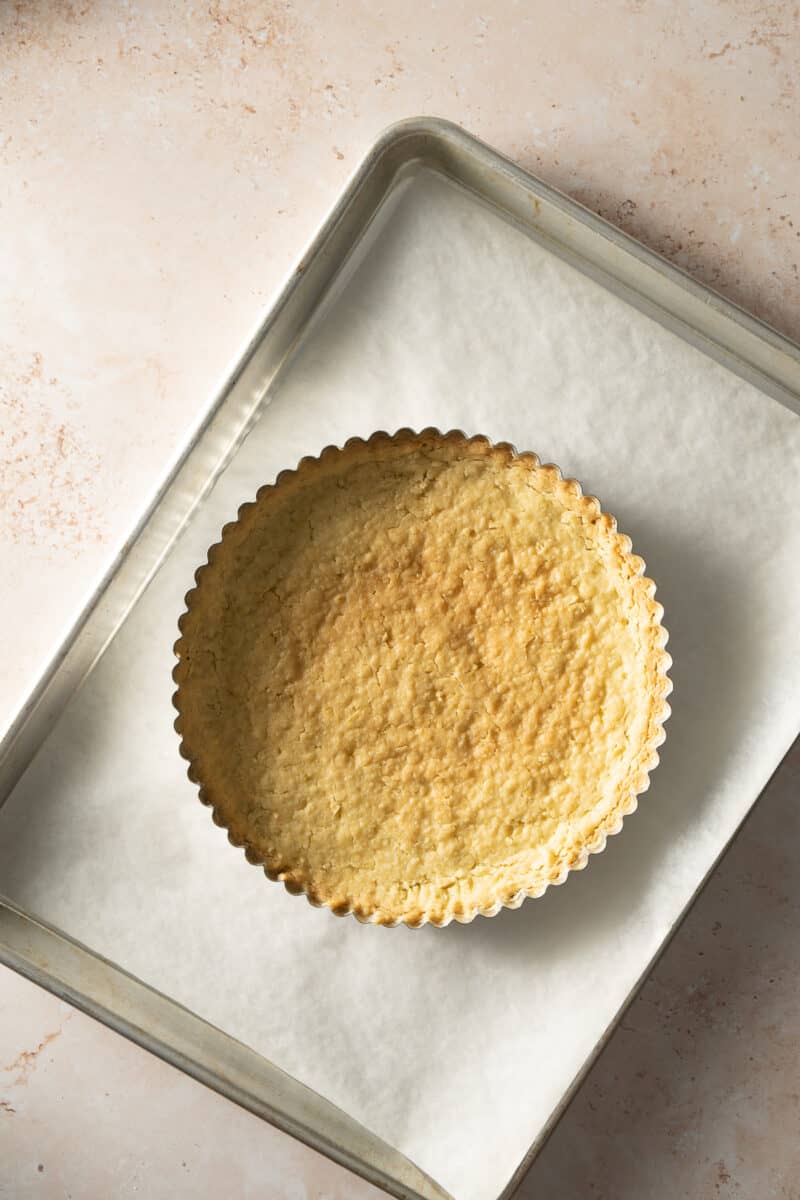 The crust gets baked until golden brown and makes your kitchen smell wonderful.
While the crust is baking you can get started on your lemon ginger curd.
There's no double boiler or fussy tempering of eggs for this curd.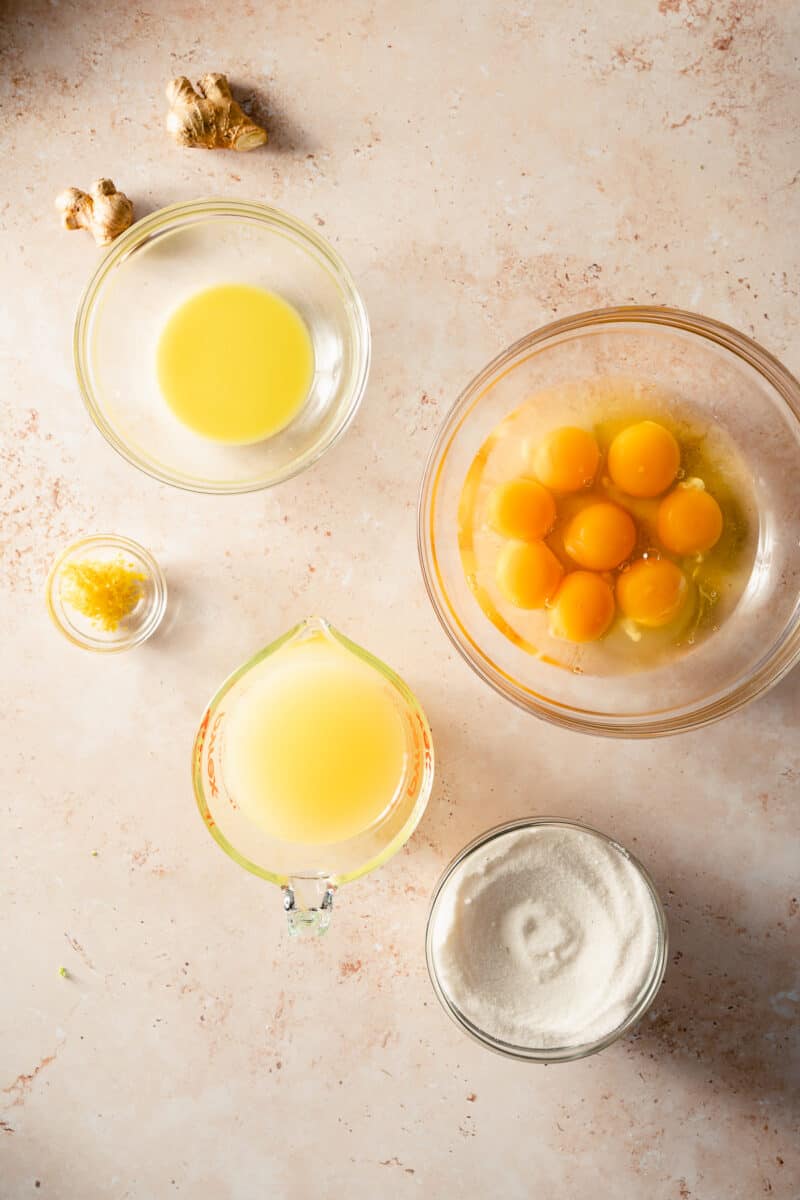 The most tedious part of making this is grating the ginger. You have to grate a big old hunk of the stuff. The task is made easier with a ceramic ginger grater or a microplane zester. (If you have an older microplane that's experienced years of frequent use, it may have dulled enough that it struggles with ginger—save yourself the frustration and replace it.)
After you've grated the ginger you squeeze it through a strainer to extract a few tablespoons of ginger juice.
This goes into a saucepan along with lemon juice, lemon zest, sugar, and lots of eggs and egg yolks where it gets heated slowly and gently until it thickens.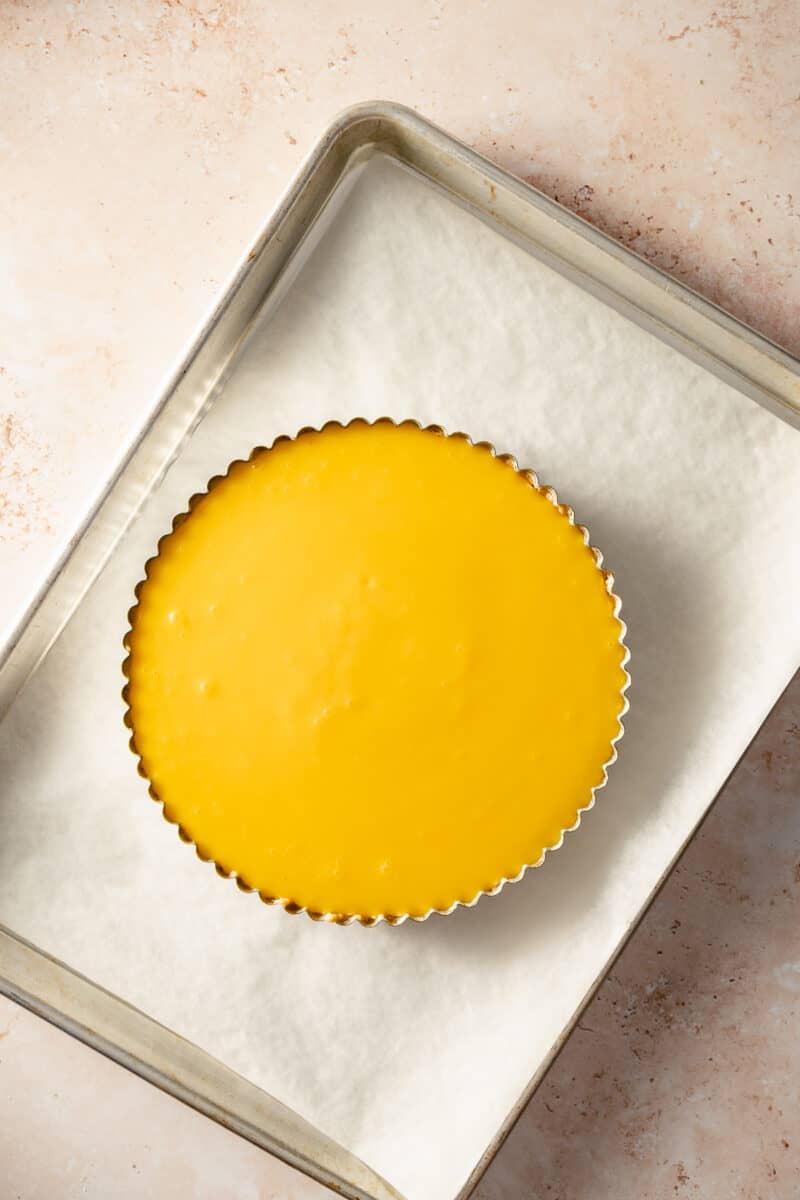 Then it comes off the heat, butter gets stirred in, and the whole thing gets poured through a strainer to remove any egg bits or flecks of zest that get in the way of a silky smooth curd.
Then the filling gets poured into your baked and cooled tart shell and you can transfer it—carefully—into the oven where it bakes until the curd has set around the edges and jiggles in the middle.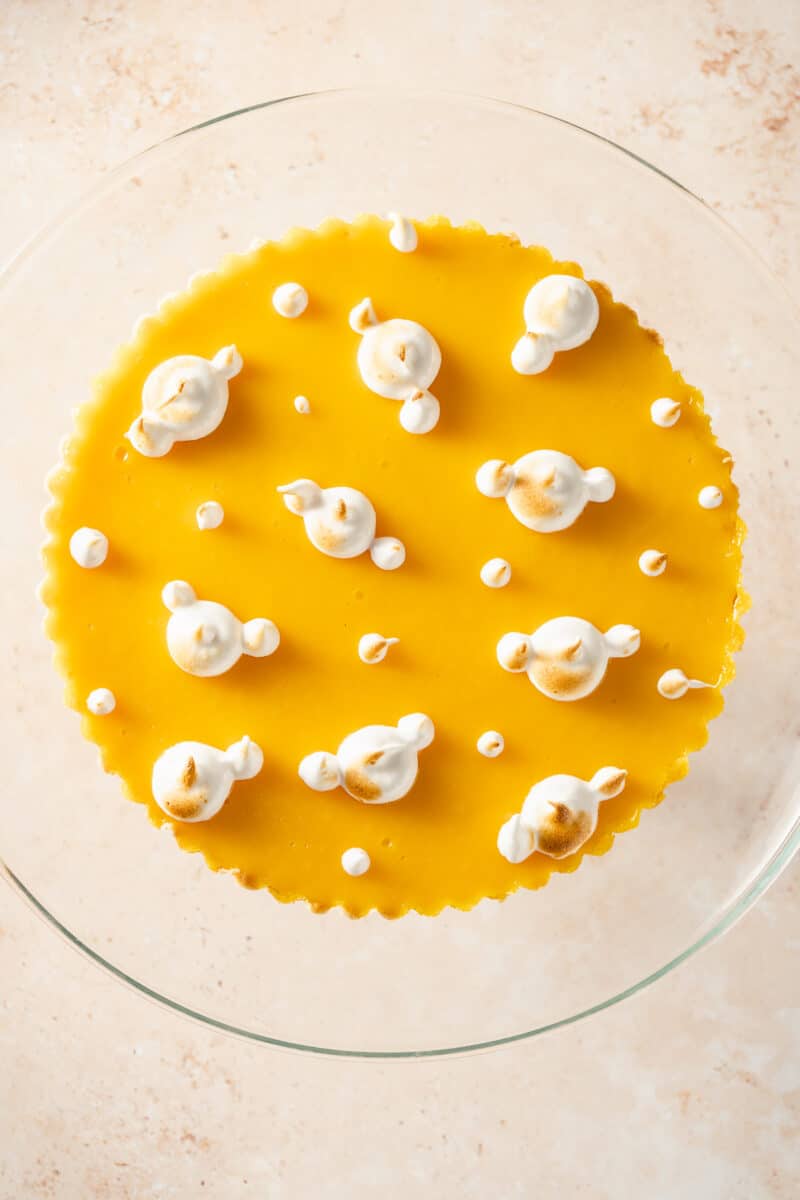 Then you need to let it cool completely until it sets.
It doesn't really need a topping, but I couldn't resist decorating this with some Italian meringue made with the leftover egg whites and hitting it with a torch to toast the meringue.
You could also whip some cream and top it with that.
But all of that is just gilding the lily. The tart on its own is delightful, bracing lemon ginger goodness in a buttery crust.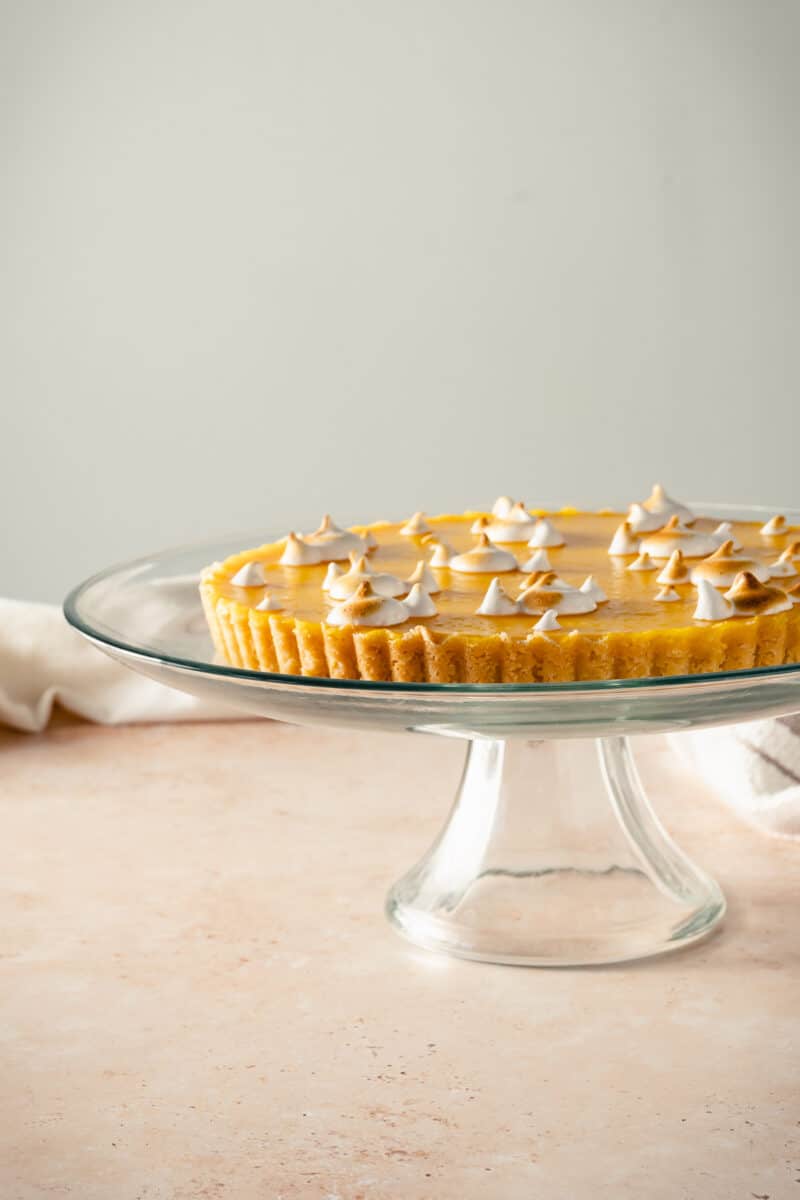 Yield: 8 servings
Lemon Ginger Tart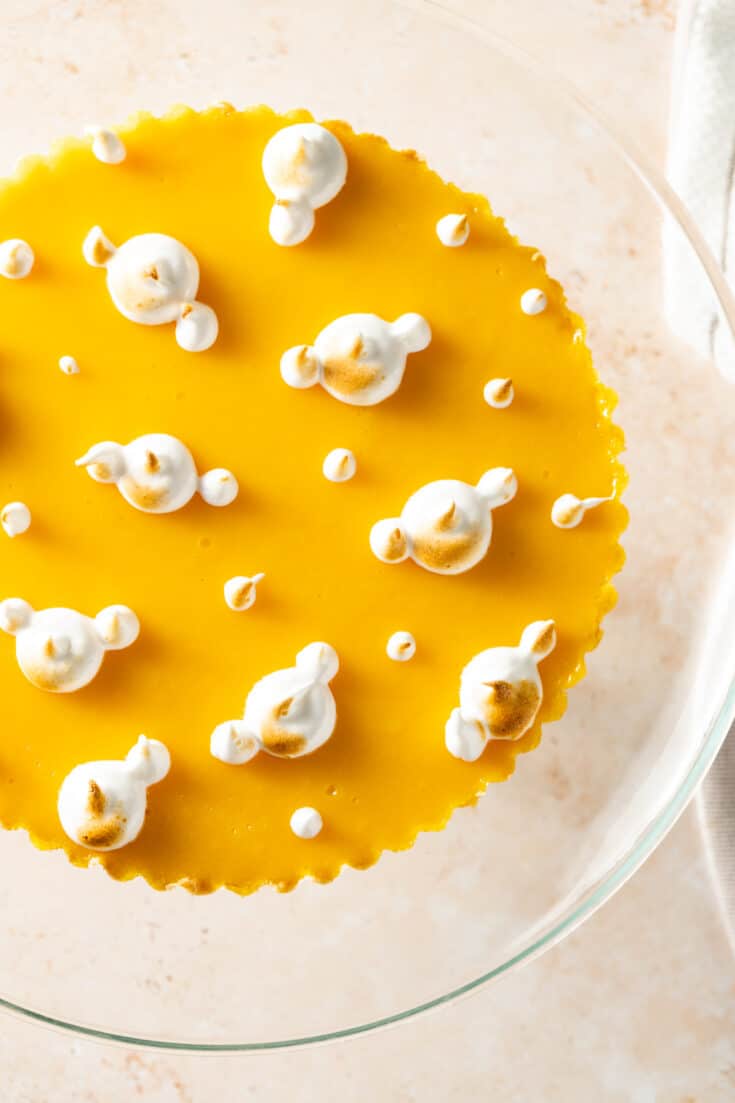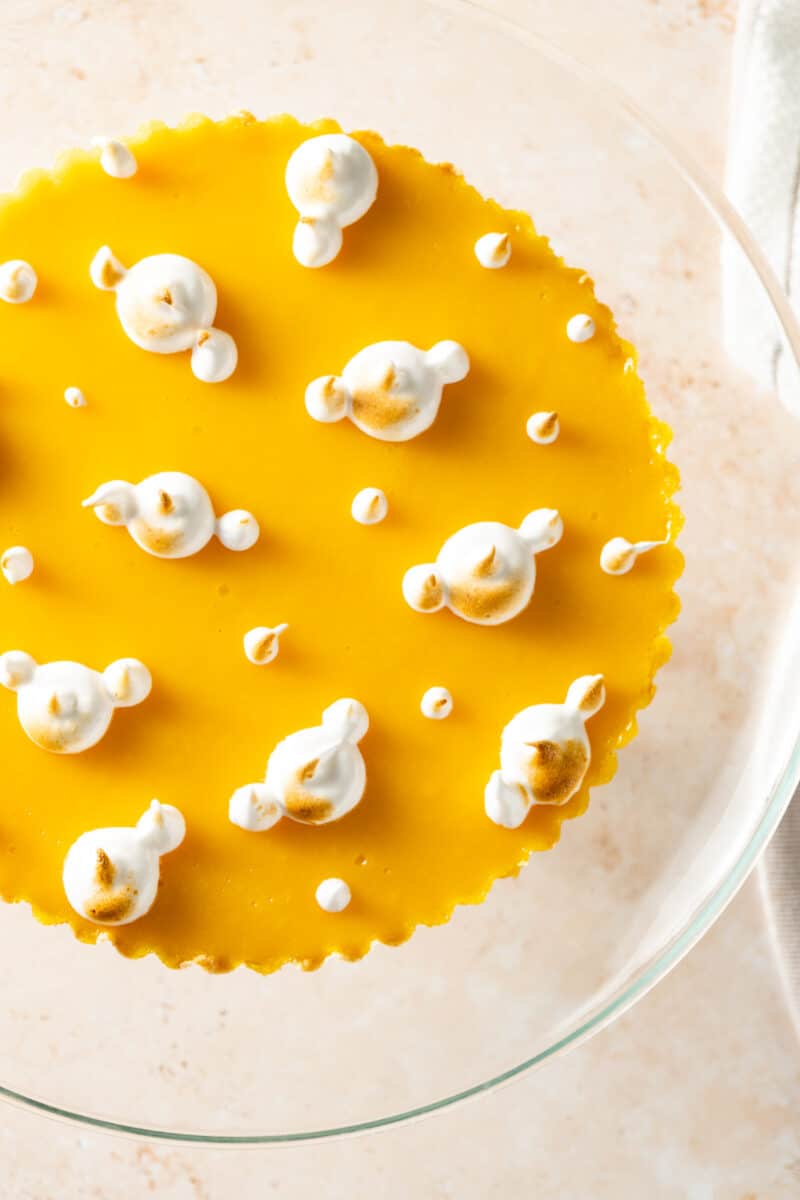 This tart uses a press-in shortbread crust inspired by one Alice Medrich uses in everything. This one has a bit of lime zest for fragrance and flavor and powdered sugar to keep it tender.
The lemon ginger curd itself is a riff on one I've been making for years—that one uses Meyer lemons, whereas this one calls for the more commonly available Eureka lemons. The fussiest part is grating the ginger to squeeze out enough juice. A ceramic ginger grater or microplane zester makes this job doable.
The tart crust can be made and baked up to two days ahead, and the curd can be cooked and chilled up to a week in advance, you can then assemble and bake the tart on the day (or day before) you want to eat it.
The meringue is totally optional, but because the tart leaves you with extra egg whites from the curd, it's easy to go that extra step and add the meringue. The amount of meringue isn't as much what you would typically do for a towering lemon meringue pie, but it's plenty for piping decoratively on the top (and enough to cover the whole top with dots like you see pictured if you wanted to do that). You'll need a 9-inch or 9.5-inch tart pan with a removable bottom for this recipe.
Total Time
1 hour
15 minutes
Ingredients
For the crust
1 cup (125 grams) all-purpose flour
1/4 cup powdered sugar
1/4 teaspoon kosher salt
1/2 cup (1 stick, 113 grams) unsalted butter
zest of one lime
For the lemon ginger curd
1 cup lemon juice
zest of one lemon
1 8-inch piece ginger (or multiple pieces to equal that)
1 cup sugar
5 whole large eggs
3 large egg yolks
1/2 cup (1 stick, 113 grams) unsalted butter
For the Italian meringue
2 egg whites
1/8 teaspoon cream of tartar
1/2 cup sugar
1/4 cup water
Instructions
Make the crust
Preheat oven to 350°F. Add the flour, powdered sugar, and salt to a small bowl and whisk together. Melt the butter in a small saucepan (or in the microwave), add the lime zest to the butter and stir, then pour into the dry ingredients and stir together until thoroughly moistened.
Press the dough evenly along the bottom and sides into a 9-inch tart pan with a removable bottom. Place the tart pan on a baking sheet and bake until the crust is golden brown, about 20 minutes.
Make the lemon ginger curd
Grate the ginger with a ceramic ginger grater or microplane zester and pass it through a fine mesh strainer set over a bowl to catch the juice. Press it with a rubber spatula (or your impeccably clean hands) to really squeeze the liquid out of the pulp. Save the juice—you should have around 2 tablespoons—and discard the pulp. (And give the grater or microplane a quick rinse to save yourself some cleanup.)
In a small heavy saucepan, whisk together the eggs and sugar until thoroughly combined. Add the lemon juice and the ginger juice and stir again. Heat gently over medium heat, whisking constantly, until the mixture thickens and bubbles at a low simmer, about 6-8 minutes.
Remove from heat and whisk in the butter. Immediately strain through a fine mesh sieve into a bowl (ideally with a pouring spout) and then pour into the prepared crust. Bake (still at 350°F) until the curd is feels set around the edges (it will jiggle in the center), about 15 minutes.
Let cool at room temperature for about 1 hour, then transfer to the refrigerator to chill. You can serve this chilled or at room temperature.
Make the Italian meringue topping (totally optional)
Add egg whites and cream of tartar to the bowl of a stand mixer fitted with a whisk attachment. Heat sugar and water in a small saucepan over medium high heat. When the sugar mixture registers about 220°F turn on the mixer and begin beating the egg whites on medium speed. When the sugar mixture registers 240°F remove from heat and carefully pour into the mixer over the egg whites. Increase the mixer speed to high and beat until the egg whites form stiff peaks. Transfer to a piping bag (or zip top bag) and pipe onto cooled tart as desired. If you want, torch the meringue with a kitchen torch. (But since it is cooked, this is totally optional).
Notes
Tart is best on the day it is made, but keeps well, refrigerated, for up to two days.
Nutrition Information:
Yield:
8
Serving Size:
1 slice
Amount Per Serving:
Calories:

322
Total Fat:

7g
Saturated Fat:

3g
Trans Fat:

0g
Unsaturated Fat:

4g
Cholesterol:

213mg
Sodium:

172mg
Carbohydrates:

57g
Fiber:

1g
Sugar:

42g
Protein:

9g