I may earn from purchases through links in this post.
There are few more comforting meals than classic mac and cheese.
It's simple and rich kid food that grown ups love, too.
And this baked Brussels sprouts mac and cheese is one I turn to again and again.
(Adding some vegetable matter makes me feel better about eating a dish that's mostly carbs and cheese.)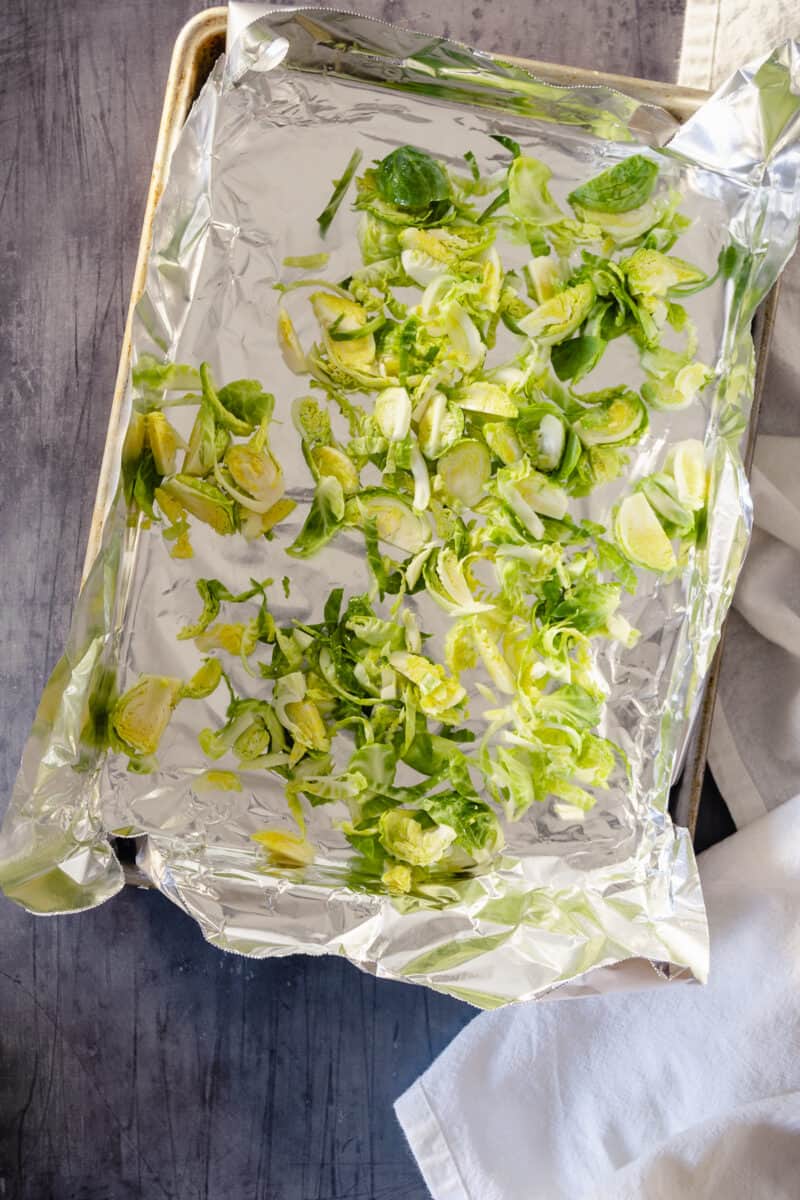 I used orrecchiette here rather than the traditional elbow macaroni because I had it around and I find the shape pleasing, but you can use any small-ish pasta shape you like.
I start by covering my pasta with water and letting it sit in a bowl while I work on other things. This means you don't have to boil the pasta. It will cook in the oven, but it will be pre-hydrated so it doesn't absorb too much of the sauce. (It's a technique I also use in this baked ziti.)
The Brussels sprouts get sliced thin and go into the oven where they get deeply browned in spots to bring out that wonderful roasted brassica flavor (like they do in this butternut squash and Brussels sprouts in agrodolce).
And that roasting happens while you make the cheese sauce.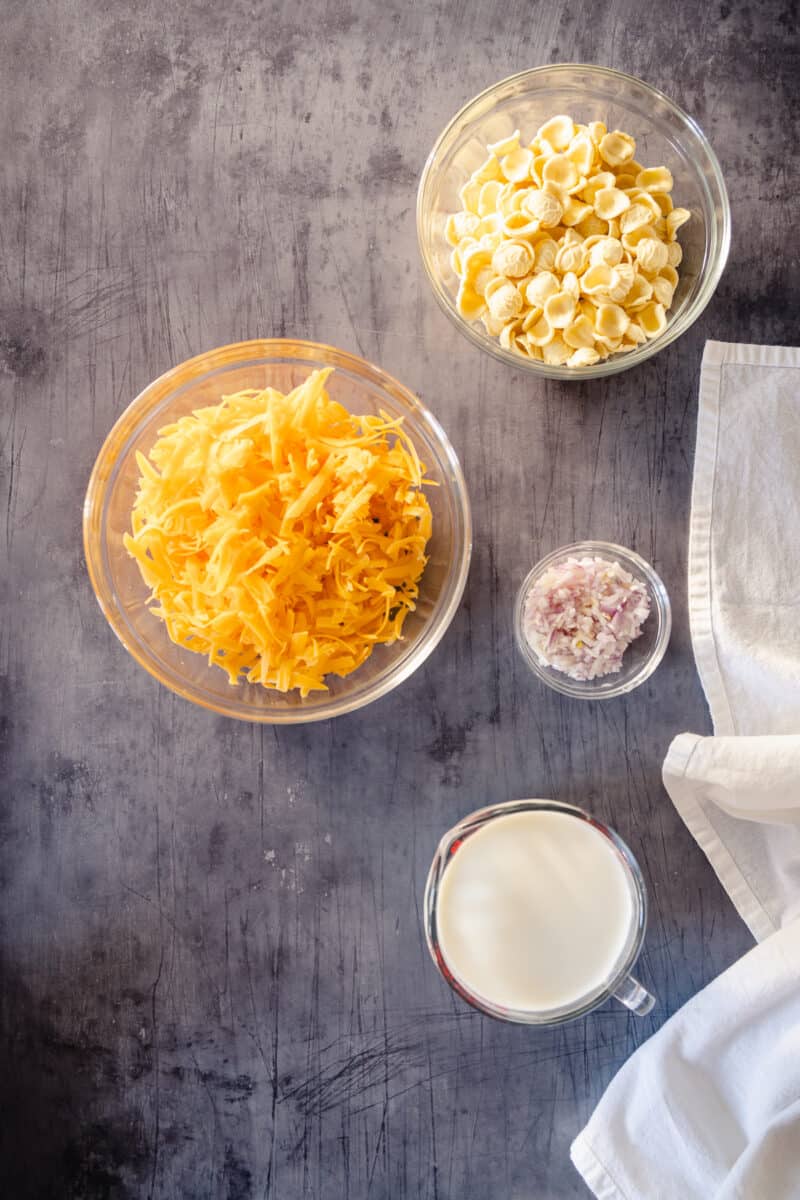 There are numerous styles of cheese sauce for mac and cheese out there.
Some use processed cheese like Velveeta, some use evaporated milk, some use sodium citrate as a modern technique for emulsifying the sauce.
Others go a more custard-style route and use milk or even cream and eggs. And of course there's the stuff that comes in a box and uses powdered cheese.
My version uses a good old fashioned béchamel, or more precisely, a Mornay sauce, which is just the fancy French name for a béchamel sauce with grated cheese stirred into it.
Béchamel starts with a roux, which is a mixture of equal parts butter and flour (or any fat and starch) that get cooked together in a pan.
I start by sautéing some shallots in the butter before adding the flour to make the roux to add some flavor, but you could skip the shallots if you aren't feeling them or don't have any.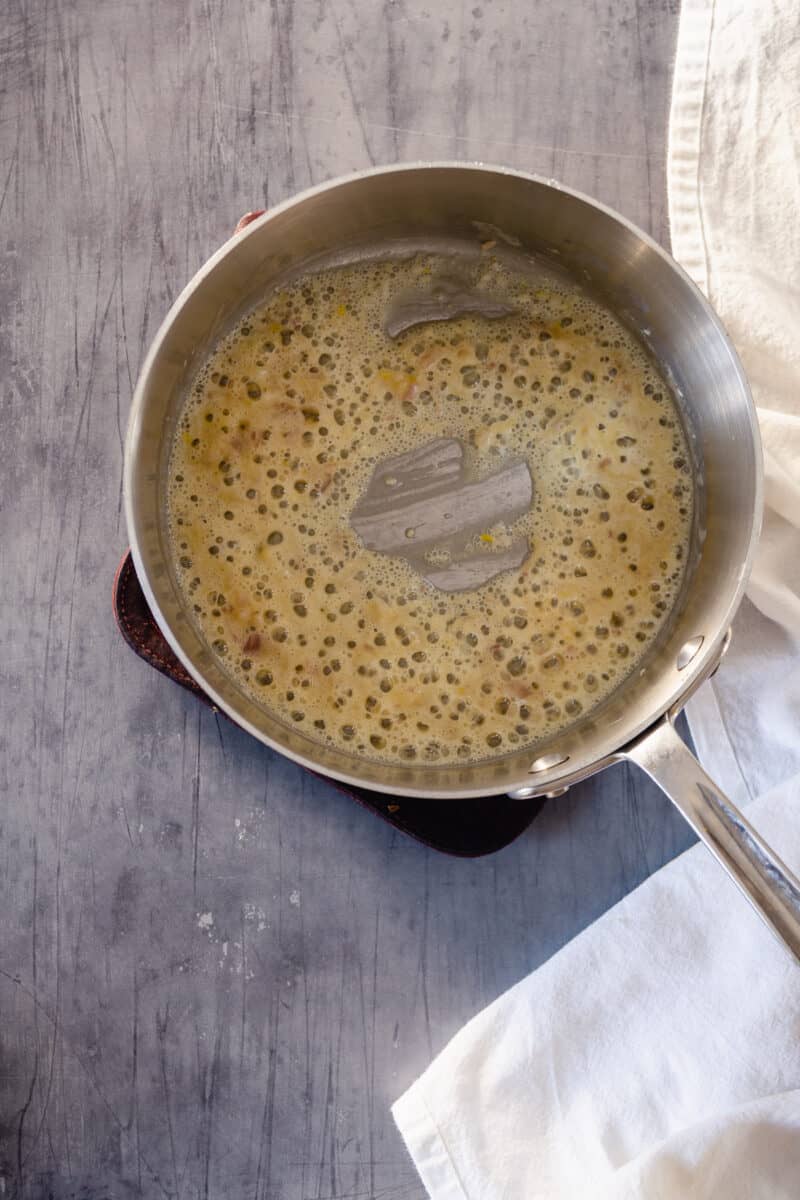 This step coats the flour particles with fat which makes it easier for them to disperse in the milk.
It also cooks the raw flour and gives it a slightly toasty flavor that adds some depth to the sauce.
Then milk gets added to the roux and brought just to a simmer, which will make the sauce thicken slightly and coat your spatula.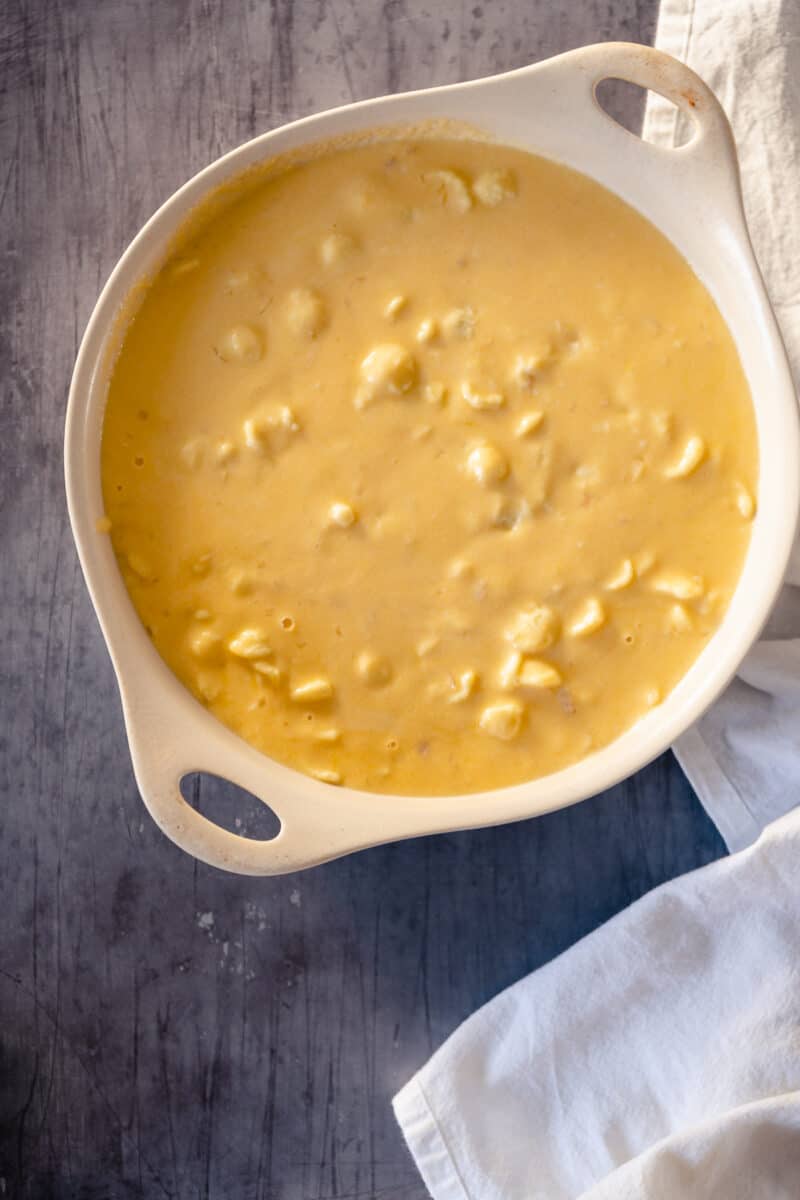 Then the sauce comes off the heat and you stir in a mountain of shredded cheese.
I used a sharp cheddar here to keep things simple, but you could use gruyere or fontina or gouda or any combination of these cheeses.
The important thing is that you don't start with the pre-shredded stuff here, because it has additives that interfere with melting smoothly in a sauce.
So pull out the trusty box grater or your cheese-grating device of choice and shred it yourself.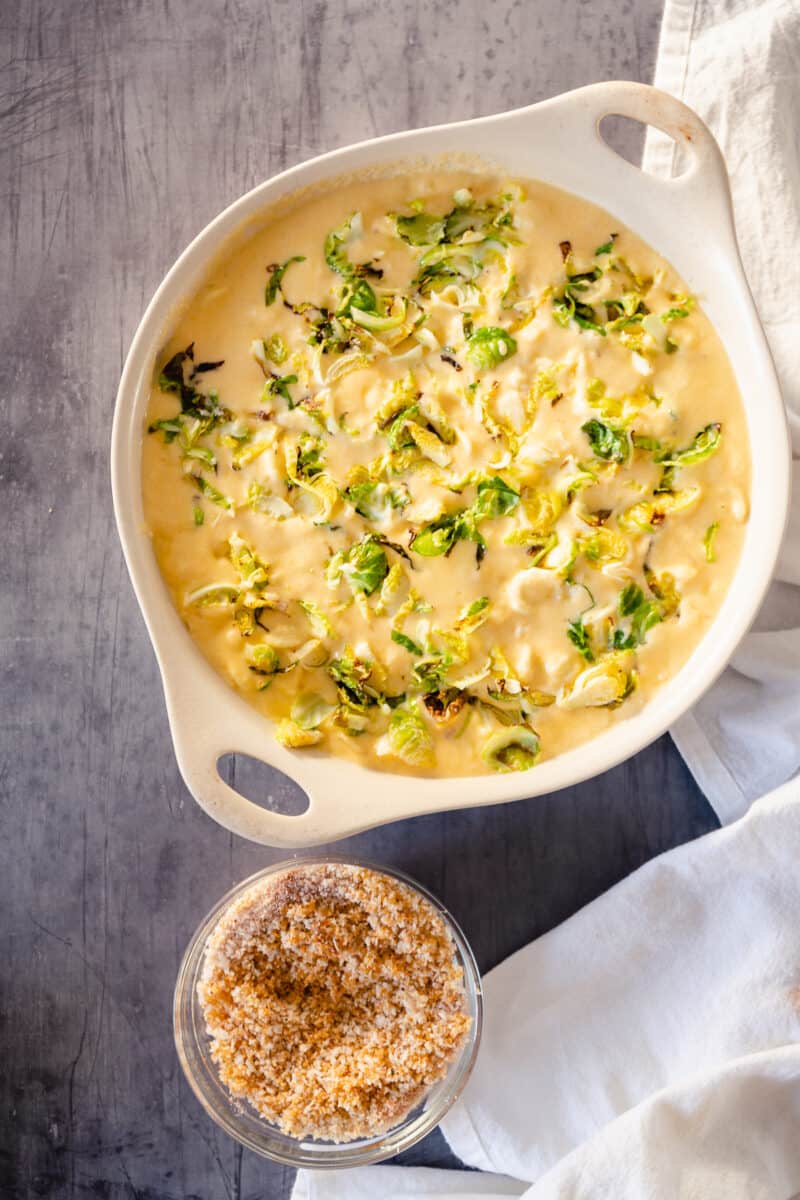 Then the pasta gets drained and mixed with the cheese sauce and tucked into a baking dish and the roasted Brussels sprouts get added in.
But then there's the thing that takes this over the top, the generous layer of panko breadcrumb topping.
The panko gets tossed with salt and pepper and some smoked paprika and thyme. Then a little bit of olive oil goes.
Then the mixture gets sprinkled over the top and the whole thing goes into the oven where it bubbles and sputters and the top gets browned and delightfully crispy.
Then you just need to let it cool long enough to dig in.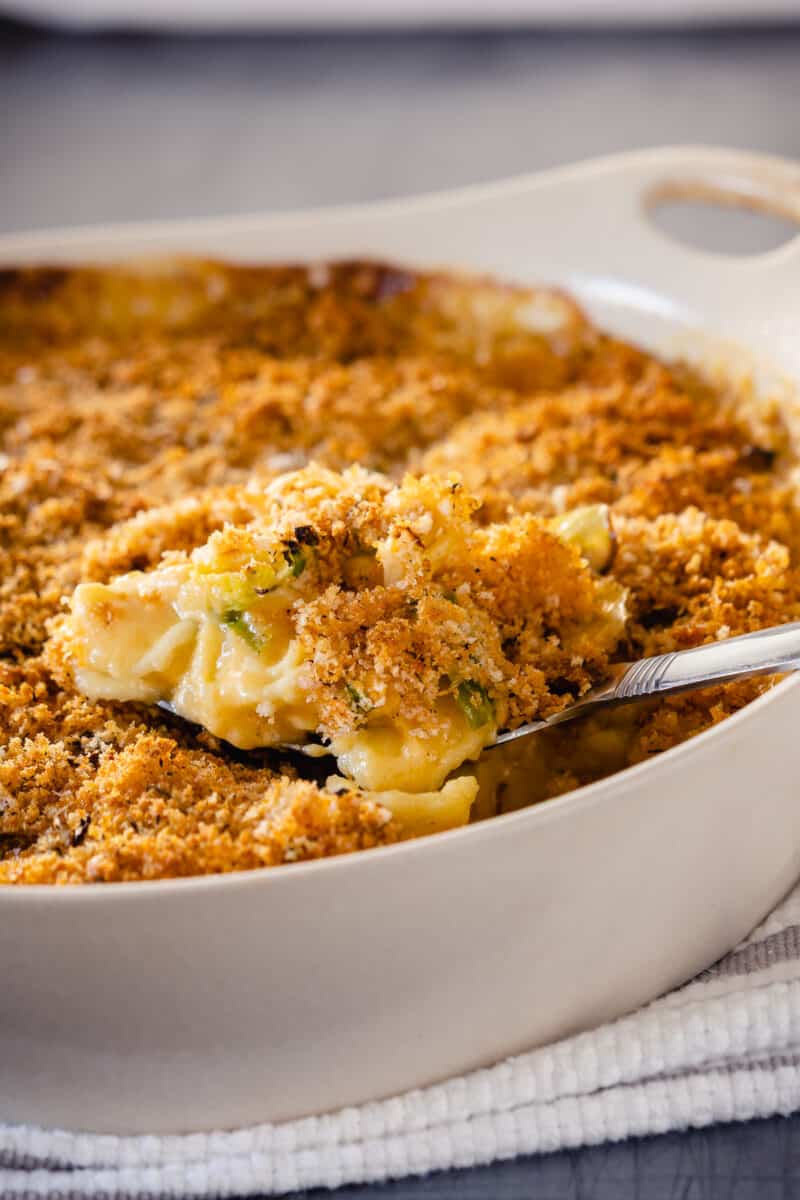 Yield: 4-6 servings
Baked Brussels Sprouts Mac and Cheese with Breadcrumbs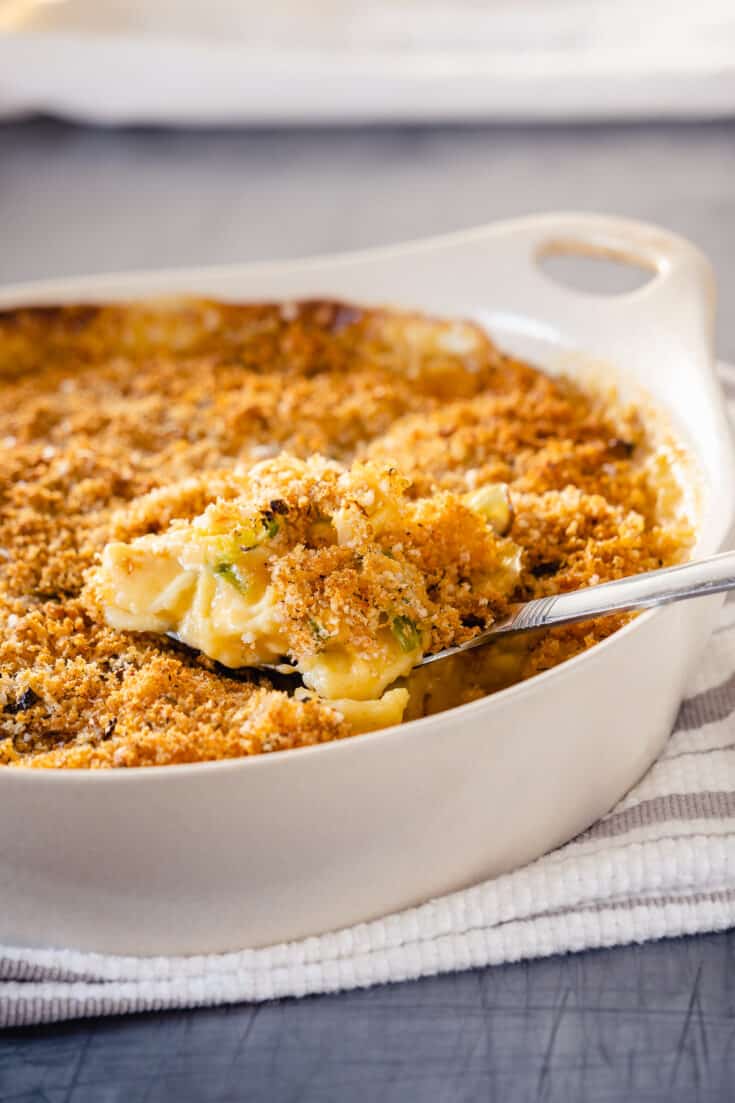 This mac and cheese uses a no-boil technique with the pasta. You soak the pasta in cool water to allow it to hydrate before it gets added to the sauce and finishes cooking in the oven.
The Brussels sprouts roast in the oven that is already heated to bake the mac and cheese. And meanwhile you make the cheese sauce, which starts with a traditional béchamel. I call for sharp cheddar here, but you can use a combination of gruyere, fontina, gouda or any semi-firm cheese. Don't use pre-shredded cheese in this—it has additives that interfere with smooth melting and will result in a clumpy sauce.
This bakes in a 2-quart baking dish such as an 8- or 9-inch square baking dish or a 10-inch round casserole. You can double it and make it in a 9"x13" pan for a crowd.
Ingredients
8 ounces (225 grams) small pasta, such as elbow macaroni or shells
1 cup (85 grams) thinly sliced Brussels sprouts
2 tablespoons butter
3 tablespoons finely minced shallots
2 tablespoons all-purpose flour
2 cups milk (any fat % will work)
8 ounces (225 grams) sharp cheddar cheese, grated
1 tablespoon Dijon mustard (optional)
1 cup panko breadcrumbs
1/2 teaspoon smoked paprika
1/2 teaspoon dried thyme
1/4 teaspoon kosher salt
black pepper to taste
1 tablespoon olive oil
Instructions
Preheat oven to 400°F. Add the pasta to a medium mixing bowl and add enough water to cover. Add a pinch of salt and set aside while you work on the other parts of the dish.
Line a baking sheet with aluminum foil. Add the sliced Brussels sprouts to a mixing bowl and add enough olive oil to coat. Season with salt. Spread on the baking sheet in an even layer and roast until the sprouts are tender to the touch and look deeply browned and crisped in spots, about 5-8 minutes. Let cool while you make the cheese sauce.
Heat a medium saucepan over medium high heat. Add the butter and shallots and sauté until the shallots are translucent and the raw shallot smell turns sweet and fragrant, about 2 minutes. Add the flour and stir into a paste. Cook until the mixture turns a faint tan and smells slightly toasty, about 2 minutes. Add the milk and stir to disperse the flour mixture throughout. Bring just to a simmer, stirring constantly. The mixture should thicken slightly. Remove from heat.
Add the grated cheese and Dijon mustard (if using) and stir until the cheese has melted.
Drain the pasta and add to the cheese sauce. Transfer to your baking dish and spread in an even layer. Add the Brussels sprouts and stir.
Mix the panko breadcrumbs, smoked paprika, thyme, salt, pepper, and olive oil in a small mixing bowl until the breadcrumbs are slightly moistened. Sprinkle over the mac and cheese. Bake until the cheese sauce is bubbly and the breadcrumb topping is deeply golden brown and smells toasty. Let cool for at least 5 minutes before serving.
Recommended Products
As an Amazon Associate and member of other affiliate programs, I earn from qualifying purchases.
Nutrition Information:
Yield:
6
Serving Size:
1
Amount Per Serving:
Calories:

655
Total Fat:

23g
Saturated Fat:

11g
Trans Fat:

1g
Unsaturated Fat:

9g
Cholesterol:

54mg
Sodium:

610mg
Carbohydrates:

85g
Fiber:

6g
Sugar:

3g
Protein:

26g