I may earn from purchases through links in this post.
I love a good baked pasta dish.
Something that makes the kitchen smell like garlic with a tomato sauce that burbles around a top layer of deeply burnished cheese.
And while there are plenty of ways to get there, this baked ziti is my take on the Italian-American classic, and it's a good one.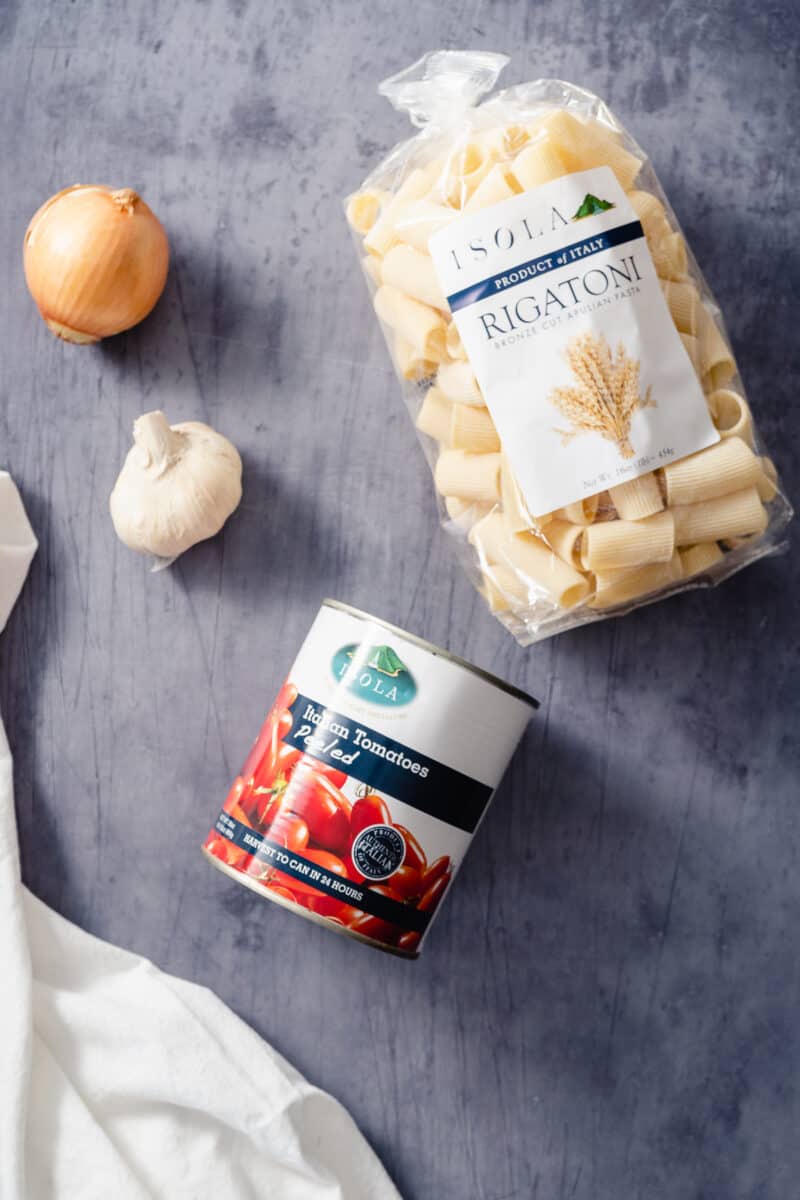 (I know, ahem, that the picture shows rigatoni, which is not exactly ziti, but it's similar and sometimes easier to find. Any tubular pasta you like works.)
This one eschews the jarred sauce options out there, but still keeps the ingredient list short and the effort level low compared to the payoff here.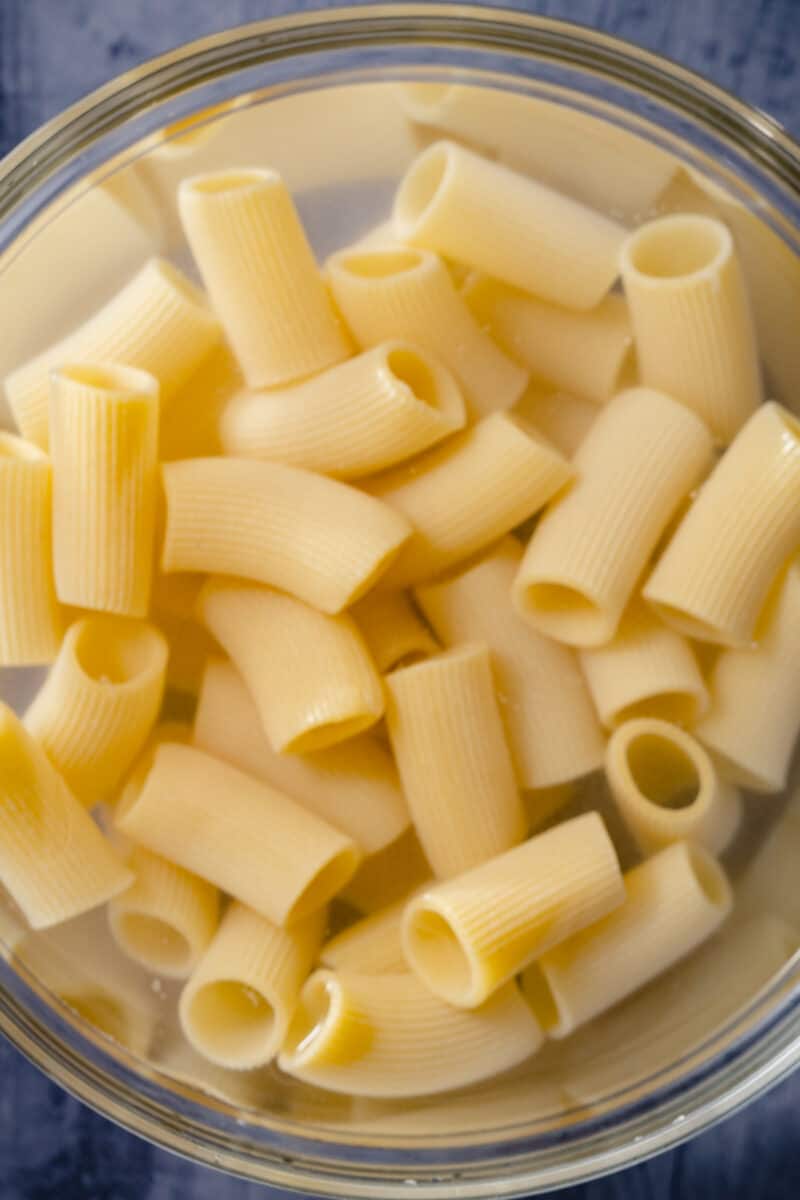 This one starts with a trick I learned from Ideas in Food, which is that instead of boiling pasta for baked pasta or starting with specially made no-boil pasta, you can soak the pasta in cold or room temperature water before adding it to your sauce and baking it.
It prevents the problem with some no-boil recipes, where the pasta soaks up all the liquid from the sauce during the baking process leaving your final baked pasta dish too dry.
It's less work than boiling, and I find it's more reliable for getting pasta with a pleasant al dente chew after the baking process. So I basically never boil pasta for baked ziti or any other baked pasta dish like lasagna anymore, I just soak, drain, and add to the sauce.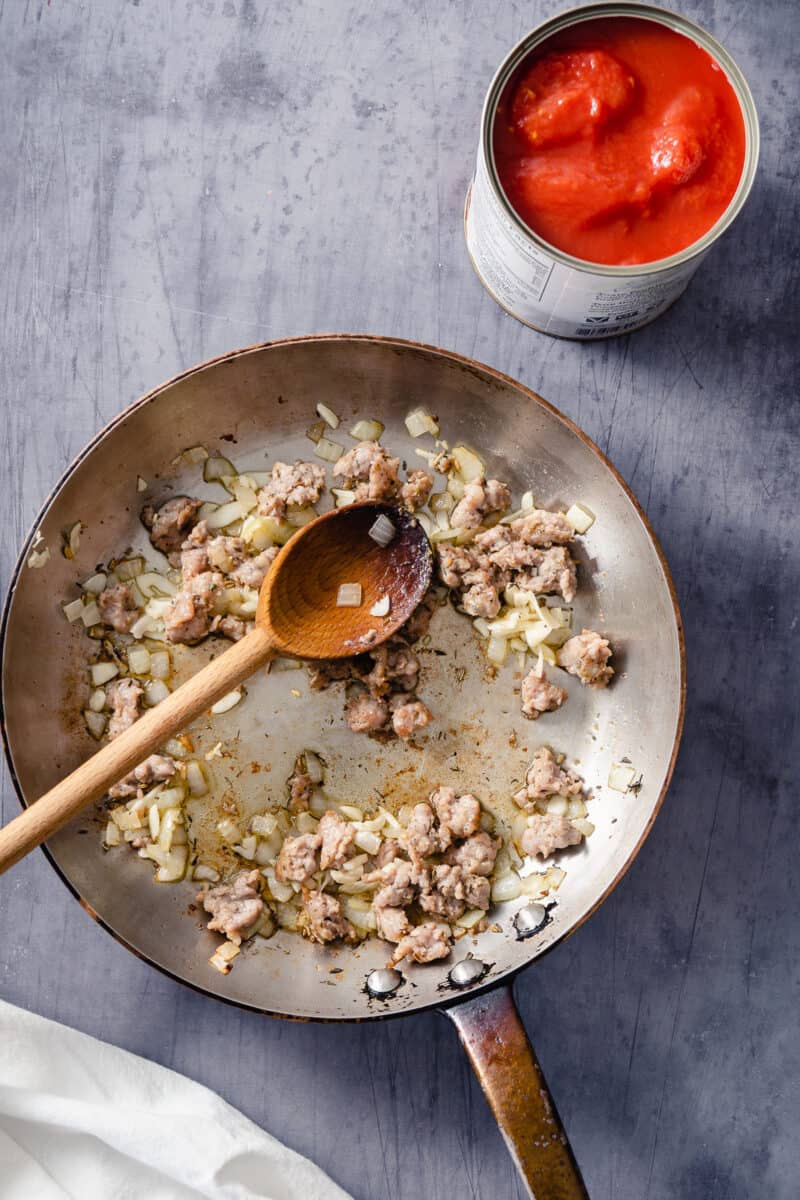 The sauce itself has a classic Italian-American flavor profile.
Onions and Italian sausage get sauteed in a glug of olive oil along with some crushed red pepper flakes, bashed up fennel seeds, and dried thyme. (Vegetarians can skip the sausage and still have a great dish.)
Then a pile of sliced garlic goes in and cooks just until it starts smelling amazing.
Then you empty a can of whole peeled tomatoes over the whole thing, break them up with a wooden spoon, and let the whole thing simmer for a few minutes while the flavors get to know each other.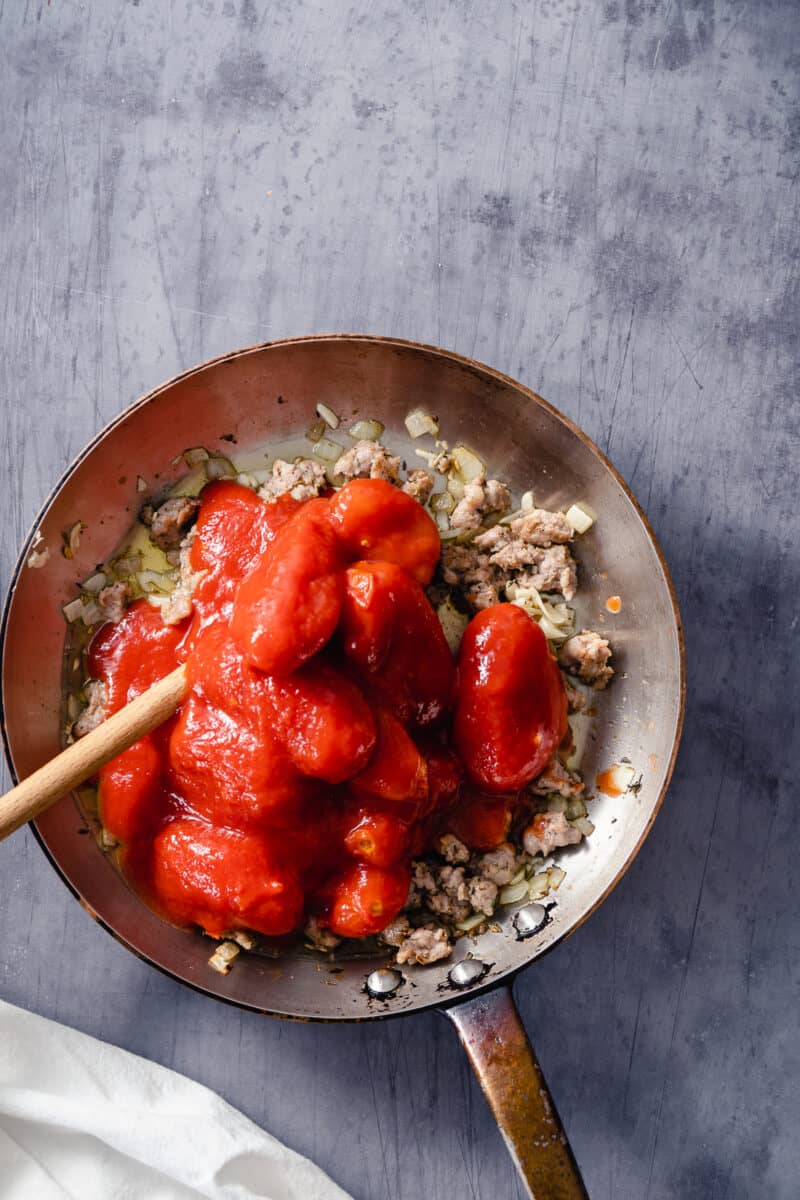 I skip ricotta here, and instead add a generous dollop of crème fraîche, a trick I learned from Julia Turshen's excellent Small Victories.
It adds richness without the hassle of making a bechamel, and the resulting sauce has a wonderful velvety quality.
(If you don't have crème fraîche, you can substitute sour cream or mascarpone or even a splash of heavy cream. )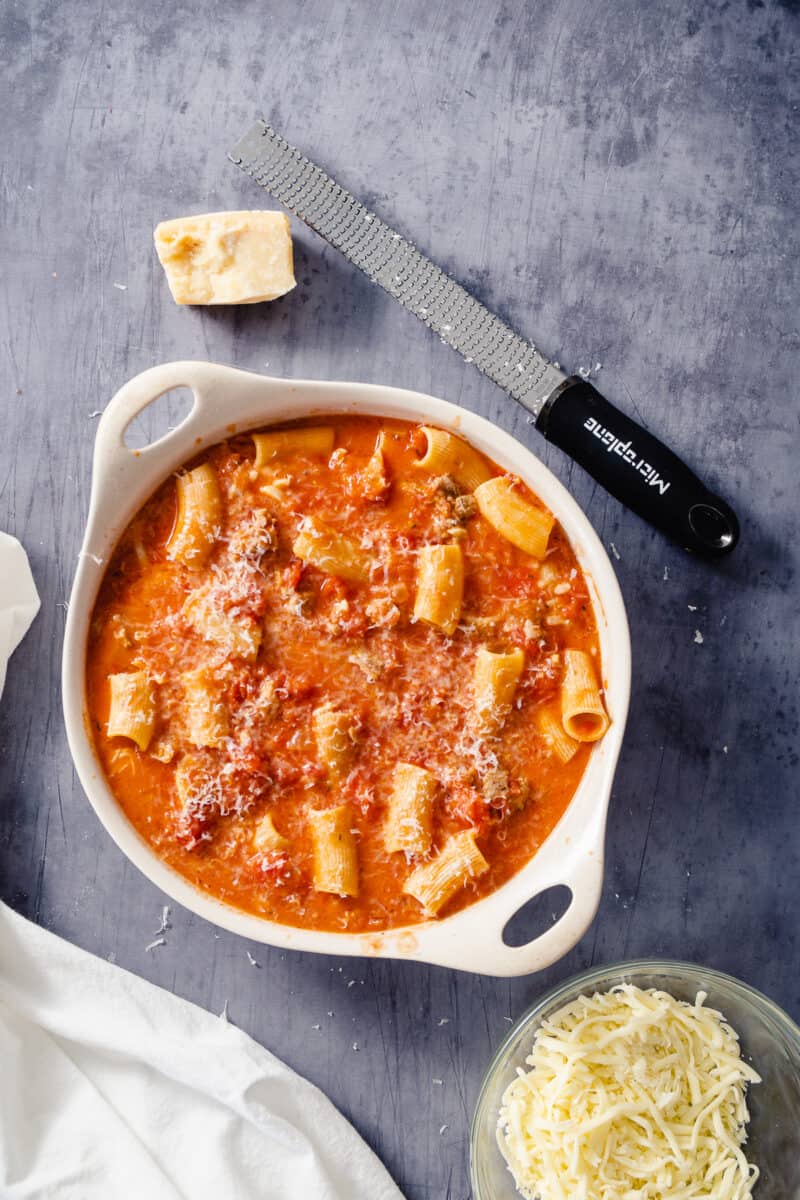 Then the pasta gets drained and added to the sauce, and then everything gets assembled in a baking dish.
Half of the pasta and sauce go in, then you grate a layer of parmesan cheese over that and add a handful of shredded mozzarella. Then you add the rest of the pasta and more of both cheeses and send this baby into the oven.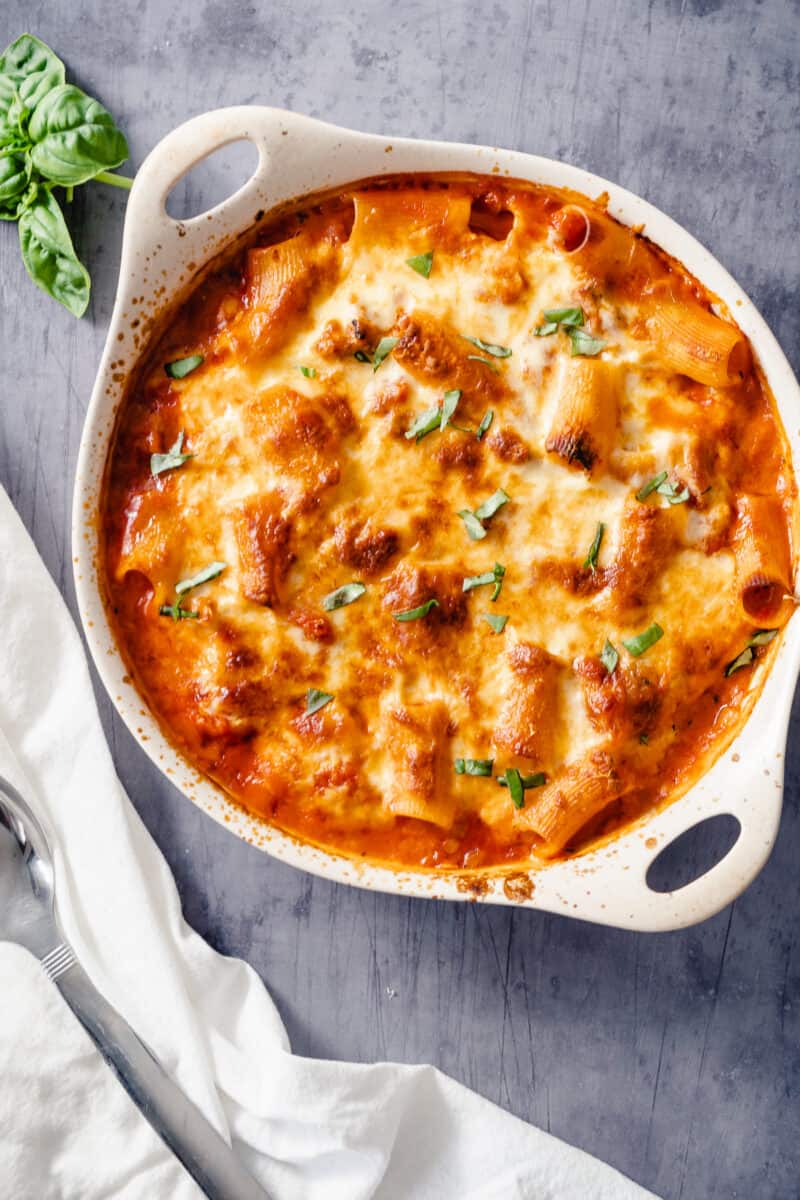 There it gets browned and the sauce gets bubbly and the pasta gets tender with just enough bite.
You can add some thinly sliced basil over the top if you like. It's not necessary, but it's nice. (I've been thrilled to have a steady supply in the cold and dark months from the aerogarden on my kitchen counter.)
And then, after you've let it cool long enough that you won't burn yourself, you can dig in.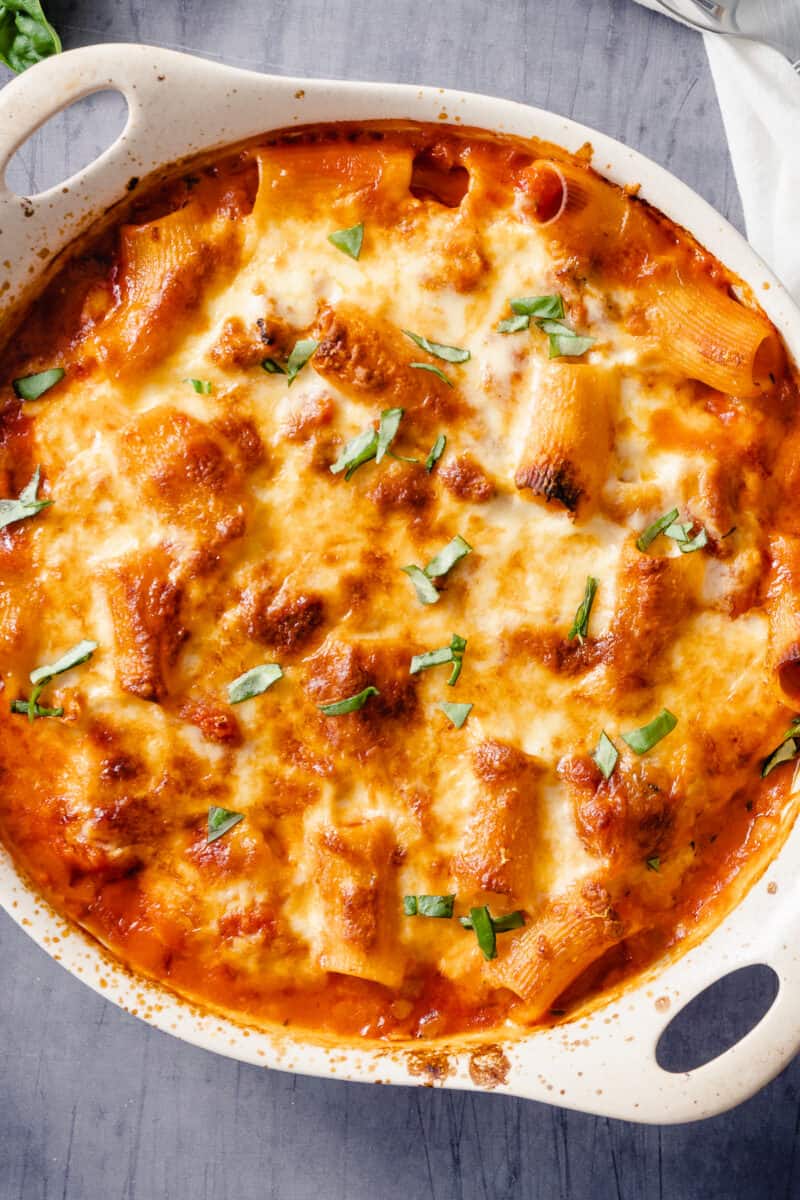 Yield: 4 servings
Baked Ziti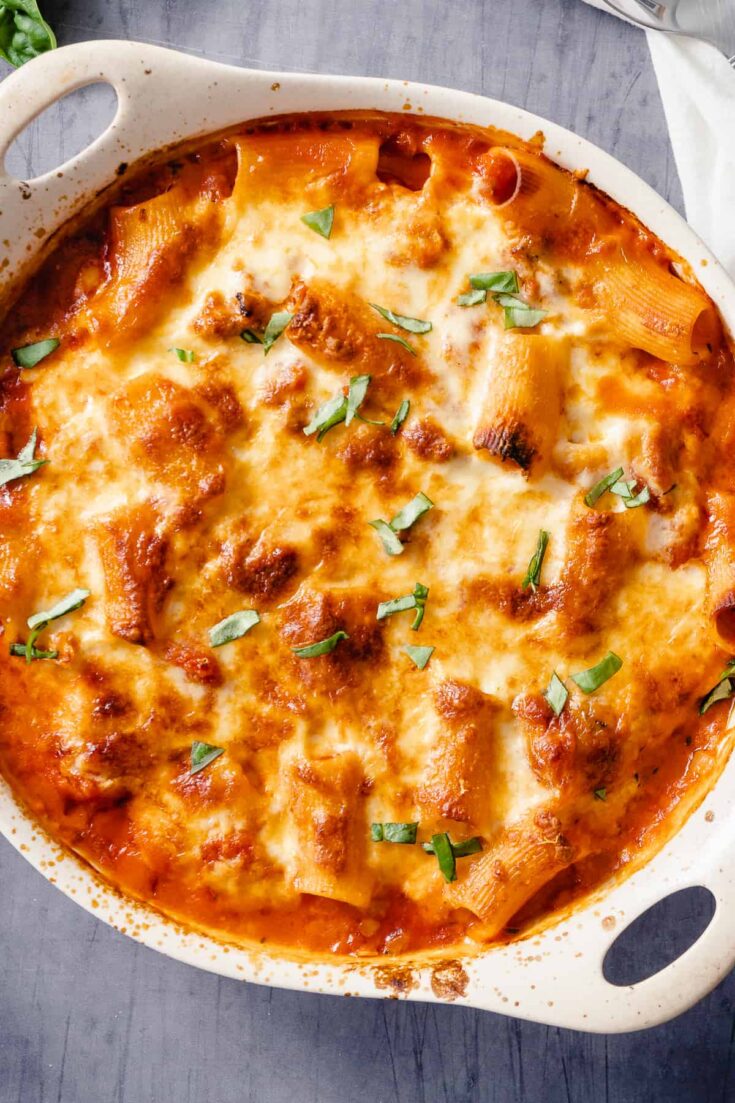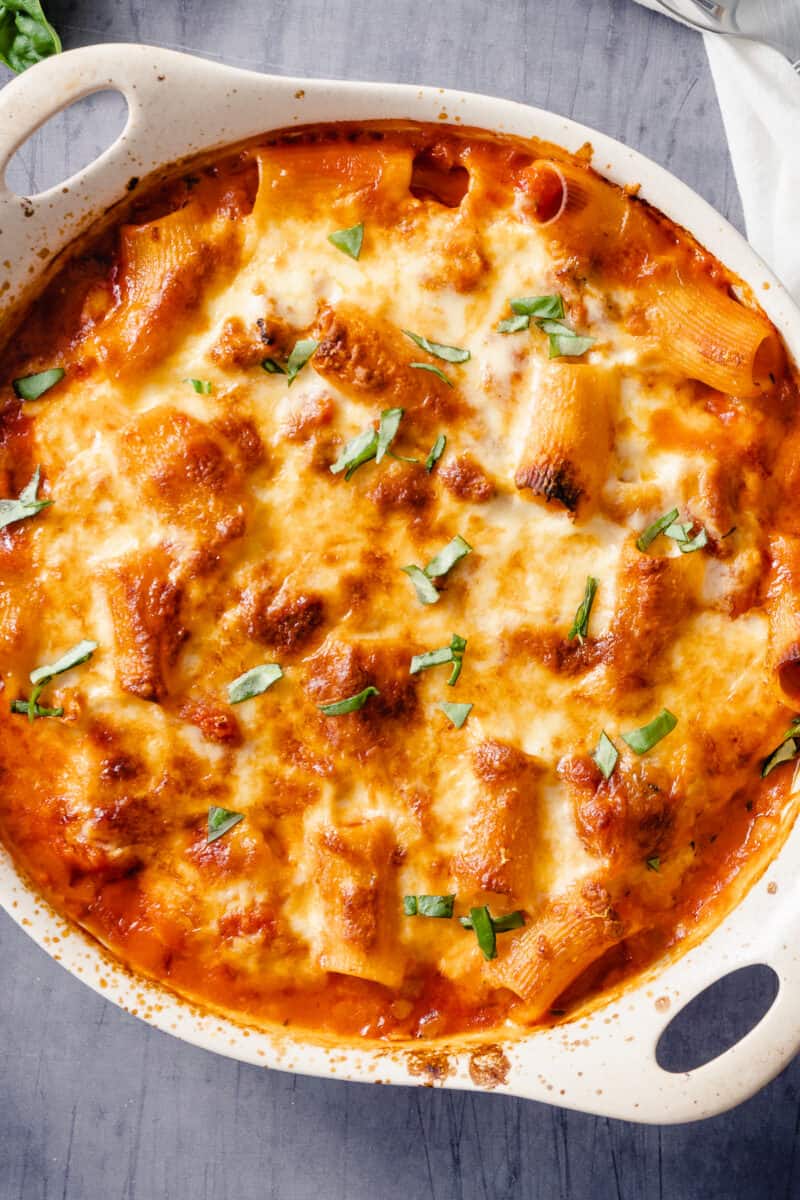 This classic Italian-American baked pasta is rich and comforting and fragrant with garlic. It's a flexible recipe. Vegetarians can leave out the sausage. You can swap in sour cream, mascarpone, a splash of heavy cream, or a bit of butter for the crème fraîche. Or you can leave that out if you want something a tad lighter.
I like this best with ziti or rigatoni, and penne would be great too.
The cheese melts best if you grate it yourself because there's no anti-clumping additives (but I'm not going to tell on anyone for using the pre-shredded stuff).
This bakes in a 2-quart baking dish such as an 8- or 9-inch square baking dish or a 10-inch round casserole. You can double it and make it in a 9"x13" pan for a crowd.
Ingredients
8 ounces ziti or rigatoni
1/2 medium yellow onion, diced
1/4 pound Italian sausage, casings removed
1/2 teaspoon crushed red pepper flakes
1/2 teaspoon fennel seed, crushed
1/2 teaspoon dried thyme
4 cloves of garlic, thinly sliced
1 28-ounce can whole peeled tomatoes
1/2 cup crème fraîche
6 ounces mozzarella cheese, grated
1 ounce parmesan cheese, grated (or to taste)
Instructions
Preheat the oven to 400°F. Add the pasta to a medium bowl and cover with water. (Room temperature or cold, from the tap is fine.) Add a pinch of salt. Set aside while you make the sauce.
Heat a large skillet or saute pan over medium heat and add a little olive oil. Add the diced onions, sausage, crushed red pepper flakes, fennel, and thyme along with a generous pinch of salt. Saute, stirring occasionally and breaking up the sausage into bite-sized bits, until the onions are translucent and the sausage is browned in spots.
Add the garlic and saute until fragrant, about 30 seconds. Add the whole peeled tomatoes along with their juices and break up the tomatoes with a wooden spoon. Bring to a simmer and cook for about 5 minutes. Stir in the crème fraîche.
Drain the pasta and add it to the sauce. Stir.
Add about half of the pasta and sauce to a 2-quart baking dish. Grate parmesan over the pasta in a thin layer. Add about half of the mozzarella over the pasta in an even layer. Repeat with the remaining pasta and cheese.
Bake until the cheese is browned in spots and the sauce is bubbling, about 20 minutes. Let cool for 10 minutes before serving.
Recommended Products
As an Amazon Associate and member of other affiliate programs, I earn from qualifying purchases.
Nutrition Information:
Yield:
4
Serving Size:
1
Amount Per Serving:
Calories:

559
Total Fat:

33g
Saturated Fat:

18g
Trans Fat:

1g
Unsaturated Fat:

14g
Cholesterol:

92mg
Sodium:

668mg
Carbohydrates:

42g
Fiber:

5g
Sugar:

8g
Protein:

25g