I may earn from purchases through links in this post.
If one wants evidence that cooking is an alchemical process, one need look no further than this rich, savory puddle of a gratin that once was a head of savoy cabbage.
Savoy is the frilly, ruffled member of the cabbage family. Its leaves are more tender than green or red cabbage, and its flavor is milder and more delicate.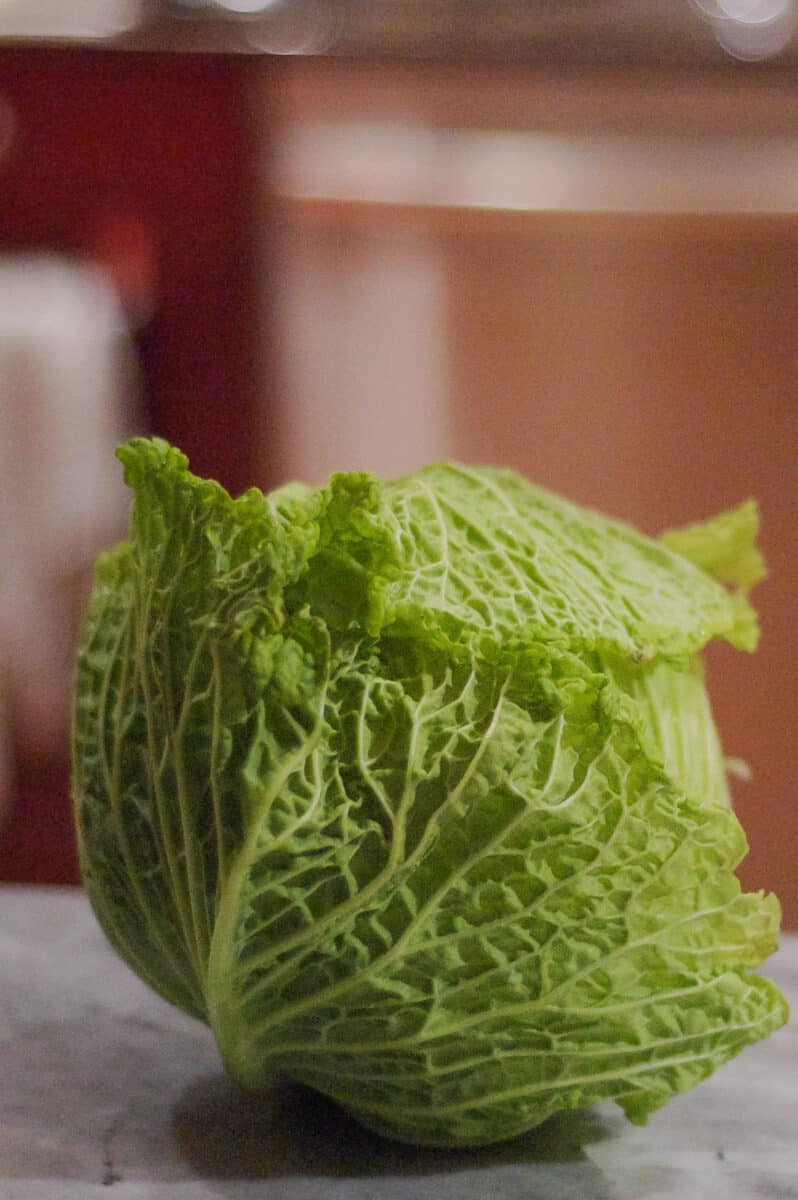 This savoy cabbage gratin comes from Molly Stevens's wonderful book All About Braising.
If you're looking for simple warm comforting winter meals, this book is a great source for them.
This recipe, in particular, is a standout.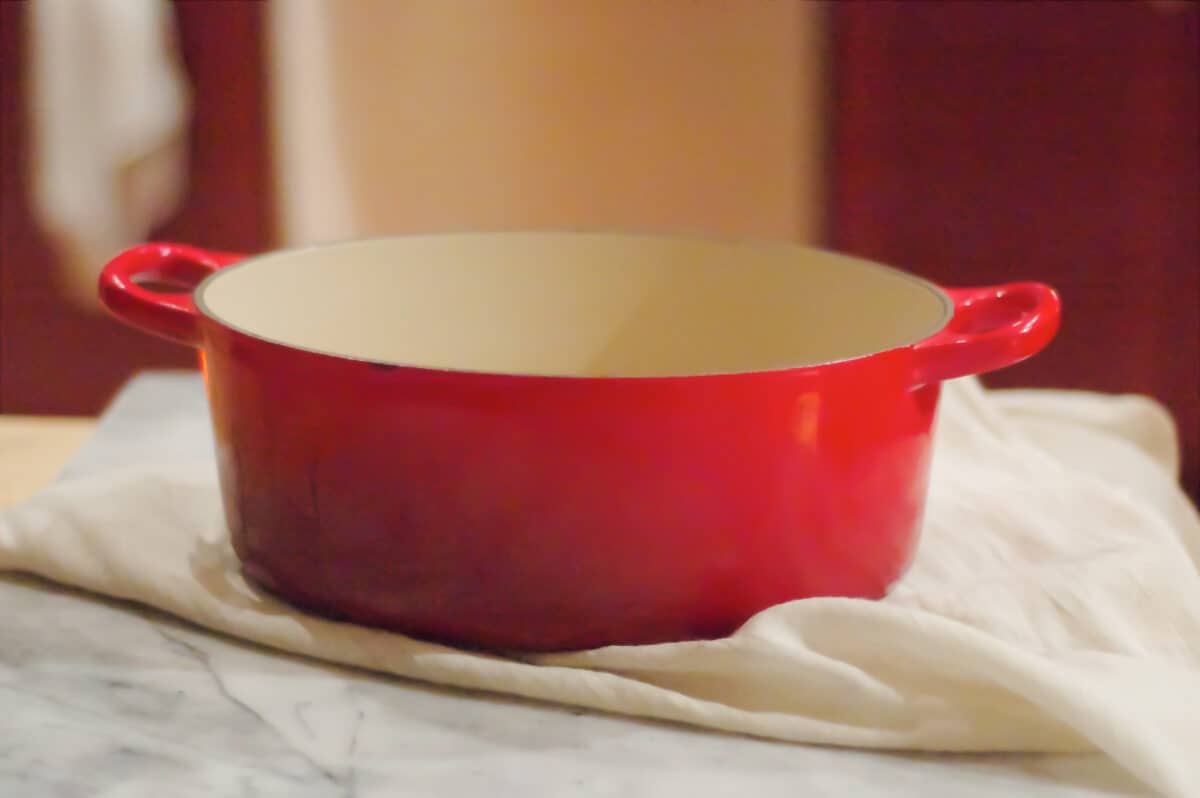 It has only five ingredients: savoy cabbage, scallions, stock (chicken or vegetable), butter, and a nice creamy French cheese like Saint Marcellin, Saint Andre, or Delice de Bourgogne.
And it only takes about 15 minutes of active work.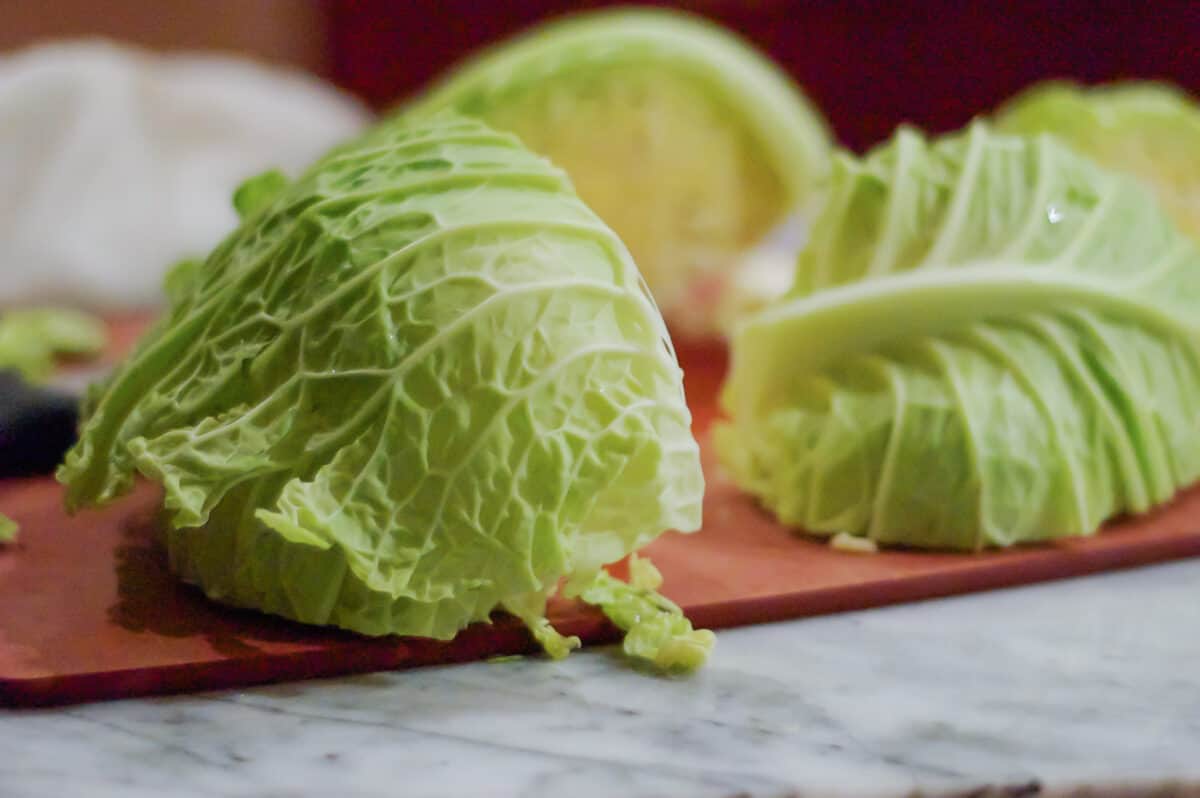 The oven does the rest.
It's incredibly simple.
And what emerges is a meltingly tender, rich, savory gratin that tastes so delicious, that, as Dan said, "it's hard to believe it's cabbage."
It doesn't look like much, but the brothy puddle at the bottom of the pan is so good you'll want to sop it up with crusty bread.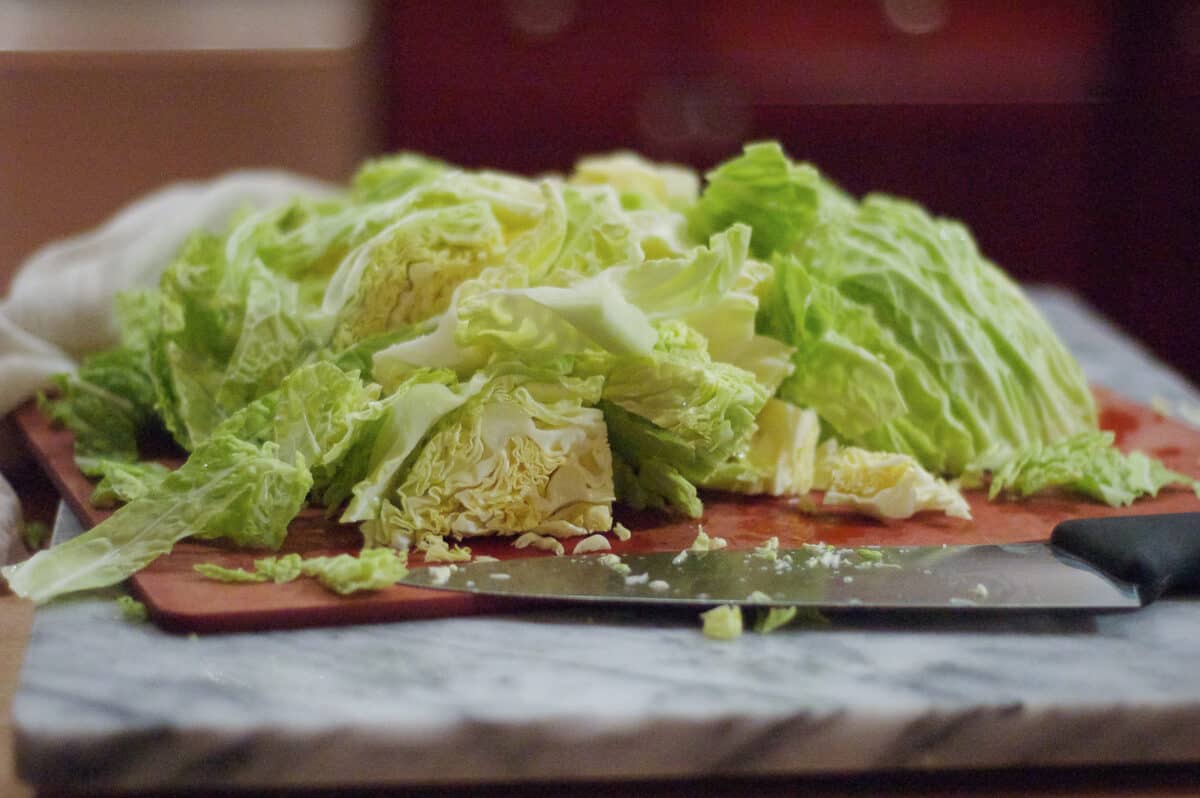 It's as warming and comforting to me as a pan of macaroni and cheese, but it's mostly vegetables.
This is, I think, the sort of dish that could make cabbage skeptics reconsider. It's the kind of dish I want all winter long.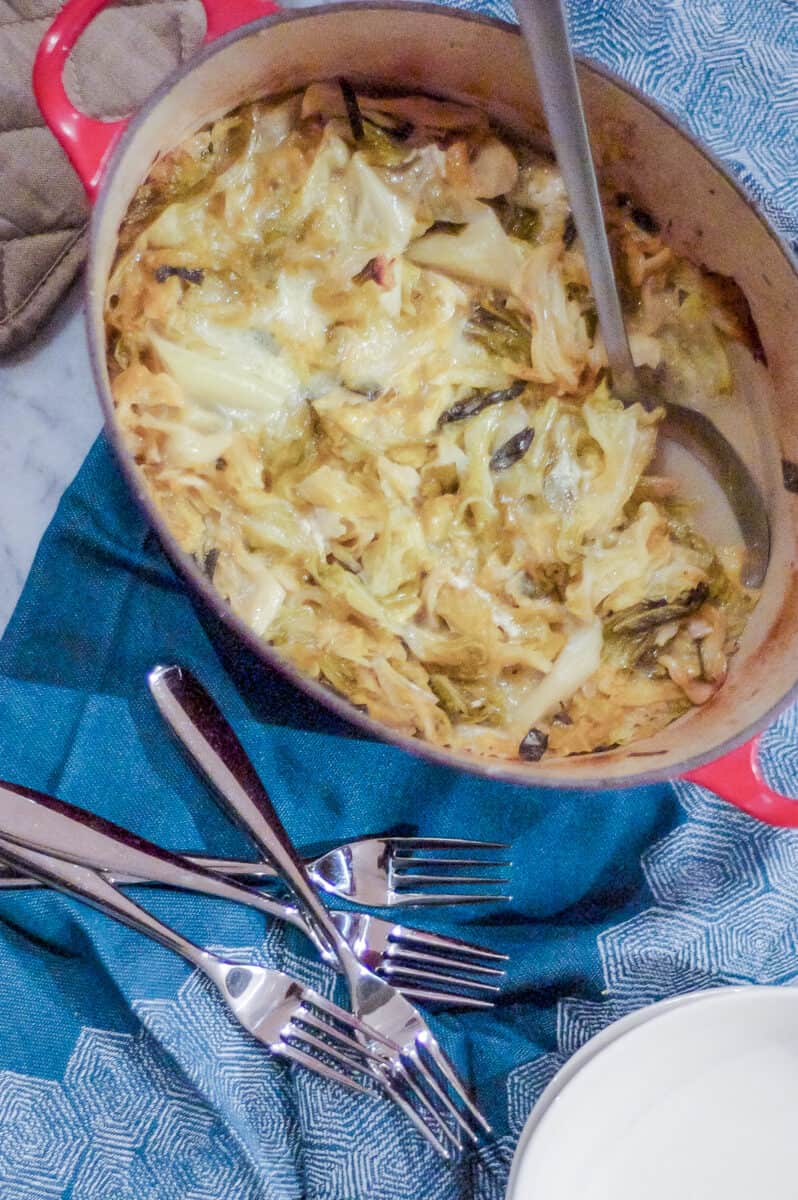 Yield: 2-3 servings as a main dish, 4-6 as a side
Savoy Cabbage Gratin with Delice de Bourgogne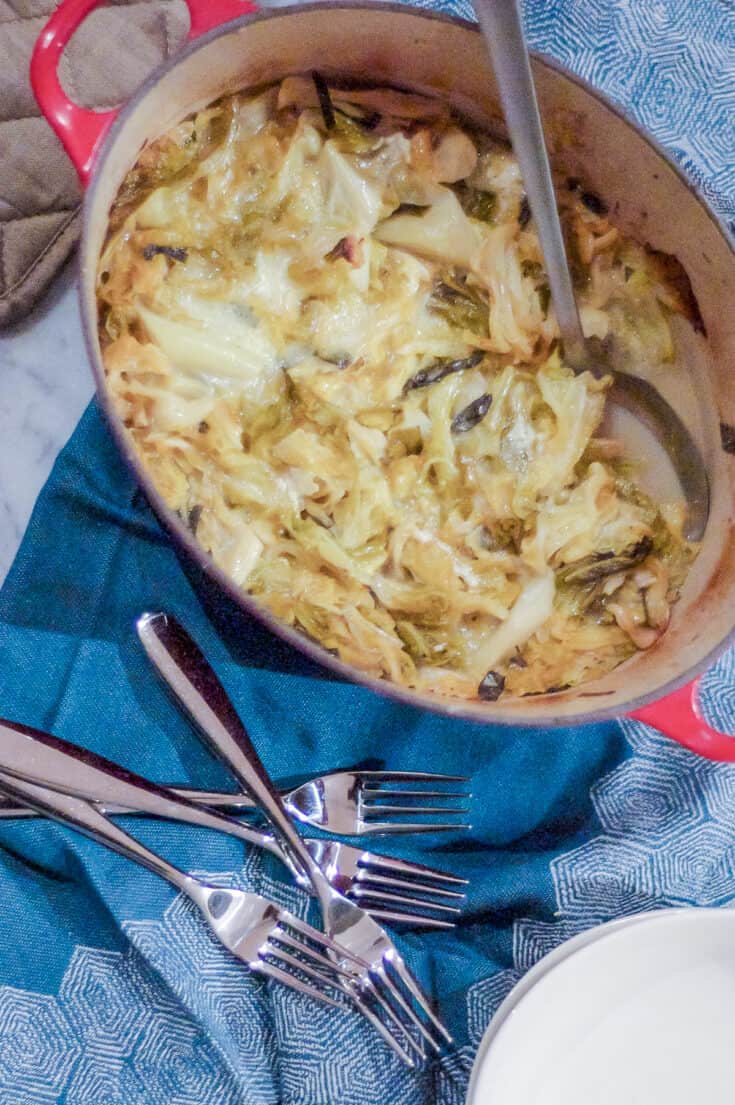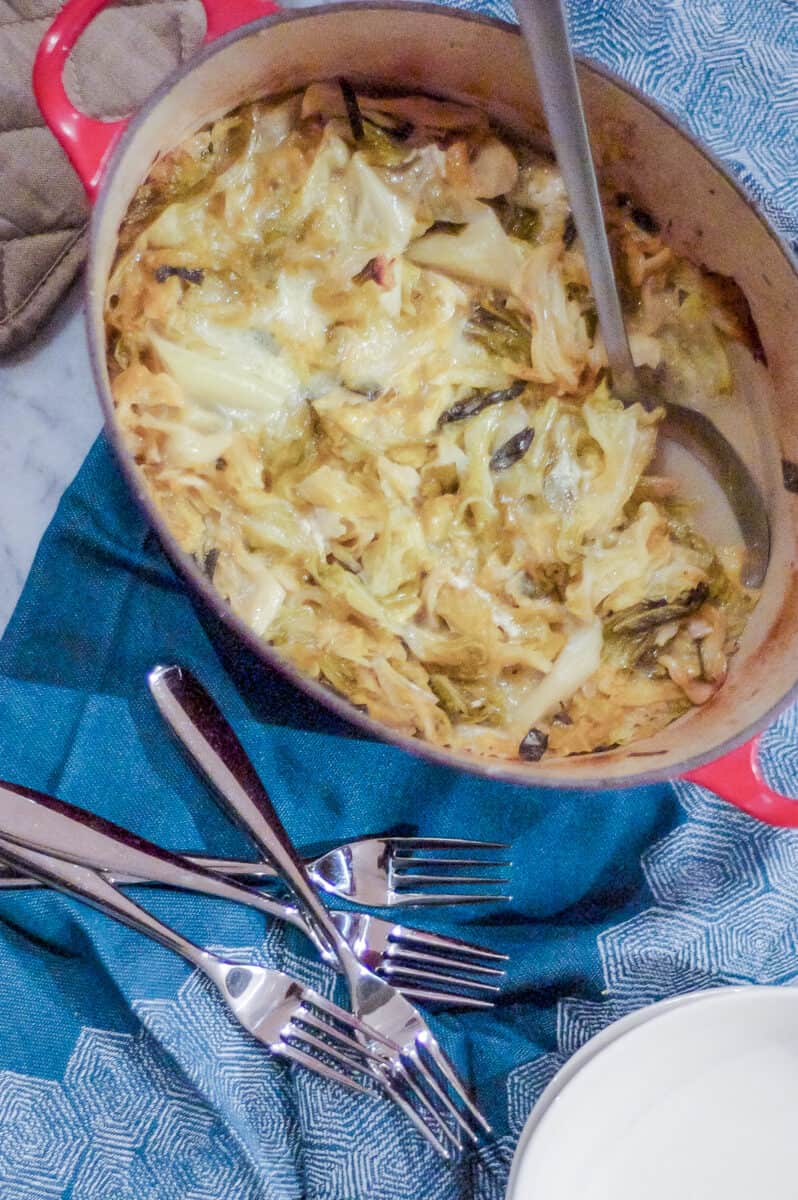 This dish takes a simple head of savoy cabbage and transforms it into something tender and rich and savory and delicious. I wouldn't red cabbage here, and while I think you could get away with green cabbage it's worth noting that savoy is more delicate both in texture and flavor than the other two. I have made this with both chicken and vegetable stock and it's excellent either way. It's vegetarian if you make it with vegetable stock; it's a bit richer with chicken stock. For the cheese, Stevens uses Saint Marcellin, which comes in little individual rounds. I've made this with the much easier to find (and cheaper) Saint Andre, and one of my favorite soft cheeses Delice de Bourgogne and it's been wonderful both ways. Don't be intimidated by the fancy French cheese names. What you want is a soft, triple cream style of cheese, like Brie or Camembert but with more complex flavor. There are plenty of options out there, but I know that what's available at any given grocery store varies widely. I think the most widely available cheese in this style is Saint Andre, which I have seen at Trader Joe's and at our local Jewel. We usually eat this as a light main dish, but it would also be lovely as a vegetable side. As a main, it's nice with a hunk of crusty bread.
Cook Time
1 hour
5 minutes
Total Time
1 hour
10 minutes
Ingredients
1 medium head of savoy cabbage, cored, quartered, and sliced into 1/2-inch strips
1 bunch scallions, both white and green parts, trimmed and cut into 1/2-inch pieces
2 tablespoons unsalted butter
1 3/4 cups chicken or vegetable stock
3 ounces Delice de Bourgogne, Saint Marcellin, Saint Andre or any flavorful triple cream style cheese, rind removed and torn or sliced into 1/2-inch chunks
Instructions
Preheat oven to 350°F. In a large Dutch oven over medium-high heat, add the butter, scallions, and cabbage and a generous pinch of salt. The cabbage will cook down quite a bit–if it doesn't all fit at first, let some of it cook down and add the rest when there is room. Saute, stirring frequently, until the cabbage is tender and beginning to brown in spots, about 10-12 minutes. Add the stock, bring to a boil, and cook for an additional 2 minutes or so. Remove from the heat, cover with a tight fitting lid or aluminum foil, and transfer to the oven.
Cook for 45 minutes. Remove the cover, and cook for an additional 20 minutes or until most of the liquid has evaporated. Turn the oven up to 375°F, scatter the cheese over the top of the cabbage, and cook, uncovered, until the cheese is melted, about 10 minutes.
Serve warm, in bowls, as a side or main.
Recommended Products
As an Amazon Associate and member of other affiliate programs, I earn from qualifying purchases.
Nutrition Information:
Yield:
2
Serving Size:
1
Amount Per Serving:
Calories:

597
Total Fat:

48g
Saturated Fat:

24g
Trans Fat:

1g
Unsaturated Fat:

20g
Cholesterol:

206mg
Sodium:

541mg
Carbohydrates:

7g
Fiber:

2g
Sugar:

2g
Protein:

35g