I may earn from purchases through links in this post.
You know you're a new homeowner when you find yourself attempting to do some quick and easy home improvements, like replacing the gungy kitchen faucet and tightening the loose handle on the dishwasher, and two days later, after trips to three different stores, you still don't have the right part for the faucet and the dishwasher is, umm, well, let's just say it's been divided into its constituent parts.
But the new faucet sure looks great and the handle on the dishwasher has indeed been tightened, even if the side panels and door still need to be put back on.
I'm pretty sure this is what they mean when they say a little bit of knowledge is a dangerous thing.
Sometimes, when you're sitting on the kitchen floor in the dark attempting to line up a hinge and a plastic thing with the holes on the inner panel of the dishwasher door for the fourteenth time, you just have to laugh at your folly.
It hasn't been the easiest couple of days.
I needed, desperately, to get back to something I actually know how to do. Which meant stepping over the pieces of dishwasher door and turning on the oven to make some cookies.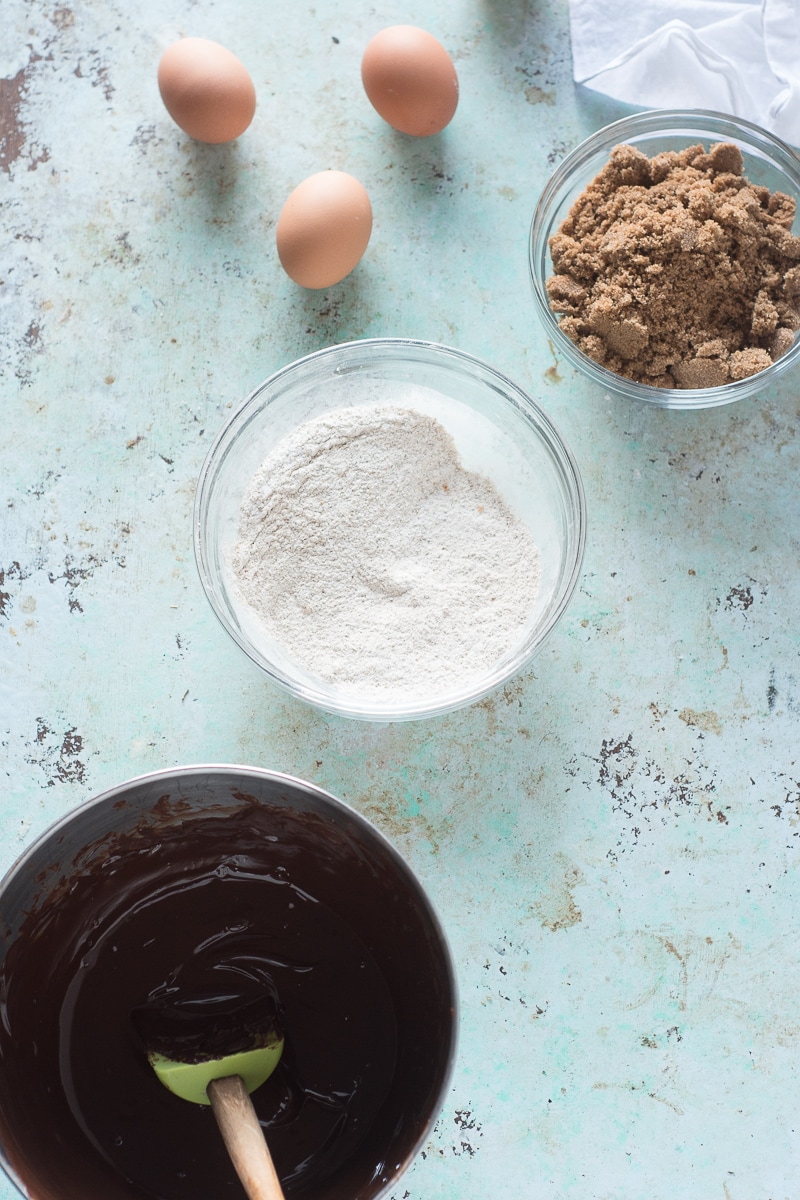 These salted chocolate rye cookies had been on my list of things to make for months. They come from Chad Robertson's Tartine Book No. 3, which focuses on whole grains and heirloom grains in baking.
It's a place to turn if you're serious (like, very serious) about learning about methods for whole grain breads and if you want new ways to approach whole grains in bakery-style sweets. It isn't just substituting some whole wheat flour for white flour. It's about broadening the flour palette we paint with.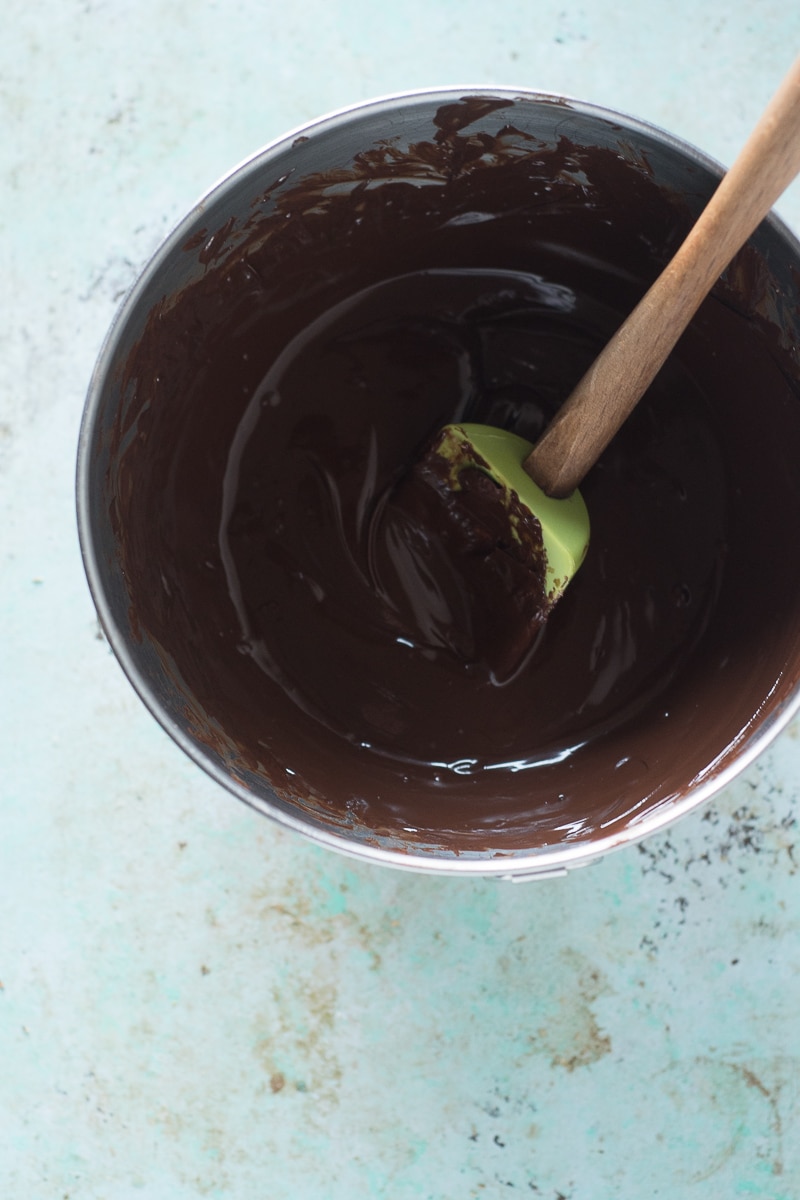 These cookies play on the malty characteristics of rye flour. They are deep and dark and chocolatey with a truffle-like texture, but they gain an intriguing complexity from the rye flour and the muscovado sugar and the sea salt.
Even if you're one of those people who doesn't like rye bread, these cookies may make you reconsider the virtues of rye flour.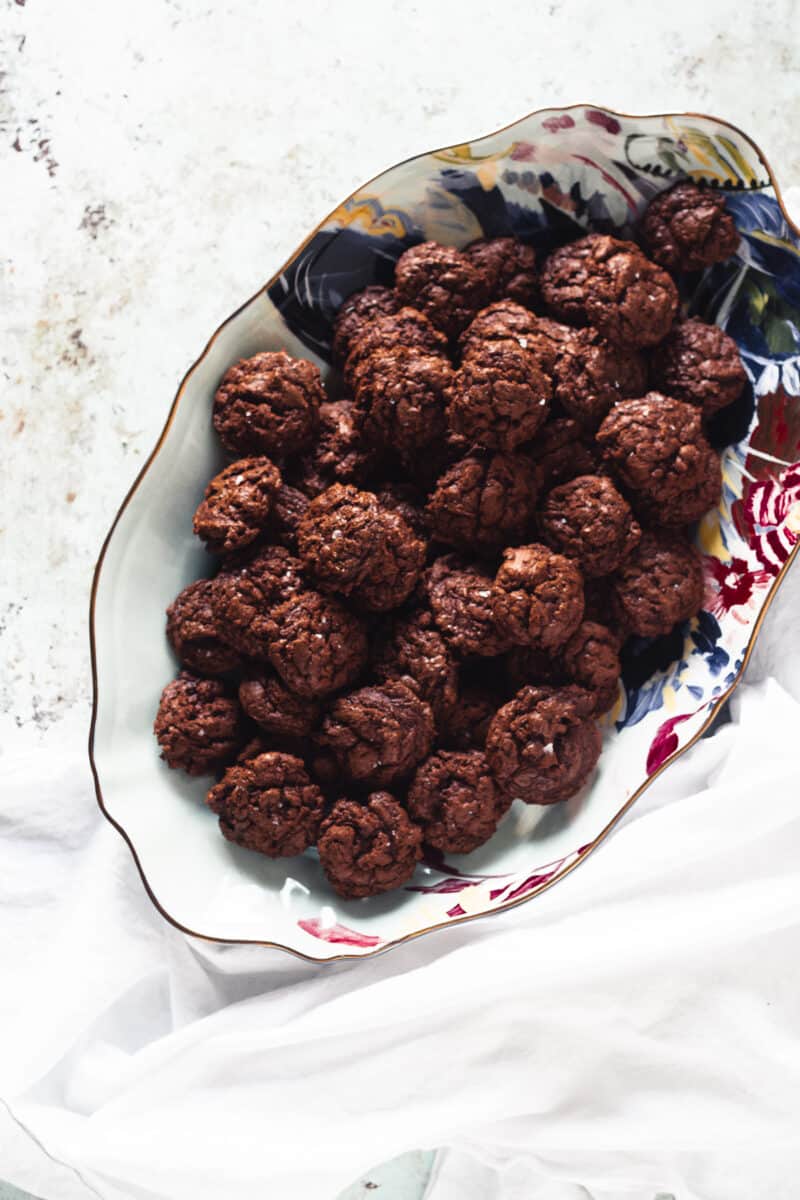 If you are looking for a rich, chewy chocolate cookie, these bite-sized, craggy-topped salted chocolate rye cookies are a great option. They're almost like brownies.
But they feel a little bit more grown up. And they're so worth it.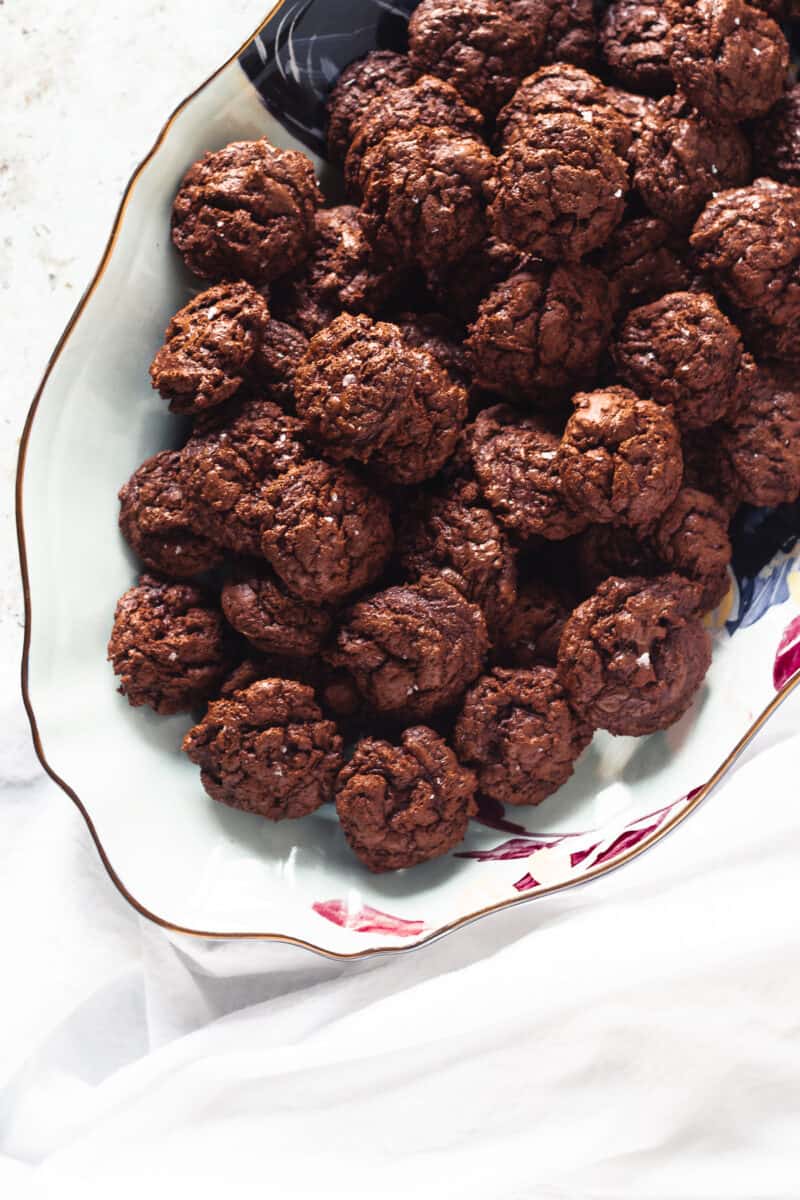 Yield: 50 cookies (50-60)
Salted Chocolate Rye Cookies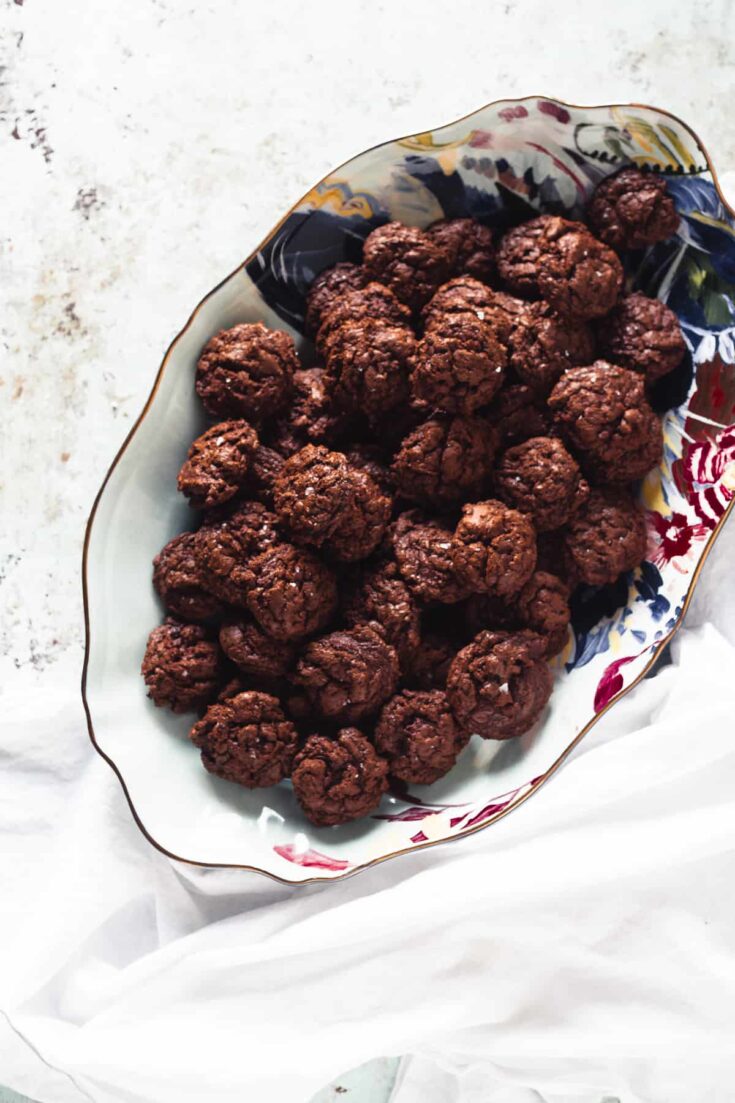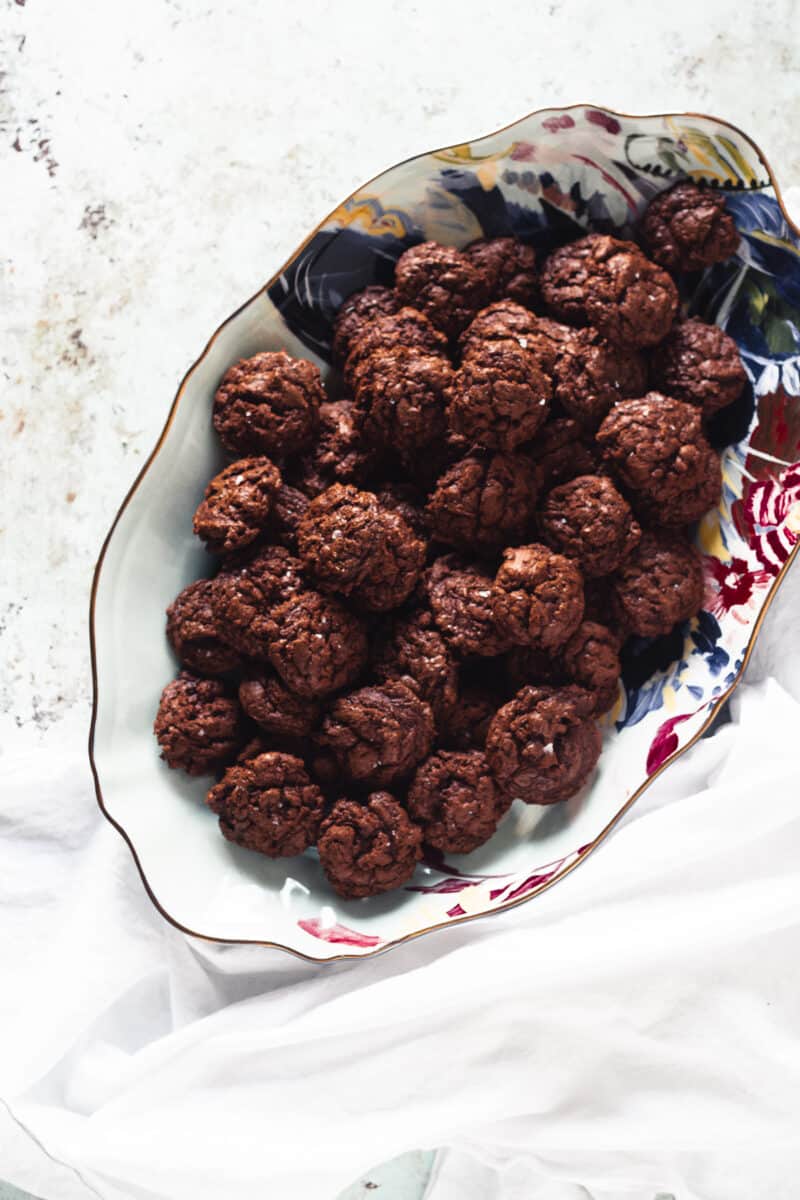 These cookies have a whole pound of bittersweet chocolate in them. The result is an intensely chocolatey, not-too-sweet cookie with a truffle-like texture. The rye flour here is subtle, but it brings in warm malty notes. Note that while these cookies are wheat free, they are not gluten free (rye contains gluten). Muscovado sugar is a dark unrefined cane sugar with complex molasses notes. It's available at specialty grocery stores like Whole Foods and online. You can substitute dark brown sugar, which is similar, but not as complex. For the sea salt, go for something with big flakes that will be perceptible as little salty nuggets of flavor. My favorite brand is Maldon, but you can use any flaky salt you like. Robertson recommends Valrhona chocolate, I used Guittard, but you can use any bittersweet chocolate you like in the 68-72% range (don't use chocolate chips, which have coatings that won't let them melt properly here). This dough is quite sticky–your life will be easier if you use a disher/cookie scoop and parchment paper.
Total Time
1 hour
2 minutes
Ingredients
1 pound (2 2/3 cups) bittersweet chocolate (68-72% cacao), chopped
4 tablespoons (2 ounces, 1/2 stick) unsalted butter
3/4 cup whole-grain dark rye flour
1 teaspoon baking powder
3/4 teaspoon kosher salt
4 in large eggs, at room temperature (you can bring them up to temp quickly by putting them a bowl of warm water)
1 1/2 cups dark muscovado or dark brown sugar
1 tablespoon vanilla extract
Flaky sea salt for topping
Instructions
Put the chopped chocolate and butter in a heatproof bowl. Set a saute pan with about an inch of water over medium heat and bring to a simmer. Reduce heat to low and set the bowl in the pan. Melt the chocolate and butter, stirring occasionally, until smooth. Remove from heat and set aside.
In a small bowl, whisk together the rye flour, baking powder, and kosher salt.
In the bowl of a stand mixer fitted with a whisk attachment, add the eggs and whip on medium-high speed, adding the sugar, a little at a time, until fully incorporated. Bump up the speed to high and continue whipping until the eggs have tripled in volume. That will take about six minutes.
Turn the mixer down to low and pour in the melted chocolate and butter mixture. Then add the vanilla. Continue mixing until combined. Add the flour mixture and mix until the flour is just incorporated. The dough will be very soft. Don't worry. After chilling it will be firm enough to scoop.
Cover the bowl of the mixer with plastic wrap, and refrigerate the dough for about an hour, or until firm to the touch.
Preheat the oven to 350°F. Line 2 baking sheets with parchment paper. Scoop the dough with a small cookie scoop into approximately tablespoon-sized balls and space them about 2 inches apart. The dough will still be pretty sticky, this is normal. Sprinkle of few flakes of sea salt over each dough ball and gently press them in so they stick.
Bake, one sheet at a time, until the cookies have puffed up and have a rounded top, about 8-10 minutes, rotating about halfway through. Let cool on the baking sheet for about five minutes before transferring to a wire rack. Repeat with the remaining dough.
Recommended Products
As an Amazon Associate and member of other affiliate programs, I earn from qualifying purchases.
Nutrition Information:
Yield:
50
Serving Size:
1
Amount Per Serving:
Calories:

38
Total Fat:

1g
Saturated Fat:

1g
Trans Fat:

0g
Unsaturated Fat:

1g
Cholesterol:

36mg
Sodium:

68mg
Carbohydrates:

5g
Fiber:

1g
Sugar:

4g
Protein:

2g