I may earn from purchases through links in this post.
Hi there. Things here have been mercifully quiet.
Slowly, we're getting our new place put together. We reassembled the dishwasher. We put books on the shelves. We determined that we, do, in fact, need more bookshelves. We're daydreaming about built-ins and a library ladder.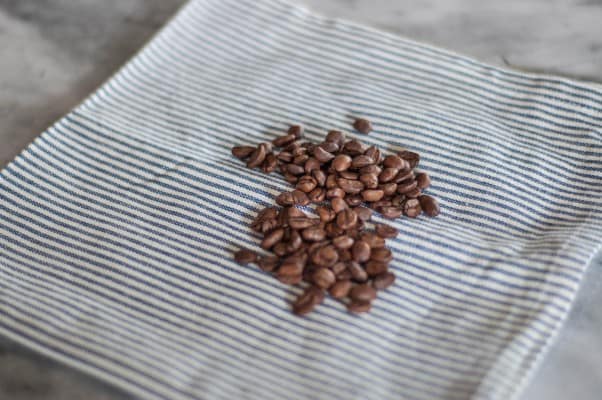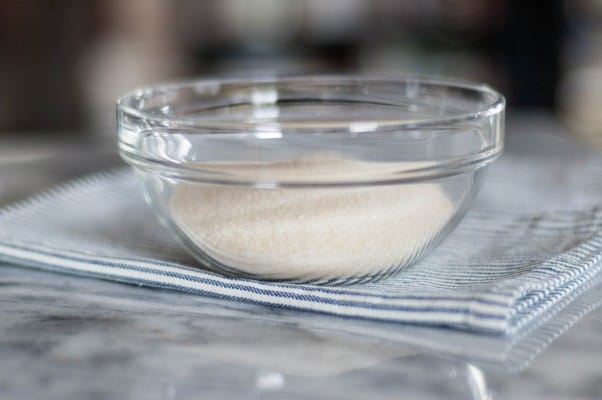 We're learning the rhythms of this new space.
I've been listening to the Vince Guaraldi Trio's Charlie Brown Christmas album and padding around the condo in stocking feet, sliding across the smooth hardwood floors, and generally getting into the holiday spirit.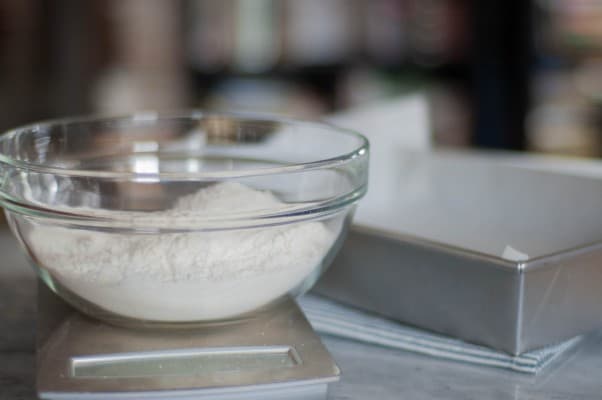 I've been getting to know the oven, and she and I are getting along pretty well.
I have a new cookie for you.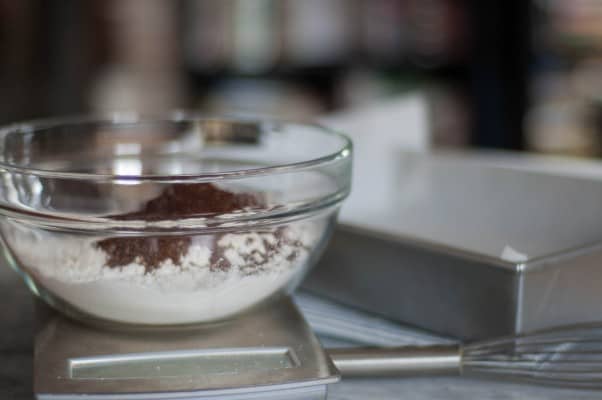 It's a buttery shortbread cookie with finely ground espresso beans. The bitter of the coffee gets balanced with a rich, sweet layer of butterscotch glaze.
It's a cookie recipe I saw in Food & Wine and clipped out and stuck in my recipe binder in, uh, 2008. Back when I still bothered sticking things in a recipe binder.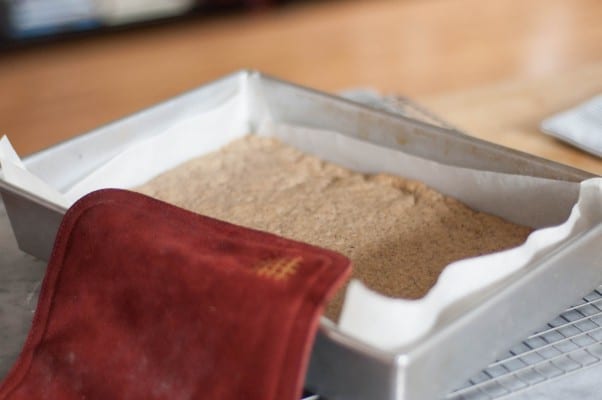 Every December since, I've leafed through the thick stack of pages stuffed unceremoniously into the pocket of the binder, stopped when I get to these espresso shortbread cookies and thought "I should make those."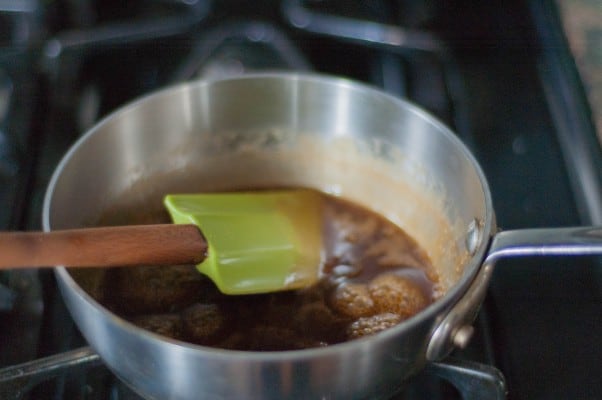 And then, somehow, they never made the cut.
I think I thought they looked too fiddly or something. But honestly, these are easy. They're a simple pat-in-the-pan shortbread bar cookie, and the butterscotch glaze takes about two minutes to make.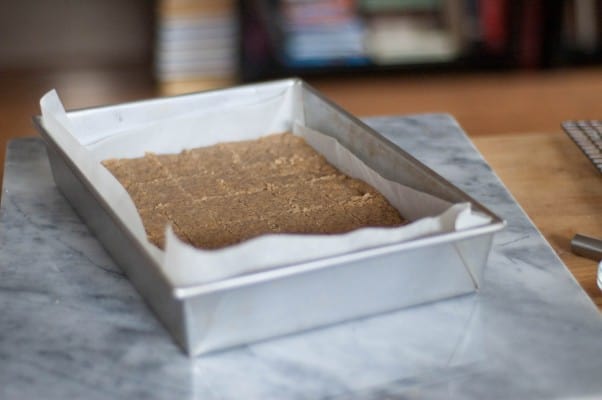 And because they come from the amazing Flo Braker (author of Baking for All Occasions, and other baking books), they taste really freaking good.
I absolutely love the combination of coffee and butterscotch. It's something I love about these blondies and about Momofuku compost cookies.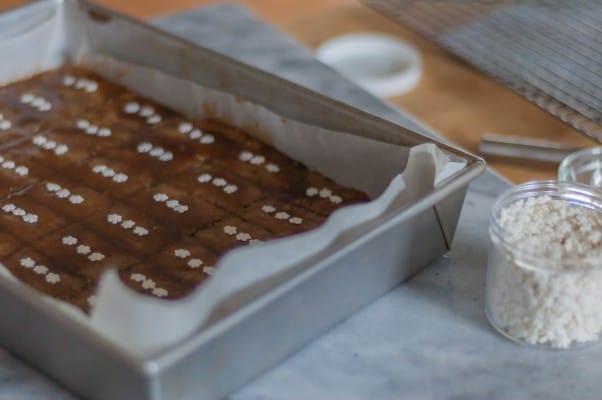 And these cookies take that flavor combination and run with it with a crisp coffee-flavored shortbread topped with a delightfully sticky butterscotch glaze.
I don't know why it took me eight years to get around to making these. Don't make the same mistake I did. Make them now.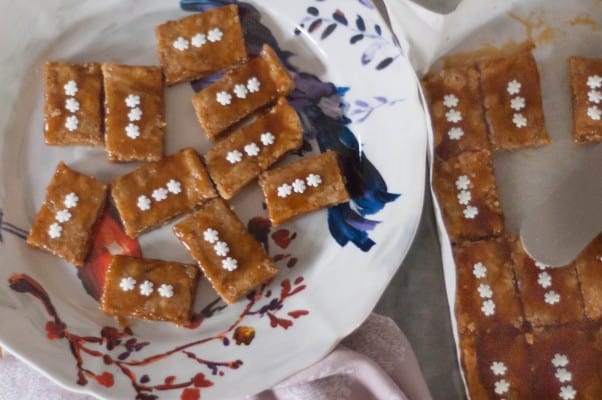 Yield: 40 bar cookies
Butterscotch-Glazed Espresso Shortbread Cookies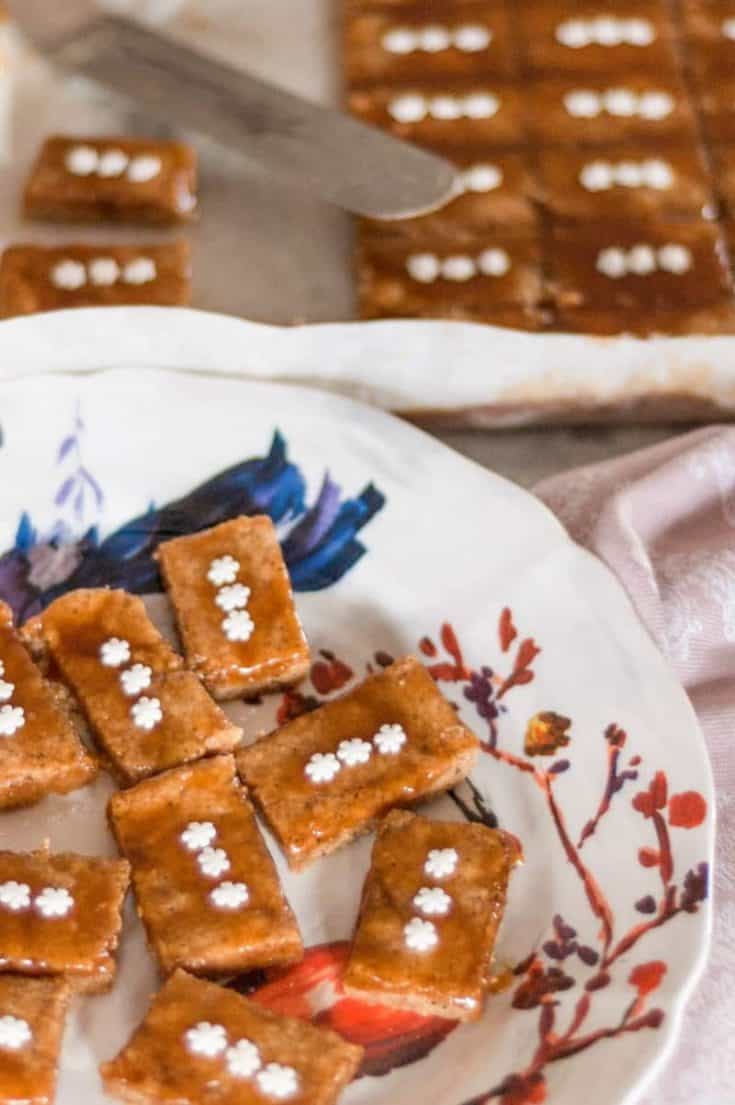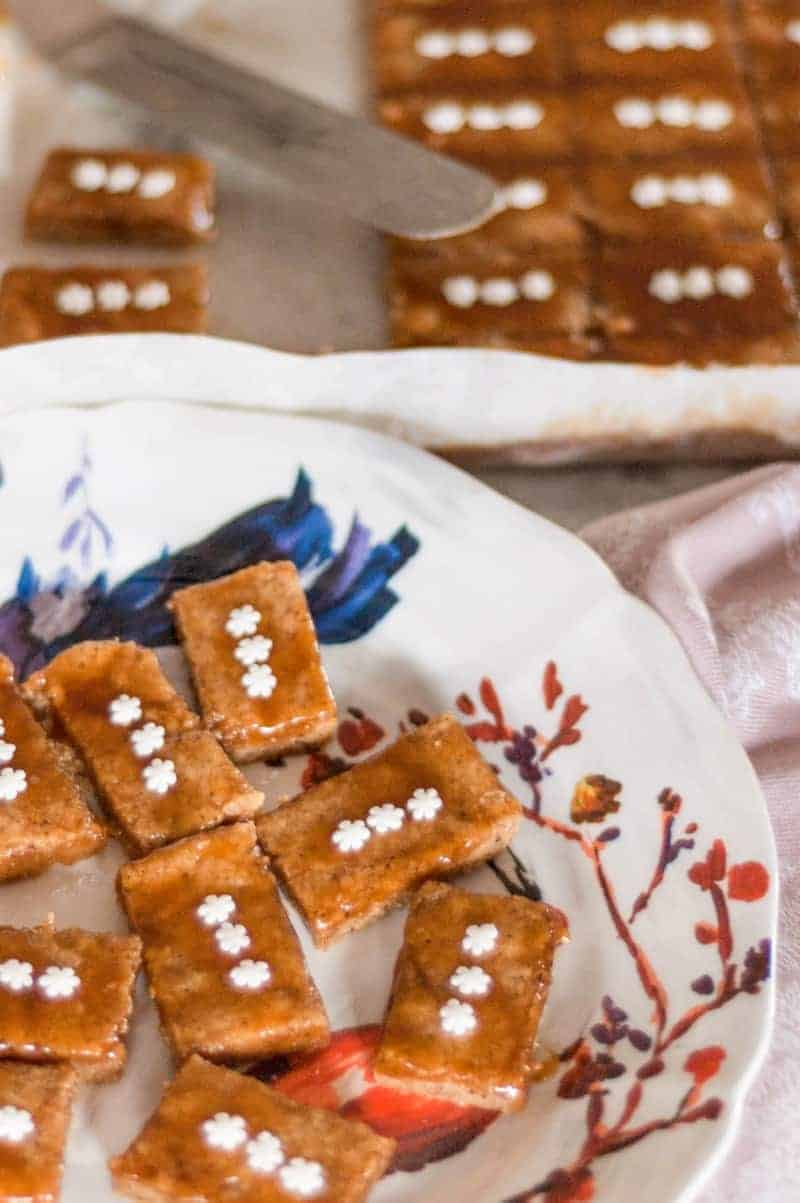 These espresso shortbread cookies are rich but not overly sweet. The coffee flavor is perceptible, but not overwhelming. The sweetness of butterscotch glaze balances out the bitterness of the espresso in the shortbread. The espresso shortbread is a simple pat-in-the-pan job and all it takes to make the glaze is throwing the ingredients into a saucepan, stirring, and boiling for a little over a minute. Braker tops these with chocolate covered espresso beans, which feel, to me, like the wrong scale for these delicate cookies. I topped them with snowflake sprinkles from King Arthur Flour. You can leave them unadorned or top them with any simple sugar or chocolate decoration you like. The glaze on these stays soft, so it's best to store these cookies in a single layer to avoid a sticky mess.
Additional Time
20 minutes
Total Time
1 hour
15 minutes
Ingredients
For the cookies:
1 cup (8 ounces, 226 grams, 2 sticks) unsalted butter, at room temperature
2/3 cup (132 grams) granulated sugar
1 teaspoon vanilla extract
1/2 teaspoon kosher salt
2 1/3 cups (290 grams) all-purpose flour
1 tablespoon (8 grams) finely ground espresso or coffee beans
For the butterscotch glaze:
4 tablespoons (2 ounces, 57 grams) unsalted butter
1/3 cup (66 grams) light brown sugar
1 tablespoon (20 grams) light corn syrup
1/2 teaspoon instant espresso powder dissolved in 1 tablespoon of water
Instructions
Preheat oven to 300°F. Line a 9×13-inch metal baking pan with parchment paper.
In a large mixing bowl, whisk together the flour, salt, and ground espresso beans. Set aside.
In the bowl of a stand mixer fitted with a paddle attachment, add the butter and sugar, and beat on medium-high speed until pale and fluffy, about 5 minutes. Add the vanilla and beat until combined.
Add the flour mixture, a third at a time, and beat on low speed until just incorporated.
Press the dough into the lined baking pan in an even layer. Press a layer of plastic wrap over the dough and smooth the dough with a flat bottomed glass to even out the bumps as much as possible.
Bake until just lightly golden, about 40 minutes. Place on a cooling rack.
Let cool for about 10 minutes, then, using a sharp chef's knife, cut the warm shortbread lengthwise into 8 strips, then cut crosswise into 5 rows (leave them in the pan). Let the bars cool completely.
Make the glaze. Add the butter, brown sugar, corn syrup and dissolved espresso powder to a small heavy saucepan over medium heat and stir. Bring to a boil and continue boiling until slightly thickened, about a minute and a half.
Remove from heat. Let the bubbling subside and then immediately pour the glaze over the shortbread bars and quickly spread in an even layer with a small offset spatula. If desired, press decorative sprinkles onto each bar.
Using the tip of a paring knife, score the glaze between the cuts, without dragging. Let cool and carefully lift out of the pan and transfer to a serving plate.
The glaze stays soft and a little sticky, so don't be tempted to stack these cookies, even with a layer of wax paper or parchment between. You can store these in a single layer in an airtight container for up to a week.
Recommended Products
As an Amazon Associate and member of other affiliate programs, I earn from qualifying purchases.
Nutrition Information:
Yield:
40
Serving Size:
1
Amount Per Serving:
Calories:

203
Total Fat:

17g
Saturated Fat:

11g
Trans Fat:

0g
Unsaturated Fat:

6g
Cholesterol:

45mg
Sodium:

52mg
Carbohydrates:

12g
Fiber:

0g
Sugar:

6g
Protein:

1g