I may earn from purchases through links in this post.
It's been a rainy couple of days. We put off getting our Christmas tree because we didn't want to end up with a puddle of water on the hardwood floors.
I don't mind the milder weather, but I quickly tire of the gray skies.
Luckily, I had something of a pick-me-up stuck in a container on the counter.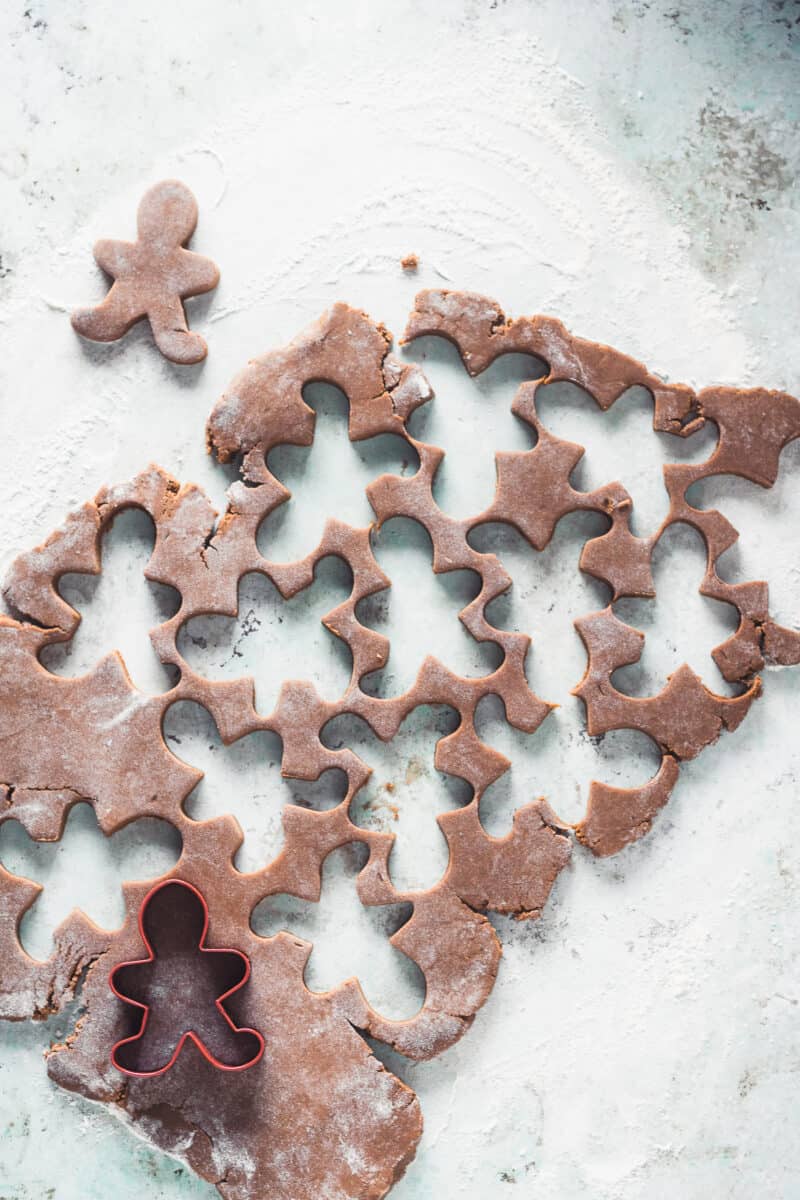 These gingerbread cookies are soft and cakey and molassesy and generously spiced.
They come from one of my favorite baking books, Elizabeth Prueitt's Tartine. And, unsurprisingly, they are some of the best gingerbread cookies I've ever made.
There are a few different categories of holiday spice cookies. Some crisp and dunkable, some chewy and flat, some mild, some extra spicy with gingery heat.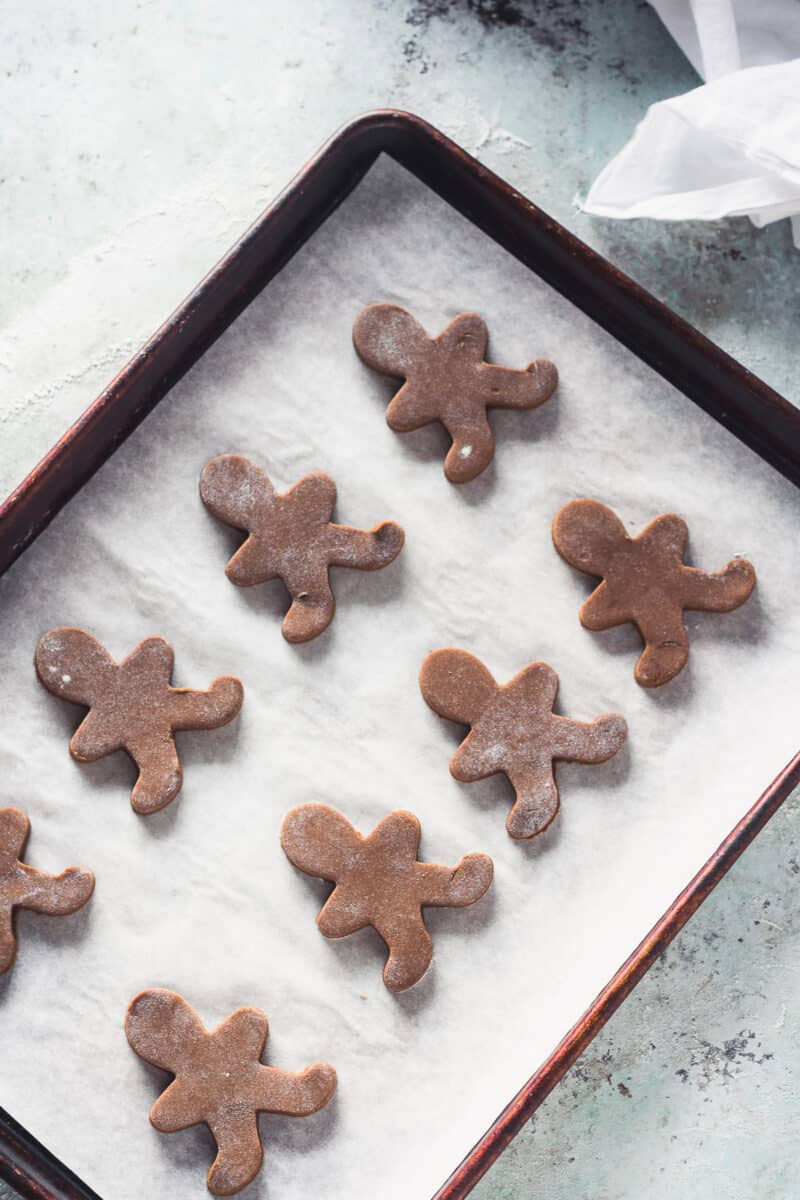 These cookies are thicker than most cut-out cookies, with a soft, cakey texture and plenty of ginger, cinnamon, and cloves. Prueitt adds black pepper for an extra kick, but I prefer these without it.
The dough gets made the night before. Right out the mixer, the dough is incredibly soft and sticky, but after it spends a night in the refrigerator, it firms up nicely and is a dream to work with.
It holds shapes well incredibly well and can handle being re-rolled several times without getting tough.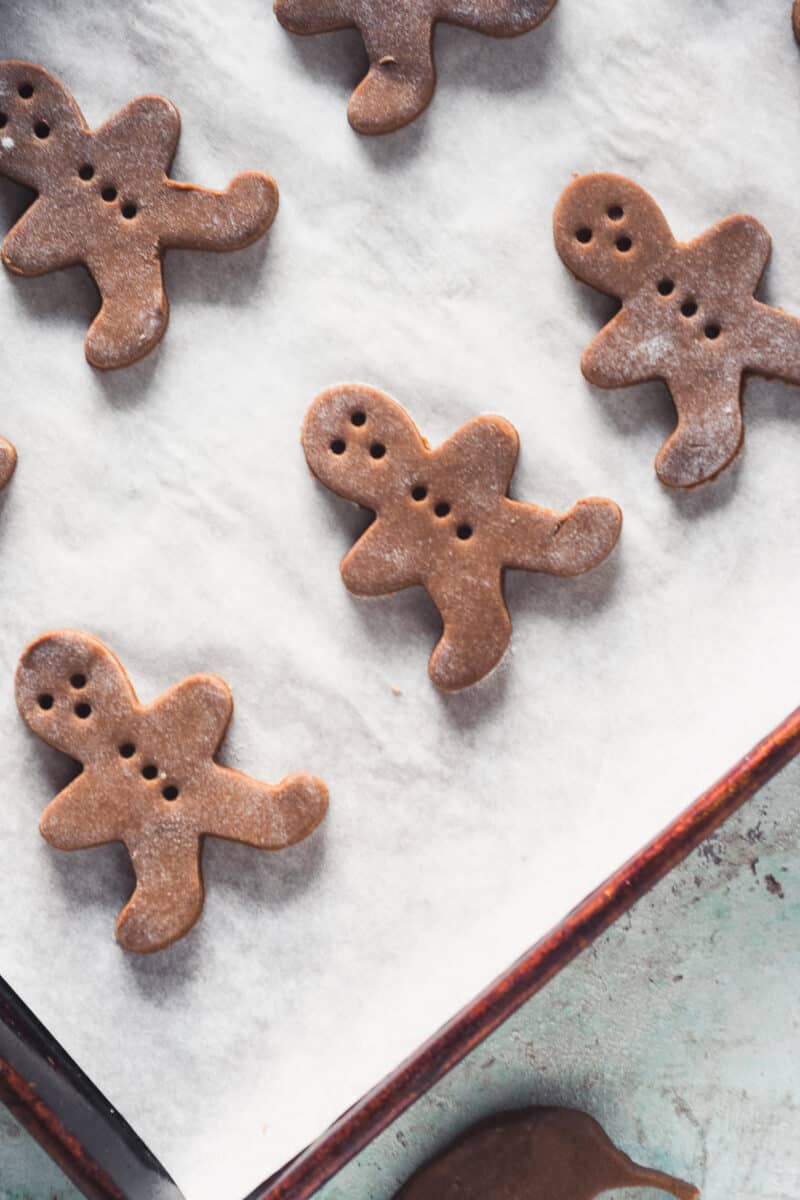 Prueitt calls for rolling these out with a decorative rolling pin or impressing shapes on them with springerle molds (this dough can definitely hold intricate patterns).
I don't have fancy molds like that, but I do have some cookie cutters, and I couldn't resist making these into gingerbread men people (Dan insists I refer to them with gender-neutral language).
The faces and buttons get drawn on with a lollipop stick after they're cut out but before they go into the oven. I opted to go pretty traditional with the decorating, but if you're making these with kids or feeling particularly creative, you could run wild with the designs.
After they come out of the oven, they get brushed with a simple powdered sugar and water glaze that settles into the impressions in the cookie to bring out the design. Which is a pretty nifty trick and just about the fastest way I've ever iced cut-out cookies.
The glaze also holds in the moisture to help keep these cookies soft and adds some sweetness to balance out the spiciness of the dough. These are well balanced and, for me, just about the perfect soft gingerbread cookie. I would be reaching for another one right now if there were any left
Looking for more holiday cookie recipes? Try these citrus and spice orange cardamom snowflake cookies, striking and delicate white chocolate raspberry cookies, truffle-like salted chocolate rye cookies, coffee-kissed butterscotch-glazed espresso shortbread bars, sticky and nutty honey walnut bars, and tender, powdered sugar covered lime meltaways.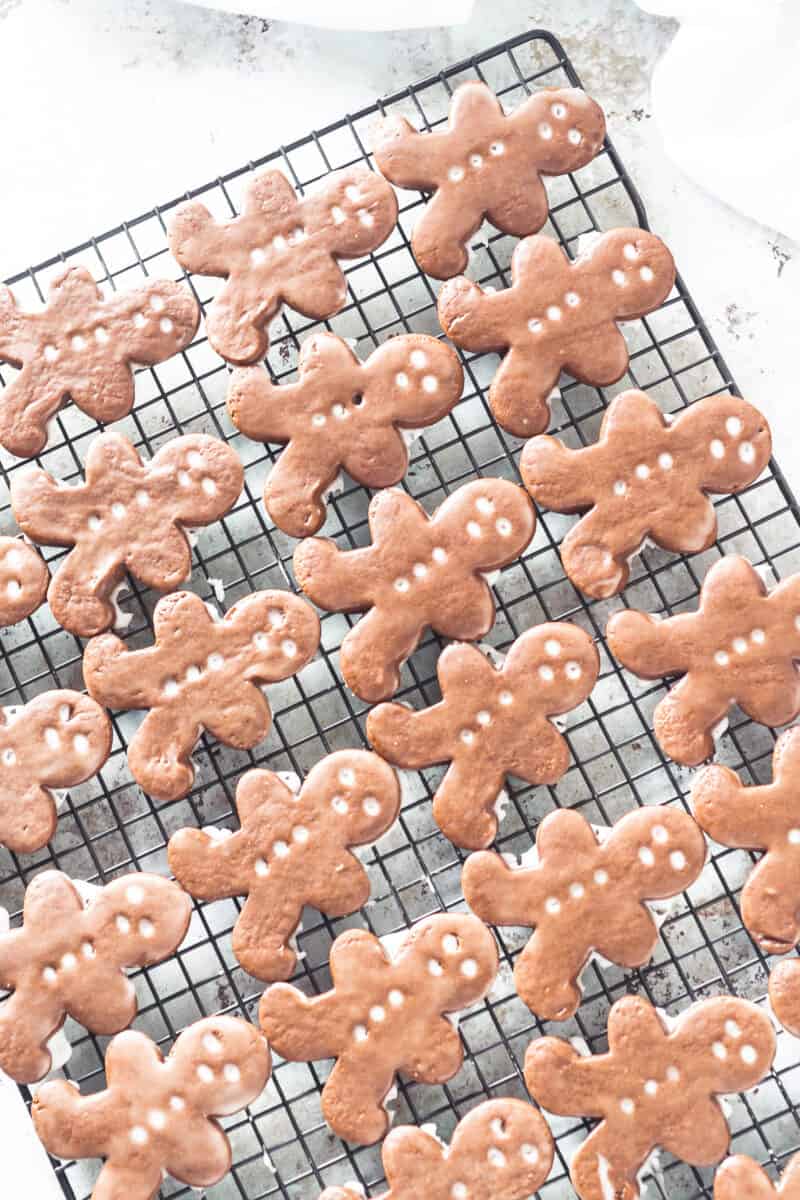 Yield: 22 cookies (varies depending on your cookie cutters, but yields about 22 gingerbread people about 3 1/2-inches tall and 2 1/2-inches wide)
Soft Gingerbread Cookies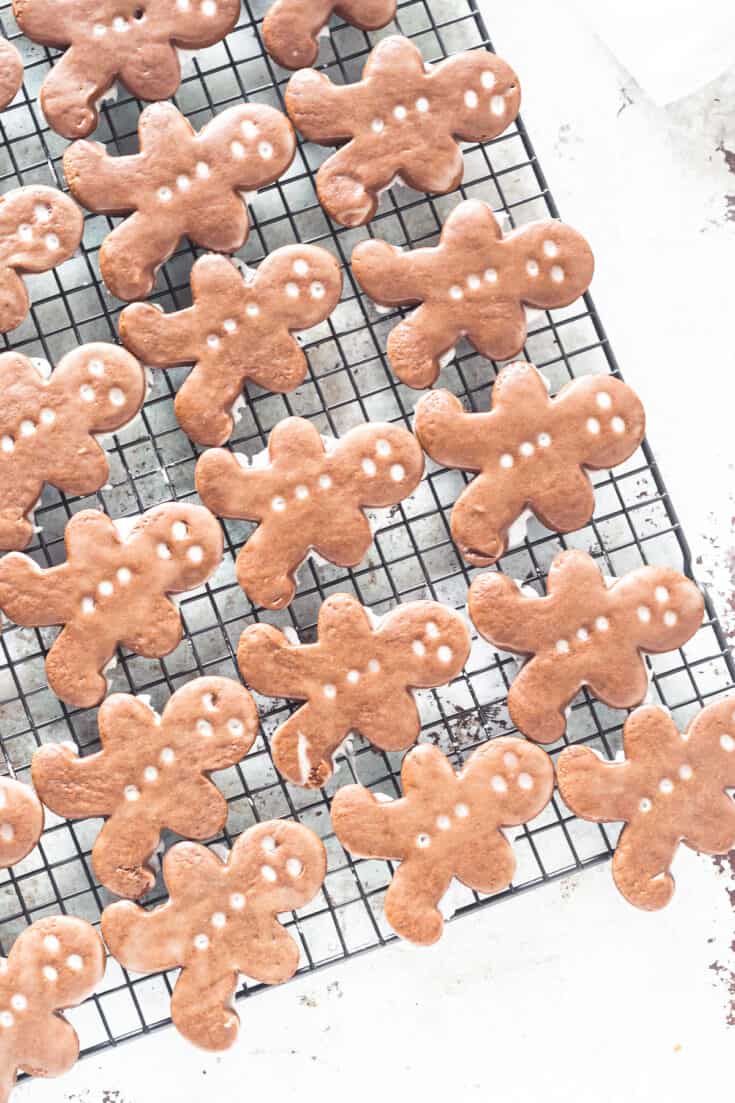 These gingerbread cookies are soft, spicy, thick, and cakey. They have a generous amount of ground ginger, cinnamon, and cloves. The original version of these cookies calls for black pepper, but I prefer these without it so I haven't included it here. You could certainly add some in if you'd like some extra heat. The dough, after it has rested in the refrigerator overnight, is a dream to work with. It rolls out easily and holds shapes well. Note that these are thicker than most cookies, and be sure not to roll them too thin. The dough should be about 1/3 inch thick. The yield on these will vary depending on what cookie cutters you use. I used a gingerbread person cookie cutter about 3 1/2″ x 2 1/2″ and got about 22 cookies out of it.
Total Time
8 hours
30 minutes
Ingredients
For the cookies:
3 3/4 cups (525 grams) all-purpose flour
1 tablespoon cocoa powder, natural or Dutch-processed is fine
4 teaspoons ground ginger
1 1/2 teaspoons ground cloves
2 teaspoons ground cinnamon
1/2 teaspoon baking soda
1 teaspoon kosher salt
1 cup (225 grams, 2 sticks) unsalted butter at room temperature
3/4 cup (150 grams) granulated sugar
1 large egg
1/2 cup (155 grams) molasses, not blackstrap
2 tablespoons light corn syrup
For the glaze:
1 cup (115 grams) confectioners' sugar
2 tablespoons water
1/4 teaspoon vanilla extract and/or a few drops of orange oil, optional
Instructions
The day before you want to bake the cookies, make the dough. Whisk together the flour, cocoa powder, ginger, cloves, cinnamon, baking soda and salt in a large mixing bowl until thoroughly combined. Set aside.
In the bowl of a stand mixer fitted with the paddle attachment, add the butter and beat on medium speed for about one minute. With the mixer on medium, slowly add the sugar and mix until smooth, pale, and fluffy. Add the egg and mix until incorporated. Add the molasses and corn syrup and beat on medium speed until well combined. Scrape down the sides of the mixing bowl.
Add the dry ingredients in three batches, mixing on low speed between additions until no streaks of dry flour remain.
The dough will be very soft. Lay out a large piece of plastic wrap on a flat surface and scrape the dough out of the bowl onto the plastic wrap and flatten the dough into a rectangle about 1 inch thick. Wrap tightly with plastic wrap and refrigerate overnight.
About 20 minutes before you want to bake the cookies, remove the dough from the refrigerator to soften a little.
Preheat the oven to 350°F and line two baking sheets with parchment paper.
Sprinkle flour over the counter, unwrap the dough, and place it on the floured work surface. Sprinkle some flour over the dough and over your rolling pin. Roll out the dough until it is about 1/3 inch thick. Cut the cookies out with your cookie cutters and place them on the baking sheets, about 1 inch apart. Re-roll the scraps and cut out more cookies until you've used all of the dough (no need to chill in between).
If desired, press designs into the cookies (such as faces and buttons) with a lollipop stick or toothpick.
Bake the cookies until they've darkened a little around the edges but are still soft in the center, about 7-15 minutes depending on the size of your cookie cutters. (Mine took about 9 minutes.)
While the cookies are baking, make the glaze. Whisk together the confectioners' sugar and water (and vanilla extract or orange oil, if using) until smooth.
When the cookies are ready, remove them from the oven and place the baking sheet on a wire rack to cool for about 10 minutes. Using a pastry brush, brush the glaze in an even layer over the tops of the cookies, being sure to cover the areas with designs well. Let the cookies cool completely until the glaze feels dry to the touch.
Nutrition Information:
Yield:
22
Serving Size:
1
Amount Per Serving:
Calories:

167
Total Fat:

1g
Saturated Fat:

0g
Trans Fat:

0g
Unsaturated Fat:

1g
Cholesterol:

9mg
Sodium:

133mg
Carbohydrates:

37g
Fiber:

1g
Sugar:

20g
Protein:

3g