I may earn from purchases through links in this post.
It's December 23rd, and I'm sitting in my pajamas by the Christmas tree with a mug of coffee and the severed head of a gingerbread person from a fresh batch of cookies. There's nothing like the holidays.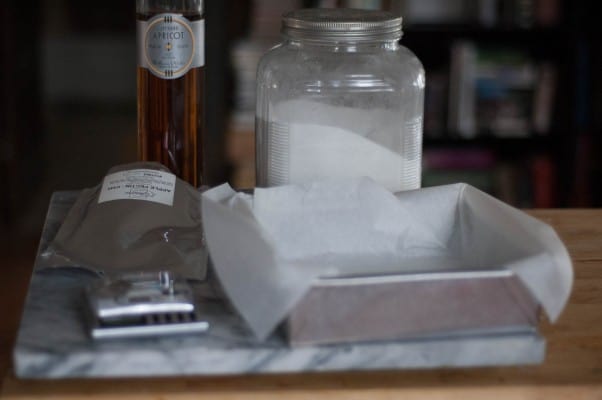 Yesterday was a solid day of baking with my sister Erin, and now we have containers with eight (!) different varieties of candies and cookies. We have a tendency to go a little overboard with our holiday treat making.
I even made a dough for a ninth cookie, but after Dan talked some reason into me, I stuck it in the freezer for a later date. Way too much, I suppose, is enough.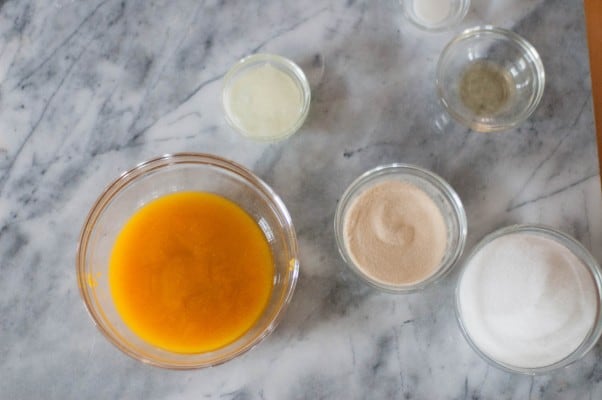 But it's tough to cut down the list when so many of these cookies and confections are so ridiculously good. I can't stop making the white chocolate raspberry cookies, the orange cardamom snowflakes, the nibby buckwheat cookies, the green mint chip cookies, the salted cashew brittle, the chocolate hazelnut praline bark, the gingerbread cookies, or these brilliantly colored, chewy passion fruit pâte de fruit candies.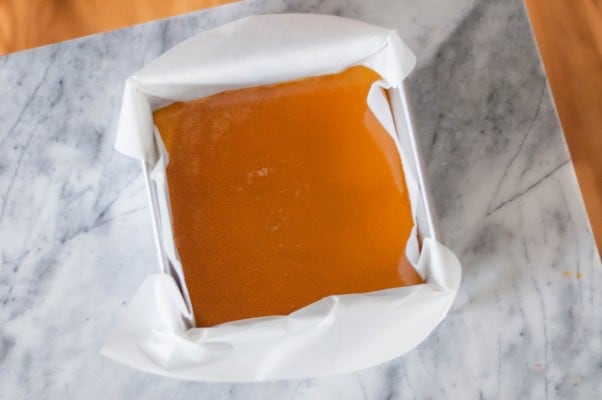 Pâte de fruit is a just a fancy French way of saying fruit jellies (I often just call them gummies). These passion fruit ones are something special. They taste intensely of passion fruit, all bright and citrusy with a tart edge that cuts through the sweetness.
I feel a bit like a mad scientist when I make these.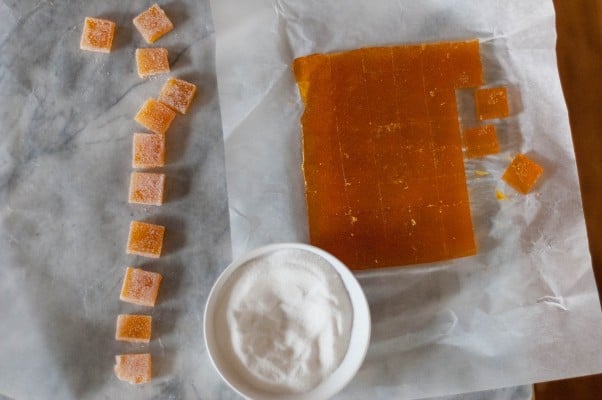 I pull out the milligram scale and the Thermapen and lots of tiny bowls.
They are not exactly difficult, but they require precise measurements and timing and a fearlessness when approaching a roiling pot of hot sugar.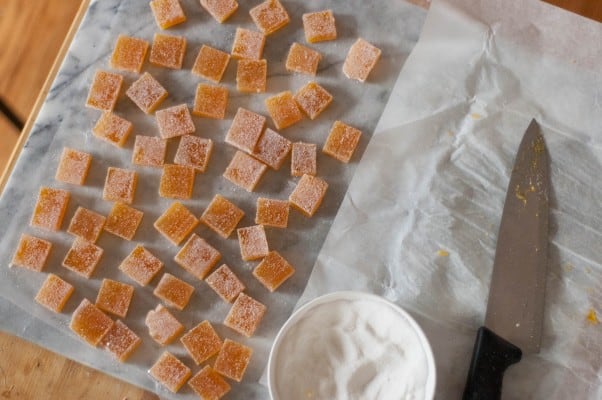 Even so, the way that ordinary sugar and fruit and a little glucose and a little pectin and a cream of tartar solution, when mixed in the right order and heated to the right temperature can transform in my kitchen into these delightful translucent confections leaves me a little bit in awe.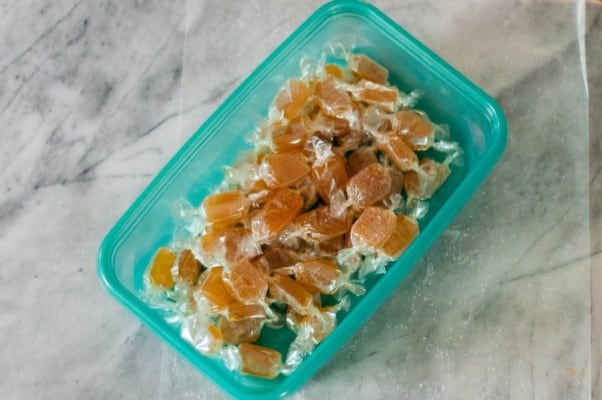 After they've cooled, they get sliced, rolled in sugar, and, if I'm keeping them for more than a day, wrapped in candy wrappers to prevent them from drying out.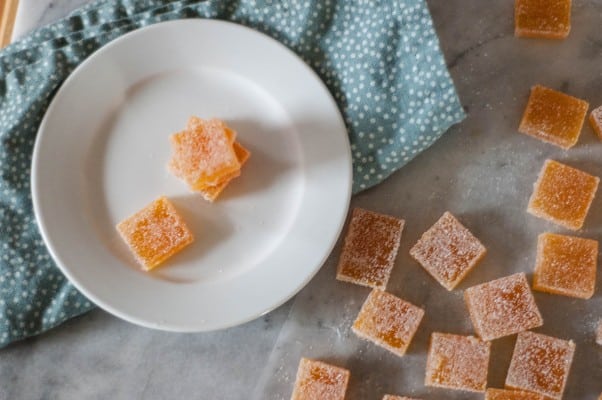 They are a wonderful holiday treat, but I'm pretty sure they'd be welcome just about any time of year. Happy holidays everyone!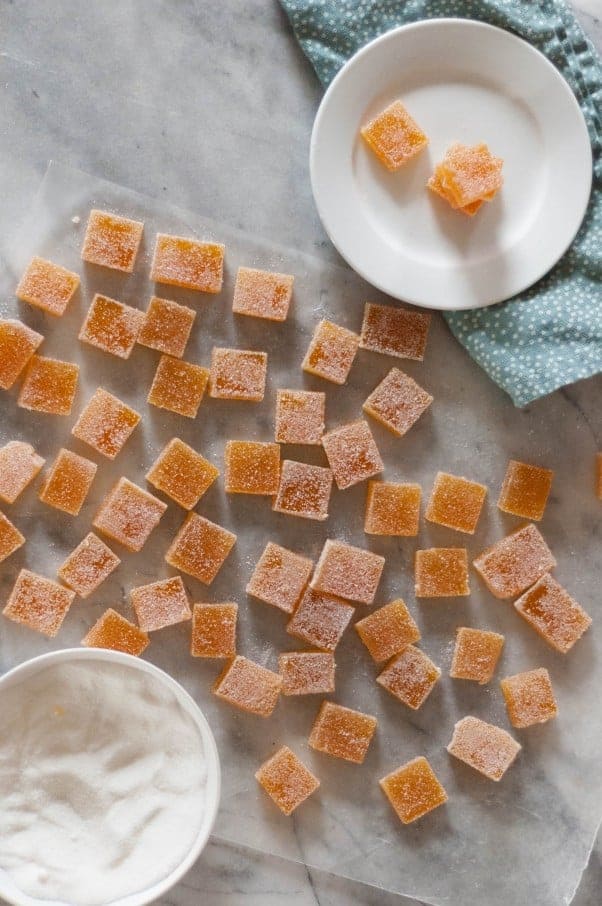 Yield: 64 candies
Passion Fruit Pâte de Fruit (fruit jellies, or gummies)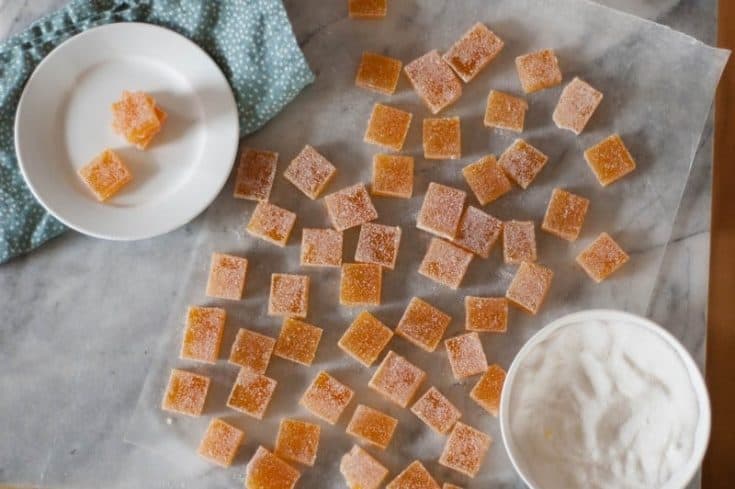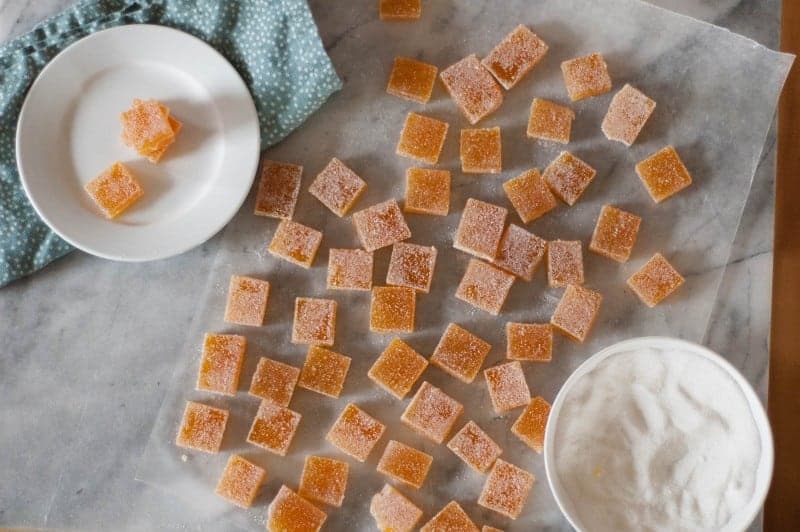 These passion fruit candies are chewy with pure fruit flavor. They are softer in texture than commercial gummy candies, but if you are a fan of fruit candies like that, then these will scratch that itch. They happen to be gluten free and vegan, which is a bonus when serving them to a crowd with dietary restrictions. They are a bit fiddly and require a bit of special equipment, including a candy thermometer (or a Thermapen) and a milligram scale. The formula is designed to work with pure HM apple pectin, but the kind of classic pectin you find in the canning aisle at the grocery store will work (just don't get the kind designed for low sugar jams–that's LM pectin and it won't work right here). Be sure to scale EVERYTHING and have the pan lined with parchment before you turn on the heat. Professionals typically use a guitar to cut these babies perfectly evenly. Because I don't have the cash to drop on that kind of equipment, I use a sharp chef's knife and a ruler and accept a little variance. I use Goya brand frozen passion fruit puree, which I find at Latin markets, but you can also order the kind of puree that confectioners use online. I'm presenting this more like a professional formula than my typical recipes and only providing gram measurements because this really won't work with cups and teaspoons.
Total Time
4 hours
25 minutes
Ingredients
250 grams Passion fruit puree, (thawed if using frozen)
7.6 grams Apple Pectin
295 grams Granulated Sugar, divided, 30 grams in one bowl, 265 grams in another
54 grams Glucose, liquid
1.125 grams Cream of Tartar
1.125 grams Water
4.25 grams Apricot liqueur or Kirsch
Extra sugar for coating
Instructions
Scale out all the ingredients in separate bowls. Line an 8×8-inch pan with parchment paper. In a small bowl, mix the cream of tartar with the water. Set aside.
In another small bowl, mix the pectin with the 30 grams of sugar until thoroughly combined. In a tall, heavy bottomed saucepan (I use a 2 quart All-Clad, this bubbles up, and sugar burns are b*@$# so don't go smaller) add the passion fruit puree and the pectin and sugar mixture and heat over medium-high heat, stirring constantly, until it comes to a boil.
Heat the glucose in the microwave for about 15 seconds or until it is a pourable consistency. Add the glucose and the remaining sugar to the saucepan and cook (keep stirring) to 106ºC/222°F. It will bubble up significantly, so be prepared. When it reaches temperature, remove from the heat. Stir in the cream of tartar solution. Then add the apricot liqueur or kirsch, stir, and quickly pour into the prepared pan. Let it set, undisturbed at room temperature, for several hours or overnight, until firm.
Remove from the pan and cut with a sharp knife into 1-inch squares. Place some granulated sugar in a shallow bowl and roll each piece in sugar. Store in an airtight container for up to two days. Wrap in candy wrappers if keeping for more than a couple of days.
Recommended Products
As an Amazon Associate and member of other affiliate programs, I earn from qualifying purchases.
Nutrition Information:
Yield:
64
Serving Size:
1
Amount Per Serving:
Calories:

9
Total Fat:

0g
Saturated Fat:

0g
Trans Fat:

0g
Unsaturated Fat:

0g
Cholesterol:

0mg
Sodium:

3mg
Carbohydrates:

2g
Fiber:

0g
Sugar:

1g
Protein:

0g