I may earn from purchases through links in this post.
These mint chip cookies are crowd pleasers.
They're festive with a cookie dough that bakes up especially pale and white because it's made with oil instead of butter.
The white cookie sets off the bright green mint chips that dot these lovely little mounds. And they get a subtle glittering quality from taking a roll in sugar before baking.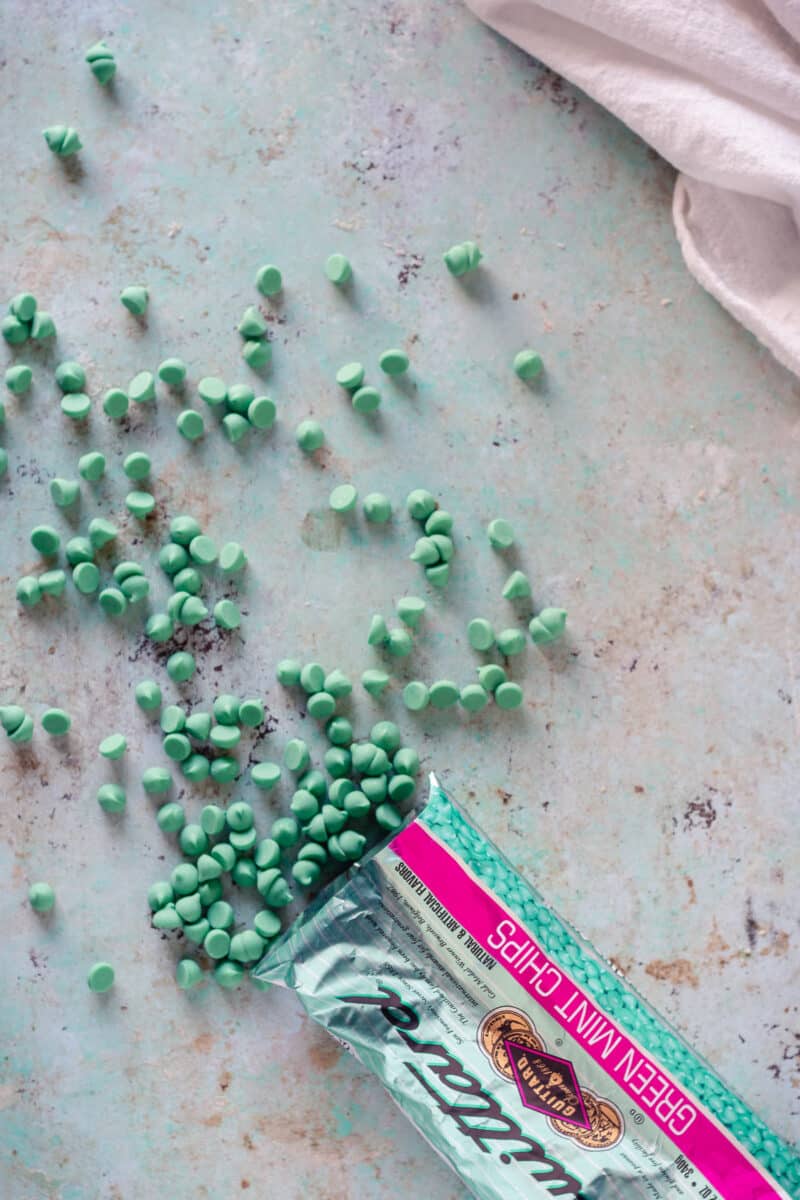 Even better, they're incredibly easy to make.
This is one of those recipes that probably came off the back of a package of mint chips (or mint chocolate chips) decades back, though I've never been able to track down the original source.
(I got the recipe from my friend Kelly, who got it from her mother, who used to send these in the mail to Kelly and her lucky friends in college and we never failed to devour them.)
They're a one-bowl cookie. There is no creaming of butter and sugar because there is no butter here.
There's only a neutral oil like vegetable or canola oil (I'd steer clear of grapeseed oil for this one, which tends to give the cookies a greenish cast when they bake rather than the pale white that makes them so pretty), which means it's easy to mix the dough by hand.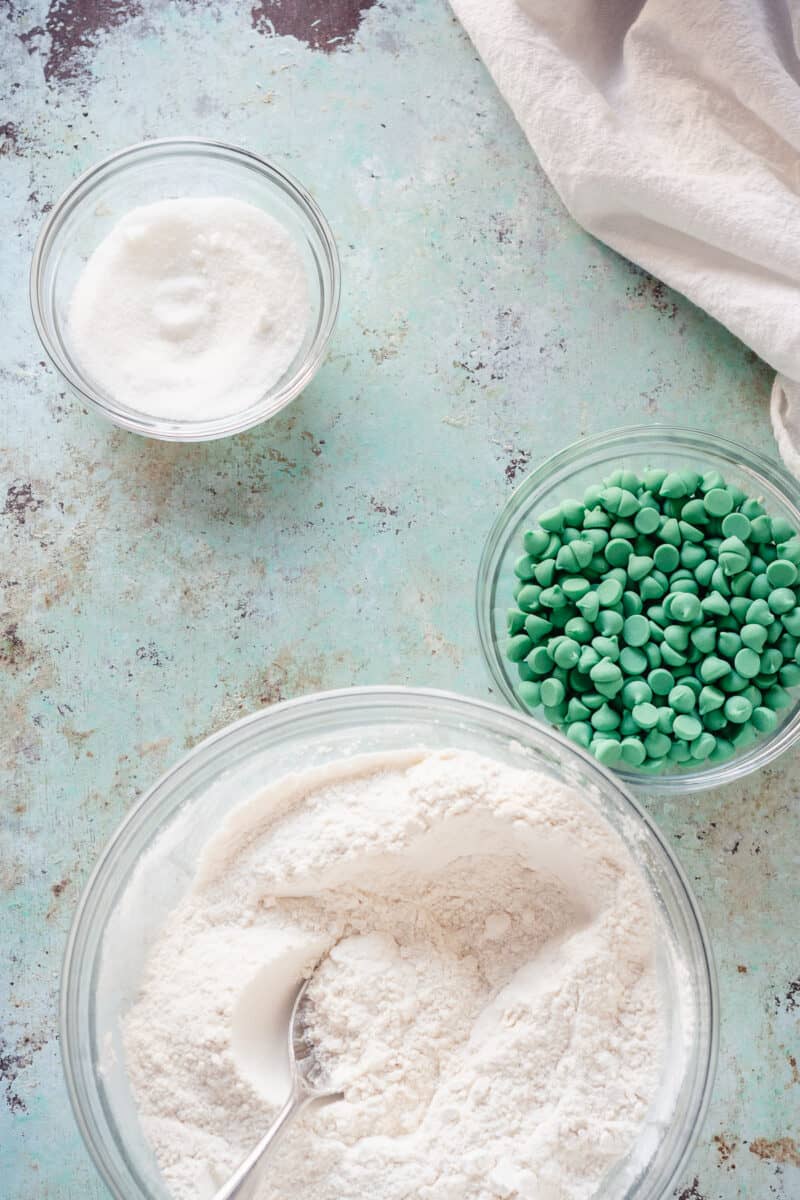 The oily dough will look all kinds of wrong to an experienced cookie baker, almost as though it wants to repel the mint chips, but don't worry, with a little squidging, it works.
These are ideal for making with kids and for new or once-a-year bakers because they don't require any special equipment. They'll slip into your cookie repertoire in no time.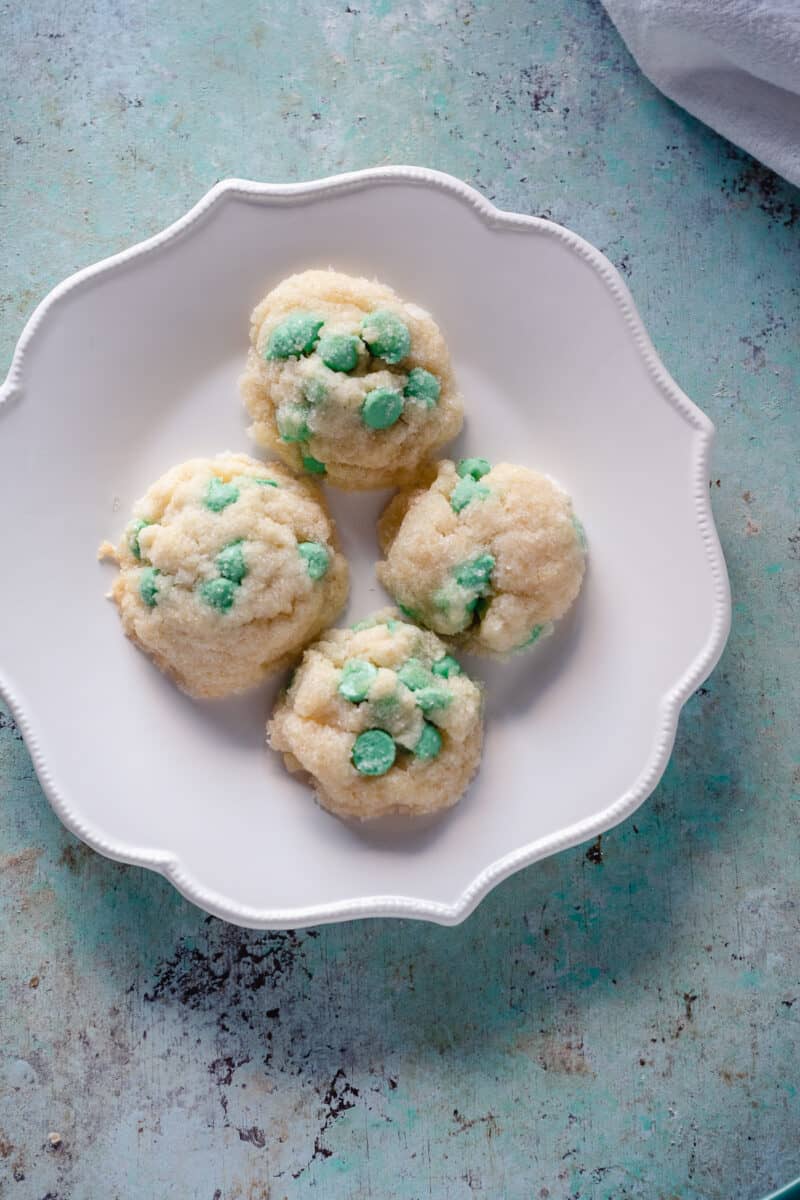 Yield: 36 cookies
Mint Chip Cookies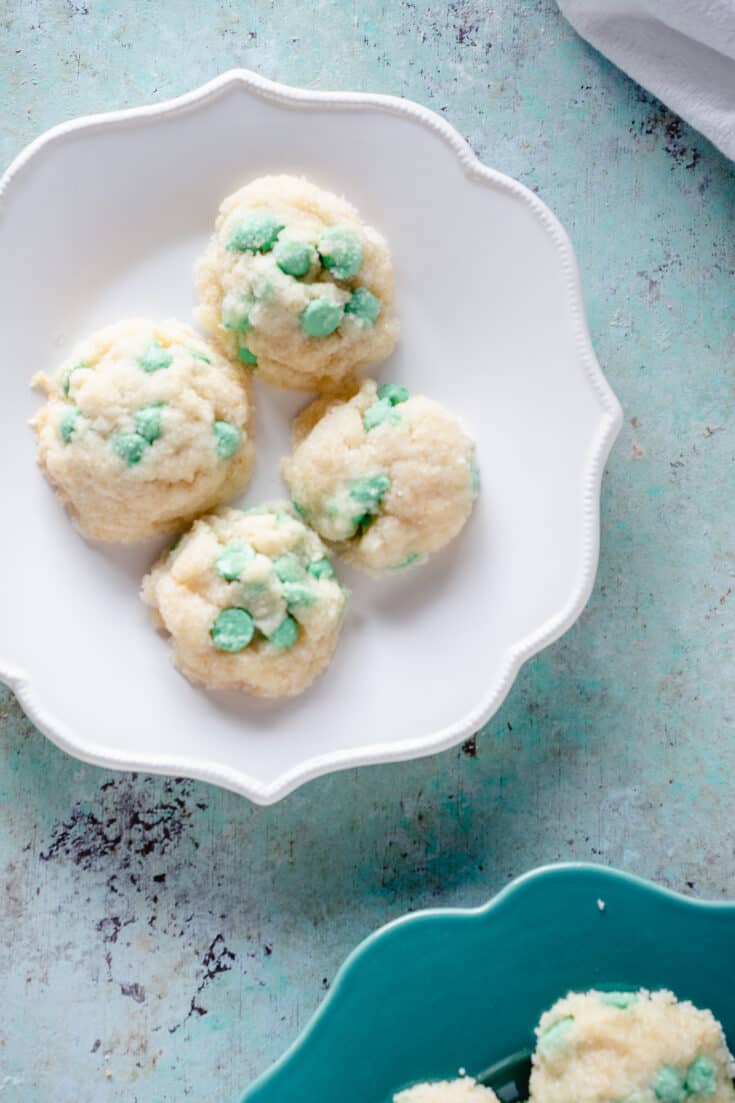 These mint chip cookies are so easy to make. They use oil instead of butter, which means there's no mixer required. You can use any mint or mint chocolate chip you like here. I think they look prettiest with the green mint chips Guittard makes (not sponsored, just a fan). You can find them online and they're often available at World Market. This recipe calls for slightly less than one bag (annoying, I know)--don't be tempted to use the whole bag because the dough won't hold all the chips and you'll be left with oily chips at the bottom of the bowl. While they don't require any special equipment, I do recommend lining your baking sheets with parchment paper. And your life will be easier and your cookies will bake more easily if you use a disher/cookie scoop.
Ingredients
2 1/2 cups (320 grams) all-purpose flour
1 1/2 teaspoons baking powder
3/4 teaspoon kosher salt
1 1/2 cups (300 grams) sugar, divided,
2 eggs
3/4 cup (200 ml) neutral oil such as vegetable or canola
1 teaspoon vanilla extract
1 1/2 cups (10 ounces, 285 grams) mint chips
Instructions
Preheat oven to 350°F. Line two baking sheets with parchment paper. Add the flour, baking powder, salt, and 1 cup of sugar to a large mixing bowl and mix together. Add the eggs and beat gently to break the yolks. Add the oil and vanilla extract and mix until the dough is well combined and no dry spots remain. Add the mint chips and stir until well distributed. (The dough is oily and sort of repels the chips--don't worry--just do your best to distribute the chips evenly).
Add the remaining 1/2 cup sugar to a small bowl or plate (sorry, there's a second dish). Scoop the dough into 1-tablespoon balls, squidging together the dough and chips as best you can, roll in sugar, and place on a baking sheet, leaving at least 1 inch between dough balls. Bake for 9-10 minutes or until the cookies look set and may beginning to look the tiniest bit golden around the edges. Let cool on a baking sheet for at least 5 minutes, then transfer to a cooling rack until they cool completely.
Notes
These keep well in an airtight container for about a week. (They freeze in an airtight container for up to a month. Keep sealed until fully thawed so no condensation gets on the sugar coating.)
Recommended Products
As an Amazon Associate and member of other affiliate programs, I earn from qualifying purchases.
Nutrition Information:
Yield:
36
Serving Size:
1
Amount Per Serving:
Calories:

191
Total Fat:

7g
Saturated Fat:

1g
Trans Fat:

0g
Unsaturated Fat:

6g
Cholesterol:

10mg
Sodium:

80mg
Carbohydrates:

31g
Fiber:

0g
Sugar:

18g
Protein:

1g