I may earn from purchases through links in this post.
These cookies. Oh, these cookies. They're familiar, in that they're crisp chocolate wafer sandwich cookies, a little bit like Oreos but you can use better chocolate to make them richer and deeper and more chocolatey.
The surprising part is the filling, which is white chocolate that gets flavored with drops of clove and orange and lime oil. It's a flavor combination that feels vaguely Caribbean or like a well-balanced Tiki drink with clove which might be the most potent of baking spices and tropical citrus flavors.
It's a cookie that tastes like vacation in the middle of winter, like warm escape.
And unlike most homemade sandwich cookies, these cookies stay crisp for days or even weeks because unlike cookies filled with jam or buttercream or ganache the filling doesn't add moisture to soften the cookies.
The cookies themselves are a slice-and-bake job. The dough gets rolled into logs, then rolled in sanding sugar for sparkle, then chilled, then sliced, then baked.
The tops of the cookies get cutout after they come out of the oven, while they're still warm. (This is a cookie that puffs and spreads and deflates too much to hold a nice shape cut before they bake.)
And I'll admit it's a fiddly process, one that caused me to despair for a few moments and curse myself for undertaking such a project as I cut out a star shape from a warm cookie that crumbled in my hand and took me a few tries to get the hang of.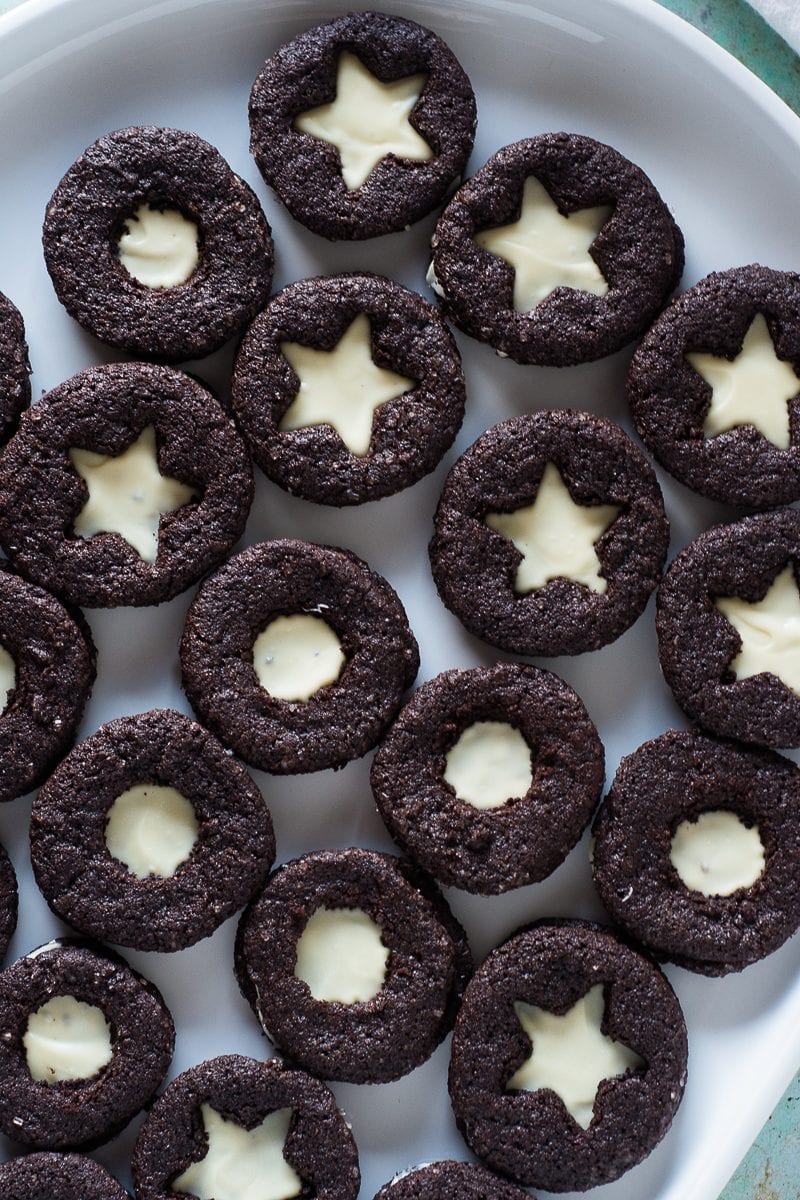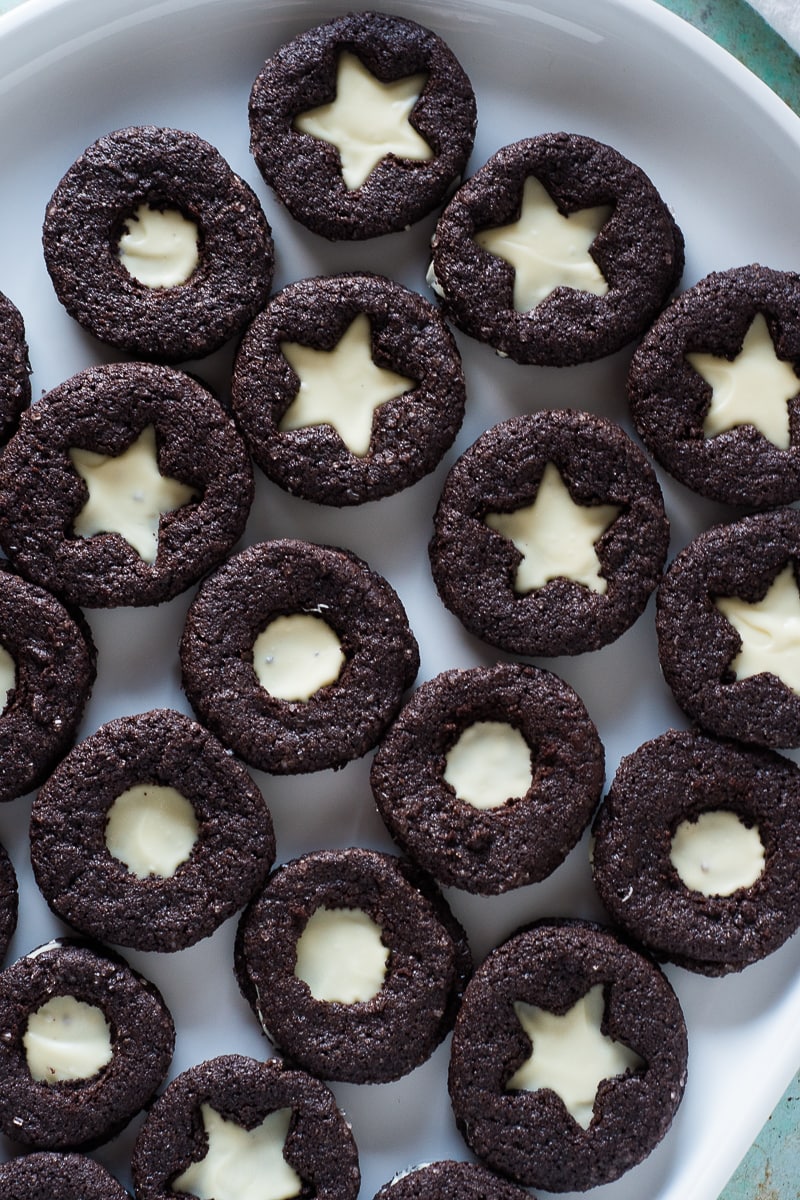 Which is to say these are not the sort of cookies to start when you are tired or frazzled or ready to blame yourself for the blasted thing being tricky (though, if you find yourself there, you can always give up on the cutouts and just make them as standard sandwich cookies).
After the hard part is done, you get to melt the white chocolate, stir in a few drops of the oils, and spread a thin layer over the uncut half of the cooled cookies while you place the cut-out cookies on top. Then let them set. Then, by all means, have a cookie!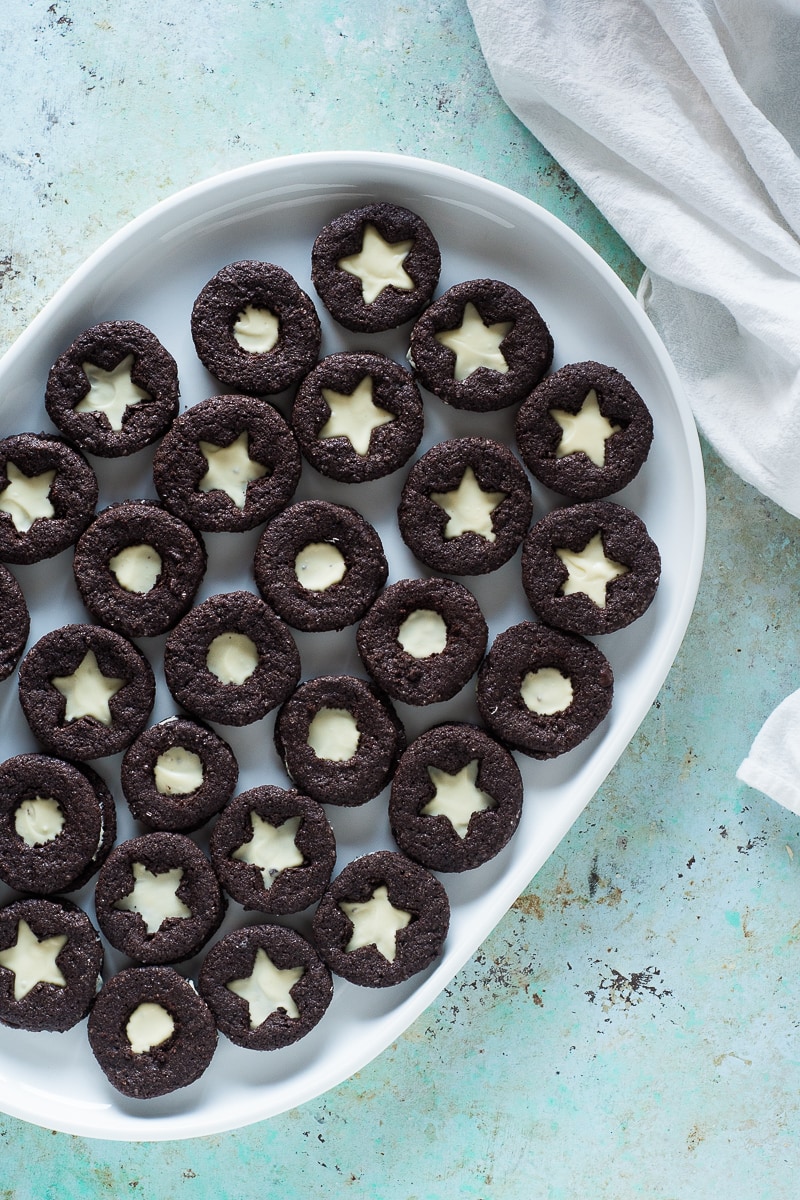 Yield: 32 cookies
Chocolate Sandwich Cookies with Citrus Clove White Chocolate Filling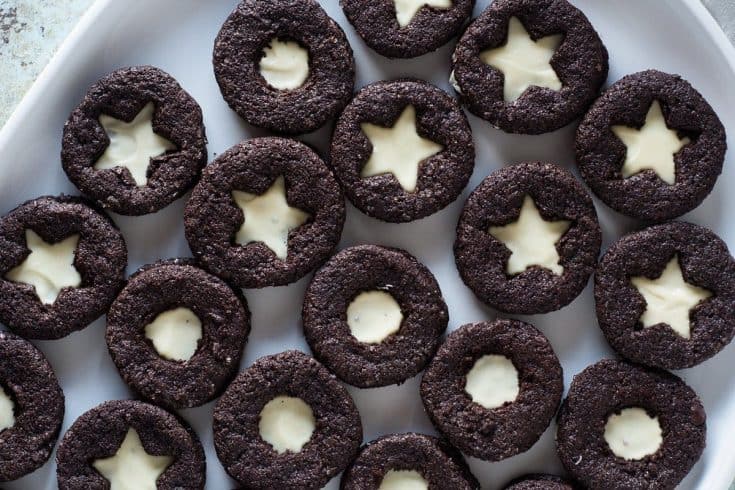 These crisp chocolate sandwich cookies benefit from a good Dutched cocoa powder, such as Valrhona or Droste--it really makes a difference. The white chocolate filling is flavored with essential oils--in this case clove, orange, and lime--which makes for a spicy tropical flavor combination that works beautifully. If you don't want to invest in three oils, feel free to choose one of these or any flavor you like, but only use an oil-based flavoring as anything water or alcohol-based will make the chocolate seize into a grainy mess. The tops of the cookies get cut out after the cookies are baked. You'll need a mini cookie cutter that's 1-inch or smaller, or you can improvise with a bottle cap (or skip the cutting-out altogether). You can use any white chocolate baking bar you like (I usually use Ghirardelli) but look for something that has cocoa butter in the ingredients and avoid white chocolate chips, which have additives that prevent them from melting smoothly.
Total Time
3 hours
5 minutes
Ingredients
Chocolate Wafer Cookies
1 1/2 cups (180 grams) all-purpose flour
3/4 cup (75 grams) Dutched cocoa powder
1 cup (200 grams) sugar
1/4 teaspoon kosher salt
1/4 teaspoon baking soda
14 tablespoons (200 grams) unsalted butter, softened
3 tablespoons (15 grams) whole milk
1 teaspoon vanilla extract
sanding sugar for coating
Citrus Clove White Chocolate Filling
7 ounces (200 grams) white chocolate, finely chopped
3 drops clove oil
3 drops orange oil
3 drops lime oil
Instructions
Make the chocolate wafer cookies
Add the flour, cocoa powder, sugar, salt, and baking soda to the bowl of a food processor and pulse to combine. Cut the butter into 1-tablespoon chunks and add them to the food processor. Pulse several times. With the processor running, pour in the milk and vanilla extract. Continue processing until the mixture forms big clumps around the sides of the bowl.
Transfer to a large bowl and knead a few times to make sure it's thoroughly mixed.
Form the dough into a log about 16 inches long and 1 1/2 inches in diameter. Sprinkle sanding sugar on a clean surface and roll the log in the sugar to coat. Wrap the dough in wax paper and refrigerate until firm, at least 1 hour (or up to 3 days).
Preheat oven to 350°F. Line 2 or 3 baking sheets with parchment paper. Slice the dough into 1/4-inch slices and place them on the lined baking sheets, leaving 1 inch space between cookies to allow for spreading.
Bake in the center of the oven for 12-14 minutes, rotating halfway through. The cookies will puff up and deflate--they're ready about 1-2 minutes after they deflate.
As soon as the cookies come out of the oven, press a 1-inch (or smaller) cookie cutter into the center of half of the cookies (remove the center cutouts a few minutes later while the cookies are still warm but beginning to set--you can keep the centers in an airtight container for chocolate crumbs or just for snacking).
Let the cookies cool completely on the the baking sheets.
Make the citrus clove white chocolate filling
When the cookies are cool, place the finely chopped white chocolate in a microwave-safe bowl and microwave on 50% power for 3 minutes. Remove bowl from the microwave (carefully, it will be hot) and stir with a rubber spatula until the chocolate is completely melted. Mix in 3 drops of the clove oil, 3 drops of the orange oil, and 3 drops of the lime oil and stir until combined. You can taste and add a little more of the oils if you like.
Assemble the chocolate sandwich cookies
Pair up the cookies matching equally sized tops and bottoms as best you can (there will be a little natural variation here). Spread a small amount of filling in an even layer on a cookie without a cutout and set a cookie with a cutout on top. Repeat until all the cookies are filled. Let the filling set, about 1 hour, and store the cookies in an airtight container.
Nutrition Information:
Yield:
32
Serving Size:
1
Amount Per Serving:
Calories:

156
Total Fat:

9g
Saturated Fat:

4g
Trans Fat:

0g
Unsaturated Fat:

4g
Cholesterol:

15mg
Sodium:

34mg
Carbohydrates:

19g
Fiber:

1g
Sugar:

11g
Protein:

2g