I may earn from purchases through links in this post.
It may not seem like it, what with all the cakes and cookies and bars and brownies and pots de creme and cocktails, but I spend a lot of time thinking about wellness.
I haven't always been that way. I was a habitual lunch-skipper in high school (who occasionally pooled fries with friends). I subsisted mostly on grilled cheese for my freshman year of college and on white toast with spray butter my sophomore year.
I wasn't yet much of a cook. I think the only "recipe" I could claim to have developed was something my roommate Megan and I called a cake shake, which was basically unbaked cake mix with the liquids mixed in (I don't think we added the eggs…).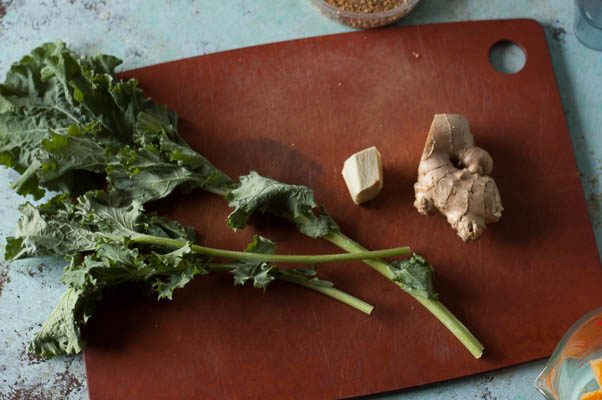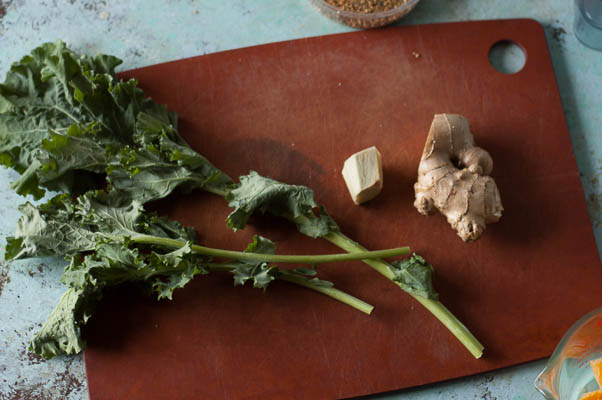 It wasn't until the end of college when I started watching the Food Network (back when they still had shows with chefs that taught you how to cook) and started exercising regularly for the first time in my life, that I started thinking seriously about health and making it a priority.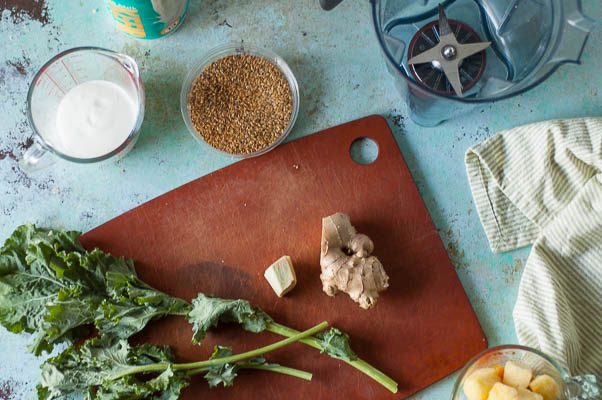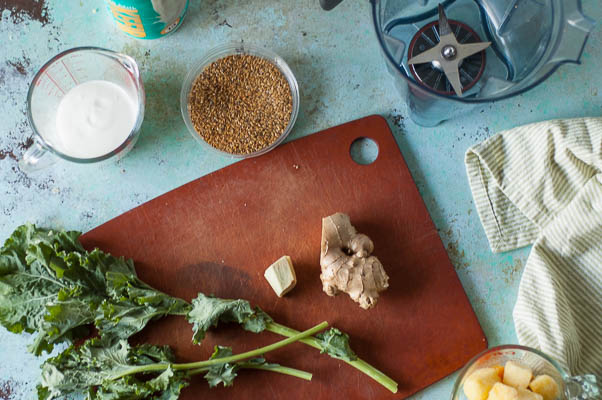 People often ask me how Dan and I stay thin with all of the baking I do. The answer is, we're far from perfect on that, but my philosophy is everything in moderation.
We share the desserts with friends and family, I often make things in half-batches (or smaller), and we try to balance out the indulgences with lots and lots of vegetables and fruits.
Which is where this pineapple mango ginger green smoothie comes in. I've never been a big believer in detoxing, and I've never been seriously tempted to do a juice cleanse.
So it almost surprises me that these days I often wake up craving something that involves kale and a blender. (Except when I want this cranberry clementine smoothie.)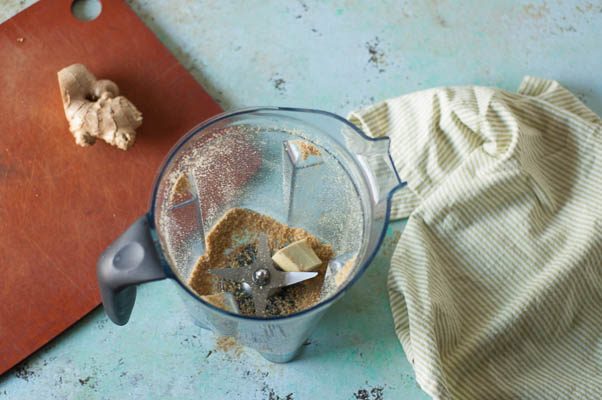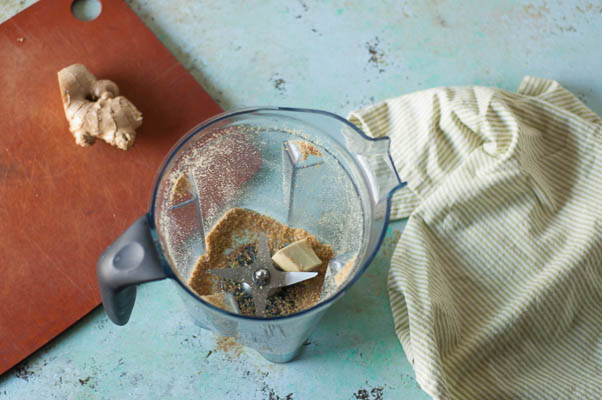 The bitterness of the kale in this smoothie gets balanced by the tropical sweetness of chunks of frozen pineapple and mango. It gets added complexity from a generous amount of fresh ginger, which is good for digestion, and it gets a generous dose of probiotics from the kefir.
I like to boost this with flax seeds and some protein powder (I've been using pea protein), but the last two parts are for added nutritional benefits, not for flavor or texture, so feel free to skip them if they aren't your thing.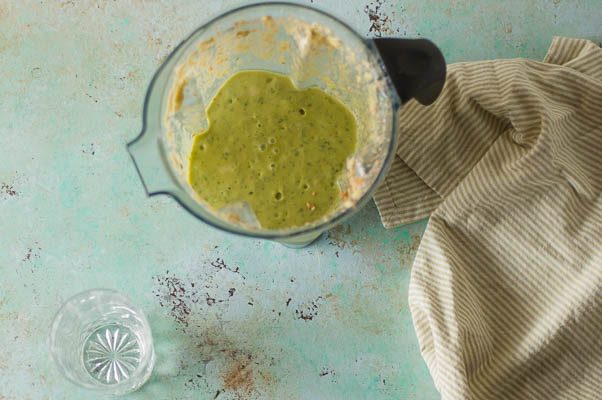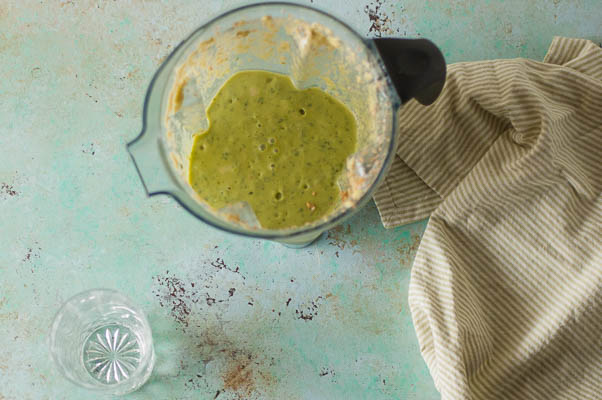 Dan got me a Vitamix last February for my birthday, and these powerful blenders are as awesome as everyone says they are. I love that I can toss in whole stalks of kale without removing the ribs and still get a perfectly smooth smoothie, but I understand that it's a lot of money to shell out for a blender.
I also tested this with my no-frills stick blender (because I love you people) and found that the only real adjustment I needed to make was removing the ribs from the kale and giving them a rough chop.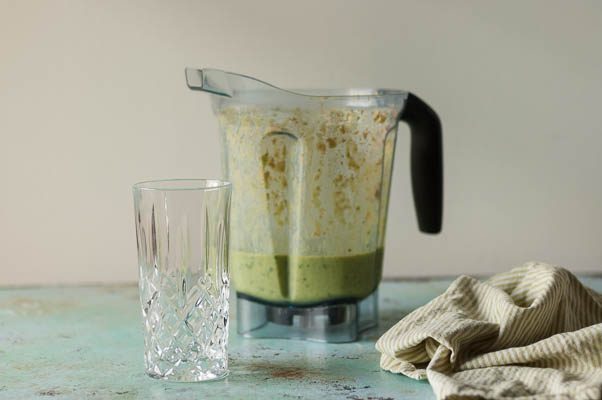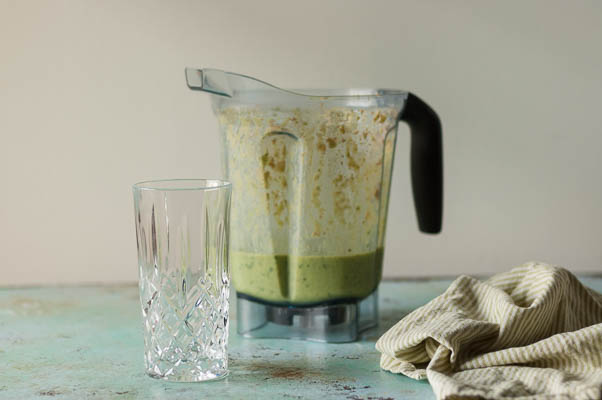 Even with that step, this is incredibly simple to make. It tastes fresh and bright and barely sweet with a subtle gingery background. And it turns out I feel so good when I start my day with a green smoothie. Who knew?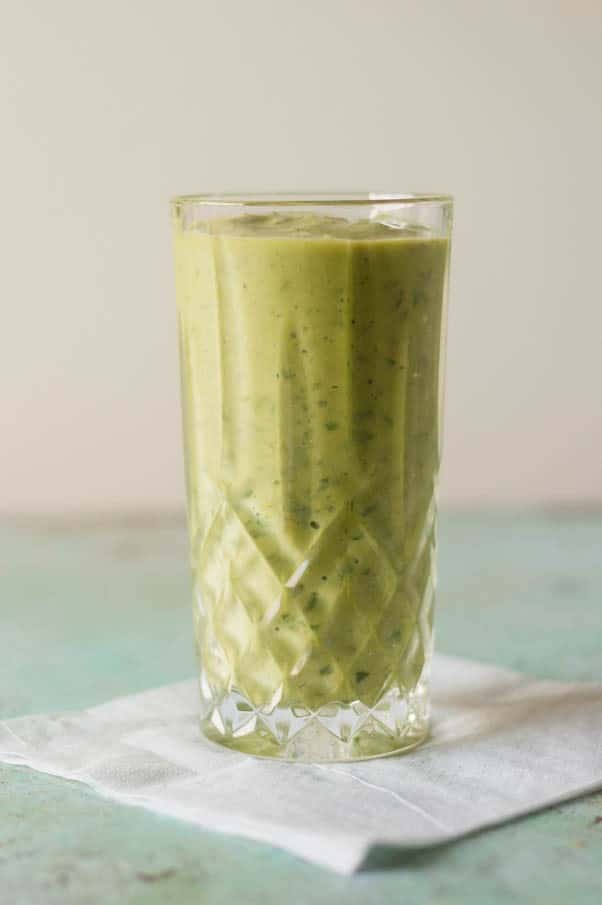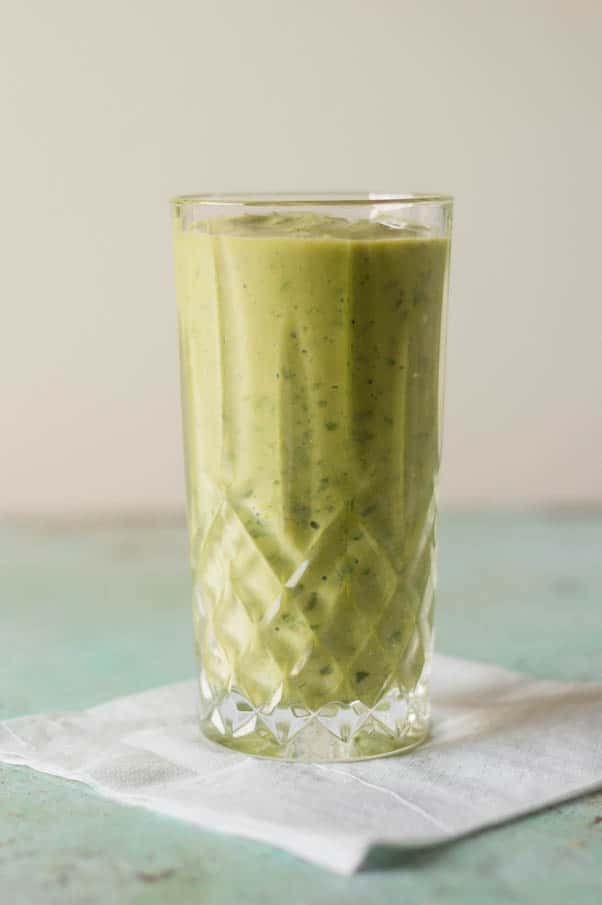 Yield: 1 12-ounce smoothie
Pineapple Mango Ginger Green Smoothie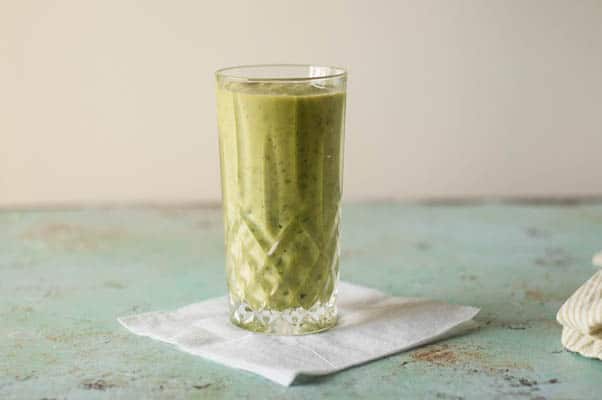 This, like pretty much any smoothie, is infinitely adaptable. If you want it sweeter, add more pineapple. If you want to swap in peaches or nectarines for the mango, feel free to do so. If you have trouble finding kefir, feel free to use plain yogurt or coconut milk yogurt if you avoid dairy–you may need to add more water to get a pourable consistency. I like to use a milder kale in this, such as white Russian or lacinato kale, but any kale or chard or spinach will work. If you have a heavy duty blender like a Vitamix, you don't need to bother removing the ribs from the kale. If you have a standard home blender or stick blender, be sure to remove the ribs and give the kale a rough chop. I sometimes add a sprig of mint to this for some added minty freshness. I think it would be good with a little basil added too. Note: I slightly under-blended the smoothie pictured. Keep blending until there are no discernable flecks of green.
Ingredients
1 cup kale, ribs removed and roughly chopped, from 2-3 leaves
2/3 cup frozen pineapple chunks
1/3 cup frozen mango chunks, or frozen mango puree
1/4 cup kefir
1-inch piece of ginger, peeled
1 tablespoon flax seeds, optional
1 tablespoon protein powder, optional
1/2-2/3 cup water (start with the smaller amount add more as needed)
Instructions
Add all of the ingredients to a blender and blend until smooth. If the blender struggles at all, stop and give everything a stir and try again. If the smoothie is too thick to pour, add a little more water. Pour into a glass and serve.
Recommended Products
As an Amazon Associate and member of other affiliate programs, I earn from qualifying purchases.
Nutrition Information:
Yield:
1
Amount Per Serving:
Calories:

416