I may earn from purchases through links in this post.
I love salted caramel. You love salted caramel. We all love salted caramel. Or most of us do anyway. It's getting to the point where it's unusual to see the word caramel not preceded by some salty adjective.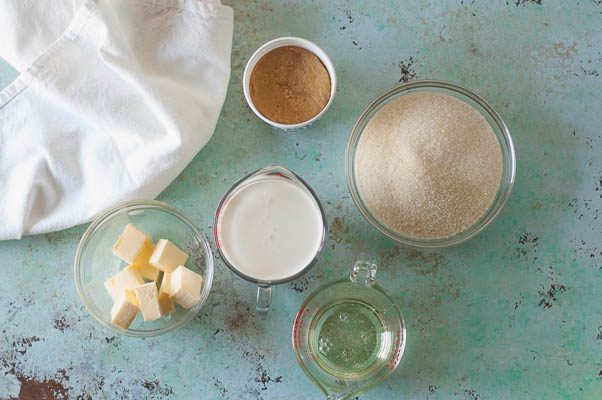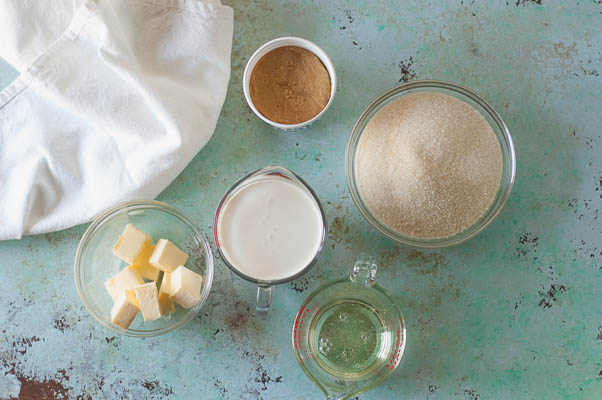 But what if you could take that rich, creamy dark salted caramel and add some notes of umami? Enter miso caramels.
They are the simplest of the desserts I recently made for our friends' wedding.
Though they are simple to make, their flavor is complex. These are soft, chewy caramel candies with a deep, dark caramelized sugar flavor and a surprising salty savory quality from white miso that balances out the sweetness.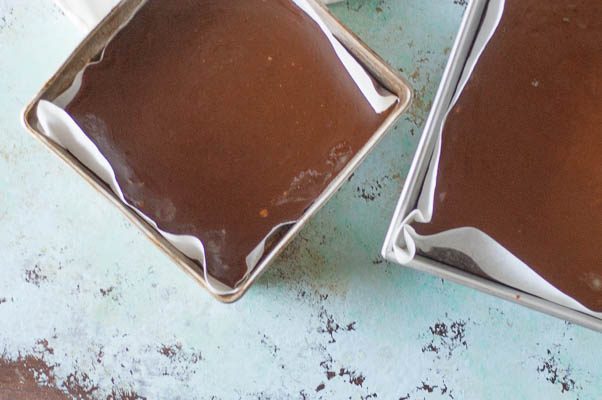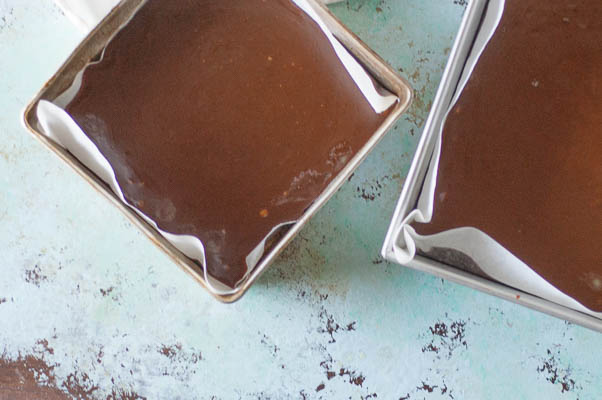 These are adapted only slightly from Christine Gallary who you may know better as the food and cooking editor for The Kitchn.
Lots of people are intimidated by candy making. But the truth is that making caramel candies like these is easy if you have everything prepped and you have an all-important thermometer.
You line a pan with parchment paper, melt the butter and warm the cream, heat the sugar and glucose/corn syrup in separate sauce pan, add the butter and cream, heat again, and then whisk in the softened miso at the end.
Then you pour everything into your lined pan and let them chill before you cut and wrap them.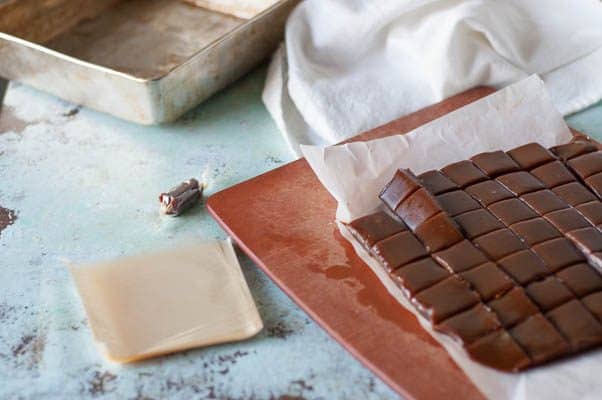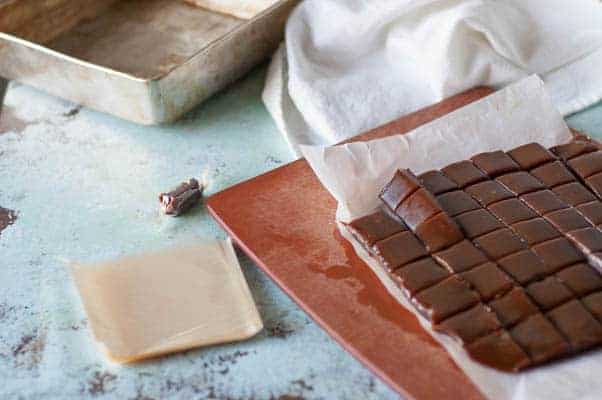 I think these would make an excellent grown-up Halloween candy (which doesn't mean you can't enjoy your fun-size Reese's Peanut Butter Cups and Snickers Bars, too, if that's your thing).
This comes together quickly, makes a ton of caramels, and keeps well for weeks. So make them now and you'll be all set for a party.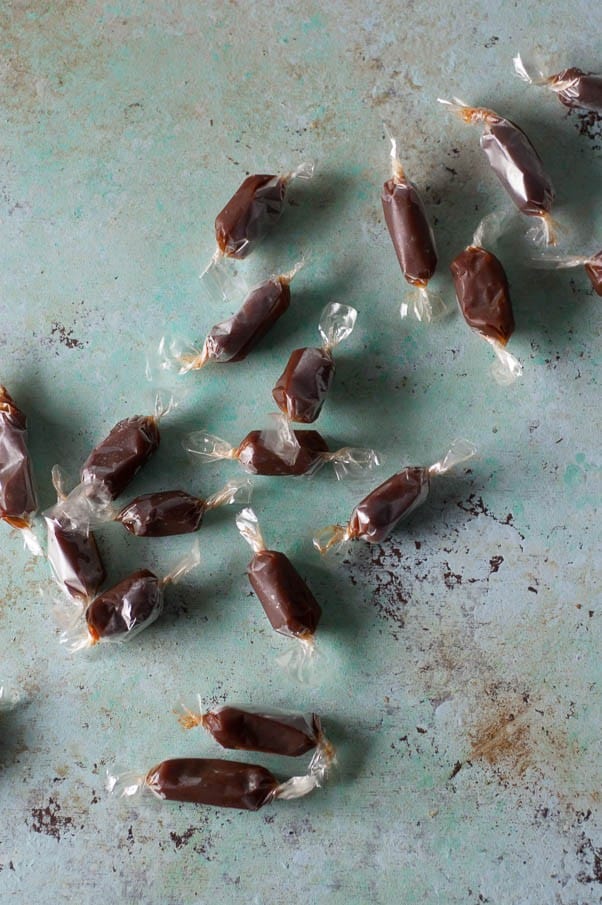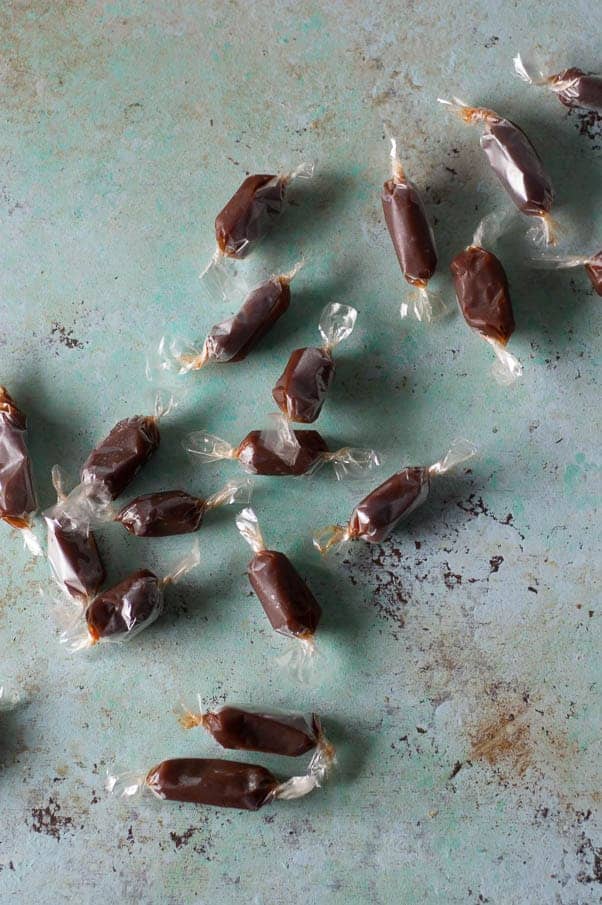 Yield: 64 caramel candies
Miso Caramels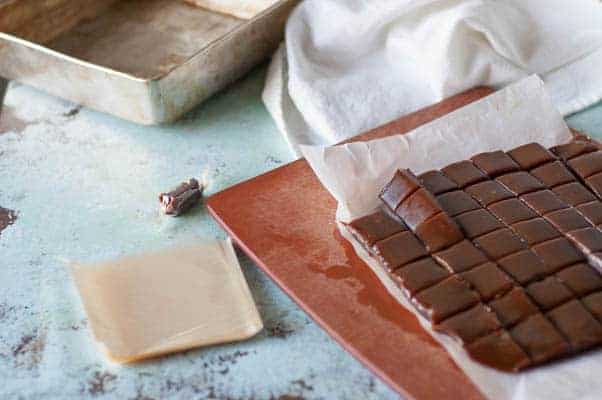 These miso caramels have salty and savory notes that help to balance the rich sweetness of caramels. You can use glucose syrup or corn syrup here, but you can't leave it out or substitute honey or maple syrup–it's an essential part of getting the right texture for these candies. Use white miso (also called shiro miso) for these. If you want to make them gluten free, be sure to choose a gluten free miso paste (some contain barley malt, which contains gluten). You'll need a candy thermometer and a light colored, largish sauce pan. While these come together quickly, it's essential when working with candy to have everything ready to go and pay close attention to the temperature because caramel goes from pleasantly caramelized to unpleasantly burnt very quickly. I used clear candy wrappers for these, but you can also cut squares of wax paper and wrap them that way. This makes a lot, but they keep for a long time in the refrigerator. Bring them to room temperature before serving.
Total Time
1 hour
25 minutes
Ingredients
1 cup heavy whipping cream
3 tablespoons unsalted butter, cut into chunks
1 1/2 cups granulated sugar
1/4 cup glucose syrup or corn syrup
1/4 cup water
2 tablespoons white miso, softened at room temperature
Instructions
Line an 8-inch square baking pan with a sheet of parchment paper. Crease it carefully along the edges and in the corners, but leave enough overhang to work as handles later. Spray with nonstick spray.
In a small saucepan, melt the butter and warm the cream over medium-low heat until the butter is melted and the mixture is warm to the touch. Remove from heat and set aside.
In a large (3 quarts or larger), light colored sauce pan, heat the sugar, glucose or corn syrup, and water over medium-high heat. Bring to a boil and cook, stirring occasionally, until all of the sugar is melted, about 5-6 minutes.
Clip a candy thermometer to the pan, and continue heating without stirring, until the mixture reaches 260ºF and is a medium amber color.
Remove the pan from the heat and slowly pour in the cream and butter mixture. It will bubble up, don't worry, that's why you used the roomy sauce pan. Stir in the cream until the mixture is uniform.
Return the pan to the stove and and cook (without stirring) over medium-high heat until the mixture reaches 250ºF.
Remove the pan from the heat and the thermometer from the pan. Quickly whisk in the miso until no lumps remain. Pour into the prepared baking pan.
Place the pan on a wire rack and let cool overnight. Then transfer to the refrigerator for an hour or more until it is firm enough to cut.
Using the ends of the parchment paper as handles, pull the caramel and parchment from the pan and transfer to a cutting board. Cut the caramels into 1-inch squares. Wrap in candy wrappers or wax paper.
Store in the refrigerator, but bring to room temperature before serving. They keep for at least a month in the refrigerator.
Nutrition Information:
Yield:
64
Serving Size:
1
Amount Per Serving:
Calories:

41
Total Fat:

2g
Saturated Fat:

1g
Trans Fat:

0g
Unsaturated Fat:

1g
Cholesterol:

6mg
Sodium:

22mg
Carbohydrates:

6g
Fiber:

0g
Sugar:

6g
Protein:

0g