I may earn from purchases through links in this post.
I've spent the afternoon curled up with my dog on the couch, basking in the gentle glow of the lights of the Christmas tree, with my "Mopy Holiday" playlist featuring some of my favorites like The Pretenders "2000 Miles," Joni Mitchell's "River," The Pogues's "Fairytale of New York," and Laura Marling's "Goodbye England (Covered in Snow)" playing in the background.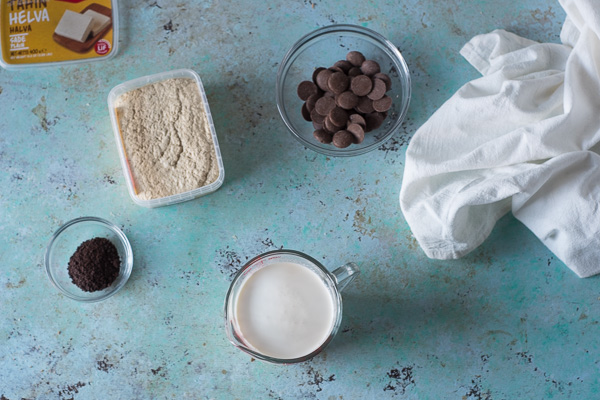 There's something paradoxically pleasurable about the melancholy of the holiday season.
In the quieter moments, when we can get away from the hustle-bustle of parties and shopping and travel, it's a reflective season, and the repetition of traditions reminds us of the way the years pass by in an ever-tightening inward spiral.
Or at least that's how I experience it.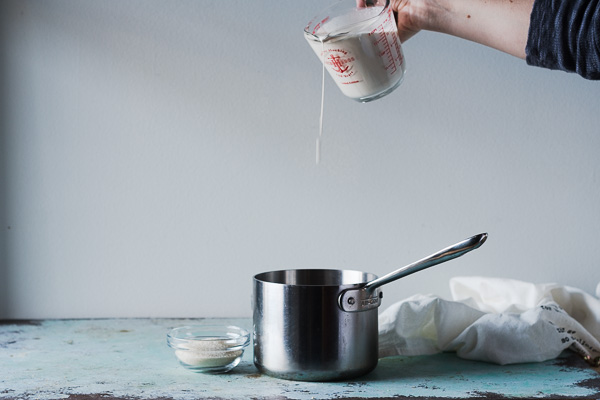 I've also been stealing tiny spoonfuls of this halvah milk chocolate hot fudge sauce from the jar. It's going to be dotting the bellies of some chocolate thumbprint cookies later, but it's almost absurdly delightful on its own.
Halvah, if you don't know it, is a sweet sesame candy that's soft and crumbly like fudge. It has a gentle, nutty flavor and a delicate sesame scent that I find beguiling.
You can find it in places that sell Middle Eastern groceries (I get it locally at the Middle East Bakery and Grocery in my neighborhood), and of course you can find it on the internet as well. And though I've never done it, I hear it's surprisingly easy to make your own.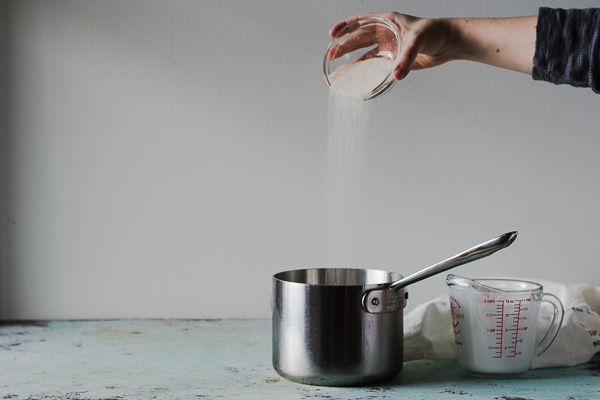 I love the way that sweet sesame goodness plays with milk chocolate. It's sort of like chocolate and peanut butter but less expected, and therefore has the advantage of feeling like a lovely surprise.
I add a little bit of instant espresso to deepen the chocolate flavor and balance out the sweetness. The coffee flavor is barely discernable, just a hint in the background.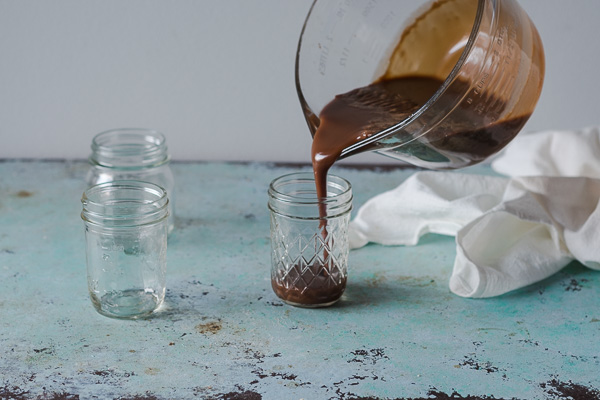 It's simple to throw together and it spends about a half an hour simmering on the stove. The whole thing is a wonderful gooey sauce that can be warmed to drizzle over ice cream or serve as a dipping sauce for shortbread cookies.
It keeps for ages in the refrigerator, and it would make a wonderful Christmas gift if you like to do homemade, handmade gifts that can be presented in adorable little jars.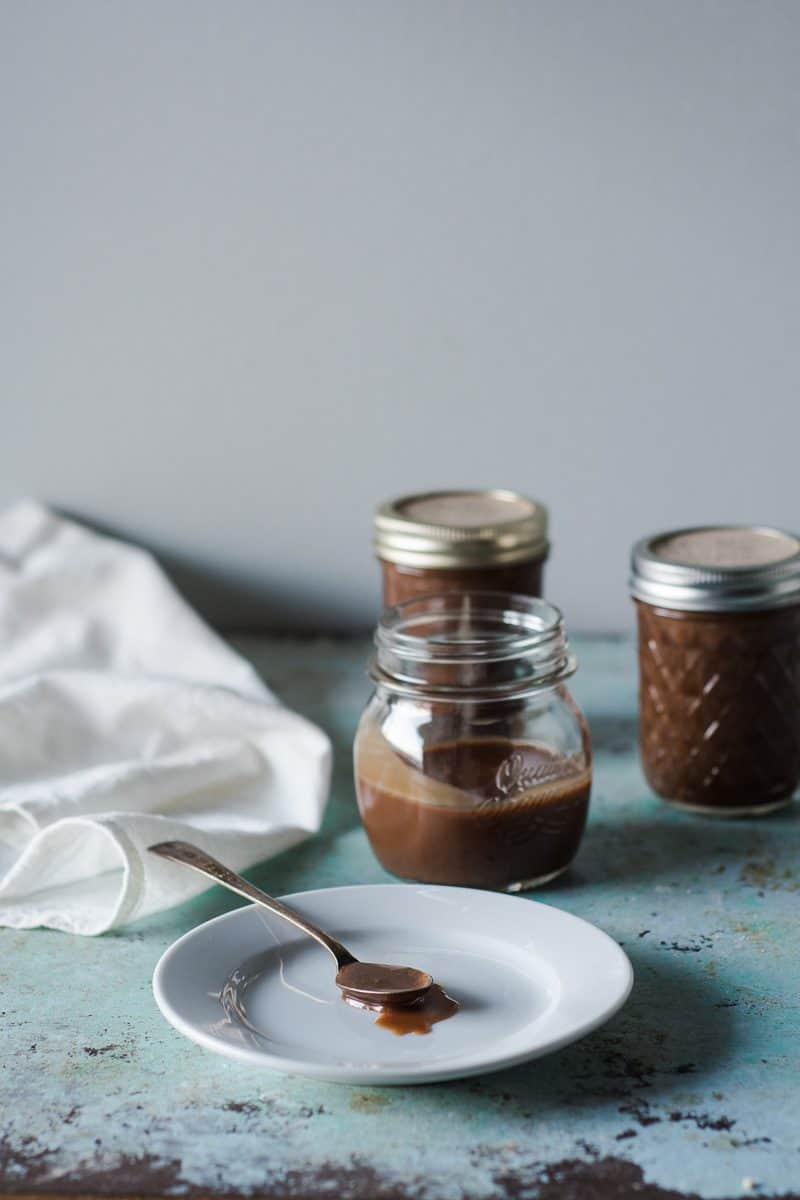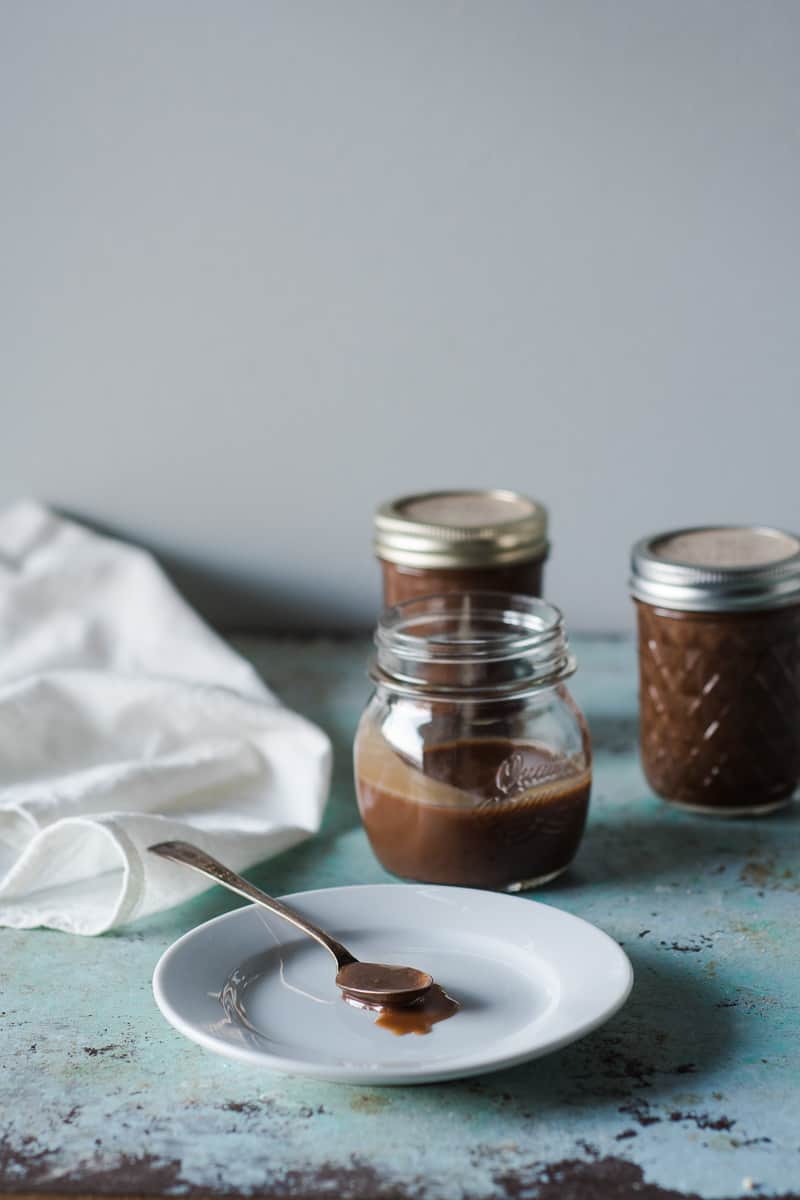 Yield: 2 generous cups
Halvah Milk Chocolate Hot Fudge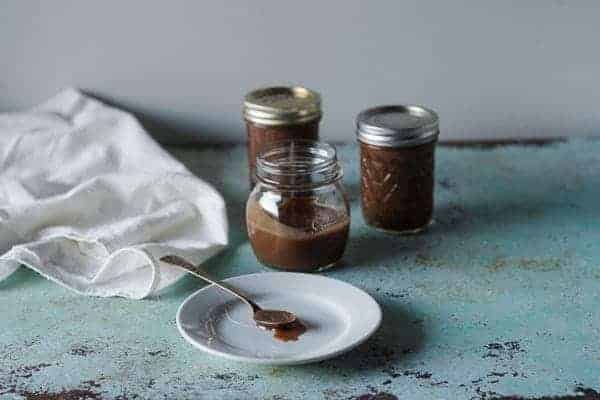 This sauce is a twist on classic hot fudge with halvah, which is a sweet sesame candy, and milk chocolate, and a hint of coffee in the background. It's sort of like the combination of chocolate and peanut butter, but more surprising. Use a good quality milk chocolate here. I used Guittard 38% cacao here, but I'm also a fan of Tcho milk chocolate baking discs and Ghirardelli milk chocolate baking bars, which can be found in most grocery stores. This sauce has a wonderful thick, gooey consistency. You will need to use golden syrup (or glucose or corn syrup) to get the texture right (sugar on its own won't do the trick here). The sauce keeps for at least 6 months in the refrigerator.
Ingredients
1 1/2 cups heavy cream
1/2 cup sugar
1 tablespoon golden syrup (or glucose or corn syrup)
3 ounces milk chocolate, chopped
2 ounces halvah, roughly crumbled
1 teaspoon kosher salt
2 tablespoons unsalted butter, softened
1 teaspoon vanilla extract
1 teaspoon instant espresso
Instructions
Add the cream, sugar, and golden syrup to a heavy medium saucepan. Heat over medium-high heat, stirring frequently, until the sugar is dissolved, about 3 minutes.
Add the chocolate, halvah, and salt, and bring to a boil. Lower to a gentle simmer, and keep on a low heat, stirring occasionally to prevent any chocolate or halvah bits from scorching on the bottom, until the mixture thickens, about 30 minutes.
Remove from heat. Add the butter, vanilla extract, and espresso powder, and blend with an immersion blender until smooth. Pour into jars and let cool.
Notes
Keeps in the refrigerator for six months.
Recommended Products
As an Amazon Associate and member of other affiliate programs, I earn from qualifying purchases.
Nutrition Information:
Yield:
24
Serving Size:
1
Amount Per Serving:
Calories:

112
Total Fat:

8g
Saturated Fat:

5g
Trans Fat:

0g
Unsaturated Fat:

3g
Cholesterol:

20mg
Sodium:

97mg
Carbohydrates:

10g
Fiber:

0g
Sugar:

8g
Protein:

1g