I may earn from purchases through links in this post.
I have this love-hate relationship with eggplant. Almost anyone who has ever been a vegetarian has been served some sad bitter under- or over-cooked eggplant dish as the vegetarian option at a mediocre catered event.
Maybe it's a greasy, oddly chewy eggplant parmesan or part of the sad filling next to the limp and watery slices of summer squash in that ubiquitous roasted vegetable sandwich that tastes, blandly, of disappointment.
Institutional cooking frequently mistreats this vegetable, which is too bad, because when treated well, it pays off big time.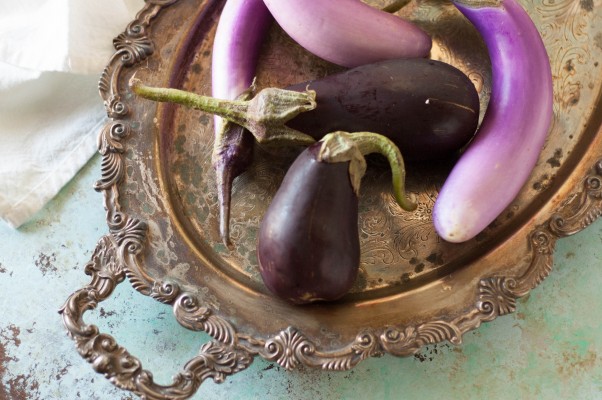 Sometimes I only remember the sad, bad eggplant dishes and not the amazingly wonderful ones. Also, I sort of wish that, instead of "eggplant" we called it aubergine like the Brits do. It's such a better name.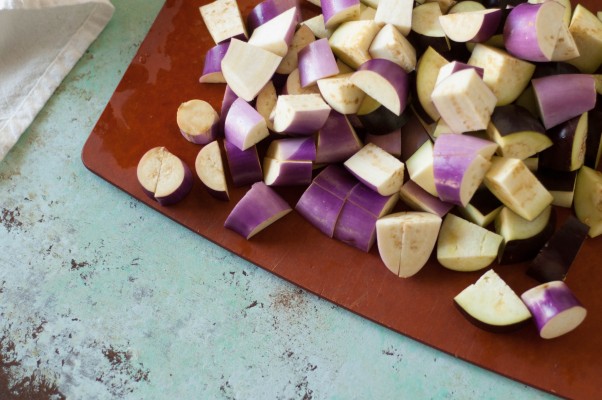 But let me get to the point.
This eggplant caponata is absolutely delicious.
And you should make it for your next dinner party or any gathering where you're going for effortless chic and need something to round out the cheese plate and the crudite, or if you want to be all Italian about it, antipasti. It goes beautifully with cheeses and charcuterie and a glass of wine.
It comes from Nancy Silverton's excellent Mozza Cookbook, which is one of my favorite sources for simple, flavorful antipasti.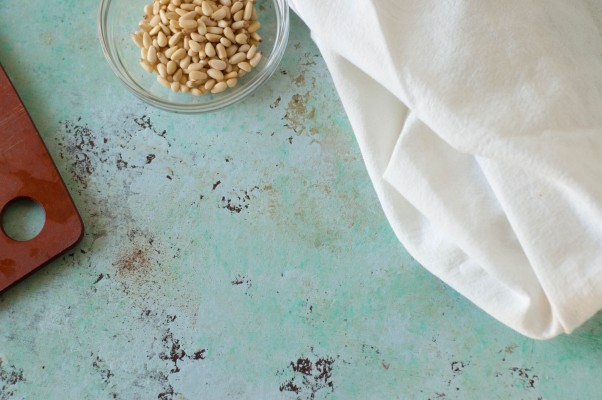 If you don't have a party coming up, I also recommend making this and keeping it all for yourself.
You can eat it on its own, sop it up with crusty bread, have it alongside some sort of protein-y main dish, pile it on polenta, or use it to top quinoa cakes.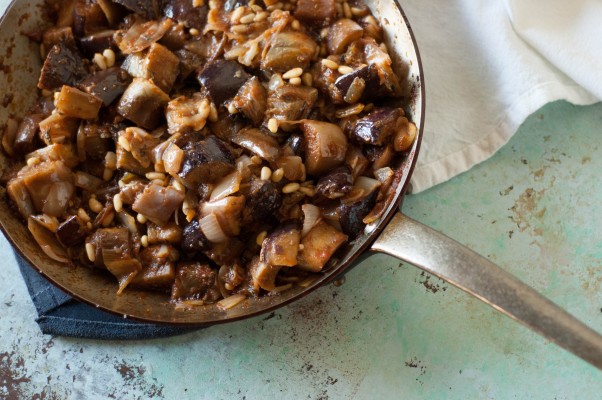 It's simple and soulful and punchy in the way of the best Sicilian cooking.
It's rich from the olive oil, sweet and sour from the sherry vinegar and tomato sauce and the golden raisins, savory from the eggplant and the garlic and the pine nuts, and has a little bit of heat from the crushed red pepper flakes.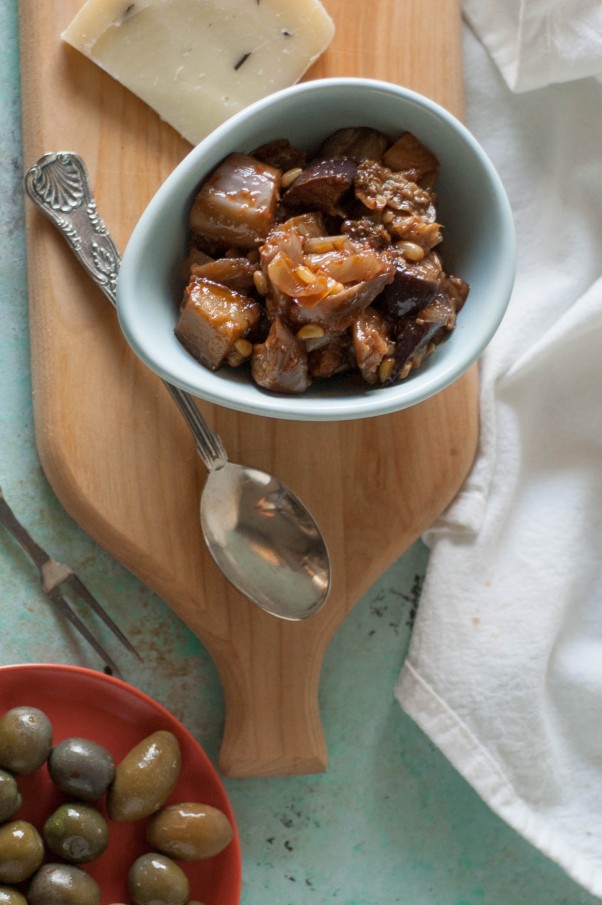 It doesn't call for any crazy, hard to find ingredients. It comes together in about 20 minutes, and it can be made days ahead of time and it's best served at room temperature, which means it is so feasible for normal people with busy lives.
Seriously, just make it already.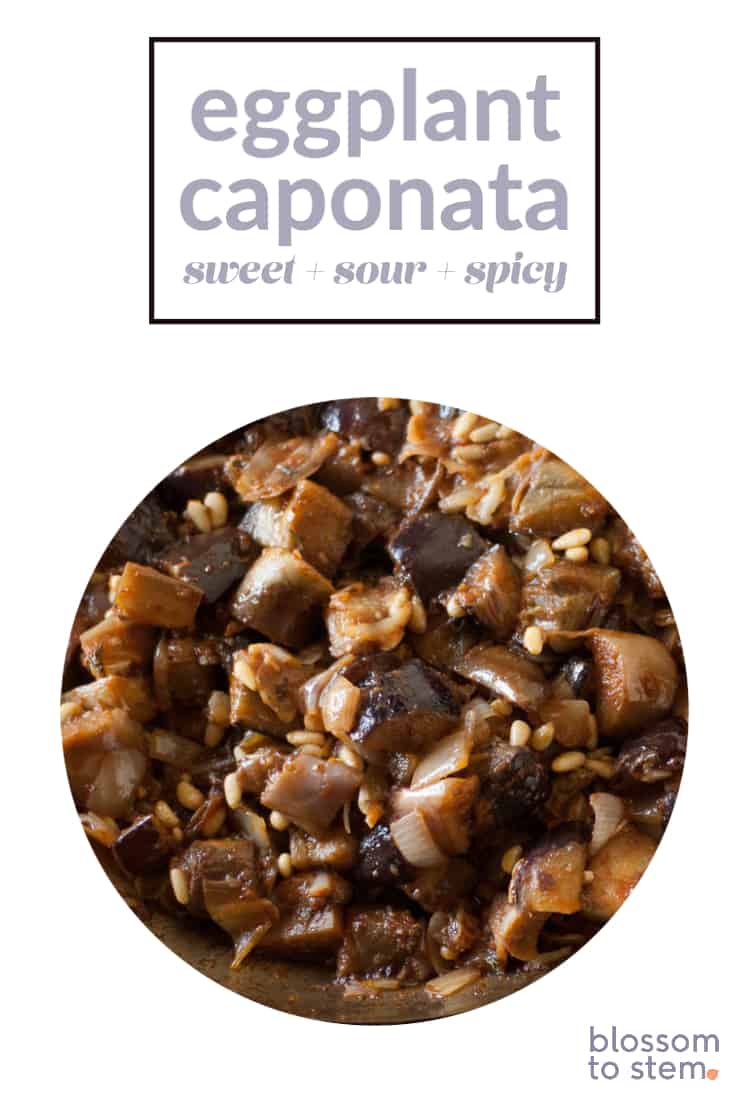 Yield: 8 servings
Eggplant Caponata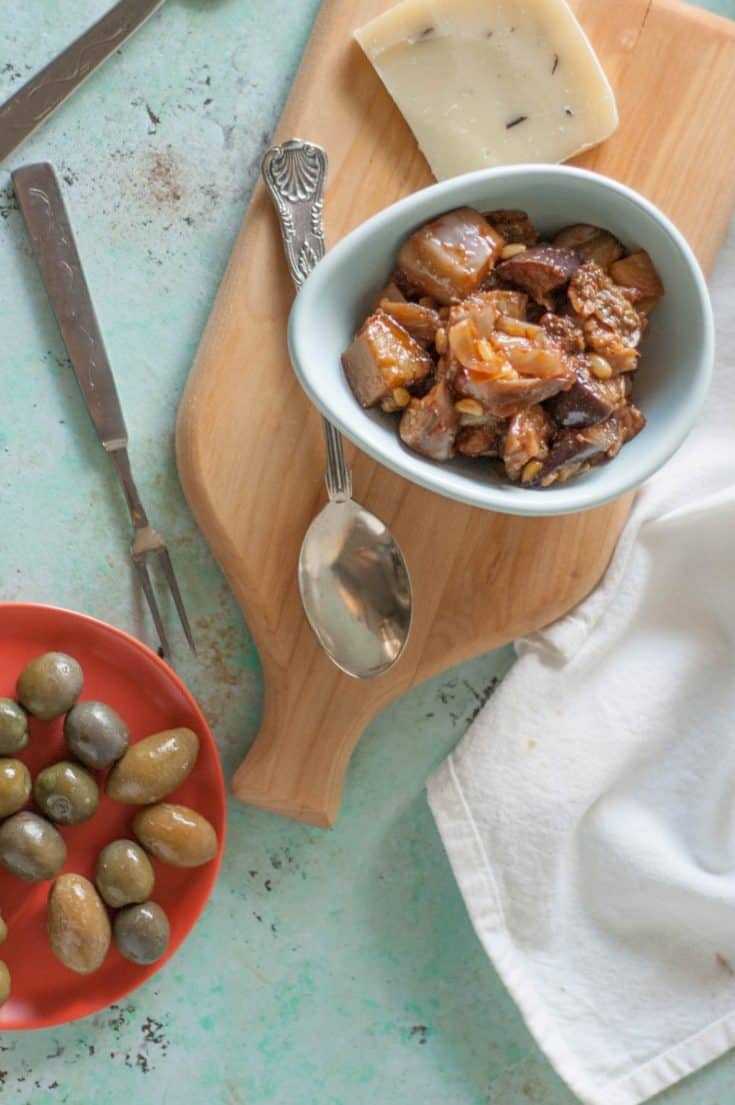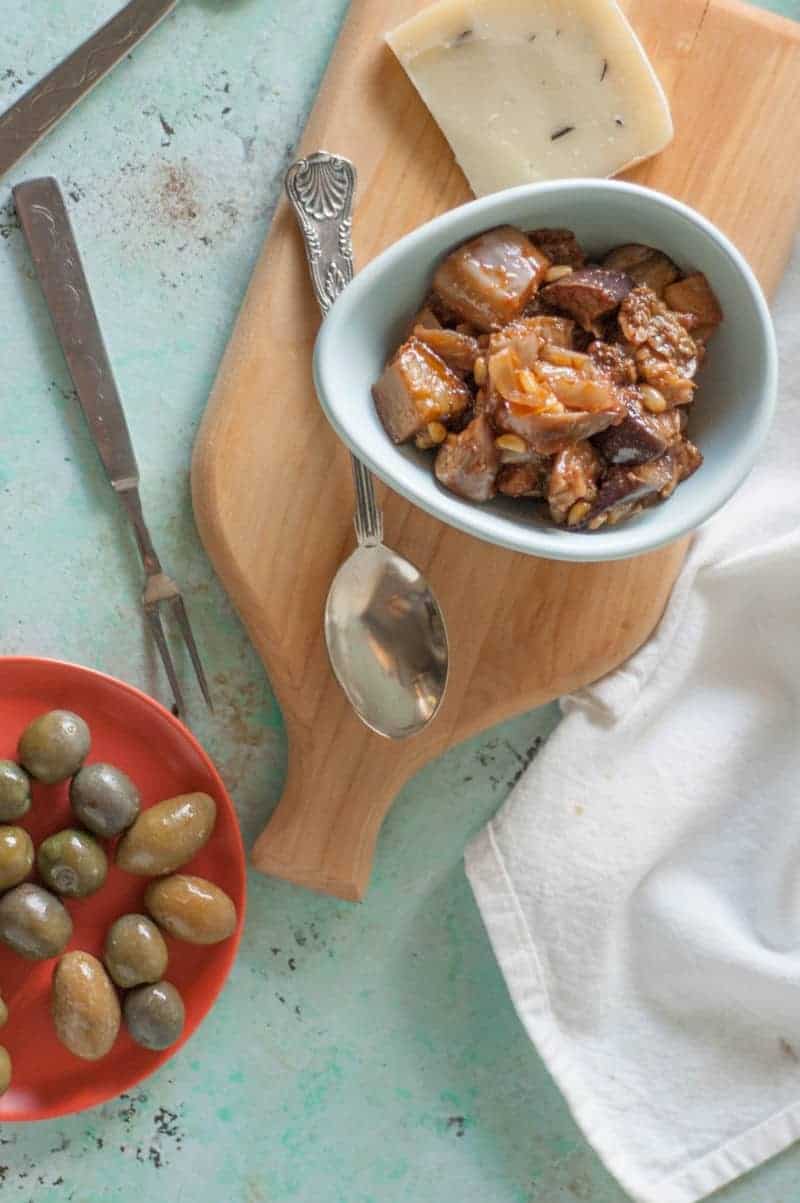 This traditional Sicilian antipasto is beautifully balanced, flavor-wise. It's rich from the generous amount of olive oil but that's tempered with bright acidity from the sherry vinegar. I used a mix of Italian globe eggplants and long skinny Chinese and Japanese eggplants. Italian eggplants would be the traditional choice, but you can use whatever eggplant you have. I find that smaller eggplant tend to be less bitter. I like the balance of sweet and sour of sherry vinegar for this, but you could use balsamic vinegar or red wine vinegar here if you prefer. I like to use golden raisins in dishes like this, but Silverton uses dried currants, and regular raisins would work as well. This dish is vegan and gluten free as is. Don't let that fool you, it's a treat. (You can reduce the amount of olive oil in this dish if you really want to, but people will like you better if you use the full amount.)
Ingredients
1 1/2 pounds (680 g) eggplant, cut into rough 1-inch cubes
2 teaspoons kosher salt, plus more to taste
3/4 cup (180 ml) extra virgin olive oil
1/2 a medium yellow onion, roughly chopped
2 cloves garlic, thinly sliced
2 tablespoons golden raisins
1/2 teaspoon red pepper flakes
1/2 cup (120 ml) canned tomatoes, pureed until smooth
1/4 cup (60 ml) sherry vinegar
1 teaspoon fresh thyme leaves
1/2 teaspoon sugar
1/4 cup pine nuts, toasted
Instructions
In a large mixing bowl, sprinkle the salt over the eggplant, and toss to make sure it's well distributed.
In a large saute pan or skillet, heat 1/4 cup (60 ml) of the olive oil over medium-high heat for a couple of minutes until it's almost smoking. Add the eggplant and let it cook, without stirring, for two minutes. You want the eggplant to get deeply golden brown. Add another 1/4 cup (60 ml) of olive oil to the pan and cook the eggplant, this time stirring frequently, for until the eggplant is browned on all sides, about 6-8 minutes.
Remove the eggplant from the pan with a slotted spoon (you can put them in the mixing bowl you used before) and set aside. Reduce the heat to medium, add the remaining olive oil and the onions and cook, stirring frequently, until the onions are translucent and the eggplant bits stuck to the pan have worked their way loose, about 3 minutes. Add the garlic, raisins, and red pepper flakes and cook for about a minute. Then add the eggplant, tomatoes, vinegar, thyme, and sugar and stir to combine. Cook, uncovered, until most of the liquid has evaporated, about 5 minutes. Stir in the pine nuts.
You can serve it now, or (as I prefer) let cool to room temperature. Keeps well in the refrigerator in an airtight container for several days. (It's not bad cold from the fridge, but it'll be better if you let it come to room temperature before serving.)
Recommended Products
As an Amazon Associate and member of other affiliate programs, I earn from qualifying purchases.
Nutrition Information:
Yield:
8
Serving Size:
1
Amount Per Serving:
Calories:

253
Total Fat:

23g
Saturated Fat:

3g
Trans Fat:

0g
Unsaturated Fat:

19g
Cholesterol:

0mg
Sodium:

549mg
Carbohydrates:

12g
Fiber:

3g
Sugar:

5g
Protein:

2g