I may earn from purchases through links in this post.
These marbled Chinese tea eggs are lovely to look at and delicious to eat.
In China, these tea eggs are typically sold by street vendors and are a popular snack.
But regardless of where you live, if you have access to a few spices and soy sauce and tea, they're incredibly easy to make.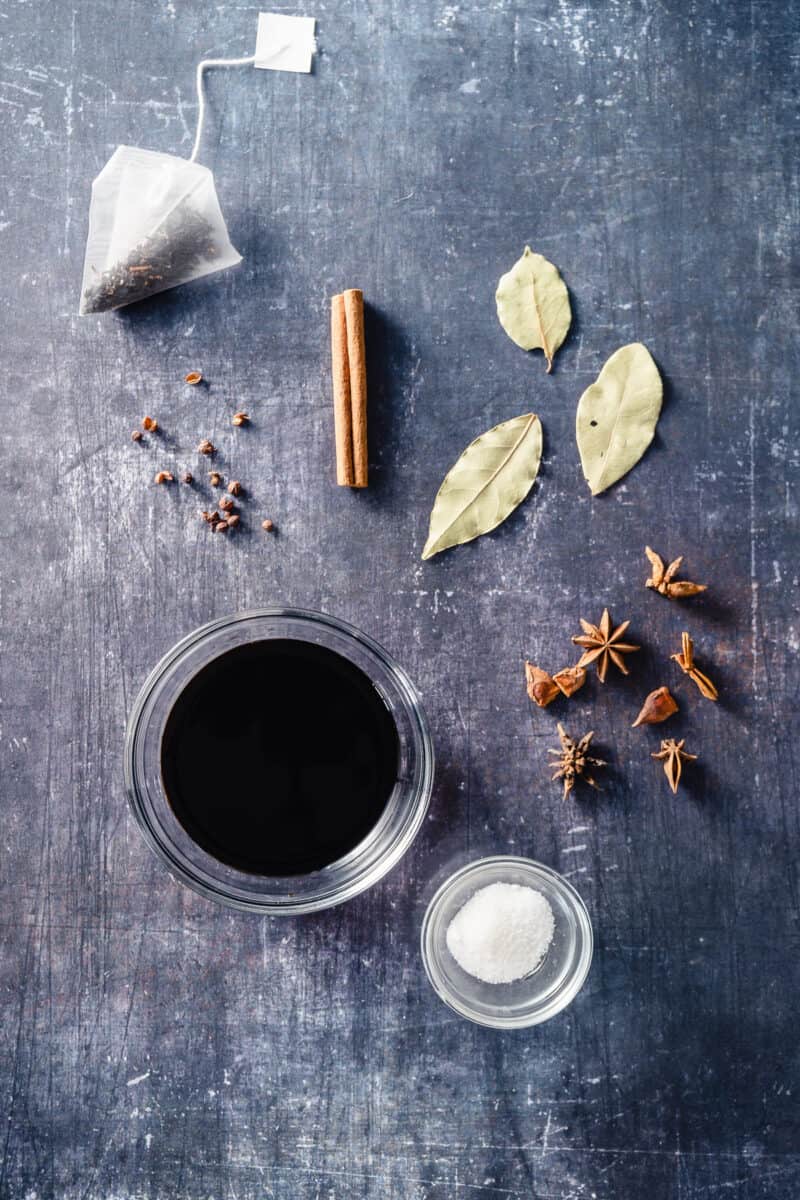 The traditional method for making them involves cooking them twice—first to hard boil the eggs and then cracking the shells all over and simmering them in a mixture of tea and soy sauce and spices. And I'm not going to knock a method that works for millions of people.
I am going to say it's not quite right for me. The yolks tend to feel overcooked, at least for my preference. And with this method there's no way to make them soft boiled or medium boiled, only the hardest of hard boiled.
So my method to get around that is a simple one. It's a lot like the one I use for ramen eggs.
You assemble the marinade and simmer it on the stove long enough to steep the tea and dissolve the sugar and salt, then let it cool while you boil the eggs to your preferred level of doneness.
Then you let the eggs cool (or you can dunk them in an ice bath) and crack them all over with the back of a spoon to create little spaces for the marinade to seep in.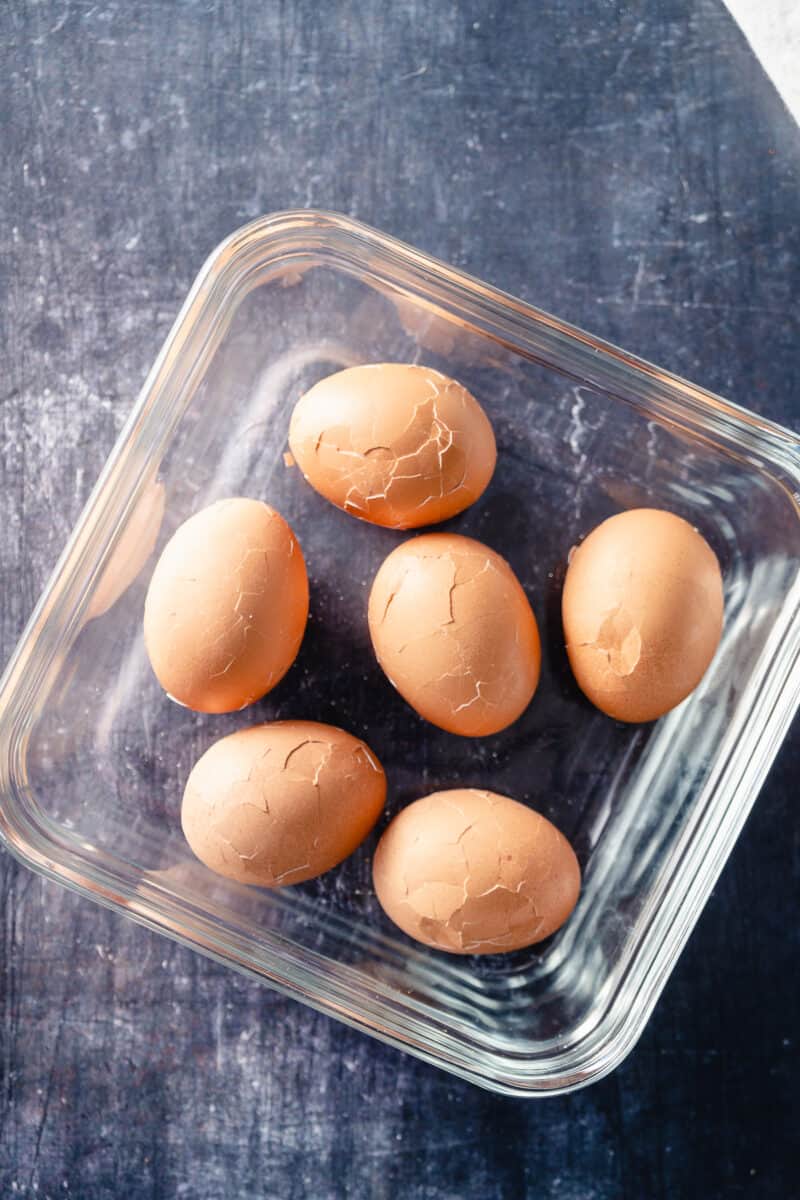 Then you cover them with marinade and take care to make sure they are fully submerged.
You can always top up the marinade with more water if it doesn't quite cover the eggs in your container.
Then you let them soak overnight or for a few days.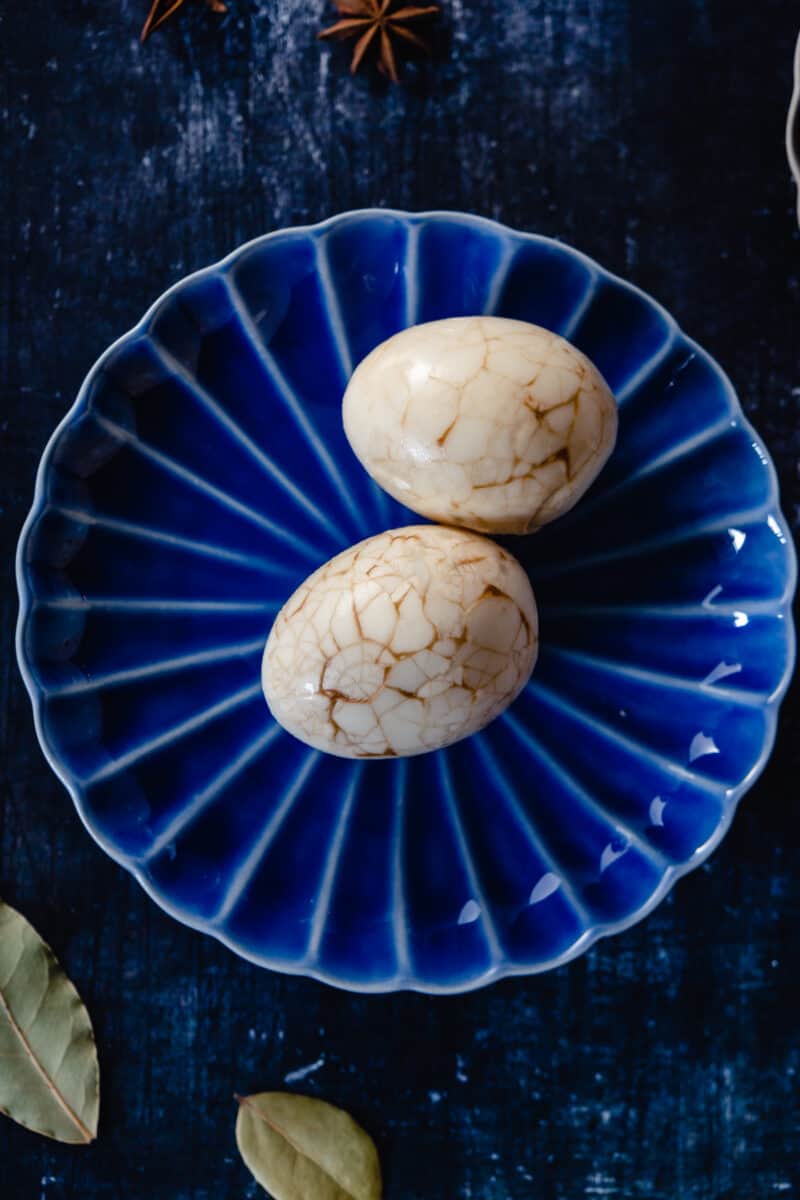 The longer you let them marinade, the darker the marbling effects will be. (The ones pictured have marinated for 24 hours.)
Then when you're ready to eat them, you peel and serve.
I'll admit that peeling these is a fiddly process because of all the tiny cracks creating so many bits of shell. But that's the only fussy part of the whole process. And if you aren't overly concerned about them looking pristine you can get the job done faster.
(If you don't care about the marbling effect, you can also peel these eggs before marinating them and stick them right in the marinade. If you go that route they'll be ready in about half the time because of increased contact with the marinade.)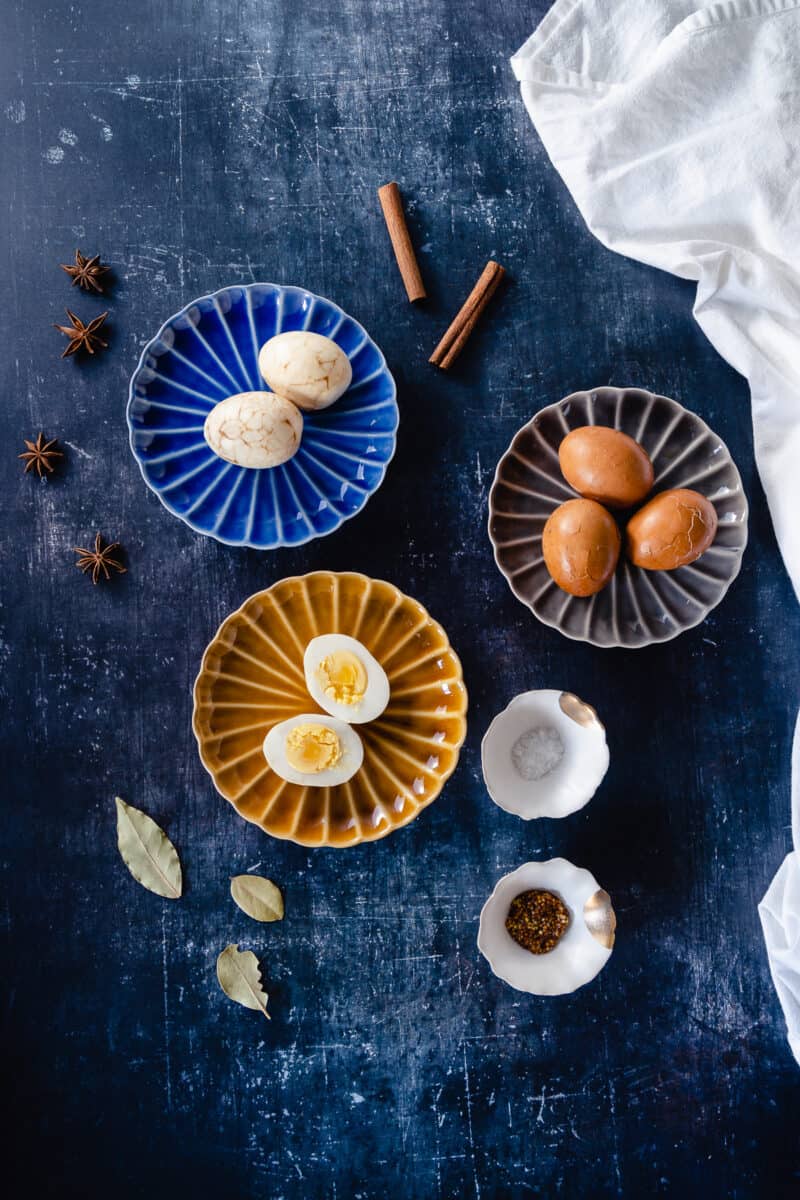 They're great as a snack on their own. I like them with a bit of flaky salt and spicy grainy mustard. But they're also great as a make ahead breakfast or lunch component if you want some extra protein.
They're good with rice or with a salad or atop a bowl of noodles. Or basically any way you like a hard boiled or soft boiled egg.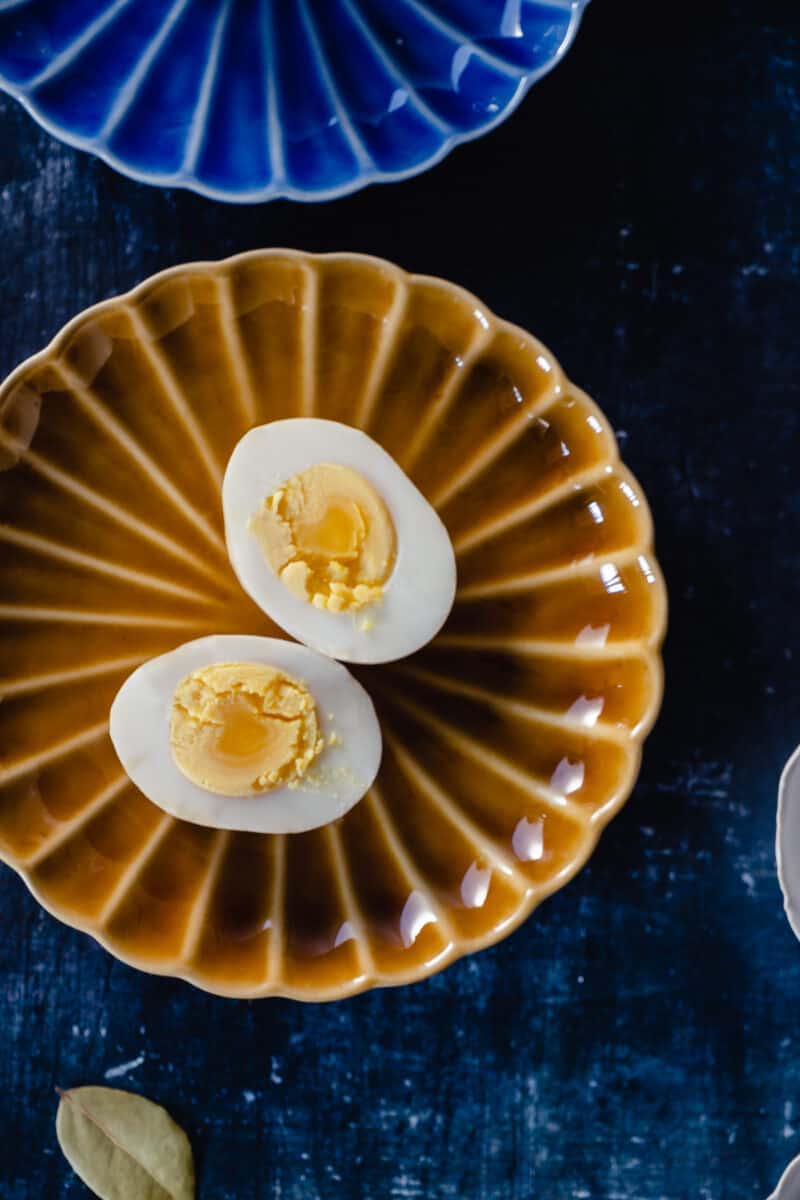 Yield: 6 eggs
Marbled Chinese Tea Eggs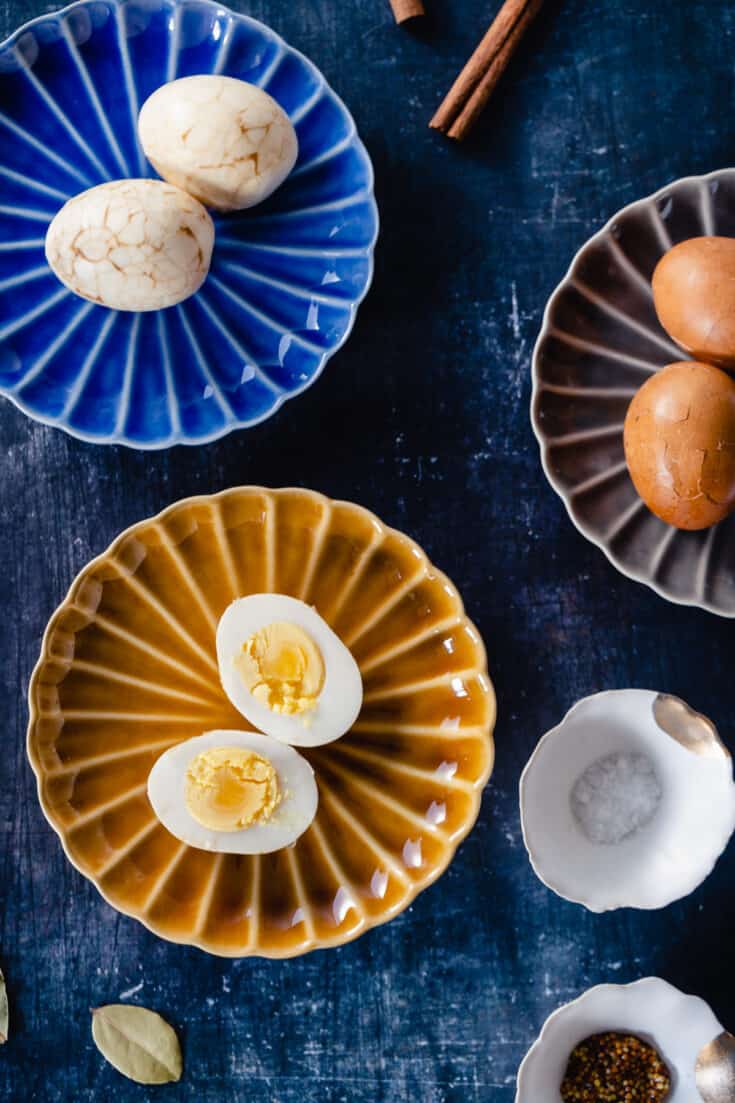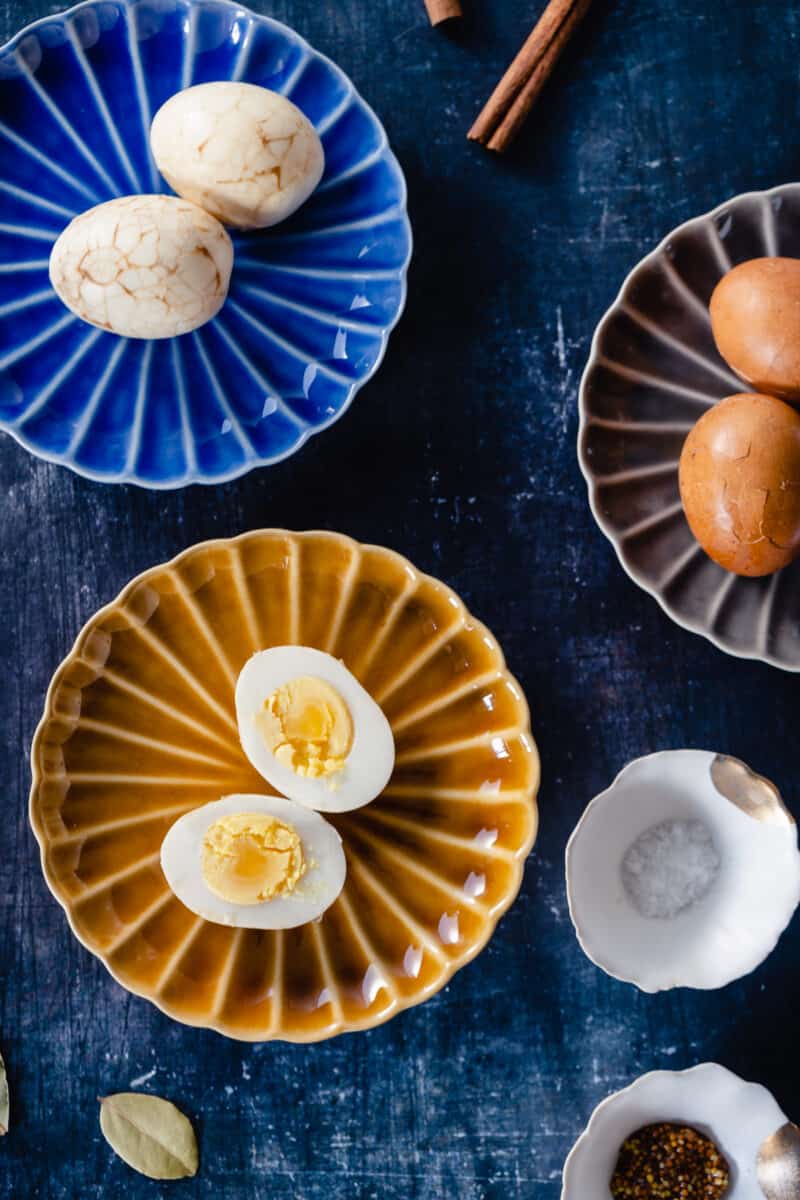 These marbled Chinese tea eggs are a popular street food in China. The traditional method for making them involves cooking them twice, but I've modified the method to allow for more flexibility in how you done you want your eggs to be.
First you assemble the marinade on the stove. You can use any black tea you want here, though the smoky notes of lapsang souchong are particularly nice. If you use tamari in place of the soy sauce these are gluten free.
You boil the eggs to your preferred degree of doneness, from soft boiled to hard boiled. (The ones pictured here were boiled for 10 minutes.)
Then you crack the eggs all over and marinate them overnight or for up to 5 days. Then peel and eat.
Total Time
1 day
25 minutes
Ingredients
1 1/2-2 cups water
1/4 cup soy sauce
1 tea bag or 1 tablespoon black tea (if loose tea, use a tea strainer or tie up in cheesecloth)
2 pieces of star anise
1 cinnamon stick
1/2 teaspoon Sichuan peppercorns or black peppercorns
2 bay leaves
1 teaspoon sugar
1/2 teaspoon kosher salt
6 large eggs
Instructions
Add the water, soy sauce, tea (if loose, place in a tea strainer or tie up in cheesecloth), star anise, cinnamon stick, peppercorns, bay leaves, sugar, and salt to a medium saucepan and bring to a boil. Simmer for 10 minutes. Remove from the heat and remove the tea bag or tea strainer (discard the tea). Let cool.
Bring a medium pot of water to a boil. Meanwhile, have a large bowl of ice water nearby.
Add the eggs (gently), cold from the refrigerator to the water and cook for 6 minutes for soft boiled, 8 minutes for medium, and 10 minutes for hard boiled.
Remove the eggs with a slotted spoon and add directly to the ice water. Let cool for a few minutes.
Gently crack the eggs all over with the back of a spoon to create small cracks where the marinade can seep into the eggs. Place the eggs in a shallow container or zip-top bag and add the marinade. Be sure the eggs are fully submerged. If there isn't enough liquid to cover them (it will depend on your container) add water until the eggs are fully covered with the marinade. Cover and refrigerate for at least 24 hours or up to 5 days.
When ready to eat, remove from the marinade, peel, and serve.
Recommended Products
As an Amazon Associate and member of other affiliate programs, I earn from qualifying purchases.
Nutrition Information:
Yield:
6
Serving Size:
1 egg
Amount Per Serving:
Calories:

83
Total Fat:

5g
Saturated Fat:

2g
Trans Fat:

0g
Unsaturated Fat:

3g
Cholesterol:

186mg
Sodium:

237mg
Carbohydrates:

2g
Fiber:

0g
Sugar:

1g
Protein:

7g