I may earn from purchases through links in this post.
When it comes to weeknight dinners that clock in under half an hour and still manage to taste like something real—a little bit cheffy, even—it's tough to beat this ricotta pasta.
It's a sort of cousin to cacio e pepe, in that in its soul it is a cheesy, creamy tangle of long noodles flecked with specks of black pepper.
But it's also a sort of a pale cousin to pesto, in that it involves roughly chopped nuts and garlic and olive oil and a handful of grated Pecorino Romano, even if it barely involves any herby green roughage at all.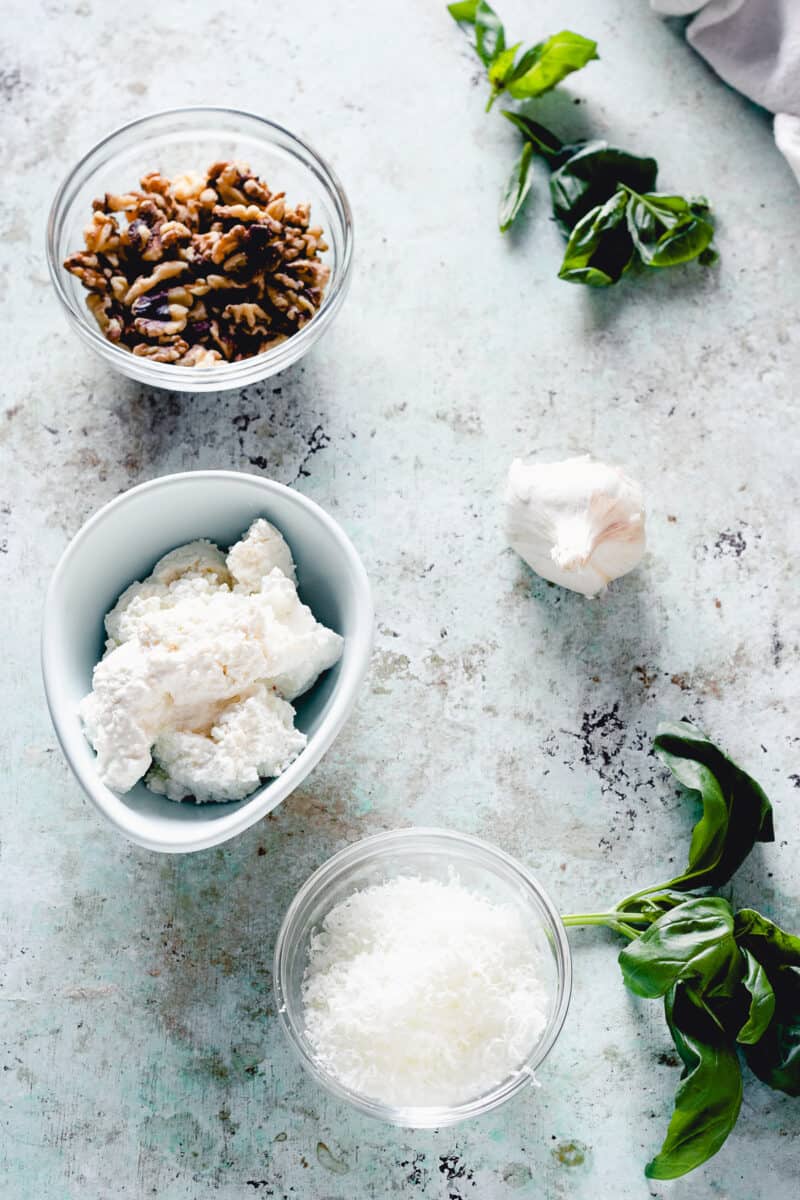 But basically, it's a combination of flavors and textures that just work.
You put a pot of generously salted water on to boil, and in the meantime slice a few cloves of garlic very thinly and roughly chop a big handful of walnuts.
Then, when the water boils, get you spaghetti or other long pasta of your choice (fettuccine or bucatini or any similar shape works well) in to cook.
Then you put a big skillet or saute pan on low heat, like the lowest heat setting your burner will do, and add a glug of olive oil and the sliced garlic and the walnuts and a pinch of red pepper flakes.
And then you wait for the aroma of gently cooking garlic and toasty walnuts to fill the air and infuse the olive oil with all of their deliciousness.
You'll want to keep an eye on it, because you don't actually want the garlic to brown or the nuts to burn, but on low heat it shouldn't be much of a problem unless your burners are fickle and don't do low heat well, in which case you should just take care to pull things off the heat at the first sign of color on any of the garlic.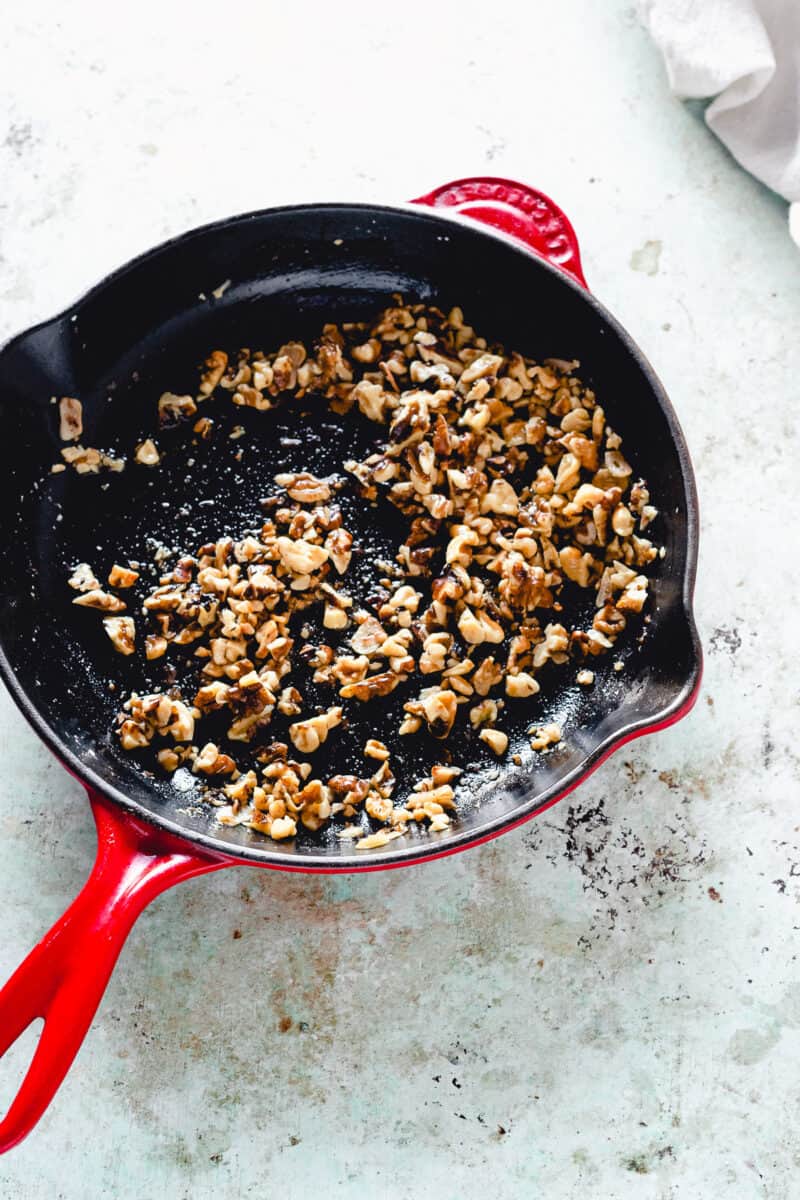 When the pasta is al dente, reserve about a half cup of the cooking water and strain the pasta, then add it to the skillet with the garlic and walnuts and toss the pasta with the fragrant olive oil and nuts.
Then turn off the heat and add the ricotta and let the wonderful milky, creamy cheese coat the pasta. It helps to add the reserved pasta cooking water to loosen things up here, but it isn't as tricky to emulsify as cacio e pepe can be. Some of it will depend on how thick your ricotta is.
Then you sprinkle on a handful of grated Pecorino Romano, which is a cheese with a great sharp flavor and I just love it here, but you could definitely also go with a nice Parmigiano Reggiano here if that's what you have around.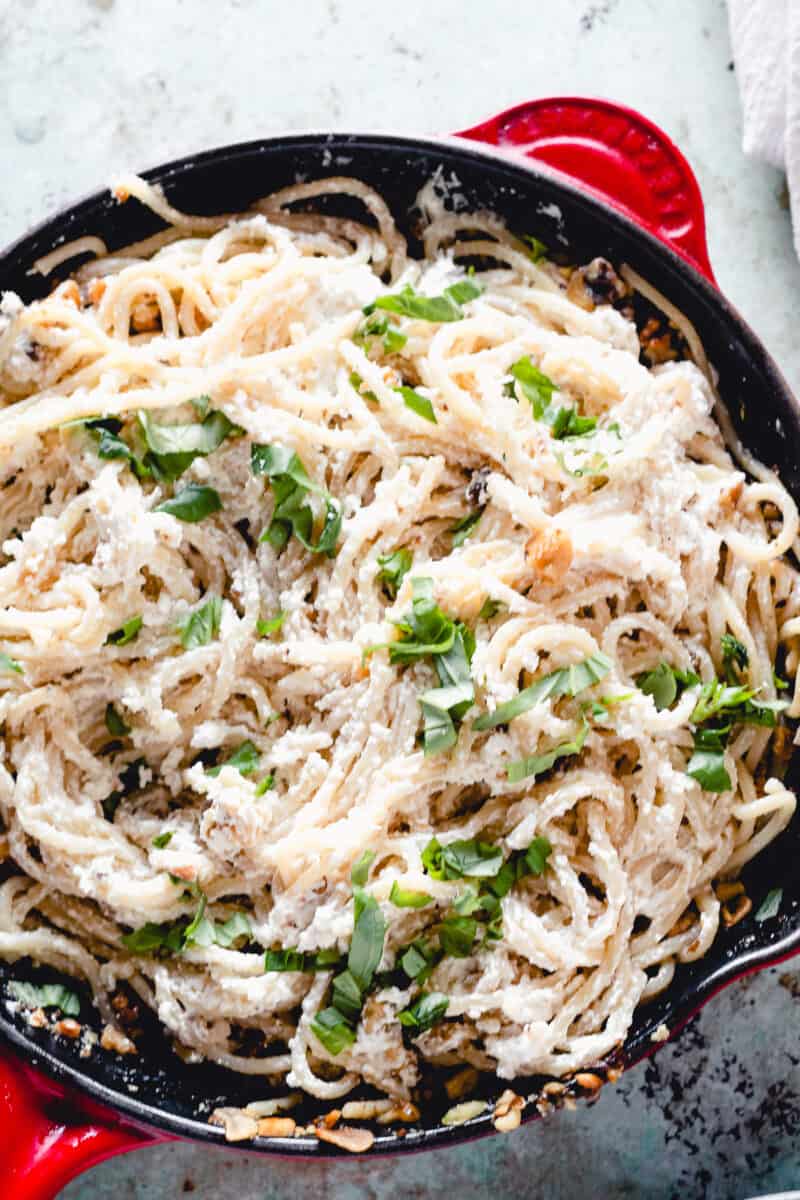 Then you add some good cracks of black pepper and a flutter of fresh basil leaves and stir everything around so that your pasta is coated with that lovely ricotta and garlicky goodness.
And then you dish it out onto your serving plate or bowls or just dig in with a fork.
This ricotta pasta is one of my favorites for a weeknight when I'm looking for something simple and comforting.
If you're looking for more weeknight dinners, I'd suggest pasta e ceci (pasta with chickpeas), chicken with garlicky cashew sauce, or fideos with chickpeas, fennel, and kale (basically the pasta version of paella).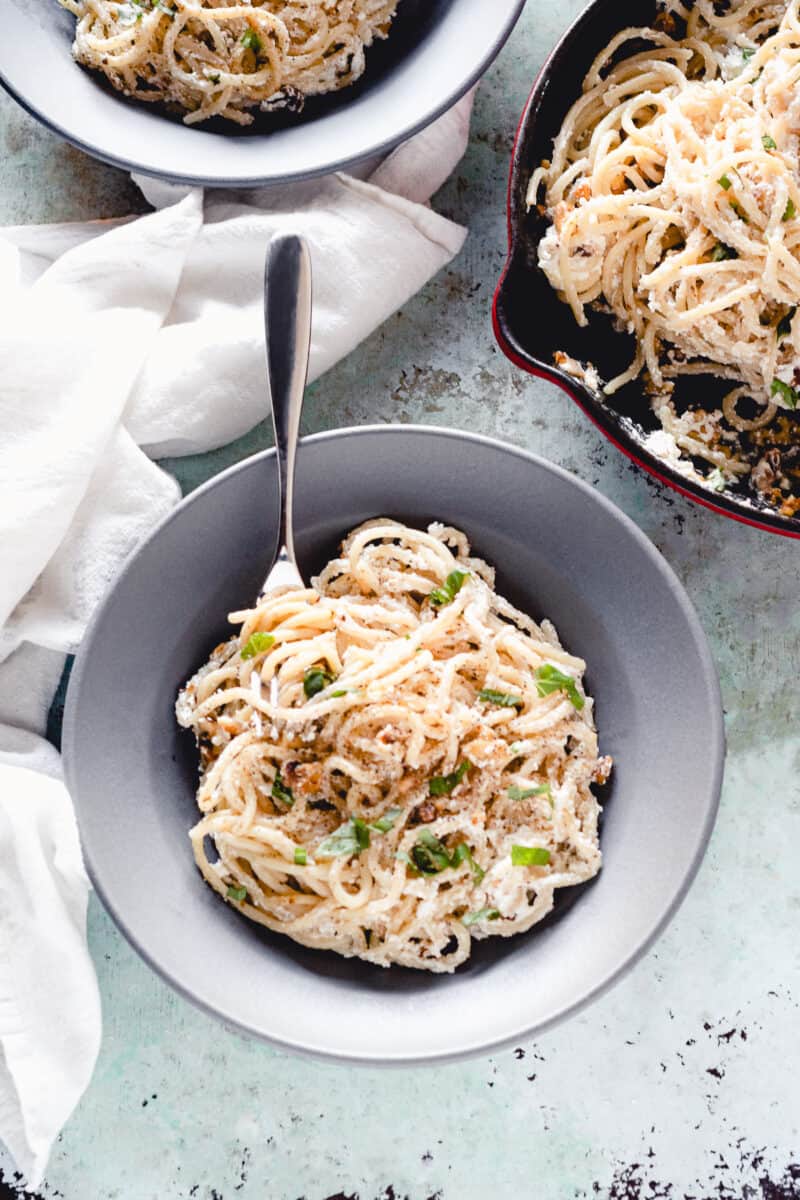 Yield: 4 servings
Ricotta Pasta with Walnuts, Garlic, and Black Pepper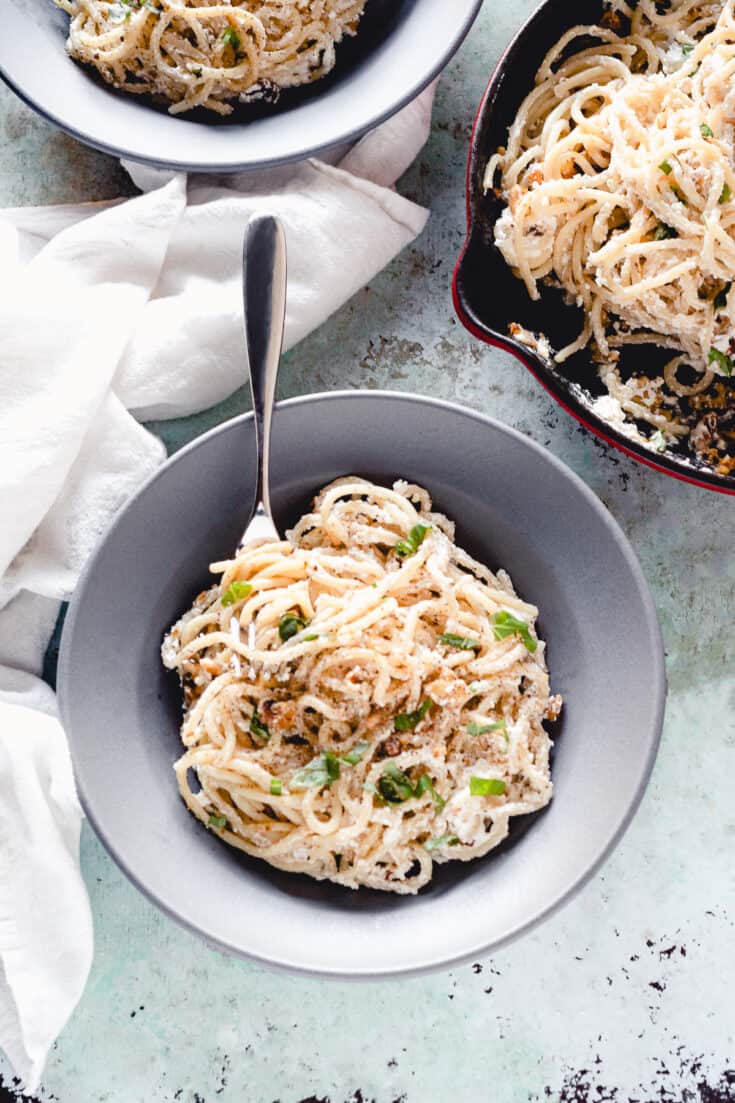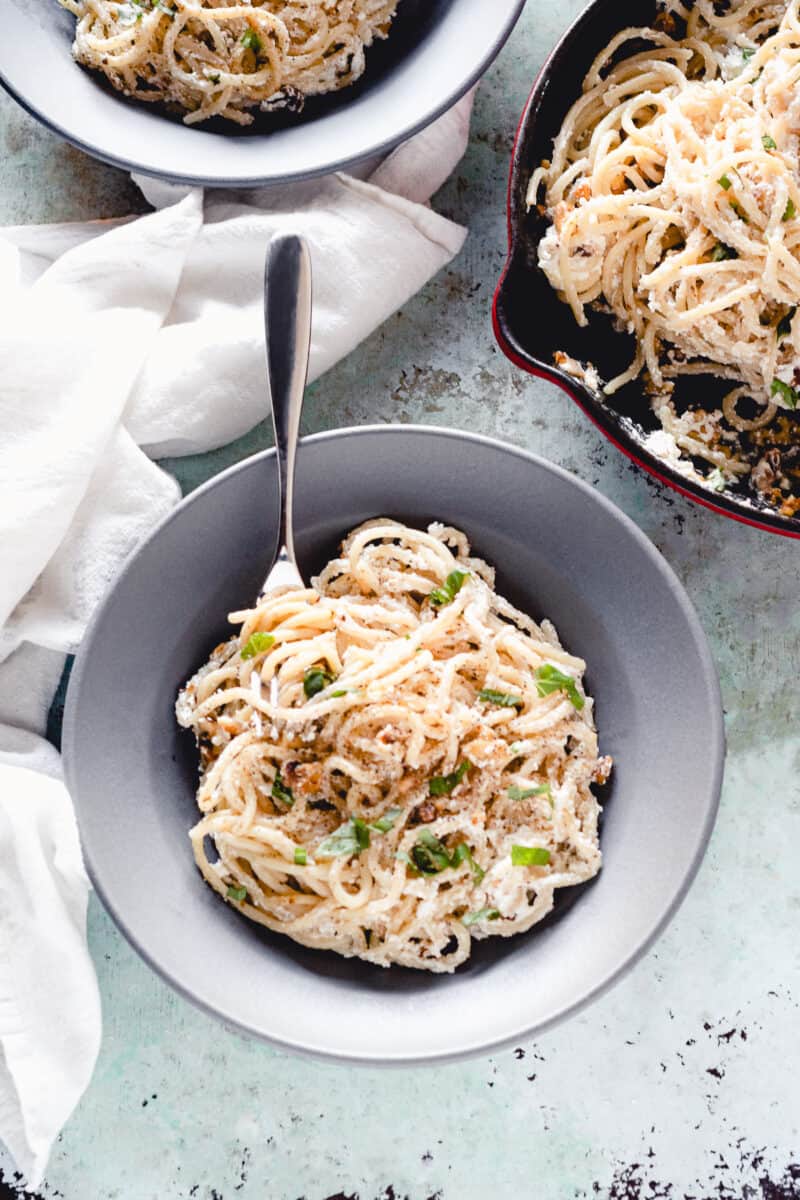 This is a simple, creamy pasta that highlights the milky flavor of fresh ricotta while gilding it with some garlic-infused olive oil, crunchy walnuts, and a shower of salty, sharp Pecorino Romano cheese.
You can use Parmigiano Reggiano in place of the Pecorino if you prefer.
Ingredients
12 ounces spaghetti or other long pasta, such as fettuccine or bucatini
2 tablespoons olive oil
3 cloves garlic, thinly sliced
1 cup walnuts, roughly chopped
a pinch of red pepper flakes
1 cup fresh ricotta
1/2 cup finely grated Pecorino Romano
freshly grated black pepper, to taste
2-3 sprigs of fresh basil
Instructions
Bring a pot of generously salted water to a boil (and prep your garlic and walnuts if you haven't yet).
When the water comes to a boil, add your pasta and cook according to package instructions.
Meanwhile, heat a large skillet over low heat, and add the olive oil, garlic, walnuts, and pinch of red pepper flakes. Cook gently, stirring occasionally, until the garlic is fragrant but not brown (if it starts to color, remove from heat).
Reserve a 1/2 cup cooking water from the pasta (I use a metal measuring cup to scoop it out). When the pasta is ready, strain it and add it to the skillet and toss with the olive oil mixture.
Remove from heat, and add the ricotta and reserved pasta cooking water to the skillet and toss the pasta to coat with cheese. Add the Pecorino Romano and some generous cracks of black pepper and toss again to distribute. Sprinkle with basil leaves and serve.
Recommended Products
As an Amazon Associate and member of other affiliate programs, I earn from qualifying purchases.
Nutrition Information:
Yield:
4
Serving Size:
1
Amount Per Serving:
Calories:

641
Total Fat:

33g
Saturated Fat:

8g
Trans Fat:

0g
Unsaturated Fat:

23g
Cholesterol:

30mg
Sodium:

213mg
Carbohydrates:

65g
Fiber:

5g
Sugar:

3g
Protein:

24g