I may earn from purchases through links in this post.
Pasta e ceci is a humble dish. In Italian it means "pasta and chickpeas," and at its base, it's just that.
But it's so much more than the sum of those simple parts.
I was first introduced to pasta e ceci when I studied abroad in Rome, years ago when I was in college. It was, perhaps the first time that I realized how magical a stewy bowl of chickpeas could be.
(Even if I already knew that chickpeas in hummus were magic.)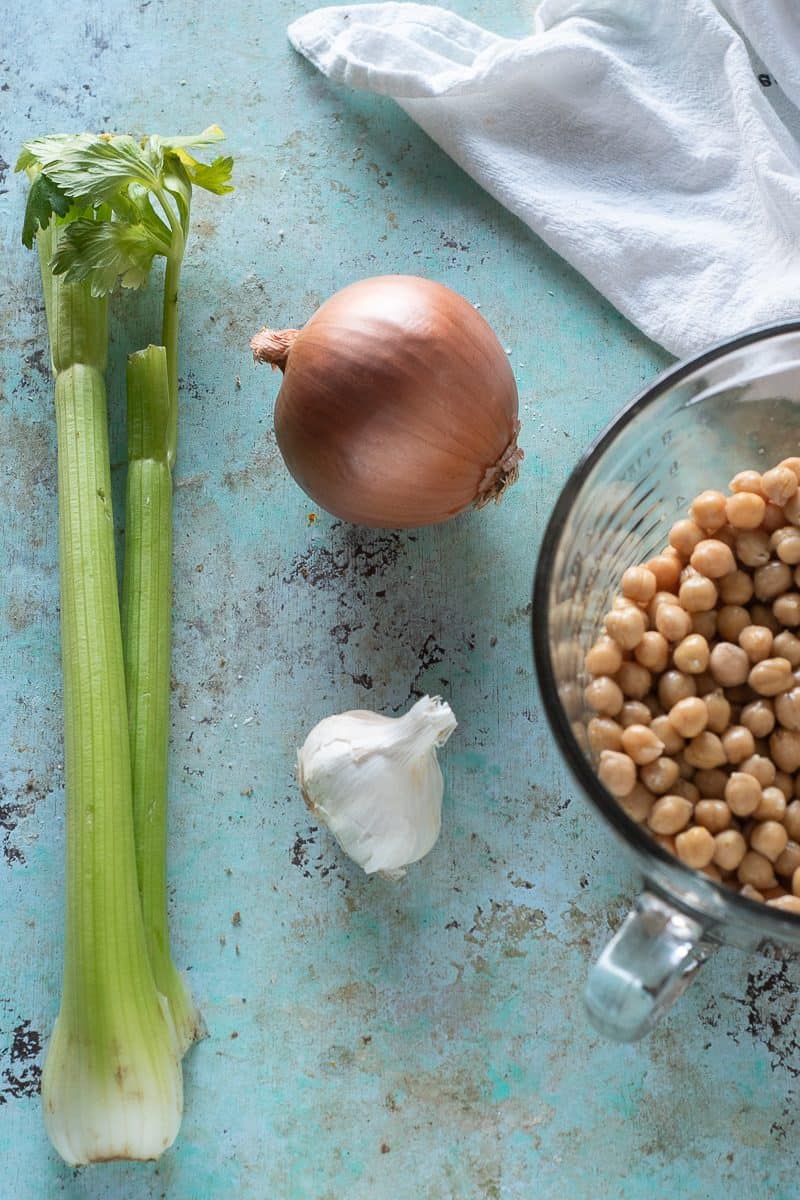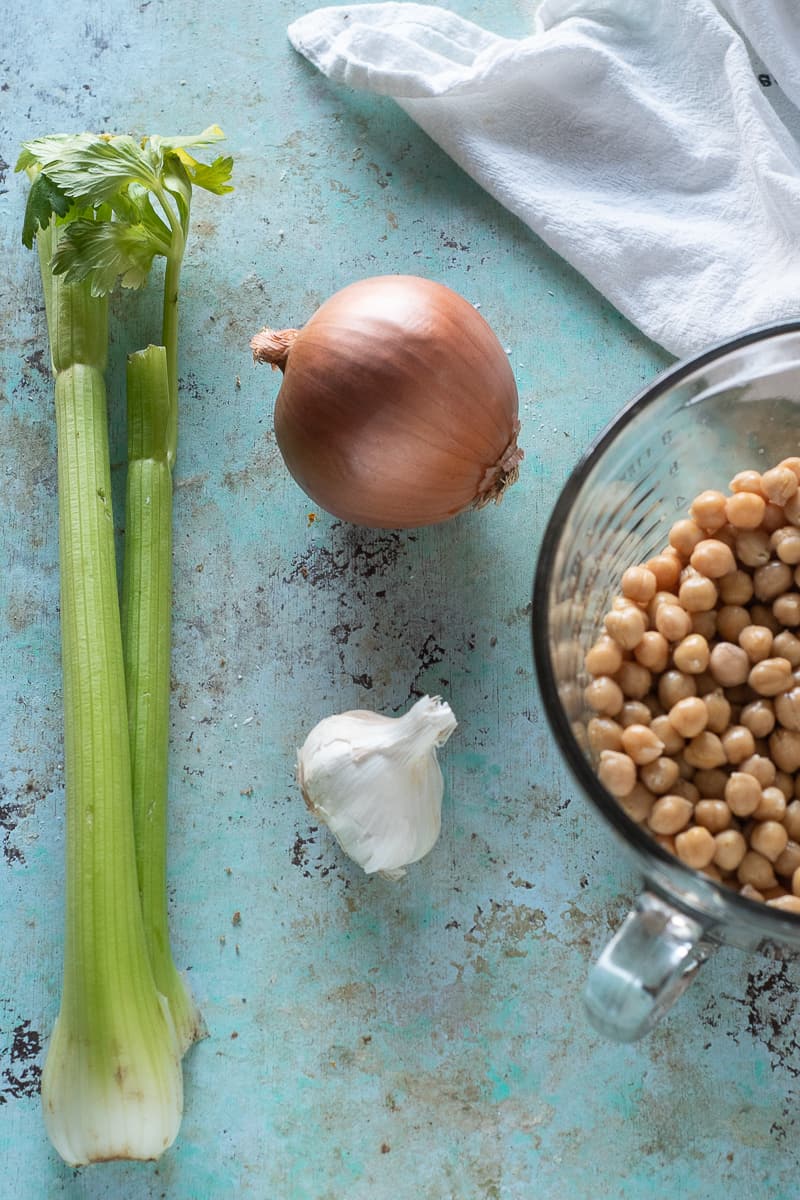 Especially on a cold day. With freshly baked focaccia. And a drizzle of local olive oil.
Oh, my.
It's one of those meals that feels just right when you're looking for something comforting that won't feel too heavy or too rich. (I feel similarly about this savoy cabbage gratin.)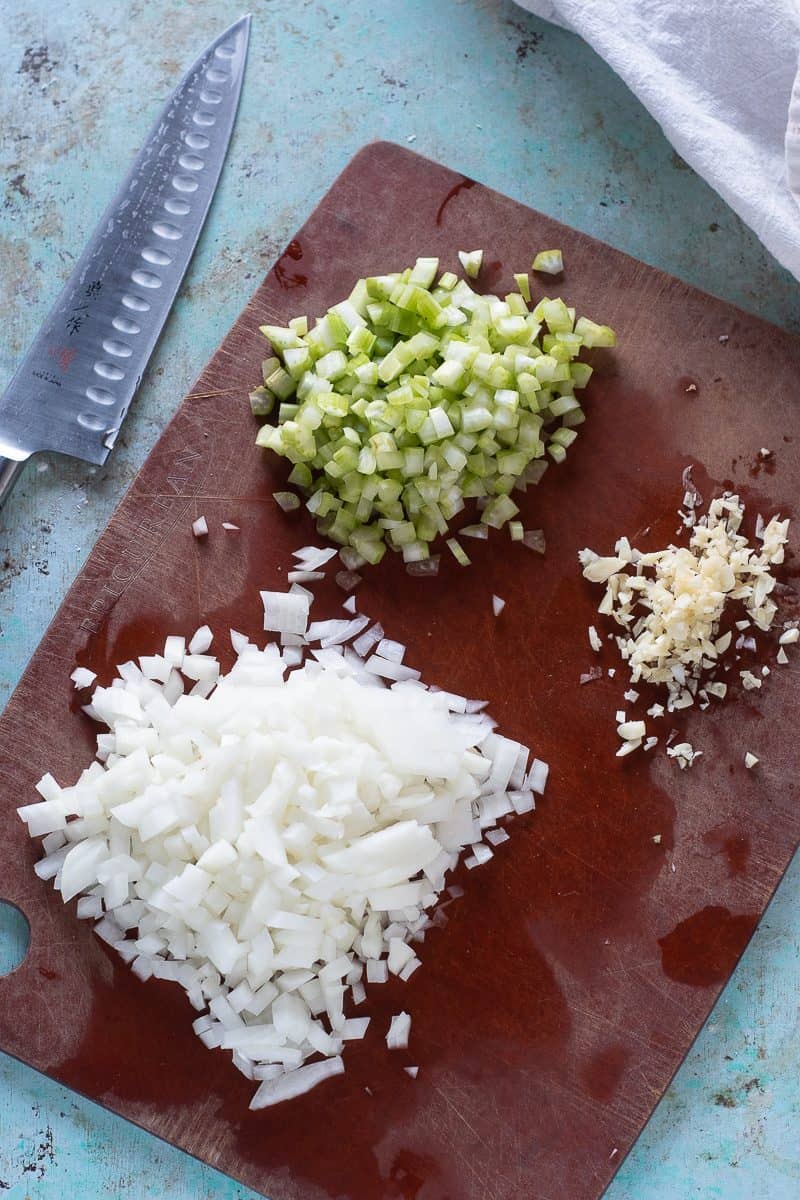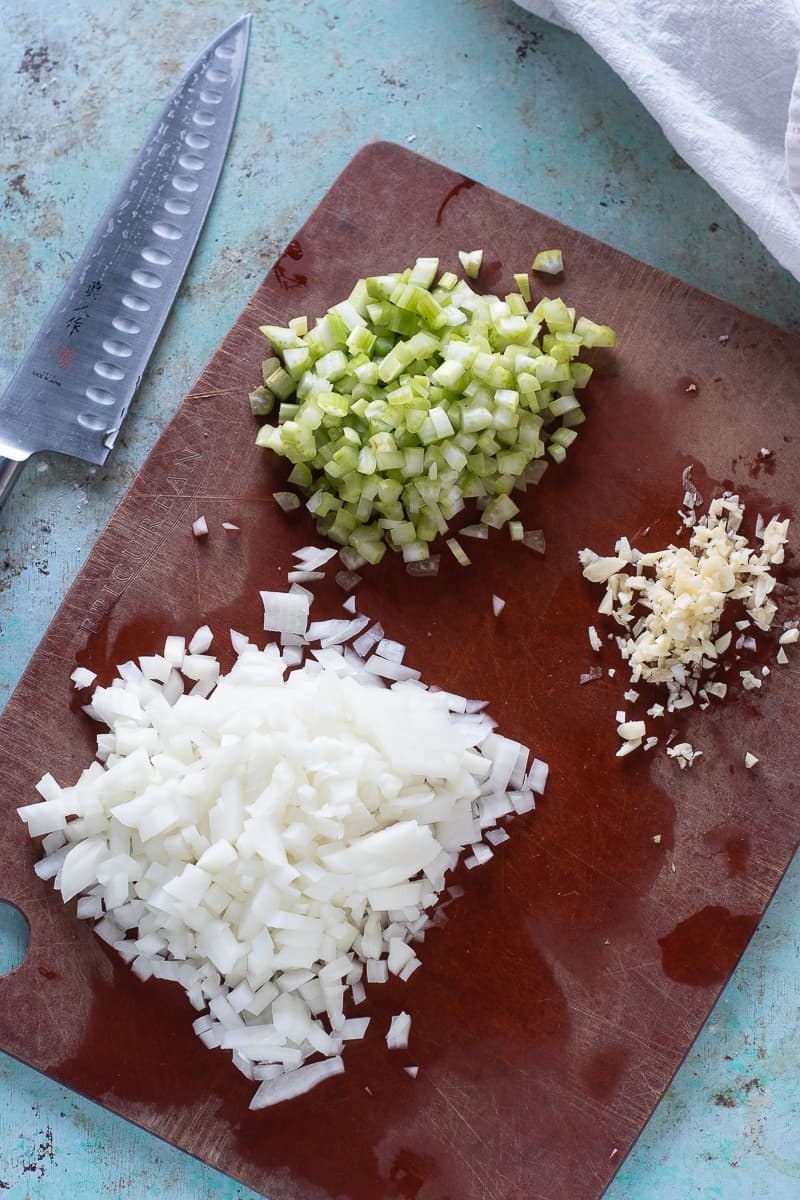 It's a traditional Roman meal that has nearly as many variations as there are Italian grandmothers.
Sometimes it's brothy, sometimes it's pureed, sometimes it involves tomatoes or anchovies, and the specific pasta involved can vary.
Though it is almost always small, it can be broken bits of something wide and long like tagliatelle or it can be whole ditalini or tubetti or torn pieces of sheets of fresh egg pasta.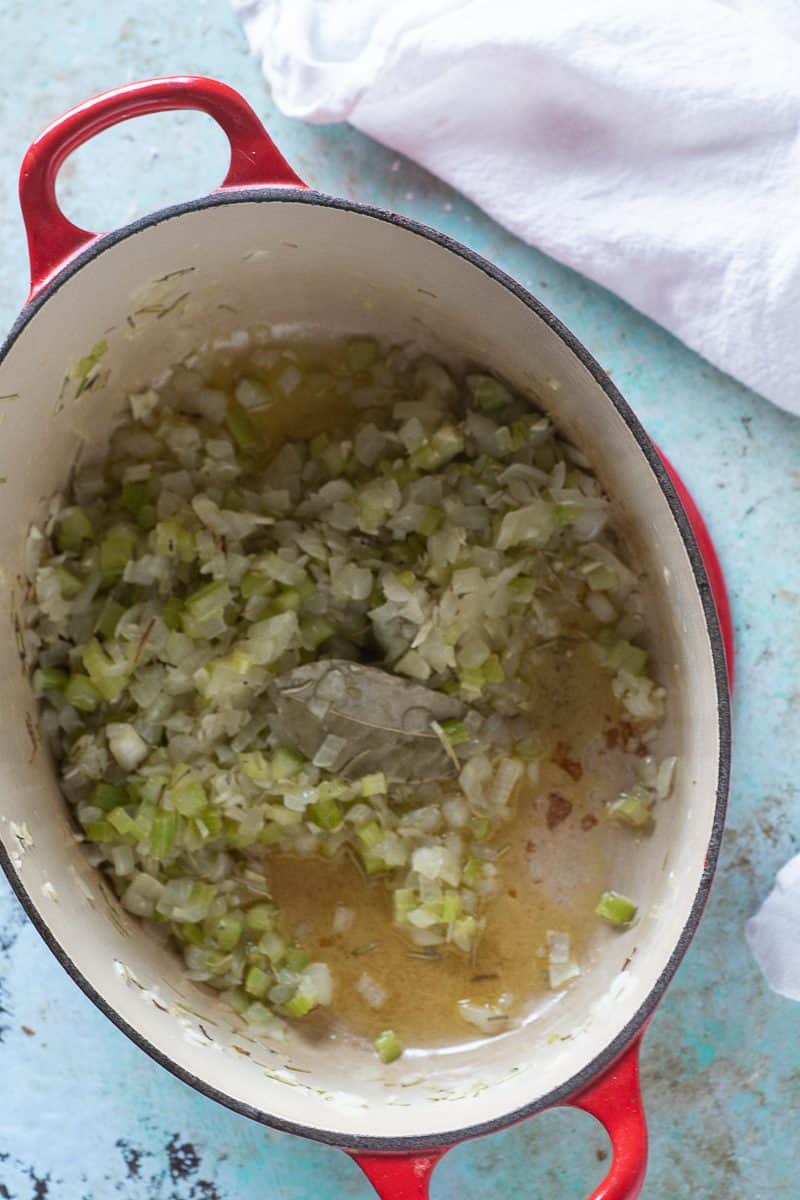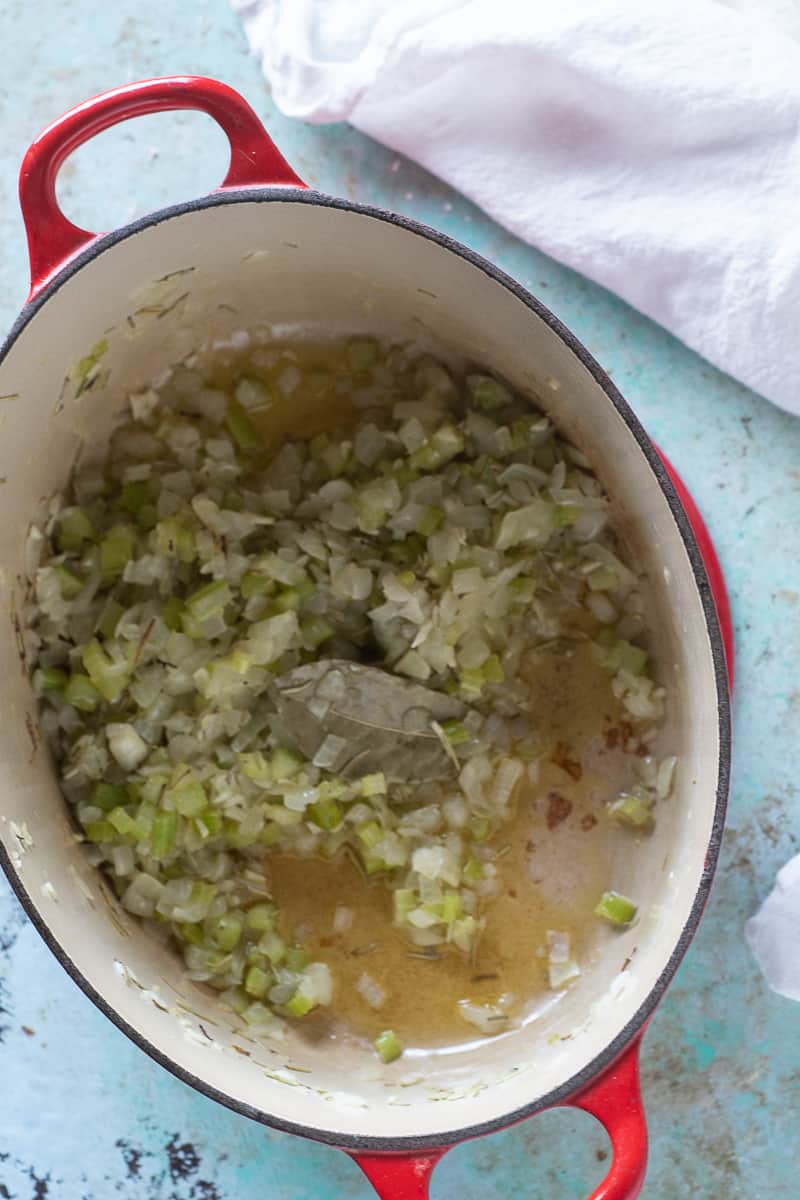 The version I've settled on, for it's balance of convenience and flavor is loosely adapted from a version I came across years ago in Jamie Oliver's excellent Jamie's Italy.
Though I've adjusted it so many times over the years that, for good and ill, at this point it's pretty much my own.
It comes together in under an hour, about half of which is just letting everything simmer and do its thing. Which makes it doable on a weeknight.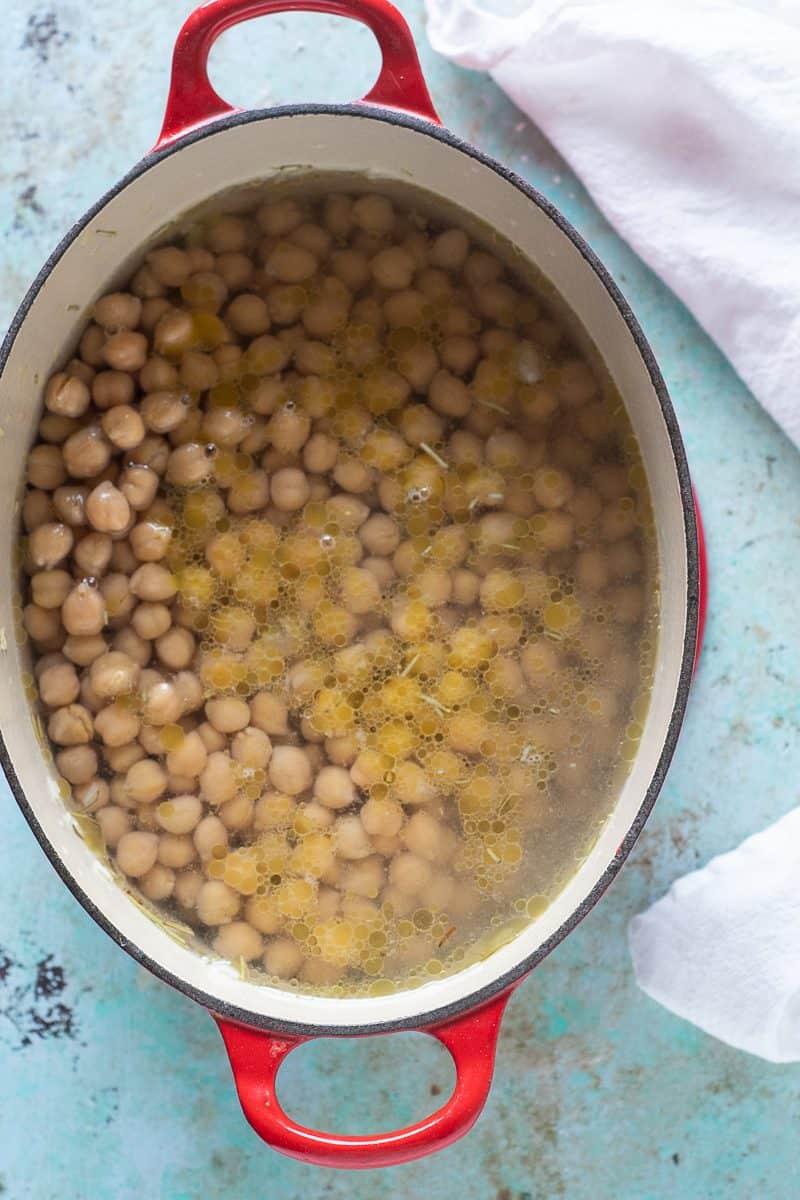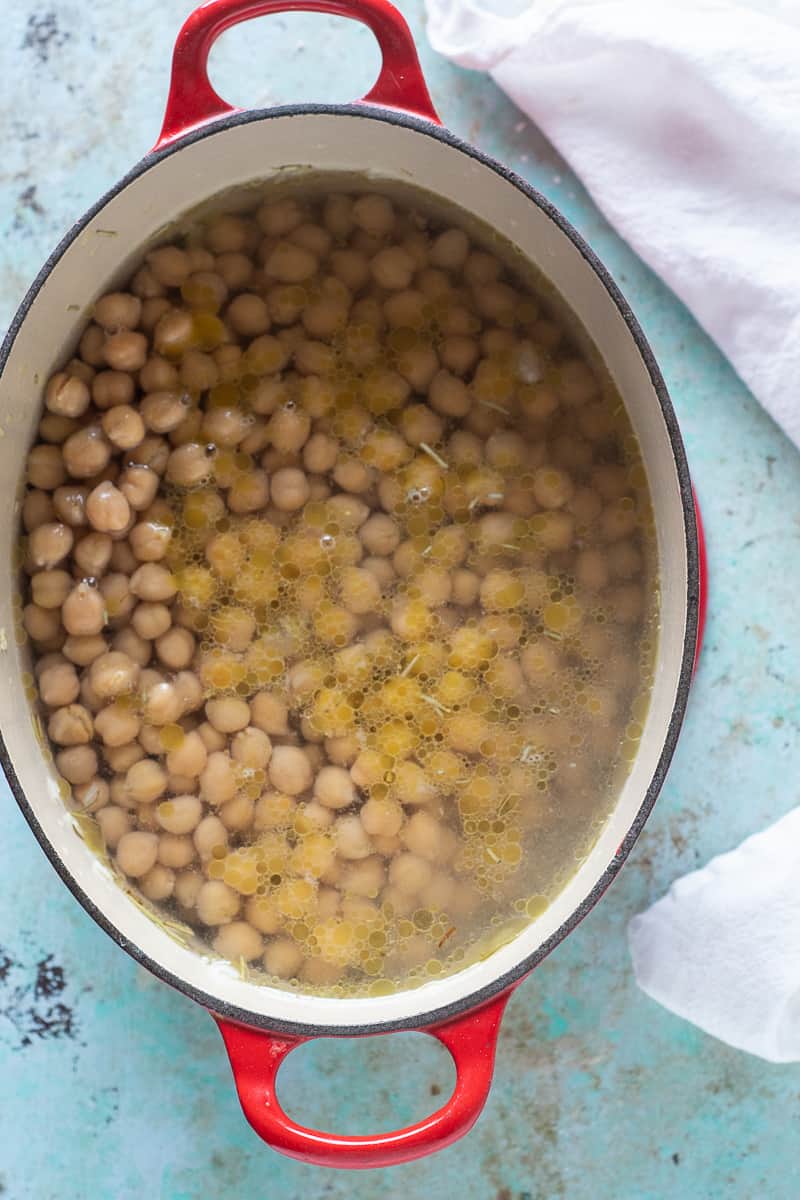 It starts with a soffritto of onions and celery and garlic that get sauteed in olive oil along with some dried rosemary until everything is softened and fragrant.
Then canned chickpeas and water go into the pot, along with a bay leaf and, if you have it, a nub of parmesan rind.
The parmesan rind is optional, but it gives the broth an extra hit of umami and is a great way to make use of the ends of a hunk of parmesan.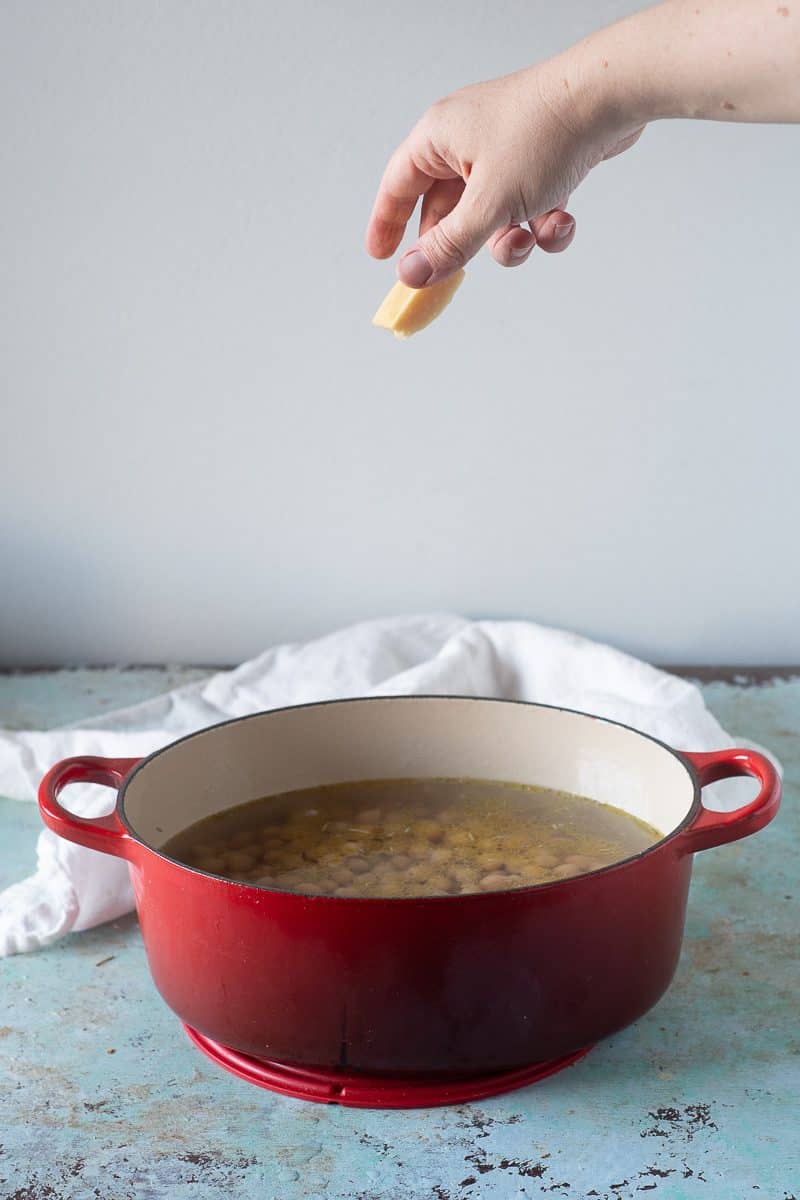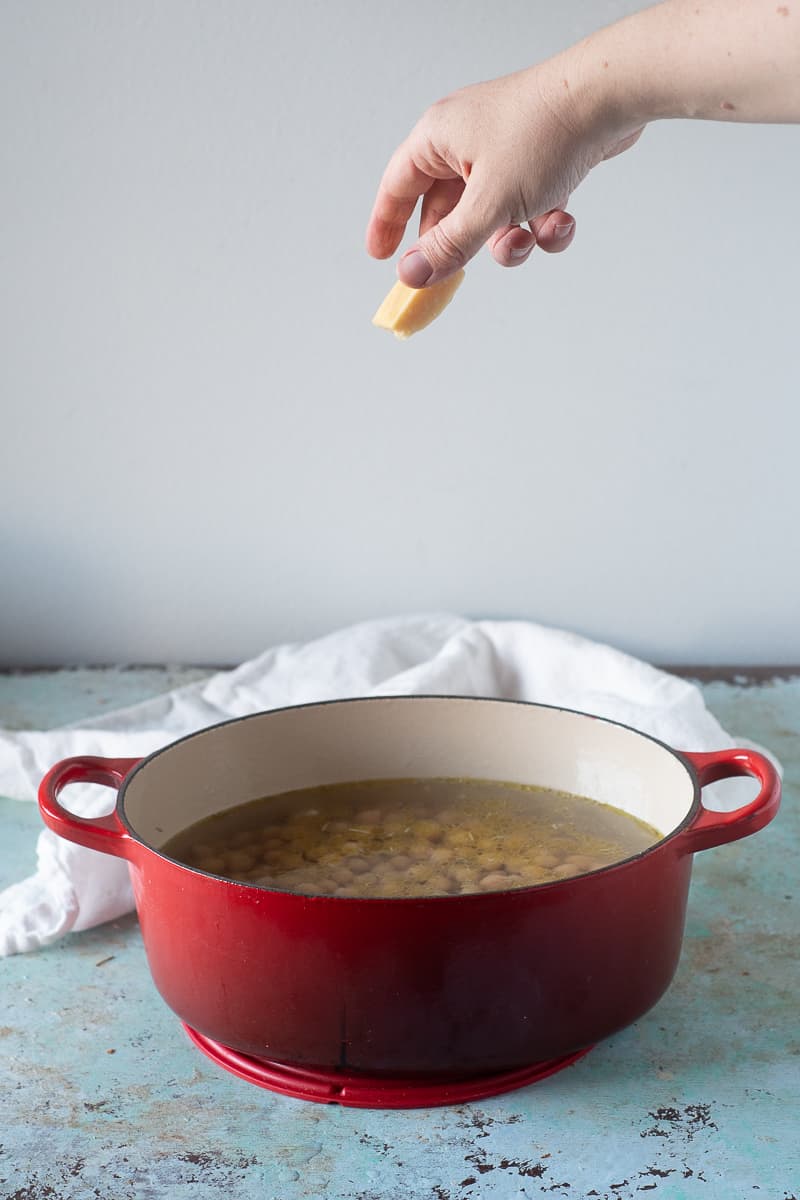 (You can keep parmesan rinds in an airtight container in the freezer pretty much indefinitely, so don't throw them away. And sometimes you can find the ends on their own available at a reduced price at places like Whole Foods or Italian groceries.)
Then everything simmers for about half an hour until the chickpeas are really tender and the whole kitchen smells wonderful.
At that point you scoop out about half of the chickpeas and whatever onion and celery pieces come along with them with a slotted spoon. Discard the bay leaf and parmesan rind, and blend the remaining chickpeas with an immersion blender.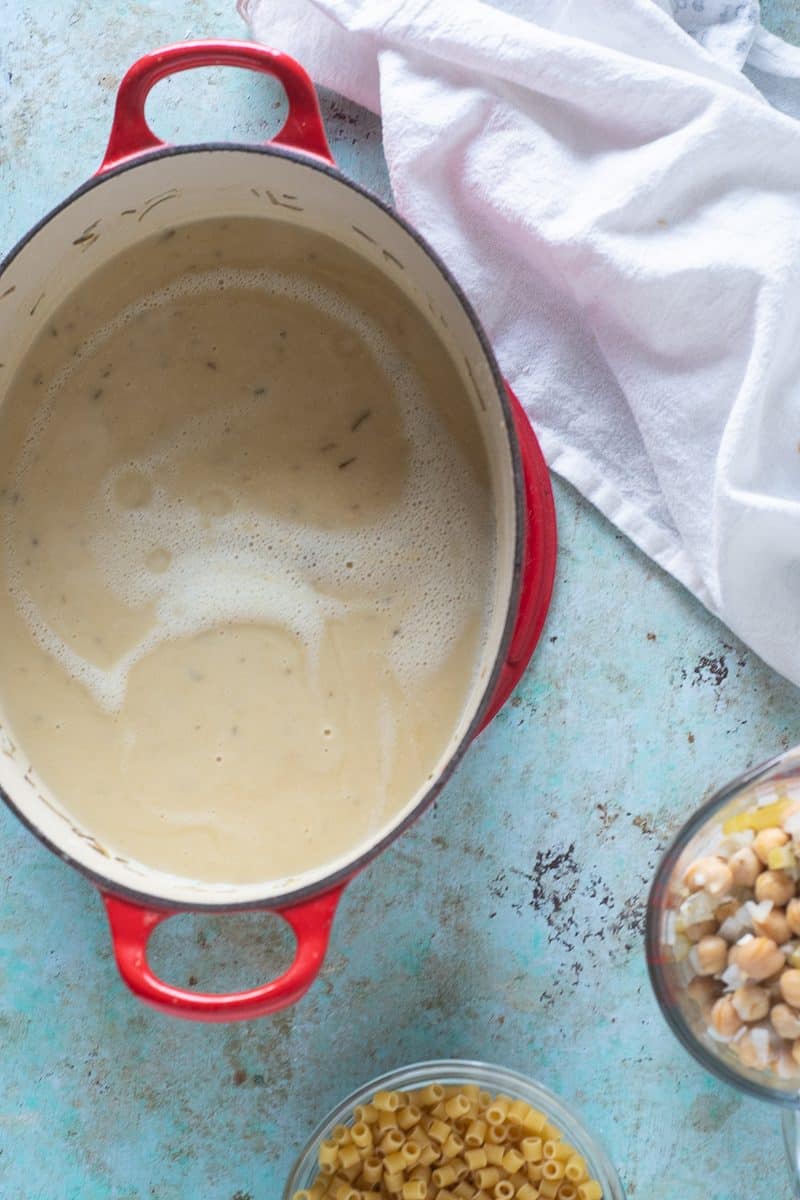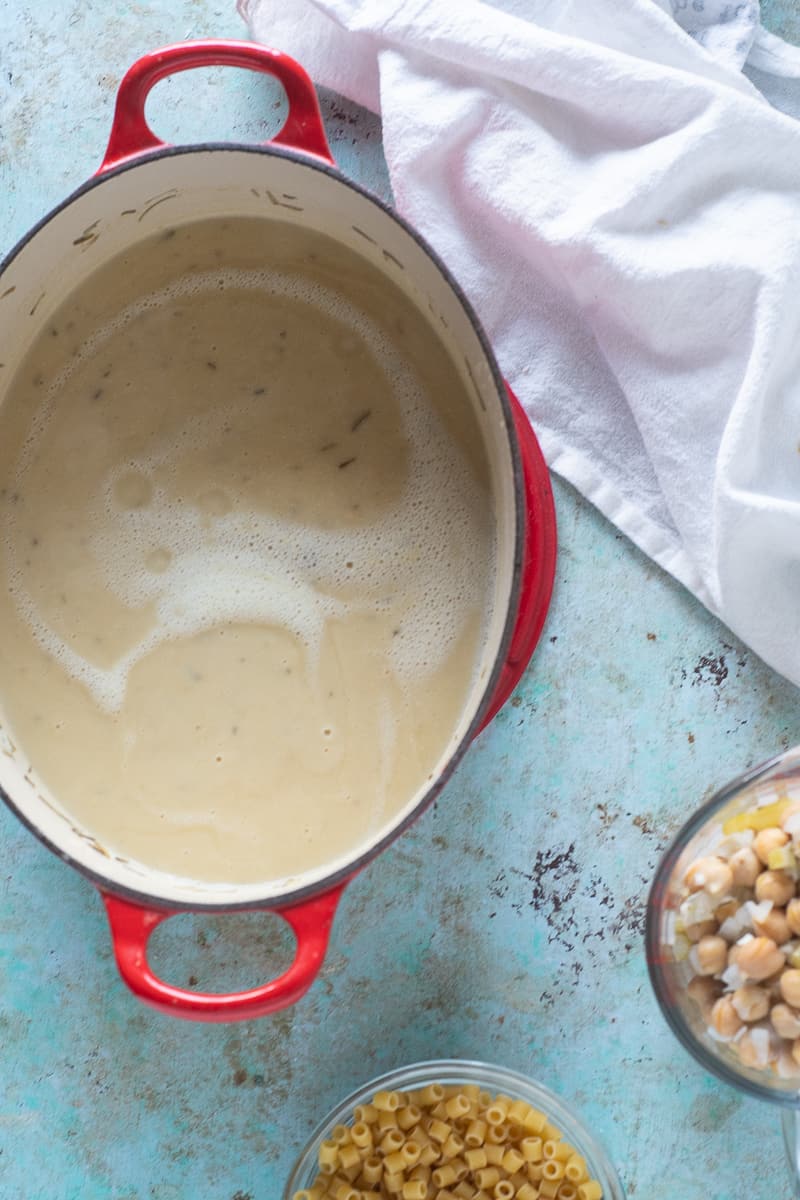 Then the reserved chickpeas go back into the pot along with the pasta. I usually go for ditalini here, but any small pasta or broken tagliatelle with work.
And then you let everything simmer until the pasta is al dente.
And that's it.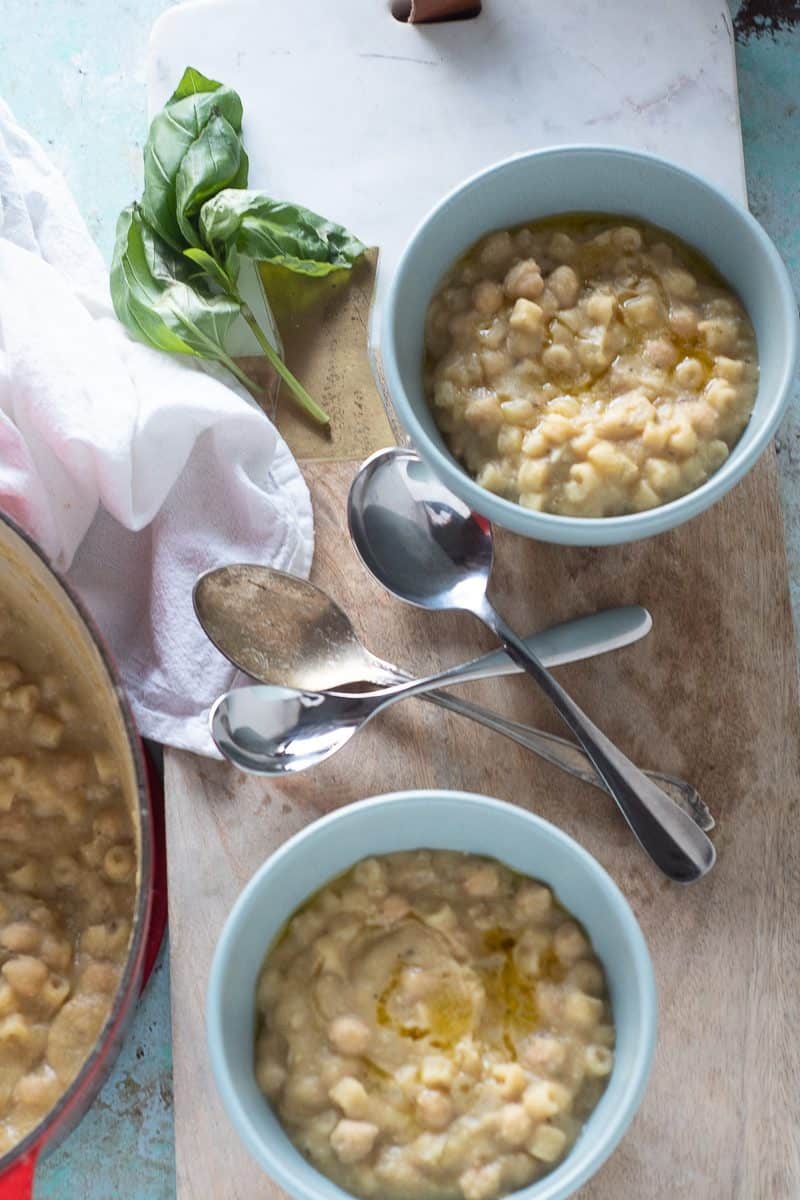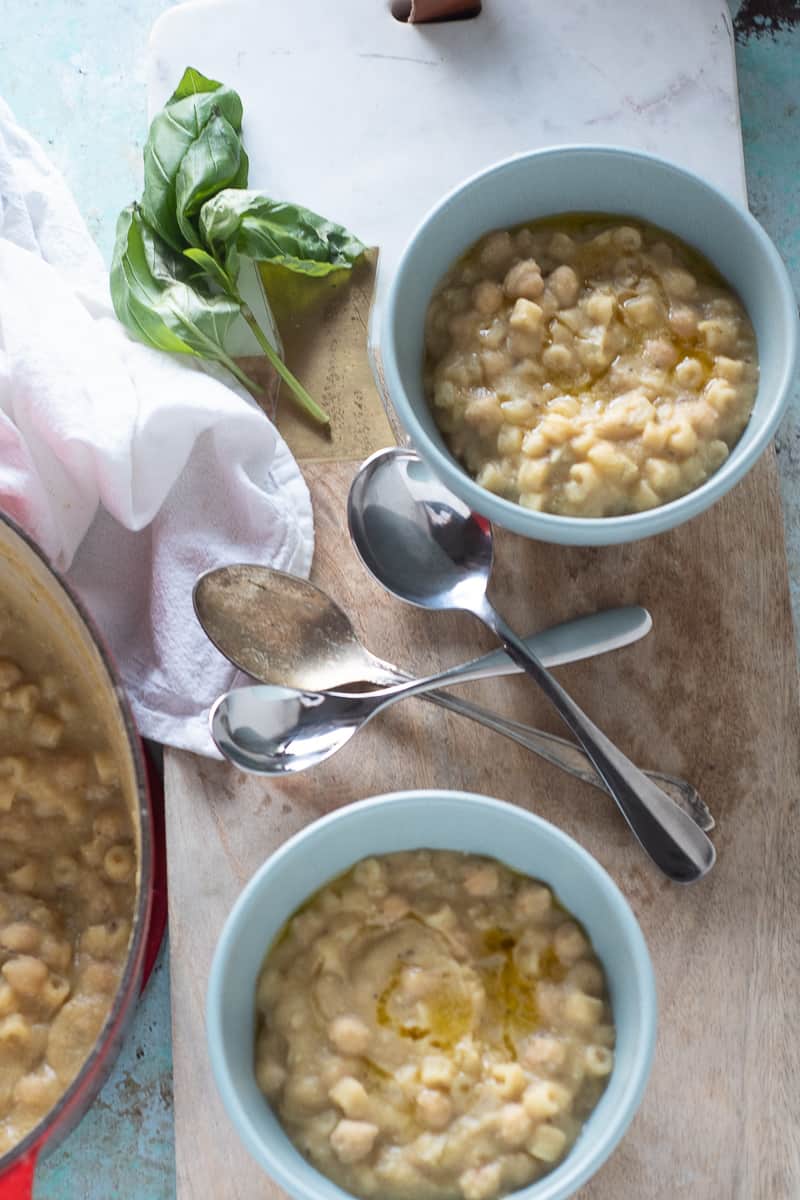 You can add more water if it seems too thick, adjust the seasoning if it needs more salt, add a few cracks of black pepper to give it a little oomph. But that's all up to your personal preference.
Then it's just a matter of scooping the stewy wonderfulness into bowls, drizzling it with some fresh olive oil, and devouring it.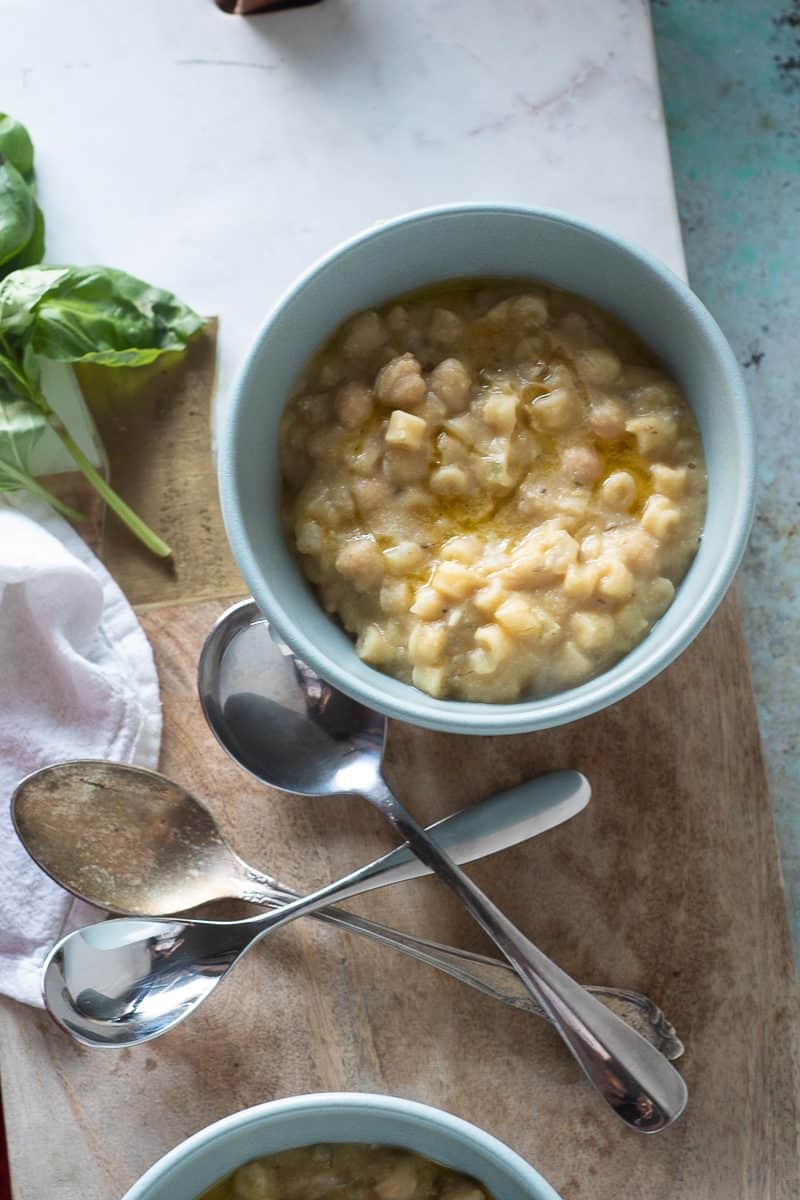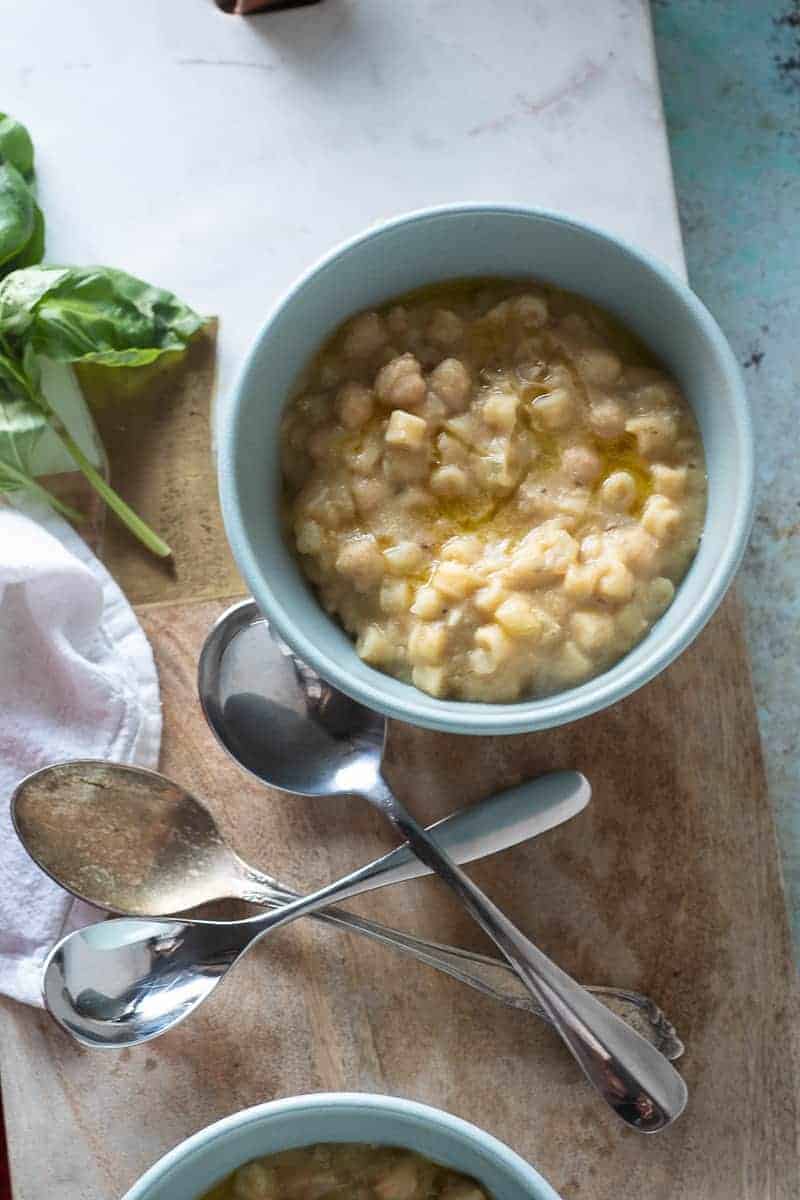 Yield: 4 servings
Pasta e Ceci, Stewy Pasta and Chickpeas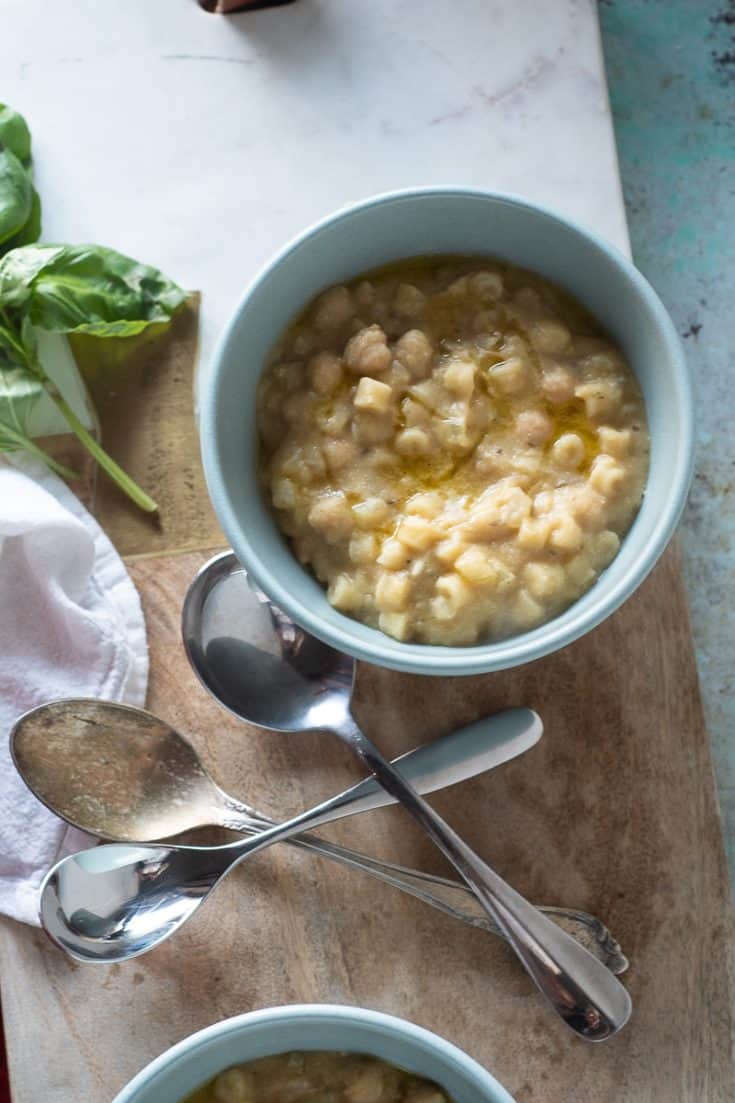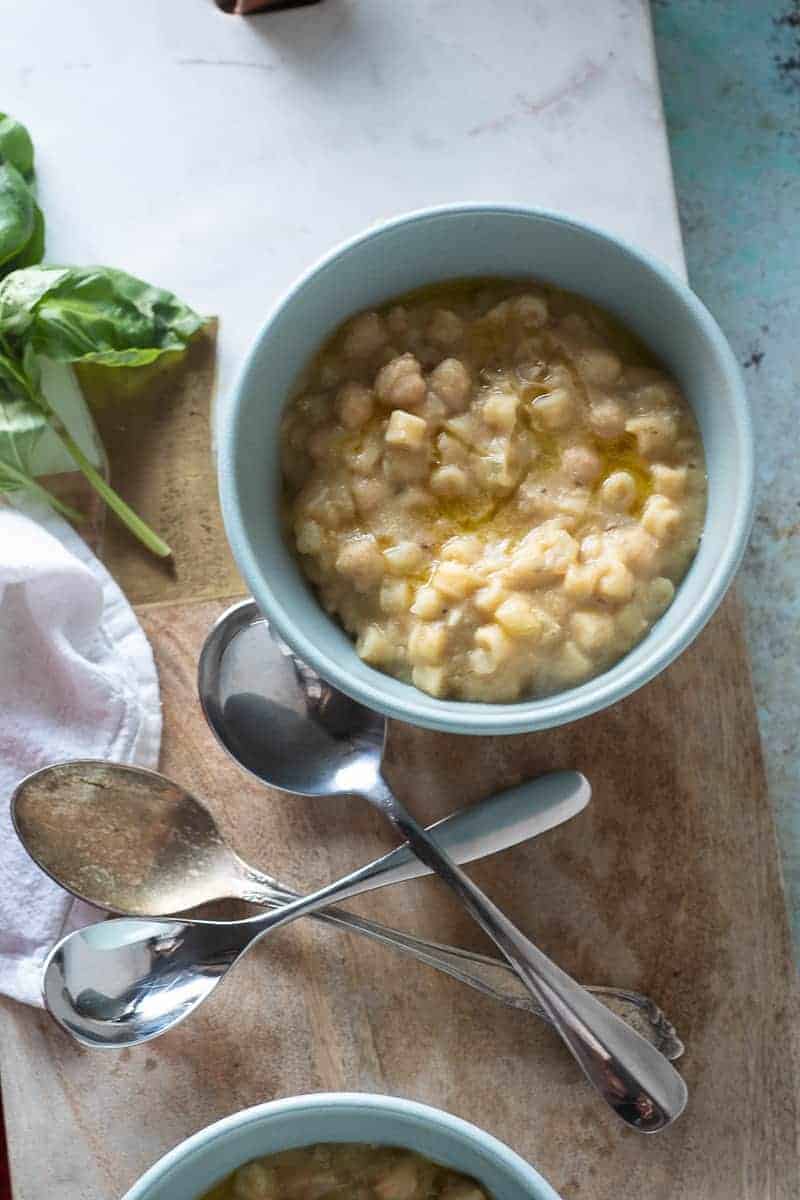 Pasta e ceci is a traditional Roman dish that's a humble stew of pasta and chickpeas. This version uses canned chickpeas and skips the tomatoes and anchovies that sometimes appear in the dish.
Here, half of the chickpeas get blended with an immersion blender to make a thick stewy texture.
I call for ditalini here, but you can use any small pasta you like. You could easily make this gluten free with a gluten-free pasta.
The parmesan rind is optional, but I encourage you to give it a try because it adds great flavor. (Without the parmesan rind, this dish is vegan and dairy free.)
Ingredients
1 medium yellow onion, finely diced
2 stalks of celery, finely diced
3 cloves of garlic, minced
1 teaspoon dried rosemary
1 teaspoon kosher salt
1 bay leaf
3 15-ounce cans chickpeas, rinsed and drained
4 cups water
A parmesan rind (optional)
1 1/4 cups (140 grams) ditalini or other small pasta
olive oil, salt, and black pepper to taste
Instructions
Heat a large, heavy-bottomed pan over medium-high heat. Add enough olive oil to cover the bottom and add the onion, celery, garlic, rosemary, salt and bay leaf, and saute until soft and fragrant, about 10 minutes.
Add the chickpeas, water, and parmesan rind (if using). Bring to a boil, reduce to a simmer, and cook for about 25 minutes, or until the chickpeas are tender. Remove from heat.
Remove the bay leaf and parmesan rind (if using) and discard. Scoop out about half of the chickpeas and whatever onion and celery comes along with them with a slotted spoon and reserve in a separate bowl.
Blend the remaining chickpeas with an immersion blender until smooth.
Return the reserved chickpeas to the pot, and add the pasta.
Bring to a simmer and cook, stirring constantly, until the pasta is al dente, about 10-12 minutes. Taste, and add salt if necessary. Serve with a bit of black pepper, if desired, and a bit of extra virgin olive oil.
Notes
This will thicken after sitting. If you have leftovers, add a bit of water to loosen things up before reheating.
Recommended Products
As an Amazon Associate and member of other affiliate programs, I earn from qualifying purchases.
Nutrition Information:
Yield:
4
Serving Size:
1
Amount Per Serving:
Calories:

629
Total Fat:

13g
Saturated Fat:

2g
Trans Fat:

0g
Unsaturated Fat:

9g
Cholesterol:

1mg
Sodium:

751mg
Carbohydrates:

102g
Fiber:

26g
Sugar:

17g
Protein:

31g