I may earn from purchases through links in this post.
When it comes to cocktails that feel cozy, it's tough to beat classic Irish Coffee.
It's a simple mix of hot brewed coffee, sugar, whiskey, and gently whipped cream.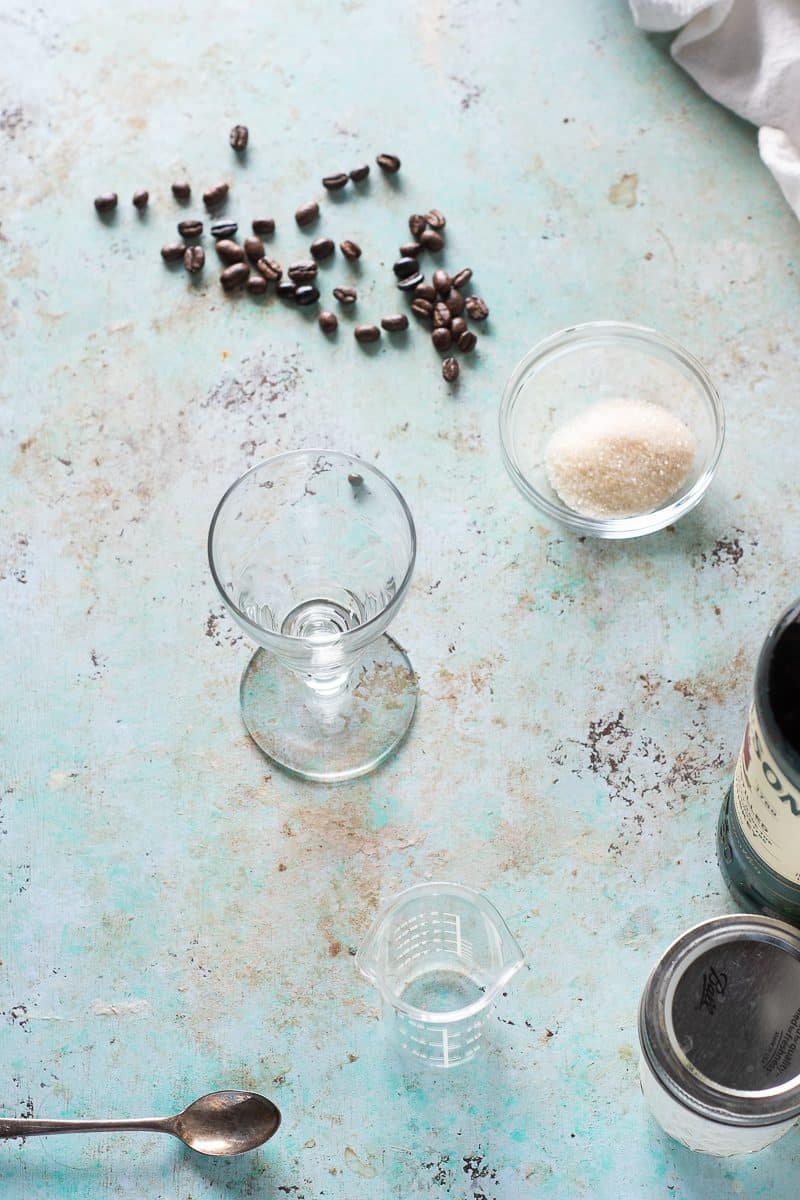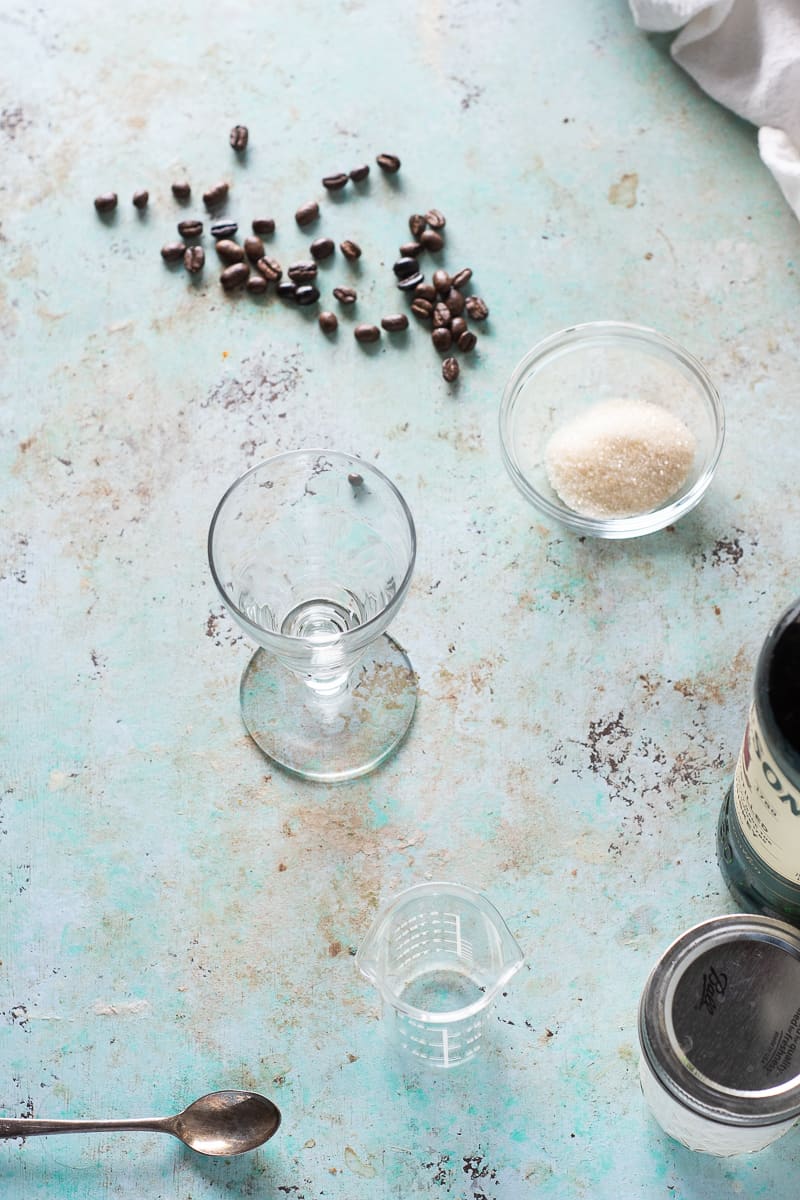 There's an often-told story that Irish Coffee was invented in 1943 in Foynes, Ireland when a flight bound for New York (by way of Canada—what with transatlantic flight being in it's infancy) returned to Foynes after flying for several hours in bad weather.
Joe Sheridan, the cook at the Foynes' terminal restaurant, was asked to make something warm for the weary passengers and added Irish whiskey to coffee. When one passenger asked Sheridan if it was Brazilian coffee, Sheridan reportedly joked that "no, it was Irish coffee."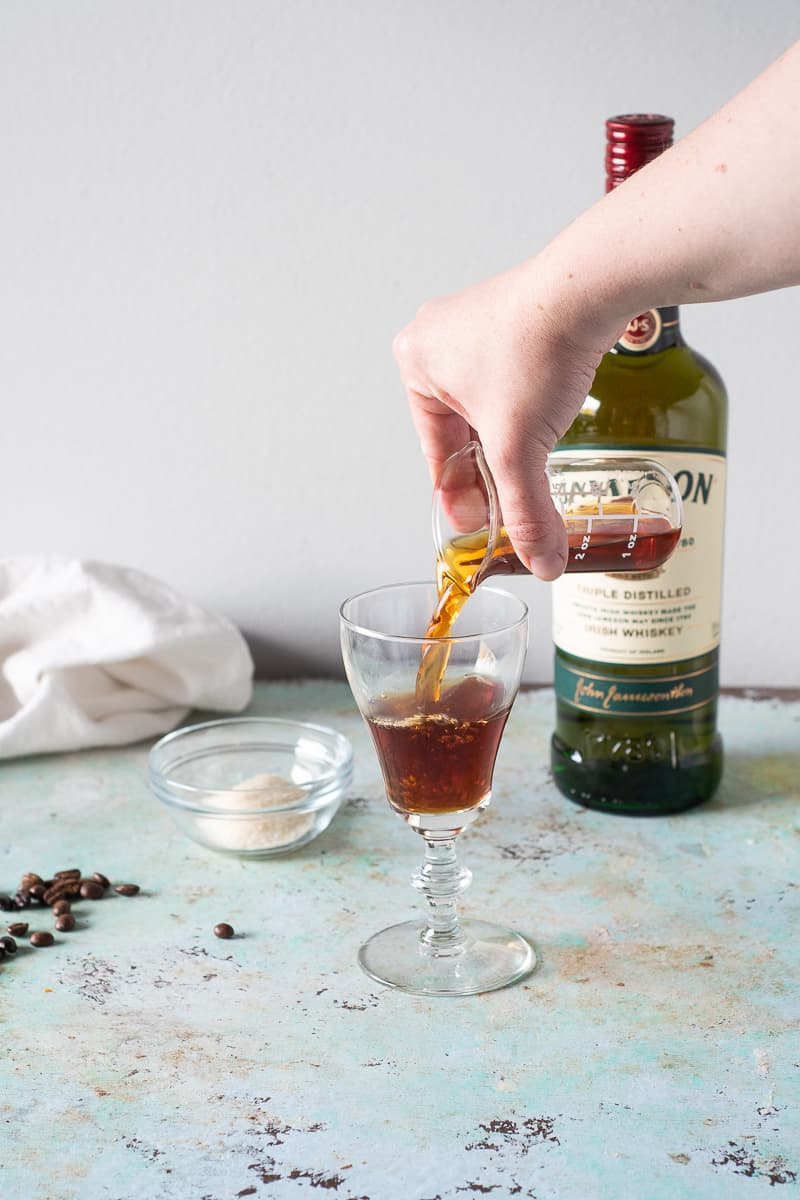 The story goes that Sheridan added cream and sugar to please the American palate (though there's reason to believe that adding sugar and cream was really about disguising the taste of the subpar coffee that was available in Ireland during World War II).
It's possible that the drink actually originated a few years earlier at a pub in nearby Dublin, but regardless of whether it was invented at the airport or not, it quickly arrived there and spread from there to the United States where it had become popular by the 1950s.
And it's pretty much stayed popular here ever since.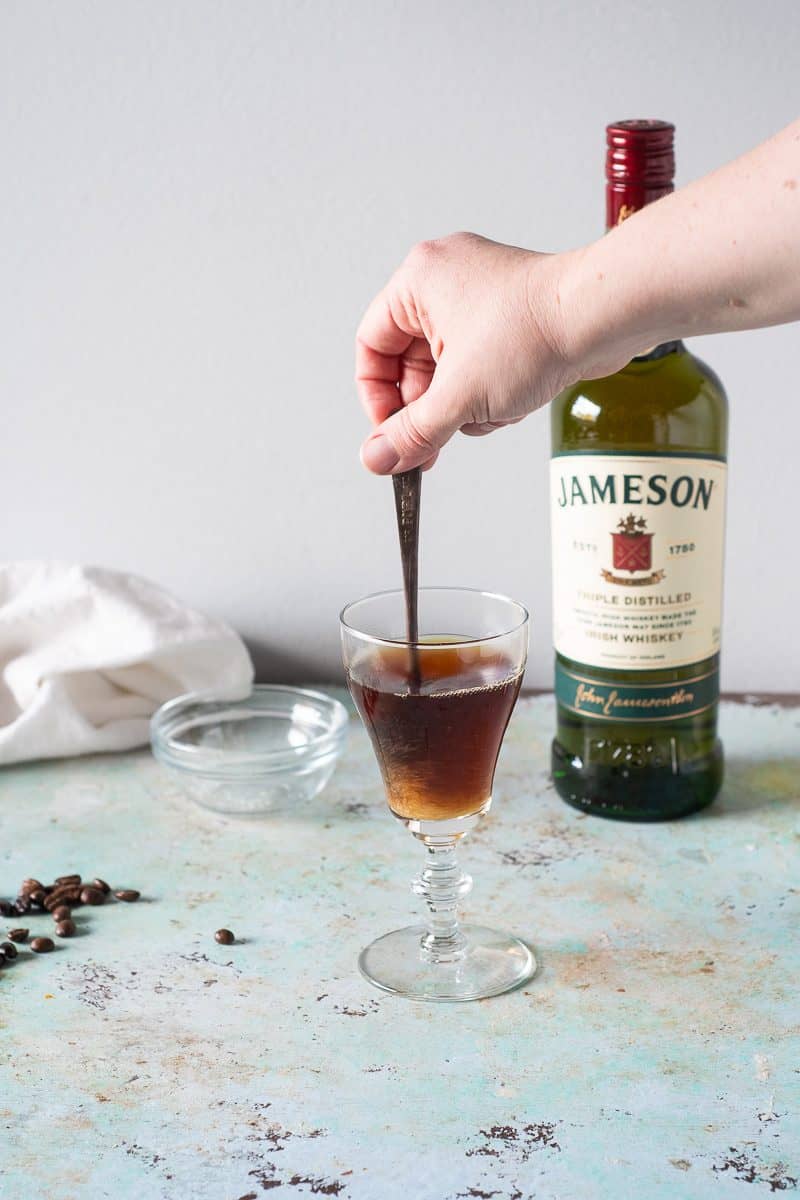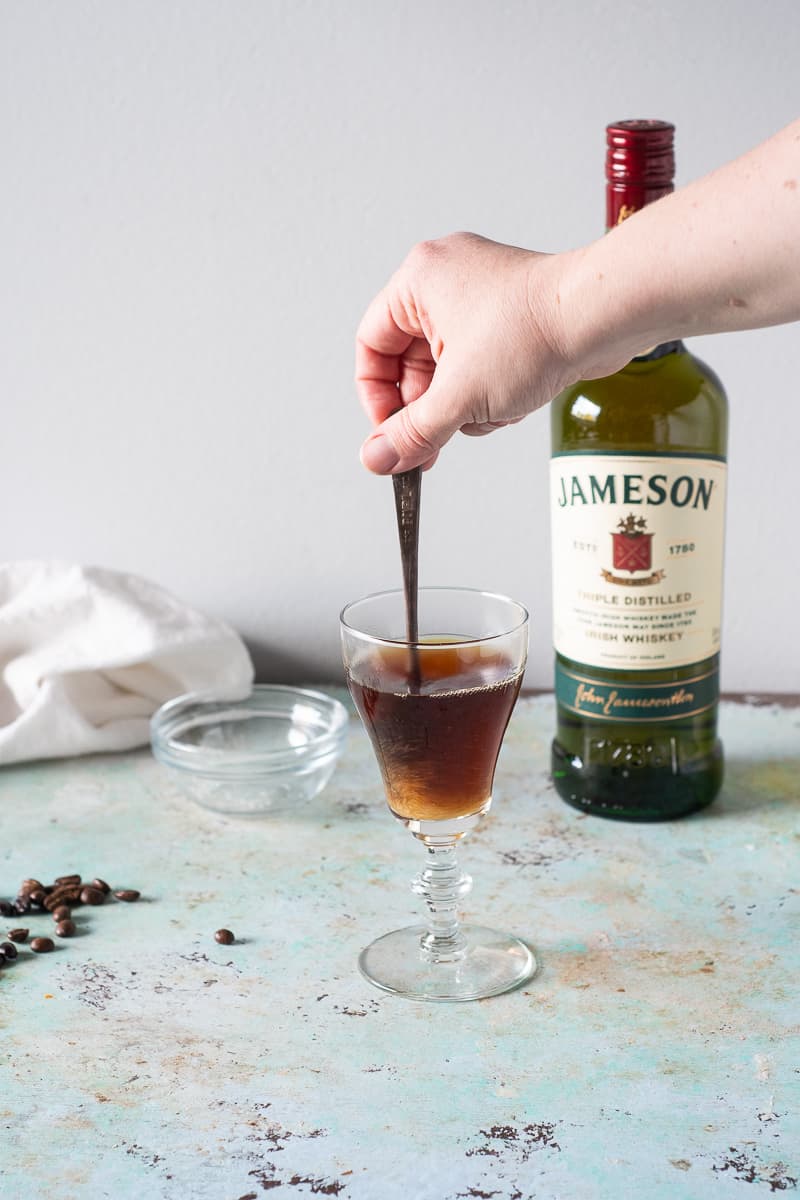 When it comes to making your own Irish coffee, you need a few essentials. The first of which is coffee. It doesn't need to be espresso or anything fancy—just freshly brewed and piping hot.
The next thing you need is sugar. The sugar isn't there just for sweetness, though of course it does add sweetness. It's also there to make the mixture dense enough to help the cream float on the top.
So even if you're a person who would normally drink coffee without sugar, you should know that it's essential to getting the classic layered look to the drink.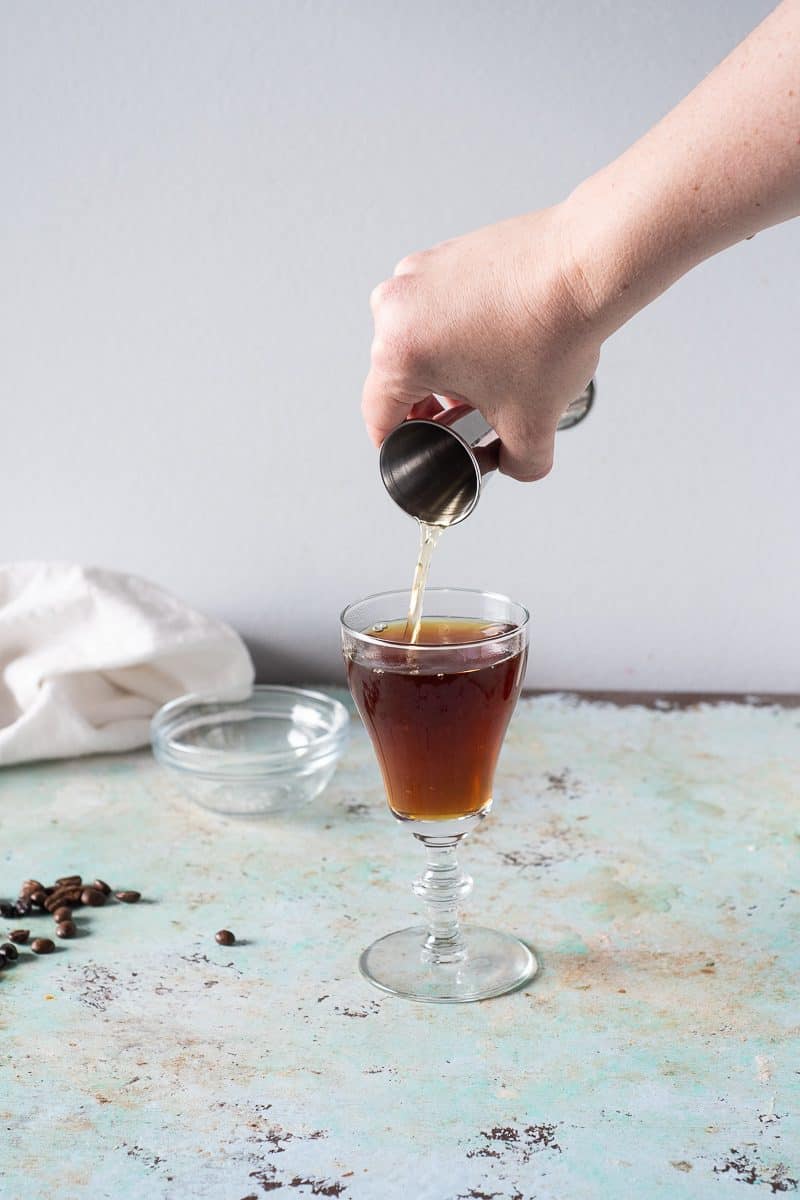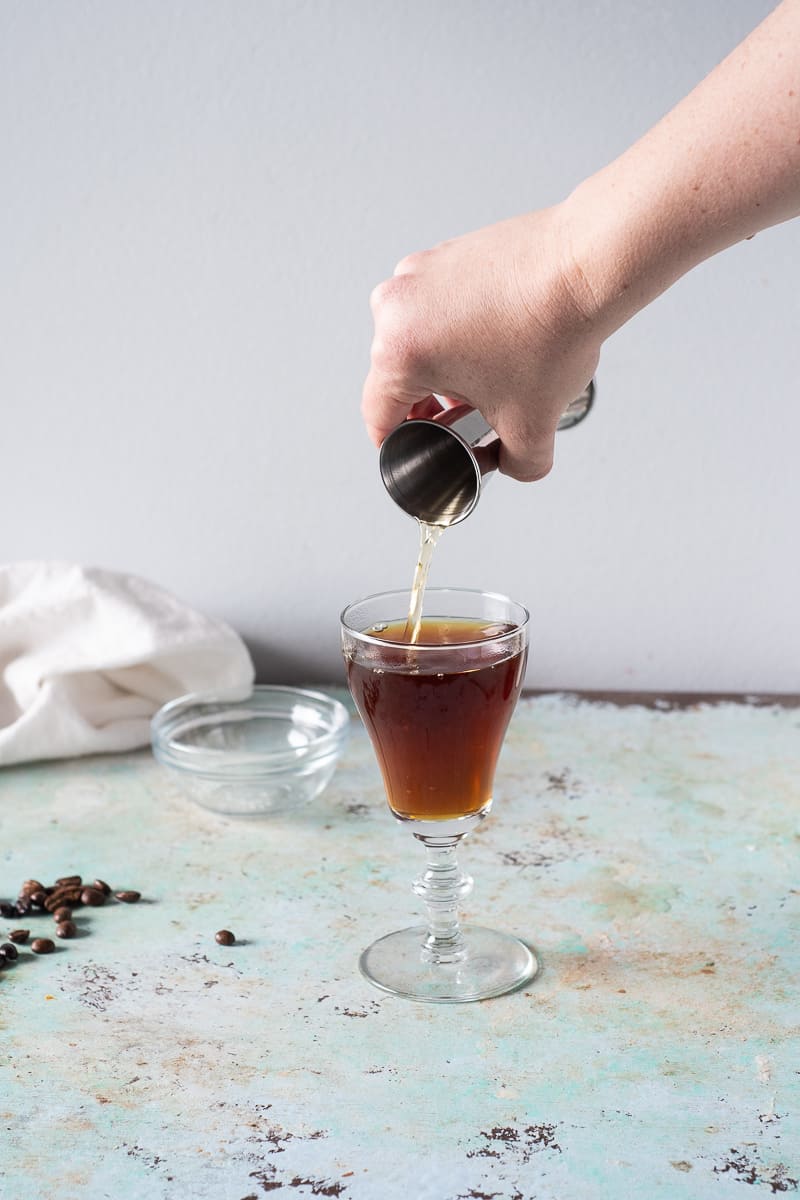 The whiskey should, of course, be Irish whiskey. I used Jameson here, which is widely available and works just fine.
I'm hardly an Irish whiskey expert, but people more knowledgeable than me on the subject suggest Tullamore Dew, Black Bush from Bushmills, or Redbreast for something special.
(If you want to learn more about Irish whiskey, Michael Dietch's book Whiskey: A Spirited Story with 75 Classic & Original Cocktails is a good resource.)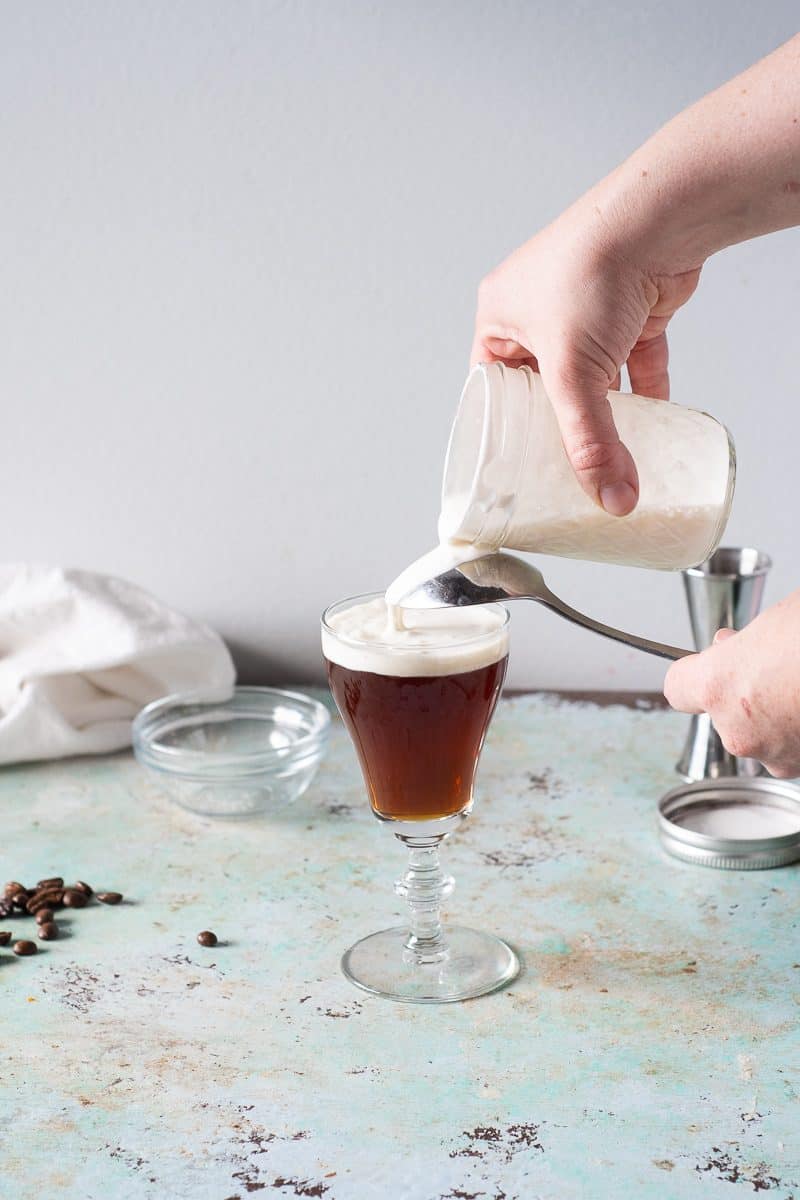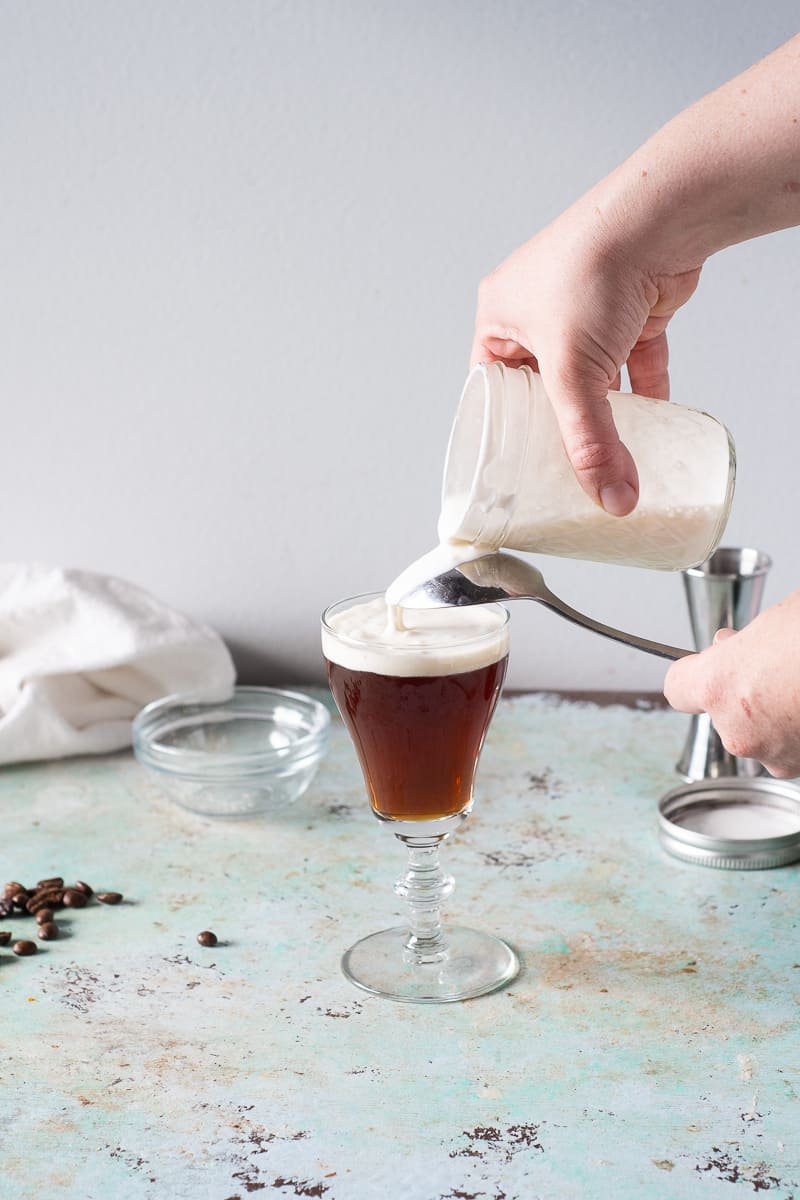 The other essential is the whipped cream. And my friends, I'm going to ask you to step away from the spray canister for the moment (save it for your pie). This is a place where you want your cream gently whipped.
And gently whipping cream is super easy. Just pour some cream into a mason jar—don't fill it more than halfway. Then screw the lid on tightly and shake until the cream has doubled in volume. It should only take a few minutes.
The trick to layering the cream over the top is to hold a spoon upside down just over your glass and slowly pour the whipped cream over it to create the float.
And that's it!
Avoid stirring the cream into the drink and instead sip through the cream at the top. It slowly melds together, but allows for some pleasant textural contrasts along the way.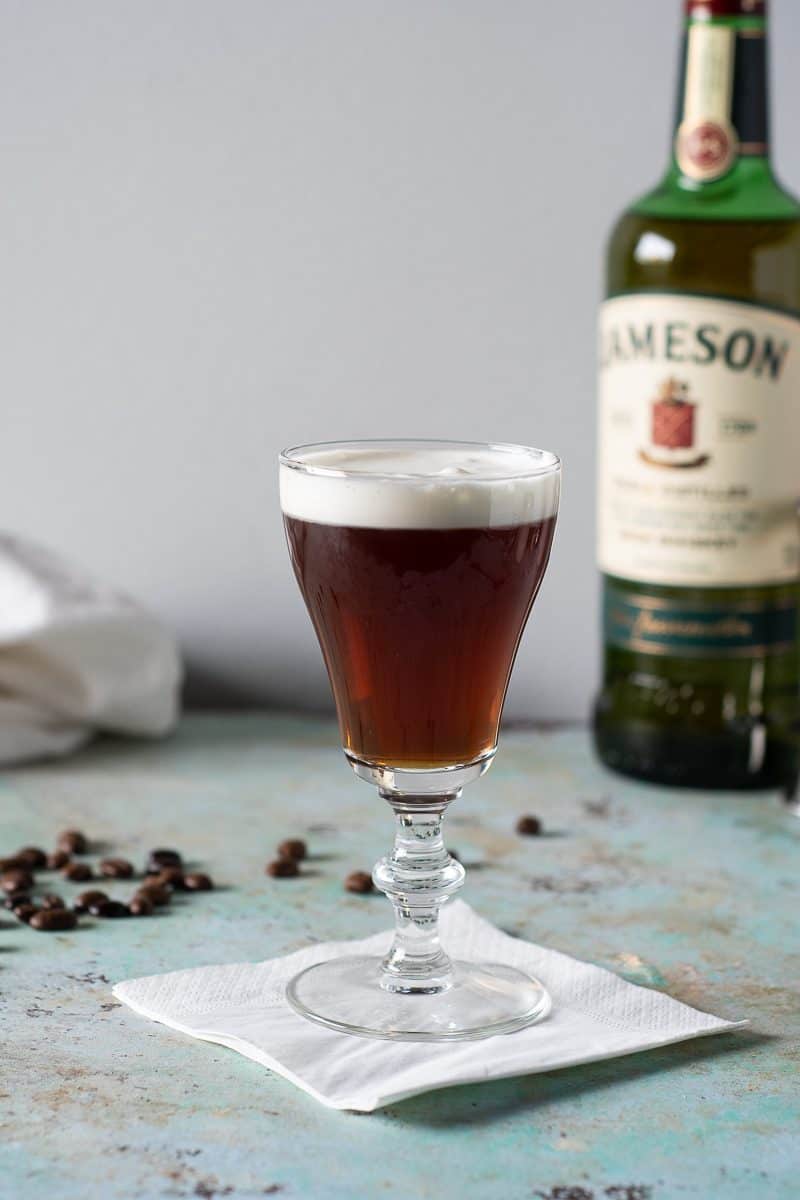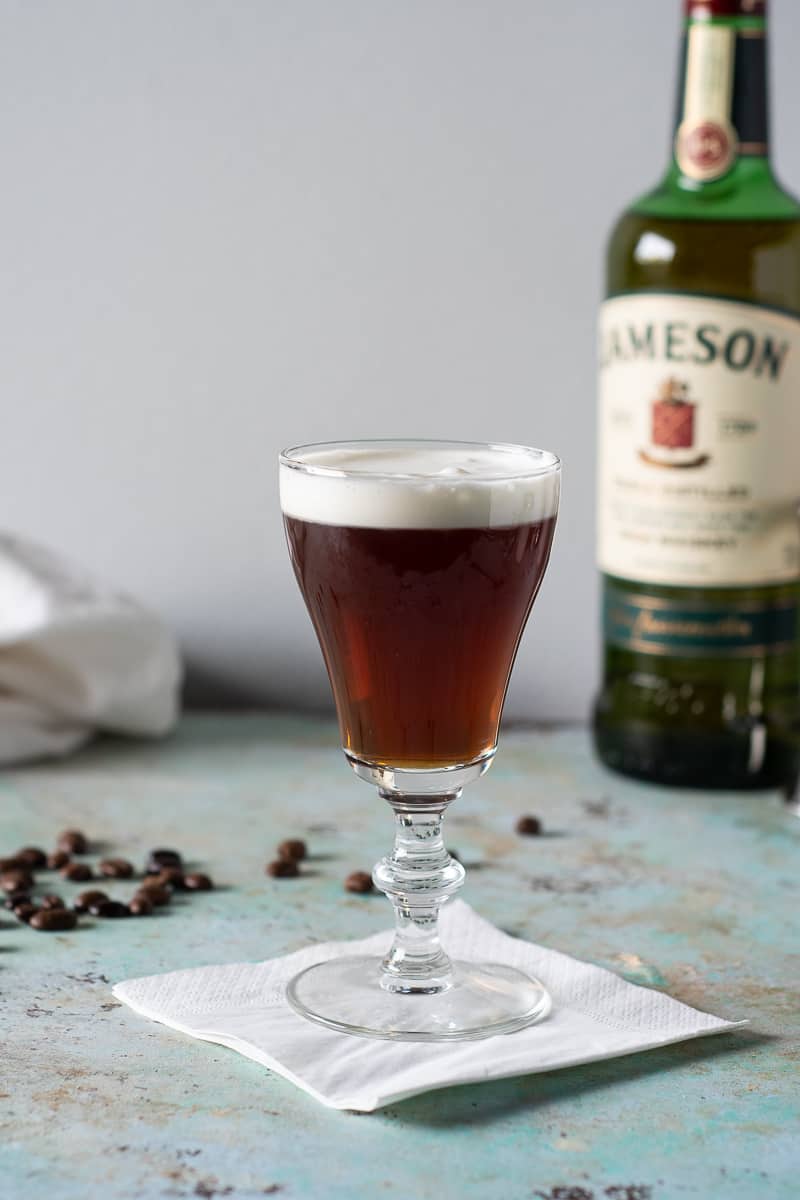 If you're looking for other coffee cocktails, I suggest the Spanish Coffee (a warm coffee drink with a caramelized sugar rim) or the Revolver (a cold, spirit-forward cocktail with bourbon and coffee liqueur).
Yield: 1 drink
Irish Coffee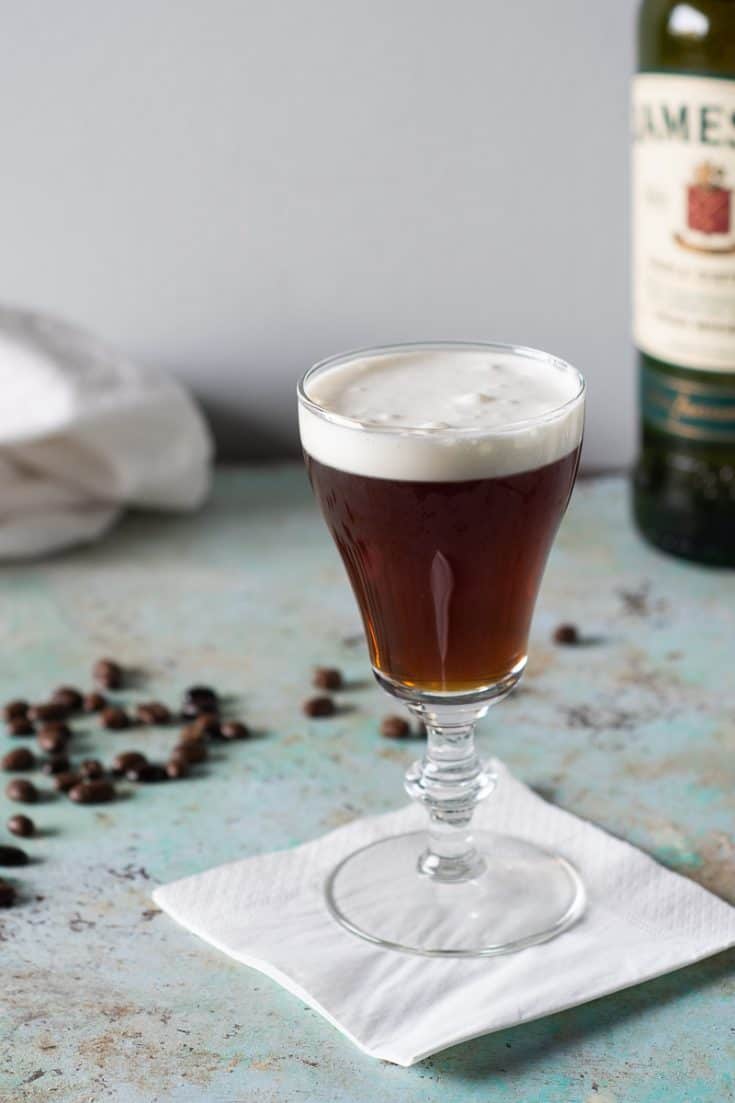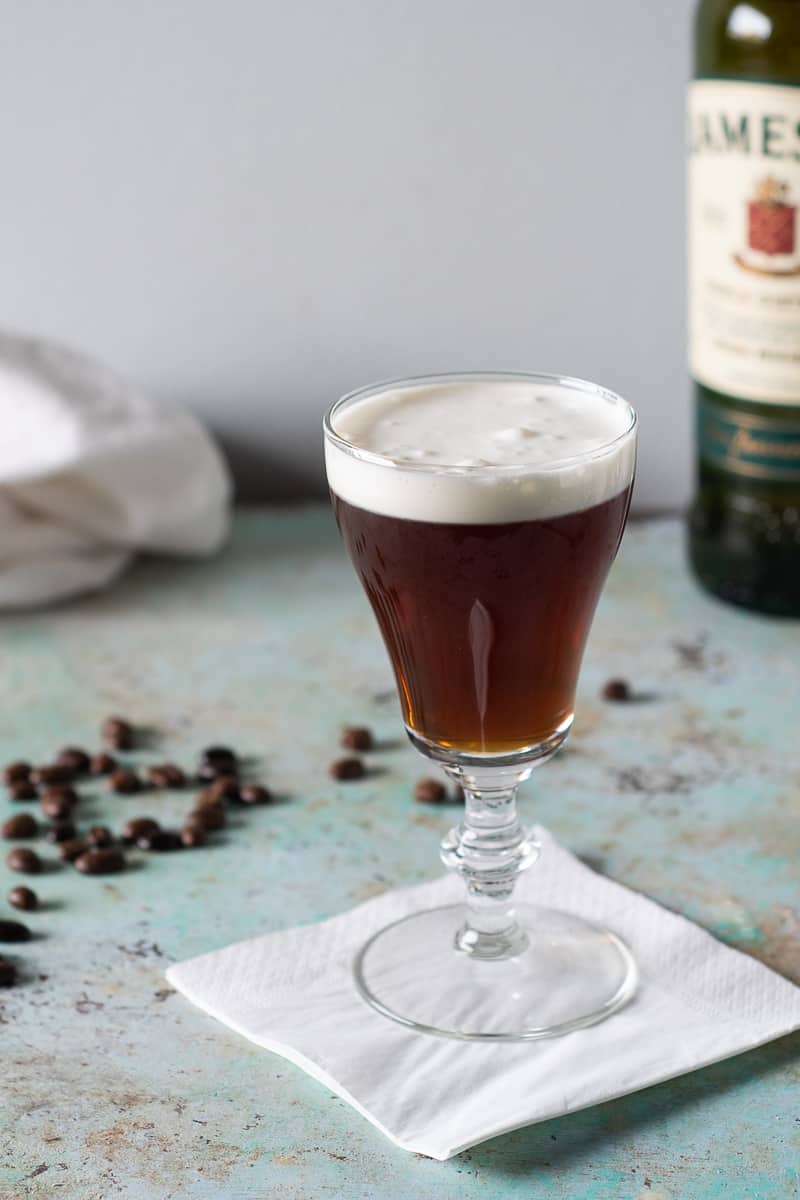 Irish coffee is the classic cocktail with hot coffee, Irish whiskey, and a float of gently whipped cream on the top.
You can adjust the amount of sugar from 1 1/2 teaspoons to 1 tablespoon, depending on how sweet you like your drink, but don't eliminate it entirely. It helps make the drink dense enough to prevent the cream from sinking.
While I won't tell anyone if you make this with bourbon or rye, if you want the classic experience, use an Irish whiskey here.
You can whip the cream ahead of time by pouring some into a mason jar, closing it tightly, and shaking for a few minutes.
Ingredients
3 ounces freshly brewed hot coffee
2 teaspoons sugar
1 1/2 ounces Irish whiskey
1 ounce heavy cream, lightly whipped
Instructions
Add the hot coffee to a stemmed cocktail glass (or mug). Add the sugar and stir until dissolved.
Add the Irish whiskey.
Invert a spoon over the top of your glass and slowly pour the whipped cream over the top in an even layer.
Serve.
Notes
Resist stirring the cream into the coffee. One of the pleasures of the drink is sipping the warm coffee and whiskey through the layer of cold whipped cream.
Recommended Products
As an Amazon Associate and member of other affiliate programs, I earn from qualifying purchases.
Nutrition Information:
Yield:
1
Serving Size:
1
Amount Per Serving:
Calories:

231
Total Fat:

11g
Saturated Fat:

7g
Trans Fat:

0g
Unsaturated Fat:

3g
Cholesterol:

34mg
Sodium:

10mg
Carbohydrates:

9g
Fiber:

0g
Sugar:

9g
Protein:

1g