I may earn from purchases through links in this post.
I've been thinking, lately, about something that I wish I had understood when I was younger. And that's how to be bad at something.
That's not to say, I assure you, that I was not bad at anything or that I do not continue to be bad at many many things. I was and I am.
But I wish that I that I had been better at being bad at something. That I hadn't been so crushed by the embarrassment of being a beginner and the social anxiety of being less-than-excellent at something in public.
I was naturally good at the academic part of school, but I struggled mightily with anything athletic. In second grade, when my friend Sarah pointed out that I unintentionally opened and closed my mouth when I ran, I felt so self-conscious about it that I attempted to keep my jaw clamped shut whenever I ran for years after that, which made breathing effectively kind of difficult and prevented me from focusing on the kinds of things that would have improved my running, like adjusting my stride.
I wish my young self had been able to laugh it off as a funny quirk rather than taking it as some kind of personal failing.
As an adolescent playing softball, I usually got stuck in right field and at the back of the batting lineup, probably on account of my propensity, as a weak left-hander, for fouling balls away until I eventually struck out or hitting soft grounders down the first-base line.
I remember one at-bat where I so wished to deflect from my badness that I got into a crouch, bringing elbows to knees in an attempt to eliminate the strike zone. It was a clever defensive posture, even if it didn't, according to the rules, do anything to reduce the strike zone.
And I did get the walk. And I did get to save face.
But what I didn't get was any better at softball.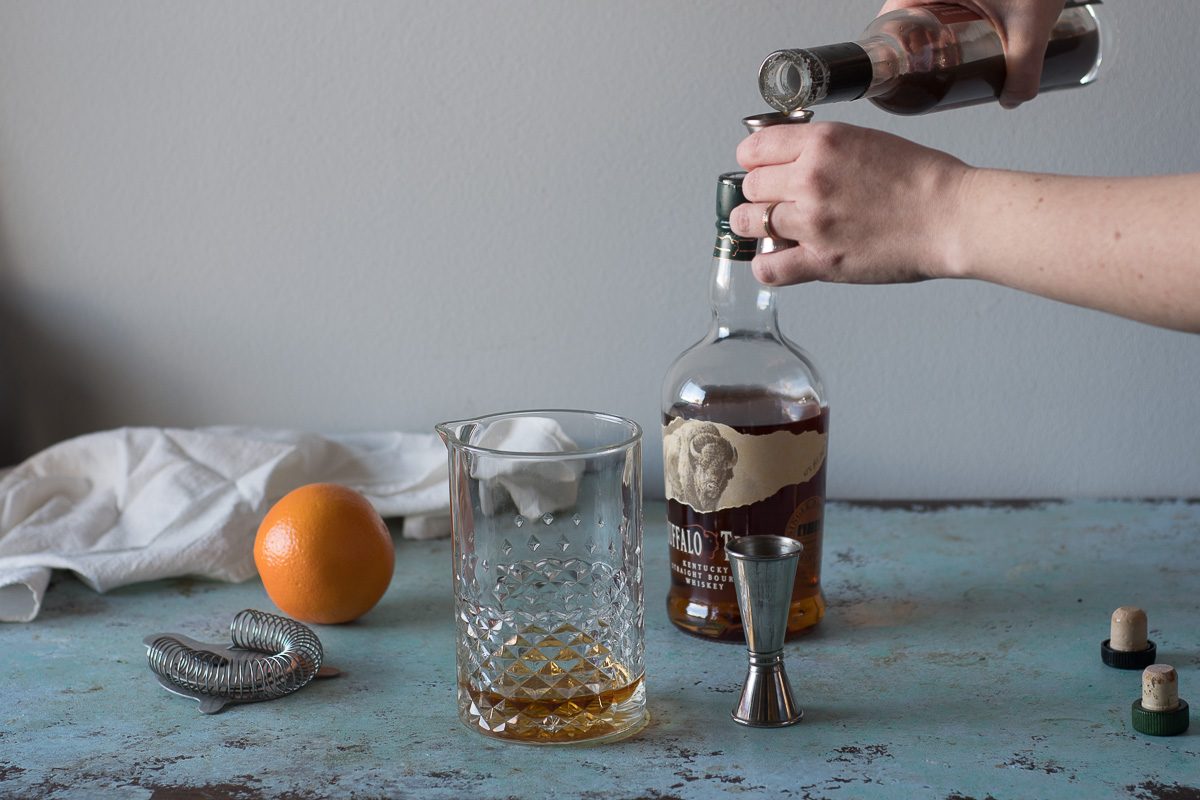 It's a naturally tendency, particularly among those of us who experience anxiety and know the cheek-burning sensation of embarrassment all too keenly, to retreat to our corners when we're faced with the discomfort of being bad at something in front of other people.
To return to the things that we're good at instead of subjecting ourselves to embarrassment again and again.
And it's such an obvious thing, but we only get better at something if we can stay with the discomfort and the embarrassment long enough to get less bad at it (I'm reminded of Ira Glass on this subject). And there's such a satisfaction to be found in going from terrible to not terrible.
I started going to the gym last November and was embarrassingly terrible at everything. Weak, slow, uncoordinated, working with five-pound dumbbells and eight-pound kettlebells and awful form on pretty much every movement I tried.
But I've continued showing up and putting in the work long enough to get through the worst I-have-no-idea-what-I'm-doing part and feel that now, I'm only mediocre at everything with three or four times heavier weights and decent form on most things.
It's a small victory, but a significant one, knowing as I do that at so many earlier times in my life I would have slunk away in humiliation before I got to this point.
I'm hoping to get better at being bad at more things.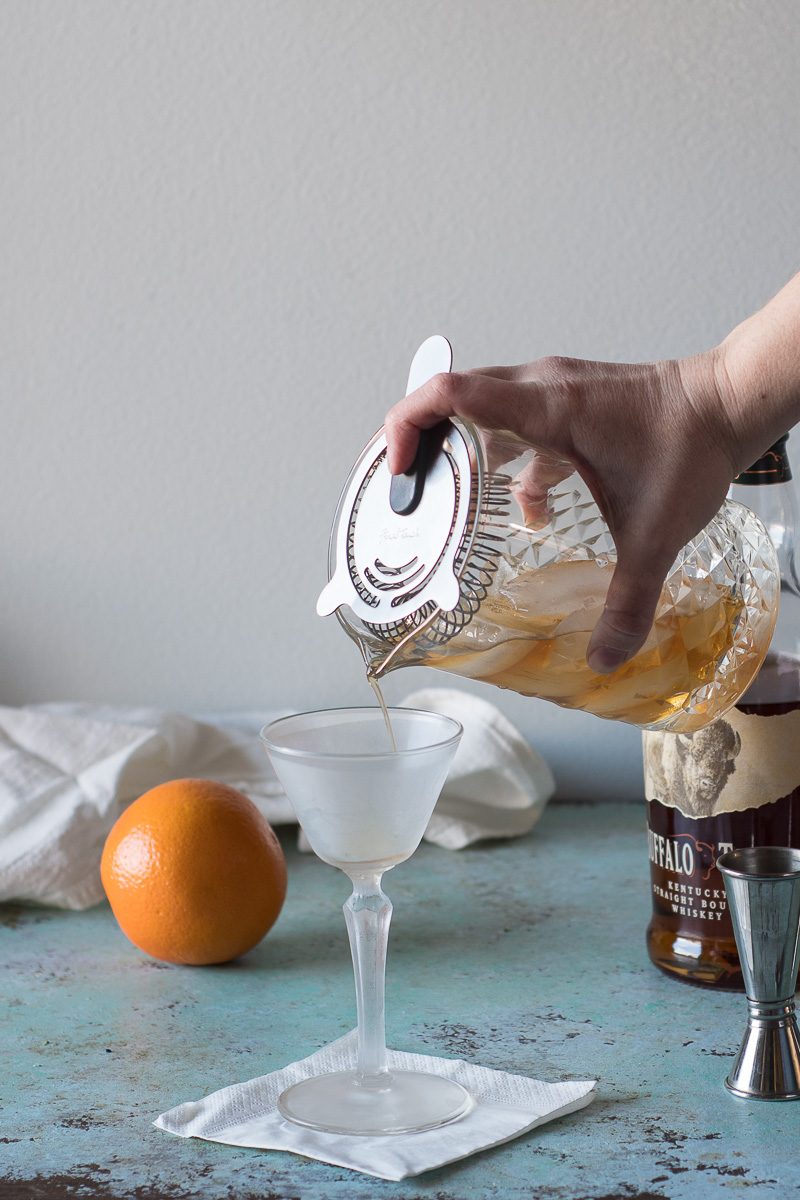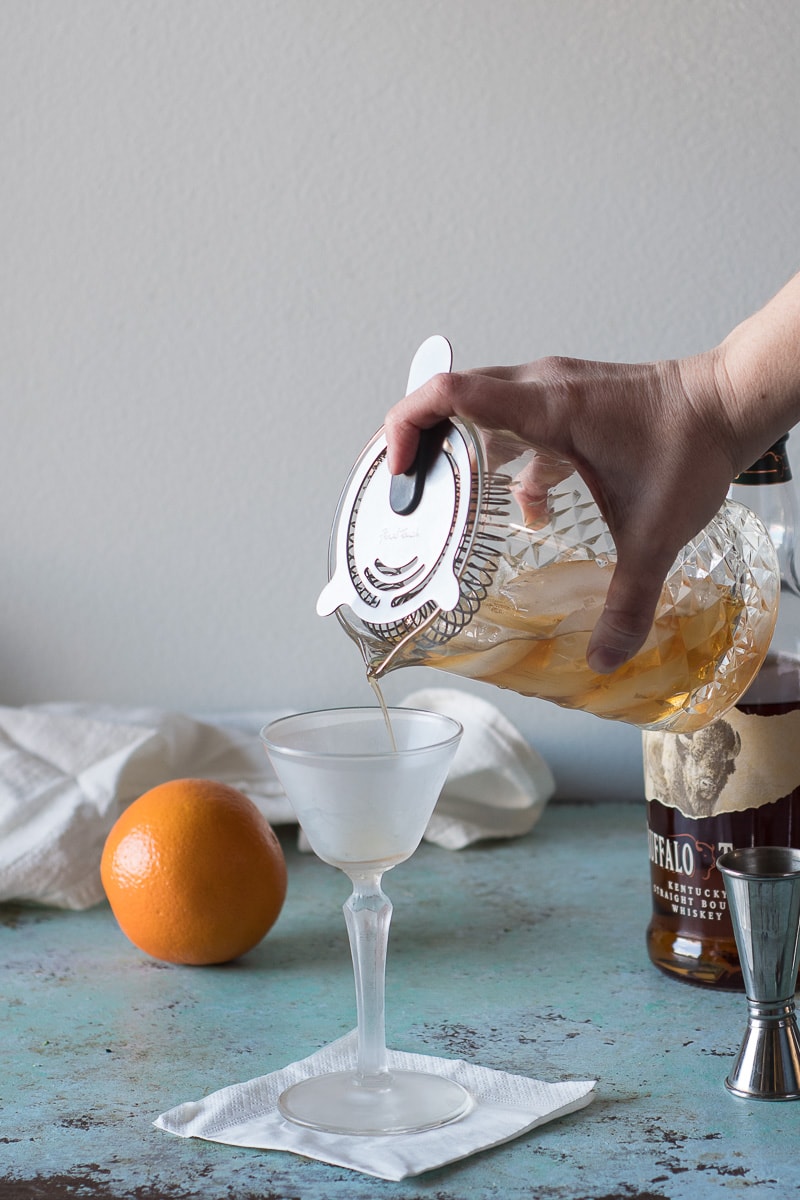 But in the meantime, I'm going to have a drink.
And this one, The Revolver, a bourbon cocktail with coffee liqueur and orange bitters, is delightful.
It's a spirit-forward after-dinner kind of drink. The coffee flavor is subtle, but it makes the bourbon feel deeper and richer in a way that feels both comforting and mysterious.
The orange bitters and bit of expressed orange peel bring in a flutter citrusy lightness.
Unlike some of the more bitter and challenging cocktails I'm drawn to, this one goes down easy and I can recommend it to any bourbon fan.
It's a whiskey drink that's ever so slightly sweetened and softened and rounded by the coffee liqueur.
Your choice of coffee liqueur will determine just how sweet it is. Kahlua is significantly sweeter than Tia Maria, and smaller distillers' takes on coffee liqueur vary in sweetness.
Personally, I think Kahlua is a bit too sweet here, but I if you have a sweet tooth, you might think it's just right.
Cheers!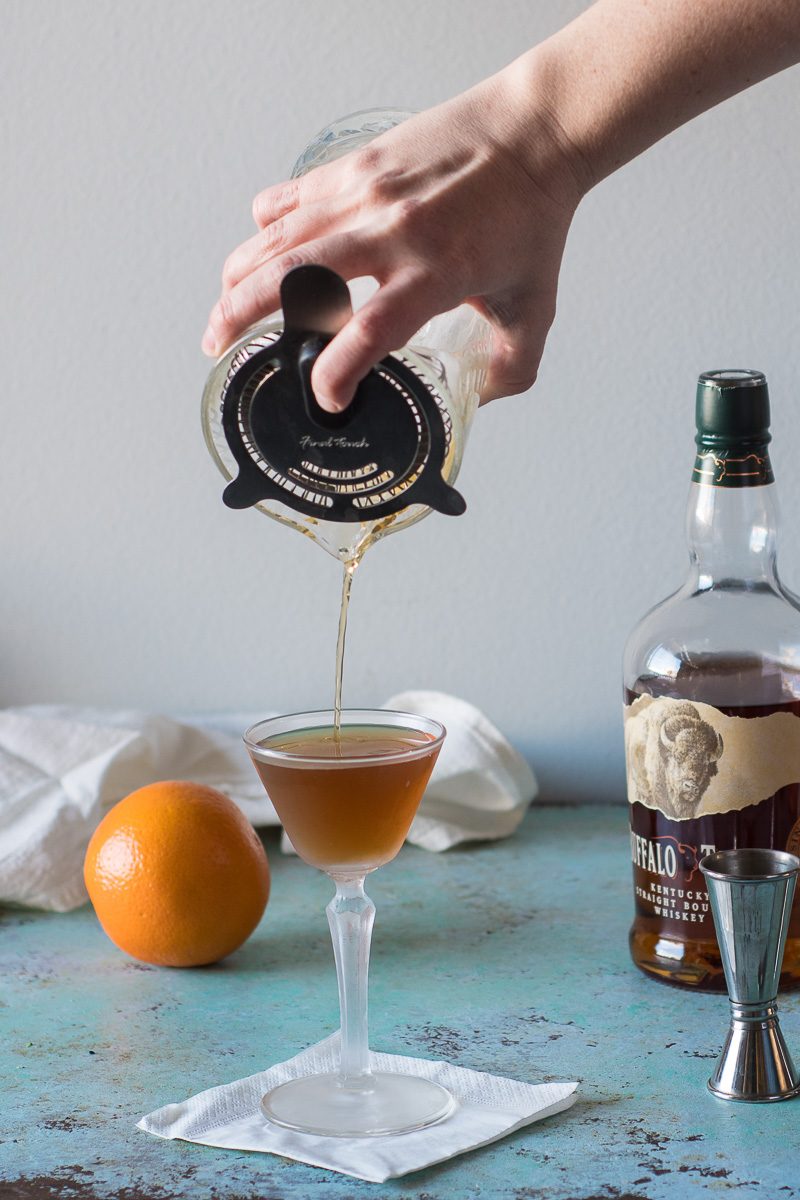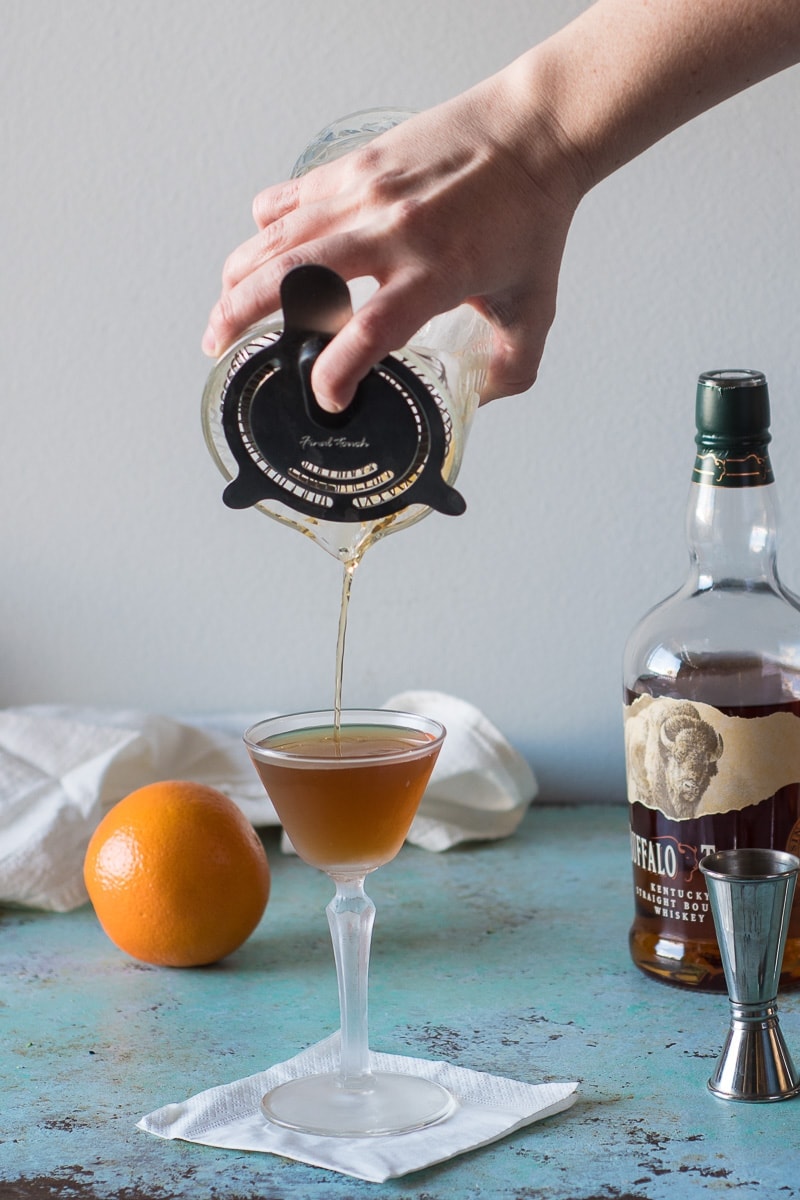 (P.S. If you're looking for a more coffee-centric cocktail, I'd like to point you to the Spanish Coffee, which is also freaking delicious.)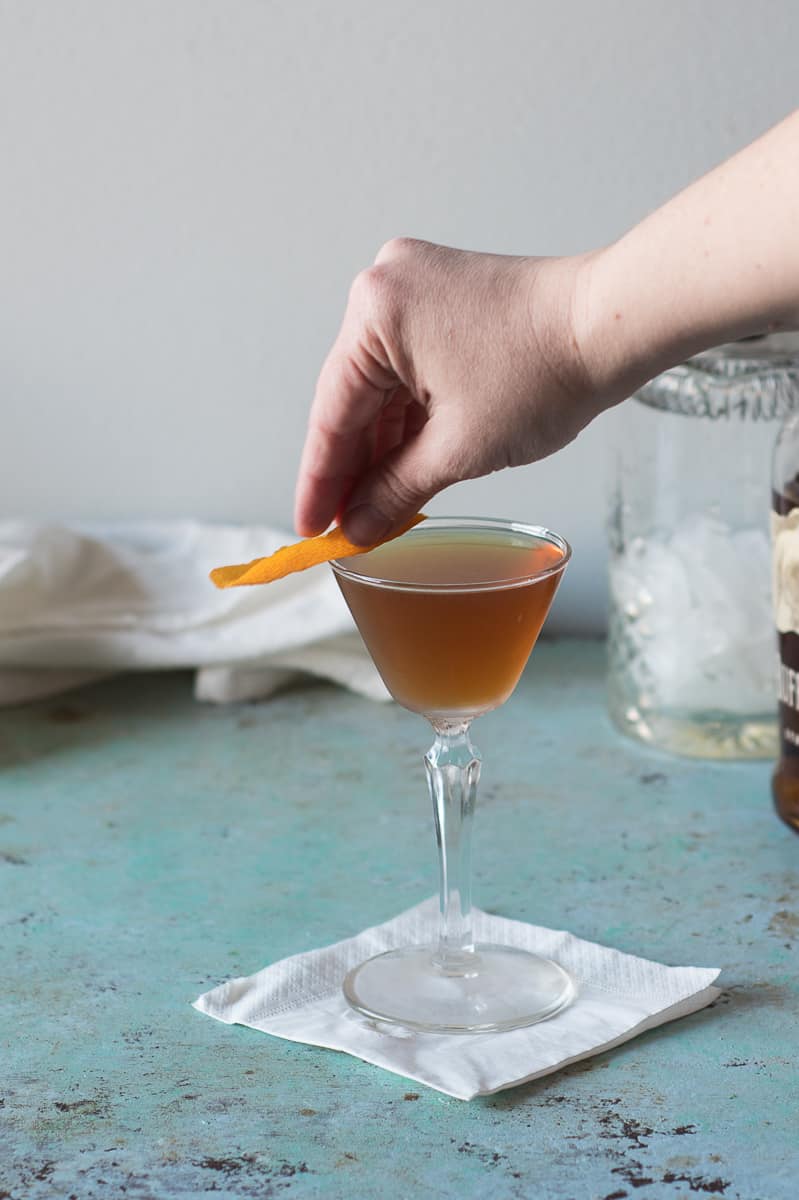 Yield: 1 drink
The Revolver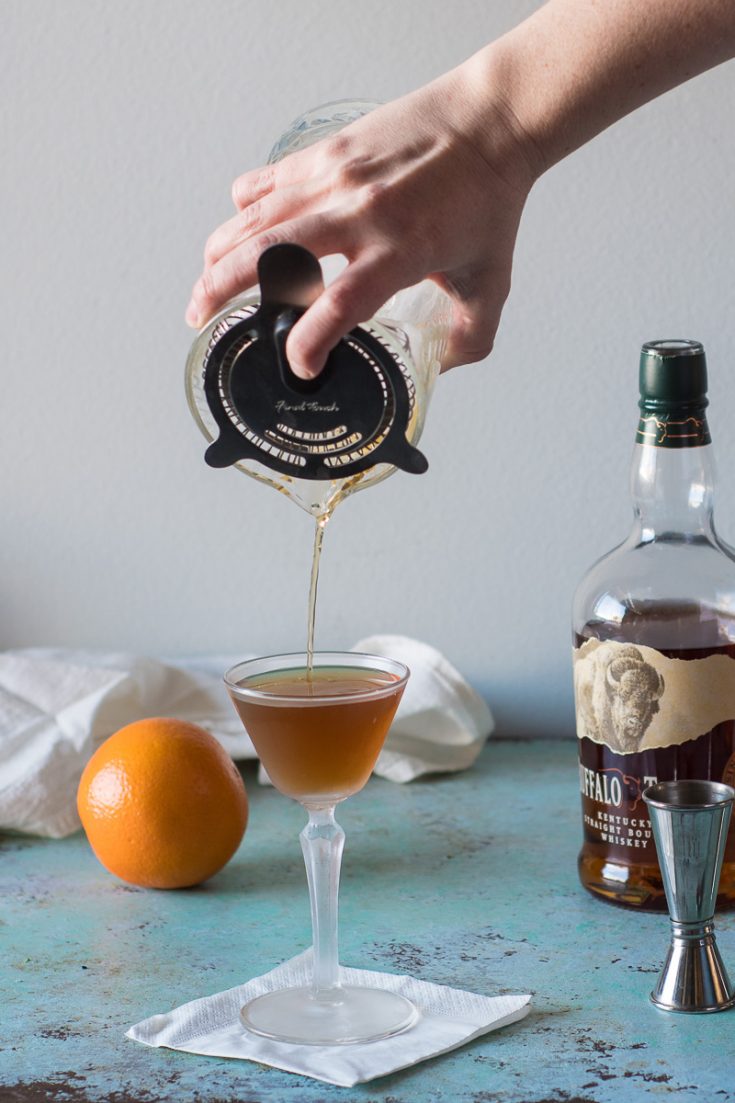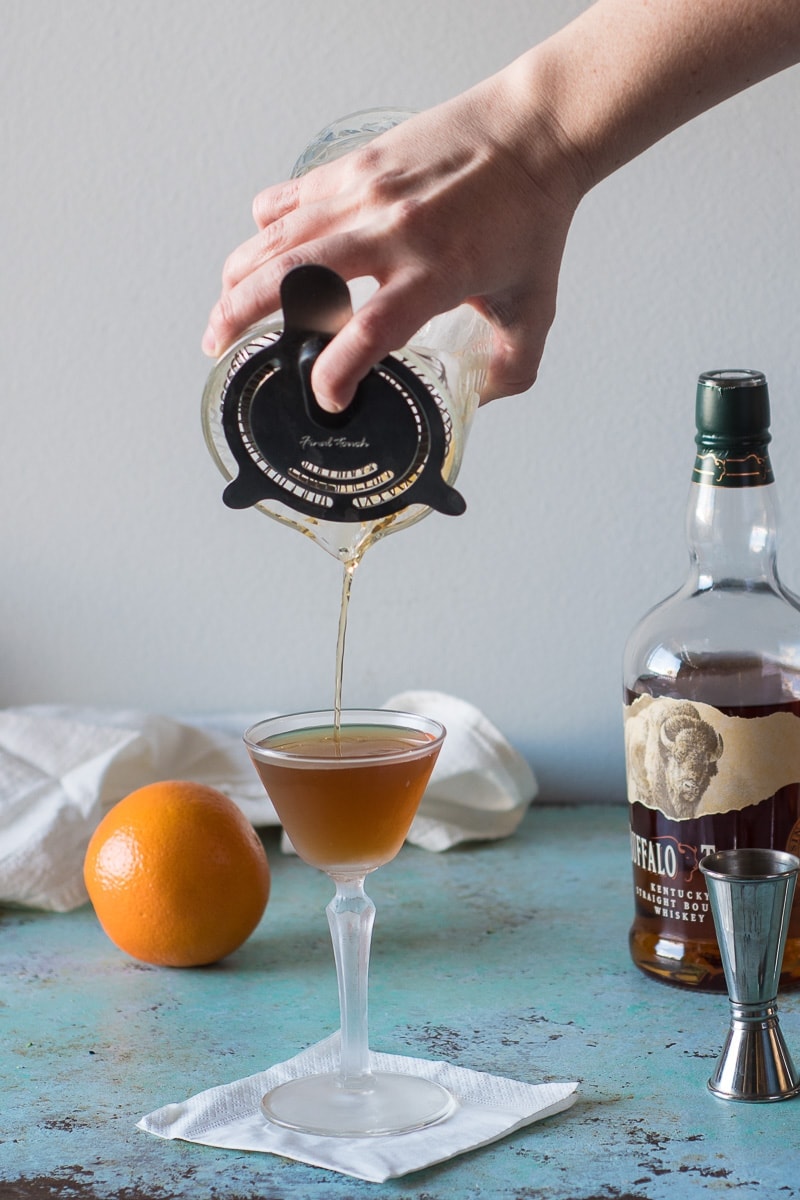 I learned about this bourbon cocktail in Jeffrey Morgenthaler's excellent Bar Book. It comes from San Franciso bartender Jon Santer's time at Bourbon & Branch. It's a spirit forward cocktail for bourbon fans with subtle notes of coffee liqueur and garnished the oil from a flamed orange peel (which might be my favorite way to garnish a drink).
Ingredients
2 ounces bourbon
1/2 ounce coffee liqueur
2 dashes orange bitters
orange peel, for garnish
Instructions
Add the bourbon, coffee liqueur, and orange bitters to a mixing glass. Add ice and stir until thoroughly chilled, about 30 seconds. Strain into a chilled cocktail glass (such as a Nick and Nora glass, coupe, or footed rocks glass). Take the orange peel and express flamed orange oil over the drink. Discard the orange peel. Serve.
Recommended Products
As an Amazon Associate and member of other affiliate programs, I earn from qualifying purchases.
Nutrition Information:
Yield:
1
Serving Size:
1
Amount Per Serving:
Calories:

267
Total Fat:

0g
Saturated Fat:

0g
Trans Fat:

0g
Unsaturated Fat:

0g
Cholesterol:

0mg
Sodium:

2mg
Carbohydrates:

9g
Fiber:

1g
Sugar:

8g
Protein:

0g