I may earn from purchases through links in this post.
This plum custard tart is just the thing for the first blush of fall.
It's something I threw together after coming home from the farmers market with a pint of oblong Italian prune plums and knowing I wanted to bake with them.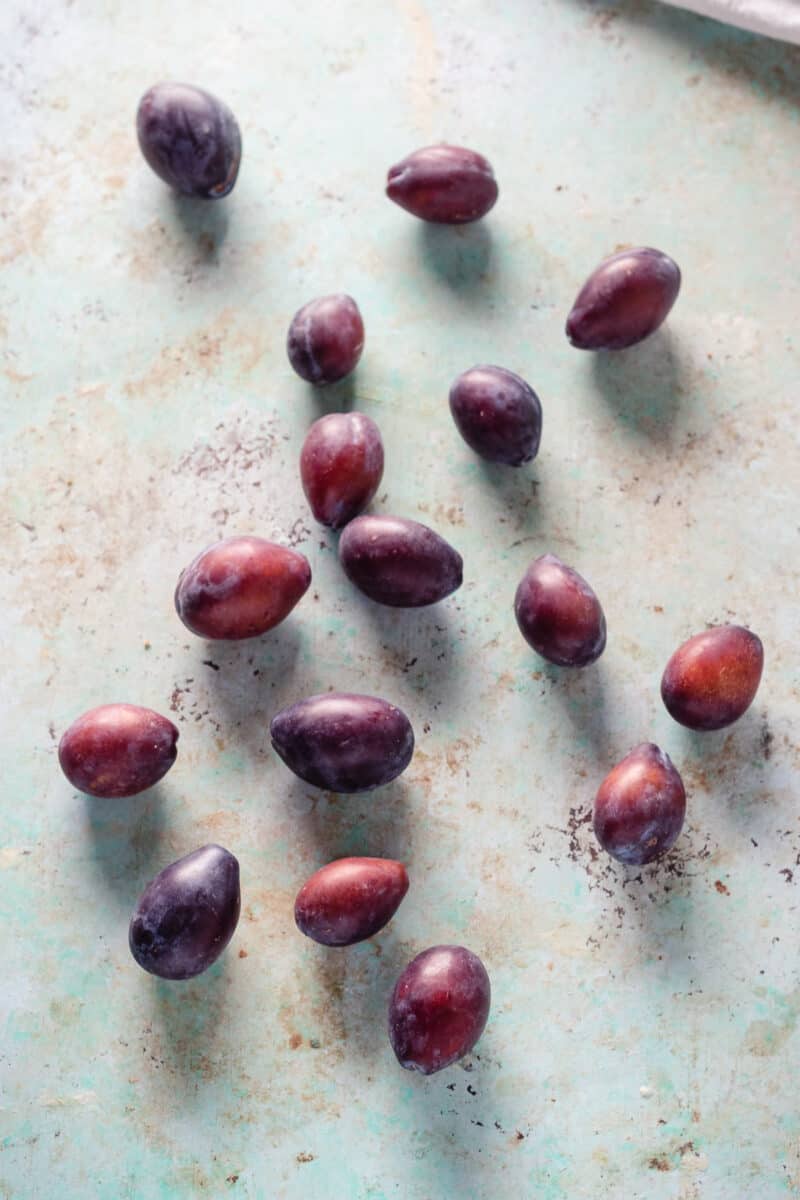 Plums feel like a bit of a sleeper in the pantheon of fruit (apart from William Carlos Williams' famous poem about them), but they undergo an impressive transformation in the oven.
While fresh plums can be inconsistent, sometimes bland or too mealy, baking brings out extra layers of flavor and sweetens and smooths over any imperfections in ripeness or texture.
My favorite plums for baking are the purple oblong plums, sometimes called Italian plums or prune plums.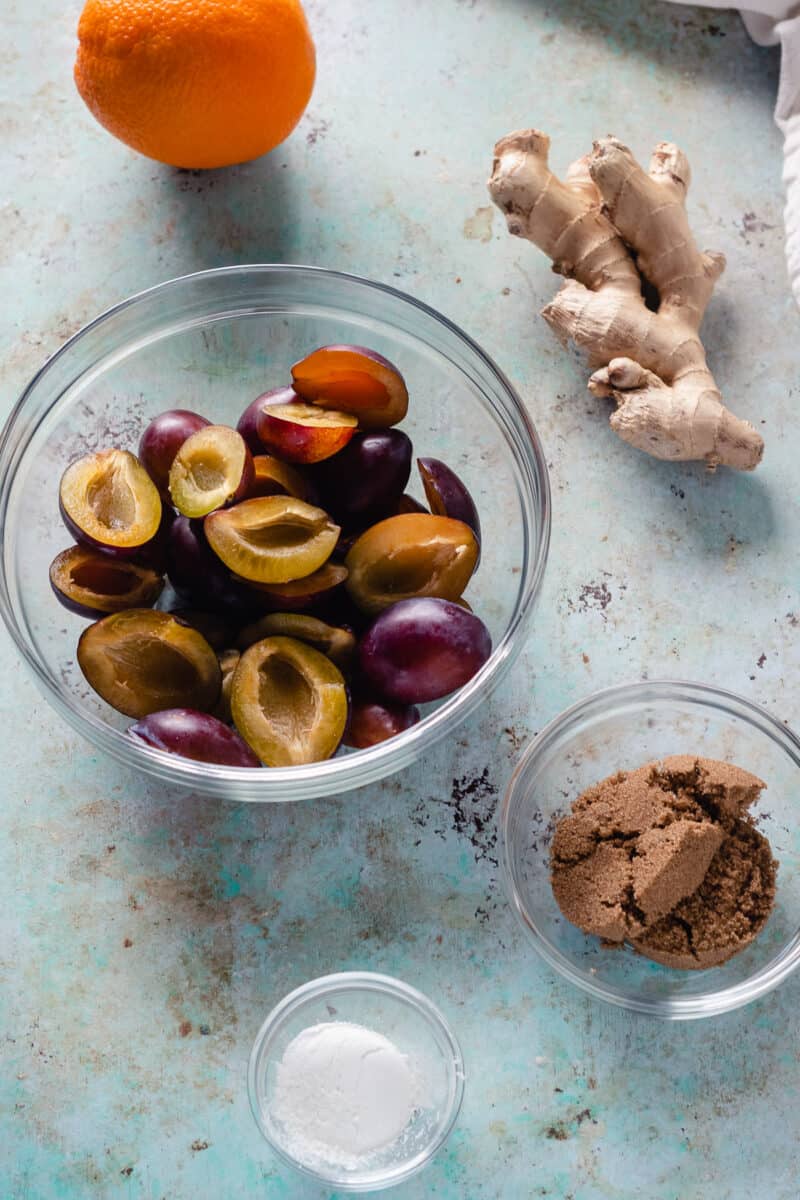 They're tart enough to handle some sugar and versatile enough to work with a variety of spices. And even better, plums are easy to pit and don't require peeling, which makes them an unfussy fruit to work with.
I considered making this raspberry plum crisp with walnuts and cardamom or some version of this almond anise plum torte, but neither felt quite right for the moment. (Even though I love them both to bits.)
I was in a tart or pie sort of mood, and started with my favorite, foolproof easy shortbread tart crust. It's crisp and buttery and doesn't require any rolling or chilling. And it has never failed me yet.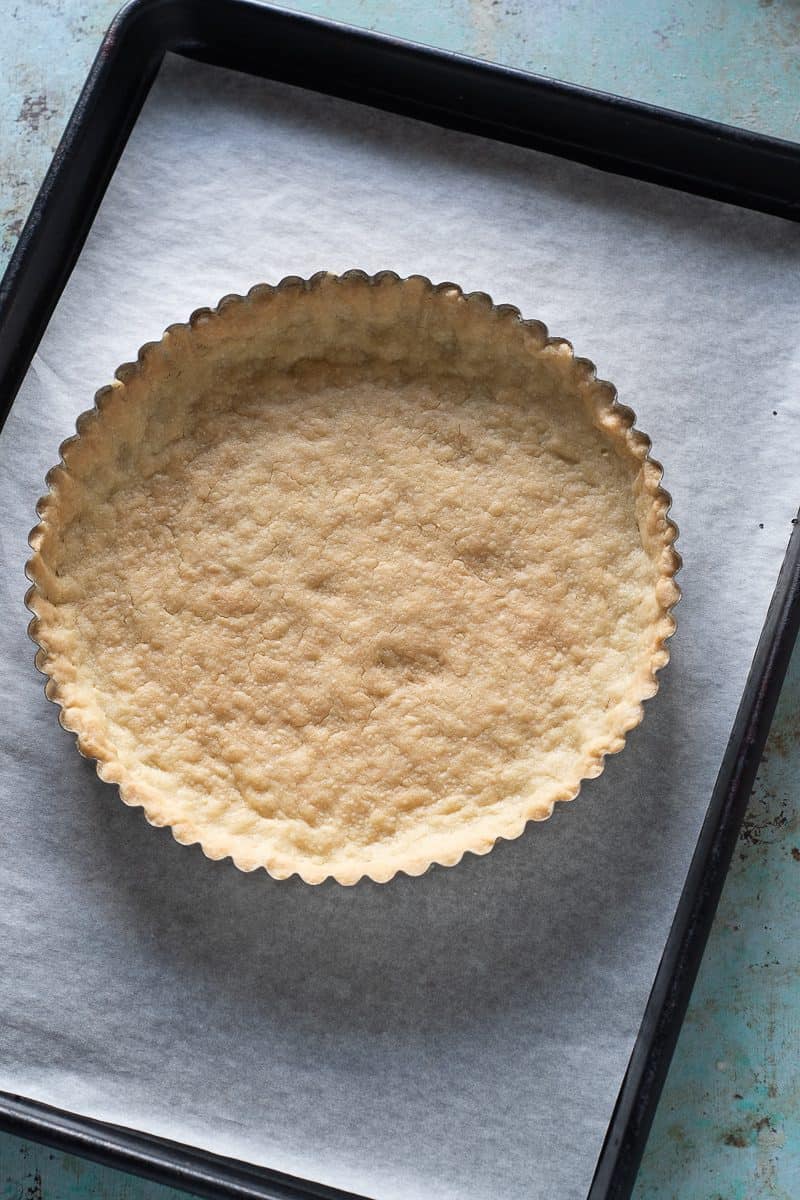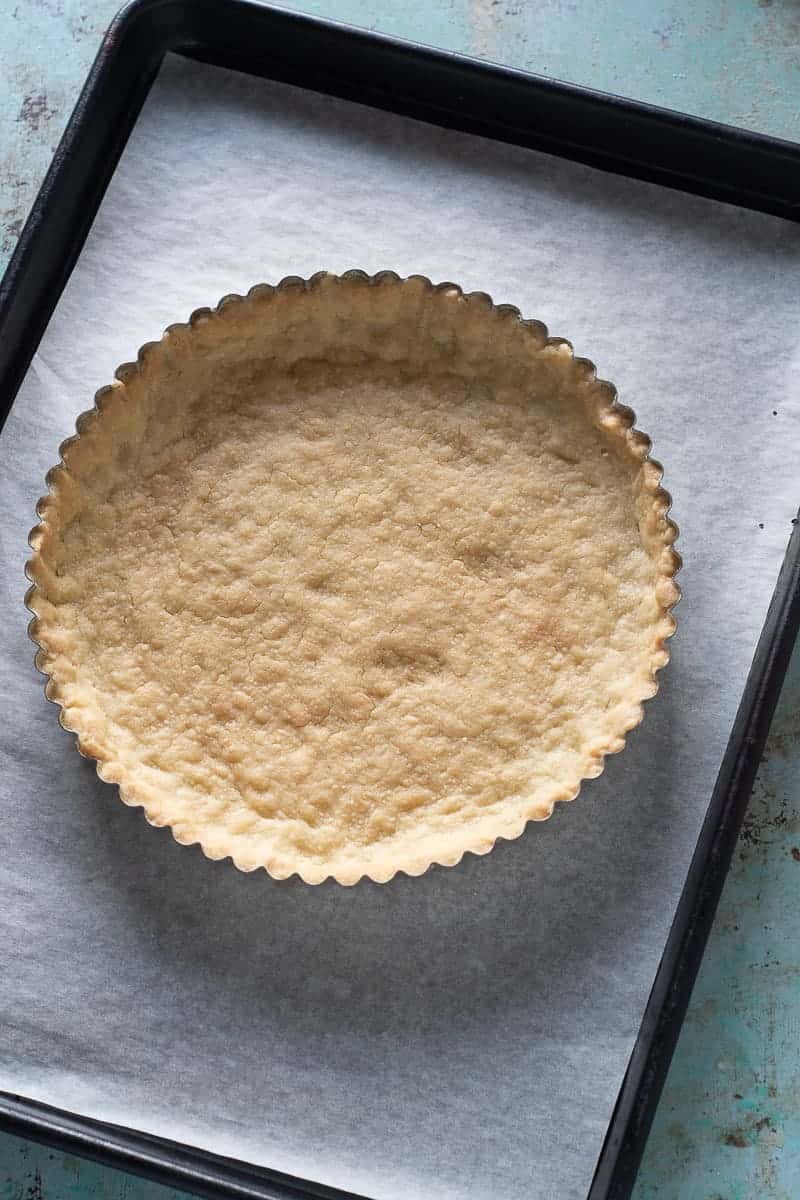 From there, I knew I wanted something with a different flavor profile and landed on a fragrant trio of ground cinnamon, freshly grated ginger, and orange zest.
The cinnamon feels like comfort to me, the ginger adds a subtle background heat, and the orange zest wakes everything up. And they all play well with plums and with each other.
The fruit gets tossed with brown sugar and a bit of cornstarch and the spices and the orange zest. And while the fruit is resting, you stir together the easiest custard ever.
Some rich, tangy crème fraîche gets stirred together with brown sugar, eggs, and a bit of vanilla. It's incredibly simple, but it feels luxurious and just complex enough to be interesting.
You arrange the plums in the tart crust and pour the custard over them and (carefully—the tart crust gets precariously full!) transfer the tart to the oven, where the fruit slumps and the custard bakes into a nice creamy-but-sliceable dream.
It's filled to the brim when it goes into the oven, and there's a good chance there will be a little bit of overflow in the course of baking. Don't worry about it! It's fine!
I do suggest removing the tart from the pan while it's still warm (about 10 minutes after it comes out of the oven), just in case any of that overflow causes any sugary stickage as it cools.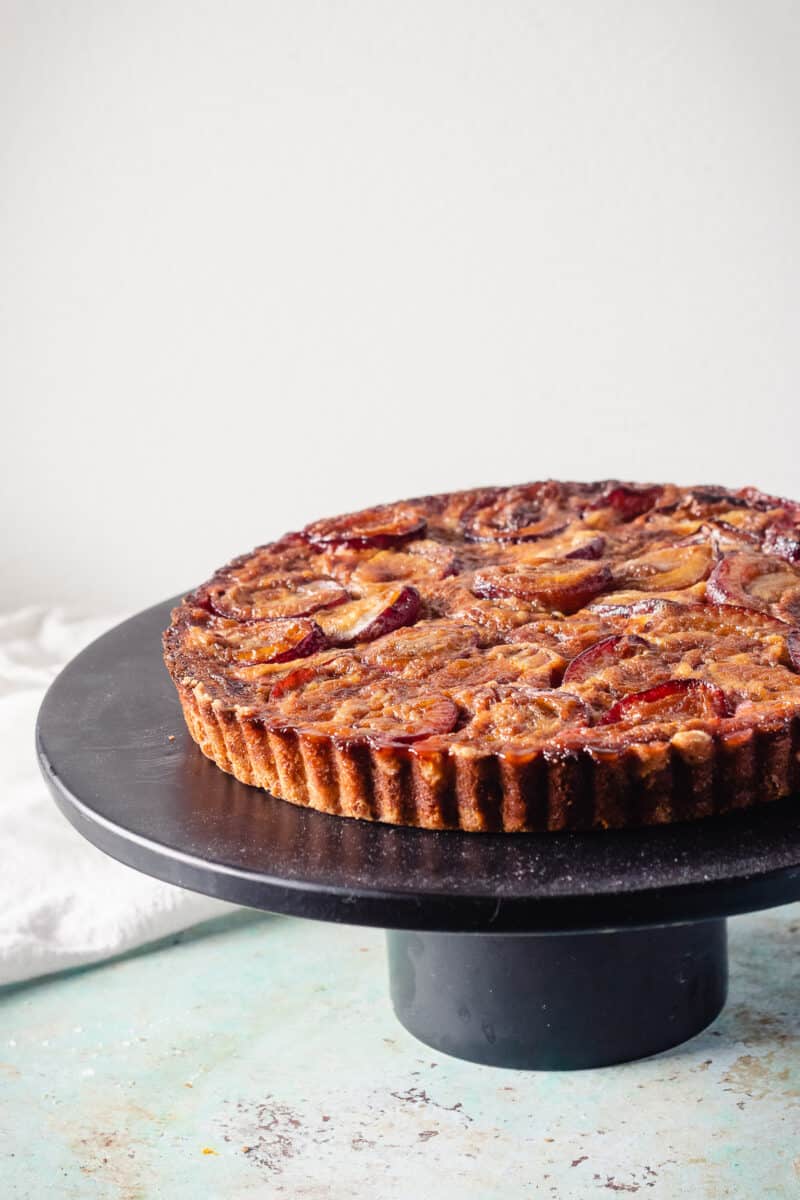 And I recommend slicing this tart with a sharp chef's knife rather than a pie server, just so that you can go cleanly through the plum skins, which are tender to eat but sometimes snag on dull implements.
But really, this plum custard tart is tough to mess up.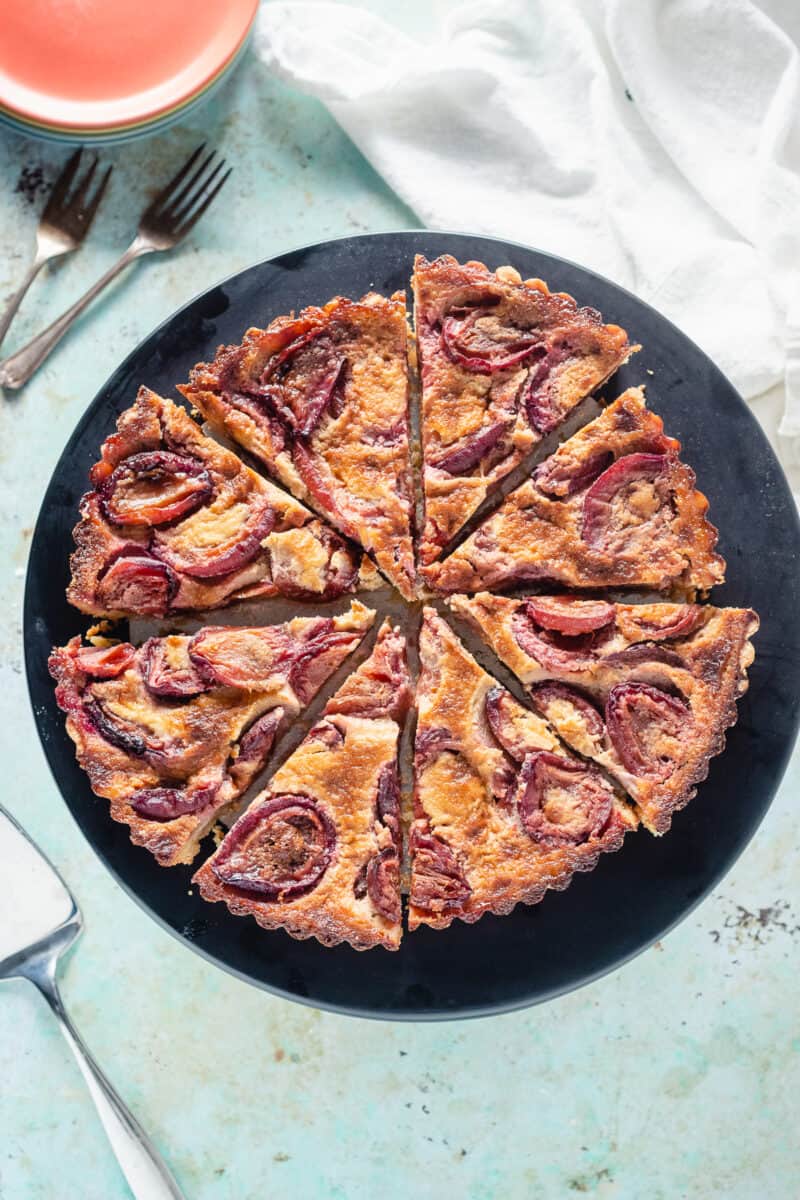 It's best on the day that it's made, but it keeps well, in the refrigerator, for a couple of days. The crust will soften a bit under the custard, but it will still be delicious.
And I think you're going to love this.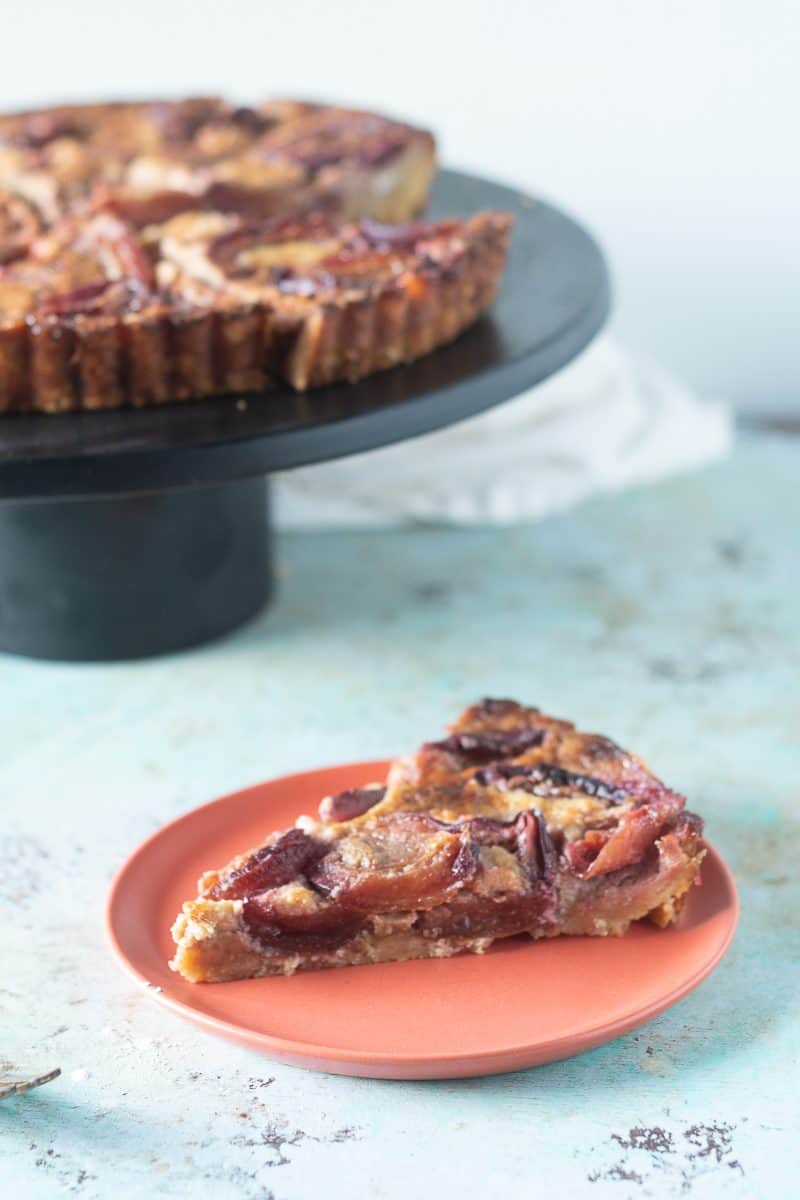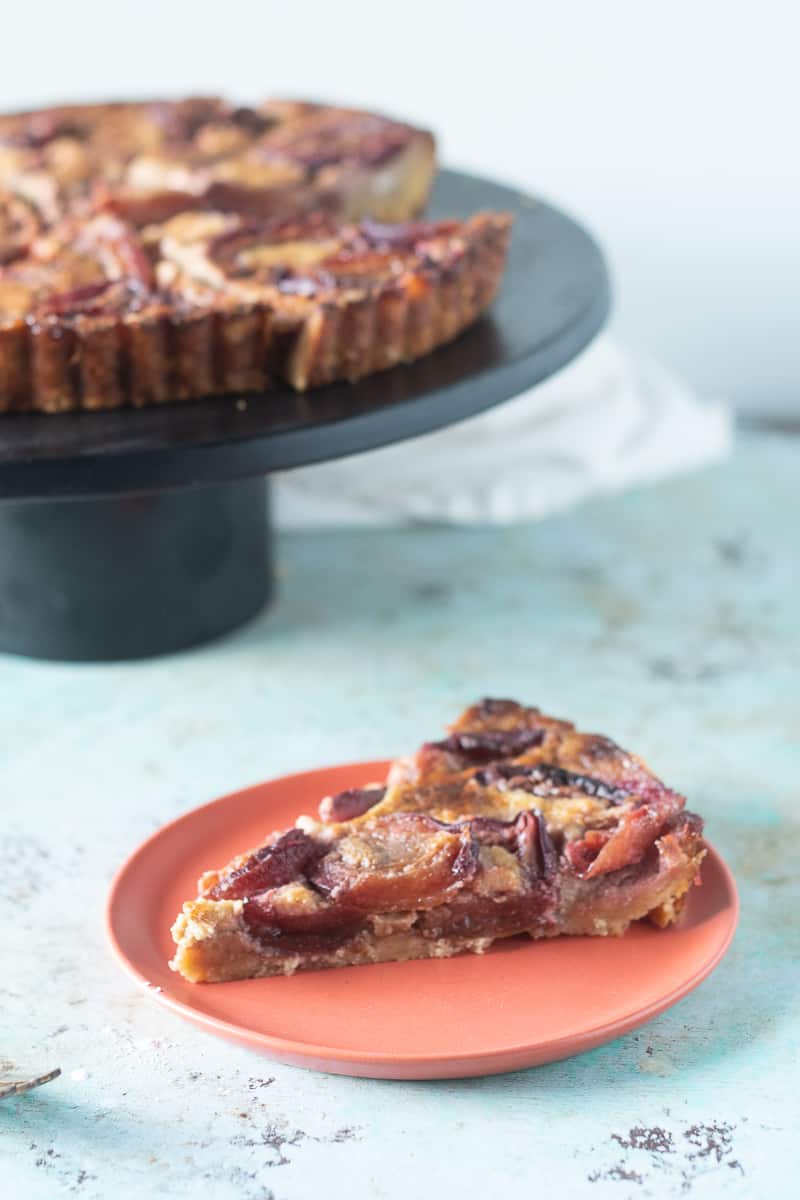 Yield: 8 servings
Plum Custard Tart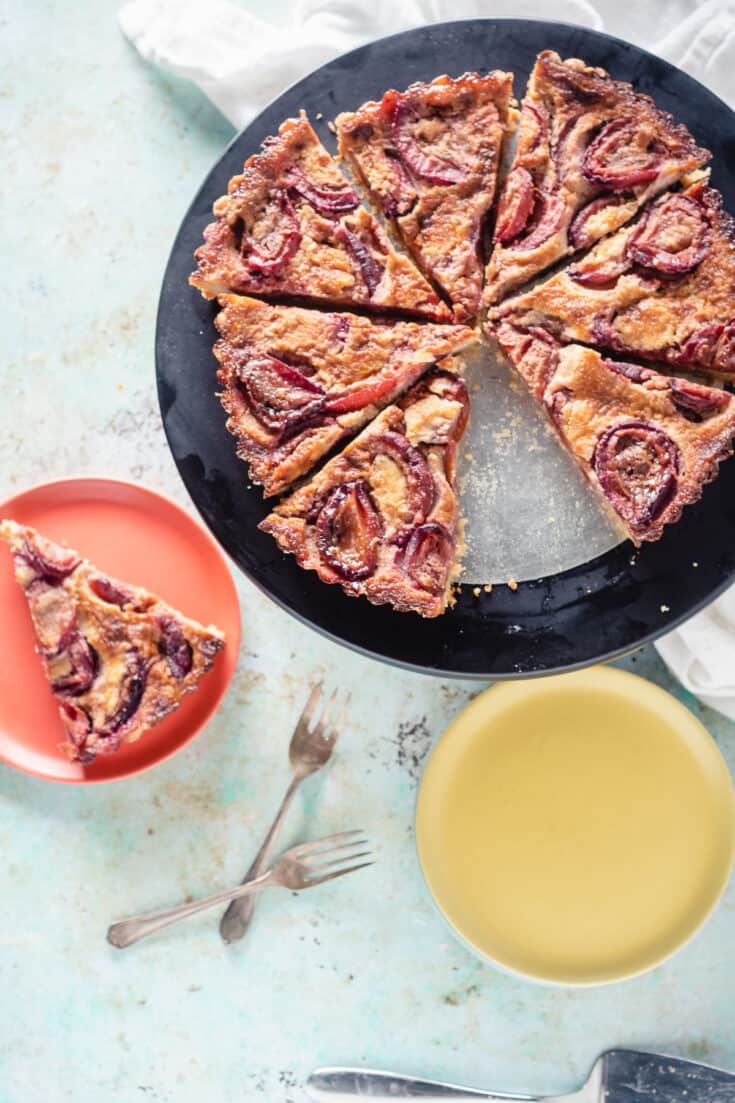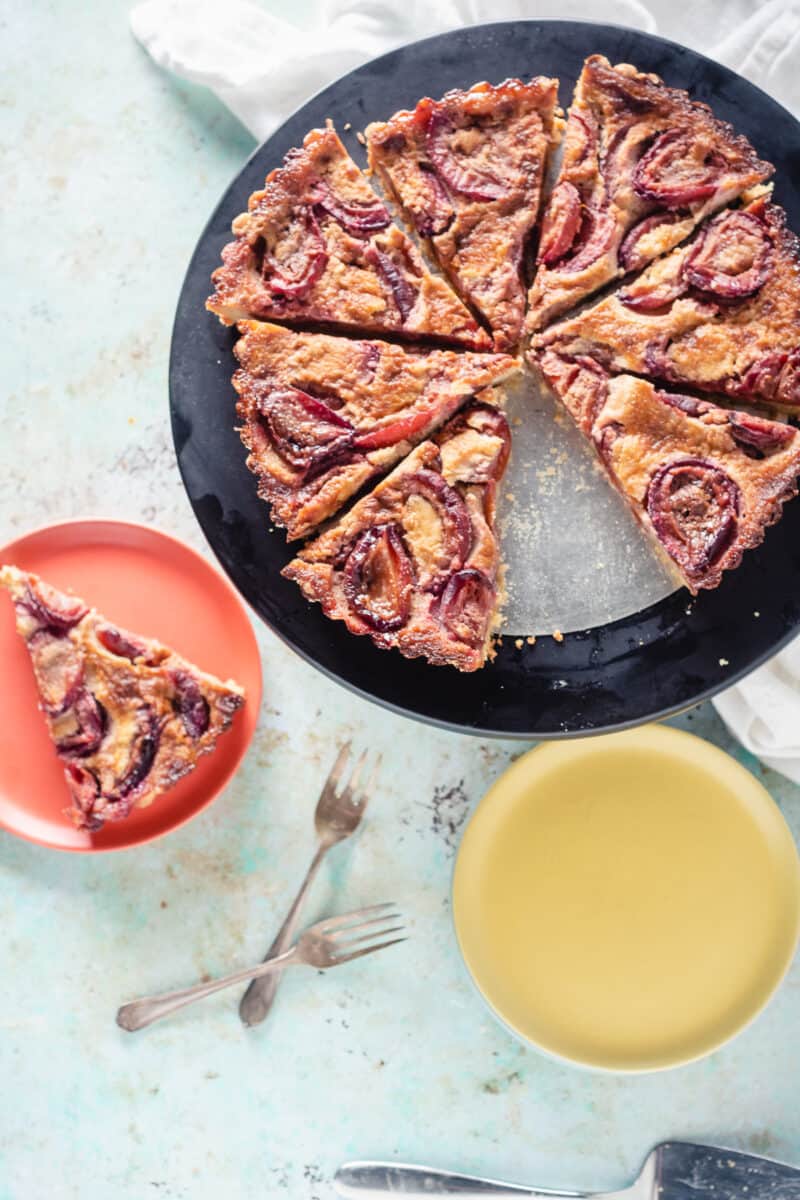 This plum custard tart is fragrant with fresh ginger, orange zest, and cinnamon. It works best with small, oblong Italian prune plums, but other plums can be substituted if you keep the weight the same. Larger plums should be sliced into quarters or sixths.
The custard filling is a simple mixture of crème fraîche, brown sugar, eggs, and vanilla that gets baked in the oven.
This tart is best on the day it's made, but it will keep reasonably well, refrigerated for another few days.
Cook Time
1 hour
5 minutes
Total Time
1 hour
15 minutes
Ingredients
For the tart crust
1 cup (125 grams) all-purpose flour
1/4 cup (30 grams) confectioners' sugar
1/4 teaspoon kosher salt
1/2 cup (1 stick, 113 grams) unsalted butter
1/2 teaspoon vanilla extract
For the plum mixture
1 pound (500 grams) Italian prune plums, about 12-16 small plums, halved and pitted
1/3 cup (68 grams) brown sugar
1 tablespoon cornstarch
1 teaspoon freshly grated ginger
zest of half an orange, finely grated
1/2 teaspoon ground cinnamon
For the custard
1 cup (226 grams) crème fraîche
1/4 cup (50 grams) brown sugar
2 large eggs
1 teaspoon vanilla extract
Instructions
Make the tart crust.
Preheat oven to 350°F. Add the flour, confectioners' sugar, and salt to a small bowl and whisk together.
Melt the butter in a small saucepan (or in the microwave), add the vanilla extract to the butter and stir, then pour into the dry ingredients and stir together until thoroughly moistened.
Press the dough evenly along the bottom and sides into a 9-inch tart pan with a removable bottom.
Place the tart pan on a parchment-lined baking sheet and bake until the crust is golden brown, about 20 minutes.
Make the plum mixture
Add the plums, cornstarch, ginger, orange zest, and cinnamon to a large mixing bowl and stir until the plums are coated with sugar and cornstarch and the spices and zest are well distributed.
Make the custard filling
Add the crème fraîche to a medium mixing bowl. Add the brown sugar, eggs, and vanilla extract and stir until smooth and thoroughly combined.
Assemble and bake the tart
Preheat oven to 375°F.
After the oven has come to temperature, arrange the plums in an even layer over the tart crust.
Carefully pour the custard filling over the plums. The tart will be very full.
Carefully transfer the tart to the oven and bake until the custard is set and browned on the top, about 45 minutes. Don't worry if some liquid bubbles over in the process of baking (this is common).
Let cool for 10 minutes, then remove the outer ring of the tart pan while the tart is still warm to prevent the crust from sticking to the pan.
Let cool for another 20 minutes or longer. Slice with a sharp chef's knife. Serve.



Notes
Best on the day it's made. Keeps in the refrigerator for up to 2 days.
Recommended Products
As an Amazon Associate and member of other affiliate programs, I earn from qualifying purchases.
Nutrition Information:
Yield:
8
Serving Size:
1
Amount Per Serving:
Calories:

161
Total Fat:

2g
Saturated Fat:

1g
Trans Fat:

0g
Unsaturated Fat:

1g
Cholesterol:

48mg
Sodium:

90mg
Carbohydrates:

32g
Fiber:

3g
Sugar:

16g
Protein:

4g