I may earn from purchases through links in this post.
These cranberry lapsang poached apples taste like the essence of fall.
They are at once familiar and surprising, a sweet apple with no cinnamon to be found. And yet there are still warming, fragrant spices in the form of allspice and fresh ginger.
Lapsang souchong tea infuses the apples with a subtle smokiness, like a whiff of bonfire.
And the apples themselves, in the process of cooking, take on a cider-y aroma.
The cranberry juice brings a hit of tartness and turns the apples a gorgeous deep garnet hue.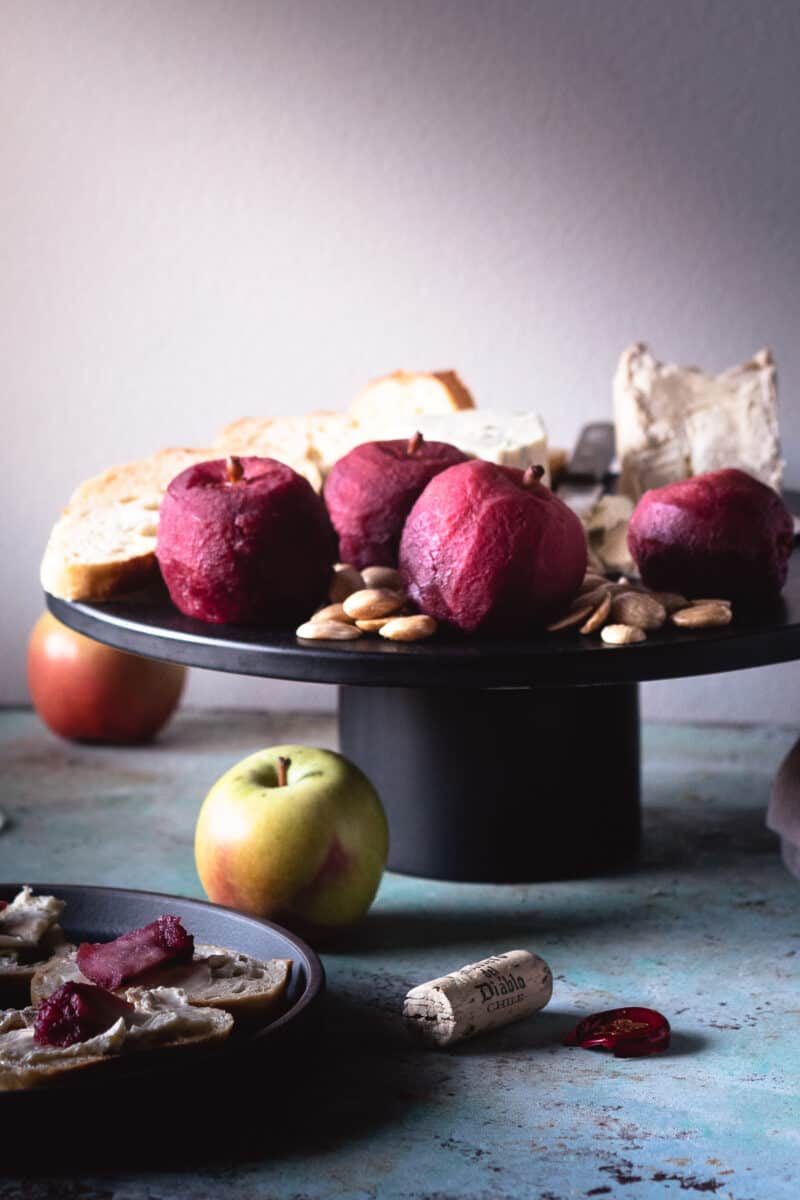 They walk the line between sweet and savory. I love them paired with rich cheeses, like a gorgonzola dolce or a triple creme like Délice de Bourgogne and toast for a lovely appetizer.
But if you paired them with an ice cream like a vanilla or a caramel they'd make a sophisticated dessert.
And of course, if you're the sort of person who likes a cheese plate for dessert then these would absolutely be at home there, too.
But really, I think they're excellent cocktail party or dinner party fare.
They're very much sort of thing that's perfect for a grown-up gathering where you might have wine and cheese and a smattering of appetizers out for grazing. And because they're so easy to make ahead, they leave you free to hang out with your guests and enjoy the party.
My favorite way to serve them is how they're pictured here. The whole apples look lovely as part of centerpiece, but I like to slice at least a few of them ahead of time for easy access for a guest picking them up.
It's nice assemble some bread and soft cheese topped with apples to have out for finger food.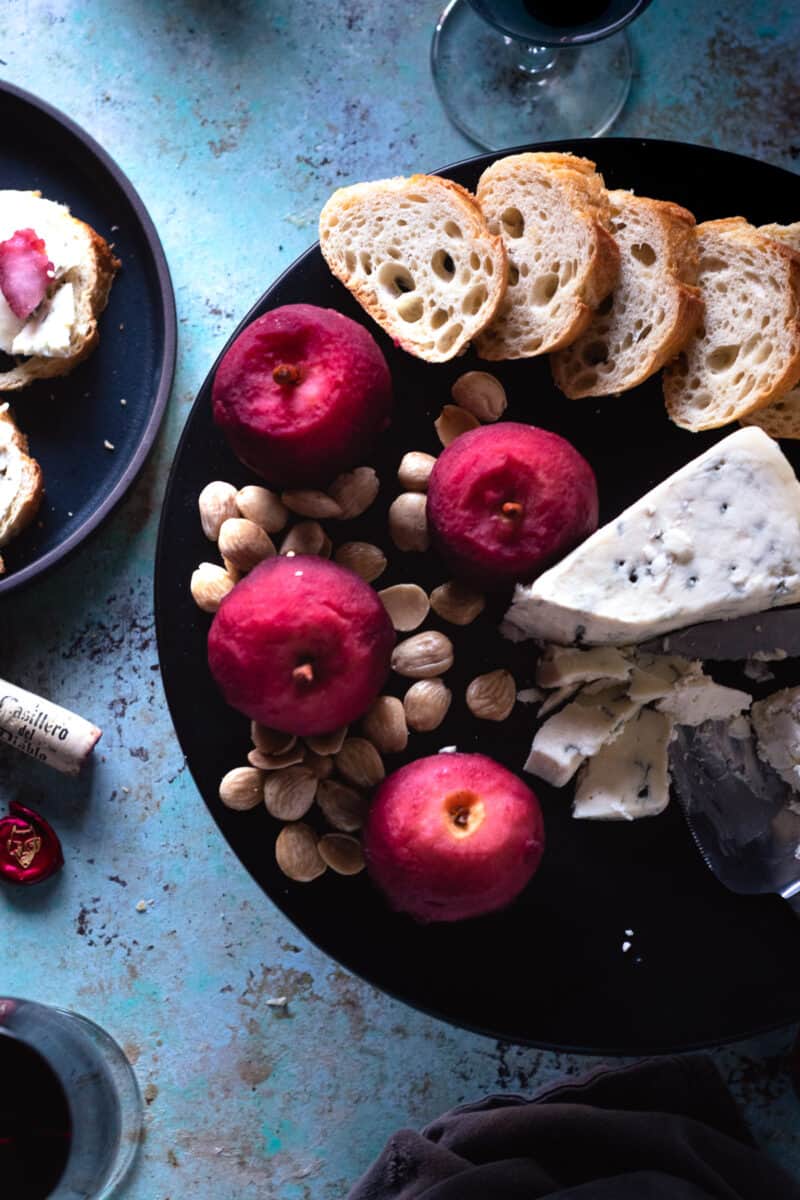 Yield: 6 poached apples
Cranberry Lapsang Poached Apples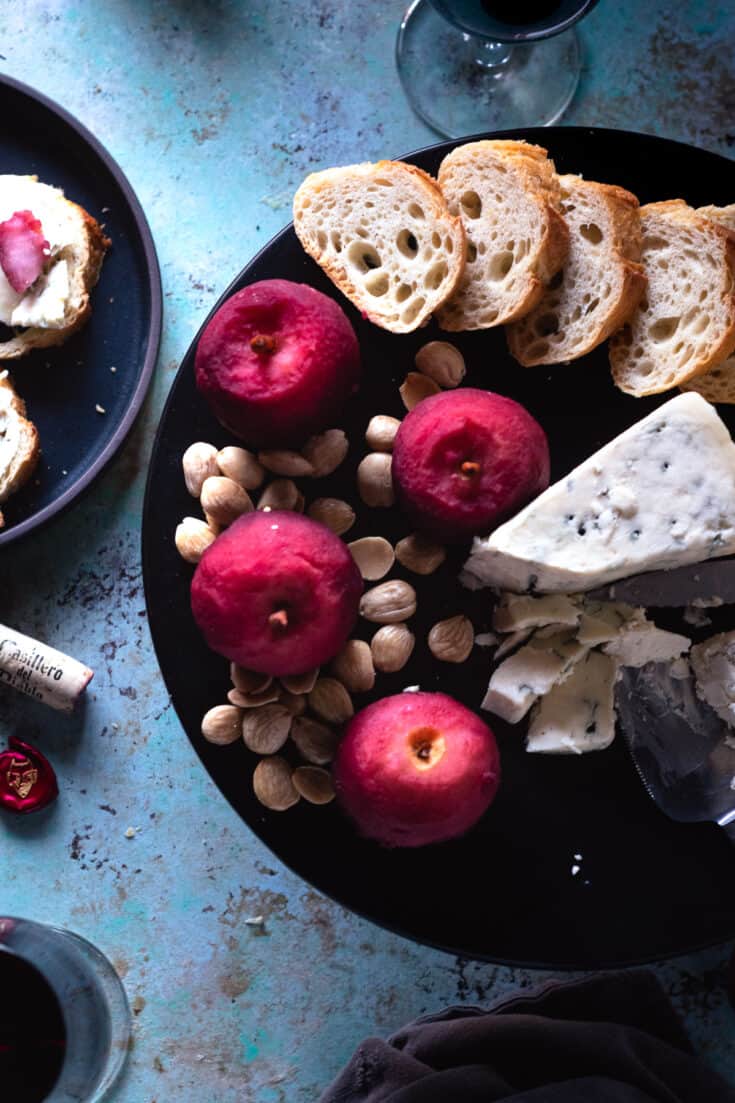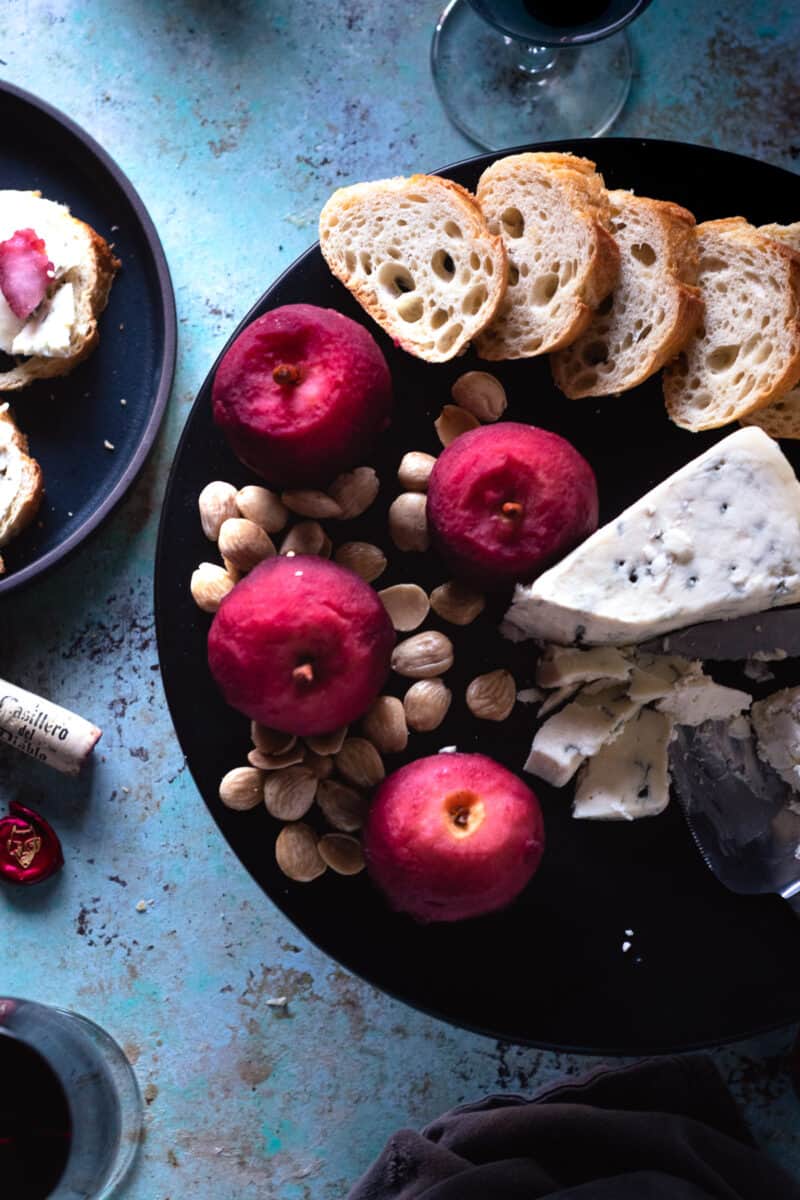 These poached apples are smoky and sweet with ginger and allspice. Cranberry juice brings out their tartness and turns them a gorgeous dark red color. They work well as an appetizer paired with rich cheeses on toast, but they also make a sophisticated dessert paired with vanilla or caramel ice cream. They are easy to make ahead of time and keep well in the refrigerator for several days.
Total Time
1 hour
45 minutes
Ingredients
4 cups cranberry juice (unsweetened)
2 tea bags lapsang souchong tea (or 2 teaspoons loose tea)
1/2 cup sugar
4 slices fresh ginger, about 1/8-inch thick
2 teaspoons whole allspice
4 broad strips orange rind
6 medium apples, peeled
Instructions
In a wide saucepan that can fit all 6 apples in a single layer, add the cranberry juice and bring to a boil. Remove from heat, add the lapsang souchong tea bags (or loose tea in a strainer), and steep for 3 minutes. Remove the tea and discard.
Add the sugar, ginger, allspice, orange rind to the cranberry juice, and add the apples in a single layer. Bring to a boil and reduce to a simmer. Simmer gently for about 25 minutes, occasionally turning the apples over so they are equally red on all sides. The apples should feel tender when tested with a pairing knife but still be fairly firm.
Remove the apples with a slotted spoon and let cool. Store in an airtight container in the refrigerator and serve chilled.
Notes
You can strain the poaching liquid and reduce it down to a syrup and store the apples in the syrup if you'd like. It'll make the color even more vibrant.
Nutrition Information:
Yield:
25
Serving Size:
1
Amount Per Serving:
Calories:

63
Total Fat:

0g
Saturated Fat:

0g
Trans Fat:

0g
Unsaturated Fat:

0g
Cholesterol:

0mg
Sodium:

4mg
Carbohydrates:

16g
Fiber:

1g
Sugar:

12g
Protein:

0g