I may earn from purchases through links in this post.
Lately, early on weekend mornings, Dan has been taking our dog, Inka, to the lake.
He gets to spend some time at the beach before it gets crowded, when it's still possible to appreciate the quiet of the lakefront, and I get some much appreciated morning quiet time at home when I don't have to deal with an energetic pup running around demanding most of my attention.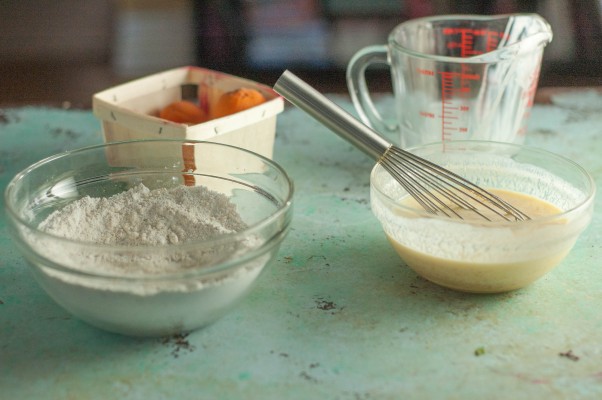 On these mornings, I tend to putter. I make a pot of coffee, browse the Internet, put on some quiet music, and then, eventually, after I've exhaled the craziness of the preceding week and let some quietness soak in, I meander over to the kitchen for some leisurely breakfast making.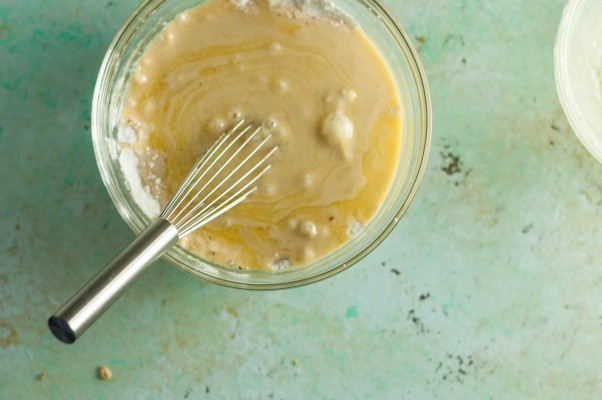 Muffins might be Dan's favorite sweet breakfast.
Or at least they're his favorite of the kinds of breakfast baked goods that are easy enough and wholesome enough that I make them with some some frequency.
Often, I stick with classics, things like blueberry or raspberry with lemon zest thrown in.
But last weekend, I found myself face to face with a handful of apricots that were either going to get eaten that day or they weren't going to get eaten at all.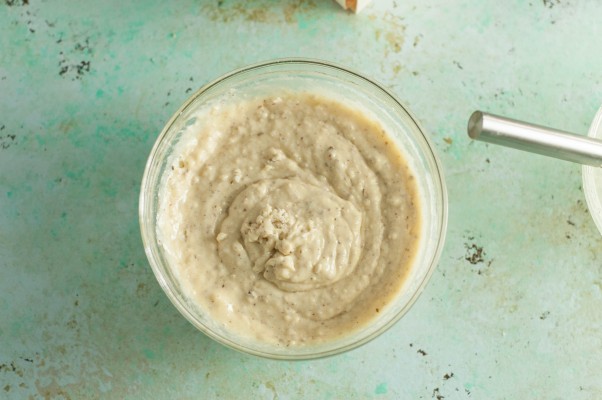 Which meant only one thing. It was a morning for almond apricot muffins.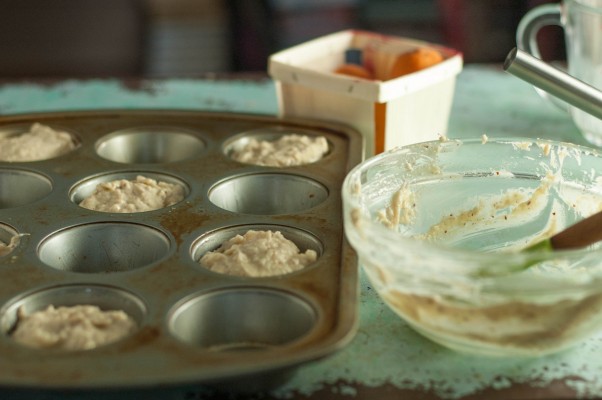 These almond apricot muffins are something special.
Of course almonds and apricots are a classic flavor pairing, like almonds and any stone fruit.
These muffins are nutty and rich from almond meal, have a gentle tang from yogurt, and get rounded out with a generous amount of vanilla.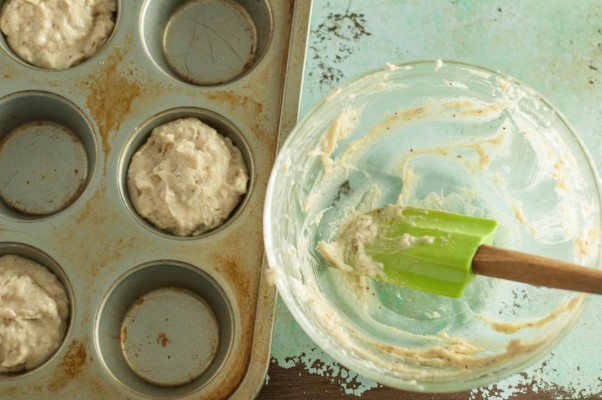 Then half an apricot gets nestled, skin side down, into the top of each muffin, and sprinkled with big grained turbinado or (even better) demerara sugar.
After some time in the oven, even mediocre apricots get concentrated into something fragrant and juicy, and their natural tartness helps to keep these muffins firmly grounded in not-too-sweet breakfast territory.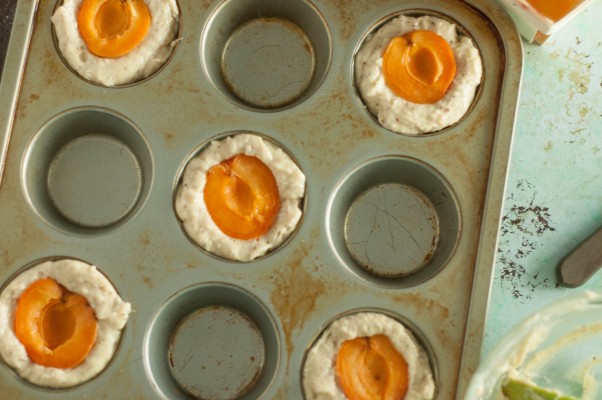 I've been playing around more with alternative flours in my baking, and I made this particular batch gluten free with rice flour, but they also work beautifully with all-purpose or whole wheat flour.
I often make muffins with oil, as I do with these cinnamon sugar oat muffins and these raspberry lemon muffins.
But almond and apricot, as a flavor combination pretty much demand butter, or, to be more precise, brown butter (and if you really want to gild the lily, you can toss half a vanilla bean in with the butter when it's browning).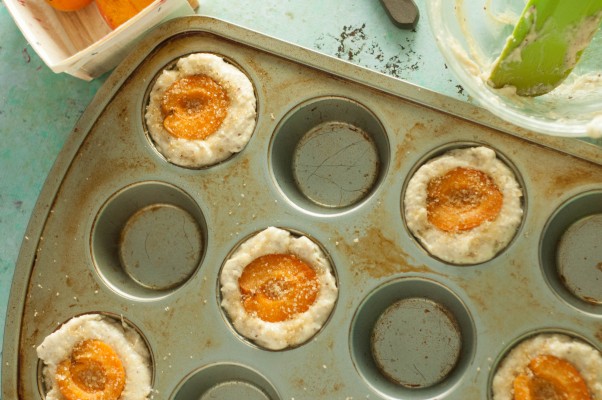 They make for a lovely breakfast on a slow, puttery sort of Saturday morning. Or really any morning.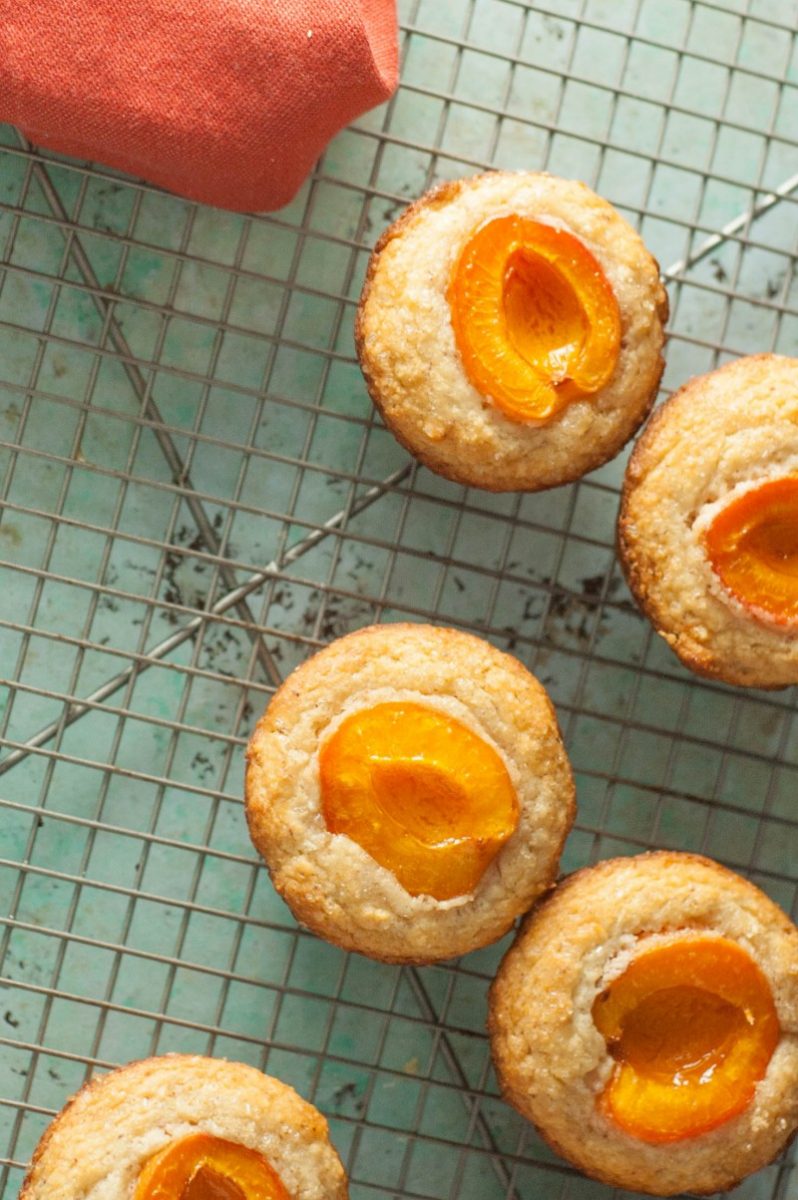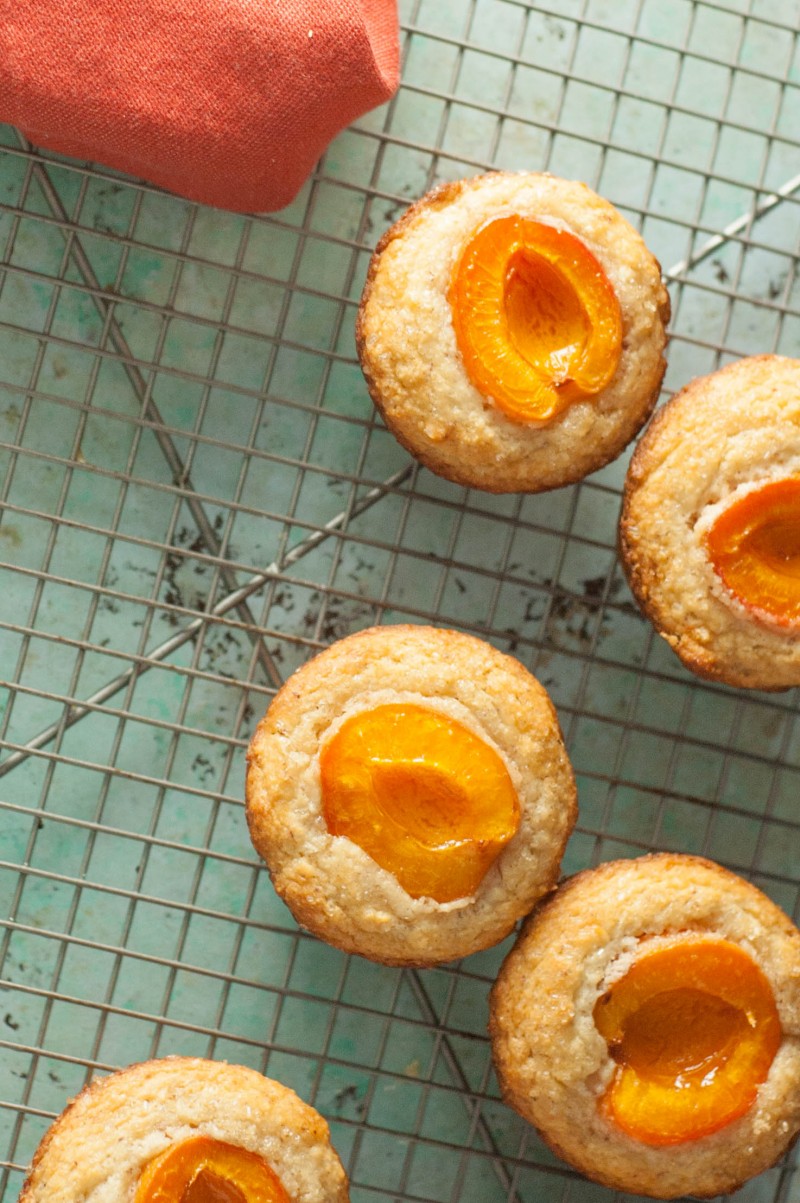 Yield: 12 muffins
Almond Apricot Muffins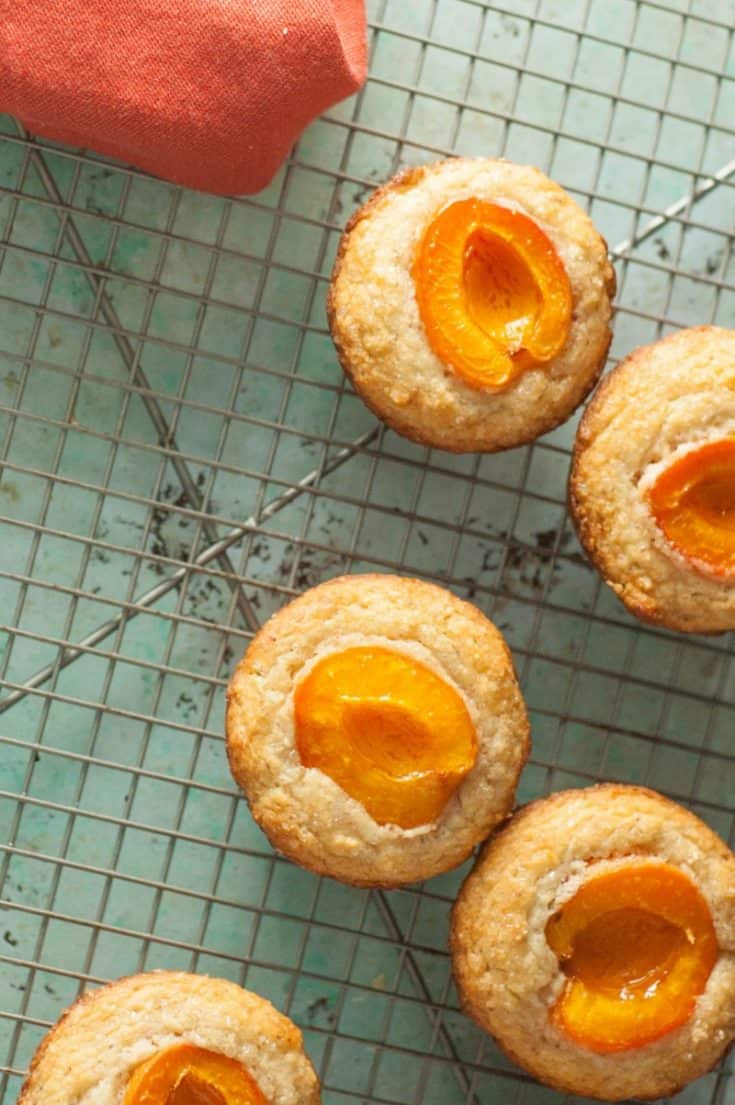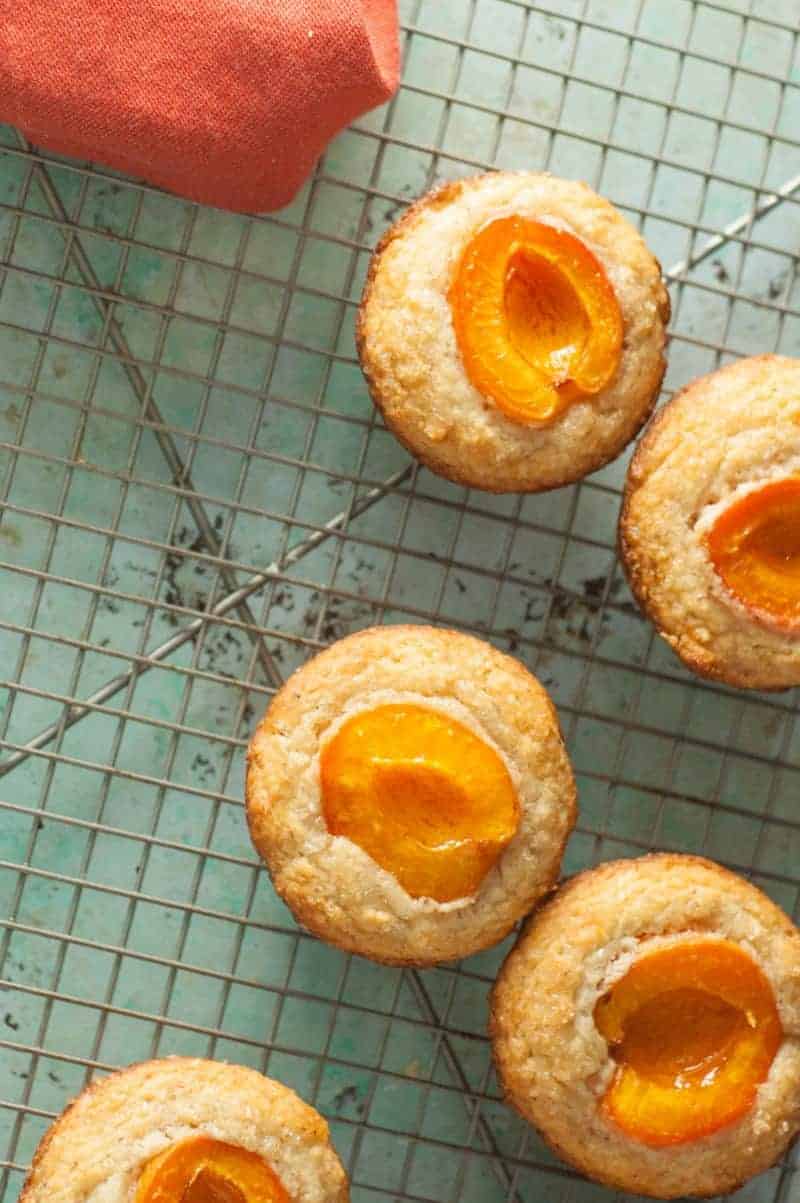 These muffins play on the classic combination of almonds and stone fruit. If you don't have fresh apricots around, these would also be delightful with small halved plums or slices of peaches or nectarines. You can make these with almond meal and all-purpose flour or make them gluten free with a superfine rice flour (such as Thai rice flour, which is super cheap if you have access to a local Thai market) and just a tiny bit of xanthan gum for binding power. They would also work with whole wheat flour or any all-purpose gluten free flour blend you like.
Ingredients
1 cup (100 g) almond meal
1 cup (120 g) all-purpose flour (or 1 cup [160 g] superfine rice flour and 1/2 teaspoon xanthan gum)
1 1/2 teaspoons baking powder
1/2 teaspoon kosher salt
1 cup plain yogurt, preferably whole milk
1/2 cup granulated sugar
2 large eggs
1/3 cup butter, browned and cooled
2 teaspoons vanilla extract
6 apricots, halved
turbinado or demerara sugar for sprinkling
Instructions
Preheat the oven to 375°F. Spray the cavities of a muffin tin with nonstick spray.
In a mixing bowl, whisk together the almond meal, flour (all-purpose or rice and xanthan gum), baking powder, and salt.
In a separate bowl, add the yogurt, sugar, eggs, butter, and vanilla extract and whisk until thoroughly combined. Add the wet ingredients to the dry ingredients and stir until the dry ingredients are thoroughly moistened (with so much almond meal, you don't really need to worry about overmixing).
Divide the batter evenly between the muffin cavities. Press half an apricot, skin side down, onto the top of the batter for each muffin. Sprinkle each apricot half generously with turbinado or demerara sugar.
Bake until the muffins are golden brown around the edges and a toothpick inserted into the middle (at an angle under the apricot) comes out clean, about 20-25 minutes.
Run a knife around the edge of each muffin to loosen and carefully tip out onto a cooling rack. If any apricots come a bit loose in the process, gently slide them back into place.
Let cool for about 10 minutes. Serve.
Recommended Products
As an Amazon Associate and member of other affiliate programs, I earn from qualifying purchases.
Nutrition Information:
Yield:
12
Serving Size:
1
Amount Per Serving:
Calories:

267
Total Fat:

12g
Saturated Fat:

4g
Trans Fat:

0g
Unsaturated Fat:

7g
Cholesterol:

48mg
Sodium:

224mg
Carbohydrates:

34g
Fiber:

2g
Sugar:

14g
Protein:

7g