I may earn from purchases through links in this post.
These pickled jalapeños are the burst of acidity and heat that fans of heat love on just about anything.
The prefab kind that you find at the supermarket are fine and more or less get the job done, but they have a tendency to be a little mushy. Which is why it's worth it to make your own.
At least if you have a few minutes to spare.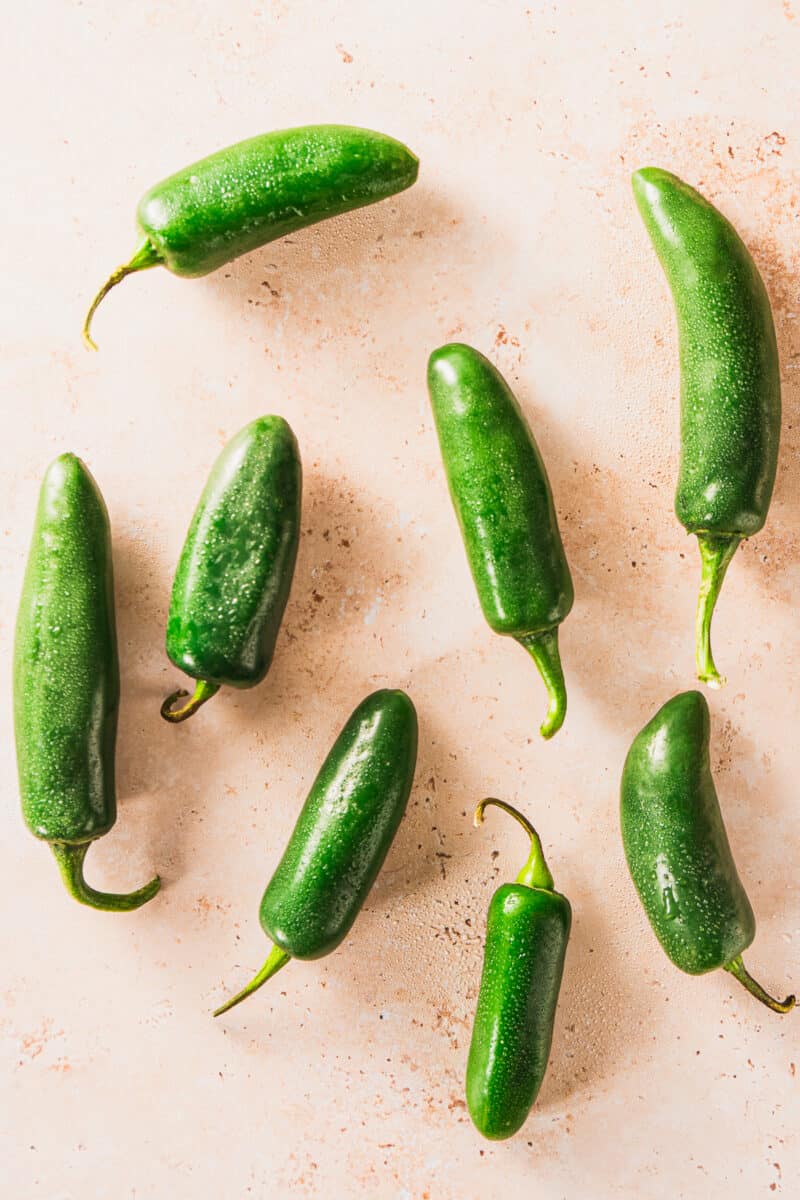 Like any refrigerator pickle, these pickled jalapeños involve making a simple brine of vinegar, water, and salt, and in this case, there's a bit of sugar and garlic as well.
The sweetness here is gentle, and it complements and slightly tames the heat. These are spicy, but not burn-your-tongue-off spicy. (I find jalapeño peppers somewhat inconsistent in their heat levels, and if yours are hotter than you prefer you can add a little extra sugar to mellow them a bit more.)
For the heat averse there are always mild pickled banana peppers and medium pickled poblano peppers.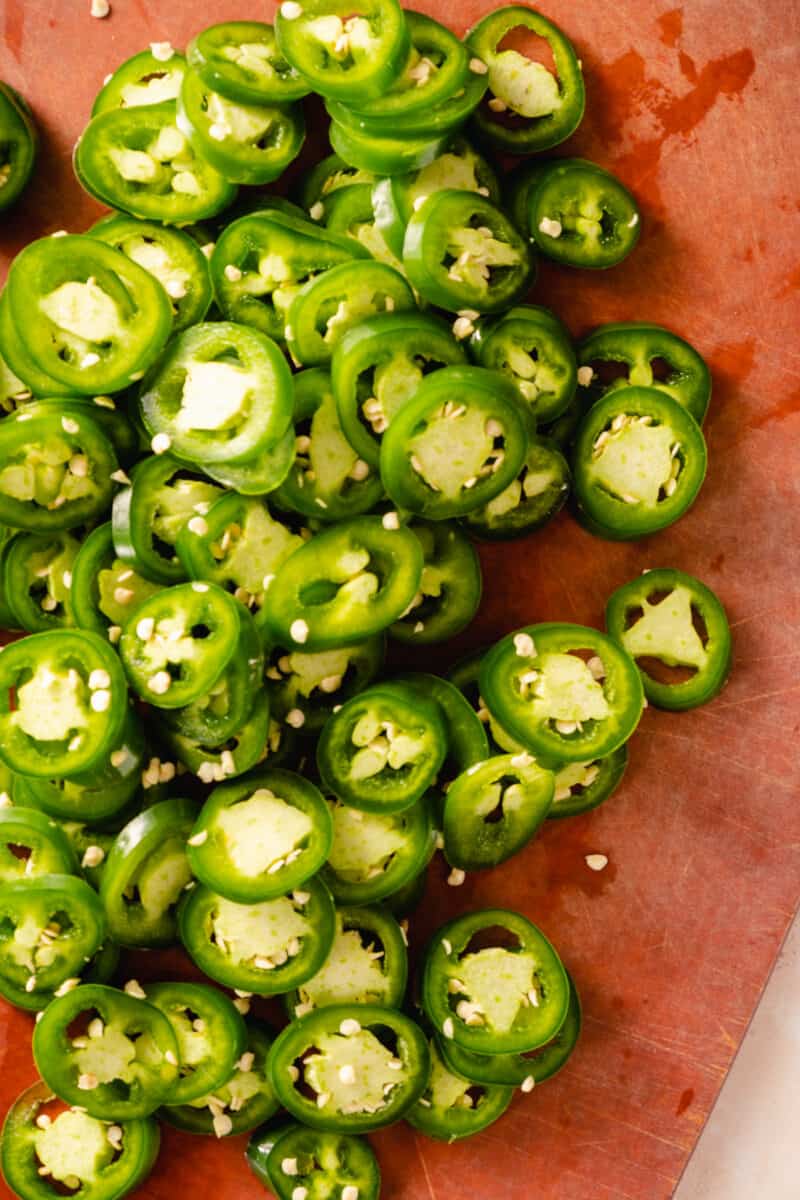 This calls for plain white vinegar, the kind of thing that comes in huge plastic jugs and can be had for song. But you could absolutely use a champagne vinegar or an apple cider vinegar here if that's what you have.
I wouldn't use any fancy or heavily flavored vinegars here because you really want to let the flavor of the jalapeños come through.
These are simple and unfussy and work best when you don't mess with them too much.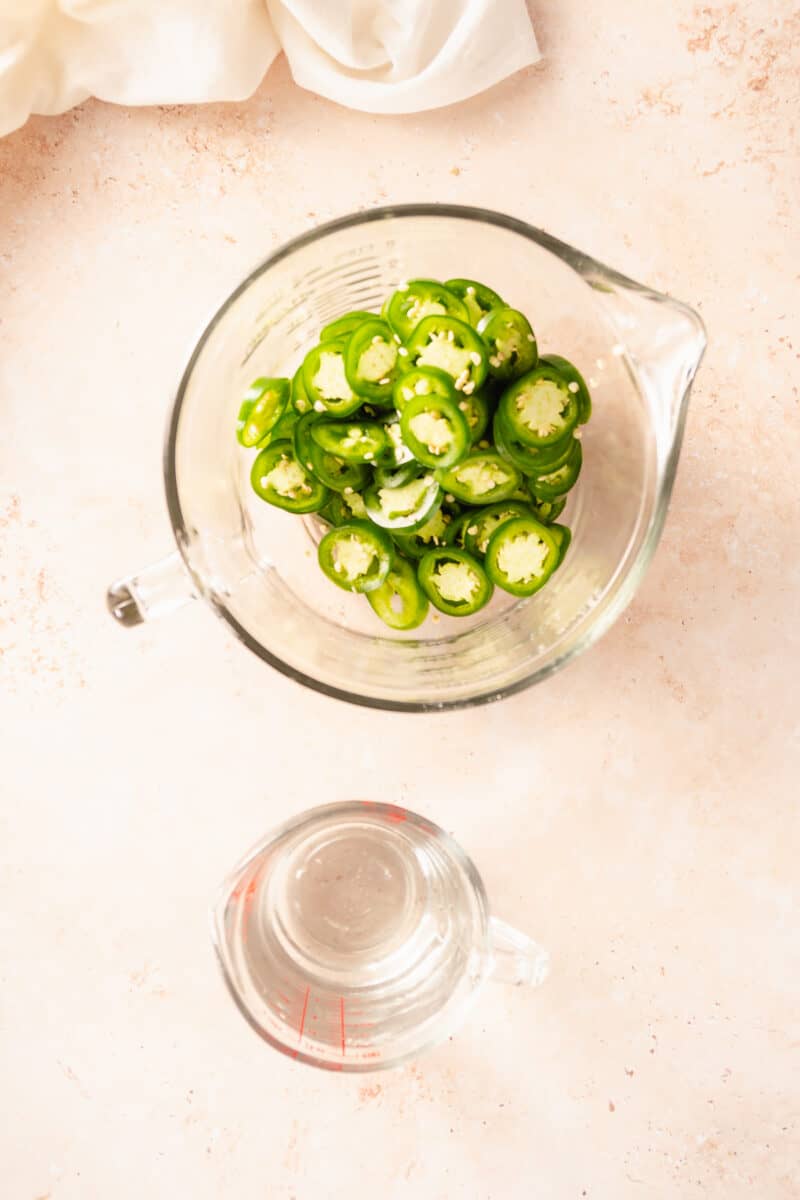 As a contact wearer, I like to wear disposable gloves when slicing jalapeño peppers or any hotter peppers to avoid the stinging sensation when I take out my contacts. (I've learned my lesson the hard way on that one.)
But if that's not a concern for you then gloves are totally optional here.
The peppers get sliced into rings, the stems get discarded, and the mix of vinegar, water, salt, sugar, and garlic get heated on the stove until the sugar dissolves.
Don't be alarmed if the garlic turns blue. It's a reaction with acid, and it's totally harmless.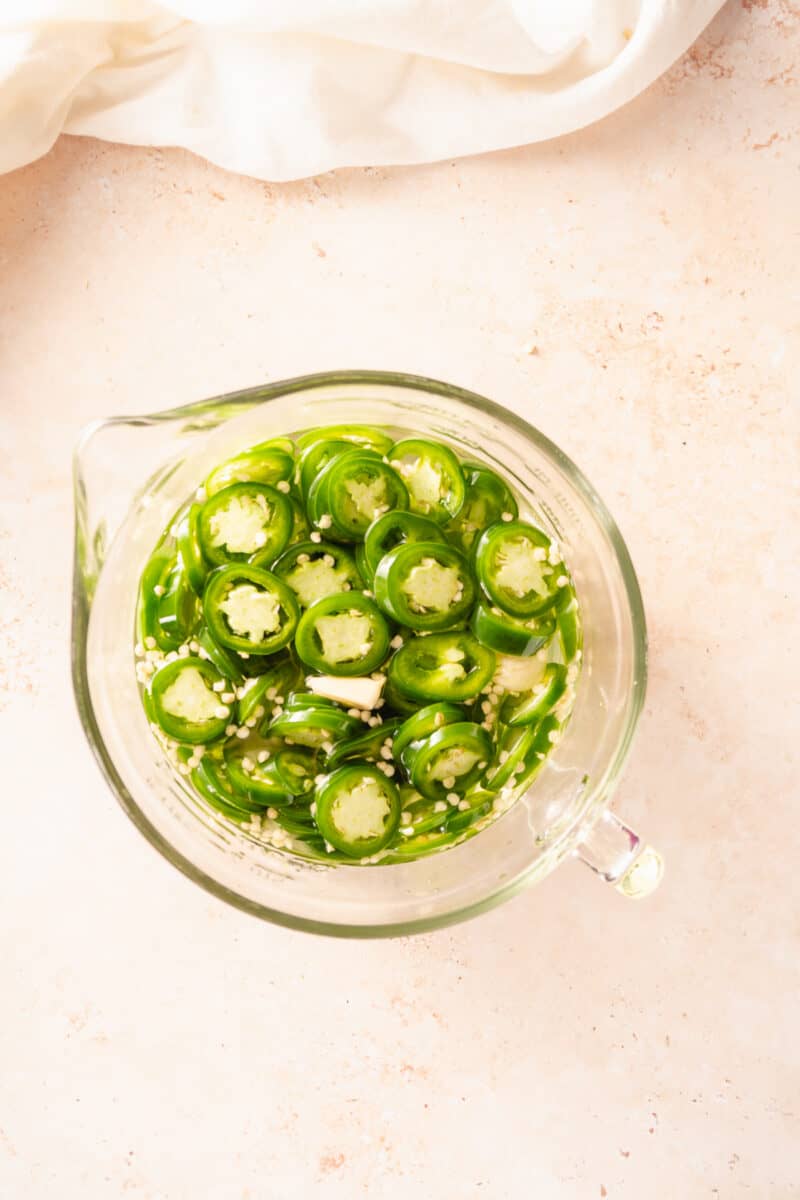 Then the hot brine mixture gets poured over the sliced jalapeño peppers and the mixture hangs out until it cools down.
At that point, they're ready to eat.
Though I usually transfer them to a jar and keep them in the refrigerator where they retain their crunch beautifully for a couple of weeks. They keep pretty well for longer, but over time they slowly succumb to the textural ravages of time and get softer and lose their vibrant green color.
(Which is to say they become more like what you can buy at most grocery stores.)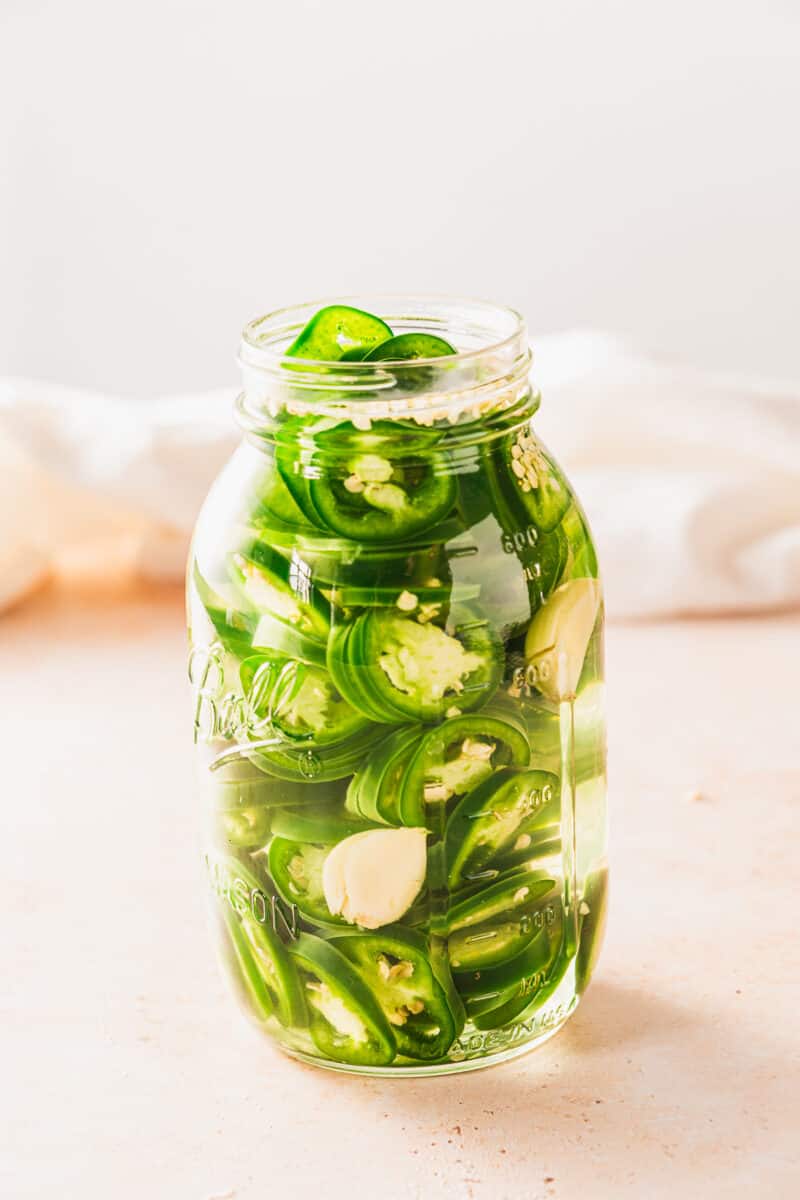 These pickled jalapeños are a classic topping on nachos, of course. But they are also welcome on pizza, in sandwiches, on tacos or burritos or quesadillas, and even on soup, like this corn, jalapeño, and sweet potato bisque.
They add a bit of crunch along with sharp acidity and kicky heat to so many things that need a bit of oomph.
The payoff here is totally worth the effort.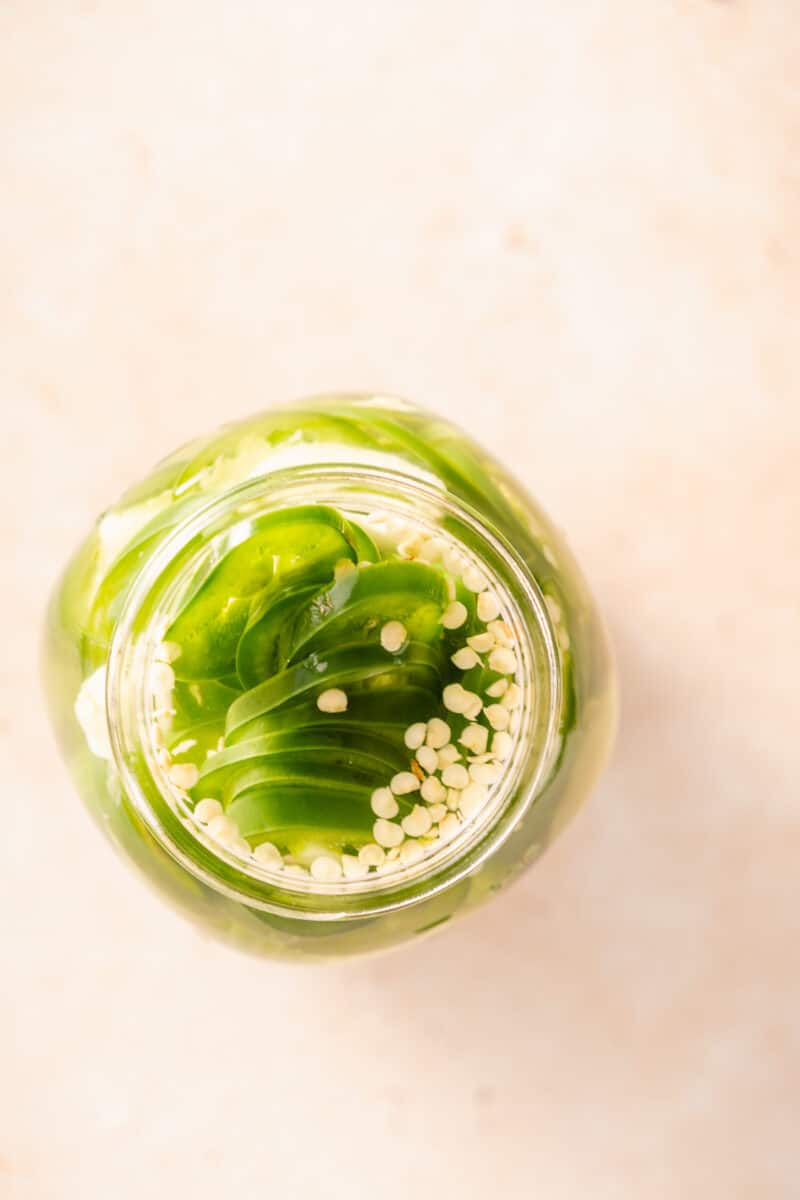 Yield: 1 quart
Pickled Jalapeño Peppers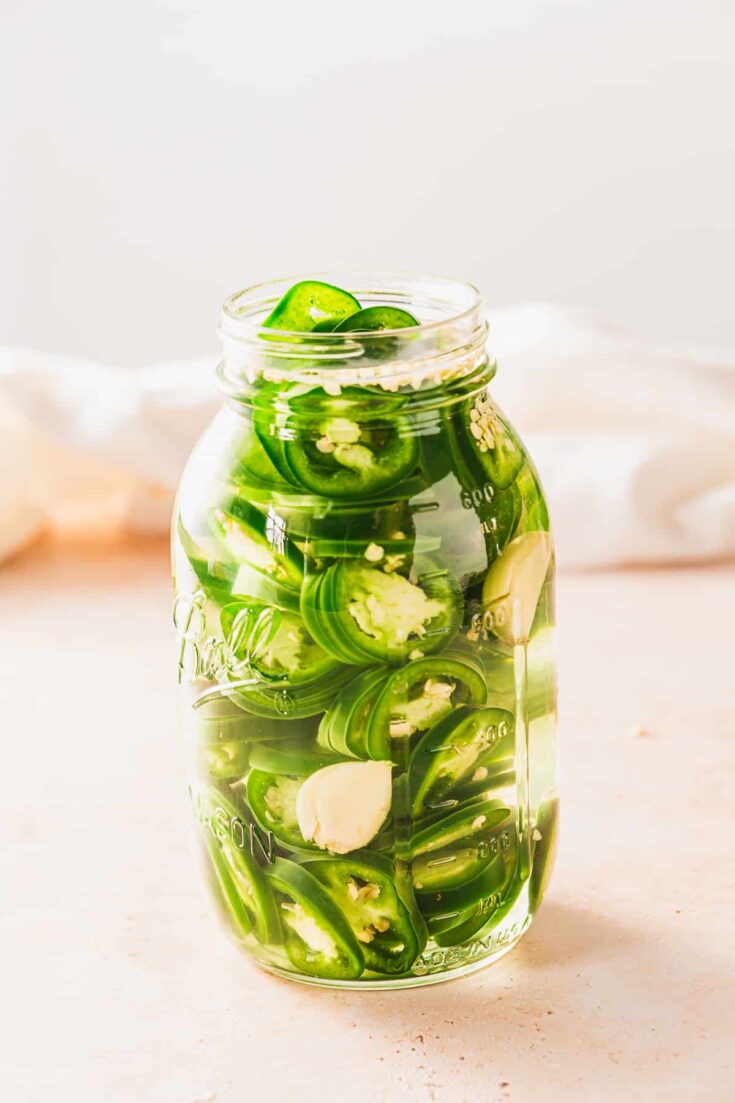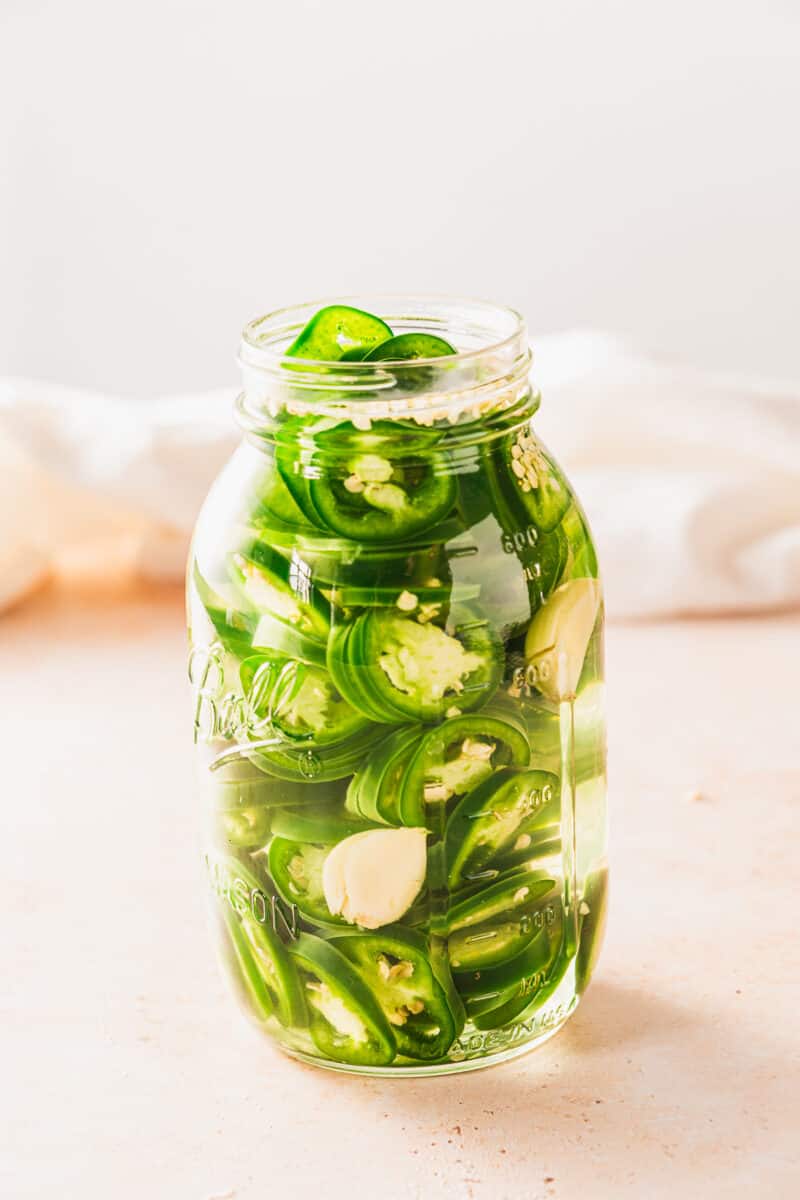 These pickled jalapeños are great to have in your refrigerator for any dish that needs a little something extra.
They can brighten up nachos or tacos or quesadillas, and they are welcome on pizza and sandwiches as well. These are spicy and appropriate for fans of heat, but the sugar mellows the heat a little bit. You can add a bit more sugar if you want to tame the heat a bit more.
These are simply seasoned, with just a bit of sugar and salt and garlic. You could add other spices to the brine if you like, but I don't think it's necessary.
Don't be alarmed if the garlic cloves turn blue. It happens over time with their contact with vinegar.
If you wear contacts, you may want to wear disposable gloves when slicing the jalapeños to avoid stinging your eyes when you take your contacts out.
Ingredients
3 cups jalapeño peppers, sliced into 1/4-inch rings.
1 1/2 cups white vinegar
1 1/2 cups water
1/4 cup sugar
3 tablespoons kosher salt
4 cloves garlic, peeled and smashed
Instructions
Add the sliced jalapeños to a heat safe mixing bowl.
Add the vinegar, water, sugar, salt, and garlic cloves to a small saucepan. Heat over medium heat until the sugar and salt have dissolved.
Pour the brine mixture over the jalapeños and let sit until cool.
Transfer to a mason jar (or other airtight container) and refrigerate until ready to use.
Notes
These stay crisp in the refrigerator for about 2 weeks, and while they soften a bit and lose their vibrant green color they are still good for at least a month.
Recommended Products
As an Amazon Associate and member of other affiliate programs, I earn from qualifying purchases.
Nutrition Information:
Yield:
32
Serving Size:
2 tablespoons
Amount Per Serving:
Calories:

11
Total Fat:

0g
Saturated Fat:

0g
Trans Fat:

0g
Unsaturated Fat:

0g
Cholesterol:

0mg
Sodium:

596mg
Carbohydrates:

2g
Fiber:

0g
Sugar:

2g
Protein:

0g