I may earn from purchases through links in this post.
It may not be obvious from the multi-day layer cakes and precisely-scaled candy projects, but most days, I am a lazy cook.
Like most people with full lives, cooking doesn't always make it to the top of my priority list.
There are plenty of days when the question "what's for dinner?" gets answered by ordering in or going out or boiling some noodles and dousing them with peanut sauce.
And while it doesn't quite match the picture I have in my head of the perfect, responsible-adult-vegetable-laden-home-cooked meal, it's not so bad. Especially when it ends with one of these blackberry milkshakes.
They're so simple. And so good. And just the thing, really, for a lazy dessert.
The blackberries from Mick Klug Farm have been extra special this year. They're all sweetness and bright acidity, each tiny drupelet on the verge of bursting with deep purple juice. I've been bringing them home from the market by the pint-full.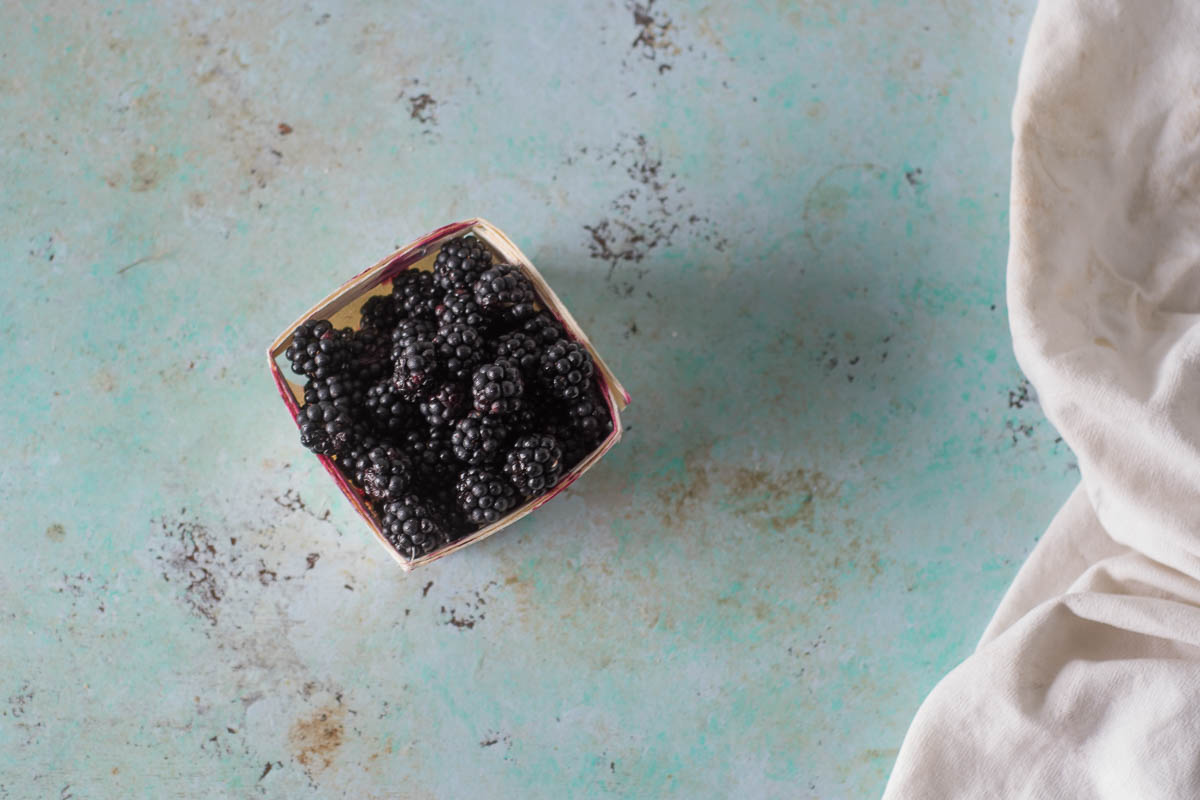 They're a perfect little finger-staining snack on their own.
But I'm not the kind of person who's willing to pretend that unadorned fruit equals dessert. We all know that's a cruel joke. (That tends to be received with the hard eye roll it deserves.)
But fruit plus ice cream? Now you're talking.
These blackberry milkshakes are so simple that I hesitate to call it a recipe.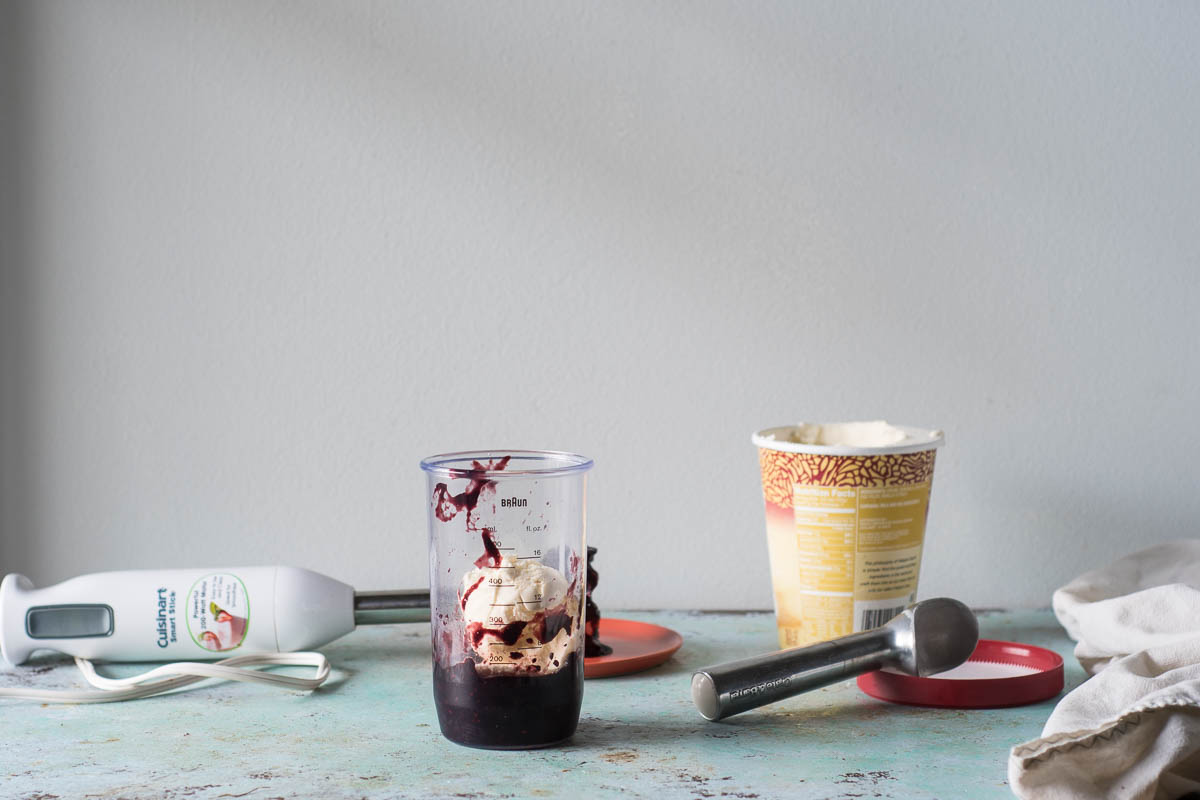 It's just a simple zizzing of berries into a puree in a blender, adding vanilla ice cream, and zizzing again until blended.
These milkshakes push the limits in the blackberry department. They're shot through with fruit and have a lovely acidity to balance out the richness of the ice cream.
The fruit puree is the only liquid in the milkshake–there's no milk or anything else to help loosen up the ice cream into a straw-friendly format. It turns them a bold, saturated purple color, and I love that about them.
They're a treat stripped down to the essentials, with no filler. And the consistency here is thick, but still sippable, which is just how I like my milkshakes.
You could do this with any berry you like. They would probably be nice with peaches or nectarines, too. (Uh, and they'd be pretty amazing with brandied cherries, too. If you're the sort of person who might go for a boozy milkshake.)
Honestly, they might be my favorite lazy dessert ever.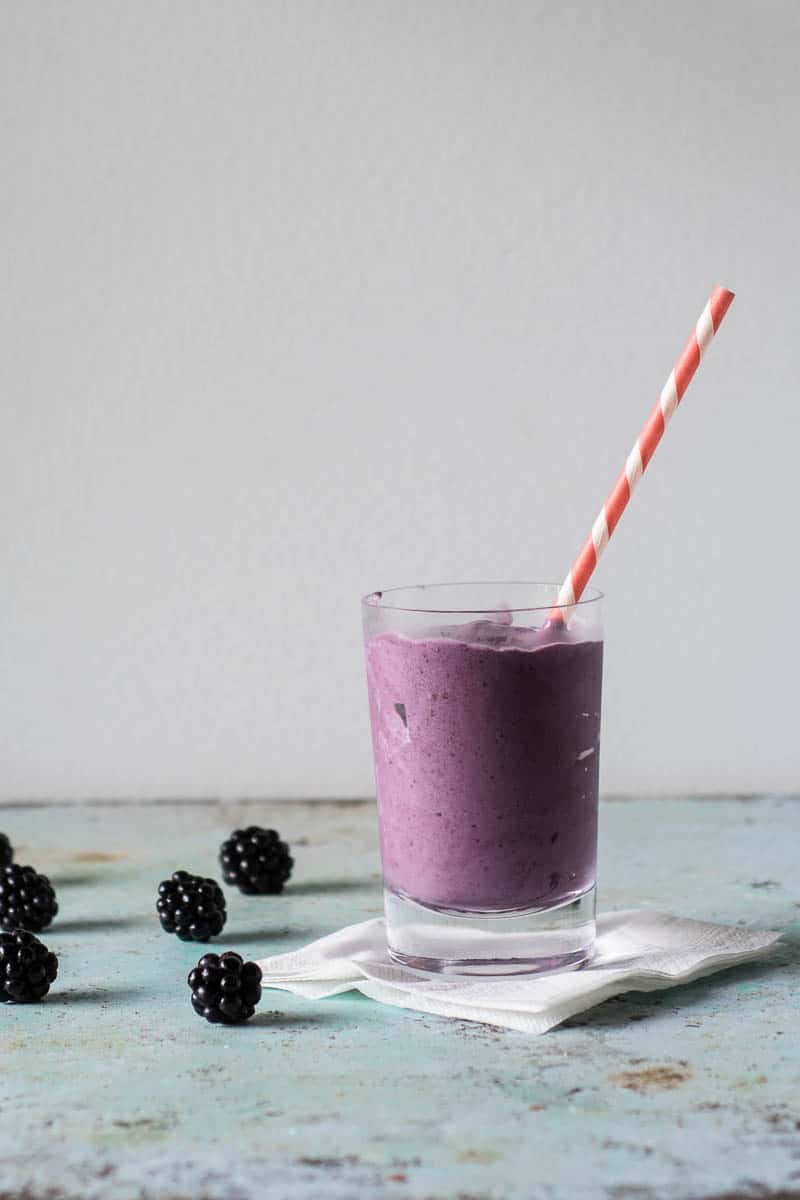 Yield: 2 10-ounce milk shakes
Blackberry Milkshakes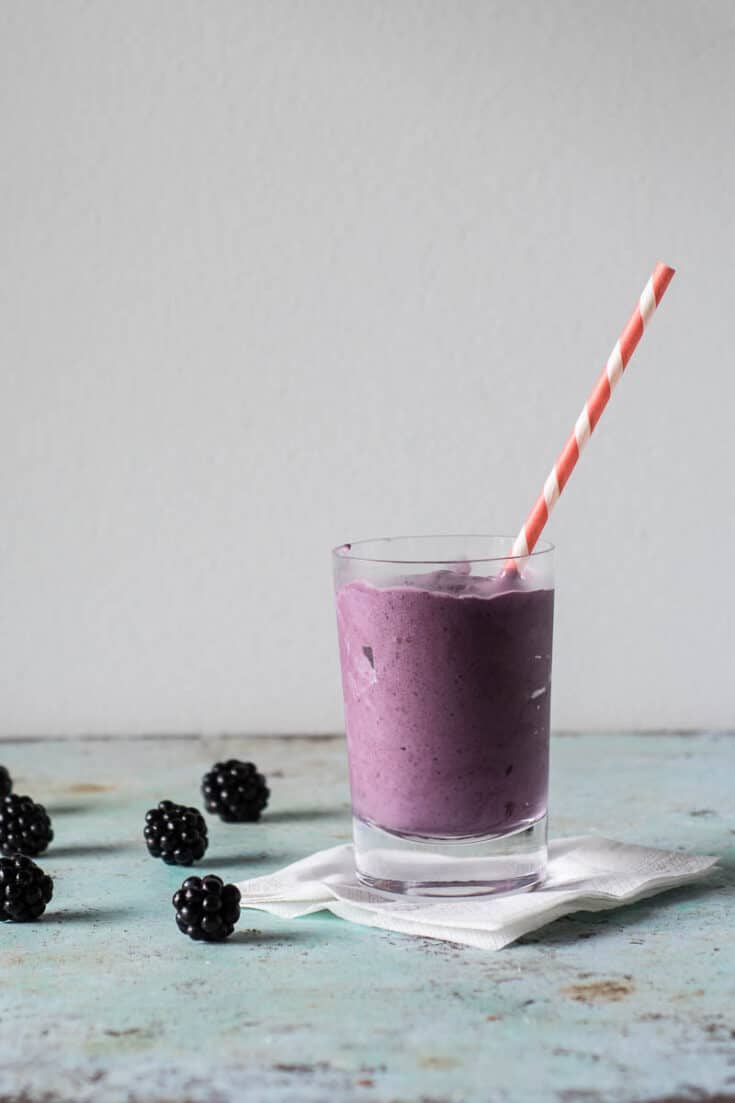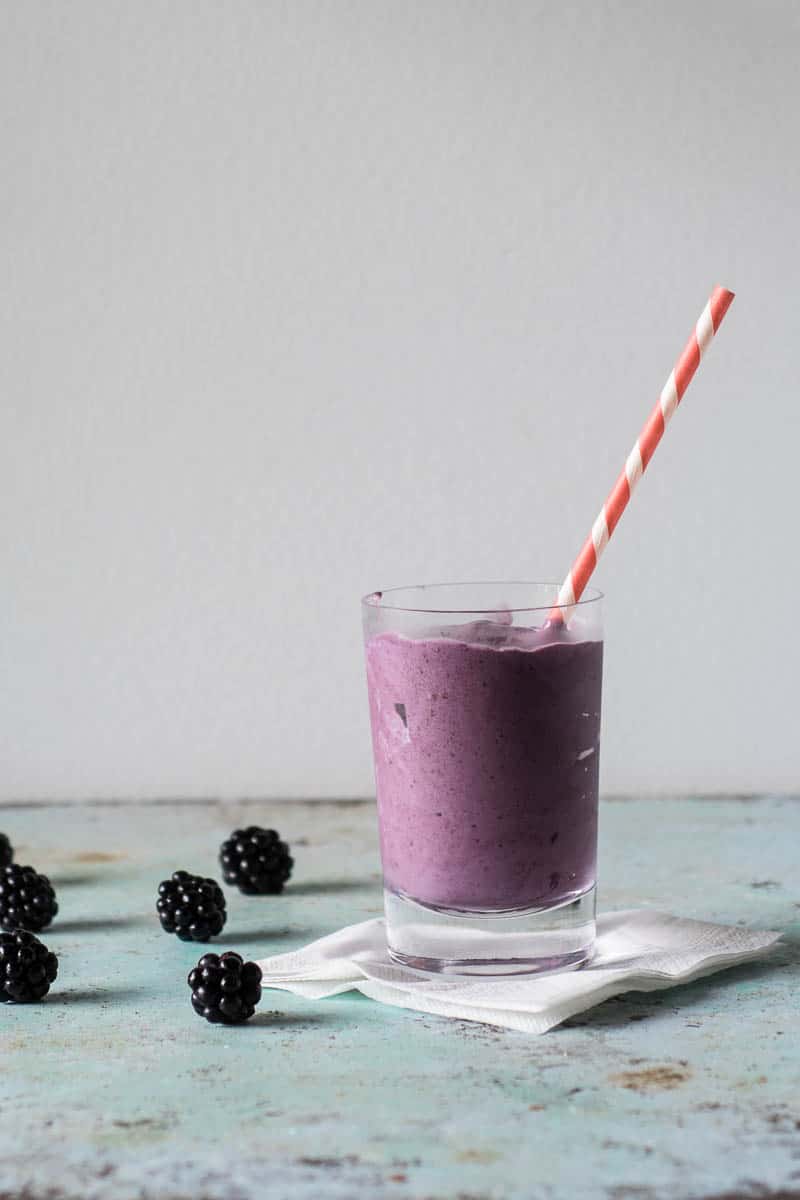 These two-ingredient blackberry milkshakes are incredibly easy to make. They're also incredibly flexible. You could easily make them with strawberries, raspberries, blueberries or cherries if you wanted. You don't need a fancy blender. You can make it in a Vitamix if you have one, but a stick blender will totally get the job done. Of course using the best berries you can find will make this better, but the vanilla ice cream will smooth out any minor imperfections in the berries. Use any vanilla ice cream you like. I tend to look for varieties that feature pronounceable ingredients, but the brand or style is entirely up to you.
Ingredients
2 cups (1 pint) blackberries
1 pint vanilla ice cream
Instructions
Puree the blackberries in a blender until they form a liquid.
Add the vanilla ice cream and blend until smooth.
Divide into glasses and serve.
Recommended Products
As an Amazon Associate and member of other affiliate programs, I earn from qualifying purchases.
Nutrition Information:
Yield:
2
Serving Size:
1
Amount Per Serving:
Calories:

335
Total Fat:

15g
Saturated Fat:

9g
Trans Fat:

0g
Unsaturated Fat:

5g
Cholesterol:

58mg
Sodium:

107mg
Carbohydrates:

45g
Fiber:

9g
Sugar:

35g
Protein:

7g