I may earn from purchases through links in this post.
There's something about baking in the morning in the summer. Something about the quiet. The gentle sunlight. The way that puttering around the kitchen gives me a sense of purposeful ease.
There's a tactile pleasure in it. And a tangible satisfaction in feeling like I've accomplished something so early, which lets me off the hook for the rest of the day. Enter the blackberry peach Dutch baby.
I love the combination of blackberries and peaches. Deep purple berries bright with acidity and yellow-orange peaches that bring their sweet nectar to the party.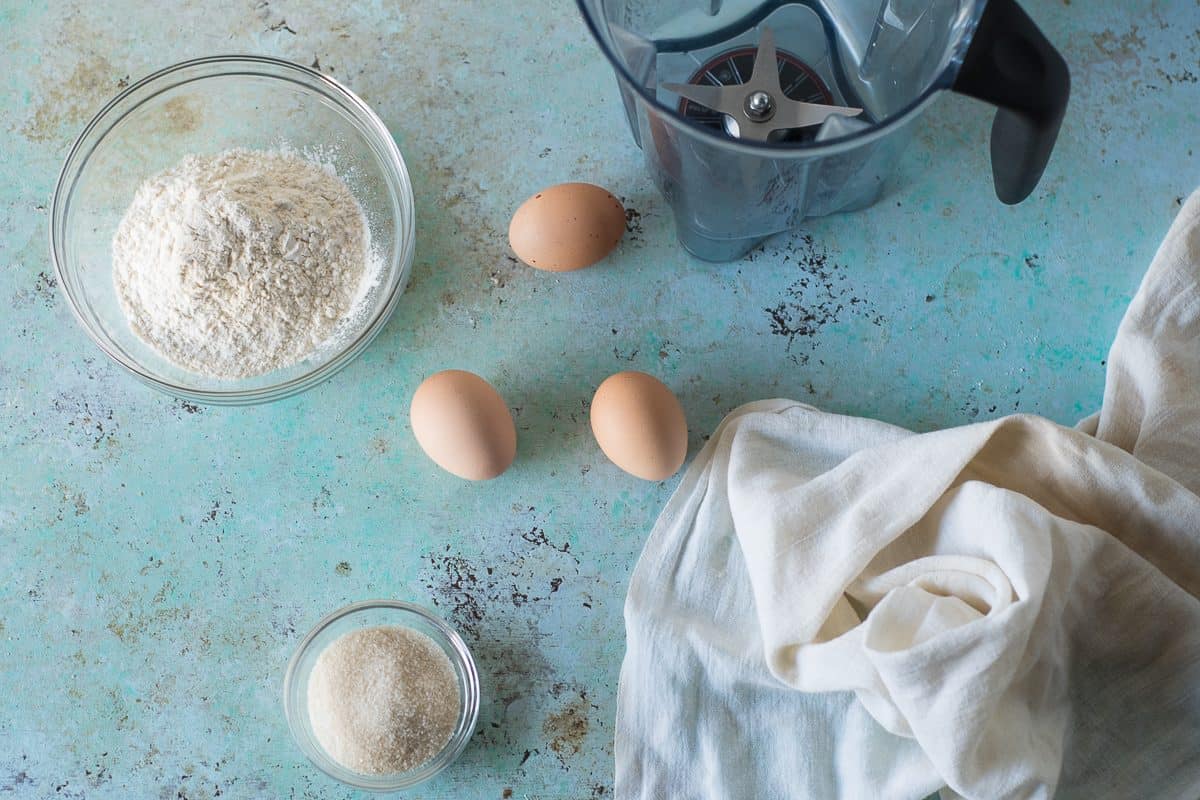 It's a combination I've often enjoyed in the fantastic bread pudding at M. Henry, a brunch spot in our neighborhood, and this blackberry peach Dutch baby is a bit like a lighter, easier version of that breakfast treat.
I have a soft spot for Dutch babies, which are sometimes called oven pancakes or Dutch baby bunnies or German pancakes.
Whatever you call them, they're one of the simplest ways to make a spectacular brunch.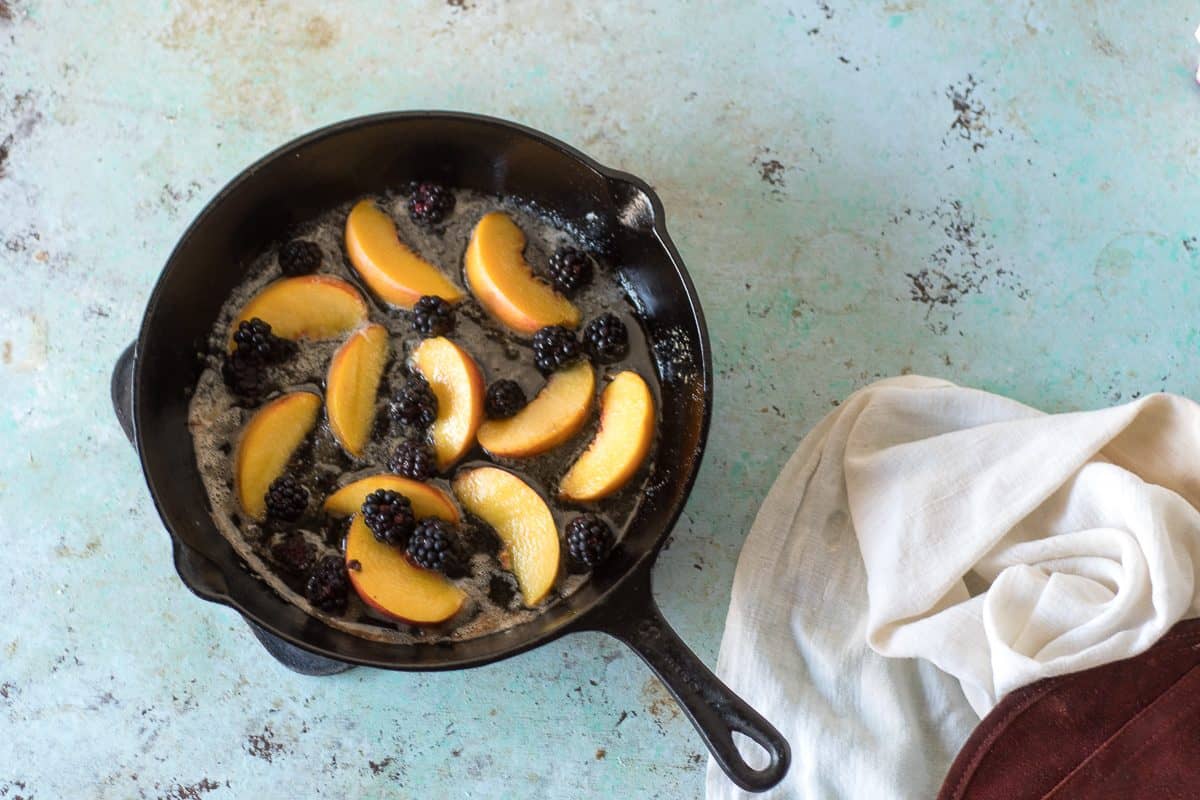 Heat the oven, melt some butter in a cast iron skillet, add some blackberries and sliced peaches and let them just barely saute on the stove while you blend eggs and flour and milk until frothy.
Then pour the batter over the fruit in the skillet, gently slide it into the oven, and wait for it to puff and turn golden.
Then watch it slump back down into the pan after it comes out of the oven.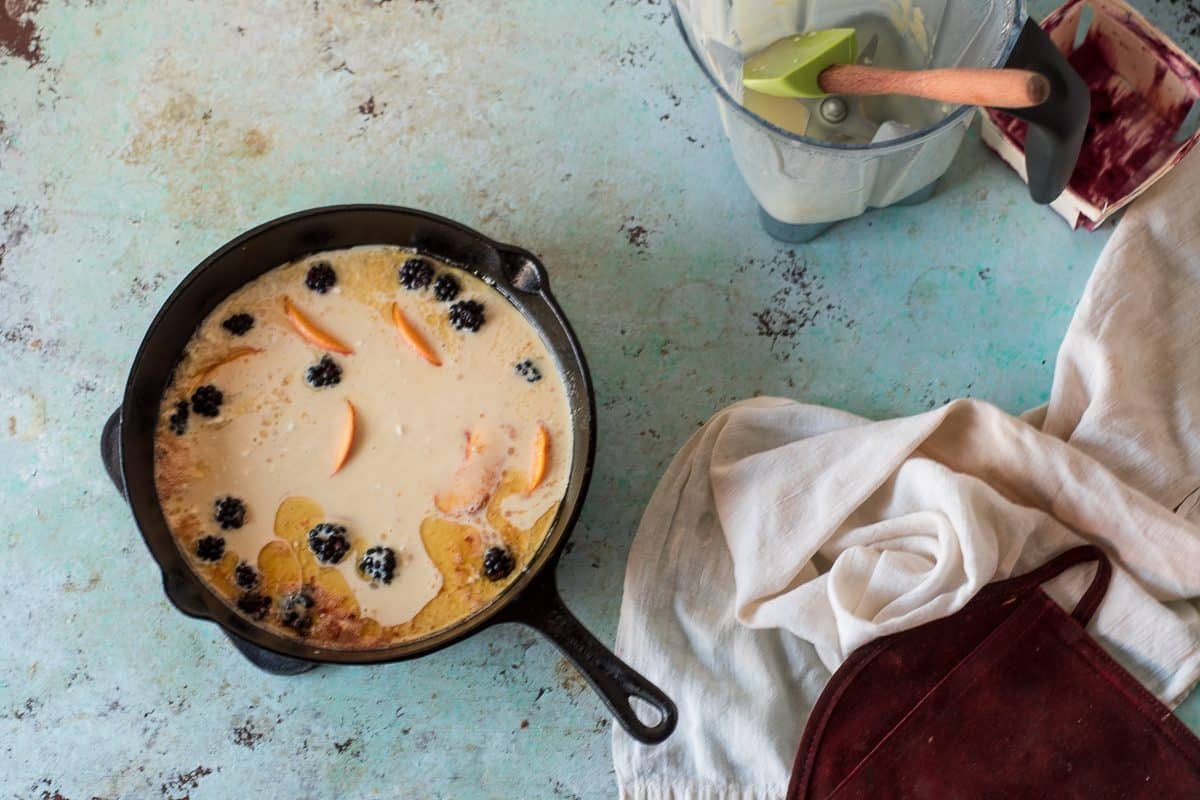 Dutch babies are incredibly flexible.
In the fall I often make them with apples, in winter I make a mean cranberry Dutch baby, and at other times of year I reach for whatever fruit is in season (or keeps well in the freezer).
They barely need any adornment, but I usually pour a little maple syrup over them anyway. They're also delightful dusted with powdered sugar.
Really, they just need to be sliced and served. And then devoured.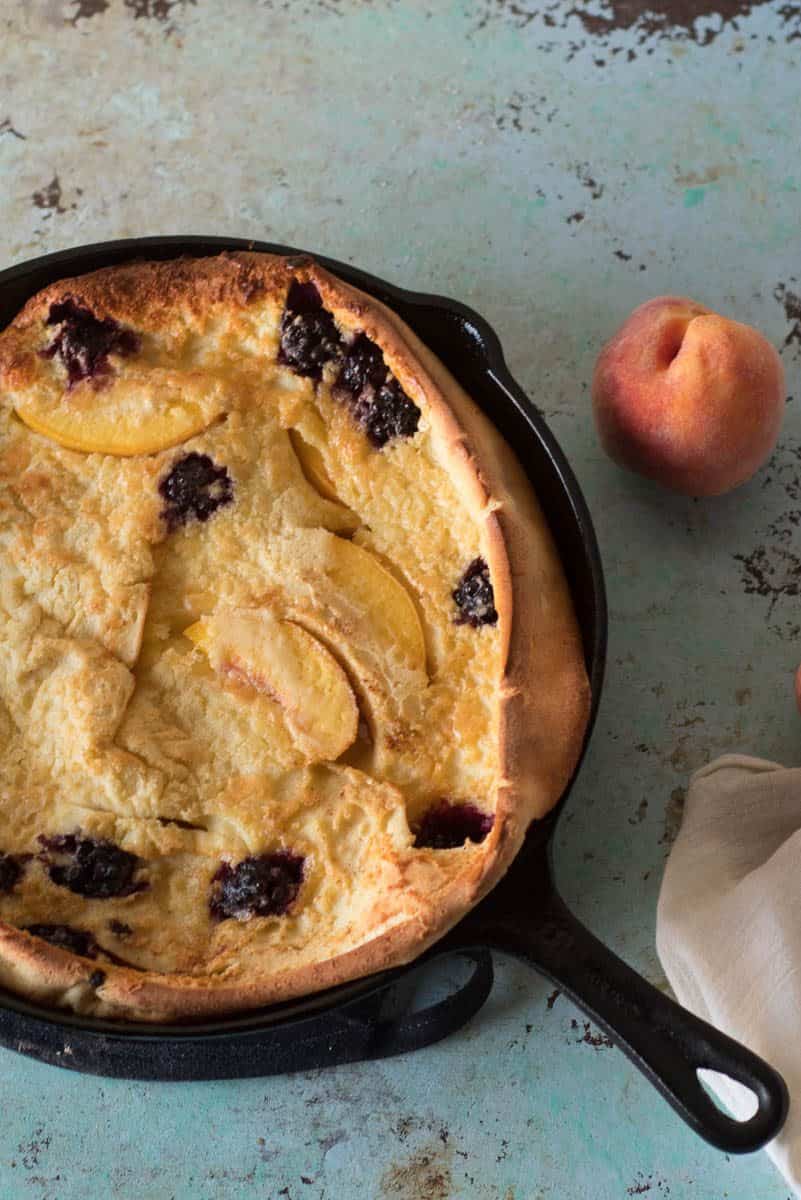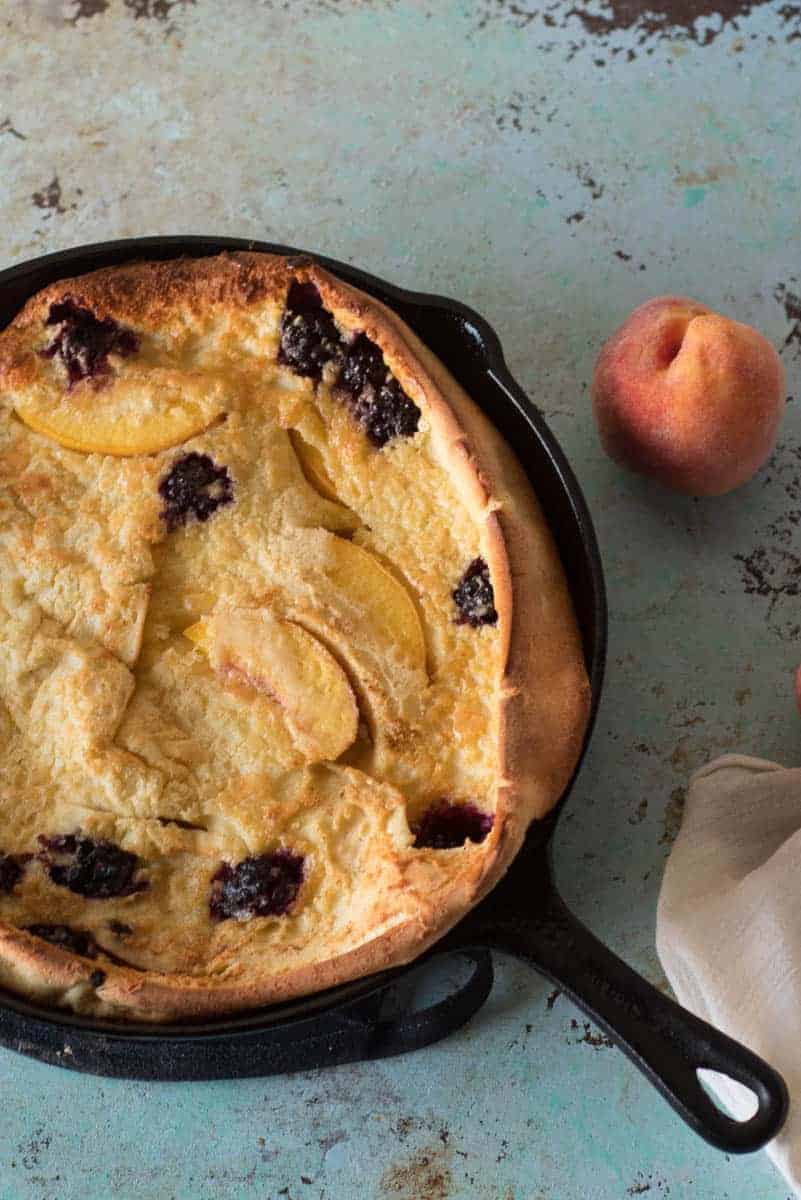 Yield: 4 servings
Blackberry Peach Dutch Baby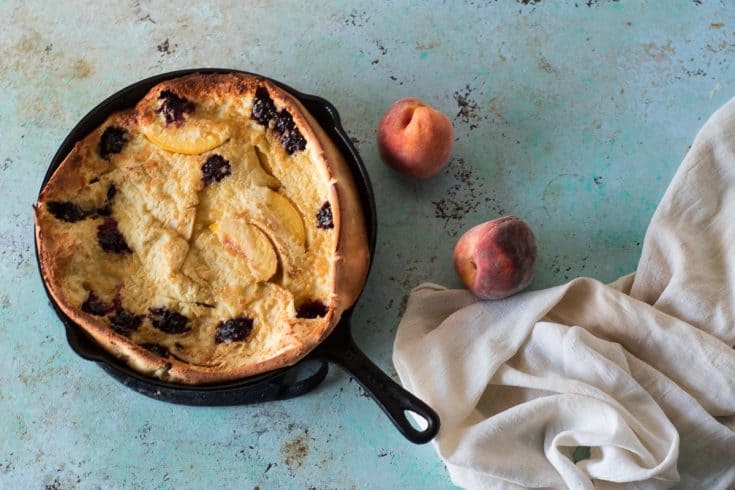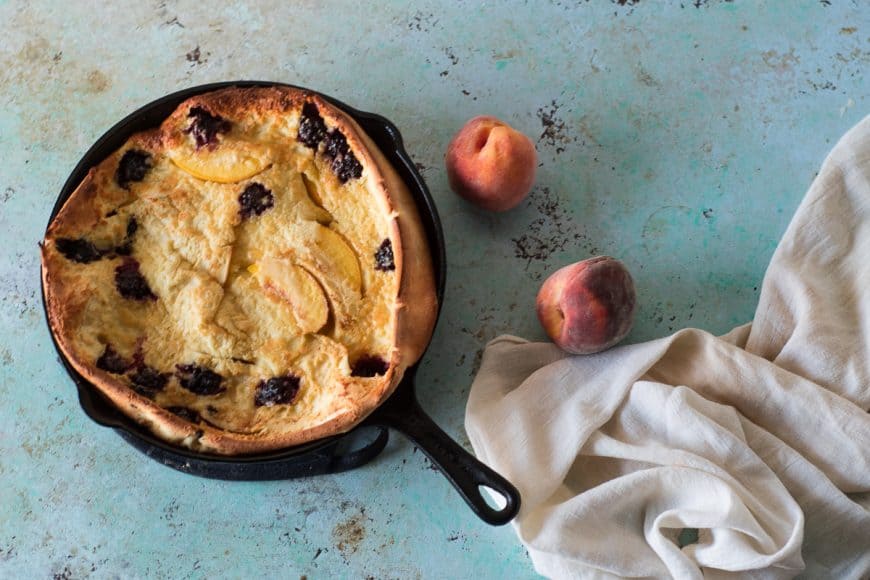 This Dutch baby is a puffy, eggy oven pancake. It works best in an 8 or 10-inch cast iron skillet, but will work in any similarly sized oven-safe skillet. Mixing the batter in the blender helps to whip the eggs into a light and airy froth that gives it more loft in the oven (you can also do this with a stick blender in a deep container). You can also mix it by hand, but you won't get the same amount of lightness and height (though it will still be delicious).
Ingredients
3 tablespoons unsalted butter
1 large or 2 medium peaches, sliced
1 cup blackberries
3 eggs
3/4 cup milk (preferably whole milk but low fat is fine)
3/4 cup all-purpose flour
1/4 cup sugar
1/2 teaspoon vanilla extract
1/4 teaspoon salt
Instructions
Preheat the oven to 425°F. Place butter in an 8 or 10-inch cast iron (or other oven-safe) skillet and heat on the stove over medium heat until melted. Add the peaches in a single layer, then sprinkle the blackberries over the peaches, and let saute for a couple of minutes.
Meanwhile, add the eggs, milk, flour, sugar, vanilla, and salt to a blender and blend until frothy, about a minute.
Pour the batter over the fruit in the skillet and carefully transfer to the stove.
Bake until puffy and golden, about 20 minutes.
It will begin to collapse as soon as it comes out of the oven (don't worry about it). Slice into wedges, drizzle with maple syrup or sprinkle with powdered sugar, and serve.
Recommended Products
As an Amazon Associate and member of other affiliate programs, I earn from qualifying purchases.
Nutrition Information:
Yield:
4
Serving Size:
1
Amount Per Serving:
Calories:

371
Total Fat:

16g
Saturated Fat:

8g
Trans Fat:

0g
Unsaturated Fat:

6g
Cholesterol:

172mg
Sodium:

238mg
Carbohydrates:

47g
Fiber:

4g
Sugar:

24g
Protein:

12g