It's been hard to focus on food when I feel like the world is falling apart around me. While I'm old enough to have lived through administrations of both parties and have witnessed presidents I've found inspiring, disappointing and sometimes a bit of both, I've never before felt panicked about the future of our country. The doomsday clock has moved closer to midnight. We have a president who is more concerned about the size of his inauguration crowds than he is about committing war crimes. A president who wants to spend $14 billion on a border wall when illegal crossings are at a 40 year low. A president who either has delusional beliefs about imaginary voter fraud or who has no compunctions about repeatedly lying about it and whose allies will use this obvious falsehood as cover to disenfranchise more–primarily minority–voters. A president whose conflicts of interest are far from resolved. A president who doesn't appear to understand the average two-year vetting process that refugees already undergo before they can enter this country and who has moved in an executive order to block the majority of Muslims from any opportunity to come here. A president who rejects the overwhelming consensus of the scientific community on climate change and has ordered the EPA to submit their studies for review by political appointees before they can be released. And I'm not even halfway through the things that have upset me this week.
I'm an unabashed liberal, but this isn't just about political disagreements. I did not feel this way under George W. Bush, a president who got us into a war that should never have been waged but who I thought was, fundamentally, a decent man, if a misguided one. Donald Trump is crass, delusional, and egomaniacal and cannot even muster the veneer of respect for women or people of color, and I've never heard a story of him doing anything compassionate, selfless or kind. This feels like a threat to our core values as a nation.
I was part of the peaceful Women's March last Saturday here in Chicago. And it was the best I had felt about the future since November 8. But that feeling of inspirational uplift has turned back to frustration and anger. I call my representatives regularly. And I continue to look for ways to make our country more just. If you don't agree, that's your right. But, oh, I find this stuff hard.
And so I want to offer some comfort food here. Here, have a cranberry Dutch baby.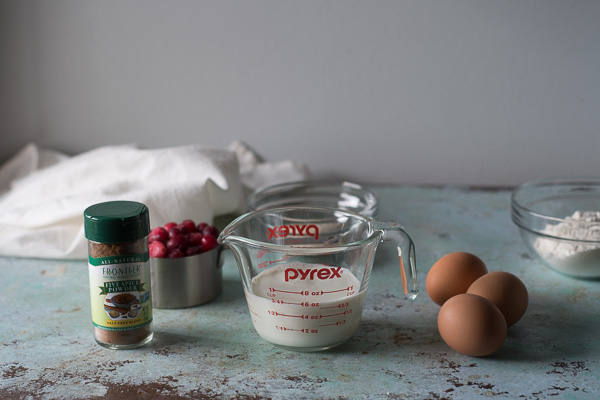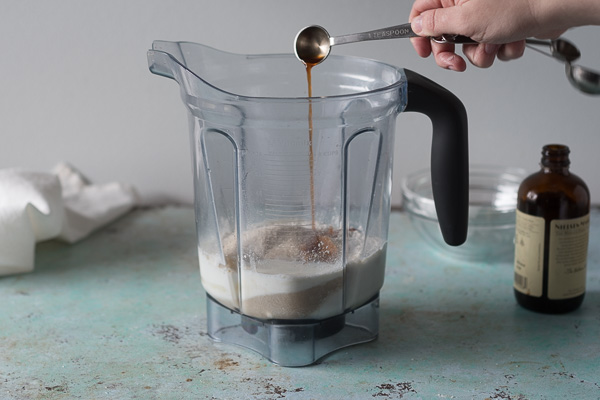 This one is scented with Chinese five spice (which is a quintet of baking spices: cinnamon, fennel, cloves, star anise, and white pepper). It's studded with bright, juicy, jewel-toned cranberries. It comes together in about five minutes and in the oven it puffs up in the most beautiful undulating golden ripples.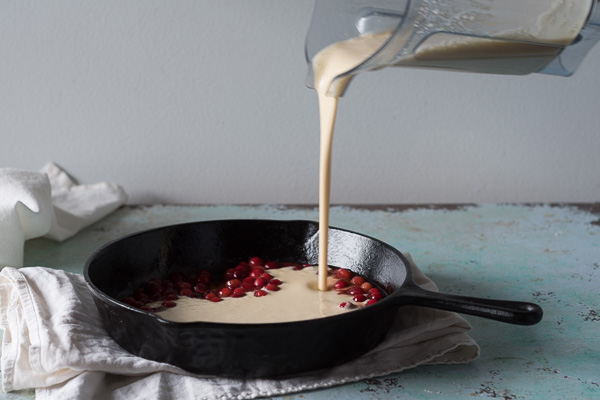 With a dusting of powdered sugar or a simple pour of maple syrup, it is just about the perfect breakfast for days like these. Overwhelmingly cold ones.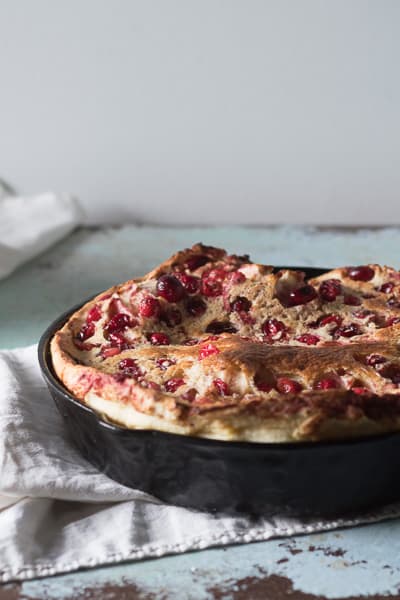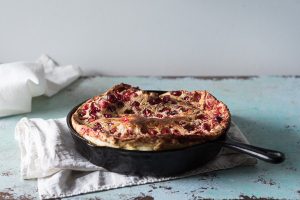 Print
Five Spice Cranberry Dutch Baby
This Dutch baby is a puffy, eggy oven pancake. It works best in an 8 or 10-inch cast iron skillet, but will work in any similarly sized oven-safe skillet. Mixing the batter in the blender helps to whip the eggs into a light and airy froth that gives it more height in the oven (you can also do this with a stick blender in a deep container). You can also mix it by hand, but you won't get the same amount of loft (but it will still be delicious). You can use fresh or frozen cranberries here. Because this is breakfast, I keep the sweetness in check. The tart cranberry flavor still comes through, but if you have a sweet tooth you can add more syrup or powdered sugar at the end. Chinese five spice, which contains cinnamon, fennel, cloves, star anise, and white pepper is a great spice blend to have in your baking arsenal. I think it pairs beautifully with the cranberries here.
Ingredients
3

tablespoons

unsalted butter

1

cup

cranberries

(fresh or frozen)

1/2

teaspoon

Chinese five spice

3

eggs

3/4

cup

milk

(preferably whole milk, but lowfat works too)

3/4

cup

all-purpose flour

1/3

cup

sugar

1

teaspoon

vanilla extract

1/4

teaspoon

salt
Instructions
Preheat oven to 425°F. Place butter in an 8 or 10-inch cast iron (or other oven-safe) skillet and heat on the stove over medium heat until melted. Add the cranberries and five spice in a single layer and let saute for a couple of minutes until fragrant and warmed through.

Meanwhile, add the eggs, milk, flour, sugar, vanilla, and salt to a blender and blend until frothy, about a minute.

Pour the batter over the fruit in the skillet and carefully transfer to the stove.

Bake until puffy and golden, about 20 minutes.

It will begin to collapse as soon as it comes out of the oven (don't worry about it). Slice into wedges, drizzle with maple syrup or sprinkle with powdered sugar, and serve.