I may earn from purchases through links in this post.
Here, have a cranberry Dutch baby.
I love a good oven pancake for breakfast. The most common versions involve apples. And those are lovely.
But sometimes you want to branch out.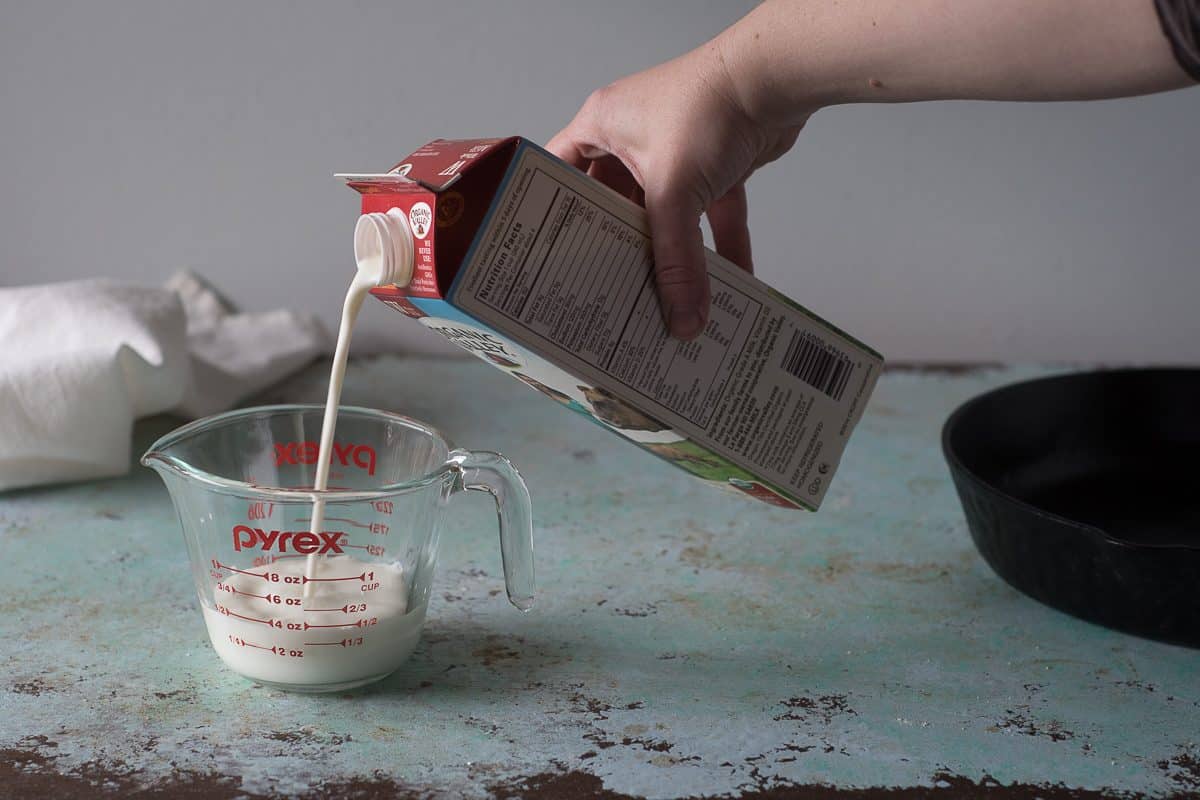 In the summer, I make a Dutch baby with peaches and blackberries. In winter, I turn to other flavors.
This one is scented with Chinese five spice (which is a quintet of baking spices: cinnamon, fennel, cloves, star anise, and white pepper).
Five spice is often used in savory dishes, but it has so many warm baking spice notes that it works really well with fruit.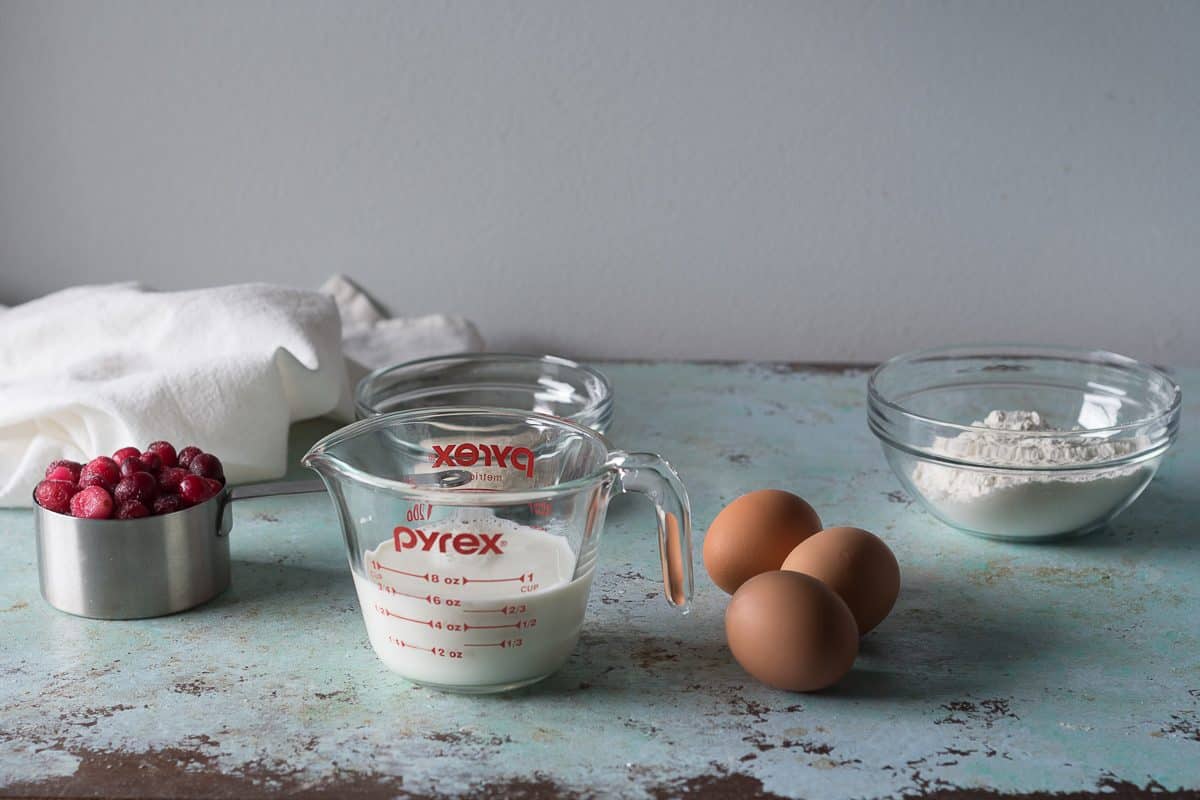 You could just use cinnamon if you don't happen to have five spice around, but there's something lovely and unexpected about the blend of spices that takes this one up a notch.
It's studded with bright, juicy, jewel-toned cranberries.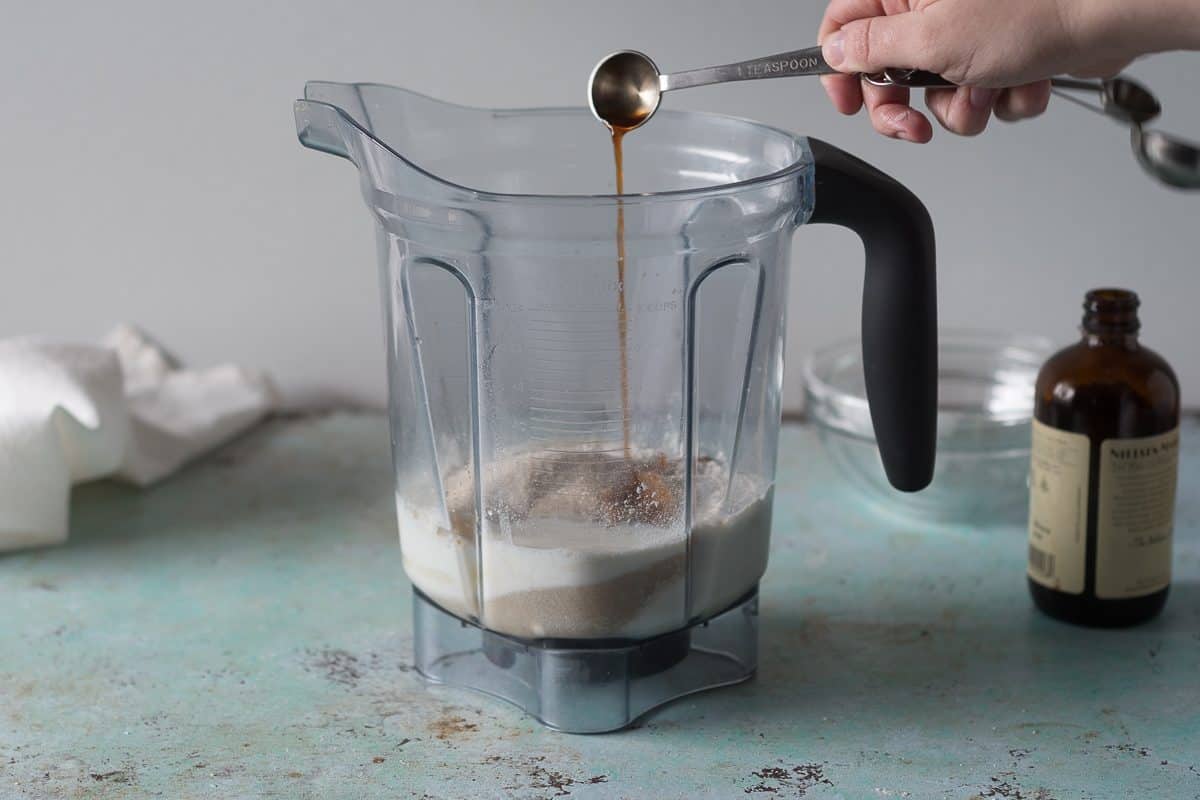 Cranberries are one of winter's treasures.
I love using them in everything from smoothies to tarts. They bring color that's so often lacking in the cold months, and I love the acidity they bring to a dish.
In terms of effort-to-reward, it's tough to beat the ratio on this one. The whole thing comes together in about five minutes. The cranberries and spices get heated in cast iron skillet in some butter until the kitchen smells heavenly.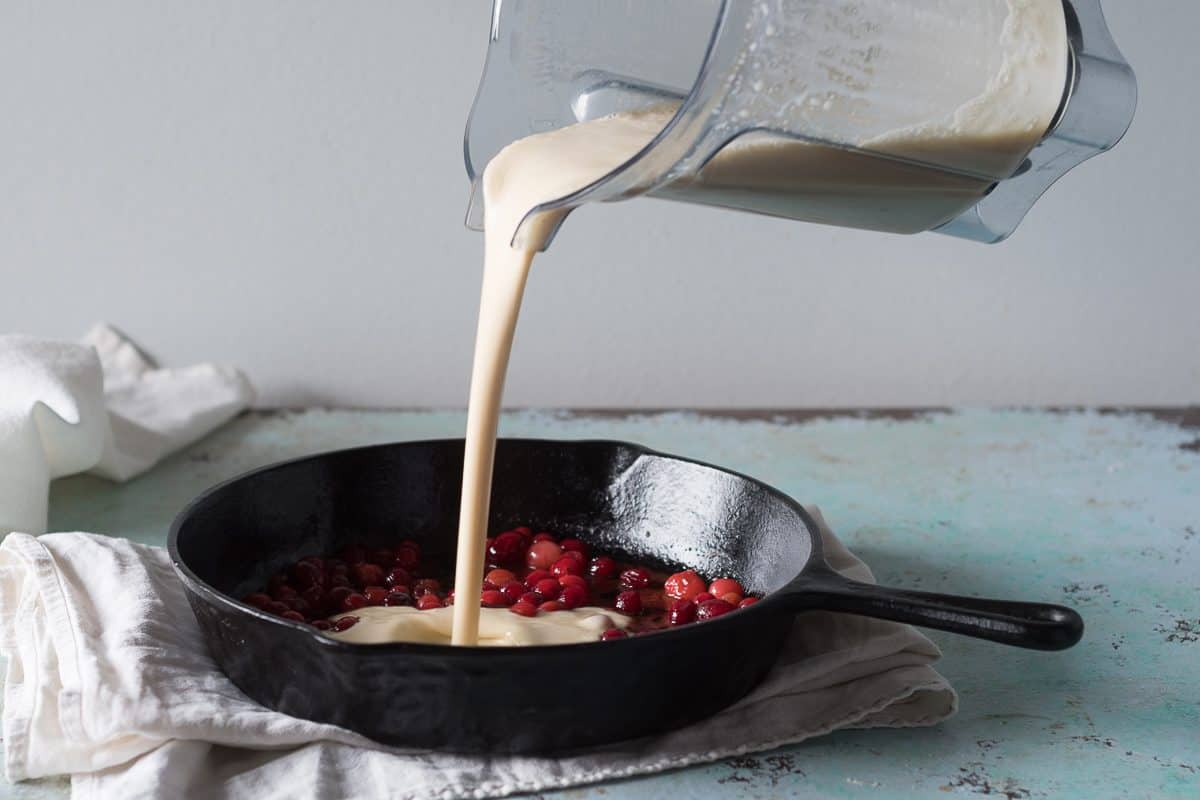 Then everything else gets whizzed up in a blender to aerate the batter and give it loft.
Then the batter gets poured into the hot cast iron skillet over the warm cranberries.
In the oven it puffs up in the most beautiful undulating golden ripples.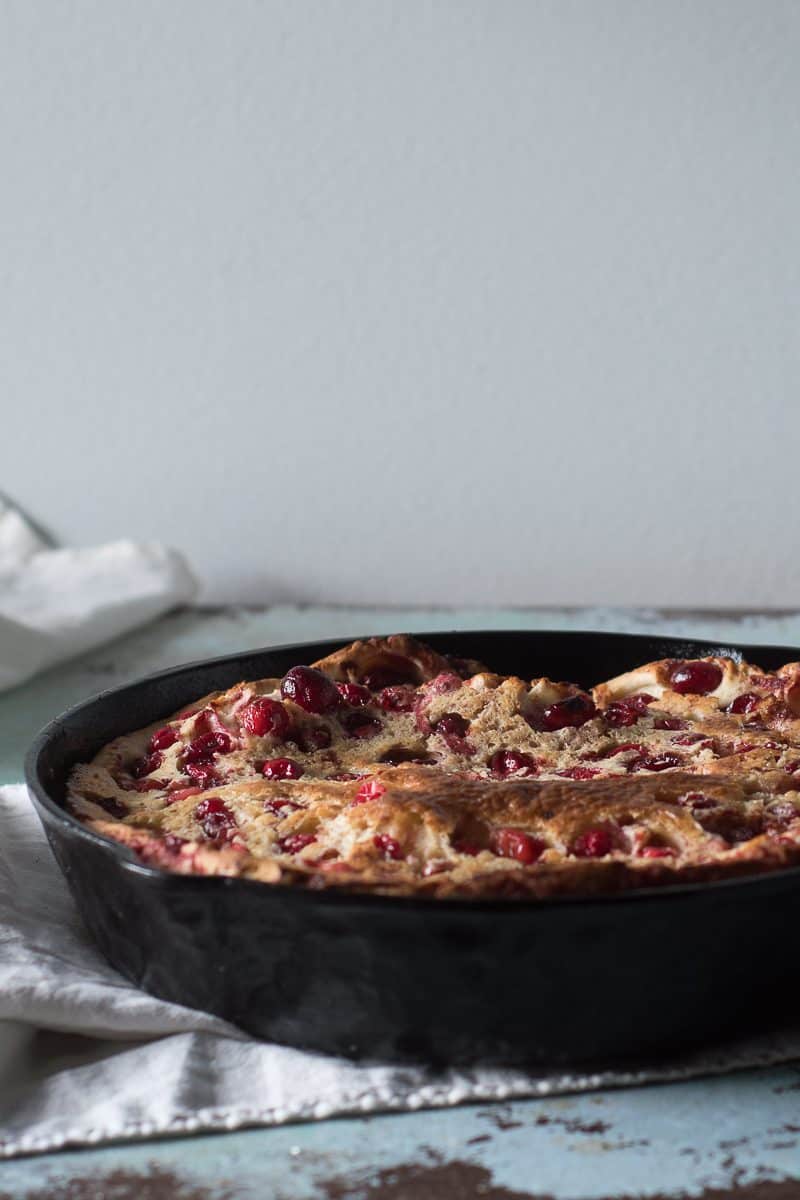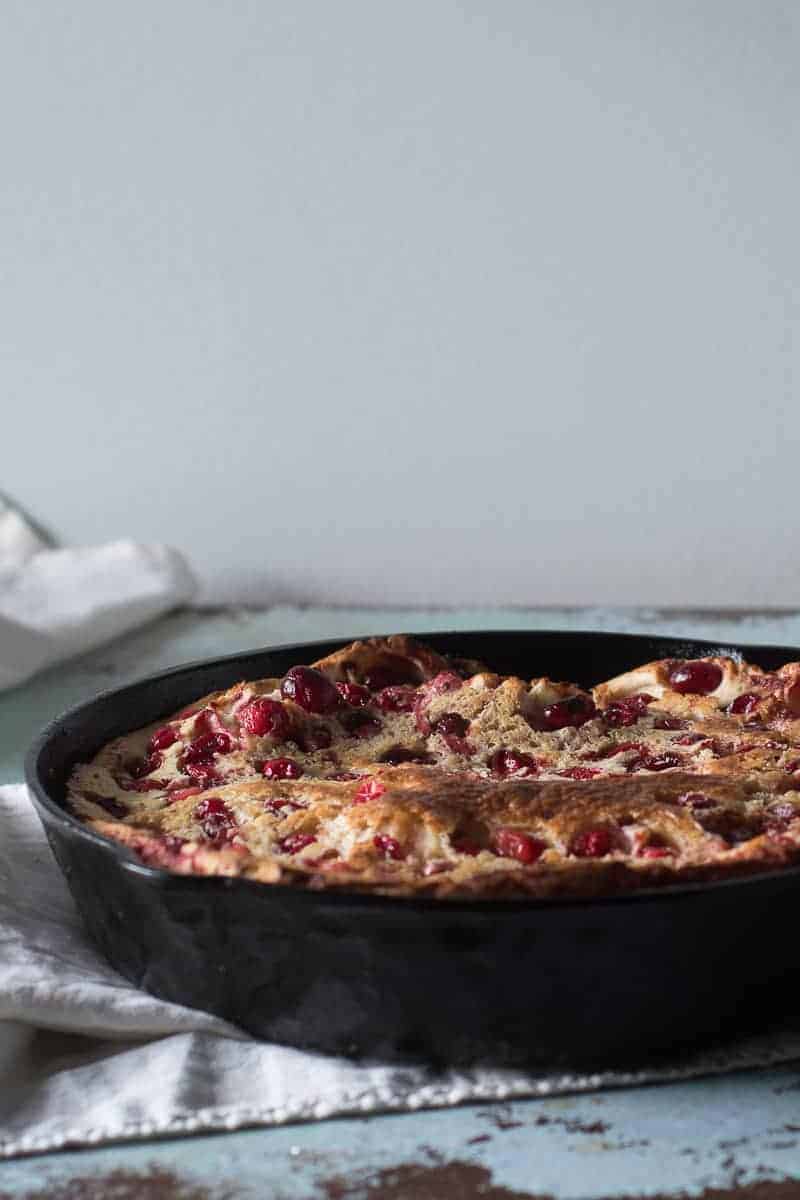 With a dusting of powdered sugar or a simple pour of maple syrup, it is just about the perfect breakfast for cold winter mornings.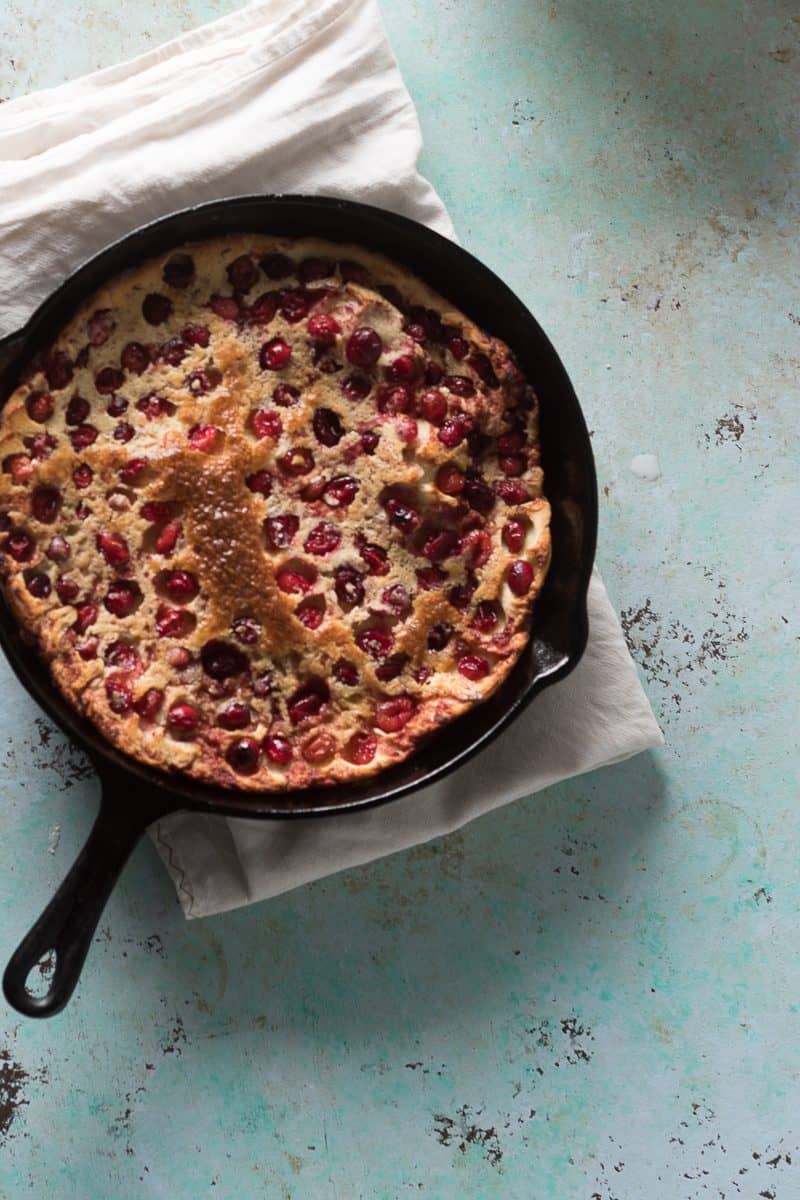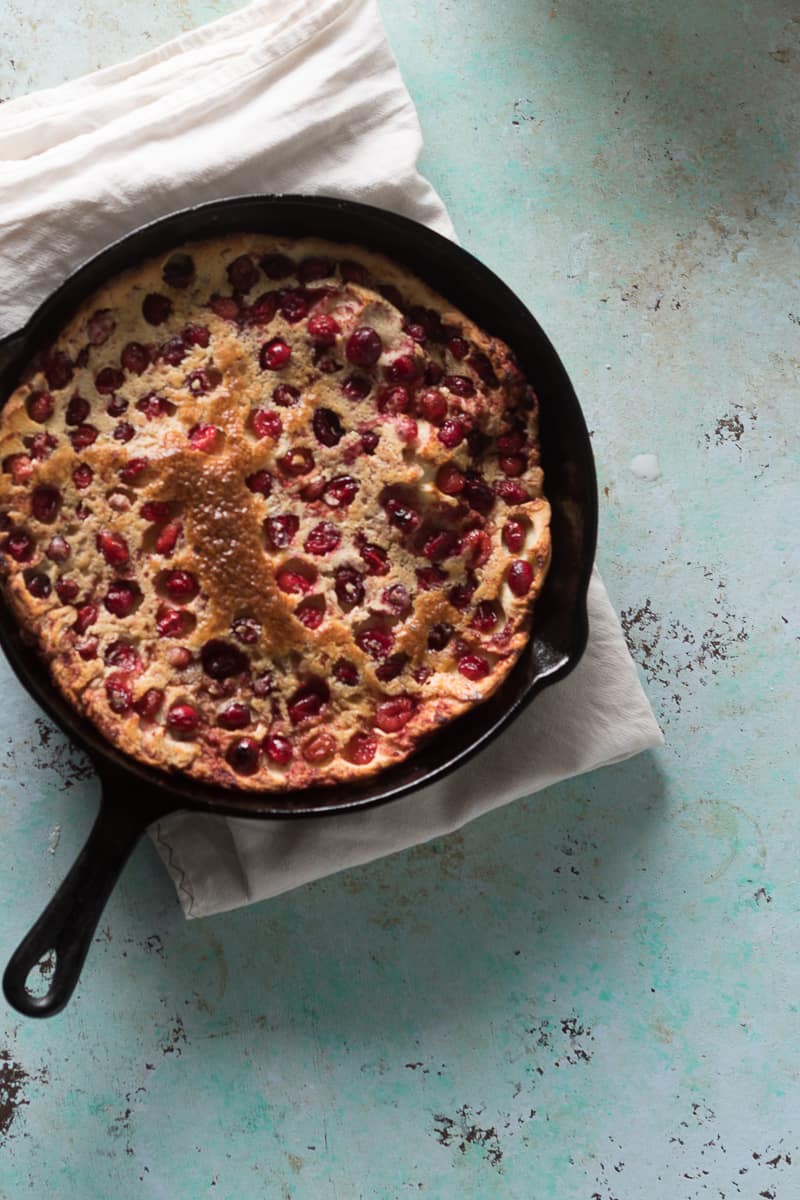 Yield: 4 servings
Five Spice Cranberry Dutch Baby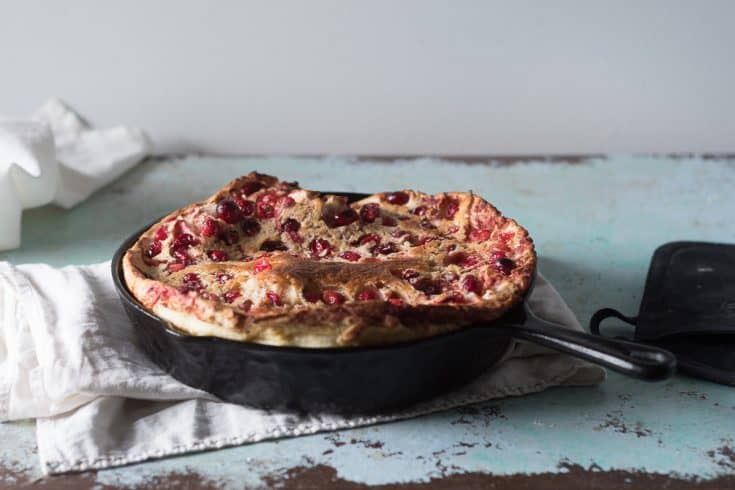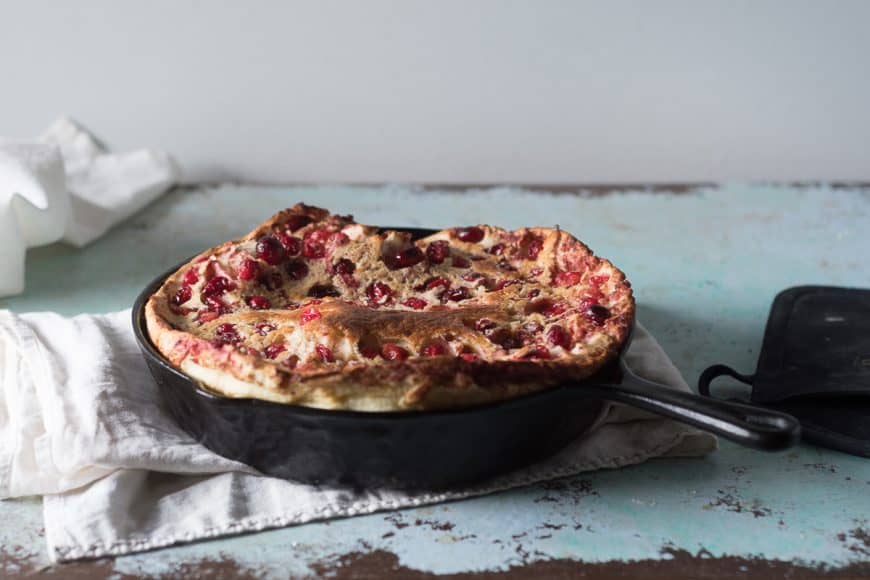 This Dutch baby is a puffy, eggy oven pancake. It works best in an 8 or 10-inch cast iron skillet, but will work in any similarly sized oven-safe skillet. Mixing the batter in the blender helps to whip the eggs into a light and airy froth that gives it more height in the oven (you can also do this with a stick blender in a deep container). You can also mix it by hand, but you won't get the same amount of loft (but it will still be delicious). You can use fresh or frozen cranberries here. Because this is breakfast, I keep the sweetness in check. The tart cranberry flavor still comes through, but if you have a sweet tooth you can add more syrup or powdered sugar at the end. Chinese five spice, which contains cinnamon, fennel, cloves, star anise, and white pepper is a great spice blend to have in your baking arsenal. I think it pairs beautifully with the cranberries here.
Ingredients
3 tablespoons unsalted butter
1 cup cranberries (fresh or frozen)
1/2 teaspoon Chinese five spice
3 eggs
3/4 cup milk, (preferably whole milk, but lowfat works too)
3/4 cup all-purpose flour
1/3 cup sugar
1 teaspoon vanilla extract
1/4 teaspoon salt
Instructions
Preheat oven to 425°F. Place butter in an 8 or 10-inch cast iron (or other oven-safe) skillet and heat on the stove over medium heat until melted. Add the cranberries and five spice in a single layer and let saute for a couple of minutes until fragrant and warmed through.
Meanwhile, add the eggs, milk, flour, sugar, vanilla, and salt to a blender and blend until frothy, about a minute.
Pour the batter over the fruit in the skillet and carefully transfer to the stove.
Bake until puffy and golden, about 20 minutes.
It will begin to collapse as soon as it comes out of the oven (don't worry about it). Slice into wedges, drizzle with maple syrup or sprinkle with powdered sugar, and serve.
Recommended Products
As an Amazon Associate and member of other affiliate programs, I earn from qualifying purchases.
Nutrition Information:
Yield:
4
Serving Size:
1
Amount Per Serving:
Calories:

356
Total Fat:

15g
Saturated Fat:

8g
Trans Fat:

0g
Unsaturated Fat:

6g
Cholesterol:

172mg
Sodium:

238mg
Carbohydrates:

43g
Fiber:

2g
Sugar:

21g
Protein:

11g