We've been getting ready for a move. I have yet to meet anyone who actually enjoys the process of moving. I can't wait to have more space, another bathroom, a walk-in closet, a big deck, a washer and dryer, and a bigger nicer kitchen, but, oof, getting from here to there involves so much tiring, tedious packing and sorting, so much interruption from routine, so much evaluating of the stuff we carry with us from place to place.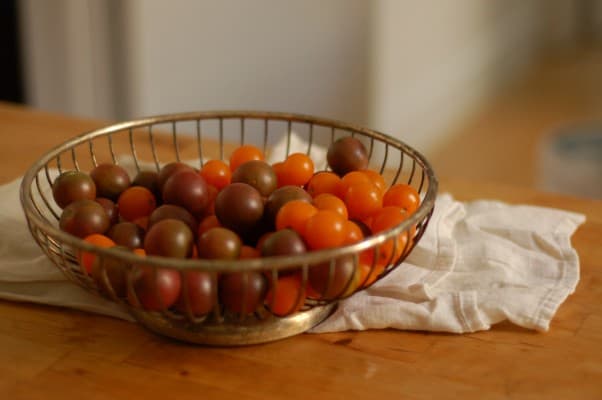 Our office is piled high with boxes. Our bookshelves are nearly bare. I've carried more than a dozen bags of donations to The Brown Elephant. We've thrown out and recycled stacks of magazines, shoes with holes worn clear through the soles, old towels, permanently unmatched socks, bits and bobs of ephemera and detritus. We've discovered that we have two crates filled with CDs that we haven't touched in the entire time we've lived here.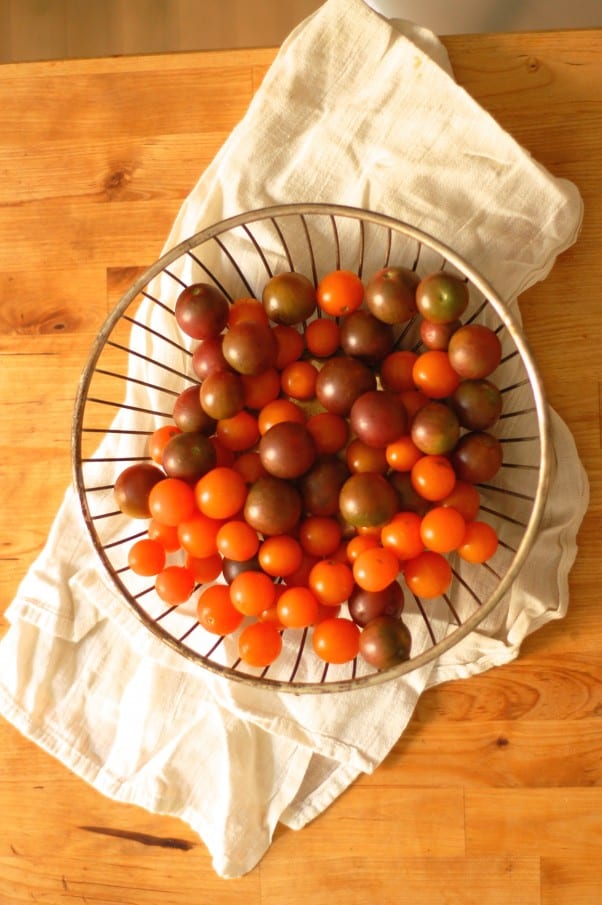 Dismantling a home is work. We still have a month until the movers come, and we're only moving a few blocks away, and still, I find myself exhausted when I think about how much we have left to do before we leave this apartment behind.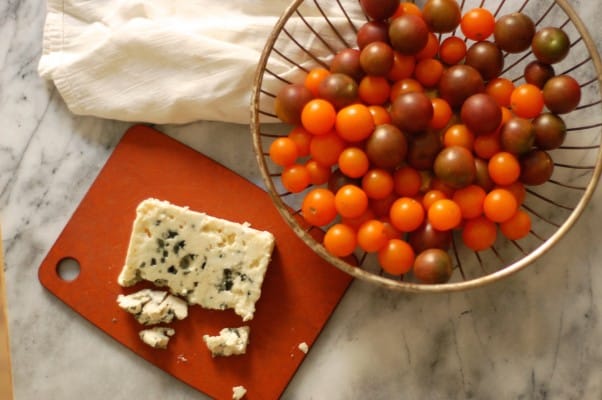 We've had to maintain the illusion of a well-ordered home while we've shown the apartment to prospective renters who can take over our lease. It's been lots of vacuuming and dusting and wiping away the toothpaste stains and vigilance about making sure the dirty dishes are out of sight in the dishwasher or cleaned and dried and put away. It's been making sure the counters are clear and the kitchen sink is gleaming and the stove top is scrubbed free of stains.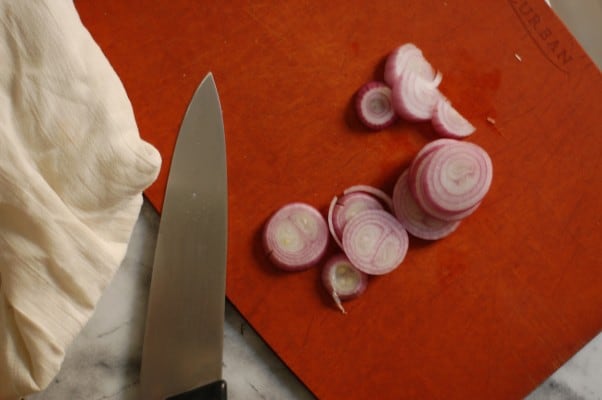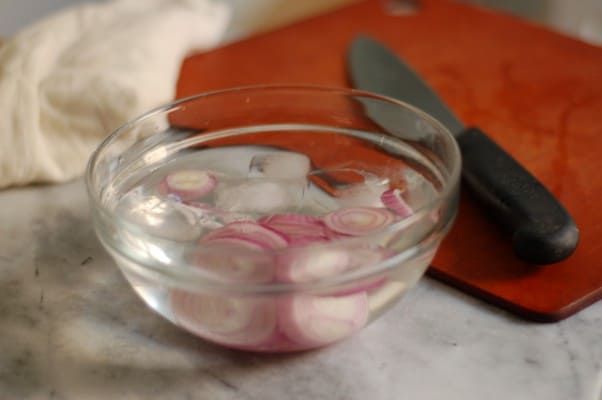 We only showed it for about a week (fingers-crossed that the renters who applied for the apartment are approved) and it makes me wonder how people whose homes are on the market for months put up with it.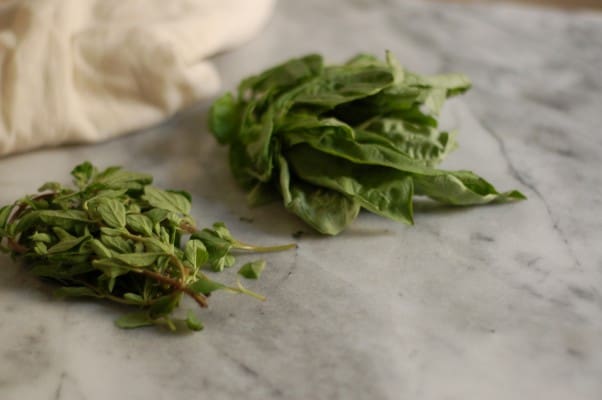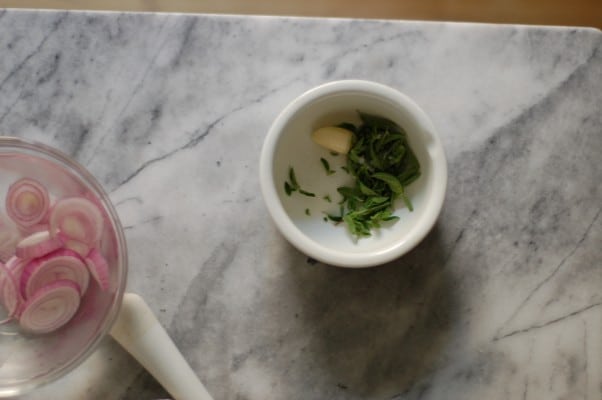 It makes it hard to do much cooking, especially anything complicated or time consuming. We've done more ordering takeout than usual. But I hate to miss out on the late summer produce that's so plentiful this time of year. Which is why I've increasingly relied on simple meals like this tomato salad.
It comes from Suzanne Goin's Sunday Suppers at Lucques, which is one of my favorite cookbooks for seasonal cooking with an easy elegance.
It's a salad without lettuce or field greens, and it's not for the faint of heart. Goin says it is based on a classic steakhouse salad, but I'll admit I've spent little time in steakhouses and had never seen this on a menu that I can recall. I think of it as caprese salad's brash cousin. The tomatoes and the basil are the same, but instead of mozzarella there's bold blue Roquefort cheese and slices of red onions that have been soaked in ice water to amplify their crunch and remove their sting. It's all tossed in a vinaigrette made from bashed up garlic and oregano with both red wine and balsamic vinegar and some high quality olive oil.
It packs a wallop. I can see how it would stand up to steak or any big flavored protein, but we had it for a meal all by itself.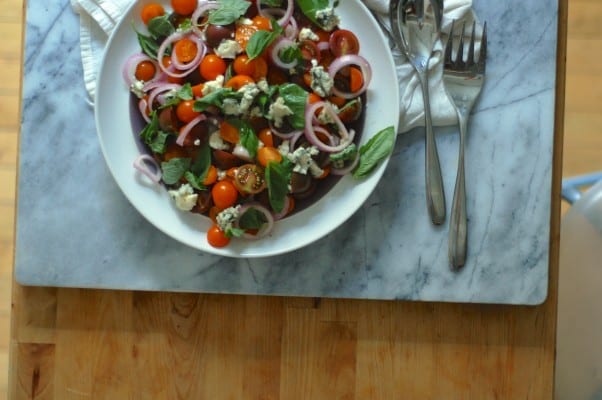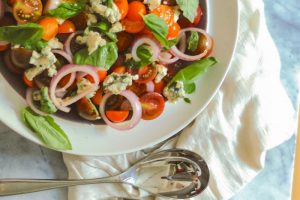 Print
Tomato, Roquefort and Red Onion Salad
This is a bold flavored salad for people who love both tomatoes and blue cheese. I've simplified the method here so that the salad is tossed rather than carefully arranged on a plate. Goin uses Early Girl tomatoes, but I've opted for a mix of cherry tomatoes, which only need to be halved and can stand up to tossing better than big tomato slices can. The red onion here provides a wonderful crunch, and after soaking in ice water and getting squeezed with lemon, it gets noticeably mellower than a typical raw onion. The vinaigrette gets its flavor from both red wine and balsamic vinegars, garlic and fresh oregano, and olive oil. It's worth it to spring for a good quality olive oil here. If you have another favorite blue cheese, you can use that instead of Roquefort.
Ingredients
1

tablespoon

oregano leaves

1/2

clove

garlic

1

tablespoon

red wine vinegar

1/2

tablespoon

balsamic vinegar

3

tablespoons

extra-virgin olive oil

1

small red onion or 1/2 a medium red onion

(I used a sweet tropea onion)

1 1/4

pounds

cherry tomatoes

halved

1

teaspoon

flaky sea salt

or 1/2 teaspoon kosher salt

1/2

lemon

2 1/2

ounces

Roquefort blue cheese

small handful fresh basil

kosher salt and freshly cracked black pepper
Instructions
Peel the onion and slice into 1/4-inch-thick rings. Soak the rings in a bowl of ice water for about 10 minutes. This will keep the crisp while mellowing the harsh raw onion flavor.

In a mortar, pound the oregano, garlic, and 1/4 teaspoon salt until they form a paste. Transfer to a small mixing bowl and stir in the red wine and balsamic vinegars and whisk in the olive oil.

Drain the onions, add them to a large mixing bowl and squeeze the lemon over them and sprinkle them with salt and teaspoon of vinaigrette. Sprinkle the halved cherry tomatoes with sea salt and black pepper and add them to the bowl. Cut the cheese into rough 1/4- to 1/2-inch chunks. Add the vinaigrette and toss until the salad is coated. Tear the basil into pieces and sprinkle it over the salad. Serve immediately.