I may earn from purchases through links in this post.
These summer salads are in constant rotation in my kitchen in the warmer months. Some of these are appropriate during winter and fall, several can be made ahead and are great for parties and cookouts, and some are gluten free or vegan.
They take advantage of the glorious bounty of produce that is available during the warmer months, and they are all welcome on a hot day.
I know it's easy to get burned out making the same green salad over and over again, and sometimes figuring out how to add more fresh vegetables to your diet day after day feels like a chore. But honestly, a great salad is a thing of beauty.
Great salads have a few things in common. And my first piece of advice is always to step away from the pre-bottled dressing. Seriously. It's easy.
You can do something as simple as squeezing some fresh lemon juice and drizzling on some extra virgin olive oil and sprinkling on a little flaky sea salt.
Or you can whisk up a simple red wine vinaigrette with a ratio of 1 part vinegar to 3 parts olive oil (you can tweak the ratio to your liking, but this is a good place to start).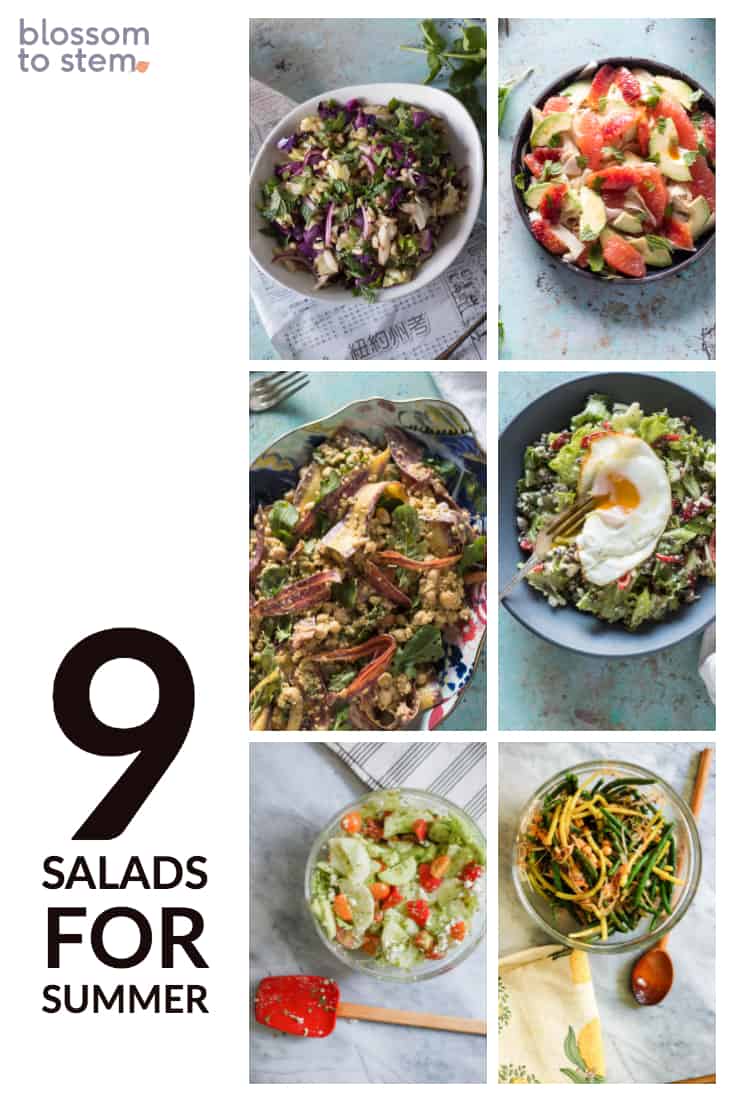 If you want to get fancy with it, add in some finely minced shallot and let it sit with the vinegar for 10 minutes, and then, if you like, add in a little bit of Dijon mustard which brings some savoriness, heat and emulsifying power to the mix.
If something creamier is more your style, you go for a buttermilk dressing, like the one I use on this sugarsnap pea and farro bowl. If you like herbaceous flavors, try this basil vinaigrette (which I put on everything). Or you can go crazy and make your own caesar salad dressing. Or go a vegan-friendly route with a miso-ginger dressing.
If you are making a leafy salad, it's also important to dress your salad lightly and with care.
Put the washed greens in a big salad bowl, add a little bit of dressing and stick your impeccably clean hands in that bowl and toss the greens gently to coat them with the dressing. (Your hands are seriously the best tool for this job–tongs and forks will just bruise tender lettuces and won't give you the same control.)
Other than taking a few minutes to make your own dressing. It's helpful to think about building a salad that has a variety of textures–especially something with a nice crunch–which can be anything from a wedge of iceberg lettuce to some shaved fennel to a slice of cucumber to a crouton.
It's also good to include something savory. That can be a bit of cheese, some beautifully ripe tomatoes, a bit of bacon, or some miso or anchovies in the dressing.
It can be nice for your salad to have a rich component, which might be the same as your savory component, like a bit a cheese, but it could also some sliced avocado or a sprinkling of Marcona almonds.
And make sure you add some salt! If you're using salty components like feta or olives or anchovies or miso, you probably don't need to add extra salt, but if you want the flavor of a tomato or a slice of cucumber to really sing, sprinkle on some salt!
9 Great Summer Salads
These salads all work beautifully for summer. If you're tasked with bringing a side dish to a cookout or are just looking for more ways to enjoy summer's bounty of produce, you'll find inspiration here. You'll find leafy green salads, shaved salads, and even a couple with quinoa if you're looking for some heartier fare!