I may earn from purchases through links in this post.
When you're looking for food that delivers on pure comfort, it's tough to beat a soft and chewy oatmeal raisin cookie.
I know, I know. Raisins are controversial.
And you could, of course, swap in chocolate chips or dried cherries or any number of other mix-ins. But if you're not deeply raisin-averse, maybe just a little raisin-skeptical, I encourage you to stick with them here.
Oatmeal raisin cookies are a classic for a reason.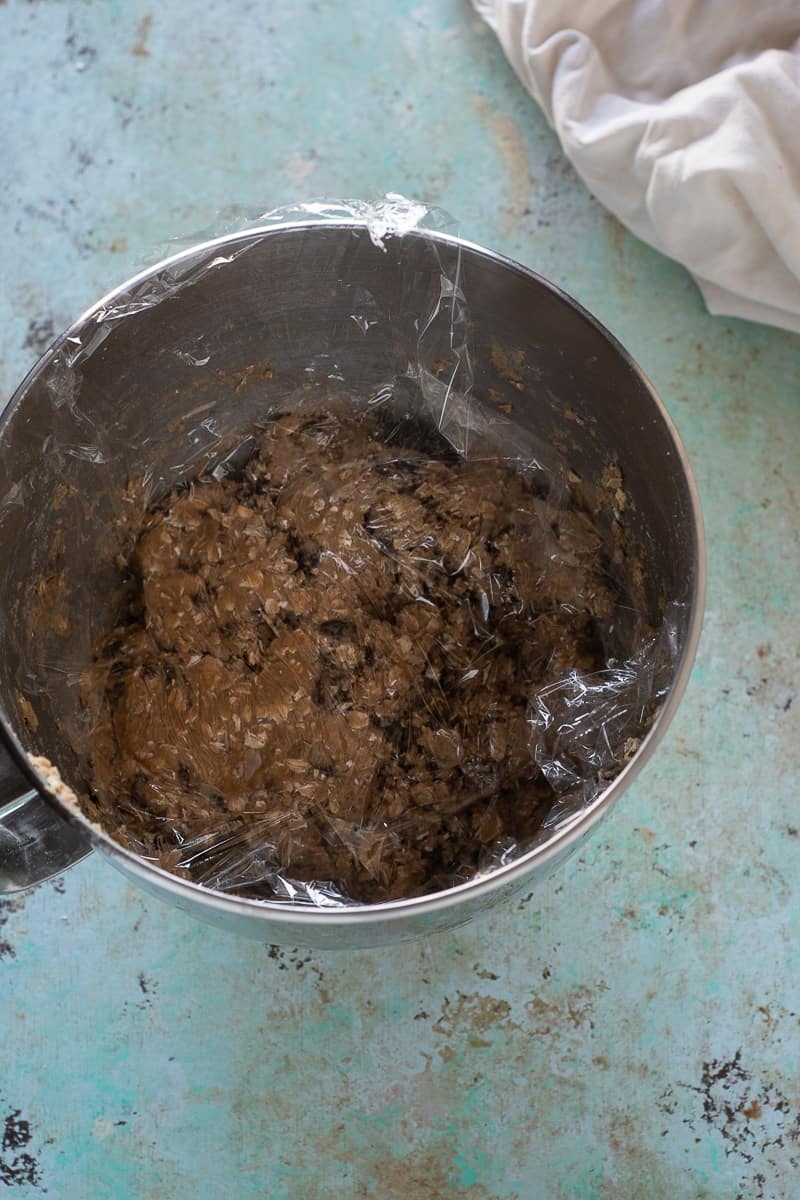 The raisins' gentle flavor and softness work beautifully with the toasty oats and chewy texture of these cookies.
(And if you want chocolate, you should try these oatmeal chocolate chip cookies.)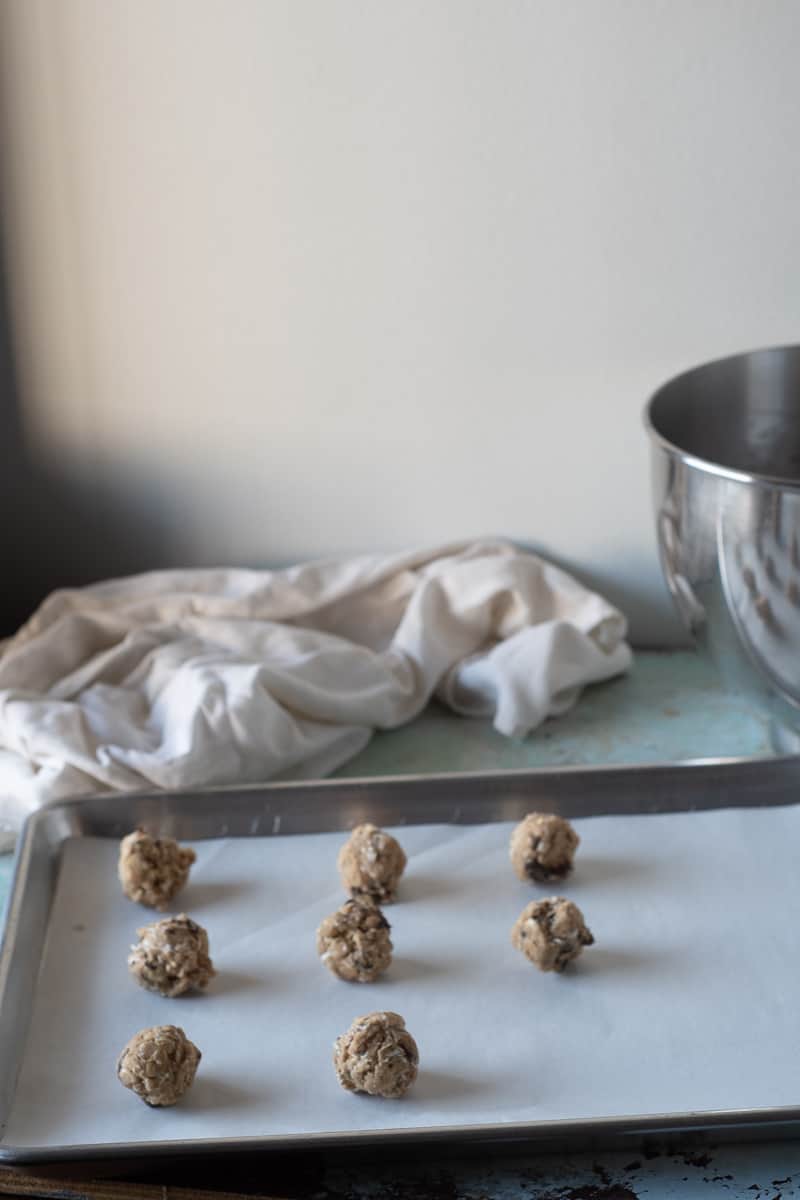 The real pleasure in these cookies is in their soft, nubbly, chewy texture.
And there are a few tricks for getting them there.
They have a high ratio of brown sugar to granulated sugar, which adds more moisture to the cookies and brings in some lovely toffee-like flavor notes.
Another important trick to keeping these cookies soft is the addition of a little bit of honey to the dough.
As anyone who's ever eaten Honey Nut Cheerios, honey and oats have a natural flavor affinity.
And honey helps keep baked goods moist, which is why I it's so important here.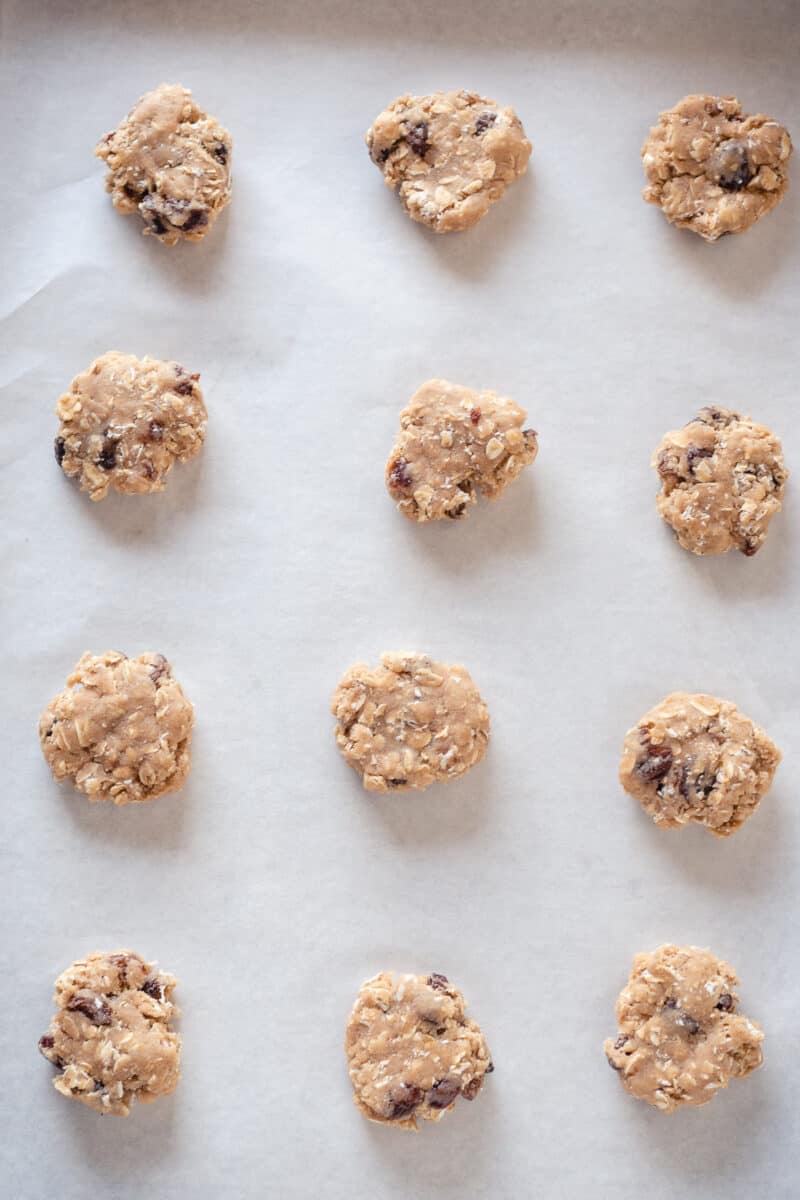 The last trick to the best texture is the hardest: letting the dough rest overnight in the refrigerator.
I know. I want cookies now, not tomorrow. (Okay, well, tomorrow, too, but…)
But the thing is, the long rest lets the oats hydrate and soften. It also lets the flavor develop and makes the cookies brown better.
If you bake these right after mixing them, you'll still have good cookies, but the they won't be as soft and wonderful as they could be. (Feel free to do a side-by-side taste test if you don't believe me.)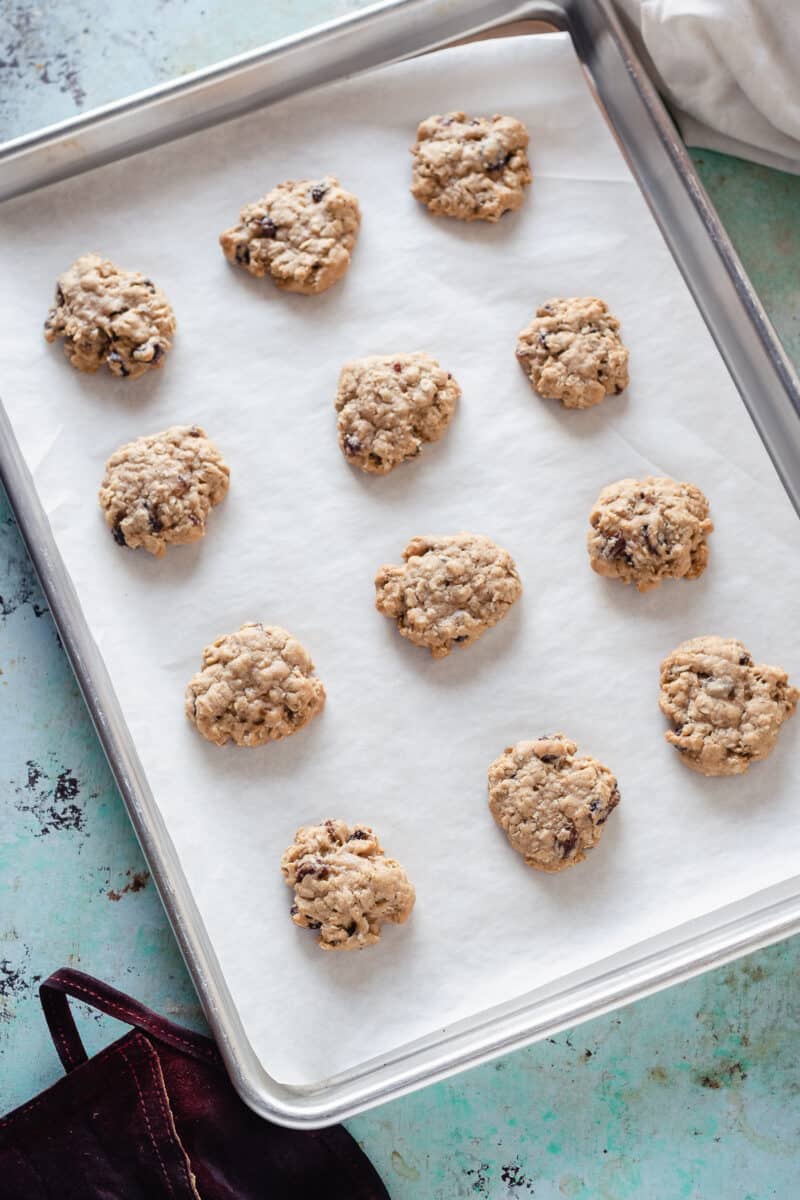 Otherwise, these are pretty straightforward and classic in the world oatmeal raisin cookies.
There's a generous amount of cinnamon, a flurry of nutmeg, and a splash of vanilla extract to give them flavor.
Don't overlook the nutmeg. It's really nice here.
Yield: About 36 Cookies
Soft and Chewy Oatmeal Raisin Cookies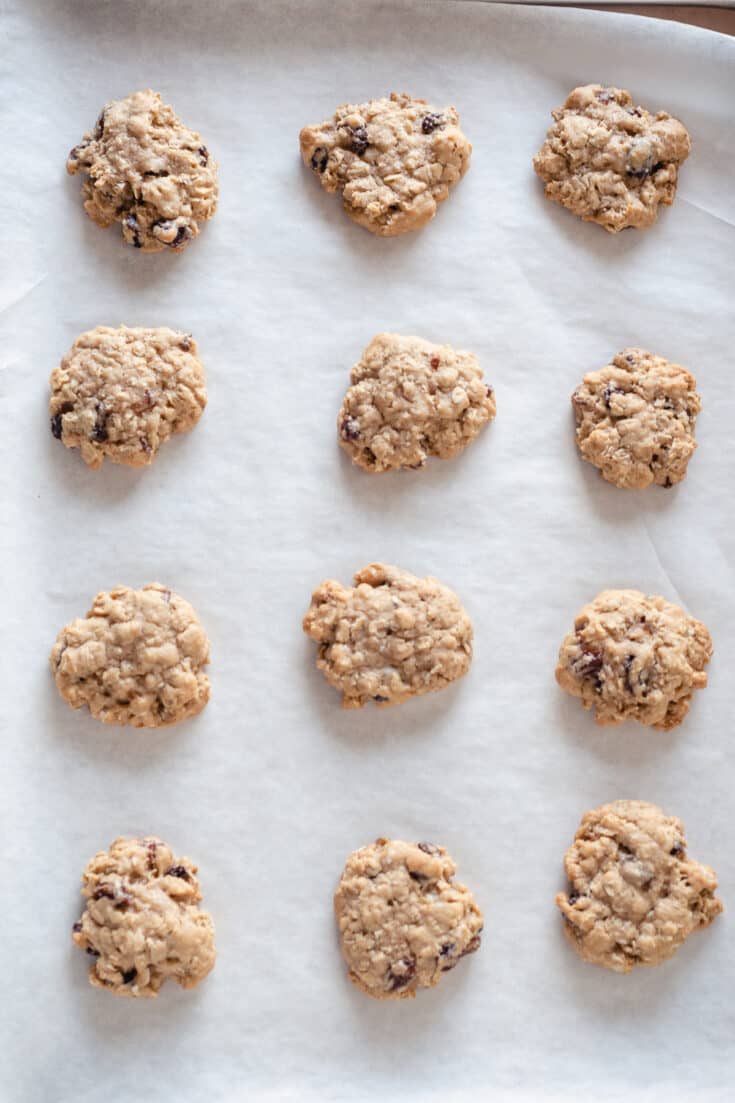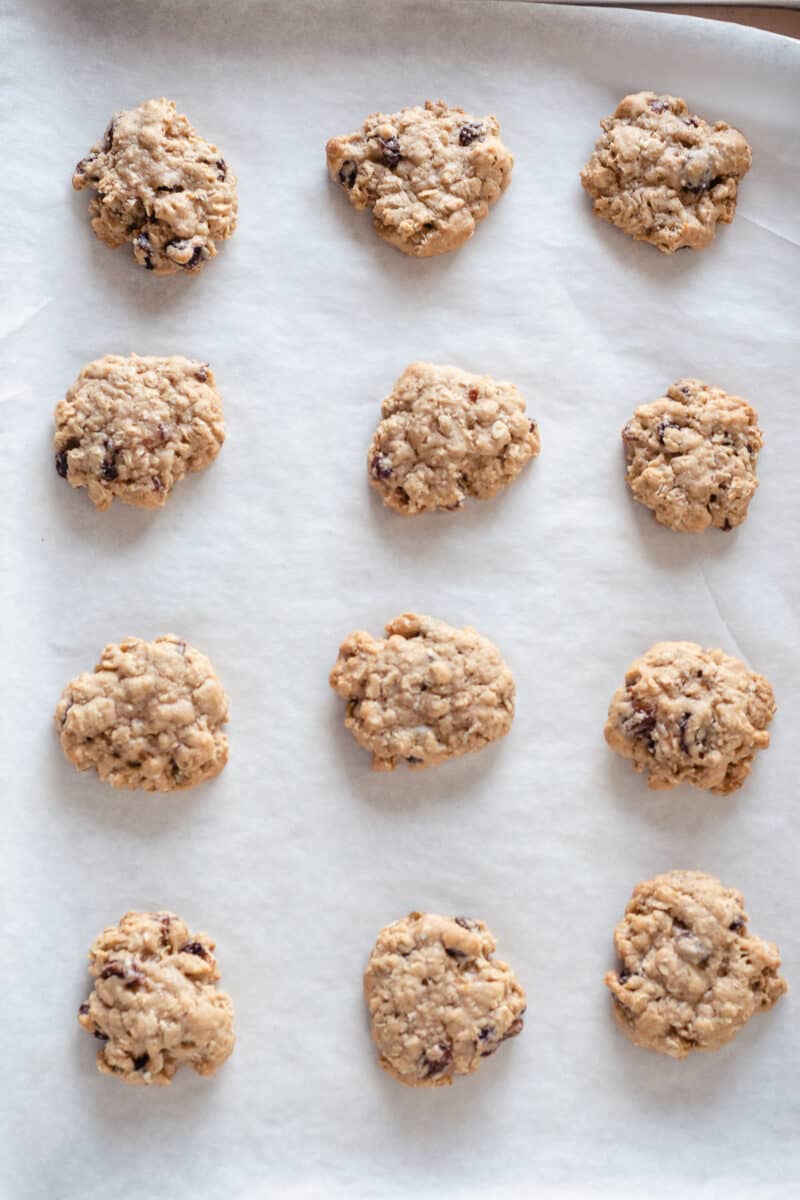 These oatmeal raisin cookies are soft and chewy and delightful.
The brown sugar and honey help to keep these cookies soft, while the overnight rest in the refrigerator allows the oats to hydrate and soften, further improving the flavor and texture.
If your raisins were scrounged from the back of the pantry and are on the dry side, you can plump them up by soaking them in warm water for about 30 minutes and draining them before adding them to the cookie dough.
Total Time
12 hours
25 minutes
Ingredients
1 1/2 cups (188 grams) all-purpose flour
1 1/2 cups (135 grams) rolled oats
1/2 teaspoon baking powder
1/2 teaspoon baking soda
1/2 teaspoon kosher salt
1 teaspoon cinnamon
1/4 teaspoon nutmeg (preferably freshly grated)
1/2 cup (113 grams, 1 stick) unsalted butter, at room temperature
3/4 cup packed (150 grams) light brown sugar
1/4 cup (50 grams) granulated sugar
1 tablespoon (21 grams) honey
1 large egg
1 teaspoon vanilla extract
1 cup (150 grams) raisins
Instructions
Add the flour, oats, baking powder, baking soda, salt, cinnamon, and nutmeg to a large mixing bowl and whisk together.
Add the butter, brown sugar, and granulated sugar to the bowl of a stand mixer fitted with a paddle attachment. Cream together butter and sugar on medium-high speed until the mixture looks pale and fluffy, about 3-4 minutes.
Add the honey, egg, and vanilla and mix until incorporated.
Add the dry ingredients to the mixer and mix on low speed until just incorporated, about 30 seconds.
Add the raisins and mix on low speed until incorporated, about 30 seconds.
Cover the dough with plastic wrap, pressing it right up on the dough so no air gets through, and refrigerate overnight. (12-36 hours.)
Preheat oven to 350°F and remove the dough from the refrigerator to warm up a little while the oven is heating.
Line two half sheet pans with parchment paper.
Scoop the dough into walnut-sized balls and place at least an inch apart on the baking sheet.
Gently flatten each dough ball with the bottom of a drinking glass or just use your impeccably clean hands. They should still be about 1/3-inch thick, but no longer mounded.
Bake, one sheet at a time, until the edges are golden brown and the tops look dry, about 10 minutes. Let cool on the baking sheet for about 5 minutes before transferring to a cooling rack.
Notes
These cookies keep in an airtight container for about 4 days.
Nutrition Information:
Yield:
36
Serving Size:
1
Amount Per Serving:
Calories:

44
Total Fat:

0g
Saturated Fat:

0g
Trans Fat:

0g
Unsaturated Fat:

0g
Cholesterol:

6mg
Sodium:

58mg
Carbohydrates:

9g
Fiber:

0g
Sugar:

4g
Protein:

1g