I may earn from purchases through links in this post.
There's something hopeful about asparagus season. It means things are growing again. Things we can eat.
And these days, I'll grab hold of any bit of hope I can find.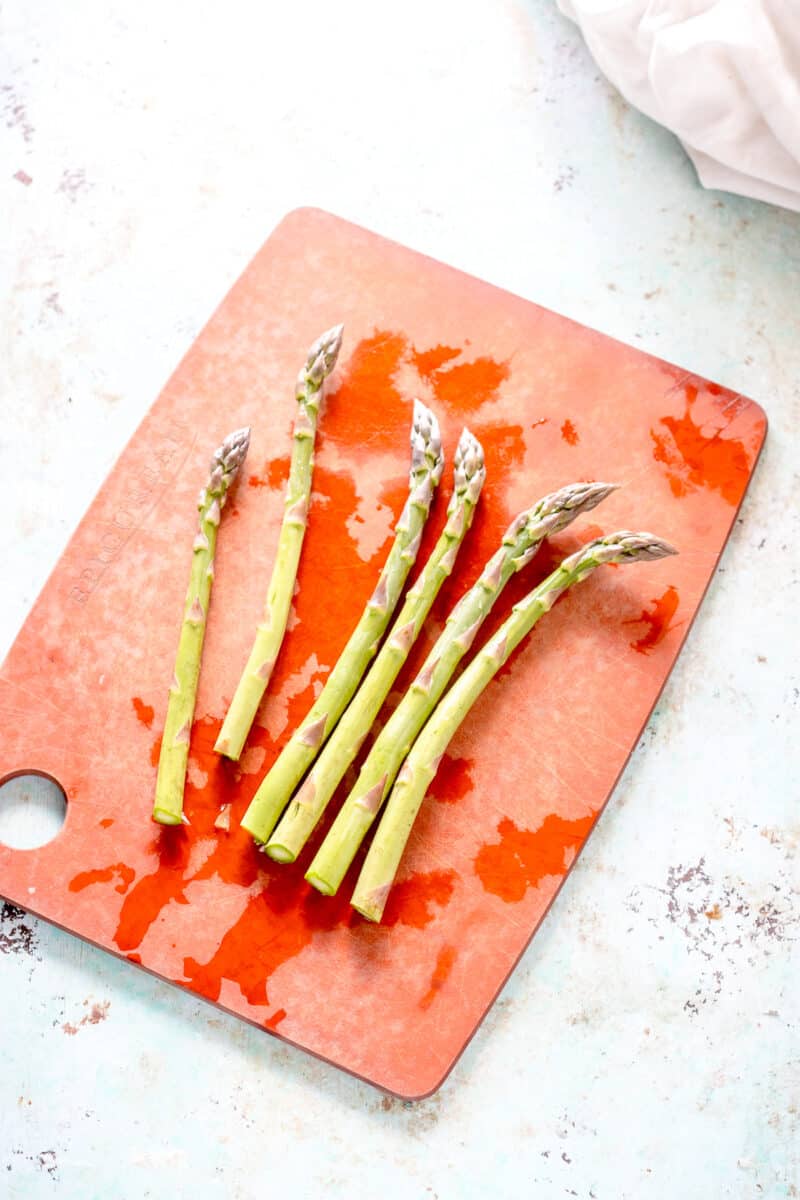 In-season asparagus is something special. When you get it soon after it's harvested, it's sweet and mild and so much better than the stuff that's been shipped half-way around the world and sat in the grocery store for a week.
One of my favorite things to do with those tender green spears when I'm lucky enough to find them is to make this asparagus pizza.
The asparagus gets shaved thin with a vegetable peeler into delicate pale green ribbons and tossed with a bit of olive oil, salt, and a flutter of lemon zest.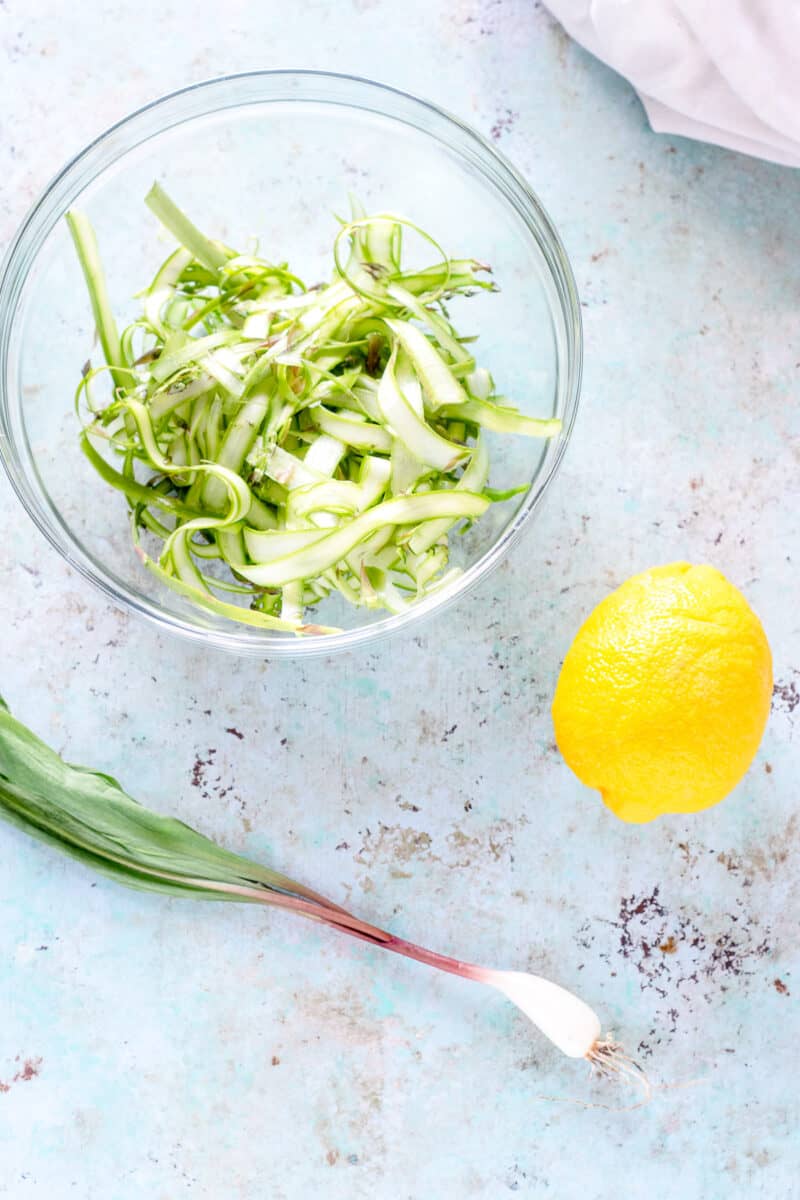 You could basically stop there and have a lovely simple salad.
But I like to turn it into a proper pizza.
I use my go-to pizza dough recipe, which is a longtime favorite of mine. But if you have another pizza dough you like or you get some of the premade stuff at a place like Trader Joe's or Whole Foods (or if you're really lucky, a ball of dough from your favorite pizzeria) feel free to use that.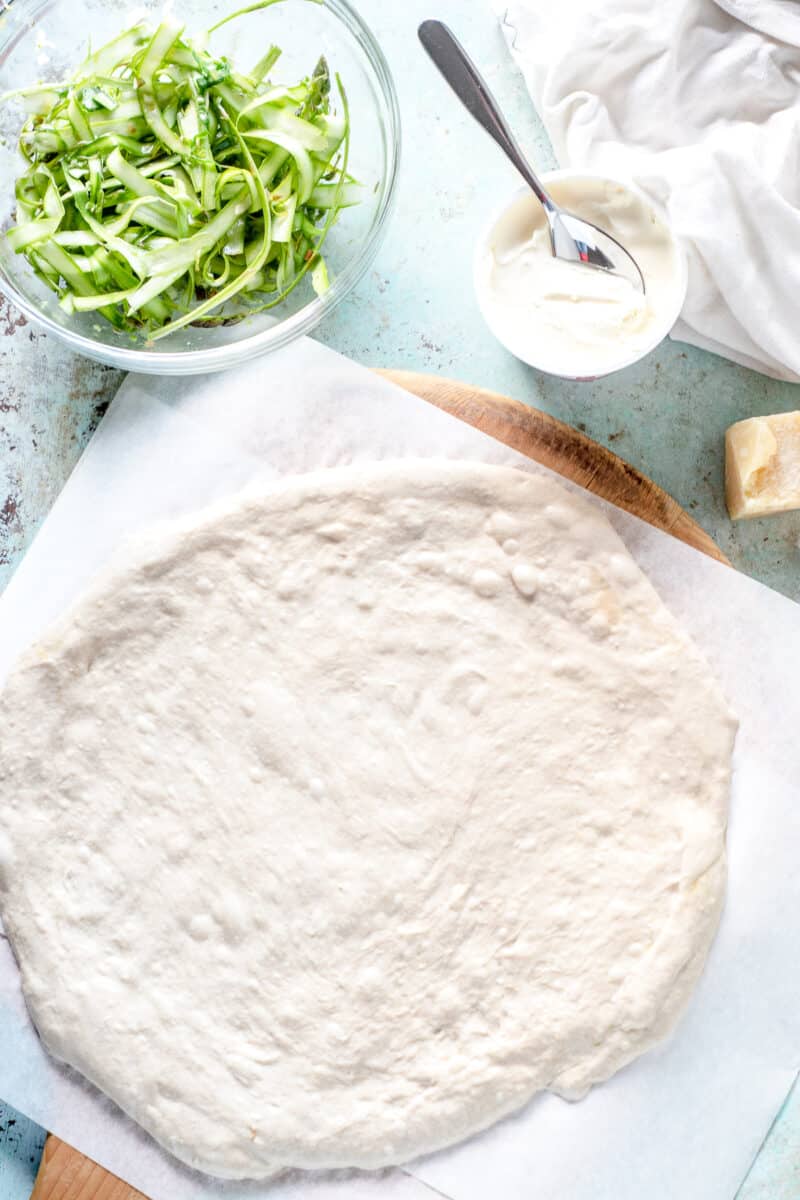 The dough gets stretched out, sprinkled with sea salt, and covered with a thin schmear of crème fraîche.
If you don't have easy access to crème fraîche, you could make your own.
Or you could use mascarpone or a soft goat cheese or even some gently whipped cream. Or you could skip that layer altogether (which is nice for those who are sensitive to lactose).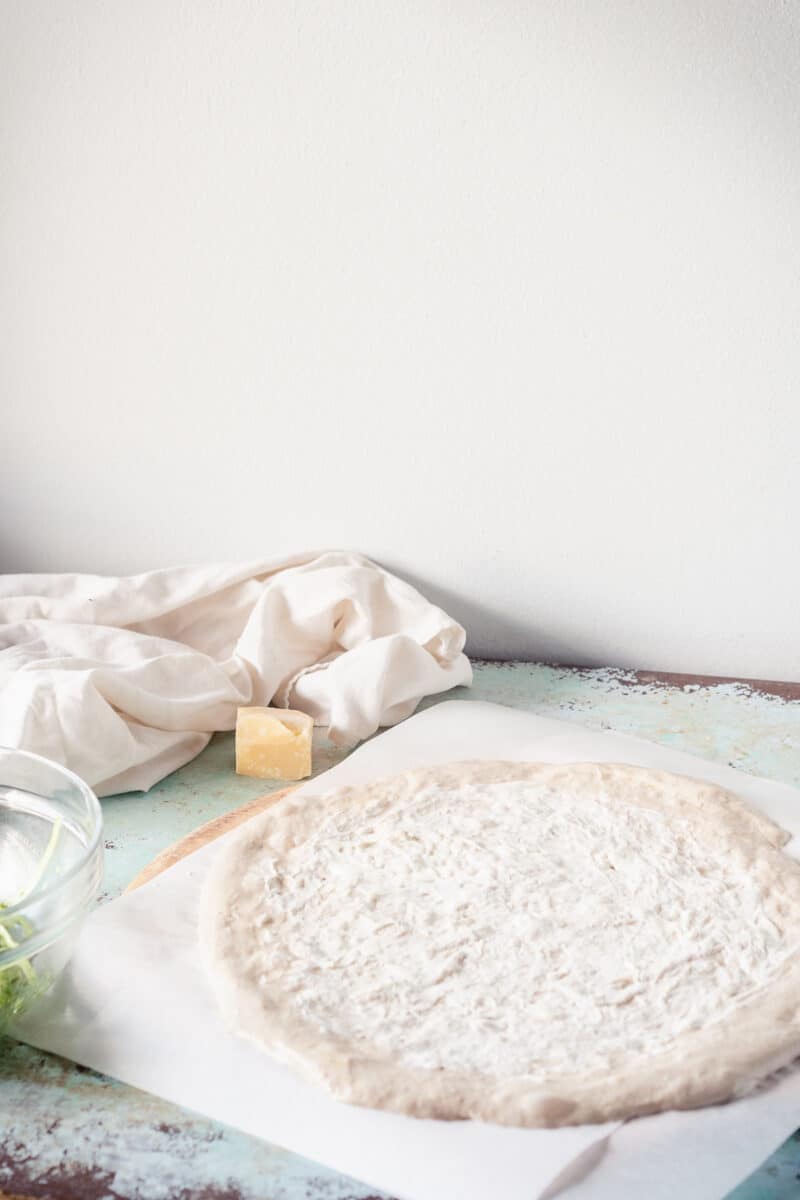 I like to add a bit of black pepper over the crème fraîche for some subtle heat, but it's optional.
Then I chop up a a ramp, if I have one, or a scallion if I don't and toss it in the bowl with the asparagus. (You could also thinly slice a clove of garlic and use that in addition to or instead of the ramp or scallion.)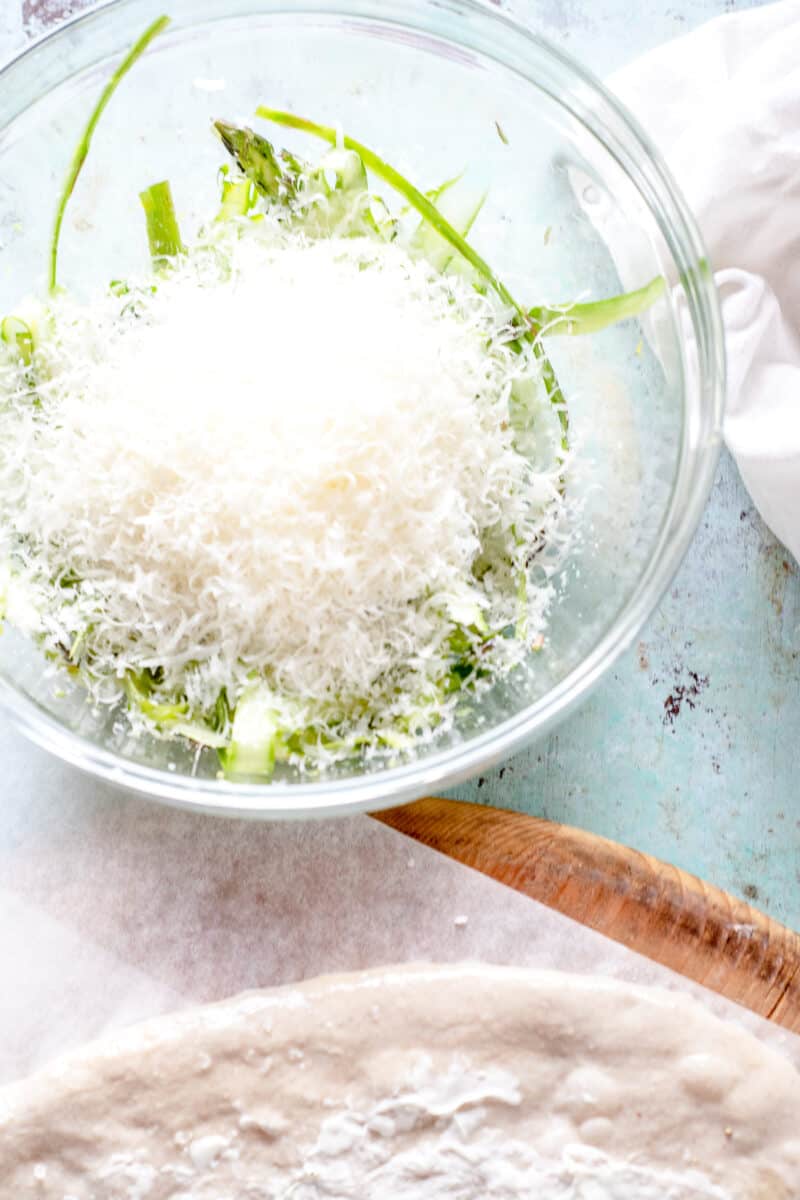 Then I grate a flurry of parmesan cheese with a microplane over the bowl of asparagus. You could also use pecorino romano here.
Then toss it with the asparugus and spread the tangled mess across the surface of the pizza dough.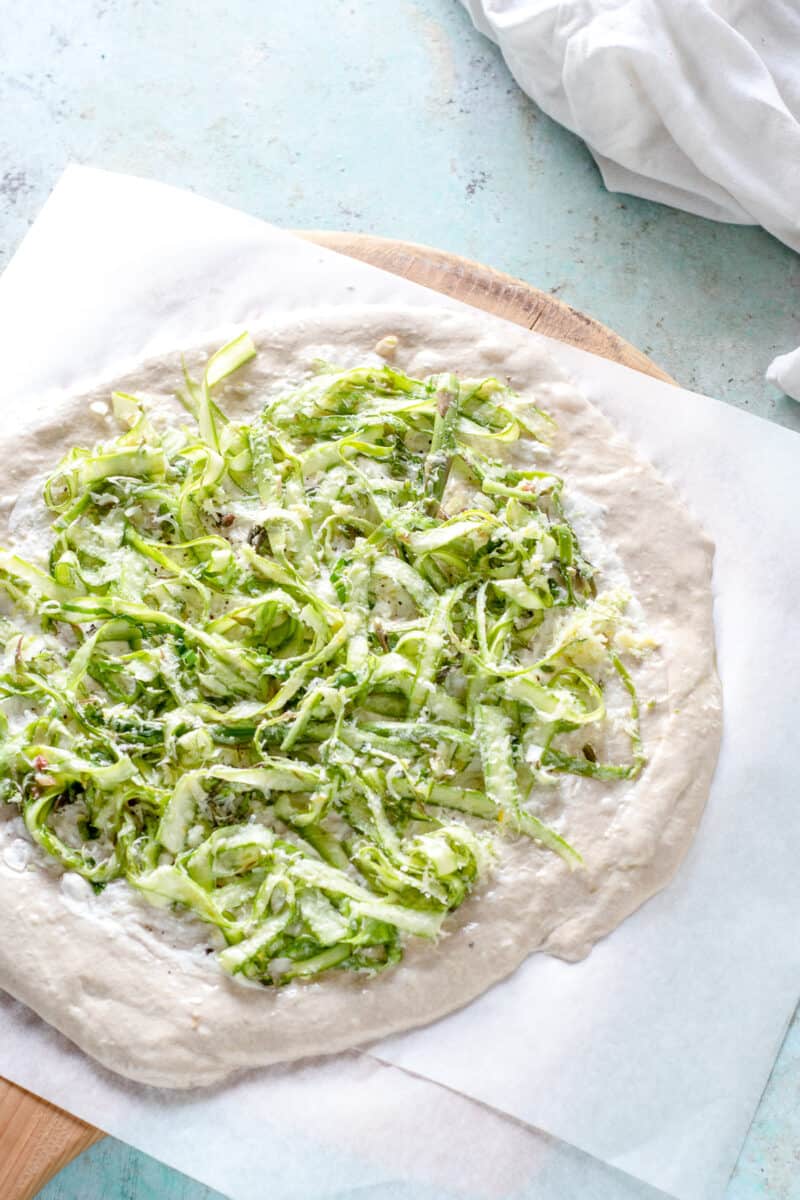 You can stop there and bake it. I often do it that way, and it's delicious (and vegetarian).
But asparagus plays very nicely with prosciutto and speck.
So for omnivores who go for that sort of thing, it's nice to tear up a few thin slices of prosciutto into bite-sized pieces and scatter them across the top of the pizza.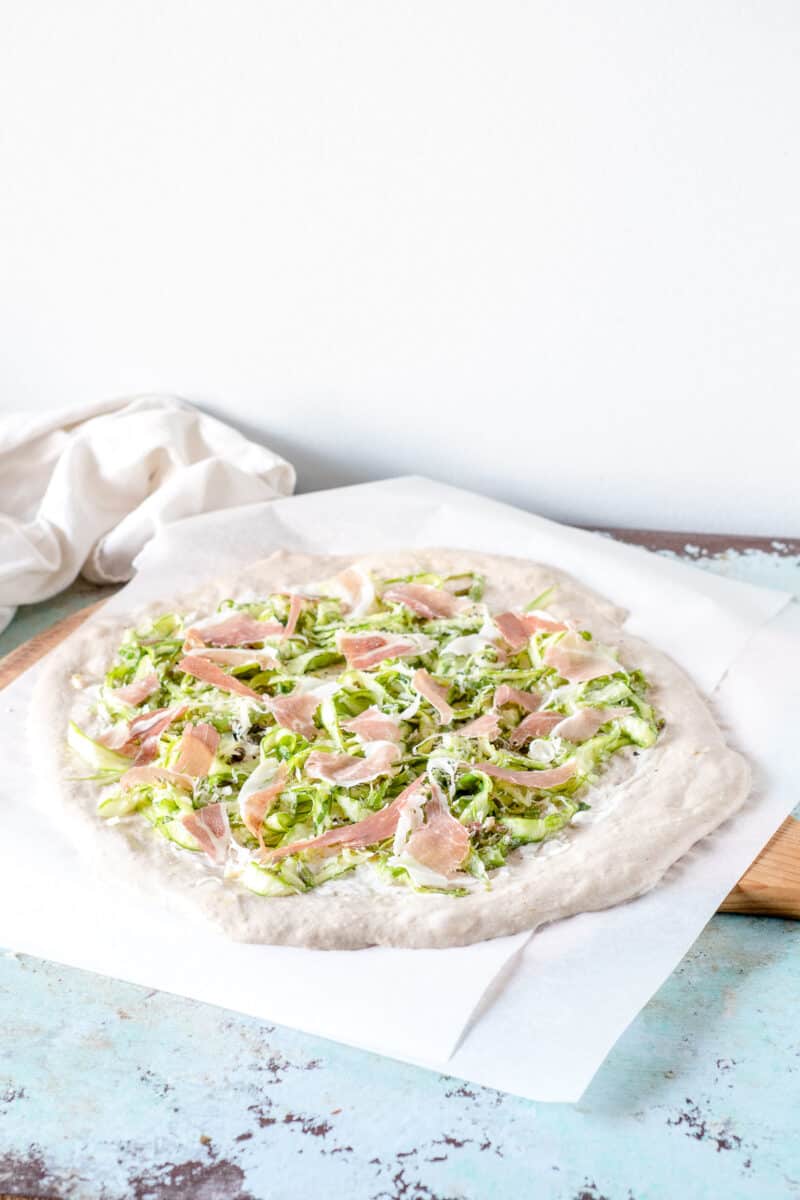 Then the whole thing goes into the oven, which has been turned up as hot as it goes and preheated for a while with a pizza steel or stone in there.
The dough bubbles and turns golden, the prosciutto gets crisp, the cheese melts, and the asparagus gets ever so slightly charred in spots.
And it makes for a wonderful springtime asparagus pizza.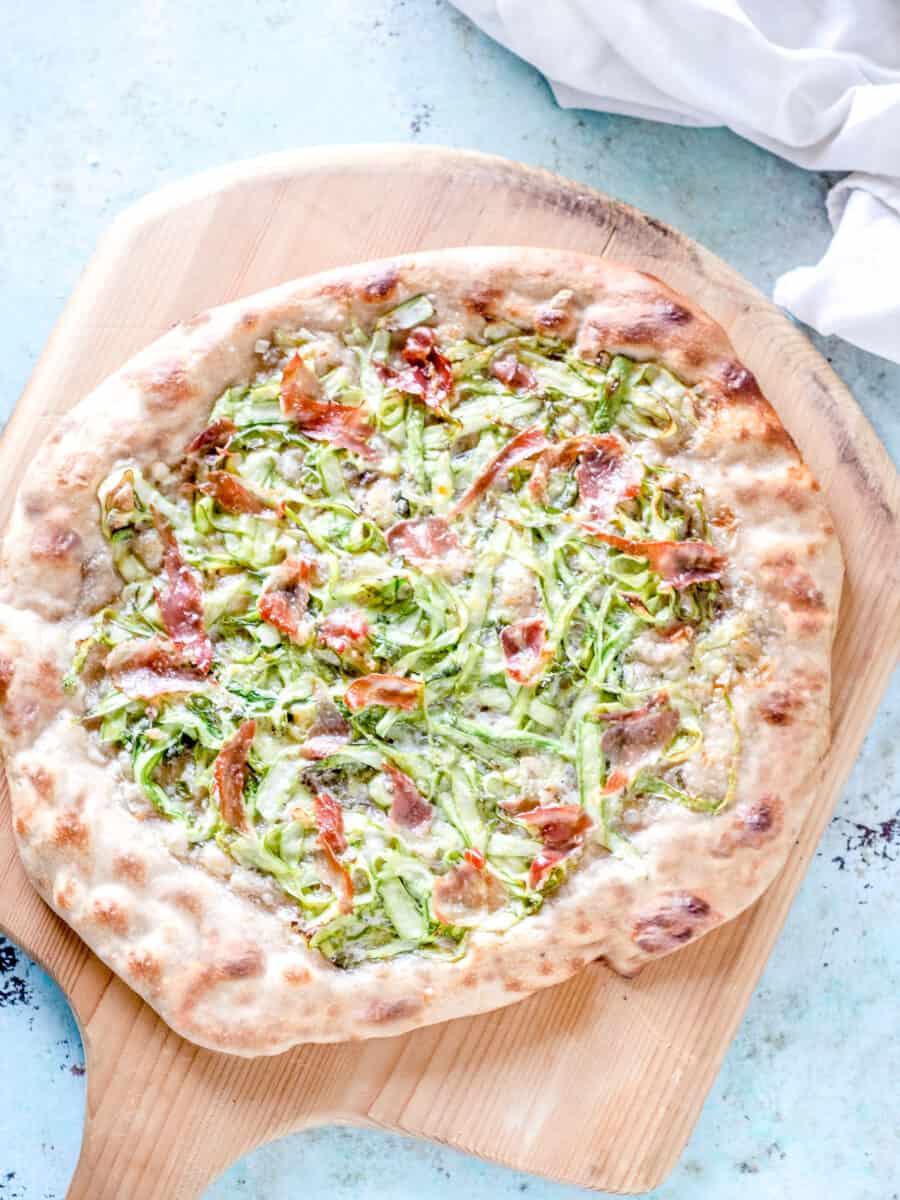 Yield: 1 14-inch pizza
Asparagus Pizza with optional prosciutto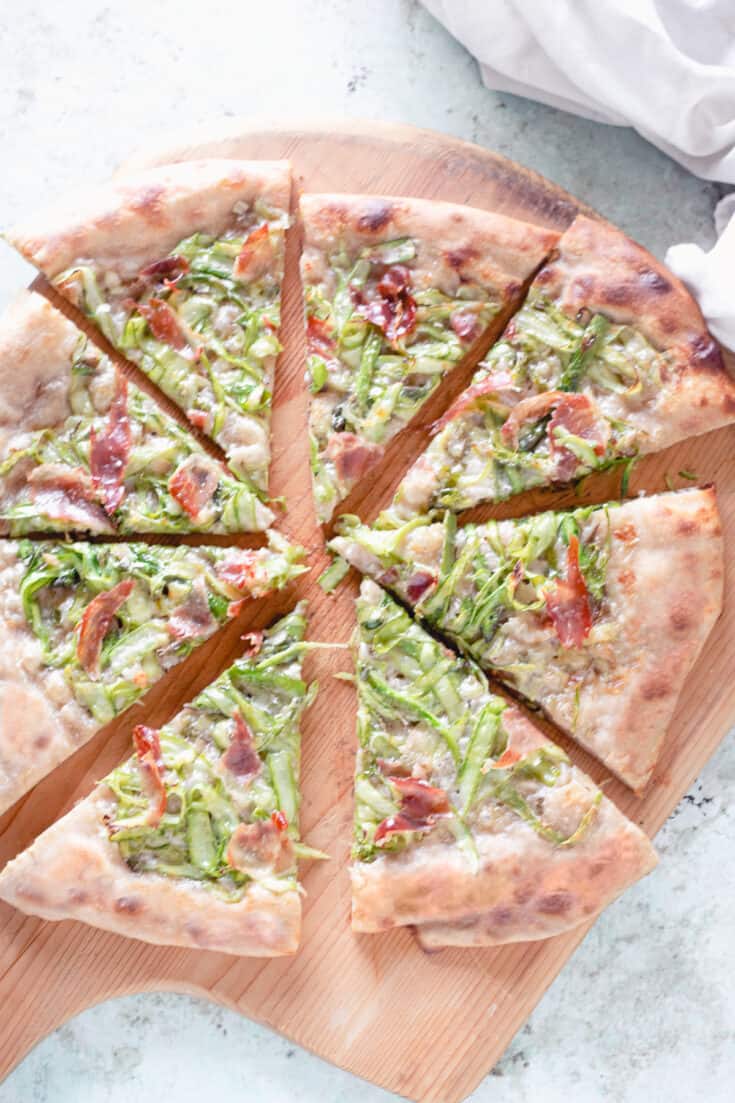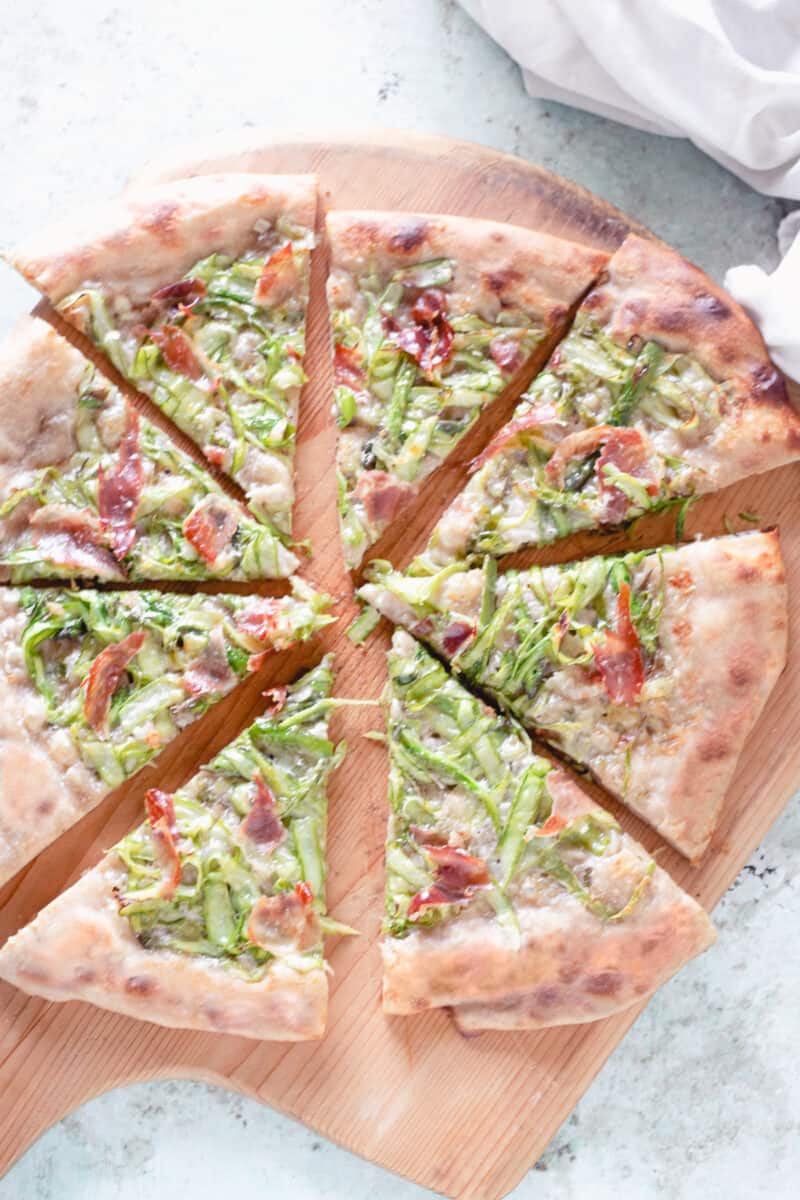 The keys to this pizza are the shaved asparagus tossed in olive oil with lemon zest strewn across a pizza dough with a flurry of parmigiano reggiano or pecorino romano. The rest of it is flexible.
A vegetable peeler makes shaving the asparagus pretty easy.
I like to apply a thin layer of crème fraîche and a few cracks of black pepper as a creamy base. You could use mascarpone or a soft goat cheese or skip the base layer altogether.
Prosciutto goes well with the flavors here, and if you like meat on your pizza, it's good on this one. But it's totally optional. The pizza is vegetarian without it.
You can use any pizza dough recipe you like here (my recipe for it is here), or even start with a ball of premade dough like those available at Trader Joe's or Whole Foods.
The most important things are to let your dough rest overnight in the refrigerator, then stretch it gently into shape, and to crank your oven as high as it will go.
A pizza stone is nice to have. A pizza steel is even better. But a sheet pan will work if that's what you have at home.
I like to grate my parmigiano reggiano with a microplane zester, which makes a pile of fluffy grated cheese (if you use pre-grated parmesan, you may want to use a little more so it gets well distributed with the asparagus).
I usually build my pizza on parchment paper because that makes for easy transfer in and out of the oven–if you're good with a peel, feel free to skip the parchment.
Ingredients
flaky sea salt, to taste
2 tablespoons crème fraîche
black pepper, to taste
about 6 medium stalks of asparagus, woody ends trimmed, shaved with a vegetable peeler
1 teaspoon olive oil
a few gratings of lemon zest
1 ramp or scallion, thinly sliced
1/2 ounce (14 grams) finely shredded parmigiano reggiano
2 thin slices of prosciutto, torn into bite-sized pieces (optional)
Instructions
About one hour before you want to eat, preheat your oven with your pizza stone or steel inside (no need to put a pan in the oven if you don't have a stone/steel) to 500-550° F (as high as your oven will go).
Gently stretch your pizza dough into a circle or oval as large as will fit comfortably on your pizza stone (or steel or baking pan). Mine is usually about 14″ in diameter. Sprinkle with sea salt, focussing especially around the edges.
Spread a thin layer of crème fraîche over the dough, leaving about a one-inch perimeter around the edges and add a few cracks of black pepper.
Place the shaved asparagus, olive oil, lemon zest, ramp or scallion, and shredded parmigiano reggiano in a medium mixing bowl and toss until well combined. Add a pinch of salt and toss again.
Spread the asparagus over the pizza dough in a roughly even layer. Add the prosciutto, if using.
Transfer to the hot oven, and bake for about 8 minutes or until the asparagus has cooked down and the crust has deep brown spots on the edges.
Cool on a wire rack for about 5 minutes.
Slice and serve.
Nutrition Information:
Yield:
8
Serving Size:
1
Amount Per Serving:
Calories:

167
Total Fat:

10g
Saturated Fat:

4g
Trans Fat:

0g
Unsaturated Fat:

5g
Cholesterol:

8mg
Sodium:

315mg
Carbohydrates:

17g
Fiber:

1g
Sugar:

1g
Protein:

3g