I may earn from purchases through links in this post.
There's something about short days and cold weather that make cake seem like a reasonable breakfast option.
Especially if said cake generously spiced, laden with pumpkin (vegetables!) and sprinkled with a cinnamon-scented brown sugar pecan streusel.
I'm usually more of a savory breakfast person, but I just love this pumpkin coffee cake. It's just the thing to tuck into while your fingers are curled around a mug of piping hot coffee.
Or you can, if you are so inclined, save it for dessert.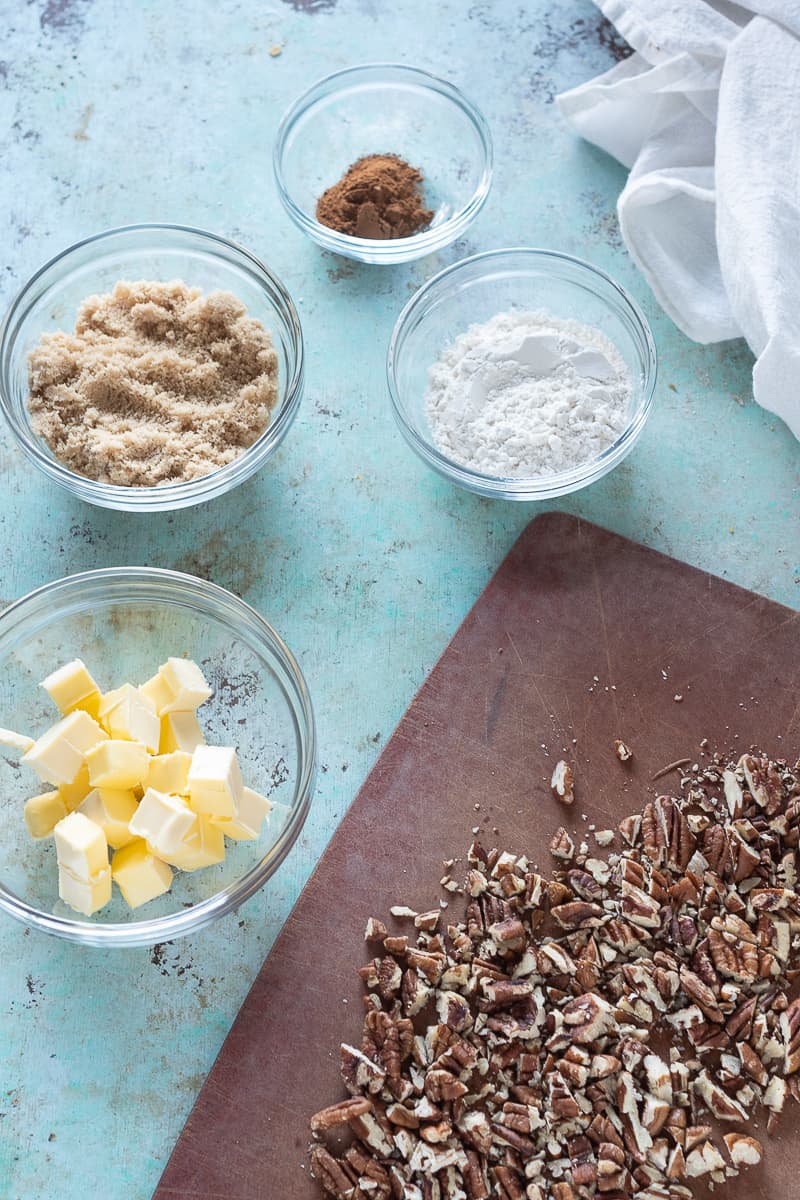 I've never been a huge fan of pumpkin pie (although I do like this caramel pumpkin tart with a gingersnap crust), but I love pumpkin cake.
It helps keep cakes moist and plays well with autumnal spices and brown sugar and nuts.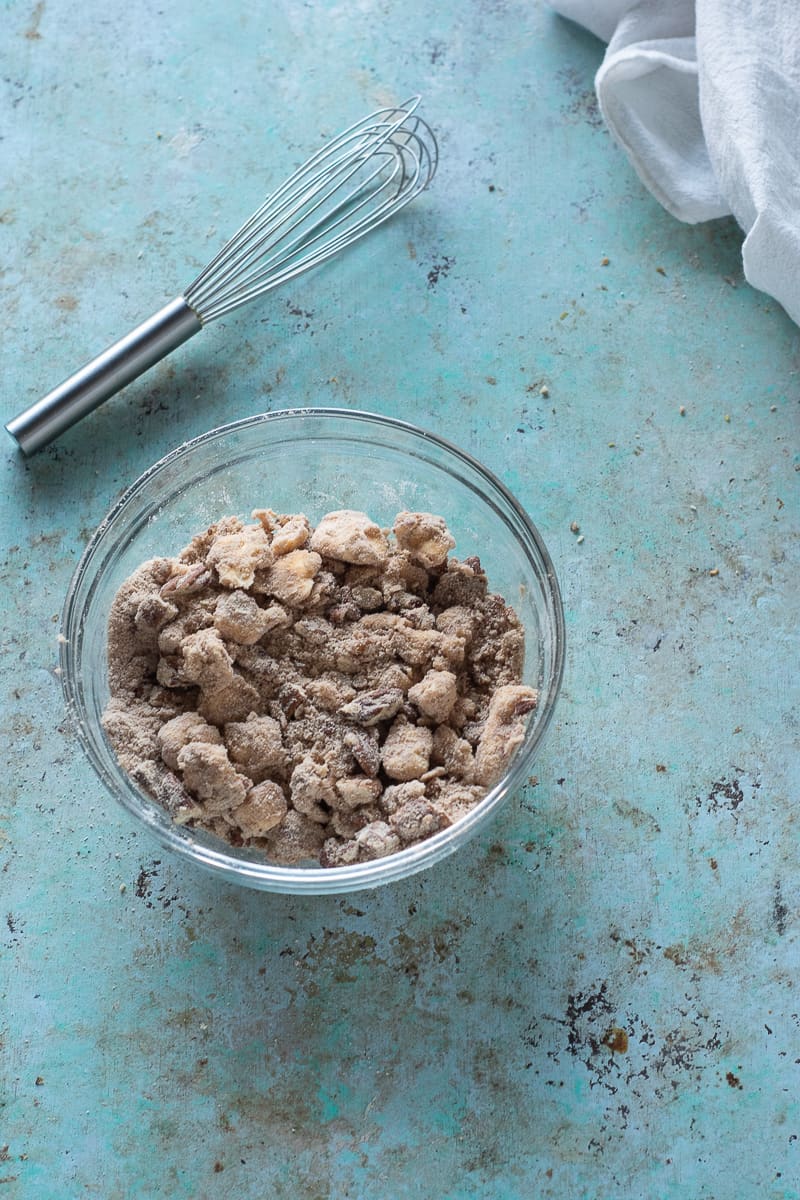 This pumpkin coffee cake makes use of most of the spices in the category I generally think of as warm baking spices—that is, cinnamon, ginger, cardamom, nutmeg, and cloves.
The nutmeg is best if you buy it whole and grate it on a microplane (really, it's worth the hassle).
And while others will argue for buying the cardamom and cloves whole and grinding them yourself, I've come the conclusion after years of experience that I hate grinding cardamom and I will never get the clove smell out of my spice grinder and everything that touches it will taste like cloves forever.
You have my permission, nay, blessing to buy them ground.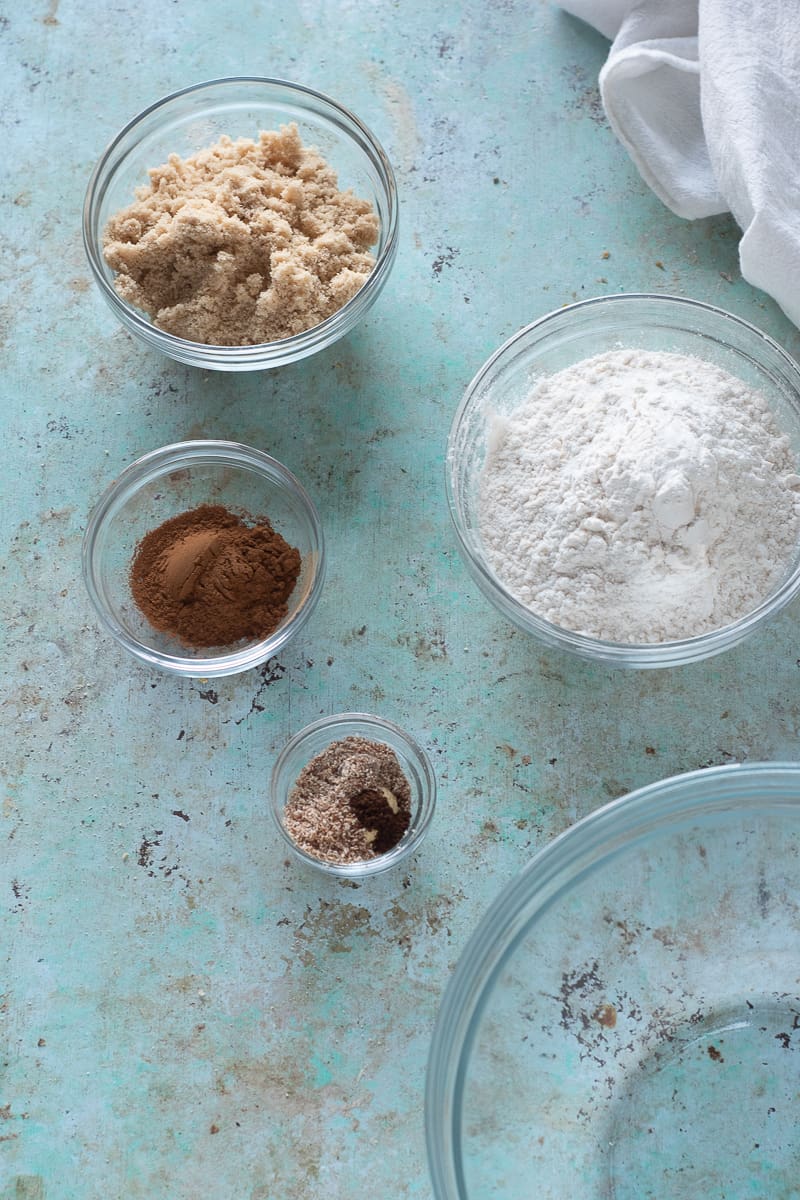 But seriously think about replacing those spices if you've had them for more than a year or two (especially cardamom).
They don't go bad, exactly, but they lose their oomph, which can make for an unnecessarily bland cake.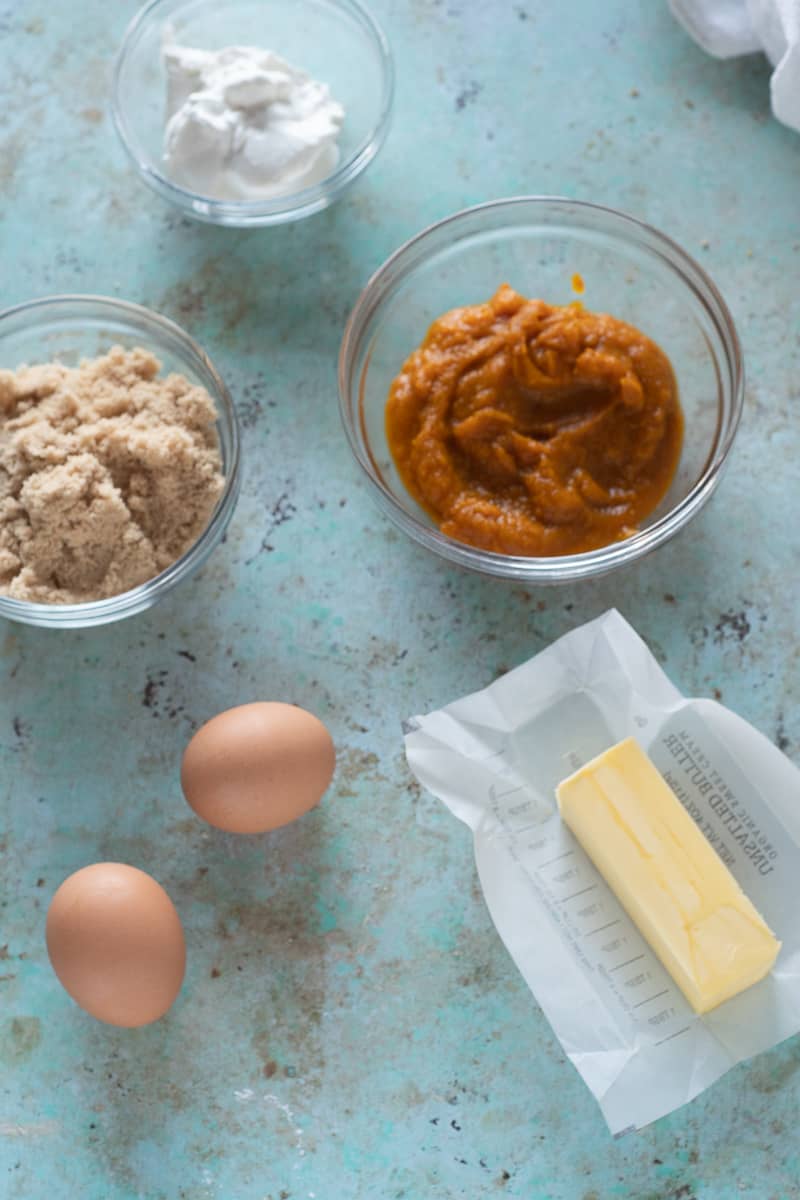 Beyond the complexity from the spices, what makes this cake standout is the tender richness it gets from butter, brown sugar, sour cream, and the aforementioned pumpkin.
And let's be honest, streusel makes everything better. (Like in this streusel-topped chocolate chip banana bread.)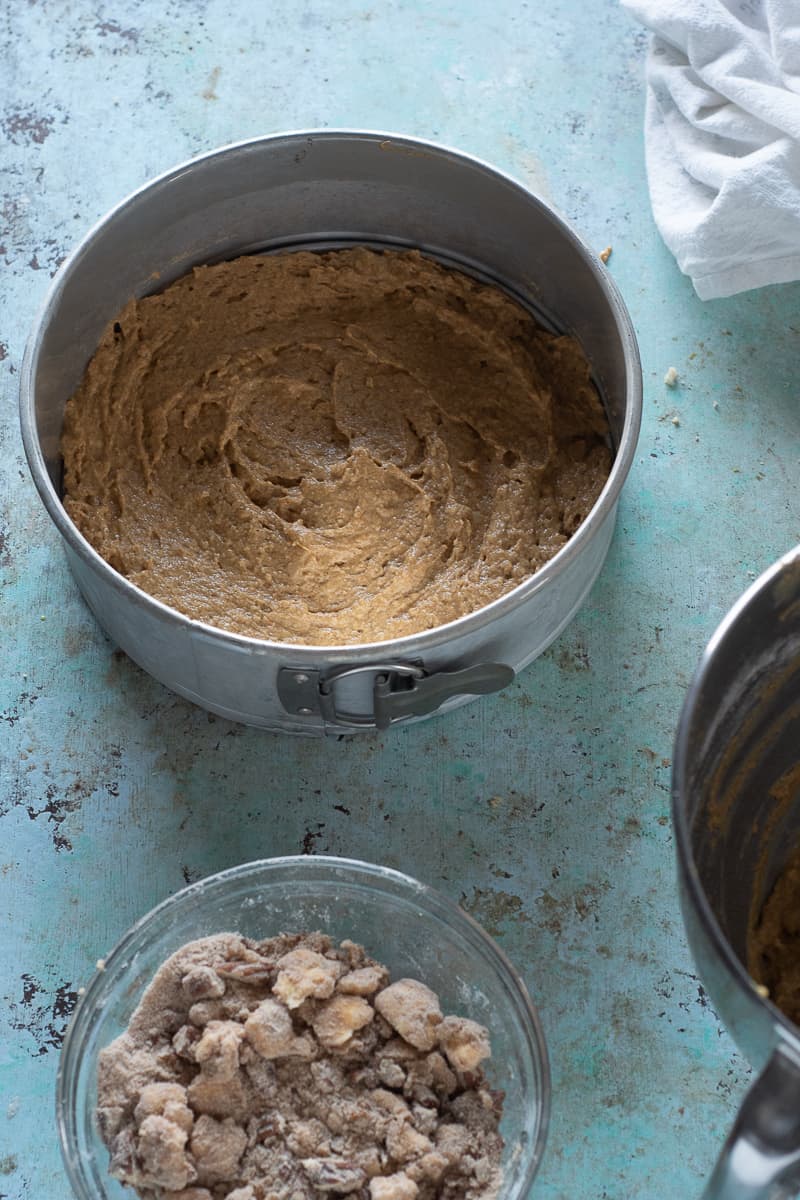 This pecan streusel is a simple mixture of flour, butter, cinnamon, brown sugar, and toasted pecans. (Don't know how to toast nuts? I've got you covered.)
And this coffee cake gets a double layer of it.
Half goes in the middle of the cake, which means each slice is studded with nubbly bits of pecans and an extra hit of cinnamon and brown sugar.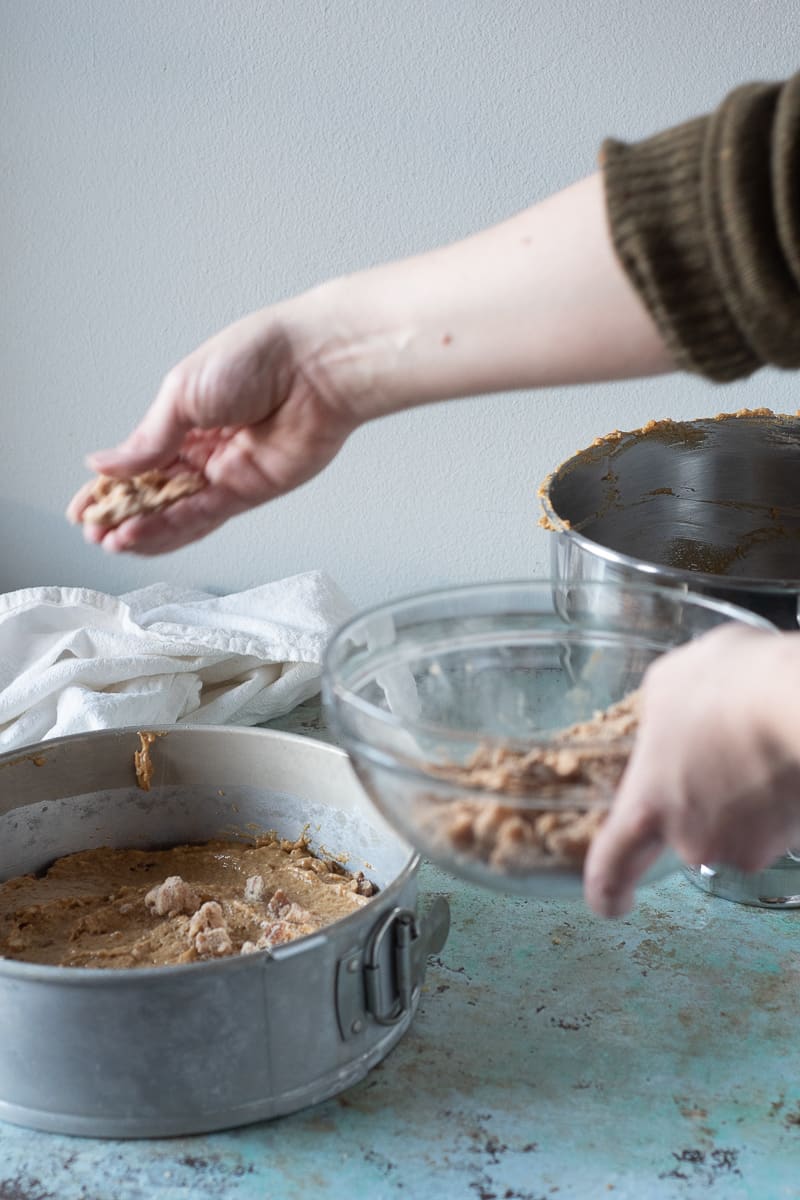 The other half of the streusel gets sprinkled over the top where it turns into a craggy jumble of sweet cinnamon-scented crumbs.
This is the sort of baking that makes your kitchen smell heavenly.
Even better, it keeps well for several days (probably longer, but I've never had it around more than that to test it), which makes it a great make ahead treat for a holiday brunch.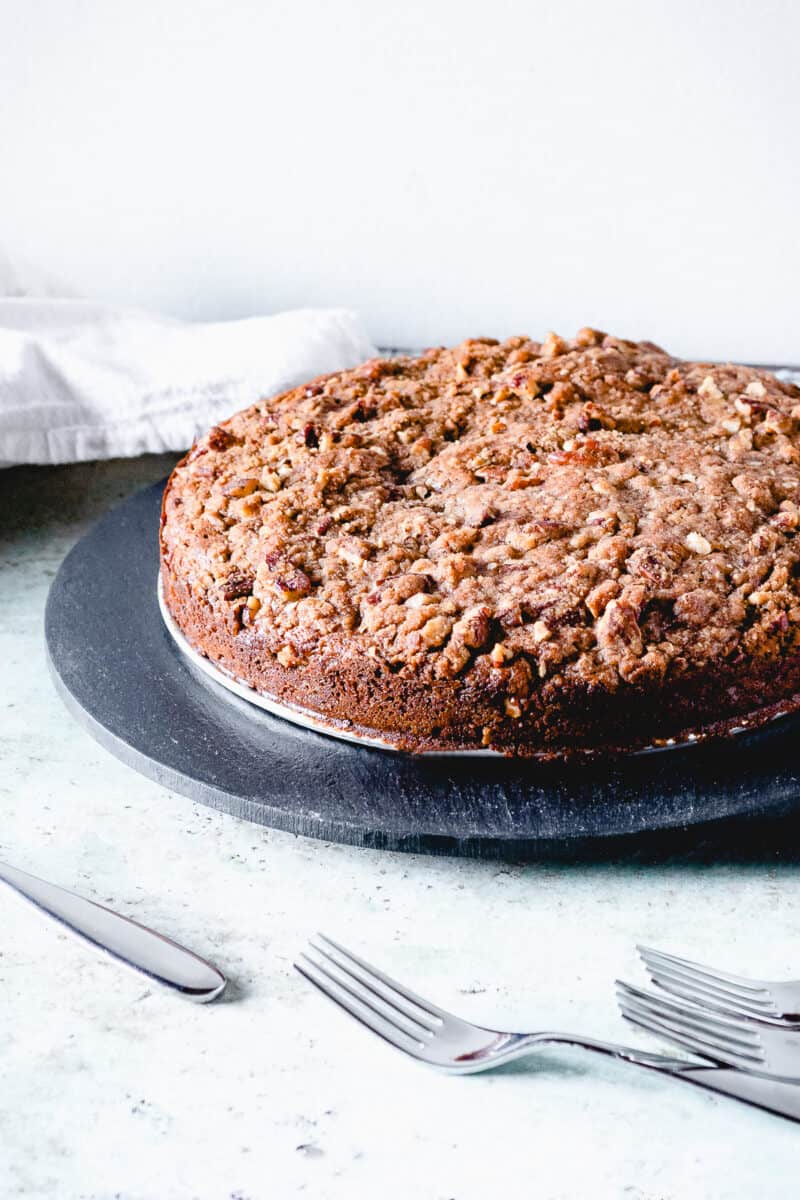 It's also sturdy enough to travel well, which means you can easily schlep it with you to gatherings at your friends' and family's houses and be the most popular guest.
This one's a keeper.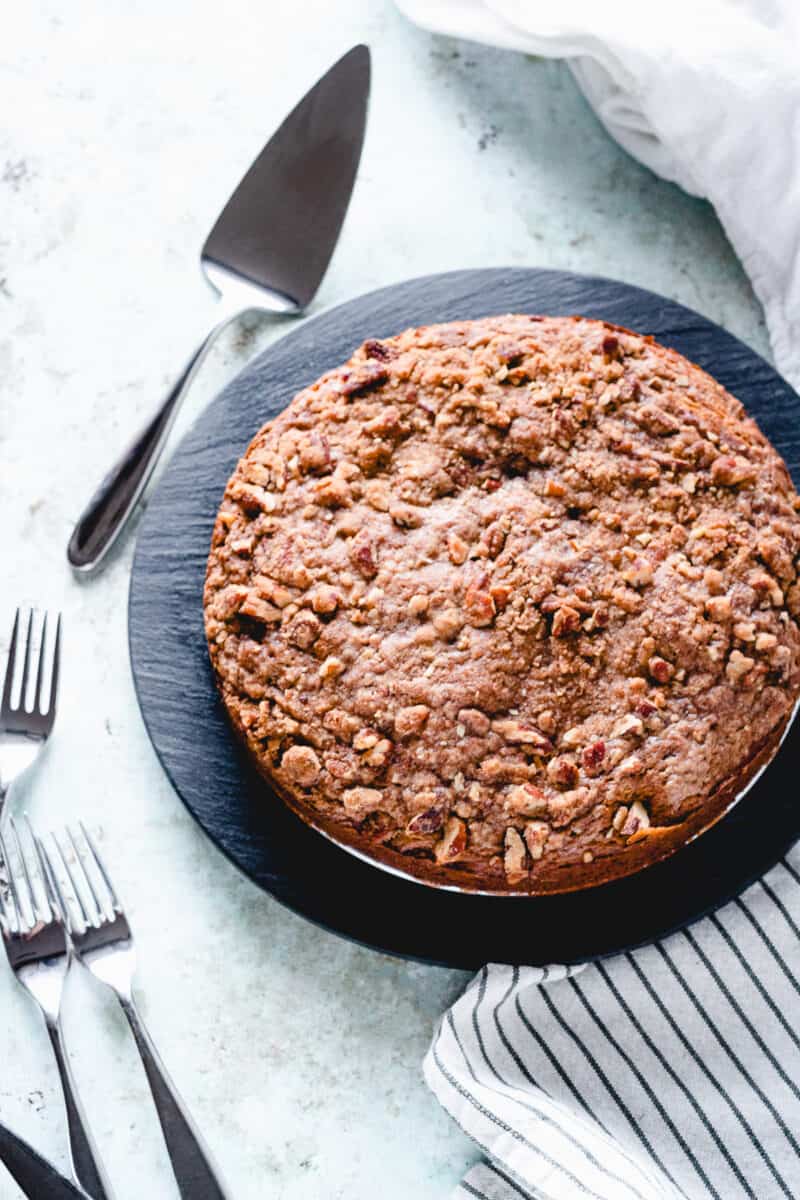 Yield: 1 9-inch cake
Pumpkin Coffee Cake with Pecan Streusel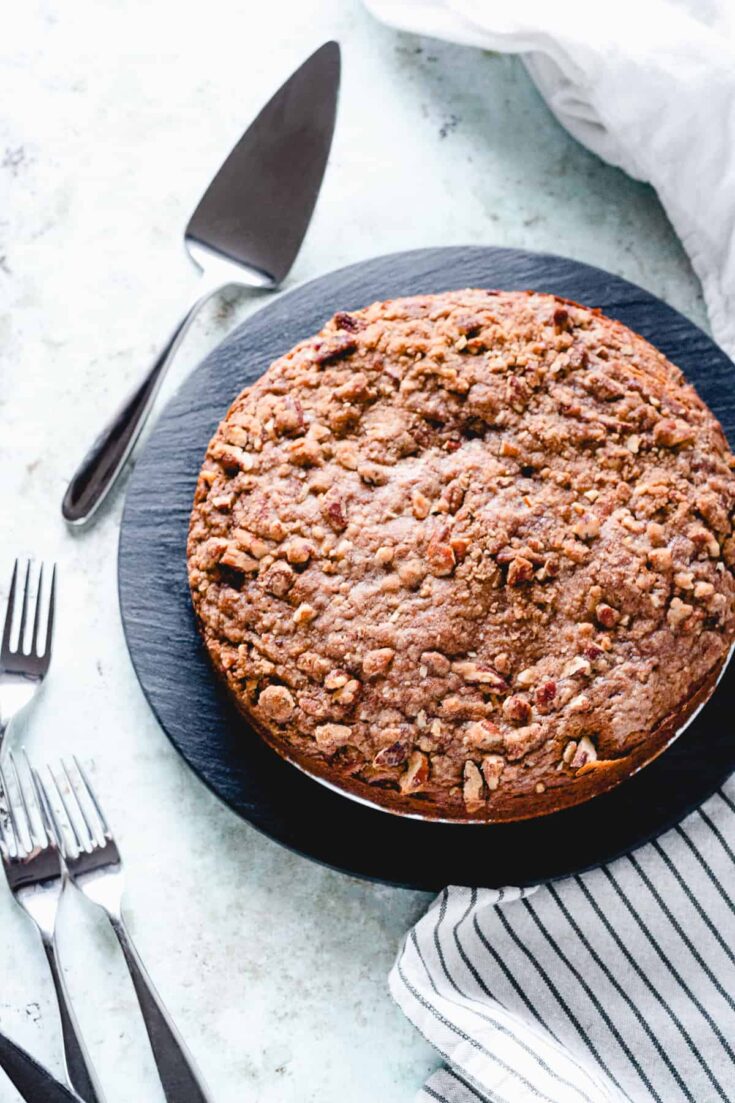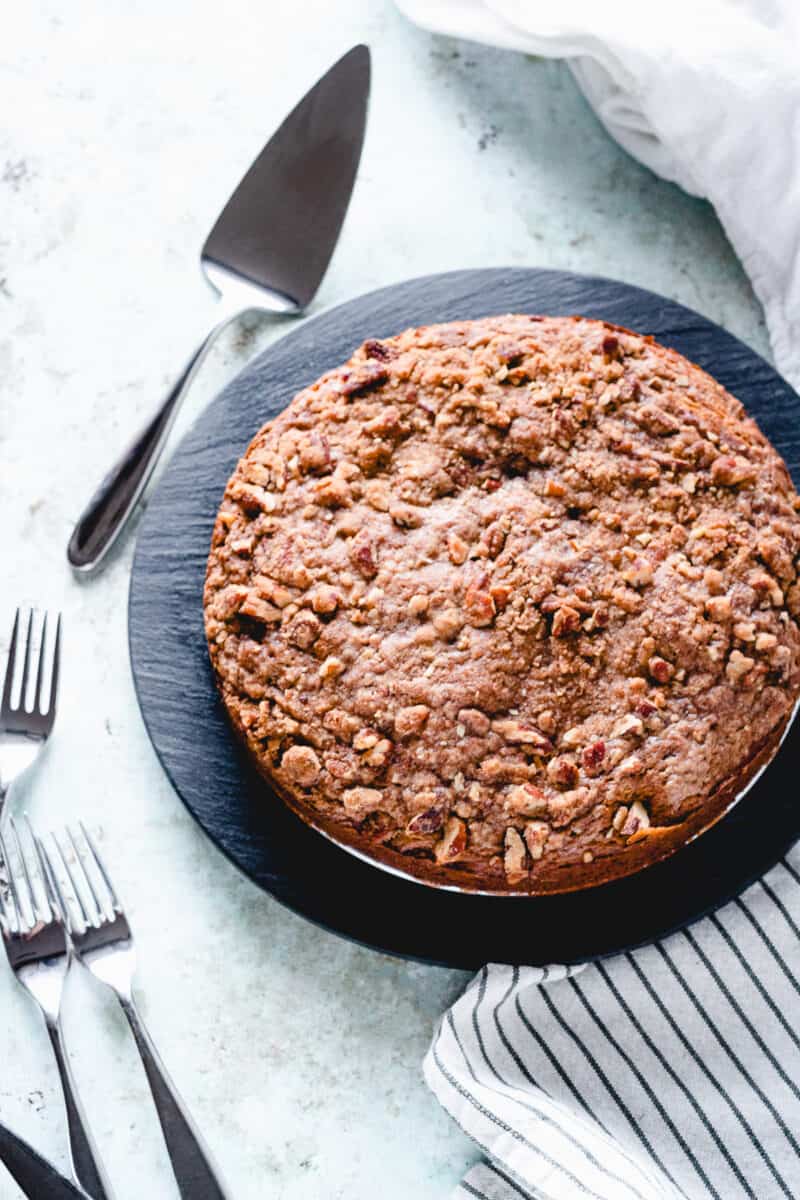 This pumpkin coffee cake has a tender crumb, a generous mix of autumnal spices, and two layers of brown sugar pecan streusel.
It slices beautifully, travels well, and keeps for several days, which make it versatile.
I love this cake for breakfast alongside a mug of coffee, but it also works beautifully for dessert.
Total Time
1 hour
15 minutes
Ingredients
For the Pecan Streusel
1/3 cup (40 grams) all-purpose flour
1/2 cup tightly packed (100 grams) light brown sugar
1 teaspoon cinnamon
6 tablespoons (85 grams) unsalted butter, cold, cut into 1/2-inch cubes
For the pumpkin coffee cake
1 1/2 cups (190 grams) all-purpose flour
1 1/2 teaspoons baking powder
1/2 tsp baking soda
2 teaspoons ground cinnamon
1 teaspoon ground ginger
1/2 teaspoon ground cardamom
1/2 teaspoon ground nutmeg
1/8 teaspoon ground cloves
1/2 teaspoon kosher salt
3/4 cup tightly packed (150 grams) light brown sugar
6 tablespoons (85 grams) unsalted butter, at room temperature
1 cup (225 grams) pumpkin puree
1/2 cup (115 grams) sour cream
2 eggs
Instructions
Preheat oven to 350°F. Spray a 9-inch springform pan with nonstick spray.
Make the streusel. Add the flour, brown sugar, and cinnamon to a medium mixing bowl and stir.
Add the cold butter cubes and rub into the flour mixture with your fingers. Add the pecans and stir.
Make the cake batter. Add the flour, baking powder, baking soda, cinnamon, ginger, cardamom, nutmeg, cloves, and salt to a large mixing bowl and whisk together.
Add the butter and brown sugar to the bowl of a stand mixer fitted with the paddle attachment, and mix on medium-high speed until the mixture looks light and fluffy, about 4 minutes.
Scrape down the sides of the bowl and add the pumpkin puree and sour cream and mix in medium-high speed until thoroughly combined, about 1 minute. Scrape down the sides of the bowl again.
Add the eggs one at a time, mixing and scraping down the sides of the bowl after each addition.
Add the flour mixture and mix on low speed until just combined, about 30 seconds. Stir in any unmixed flour with a rubber spatula.
Add half of the batter to the prepared cake pan and spread it in an even layer. The batter will be thick.
Sprinkle half of the streusel mixture over the cake batter. Add the remaining cake batter and spread in an even layer over the streusel. Sprinkle the remaining half of the streusel over the top in an even layer.
Bake until a toothpick inserted into the middle of the cake comes out clean, about 50-55 minutes.
Let cool on a baking rack for at least an hour. Remove the sides of the springform and transfer to a serving plate.
Notes
Keeps at room temperature for 4 days.