I may earn from purchases through links in this post.
When it comes to Thanksgiving, I'm all about the sides. And my favorite side is stuffing. Or at least it is when it's anything like this fennel and kale stuffing.
Something with hunks of torn bread tossed in olive oil and toasted until golden.
Something that feels classic in flavor-profile but has just enough extra vegetable matter, in this case in the form of thinly sliced fennel and Tuscan kale, that I don't quite fall into a carb coma after one bite.
Something with layers of flavor from shallots and leeks and garlic and a generous pinch of red pepper flakes.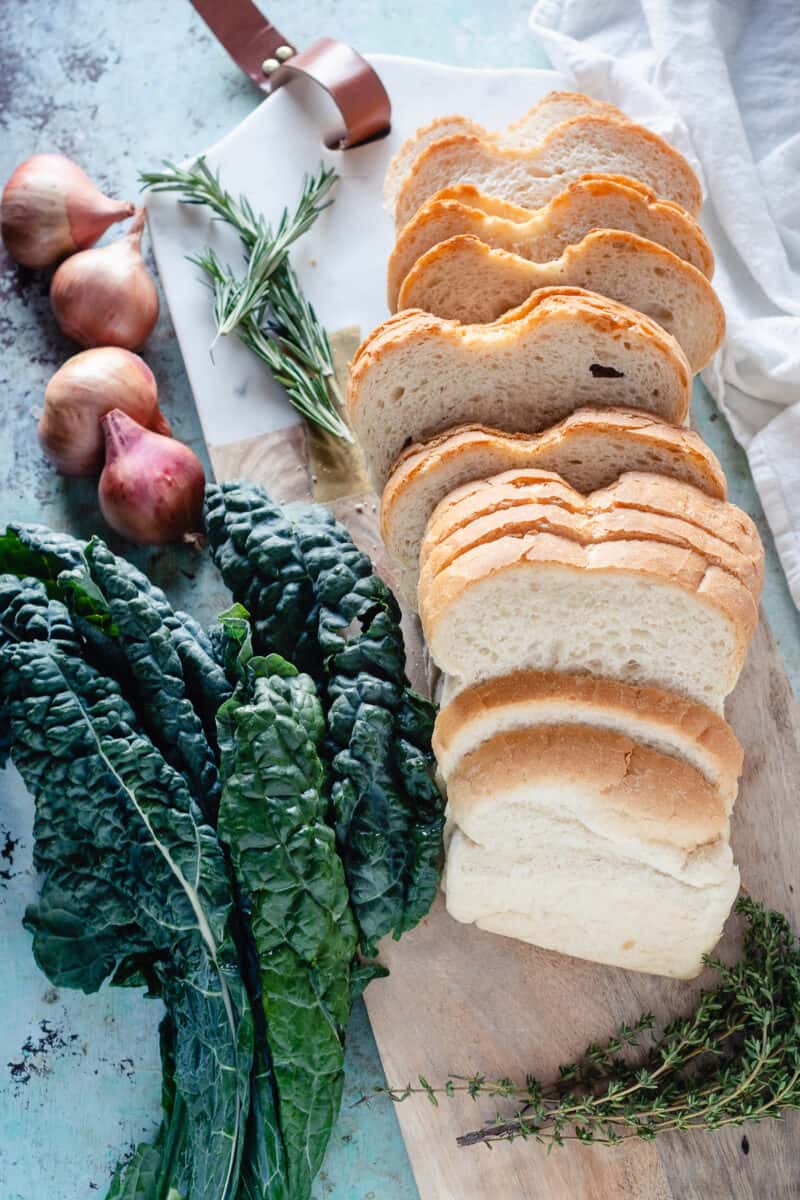 So much of a Thanksgiving dinner is stuck in the thrall of nostalgia and tradition. Sometimes people revolt at the idea of a meal without turkey at the center of the table.
(Even if some people welcome that thought.)
But stuffing is one of the places where there's a bit of wiggle room for creativity.
(And if you're looking for more creative Thanksgiving recipes, I've got you covered.)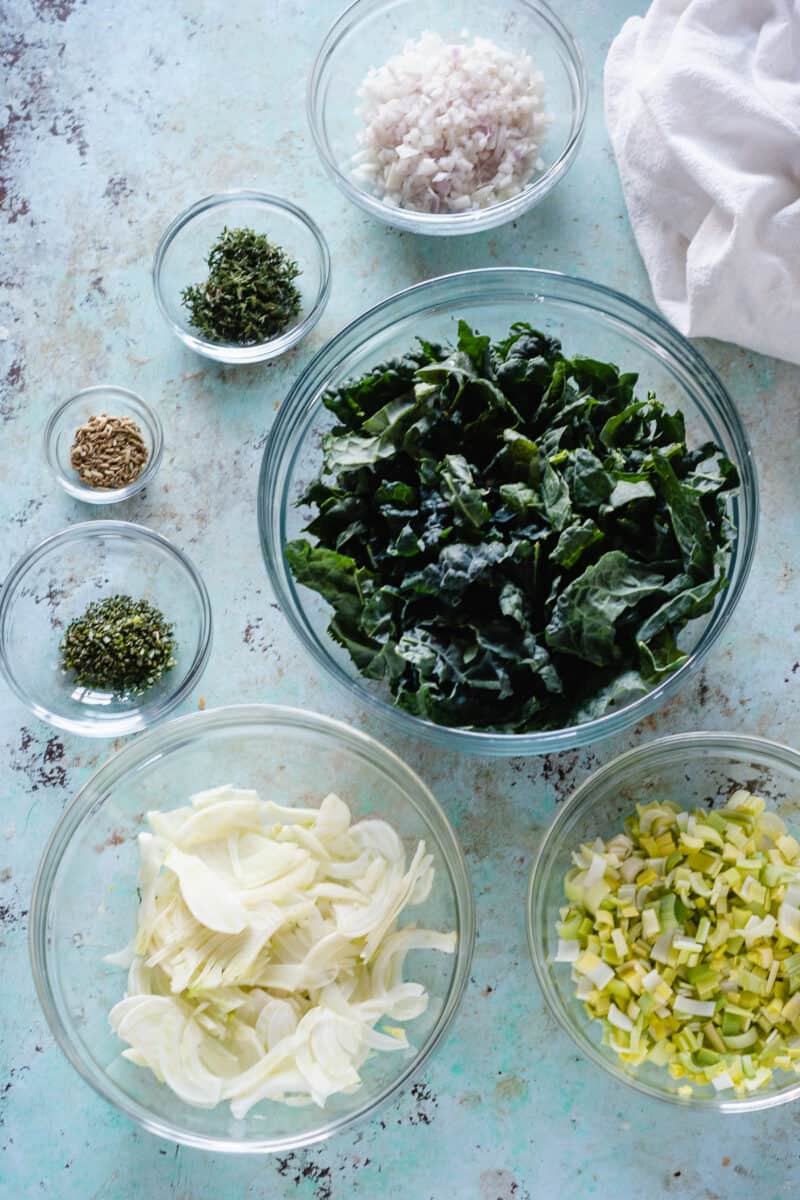 This stuffing—well, technically it's a dressing because it's baked outside of the bird—is loosely based on a recipe from Suzanne Goin I came across years ago.
And she's a genius, and her book Sunday Suppers at Lucques is a treasure, but her stuffing recipe was a bit too cheffy in its method of preparation and in its copious quantities of olive oil and butter.
So I rejiggered it to work better for those of us who cook at home and don't want to start a stuffing recipe with a sub-recipe for slow-cooked kale and who wince at the idea of adding olive oil by the cupful.
I streamline the method, switch up the alliums, and moderate the fat a bit (it's still celebration food, but not quite to oil and butter laden).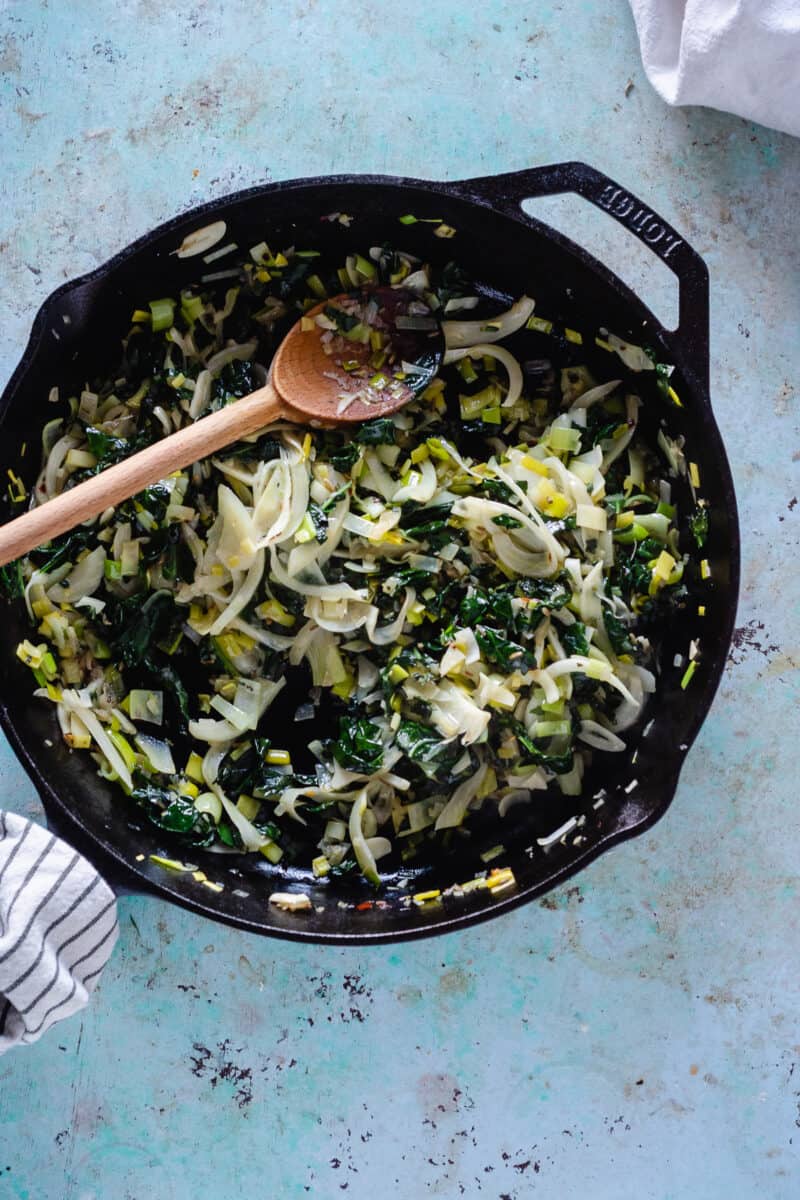 This starts with drizzling some simple rustic white bread (it doesn't need to be anything fancy) with olive oil and toasting it in the oven until parts of it get deep golden brown.
Meanwhile, some minced shallots and rosemary and fennel seed and red pepper flakes get sauteed in olive oil. Then some sliced kale and garlic go into the pan and everything smells amazing.
I like to use Tuscan kale (sometimes called lacinato or dinosaur kale) for this because it's more tender, but curly kale will also work.
At that poin the leeks and fennel go in along with some butter and fresh thyme. And if it's possible, your kitchen smells even better than it did a few minutes before.
The vegetable mixture gets added to the toasted bread pieces and they get mixed together to get the toasty bread a little bit soft.
And then you deglaze the saute pan with a splash of white wine and warm up some broth (it's vegetarian if you use vegetable broth, but it's also great with chicken broth).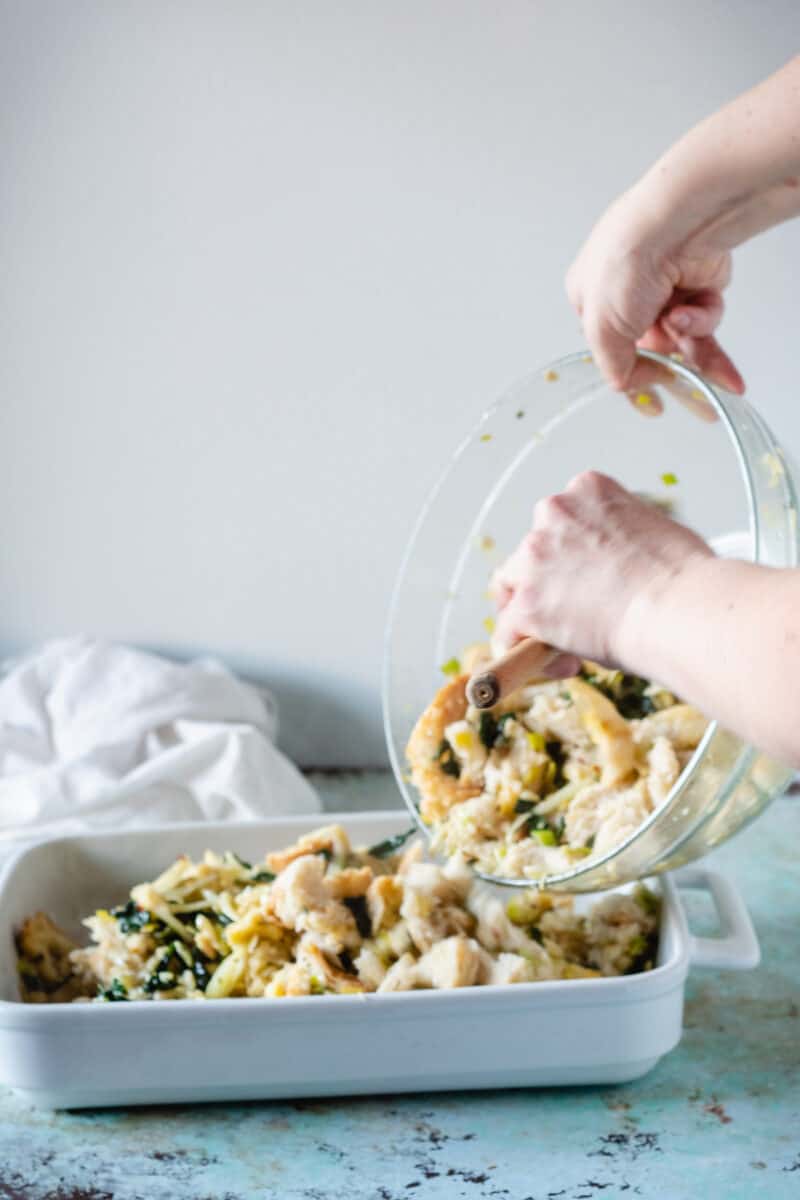 Then you add the liquid to the bread and vegetable mixture where the whole thing slumps into some pleasant sogginess.
And some beaten eggs get mixed in to add some body to the mix.
And, finally, the whole thing gets spread in a baking dish and goes into the oven.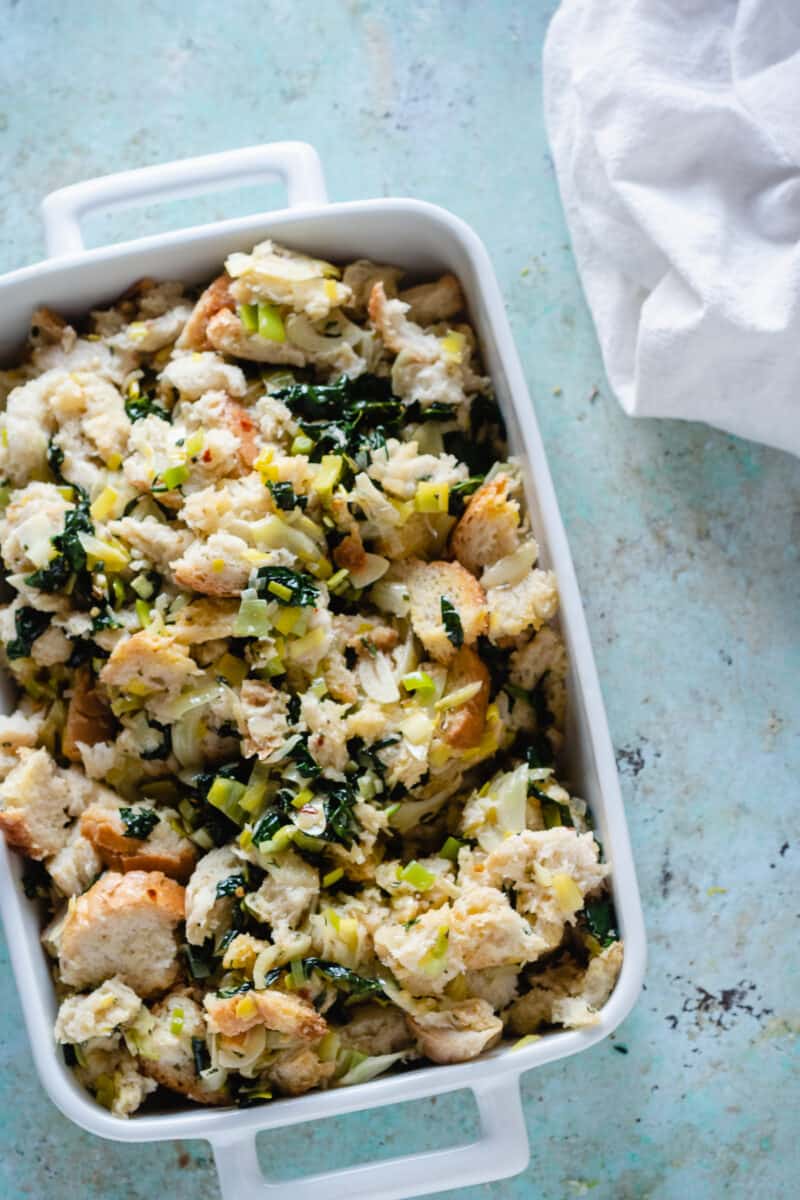 There, it bakes up into a tender, puffy pan of deliciousness.
The top gets all golden brown and lovely. The corners gets crisp.
And it makes a pretty much perfect accompaniment to everything else on your Thanksgiving table.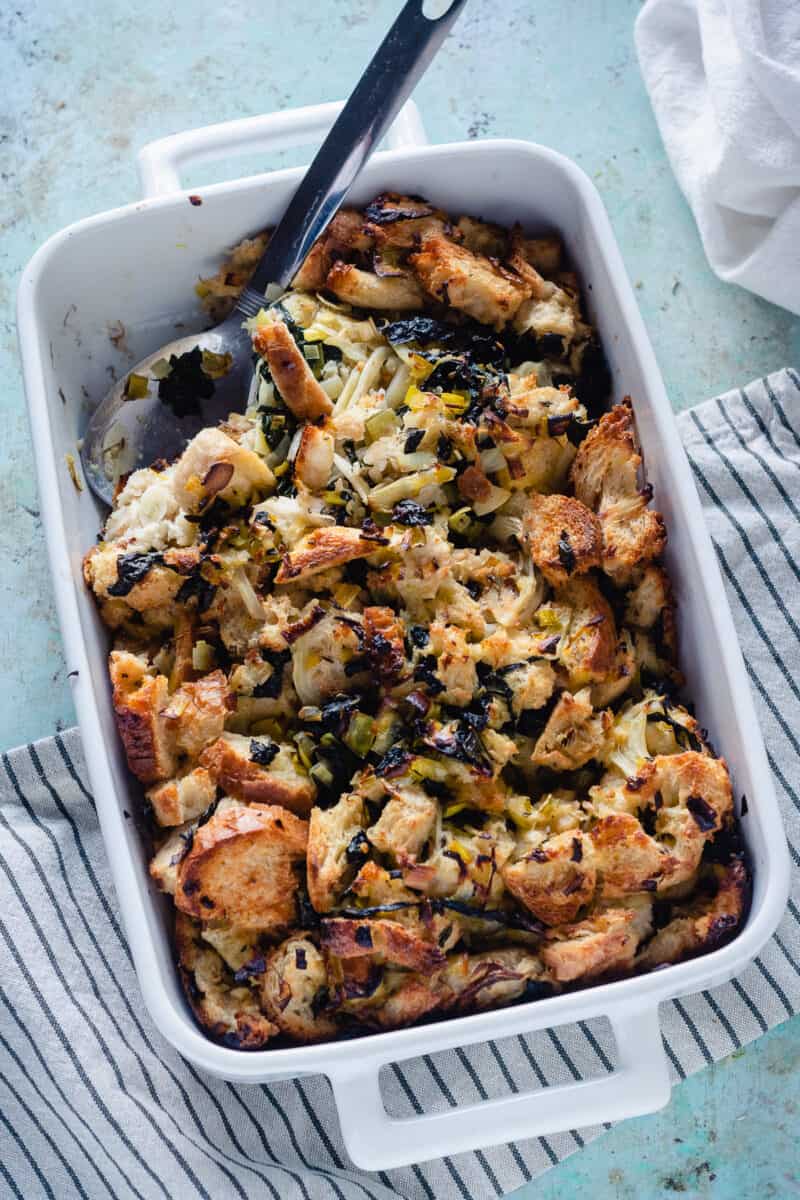 Yield: 8-10 servings
Fennel and Kale Stuffing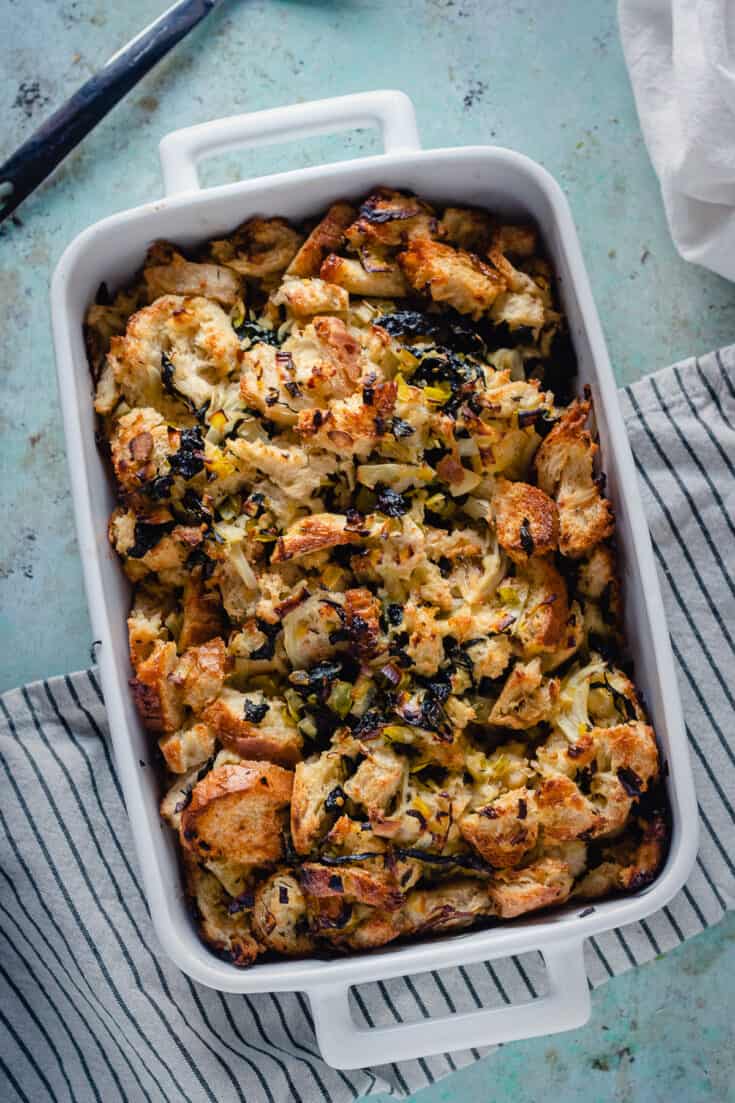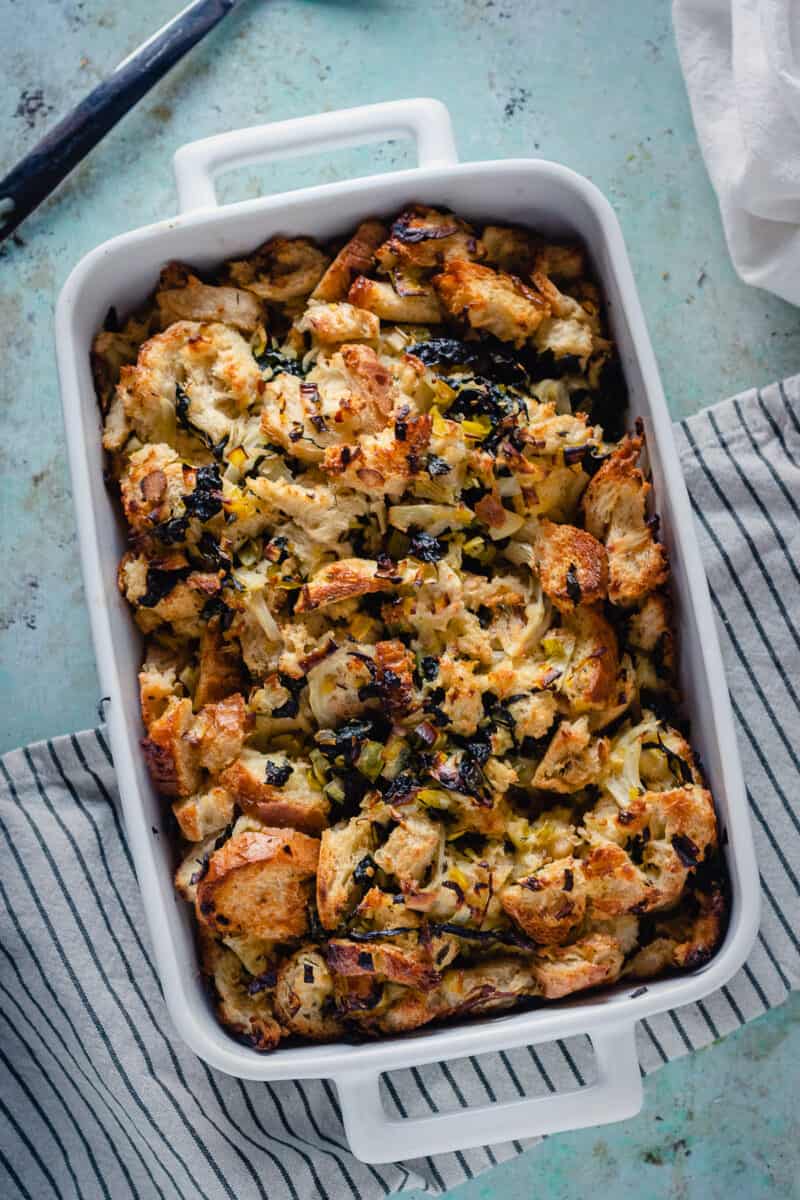 This fennel and kale stuffing is crisp around the edges and soft in the middle.
It doesn't require any fancy bread—anything vaguely country-style or Italian bread will work. It gets flavor from olive oil, leeks, shallots, garlic and a generous amount of fennel seed.
I like to use Tuscan kale (also called lacinato or dinosaur kale) here because I love its tender texture, but curly kale works beautifully as well. The fennel gets soft and brings a welcome gentle note to the dish.
This is vegetarian if made with vegetable broth.
Cook Time
1 hour
25 minutes
Total Time
1 hour
55 minutes
Ingredients
1 1/2 pound loaf of country bread
1/2 cup olive oil, divided
1 cup shallots, minced
1 tablespoon fresh rosemary, (from about 2 sprigs) roughly chopped
2 teaspoons fennel seed, crushed with a mortar and pestle
1/2 teaspoon crushed red pepper flakes
8 ounces (1 bunch) Tuscan kale, ribs removed and leaves roughly chopped
5 cloves of garlic, thinly sliced
1 1/2 cups leeks, diced
1 1/2 cups fennel, thinly sliced
1 tablespoon fresh thyme leaves, stems removed
2 tablespoons butter
1/2 cup white wine
3 cups low sodium vegetable or chicken broth
2 eggs, beaten
Instructions
Preheat oven to 400°F. Tear bread into bite-sized pieces and add to a large mixing bowl. Drizzle with 1/4 cup olive oil and spread on a half sheet pan (it's fine if it's overlapping and roughly piled).
Bake for 15 minutes, carefully rearranging the bread pieces with tongs about halfway through. The bread should be toasted and browned in spots. Return the bread to the large mixing bowl.
While the bread is toasting, heat a large saute pan over medium-high heat and add the remaining 1/4 cup of olive oil. Add the shallots, rosemary, fennel seed, red pepper flakes, and a pinch of salt and saute until the shallots have softened, about 2 minutes.
Add the kale and garlic to the pan along with another pinch of salt and saute. stirring frequently, until the kale wilts and softens, about 3 minutes.
Add the leeks, fennel, thyme, butter, and another pinch of salt, and saute until the fennel has softened, about 4 minutes.
Add the vegetable mixture to the toasted bread cubes and mix to distribute.
Add the white wine to the saute pan and bring to a simmer and stir to deglaze the pan. Add the broth and heat until warm. Add to the bread and vegetable mixture and stir.
Add the beaten eggs to the bread, vegetable, and broth mixture and stir to distribute the eggs throughout the mixture.
Spread into a 9"x13"x2" baking pan. Cover with foil and bake for 30 minutes. Remove foil and bake for until the top is golden brown, about 25 minutes.
Notes
Can be made ahead and baked with foil the night before, then refrigerated and baked for 30 minutes until browned just before serving.
Recommended Products
As an Amazon Associate and member of other affiliate programs, I earn from qualifying purchases.
Nutrition Information:
Yield:
10
Serving Size:
1
Amount Per Serving:
Calories:

343
Total Fat:

18g
Saturated Fat:

4g
Trans Fat:

0g
Unsaturated Fat:

12g
Cholesterol:

47mg
Sodium:

402mg
Carbohydrates:

38g
Fiber:

6g
Sugar:

7g
Protein:

10g