I may earn from purchases through links in this post.
Dan and I have been spending our evenings more often than not lately listening to jazz and sipping cocktails, sitting in the part of our apartment we lovingly call the library because of its enormous bookshelf on one wall, with our feet up and our and our eyes fixed on our respective laptops. Sometimes we even have conversation. It's not a bad way to spend the post-dinner hour.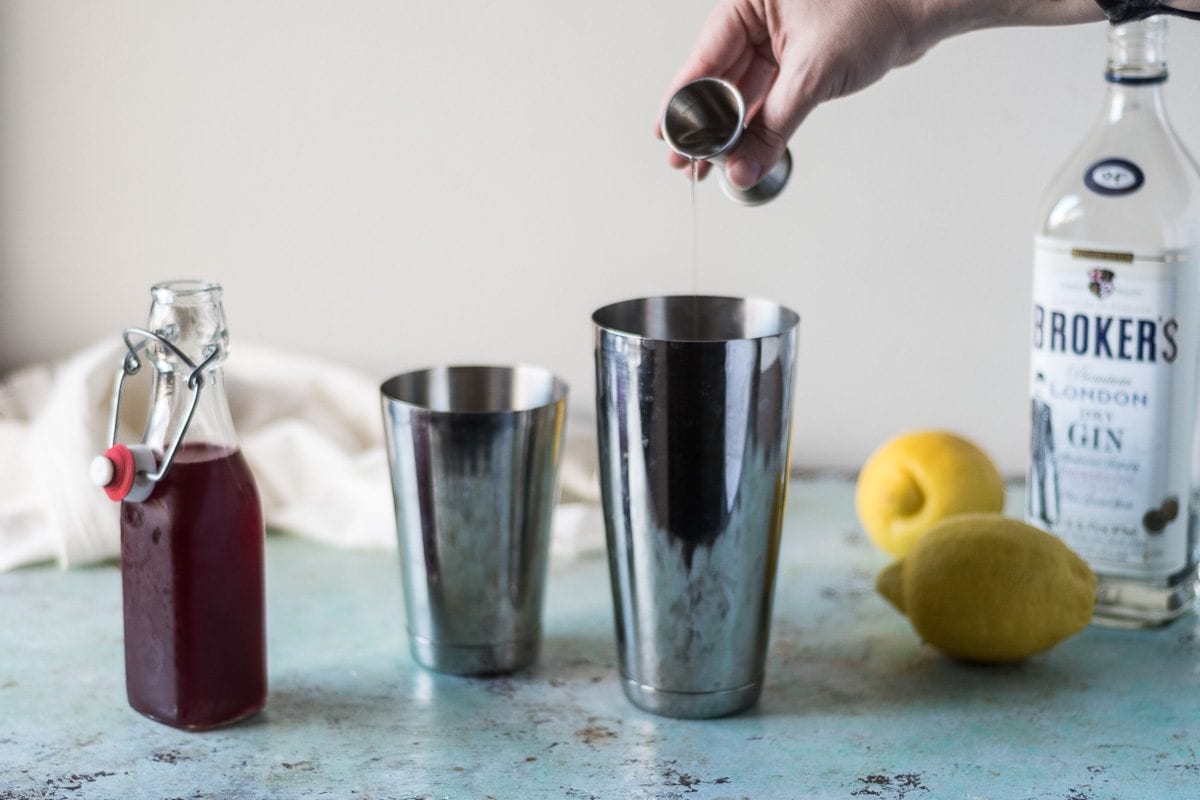 We tend to reflexively gravitate toward spirit-forward brown liquor-based kind of drinks.
Sometimes I forget how good a citrusy gin drink can be.
Especially one like this Clover Club, with a simple raspberry syrup and a frothy egg white thrown in to give it some voluptuous oomph.
It's a pre-Prohibition classic that's named for a Philadelphia men's club of lawyers and bankers established at the Bellevue-Stratford Hotel in the 1880s.
The drink started appearing in cocktail books in the 1910s and by the 1930s had fallen out of favor for being a girly drink.
Ah, fragile masculinity.
And it's too bad, because the Clover Club is a worthwhile drink that's enjoyed something of a revival in the recent cocktail renaissance.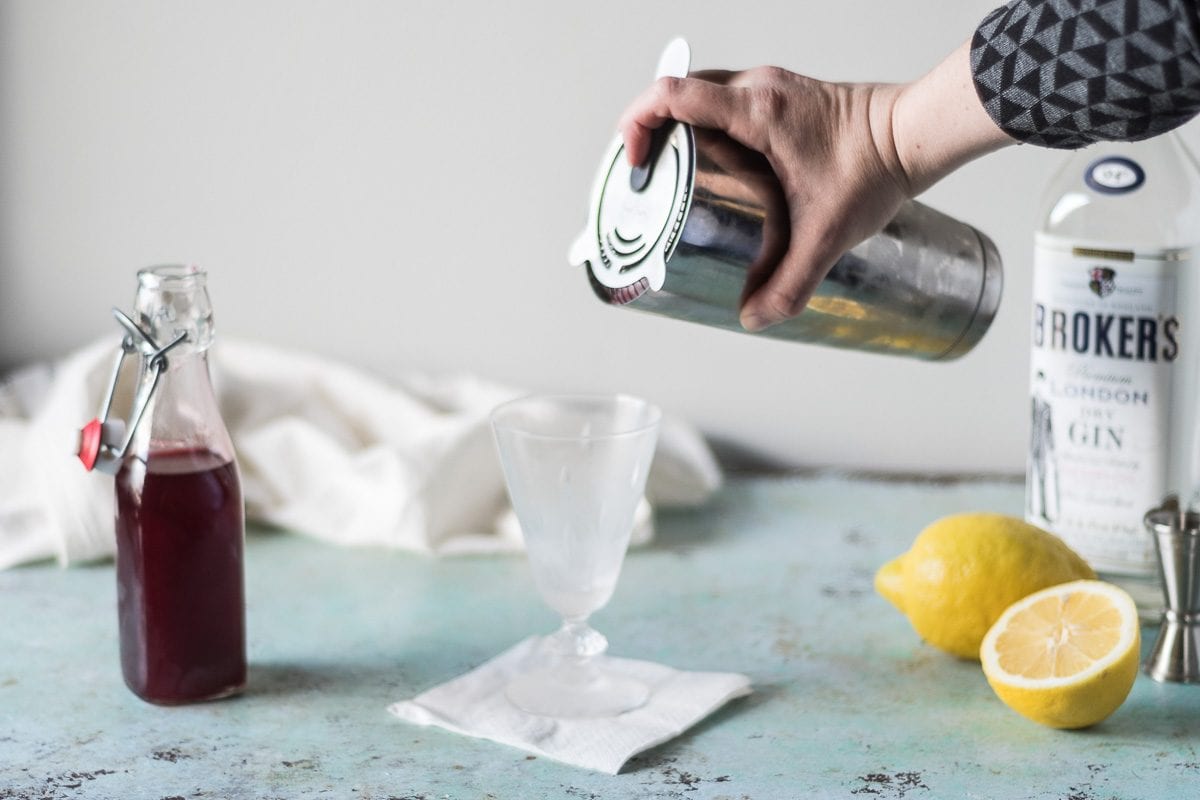 Yes, it's pink. And a lovely shade at that. But it's also bright, light, and refreshing with a nice balance of sweet and sour.
There are many versions of this drink out there. Some that use grenadine in place of the raspberry syrup, which I think is a mistake, because the raspberry syrup is so incredibly easy to make and brings a lovely berry flavor to the mix.
Some versions use only a dash of syrup, which is the kind of measurement I hate for any liquid that doesn't come fitted with a dash-appropriate top like on a bottle of bitters. Also, I don't think a dash is nearly enough.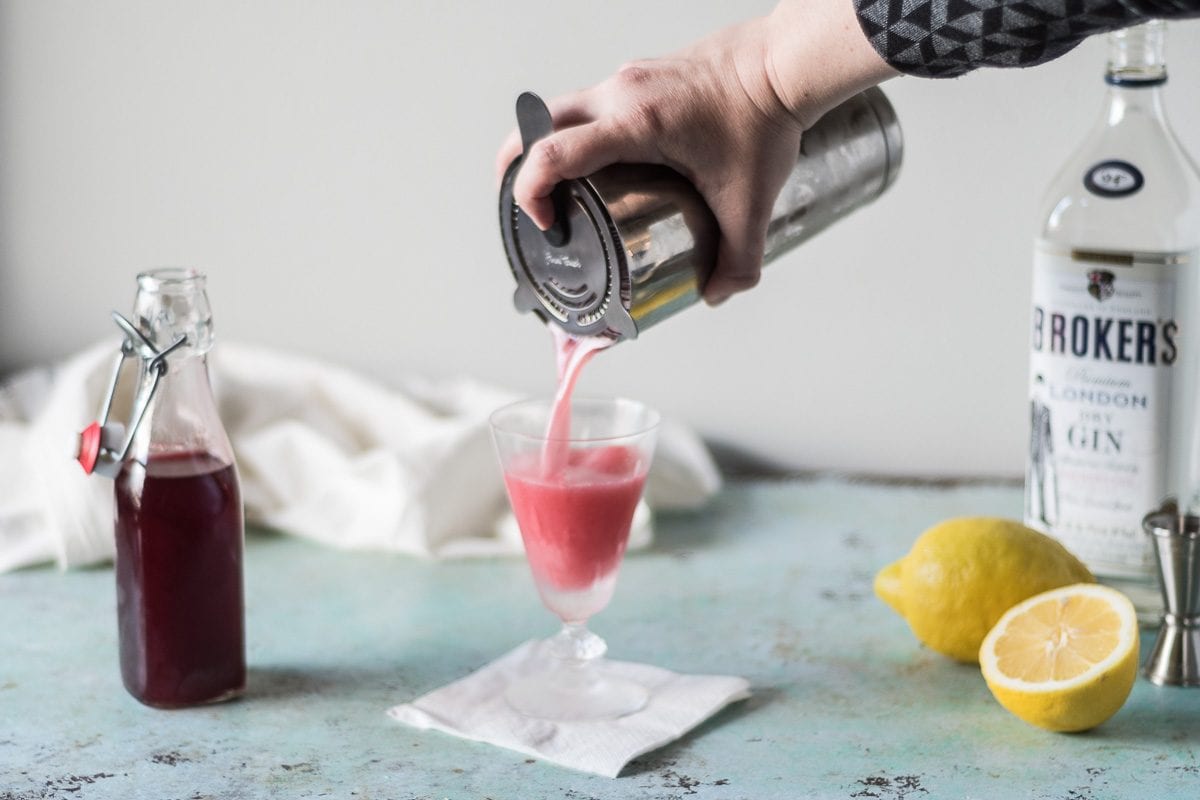 I like the balance of this one with equal parts raspberry syrup and lemon juice. Some people add dry vermouth, which is fine, if you tend to like things on the dry side.
Personally, I love what happens to this drink with a little bit of St. Germain or other elderflower liqueur, which I think acts as the perfect delicate go-between for the lemon and raspberry.
It's not exactly traditional, but it is quite nice. It takes the drink in a sweeter direction, which in this case works really well (and I'm thinking of our friend Ed here, who always asks for the sweetest drink on the menu and wouldn't be put off by something being pink).
It's a delightful little concoction, perfect for spring and summer. One you'll want to keep around, regardless of how you feel about pink.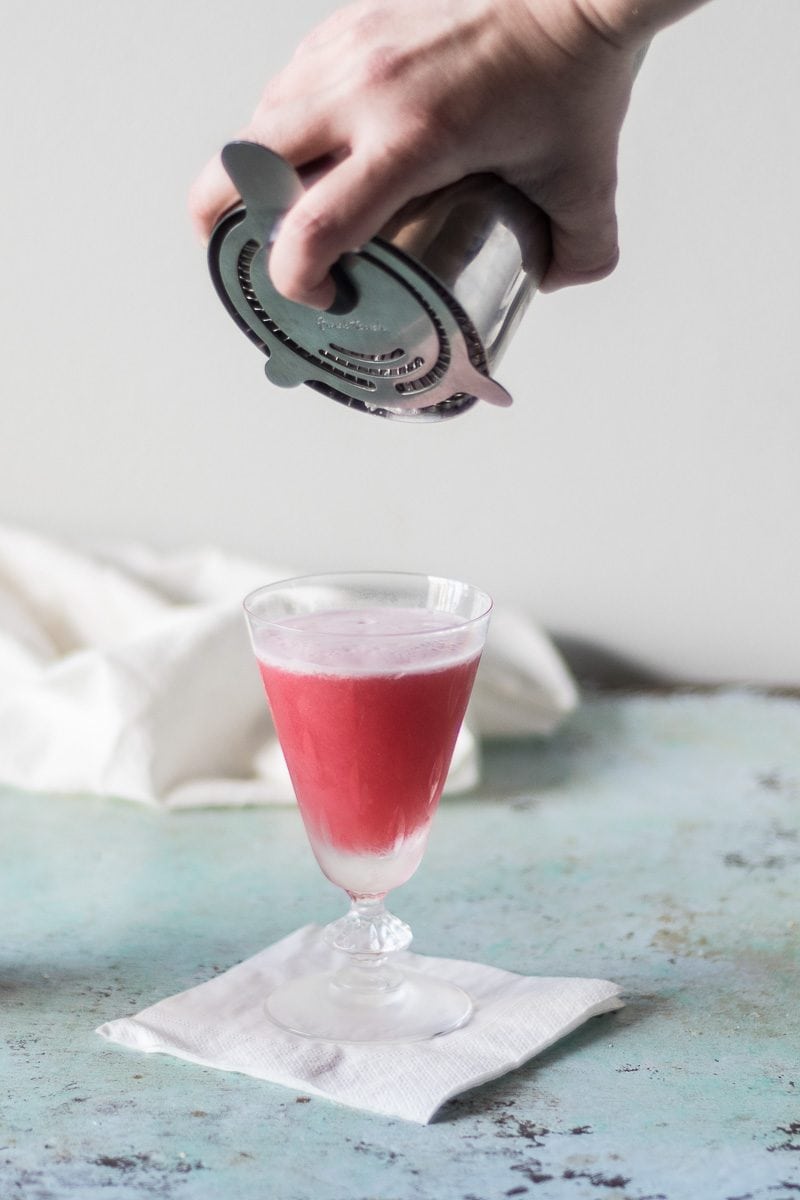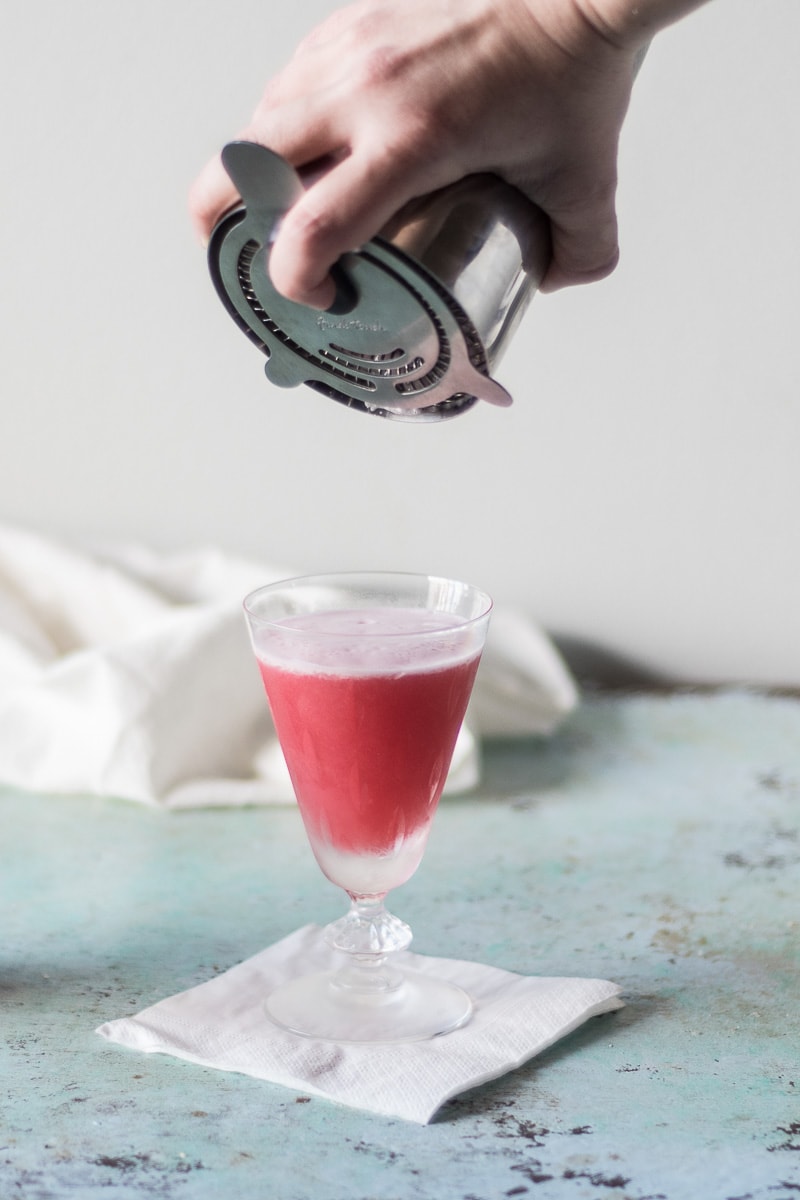 Yield: 1 drink
Clover Club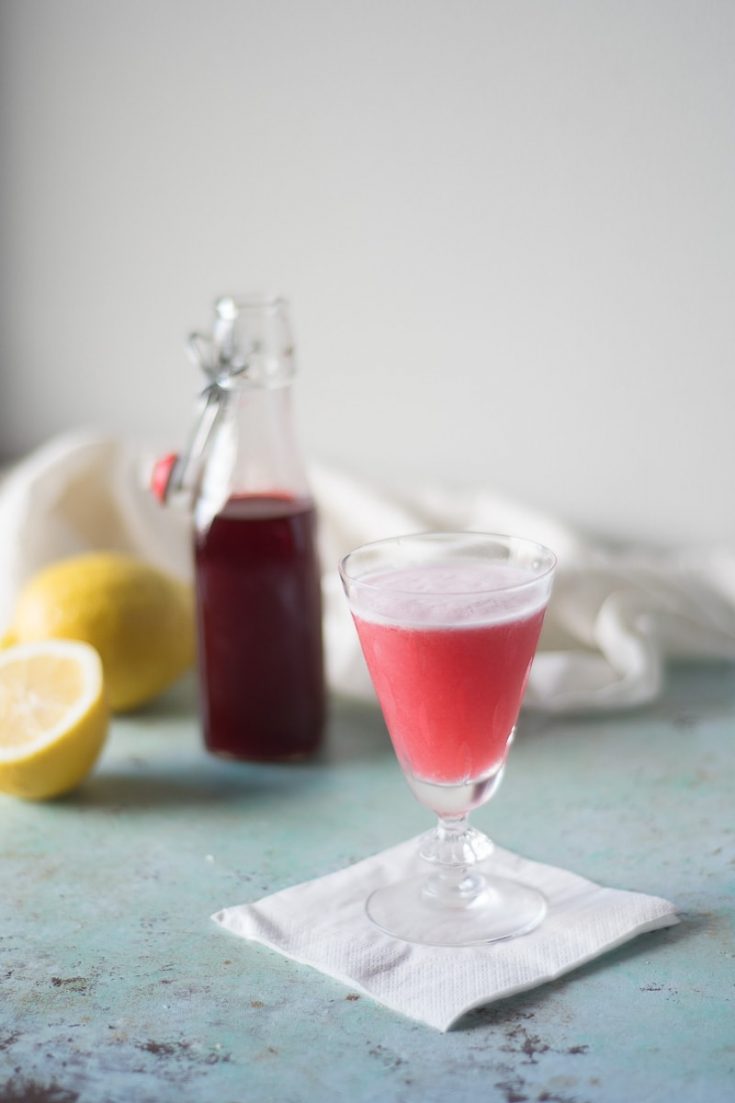 The Clover Club is a lovely pre-Prohibition cocktail with gin, lemon, homemade raspberry syrup (which comes together quickly, but you'll want to make it at least a couple of hours or up to a week or so ahead of time). I like a London dry style gin here, such as Plymouth or Brokers, but it would work well just about any style of gin you like. I've included elderflower liqueur, such as St. Germain here, but it's an optional embellishment that you can leave out if you're going for tradition. The egg white adds lovely meringue-like texture. (P.S. If you need equipment, I like this kind of cocktail shaker, a hawthorne strainer, and this type of citrus juicer for making this drink.)
Ingredients
1 1/2 ounces gin
3/4 ounce lemon juice, freshly squeezed
3/4 ounce raspberry syrup
1/2 ounce elderflower liqueur, such as St. Germain, optional
1 egg white
Instructions
Chill a cocktail glass. Add all of the ingredients to a shaker (but don't add ice) and dry shake for about 30 seconds, or until the mixture is nice and frothy. Add ice to the shaker, and shake again for about 30 seconds or until the drink is thoroughly chilled. Strain into a cocktail glass, and serve.
Recommended Products
As an Amazon Associate and member of other affiliate programs, I earn from qualifying purchases.
Nutrition Information:
Yield:
1
Amount Per Serving:
Calories:

190